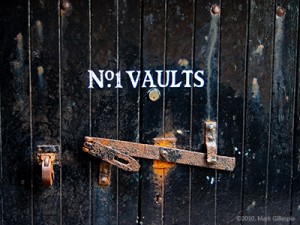 August 1, 2013 – Bowmores from the legendary year of 1964 dominated the bidding at McTear's during its July 31 whisky auction in Glasgow. In addition to the usual brace of original Black Bowmores up for bids, several bottles from the 1964 series of Fino, Oloroso, and Bourbon cask bottlings went on the block along with Black and White Bowmores from the 2007-2009 Trilogy Series.
Bottles #16, #50, and #58 (of 300) of the Fino Cask sold for £3,200 each, while Bottle #45 of the 1964 Bourbon Cask went for a hammer price of £2,800 and Bottle #133 of the Oloroso Cask brought a high bid of £2,400. Black Bowmores from the 1990's releases went for £2,400 to £3,000, while Black Bowmore bottle #586 (of 827) from 2007 and White Bowmore #12 (of 732) from 2008 sold for £2,600 each. Other older Bowmores also did well, with a 1955-vintage Bowmore 40-year-old malt selling for £3,800, and a 1957 vintage (bottled at 38 years old) selling for £2,200.
The highest bid of the day was for a 50-year-old bottle of Yamazaki. Only 150 bottles were produced in 2011 at 57% ABV, and the hammer came down at £6,500 ($9,821 USD). A 1965 Ardbeg bottled in 2005 along with a companion miniature bottle sold for £3,800, while a 55-year-old bottle of Benromach distilled in 1949 and bottled in 2004 (#20 of 83) sold for £3,000, and a Laphroaig 40 went for £2,000.
Two 1946 Macallan Select Reserve bottles (bottled at 52 years) showed the difference original packaging can make. Bottle #2002 had the lockable wooden presentation case and outer cardboard sleeve, and sold for £3,600, while Bottle #243 was missing the outer sleeve and sold for £200 less at £3,400.
The oldest bottle up for bids was a 58-year-old Glenfarclas single cask distilled in 1953 and bottled last year for the Polish investment firm Wealth Solutions as an investment vehicle for its clients. Bottle #374 (of 400) sold for £2,800, below the pre-auction McTear's estimate of £3,000-£4,000.
The next McTear's auction is scheduled for September 4, 2013.
To convert these prices to USD, multiply by 1.51. To convert to Euros, multiply by 1.15.
Links: McTear's Auction Catalog