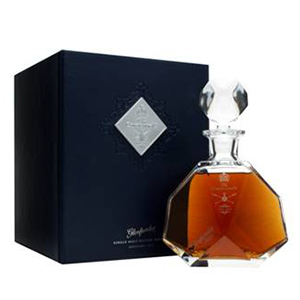 September 13, 2013 – 2013 marks the 60th anniversary of Queen Elizabeth's coronation on June 2, 1953. Several months later, Glenfarclas filled a sherry butt with new make spirit and stored it in one of the distillery's warehouses in Ballindalloch — the workers not knowing at the time that the cask would eventually be bottled to celebrate the Queen's 60th anniversary.
The 1953 Glenfarclas has now been bottled by Speciality Drinks, Ltd. — the production arm of The Whisky Exchange in London, and 60 specially produced crystal decanters will be available through The Whisky Exchange. In a news release, Speciality Drinks and The Whisky Exchange co-owner Sukhinder Singh described the whisky as one connoisseurs will appreciate:
"This whisky really is exceptional, it reminds me of a citrus, spiced Christmas pudding. The depth and range of flavour in this whisky really is extremely rare for its age and has only been achieved on few occasions."
The price? £60 would be logical, given that it's a 60th anniversary bottling. However, that's a bit unrealistic…think £6,000 instead ($9,500 USD).
Links: The Whisky Exchange | Glenfarclas