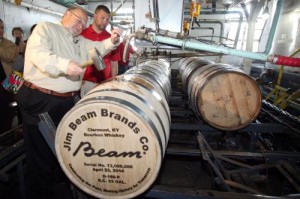 April 23, 2013 – When Prohibition ended in 1933, Colonel Jim Beam was prepared to resume distilling Bourbon. He'd already identified a site for the family's new distillery in Clermont, Kentucky, and started construction as soon as possible after the repeal. By the end of 1934, the first barrels of whiskey were already maturing in Beam's warehouses. Nearly 80 years later, his descendants hammered in the bung on barrel number 13,000,000 today. Seventh-generation Beam family member and global brand ambassador Fred Noe did the honors along with his son Freddie, who is following in the family tradition and starting his career at Beam's Booker Noe Distillery in Boston, Kentucky. The total includes barrels filled at the Booker Noe Distillery named for Fred's father, legendary master distiller Booker Noe.
"I guess, in this case, 13 is a lucky number," Fred Noe said in a news release. "As a family, we're proud of this milestone. It speaks loudly and proudly to our longevity and history, and bolsters our position as the world's largest producer of bourbon. We've been making bourbon a long time and we've made a lot of it." The ceremony comes less than 3 years after Noe filled and sealed Barrel #12,000,000 in 2011, and he projected the next million barrels will be filled even more quickly given the global demand for Bourbon. The milestone barrel will be placed on display in Rackhouse D on the Clermont distillery grounds, which is open to visitors as part of the Jim Beam American Stillhouse experience.
The ceremony comes just a week before Beam's $16 billion acquisition by Suntory is scheduled to be completed. Suntory is buying Beam as a way to diversify its product base and marketing outside of Japan, with the various Jim Beam expressions seen as a key factor in that decision.
Links: Jim Beam