Editor's note: This story was updated on March 28, 2013 with a response from Dewar's.
March 22, 2013 – After originally signing off on Bacardi's plans to market a honey-flavored Dewar's expression in the U.S. market, the Scotch Whisky Association has now changed course and is raising objections to the labeling for Dewar's Highlander Honey.
As was first reported on March 15, the Dewar's expression will contain Dewar's White Label Blended Scotch Whisky infused with honey from farms near the Aberfeldy Distillery in the Scottish Highlands. Scottish law bans the use of flavoring agents in Scotch Whisky, however, they are allowed to be used in whisky-based liqueurs and so-called "spirit drinks". These drinks are sold in the U.S. as "whisky specialty" products under the Treasury Department's Tax & Trade Bureau regulations.
In a statement provided to WhiskyCast by the Scotch Whisky Association, the association expressed concerns over possible confusion in the labeling approved by the TTB for Highlander Honey:
"There is no law preventing the production of new products based on Scotch Whisky. The important thing is that they are labelled and marketed in a way that clearly distinguishes them from Scotch Whisky. We do have concerns that the labelling and promotion of Dewar's Highlander Honey could distinguish the product more clearly from Scotch Whisky. Under EU law it has to be sold under the sales description 'Spirit Drink' and it would assist if that description was more conspicuous on the labelling to help make it clear it is not Scotch Whisky. Promotion of the product should also not suggest it is Scotch Whisky. Any issues about labelling and promotion used by members are resolved through discussion with the Scotch Whisky Association."
These are the proposed labels for Highlander Honey from the TTB's label application filed by Dewar's: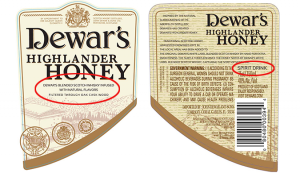 The label only refers to "Spirit Drink" in one spot on the rear label, while the front label makes no reference to it and only refers to "Dewar's Blended Scotch Whisky".
In a statement provided by the public relations agency for Dewar's to WhiskyCast on March 28, the company said:
"As a member of the SWA, we work closely with them on the launch of any new DEWAR'S product. As DEWAR'S Highlander Honey is being launched in the US market, the product adheres to all local market regulations."
However, it should be noted that the U.S. traditionally defers to Scotland on questions over Scotch Whisky. Scotland, Ireland, and Canada are the only nations allowed by US law to set their own standards for whiskies produced in those countries and sold in the U.S. market.

Links: Dewar's | Scotch Whisky Association