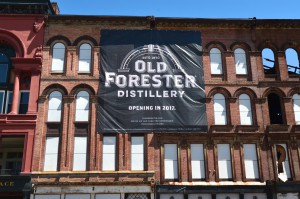 July 22, 2015 – Brown-Forman executives held a ceremonial groundbreaking ceremony today in Louisville for the $45 million Old Forester Distillery project to be built on the city's historic "Whiskey Row" along Main Street. The ceremony comes just two weeks after a four-alarm fire did significant damage to the Civil War-era whiskey warehouses next door that were being renovated into office, retail, and apartment space with investment from Brown-Forman and the Brown family.
While a firewall constructed earlier this year between the two properties minimized damage to the Old Forester site, Brown-Forman executives acknowledged that the fire will delay the distillery's opening until 2017, several months later than expected. Old Forester spokeswoman Wendy Treinen said in a telephone interview that "we're excited to move forward, but sometimes to move forward, you have to take a couple of steps back, and that's what we've had to do.
As with the 111 Whiskey Row project, the distillery and visitors center will occupy buildings built in 1857 to serve as whiskey warehouses during the peak of Main Street's Bourbon boom. While there were no distilleries located on Main Street during that period, "Whiskey Row" was home to warehouses and offices for distillers and bottlers. While most of the structures have deteriorated over the years, the cast iron facades of both sets of buildings along Main Street remain intact and will be preserved as part of the restoration projects.
During the ceremony, Old Forester president Campbell Brown praised the efforts of the city's firefighters two weeks ago. "We want to thank the Louisville Fire Department for keeping the fire from spreading to our buildings and saving the facades of the three historic buildings next to ours," Brown said in a news release. "They did a magnificent job." Structural assessments of the 111 Whiskey Row buildings are underway, and the Brown family-led Main Street Revitalization LLC investor group will wait for the findings before determining how to proceed with that project.
The projected cost of the distillery has already risen from the original $30 million estimate to $45 million, and Treinen said that estimate remains firm at this point. When it opens, the distillery will be able to produce the equivalent of 100,00 cases of whiskey annually, and will become the main production site for Old Forester with additional production as needed at Brown-Forman's main distillery on Dixie Highway. The site will also house a visitors center, bottling line, and warehouse space.
Editor's note: This story was updated with additional information following an interview with Old Forester's Wendy Treinen.
Links: Old Forester | Brown-Forman