Over the years, our series of podcasts from the Islay Festival of Malt & Music in May of 2010 have become some of the most popular WhiskyCast episodes ever. That year, we did an episode of WhiskyCast from each of the eight distilleries on Islay during their festival day, along with one from Jura and a wrap-up show from the Port Ellen Maltings at the end of the Feis. Some of the people we spoke with then have moved on, and sadly, some have passed on – fortunately, some of their stories have been preserved in these podcasts. Years later, whisky lovers are still downloading these episodes, and we've decided to make them easy to find on this page along with some of my never-before published photos from that trip.
I've been back to Islay several times since then, and my love for the island and its people gets stronger every time I return. Wouldn't mind living there one day – the light is amazing for photography, the stories are even better, and the people are one of a kind! Don't get me started on the whiskies…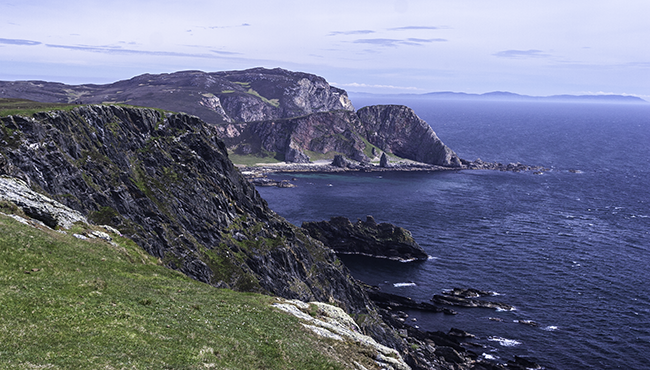 Traditionally, Lagavulin opens the Feis on the first Saturday…and it was my first chance to meet the legendary Iain McArthur, Lagavulin's longtime warehouse master.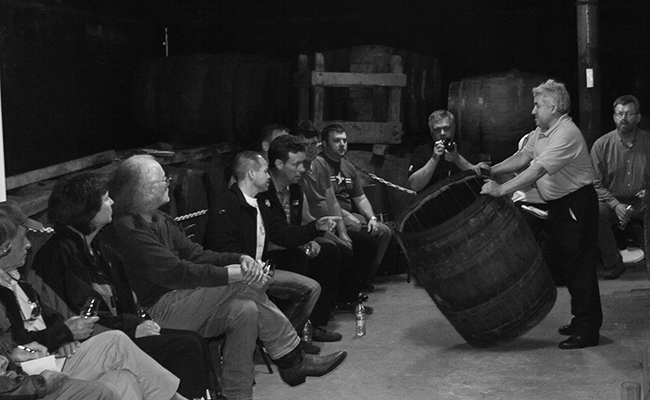 Episode 254: May 22, 2010 
Here we go…with the first of many episodes from the Islay Festival of Malt and Music. It's opening day, and Lagavulin traditionally is the first distillery to have its festival day. We'll hear from distillery manager Peter Campbell, a native Ileach, along with many of the people who make Feis Ile special, and I'll have tasting notes on several Lagavulin expressions, including this year's sold-out Feis Ile bottling.
Links:
Lagavulin
 | 
Islay Oysters
 | 
Islay Festival of Malt & Music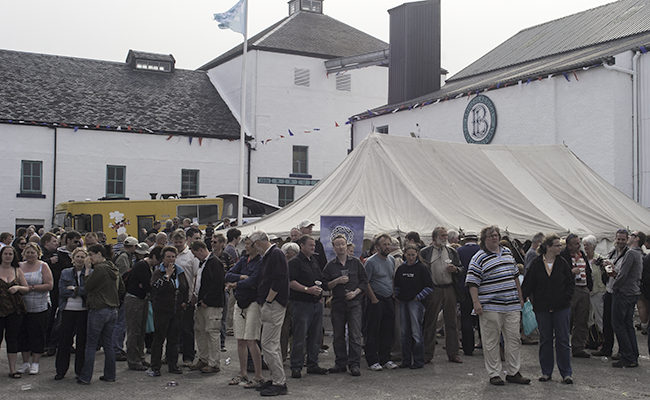 Sunday is Bruichladdich's day, and the night before, the distillery has a party at the community center near Port Charlotte. Robin Laing sang, and after that, we all went to Simon Coughlin's house near Portnahaven…let's just say there were a lot of Black Art bottles in the recycling bin.
Episode 255: May 23, 2010
Day two of the Islay Festival of Malt and Music is Bruichladdich's turn to shine, and the sun was shining once again as Ileachs and whisky lovers from all over the world gathered at the distillery. Distillery manager Duncan McGillivray joins me in this episode, along with highlights from Jim McEwan's master class, Islay beers, and a song from Robin Laing.
Links:  
Bruichladdich
 | 
Springbank
 | 
Islay Ales
 | 
Islay Festival of Malt & Music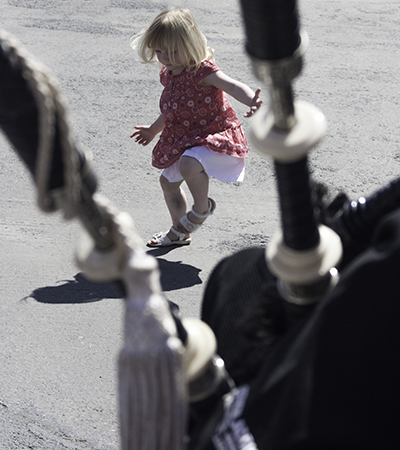 Monday is Caol Ila's festival day, and it's where I first met three-year-old Chloe Kelbie. Her father Peter sent her over to greet me with a package of homemade Scottish Tablet, and she charmed us with her dancing to the bagpipes and her ability to recite all of the Islay distillery names from memory. As I write this, she's 10 years old, and I hope we'll have the chance to meet again one day.
Episode 256: May 24, 2010
Caol Ila Distillery may have the most beautiful setting of any of Islay's distilleries. It sits on the Sound of Islay directly across from the Paps of Jura, and when the skies are clear, you can see the Isle of Mull on the horizon. This is Caol Ila's festival day during the Islay Festival of Malt and Music, and we'll hear from distillery manager Billy Stitchell, taste some Caol Ilas, and talk to a local lobsterman and a precocious 3-year-old.
Links:  
Caol Ila
 | 
Whisky Koch
 | 
Loch Fyne Whiskies
 | 
Classic Malts Cruise
 | 
Islay Festival of Malt & Music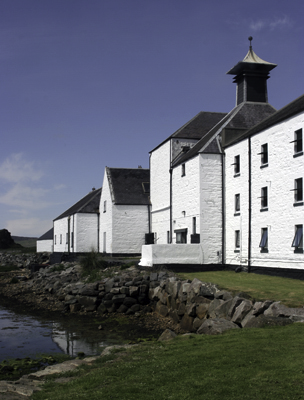 Laphroaig took center stage on Tuesday, but this year's festival was unique in that it was also the first Friends of Laphroaig gathering at the distillery. A couple of hundred of us trooped out to the Friends of Laphroaig plots across the road from the distillery as a photographer went up on a bucket truck to get a group photo. After that, we raised our glasses high as Simon Brooking honored a longtime Laphroaig lover who had recently passed away – and before he died, he asked to have his ashes scattered at the distillery. There were a few tears as the Islay wind caught his ashes and blew them into the nearby peat bogs.
Episode 257: May 25, 2010
Laphroaig is one of those whiskies that you're either going to love or loathe…with no middle ground. Today is Laphroaig's day at the Islay Festival of Malt and Music, and this episode was recorded at the distillery on a windy, but sunny and warm day. We'll hear from distillery manager John Campbell, master blender Robert Hicks, get a cooking lesson from Gordon Harvey, one of the authors of "The Whisky Kitchen," attend the Feis Ile whisky nosing competition, and hear music from Brigid Kaelin.
Links:
Laphroaig
 | 
Brigid Kaelin.com
 | 
Craggan Mill Restaurant
 | 
Islay Festival of Malt & Music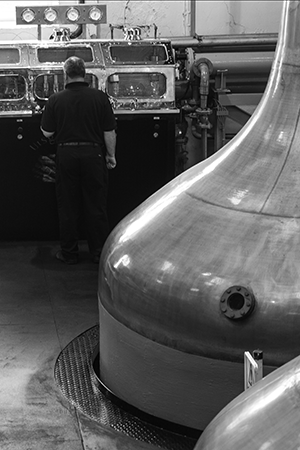 Bowmore, like Laphroaig and Kilchoman, still operates its own floor maltings, and the smell of peat smoke filled the air on Wednesday as whisky lovers descended on Islay's largest town. The Spirit of Islay Pipe Band performed that sunny afternoon, and we stepped away to check out Duffie's at the Lochside Inn – regarded for years as one of Islay's best whisky pubs. Like most of the distilleries, Bowmore kept on making whisky that day – keeping guests a safe distance away from the hot stills.
Episode 258: May 26, 2010
Bowmore is Islay's oldest distillery, and the second oldest in all of Scotland. It's at the heart of Islay's largest town, and plays a major role on Islay. It's also the only distillery with two Feis Ile special bottlings, and distillery manager Eddie McAffer is making one available to a WhiskyCast listener! Details in this episode, along with a visit to Islay's best whisky bar and music from the Spirit of Islay Pipe Band.
Links:   
Bowmore
 | 
Lochside Hotel
 | 
Islay Whisky Shop
 | 
Islay Festival of Malt & Music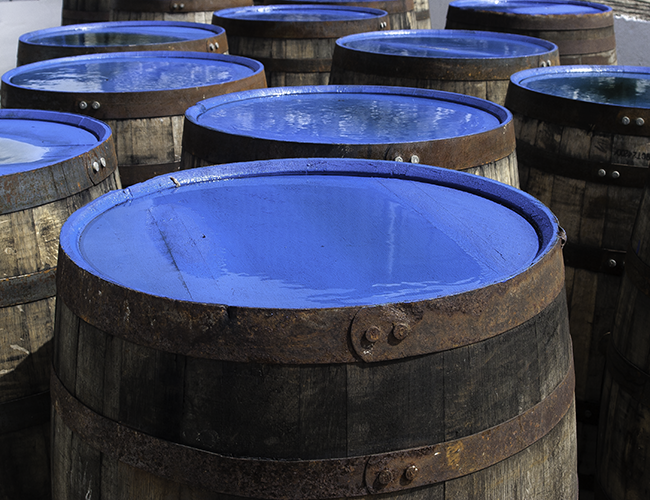 Thursday was our busiest day of the week, since we had committed to doing a show from each of the Islay distilleries and Jura on their festival days. When Kilchoman opened, the festival didn't add an extra day – but paired it with Jura's festival day, and that meant starting the morning at Kilchoman, which was marking its first official festival day with its inaugural Feis Ice release. In fact, the day was so rushed that I didn't even have time to shoot any photos at Kilchoman that morning, and returned to shoot the above photo of Kilchoman's barrels a couple of days later.
Episode 259: May 27, 2010
This is the first of two episodes today from the Islay Festival of Malt & Music. Kilchoman is Islay's first new distillery in more than 120 years, and even though it just released its first single malt a few months ago, it's receiving rave reviews from whisky critics. We'll hear from Kilchoman founder Anthony Wills, Jim Swan, and some of the dozens of people who lined up for Kilchoman's first official Feis Ile single malt release.
Links:
Kilchoman
 | 
Islay Festival of Malt & Music
After finishing up at Kilchoman, I caught a ride to the Jura ferry at Port Askaig with Shai Gilboa and his father, Gideon Fleischmann. They had traveled from Israel to Islay for the festival, and I'd met them earlier in the week at Lagavulin. We've stayed in touch over the years, and I'm hoping to visit Israel and tour its distilleries with Shai one day. When we arrived at Jura, Richard Paterson was leading a tasting in the warehouse, and after the tasting, Shai asked Richard to sign a copy of his memoir "Goodness Nose."
Episode 260: May 27, 2010
This is the second of Thursday's two episodes from the Islay Festival of Malt & Music, recorded on location at Isle of Jura Distillery on the island of Jura. It's easy to find the distillery…just get off the ferry, drive down the island's one road, and stop at the end. There's a treat waiting for you, as you'll find in this episode of WhiskyCast!
Links:
Isle of Jura
 | 
Jura Hotel
 | 
Islay Festival of Malt & Music
I spent Thursday night on Jura, uploading both of the day's episodes to the web using a very spotty Internet connection, and took the ferry back across to Islay the next morning for Bunnahabhain's open day. The distillery had just gone through a major change, as longtime manager John McLellan had just left Bunnahabhain to join Kilchoman and Andrew Brown had taken over as distillery manager. The clouds were rolling in from the west, and the campers who had set up tents along the beach at the distillery got a bit wet that night, but the spirits remained high as the Scottish boy band Skerryvore entertained the crowd.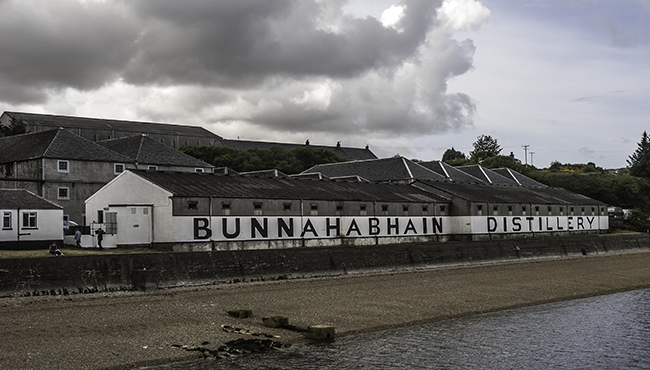 Episode 261: May 28, 2010
The road to Bunnahabhain Distillery is four miles long, and full of twists and turns. The views are stunning, though…and the whisky's pretty good, too. This is Bunnahabhain's day during the Islay Festival of Malt and Music, and we'll hear from the new distillery manager, Andrew Brown, along with stillman Robin Morton. There's music from the Scottish boy band Skerryvore, and much more on this episode from Islay.
Links:   
Bunnahabhain
 | 
Black Bottle
 | 
Skerryvore
 | 
Queen of the Moorlands
 | 
Islay Festival of Malt & Music
Ardbeg traditionally closes out the series of distillery open days on the final Saturday of Feis Ile, and people had started lining up the night before to get a bottle of Supernova, the 2010 Ardbeg festival bottling. As might be expected, there was a fair amount of whisky consumed during the informal campout, and this conga line broke out as they started moving to the distillery shop that morning.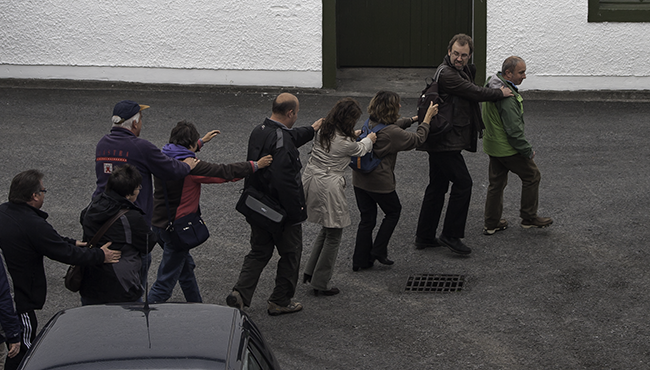 That was also the day I stuck my arm into a barrel full of wet peaty muck during Ardbeg's carnival in the hopes of winning a bottle, as you'll hear in the day's episode.
Episode 262: May 29, 2010
Ardbeg has the final distillery day of the annual Islay Festival of Malt & Music, and even though there wasn't a full-size roller coaster on hand for the carnival Ardbeg threw, there was a full-proof Rollercoaster — the special bottling marking the 10th anniversary of the Ardbeg Committee. The 2010 version of Supernova made its debut today, and you'll get tasting notes in this episode, hear from some of the 300-plus people who started lining up last night to get the Ardbeg Feis Ile bottling, and listen as I get up close and personal with some peat.
Links:   
Ardbeg
 | 
Islay Festival of Malt & Music
While the distilleries had ended their series of open days at this point, I still had one stop left to make. Feis Ile week is the one time of the year that Diageo opens its Port Ellen Maltings for tours, and it was the perfect way to complete our week-long series of podcasts.
Episode 263: May 30, 2010
The Port Ellen Maltings supplies malt for many of Islay's distilleries, and I'll wrap up the special series of Feis Ile episodes from Islay with a rare tour inside the Maltings led by native Ileach manager Graham Logie. There's music from Robin Laing and some final thoughts as I wind up coverage of the 25th Islay Festival of Malt & Music.
Links:  
Malts.com
 | 
Islay Festival of Malt & Music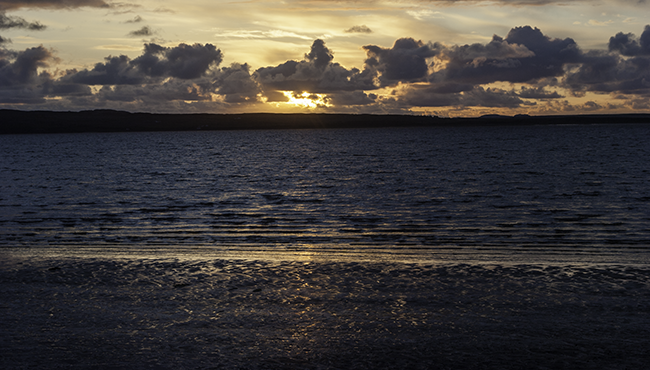 I can't say it often enough. Islay is a magical place, and I love spending time there! If you're there during the Feis, keep in mind that it's not that hectic the other 51 weeks of the year. The lifestyle on Islay is as relaxed as any tropical island, the people are warm and welcoming, and even the sheep can be friendly. Festival week can double Islay's population, and it's hard to get a table at a restaurant, let alone a hotel room, and the distilleries are jammed all week long. For that reason, I'm not sure we'll ever try to do a repeat of the Feis Ile Series, but never say never.
Disclosure: This series was produced with financial support from all nine of the distilleries on Islay and Jura, with each one contributing an equal amount to defray the costs of travel and production. As with all of our content, WhiskyCast retained full editorial control over the content in each episode.