When the Pittsburgh Whiskey Friends invited us to come to their city and lead a benefit tasting in honor of...
Read More
December 19, 2017 – The stories of friends deciding to open their own distilleries are almost legendary. For John Cooper...
Read More
You'll see a lot of businesses with the "& Son" as part of the name, but rarely do we see...
Read More
March 16, 2014 – Dad's Hat Pennsylvania Rye will become one of the rare American-made craft whiskies to become available...
Read More
Bruichladdich expressions come and go…sort of like the waves on Loch Indaal do. Laddie fans are lamenting a decision to...
Read More
Southern California isn't the place you'd normally think of for a Bourbon to call home, but Steve Gertman picked the...
Read More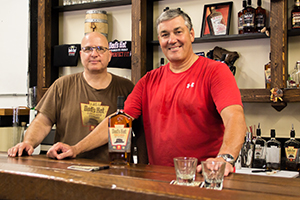 Pennsylvania was once the center of American whiskey distilling. John Cooper and Herman Mihalich are trying to revive the Keystone State's...
Read More
When Kentucky was still a wilderness in Colonial days, Pennsylvania was a hotbed of whiskey distilling. Back then, the Keystone...
Read More