Chip Tate is about to get back into the whisky business, about 15 months after his acrimonious departure from Balcones...
Read More
Bushmills Returns To Roots With New Travel Retail Series
Read Post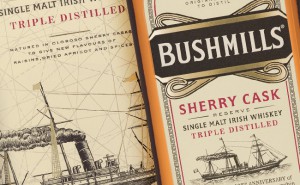 February 17, 2016 – While Irish Whiskey has been one of the fastest-growing segments of the whisky industry, Ireland's oldest...
Read More
Anthony Bourdain is many things…a chef, author, journalist, and media personality. At heart, though, he's a hedonist seeking pleasure from...
Read More
The Kentucky Bourbon Festival celebrates its 20th anniversary three weeks from now, and we'll discuss this year's Festival and its...
Read More
Compass Box marks 10 years in the whisky business this week, and John Glaser is celebrating with retrospective tastings in...
Read More
For some reason, I always wind up doing a show on Irish whiskies around St. Patrick's Day. Irish whiskies have...
Read More
It's been about a year and a half since we lost Michael Jackson, and his friends are honoring the best...
Read More
In Part 2 of our series on Irish Whiskeys, we'll hear from Bushmills master distiller Colum Egan. Colum was under...
Read More