April 25, 2015 – While watching coverage of Franklin County Sheriff Pat Melton's news conference Tuesday on the indictments of nine people in connection with an ongoing series of Bourbon thefts, Louisville-based Bourbon blogger Carla Carlton was cheering…until a reporter asked what would be done with the stolen whiskey seized during the investigation. Sheriff Melton replied that while he hoped to return the estimated 25 sealed bottles of Pappy Van Winkle's Family Reserve to the Van Winkle family, the whiskey would likely be destroyed.
"It was sort of like a disturbance in the Force…across the Internet, there was this collective gasp," Carlton said in a telephone interview. "At that news conference, there was more Pappy sitting there than most people have ever seen at one time in their lives, and to think that might be destroyed along with the Eagle Rare 17 and Russell's Reserve seemed like just adding another crime on top of the crime that had already been committed."
Listen to Mark Gillespie's interview with Carla Carlton: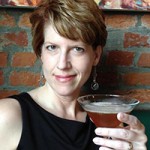 Carlton, who blogs as "The Bourbon Babe", immediately launched a campaign to ask Kentucky Governor Steve Beshear to "Pardon My Pappy" because, at 23 years old, he's "too young to die". The tongue-in-cheek campaign hopes to persuade state officials and the judge that will eventually hear the case to issue a waiver from a state law requiring that alcoholic beverages seized as evidence in a crime be destroyed. The campaign has received widespread interest from whisky lovers around the world through the #PardonMyPappy hashtag on Twitter, and Gov. Beshear's office issued a statement responding to the outcry.
"We are all glad that some of the missing Bourbon has been found. Hopefully, we can find some worthy cause for some of Kentucky's finest."
Sheriff Melton said Tuesday the whiskey in barrels stolen from Buffalo Trace and Wild Turkey distilleries will likely have to be destroyed, since there is no way to guarantee that they're not tainted. However, the court could rule that bottles labeled for retail sale with the original distillery seals need not be destroyed, and state liquor regulators would also have to weigh in with a ruling on how the whiskey could legally be disposed of. In addition, the Pappy Van Winkle bottles stolen from Buffalo Trace's warehouse in 2013 were covered by insurance, and it is possible that the insurance company could claim ownership of any recovered property covered by its policies.
The nine people indicted Tuesday in connection with a seven-year-long stretch of thefts from the distilleries include longtime Buffalo Trace employee Gilbert "Toby" Curtsinger, described as the leader of the ring. He was arrested in March after a tip led deputies to his home near Frankfort, where they found five barrels of whiskey later found to have been stolen from Wild Turkey. Investigators say Curtsinger, along with fellow Buffalo Trace employee Christopher Preston and Wild Turkey employee Mark S. Searcy, allegedly stole whiskey from their distilleries and re-sold it with the help of the other suspects on the black market through contacts made at softball tournaments for below-market prices.
While federal officials have been watching the case, which also involves weapons and steroids charges, the prosecution is being handled by Franklin County prosecutors. However, Carlton does see a potential federal role, noting that the recovered Pappy Van Winkle whiskies could serve the national purpose if and when the long-discussed "Bourbon Summit" between President Barack Obama and Senate Majority Leader Mitch McConnell of Kentucky is held.
Links: The Bourbon Babe Blog