More than a decade ago, I asked WhiskyCast listeners for some help in coming up with a whisky-related name for our male Old English Sheepdog puppy.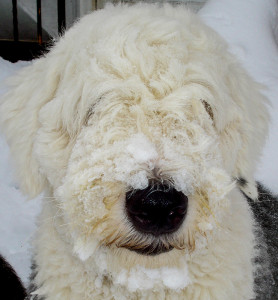 In the past, our pets have been named after characters in children's books, TV shows, or literary figures, and I wanted something different this time around — especially since one of the girls was insisting on the name "Darcy" from Jane Austen's "Pride and Prejudice."
Needless to say, I wasn't having any of that.
Thanks to those listeners and my friends in the Malt Maniacs who offered up dozens of potential names. In the end, I didn't get a whisky-related name, but "Bristow" worked out pretty well for the little guy. His nosing skills never really developed, but he was a faithful companion for 12 years (along with Frizzle, our other sheepdog who was with us for many years and was immortalized on an anCnoc bottle) and while he crossed over the Rainbow Bridge recently, he will always have a place in our hearts.
These days, "Bear" keeps us busy with walks and tummy rubs. He's the shelter dog Aria and Colton adopted right after they got married, and there's another dog around the house from time to time: our daughter Brianna's Border Collie "Poppy" – also known as "Poppy Van Winkle."
These are the original names I came up with: Talisker, Pulteney, Drammer, Orkney, and Macallan. Below are the names WhiskyCast listeners and some of our friends suggested (and they might work equally well for a cat):
Peat (along with variations like "Peaty")
MacKay
Islay
Skye
Clyde
Yoichi
Malty
Jameson
Chaser
Glen (and variations)
Sheepdip (especially for a sheepdog)
Cooper (I really liked this one!)
McEwen
Rowan
Rusty
Spirit
Hogshead (or "Hoggie" for short)
Laddie
Drammie
Glenglassaugh
Convalmore
Whisky (OK, that one's obvious!)
Bootleg
Bothie
Pot Still
Poteen
Grist
White Dog
Glen Garioch (or "Glenn" for short)
St. Magdalene (for a female, and "Maggie" or "Maddie" for short)
Brechin (or "Breeks" for short)
Royal Brackla (for the pedigree and "Brack" for short)
Royal Lochnagar (again, for the pedigree and "Loch" for short)
Auchentoshan ("Auchie" or "Toshie" for short)
Dimple
Cooley
Weller
Nevis (or "Ben")
Ruban
Bowmore (or "Bowie" for short)
Laphroaig (or "Laphy" for short)
Arran
Doig (after the distillery architect Charles Doig)
Oban
Ardbeg
Scot (or variations like "Scotty")
Macduff
Tobermory (or "Toby" for short)
Booker
Oogie
Airigh
Corry (An Ardbeg lover suggested these three)
Laga
Tali
Uisge
Beatha (Maybe for a female)
M.J. (in tribute to Michael Jackson)
Bunna
Caden
Duncan
Karuizawa (probably not best for a sheepdog)
Beam
Hancock
Dalmore
Dram or Drammer
Mashtun
Wort
Cardhu
Jura
Morty (for Mortlach)
Winkle
Scappy (for Scapa)
A'Boner (for you Aberlour lovers)
Chivas
Woodford
Forester
Jack
Barley
Crockett
Pappy (or a variation like "Poppy")