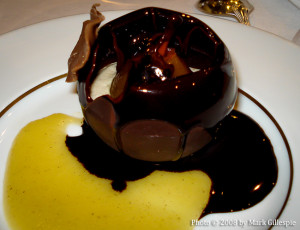 While they don't have to be as elaborate as the chocolate-encased pear and ice cream dessert with a whisky sauce that a Parisian chef whipped up for the opening dinner of Whisky Live Paris in 2008, cooking with whisky can add unique flavors and aromas to your table. For instance, one year we used an entire bottle of Johnnie Walker Red Label to brine the Thanksgiving turkey, and it was incredibly moist and full of flavor (the turkey wasn't bad, either!)
Christina Philburn, when she's not running the day to day operations of CaskStrength Media, works miracles in the kitchen on a daily basis. Women in the charming, yet regrettably dry town of Haddonfield have tried for years to get her to give up some of her kitchen secrets. Most of her recipes have never been written down, except for the ones handed down by the women in her family. Not even a secret wiretapping operation run by the National Security Agency could uncover some of her recipes, but she's agreed (after much begging on my part) to give up a couple of her whisky-related specialties here…Enjoy!
PULLED PORK SLIDERS WITH LAPHROAIG BARBECUE SAUCE & JICAMA SALAD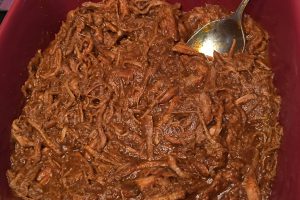 Everyone puts away their slow cooker for the summer, but we always pull ours out for this recipe because when it is hot outside, this is easy to let simmer and have a wonderful dinner. The BBQ Sauce is very thick and a little on the sweet and chewy side — so hold your judgment until you finish the process. The sauce needs to be mixed with the broth from the tenderloin for it to balance out. I usually cook the sauce while the meat is in the slow cooker, but have made it ahead of time and then finish cooking it down before adding it to the broth. Beef brisket substitutes well for the pork, but we use a different, lighter sauce for pulled chicken.
I am a free-form cook — I rarely follow a recipe or write one down. Our girls have taken to audio recording the "kitchen chatter" and doing a play-by-play of what goes into "family" recipes. I should also let you know that everything used in this recipe is organic. Three years ago we switched to organic food and reduced the processed foods we use by half. We feel like we make healthier food choices and use more quality ingredients. If you don't use organic, conventional selections should work but do try and get a grass-fed cut of meat.
I recommend serving with a rustic, whole grain, thickly sliced bread or bun and a side of Jicama Salad.
Pulled Pork
1.5 to 2 pounds organic pork tenderloin
1 medium orange with rind washed and thickly sliced
2 medium carrots, scrubbed with the top trimmed and cut into three-inch segments
¼ cup cilantro leaves, chopped well
4-6 peeled cloves of garlic
¾  cup apple juice
1 teaspoon pink Himalayan sea salt (or kosher/white sea salt)
½ teaspoon coarse ground pepper
1 teaspoon garlic powder
1 teaspoon onion powder
¼ teaspoon EACH of parsley, basil, thyme, oregano, sage and coriander
Mix all of the dry seasonings together, and rub into the pork tenderloin; sprinkle the cilantro leaves on top, and then let the meat rest for about 10 minutes;

With the slow cooker on low, add the garlic and apple juice, and position the carrots on the bottom to make a miniature platform for the tenderloin;

Place the seasoned tenderloin on top of the carrots and cover with the orange slices;

Cook for 2 hours on low, then turn the tenderloin and squeeze the orange slices into the broth;

Cook for another 1.5 hours, then remove the tenderloin and let it cool for a few minutes before pulling it — usually two regular dining forks work best;

Remove the rinds from the oranges but leave the fruit in the broth;

Using an immersion blender, purée oranges, garlic, cilantro, and carrots into the broth;

Stir in the Barbecue Sauce by hand until well integrated;

Add the pulled pork and simmer together for another ½ hour on low.
Laphroaig Barbecue Sauce
1 cup catsup
3 tablespoons saccharin sauce
1 tablespoon chipotle sauce (you can substitute ½ tablespoon dried chipotle peppers mixed with 1 tablespoon water— just let the dried peppers rehydrate a bit first)
¼ cup low sodium tamari sauce (soy sauce)
¼ cup brown sugar
¼ cup water
½ cup (one stick) butter (DO NOT SUBSTITUTE WITH MARGARINE)
1 teaspoon garlic powder
1 teaspoon onion powder
1 teaspoon cinnamon
½ teaspoon ground cloves
¼ cup Laphroaig Quarter Cask – but wait to add it!
Mix ingredients except for the whisky together well, then simmer on low for about 20 minutes until all the ingredients have married well; raise the heat and bring to a slow, steady boil and stir continuously for about 10 minutes.  Turn off the heat and let cool until the boiling has stopped and sauce has cooled slightly. Stir in ¼ cup of Laphroaig Quarter Cask and mix well, then let sit until pork is ready. Before adding to the broth, heat thoroughly but do not boil.
Jicama Salad
1 medium jicama, peeled and quartered
3-5 carrots, depending on size
½ fresh pineapple, cored and peeled
½ fresh red pepper
Garnish with finely chopped purple onion and cilantro
In a food processor or with a shredding grater, shred the jicama and carrots together.  Do a rough cut in small pieces of the pineapple and the red pepper.  Toss everything together — you can garnish with some finely chopped cilantro and small bit of purple onion…we serve this without dressing or with a wee bit of mayo-balsamic dressing, depending on everyone's mood.
DRUNK GRILLED SALMON
This recipe was developed when we lived in Alaska, and I prefer to use good Alaskan salmon because it seems more substantial to me. I recommend marinating the salmon overnight and making the chutney mid-day so the flavors have a chance to play.
Two ½ pound filets of Salmon on the thicker side
Marinade:½ cup Bourbon
3 cloves of garlic finely chopped
1 teaspoon chopped ginger (you can use crystallized ginger or ginger puree from the jar, but powdered ginger does not substitute well)
1 tablespoon soy sauce
1/8 cup brown sugar
1/8 cup fresh chopped cilantro
Salt and pepper the filets. Stir marinade ingredients together and then put into a flat container with the salmon meat side down. Refrigerate overnight if possible but set fish out to come to room temperature before grilling so the salmon does not stick to the grill. Grill over a medium fire until salmon is cooked fully (if you want to know how to test for a medium cooked filet, take your middle finger and touch your thumb; with your other hand, tap the meaty part of your palm below the thumb. That is the same firmness you should feel when you tap the salmon.)
Finish with a "chutney" glaze:
Two ripe Granny Smith apples, cored and chopped
¼ cup bourbon
1/8 cup cilantro
1/8 cup dried cranberries
Pinch to taste of cayenne pepper
1 tablespoon brown sugar
Cook together above ingredients over a low heat until the apples are soft and the cranberries plump.
BOURBON BALLS 2.0 (2007 version)
My recommendation is to use the darkest chocolate you can find for this recipe, and I like the Ghirardelli Baking Chips with 60% Bittersweet Cocoa.
2 1/2 cups of pecans, finely chopped
¼ cup of bourbon
½ cup of butter
2 pounds of confectioners sugar
1 cup of dark chocolate chips
Sift the confectioners sugar and cream together with the butter, then add the bourbon and pecans. Roll into 1 inch balls, place on a cookie sheet and cover with moist paper towels. Refrigerate at least two hours. Melt the chocolate chips. Using a skewer, dip the chilled balls into a bowl of bourbon to soak for a few seconds, then into the melted chocolate. Place on cookie sheet to harden. Makes about three dozen. Extra mixture can be frozen if desired.
IMPORTANT NOTE: Since these cookies spend no time in the oven, the alcohol in the bourbon remains at full strength. These cookies are for adults only, and the usual guidelines about responsible use of alcohol apply.