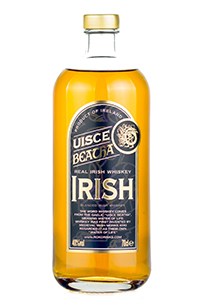 August 8, 2014 – Irish Whiskey has been the fastest-growing segment of the global whisky industry, and two more players are joining the market in the coming month. ROK Spirits, owned by entrepreneurs John Paul DeJoria and Jonathan Kendrick, will launch Uisce Beatha Irish Whiskey in Europe and the US in September. DeJoria is best known in the spirits industry as the co-founder of Patron Tequila, and is also the founder of the Paul Mitchell hair care products line, while Kendrick has been a key investor in mobile communications technology.
The whisky is a four-year-old blend of grain and pot still whiskeys from what the company describes as "one of the oldest distilleries in Ireland," without disclosing the name. Pricing has not been announced yet.
In addition, the fledgling Glendalough Irish Whiskey will launch a 7-year-old Irish single malt later this month, with plans to release 10 and 13-year-old versions in the near future. The Irish Times reports former national rugby team captain Brian O'Driscoll has joined the company as an investor in the Wicklow-based distillery, which is currently producing a line of seasonal gins as well. The company was founded in 2011, and has just completed work on its distillery. While the source of the 7-year-old whiskey has not been specified, it is known that Bushmills is the only Irish distillery producing single malt whiskey of that vintage.
The Irish Times reports that Glendalough has hired brand managers in New York and Washington, DC to help launch the single malt in the US market.
Links: Uisce Beatha | Glendalough