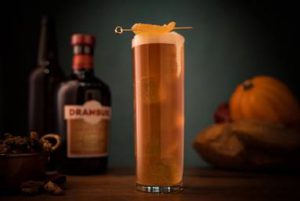 October 25, 2017 – No need for a Pumpkin Spice Latte this Halloween, when this Pumpkin Ginger Shandy cocktail recipe is available. The recipe was provided by William Grant & Sons, which owns both Monkey Shoulder and Drambuie.
1½ parts toasted walnut-infused Drambuie*
½ part Monkey Shoulder Scotch Whisky
¼ part lemon juice
¼ tsp fresh ginger
4-5 parts pumpkin ale
Garnish with a skewered candied ginger, and serve in a long glass.
*To make the toasted walnut-infused Drambuie: toast nuts over medium heat until browned and you can easily smell the toasted aroma. For every 1 part of Drambuie add 1/2 part of toasted nuts. Place in an airtight container to infuse for 24 hours, then strain and reserve for use.