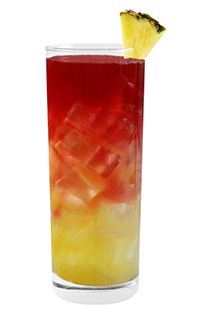 July 21, 2014 – Laphroaig's crack PR team sent this cocktail recipe around for the mythical "National Scotch Day" on July 27. Not sure who came up with the idea, but personally, I've never needed a holiday (official or not) to enjoy a dram. However, Laphroaig's peaty and medicinal nature makes it a challenge for bartenders to use in a cocktail – so any time someone comes up with a recipe using Laphroaig, I'm interested.
1 1/2 parts Laphroaig 10
1 1/2 parts pineapple juice
1 1/2 parts cranberry juice
Build over ice in a highball glass, and garnish with a slice of pineapple on the rim.