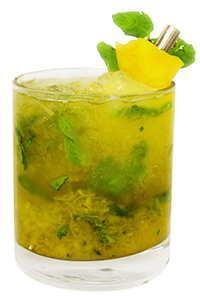 April 24, 2014 – With the Kentucky Derby coming up soon, Beam's master mixologist Bobby "Bobby G" Gleason created this take on the classic Mint Julep:
1½ parts Knob Creek Bourbon
½ part thin honey syrup (3 parts honey, 2 parts water)
1½ parts fresh pressed pineapple juice
6 fresh mint leaves
Club sodaMuddle the pineapple juice, honey syrup and mint in a tall highball glass. Fill with ice, add Knob Creek Bourbon and stir with club soda. Garnish with a pineapple clip and mint on top.