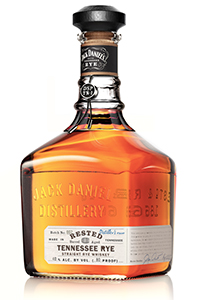 April 7, 2014 – Jack Daniel's is following up on the 2012 release of an unaged rye whiskey with a second limited-edition release, now that whiskey laid down in 2012 has been in casks for nearly two years. "Rested Tennessee Rye" will be available in limited amounts at retailers later this month, even though Master Distiller Jeff Arnett cautioned in a news release that it's not reached full maturity yet.
"Given the success of Unaged Rye, we felt like we should offer our friends another limited-quantity rye expression with a brief exposure to the barrel that's still handcrafted with the same passion and quality they expect from all of our products. And we hope they'll remember that, as good as this new offering is – it's still just a taste of what's to come."
Rested Tennessee Rye uses the same mashbill as Unaged Rye: 70% rye, 18% corn, and 12% malted barley. As with the other Jack Daniel's whiskies, it also uses the same spring water, yeast strain, and the traditional charcoal mellowing process. Arnett did not specify how much longer he thinks the rye whiskey will need to reach full maturity.
Rested Tennessee Rye will be available in 750ml bottles for a recommended price of $49.99 USD.
Links: Jack Daniel's