We're celebrating the 10th anniversary year of WhiskyCast with something special.
One of the things we've been proudest of over the years is the opportunities we've had to give something back and help others in gratitude for being able to make WhiskyCast our life's work. Over the years, we've raised more than $25,000 for various charities through donations of whisky tastings and exhibition prints for auctions, organizing auction travel packages to Scotland and Kentucky, and of course, the Charity: Water "Water of Life Drive" in 2010 that helped fund two water wells for villages in Ethiopia.
This time, we want to do something that will help benefit the whisky community. During an Inver House press trip at the end of October, our final tasting was at a fishing lodge along the River Spey near Ballindalloch Castle. We not only tasted several Speyburn whiskies, but talked with Polly Burns, a research biologist with The Spey Foundation. The Foundation is part of the Spey Fishery Board, and is responsible for research into preserving and re-establishing fish and wildlife habitat along the Spey and its entire watershed. As the sun was setting along the river, I took a few minutes to make this photograph.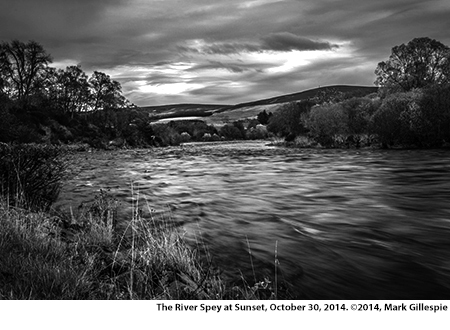 After I shared this photo on social media, the response was so great that we were inspired to use it to help the Spey Foundation. We're making a limited edition of 250 signed and numbered 16″ X 20″ prints available, and part of the sale proceeds from each print will be donated to the Spey Foundation. We're hoping to be able to donate at least $2,500 to the Foundation to help support its research that helps keep the River Spey and its tributaries clean and healthy, and if you've ever tasted a whisky from one of the Speyside distilleries, we hope you'll help us in this worthwhile project.
As with the prints available in our online gallery, each one will be custom-printed on archival photo paper ready for framing. Each print is $50 USD, with $10 for shipping anywhere in the world (if it costs more to ship yours, we'll cover the additional cost). Each one will be signed and numbered in the order in which we receive orders. To order your print, just click the "Add to Cart" button to pay with any major credit card or PayPal account.
Slainté!