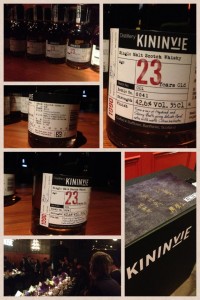 October 26, 2013 – Kininvie was the "secret distillery" at the William Grant & Sons campus in Dufftown that is home to Glenfiddich and The Balvenie. It existed as a separate stillhouse near the Balvenie's stillhouse, but shared mash tuns and washbacks with the Balvenie. The stills were also used to produce the Hazelwood-labeled single malts, most notably those honoring the late Janet Sheed Roberts, the last surviving granddaughter of William Grant.
The Kininvie stills ran only as needed to supply malt whisky for blending purposes, and there was officially never any intent to bottle Kininvie as a single malt — until now. This week, what is believed to be the first official bottling of Kininvie went on sale in Taiwan, with an estimated 7,000 bottles (375ml) of the 23-year-old whisky available at a recommended price of NTD$7,000 ($238 USD). Malt Maniac Ho-Cheng Yao reported the release on the Malt Maniacs & Friends Facebook page, along with his tasting notes:
"Brown color, the first impression is the nutty nose with slightly sulfury, obviously the sherry cask influence. The Honey and floral nose is still clear, plus lots spice and grassy nose. The back ground is malty sweet, it is especially clear when taste it, The palate is rounded and mild. Very and probably too easy to drink. Medium light body, yet lingering long. Sweet in palate makes you want to dilute some water, but it actually very drinkable if you taste straight. Very nice vatting and immediately reminds me Master Brian Kinsman's style."
In addition, samples of a cask-strength Kininvie were poured earlier this month at WhiskyFest New York during a master class with Brian Kinsman. The 23-year-old Kininvie available in Taiwan likely was distilled during the year Kininvie opened in 1990, and it's not clear whether William Grant & Sons plans wider releases of Kininvie.
Links: William Grant & Sons