Each week, we bring you the latest whisky news on WhiskyCast, but a lot can happen during the week. Now, you can keep up with whisky news as it happens here on WhiskyCast.com!
By Mark Gillespie
December 18, 2021 – The recovery from last weekend's devastating tornadoes in Western Kentucky and four other states could take months, but Bourbon lovers are hoping to help make some of the burden easier…not with their whiskey, but with their money and their hearts. An online auction of whiskies, experiences, and other memorabilia has already raised more than $1 million in bids in less than 48 hours.
"To be honest with you, that was the goal for the entire auction," says whiskey writer and podcaster Fred Minnick, who organized the auction along with the Bourbon Crusaders and the Kentucky Distillers Association. "We had no idea that people would bid so quickly and often…and big," he said in a telephone interview Saturday.
As of Saturday afternoon, the highest bid received so far was $149,100 for an entire barrel of vintage Four Roses Bourbon to be selected by the winning bidders from a group of barrels between 17 and 24 years old in a private tasting with Master Distiller Brent Elliott. High-bid items also include a chance to pick a barrel of Angel's Envy Bourbon to be bottled at cask-strength by the distillery, with the current high bid at $85,000, along with a bottle of Old Rip Van Winkle 23-year-old Bourbon donated by Julian Van Winkle III at $23,000.
The auction concludes Tuesday evening at 10:00pm EST following a live online auction for those and other selected items to be streamed on Minnick's YouTube channel. Proceeds from the auction will go to the Western Kentucky Tornado Relief Fund established by the office of Kentucky Governor Andy Beshear.
Listen to Mark Gillespie's interview with Fred Minnick:

"We saw the Bourbon community in auction, but we also saw people kind of pulling their resources together knowing it's for something special," Minnick said. "Some of it is about the bottles and the experiences, but I think this is just showing how big the heart of the Bourbon community is and it's a community that has always given back…this hit us hard in Kentucky, and this is people showing up for Kentucky."
The auction is being held at KYBourbonBenefit.com, and offers the ability to make direct donations to the relief effort as well. Auction items also include a variety of Scotch and other whiskies donated by distilleries, whiskey barrel furniture, and ticket packages for various whiskey festivals around the United States.
Editor's note: The signed bottle of Angel's Envy Bourbon shown in this story was donated by the author. 
Links: FredMinnick.com | Bourbon Crusaders | Kentucky Distillers Association 
---
October 24, 2021 – Striking Heaven Hill workers are putting away their picket signs and preparing to return to work this week after ratifying a new five-year contract Saturday. 420 members of the United Food and Commercial Workers Local 23-D had been on strike since September 11 at Heaven Hill's main maturation and bottling facilities in Bardstown, Kentucky. According to Local 23-D president Matt Aubrey, workers who test negative for Covid-19 will return on Thursday morning after the company does a deep cleaning of the Bardstown facilities and vehicles.
In an interview with WhiskyCast, Aubrey said the federal mediator assigned to the dispute contacted him last Wednesday night and asked for a negotiating session the next morning. That session lasted more than 12 hours and ended with a tentative agreement presented to workers Saturday for ratification. Aubrey acknowledged that his members were split on whether to accept the new contract, but that the vote passed with a significant margin of support.
The union's key goal was to prevent Heaven Hill from assigning workers to shifts on Saturdays or Sundays, and the new contract maintains the current Monday-Friday work week for current employees while allowing Heaven Hill to assign new workers to weekend shifts.
"Heaven Hill kind of bit themselves, because (CEO) Max Shapira sent a letter to all the workers about the traditional/non-traditional language…his personal letter had more info and more concrete language than the proposal that the company was trying to come back to the union," Aubrey said. "Once we explained it to the members, I think they realized that they are in a safe haven…there is language in there now that states that they will absolutely not unless volunteered or taking a rated position be forced onto that non-traditional (schedule)," he said.
In previous negotiations with other distilleries, the union's goal has been to protect benefits working conditions for future employees as well as current ones. Aubrey said this does not go against that goal, since potential employees will know before they join the company that they could be assigned to weekend shifts.
Heaven Hill executives issued a statement thanking union members for ratifying the new contract.
"We look forward to welcoming our team members as we transition back to normal operations. The agreement continues Heaven Hill's long-standing commitment to its team members with industry-leading health care, wage growth and increased schedule flexibility."
Workers will receive a pay increase of up to $3.09 per hour over the five-year life of the contract, along with maintaining current levels of overtime. The contract also calls for additional company contributions to health insurance and 401(k) retirement plans, along with an increase in paid holidays and vacation benefits.
Both sides will now try to repair damaged relationships following the six-week strike, which led to at least one court hearing, a National Labor Relations Board complaint, and the beginnings of a social media-fueled boycott movement targeting Heaven Hill whiskies after the company declared an impasse last week and announced plans to hire replacement workers.
Aubrey compared the management-labor relationship to a dysfunctional family.
"There's times where you're not going to agree with everything, you're not gonna see eye to eye, but there's always light at the end of the tunnel. The local union and Heaven Hill before this, had always had a great relationship…we've always worked well together. The last few weeks was just one of those situations that we just didn't see eye to eye," he said.
WhiskyCast has requested an interview with Heaven Hill executives. This story will be updated with additional information as necessary.
Editor's note: This story was updated following our interview with UFCW Local 23-D president Matt Aubrey.
---
October 22, 2021 – After nearly six weeks of picketing, accusations, and counter-accusations, a tentative agreement has been reached between Heaven Hill Distilleries and Local 23-D of the United Food and Commercial Workers union. Union members will vote on the five-year contract  tomorrow. The agreement followed Heaven Hill's announcement earlier this week that it would begin hiring replacements for 420 striking workers after declaring an impasse in contract talks. In addition, there has been a growing backlash against the company on social media since that announcement with calls for a boycott of Heaven Hill's brands, including the popular Evan Williams and Elijah Craig bourbons.
While specifics of the contract have not been publicly released ahead of the ratification vote, Heaven Hill's statement indicated that it "continues Heaven Hill's long-standing commitment to its team members with industry-leading health care, wage growth and increased schedule flexibility." Heaven Hill had hoped to achieve its goal of expanding production to seven days a week at its main maturation and bottling facilities in Bardstown, Kentucky. 
Union negotiators had fought strongly against the proposal to add weekend shifts to what has traditionally been a Monday-Friday work week, and 96 percent of the striking workers voted against the company's final offer before the strike began on September 11.
However, the Local 23-D executive committee unanimously recommended today that its members approve the new contract. In a statement issued by the UFCW, Local 23-D president Matt Aubrey thanked local residents who supported the striking workers.
"UFCW Local 23D has reached a fully recommended tentative agreement with Heaven Hill on a five-year contract. With the strong support of the Bardstown community, these hardworking men and women have been standing together for more than a month to protect these good Kentucky jobs that their families have counted on for generations. Heaven Hill workers will make their voices heard tomorrow when they vote on this tentative agreement."
WhiskyCast has requested interviews with union leaders and Heaven Hill executives. This story will be updated with additional information.
Links: Heaven Hill | United Food & Commercial Workers
---
By Mark Gillespie
September 21, 2021 – Like other spirits companies, Pernod Ricard has been nibbling at the edges of the e-commerce business with in-house platforms. Now, the number-two spirits producer is taking a shark-sized bite with a deal to acquire London-based retailer The Whisky Exchange from founders Sukhinder and Rajbir Singh. The brothers entered the retail business 22 years ago with a single shop in London, and have expanded over the years to become one of the world's leading online retailers of whiskies and other spirits while opening two additional locations in London.
Terms of the deal were not disclosed, but the acquisition includes the online and physical retail operation, the Speciality Drinks distribution unit, and the Whisky.Auction online auction site, along with the annual Whisky Show events produced by The Whisky Exchange. In addition, Pernod Ricard will also acquire ABV Global, which produces the London Cocktail Week, London Beer Week, and London Wine Week events.
Sukhinder and Rajbir Singh will stay on following the acquisition as joint managing directors, but will be splitting their time managing the remaining assets not included in the deal. That includes their new distillery currently under construction on Islay, along with the Elixir Distillers independent bottling unit and Speciality Brands, the UK importer for whiskies from Amrut, Kavalan, Waterford, Corby, Michter's, and other spirits.
In a statement emailed to WhiskyCast, Sukhinder Singh cited the growth of the whisky industry worldwide as a critical reason for their decision to seek a partner. "The last few years in particular have brought about a period of rapid growth that has highlighted the need for us to bolster our experience, resource and infrastructure to deliver the next stage of business development, and we're excited to have agreed this deal with Pernod Ricard to help achieve this. Myself and my brother Rajbir are looking forward to remaining at the helm of the business and helping drive future growth for the global drinks industry," he said. 
Pernod Ricard has been operating its own e-commerce unit in countries where it's allowed to do so. The Paris-based company acquired Uvinium in 2018 and has since rebranded it as Drinks & Co. with online sales in 10 European countries. In 2019, it acquired Bodeboca, Spain's largest online wine and spirits retailer, and continues to operate it separately from the Drinks & Co. Spanish web site. In addition, it sells whiskies through the web sites for its Jameson, Redbreast, and Chivas Brothers brands where allowed by local laws.
Pernod Ricard CEO Alexandre Ricard expects to use the knowledge the Singhs have developed in selling whiskies and other spirits worldwide through The Whisky Exchange's online site, including their experience in shipping to the United States. "E-commerce is a key channel in our long term strategy. We are thrilled to work with industry pioneers such as Sukhinder, Rajbir and the whole team to bring The Whisky Exchange to a new step of its development," Ricard said in a statement.
Listen to this weekend's episode of WhiskyCast for more details on this story, including an interview with Sukhinder Singh.
Links: The Whisky Exchange | Pernod Ricard
---
By Mark Gillespie
September 11, 2021 – With the biggest weekend of the year in the "Bourbon Capital of the World" just a few days away, visitors  to Bardstown, Kentucky for the Kentucky Bourbon Festival may be greeted with picket signs at the town's newest attraction. Heaven Hill workers started a strike today after their five-year contract expired at midnight and are staffing a picket line outside the Heaven Hill Bourbon Experience, which opened this summer after a two-year renovation and upgrade project.
Members of the United Food and Commercial Workers Local 23-D voted overwhelmingly in favor of the strike Thursday night, according to Louisville television station WDRB. The local represents 420 production workers at Heaven Hill's main campus in Bardstown and its maturation warehouses around Nelson County, and also represents workers at Barton 1792 Distillery and the Four Roses maturation and bottling facility in Cox's Creek. Workers at the Heaven Hill Bourbon Experience visitors center are not represented by the union.
Union leaders are upset with what they claim is a proposal to change work shifts to create a "non-traditional" work schedule that includes Saturdays and Sundays, instead of the current Monday-Friday schedule for all production workers. "They feel that rather than working to live, they're trying to implement things to make them live to work," Local 23-D president Matt Aubrey told WhiskyCast in a telephone interview. "They're family-owned and 'hey, we want to treat everyone like family,' they're not treating these members like family…all these members out here, they have a family, they have sons and daughters, grandchildren…they have loved ones that if what the company wants to preserve and what it wants to push, it's gonna take these members away from their family," he said.
In 2016, workers were divided on whether to accept the contract that expired last night. That deal included $7,250 in bonuses for each worker over the length of the contract along with annual pay raises in the final three years, and 66% of those voting cast ballots to accept the new deal. According to union leaders, 96 percent of those voting Thursday night supported going on strike as soon as the contract expired.
Heaven Hill executives were not available for interviews, but shared this statement with WhiskyCast.
"Thursday evening, the membership of the United Food and Commercial Workers Local 23-D failed to ratify a new five-year contract with Heaven Hill. Since the company was founded, the support of our employees has been a source of pride and we have had productive conversations with the union for several months now regarding components of the contract. We will continue to collaborate with UFCW leadership toward passage of this top-of-class workforce package."
The strike will also affect Heaven Hill's participation in the Kentucky Bourbon Festival, which gets underway this Thursday. Festival officials have confirmed that Heaven Hill will not be taking part in tastings and other events during the festival, including the World Championship Bourbon Barrel Relay competition in which the distillery's teams have dominated in recent years. Aubrey told WhiskyCast his members will not be allowed to carry picket signs anywhere other than at Heaven Hill facilities represented by Local 23-D, including the Bardstown campus and nearby maturation warehouses. However, they can wear t-shirts promoting their support for the strike in public – including at the Festival grounds around Spalding Hall in Bardstown.
The walkout will primarily affect Heaven Hill's Bardstown-based bottling and maturation operations. Workers at Heaven Hill's Bernheim Distillery in Louisville are represented by a different UFCW chapter, and spirits distilled at Bernheim are trucked to Bardstown to be filled into barrels before being placed in one of the company's warehouses for maturation. Heaven Hill has not indicated whether production at Bernheim will be stopped or slowed down during the strike.
The last strike affecting a major Kentucky distiller came in September of 2018 when Four Roses workers walked out for two weeks over the company's plans to create a different benefits package for new employees. That dispute ended when the company agreed to allow all employees to choose between the current sick leave policy or sign up for short-term disability insurance that takes effect after an employee uses 10 sick days in a year.
Aubrey also denied reports on social media suggesting that a strike is also coming at Sazerac's Barton 1792 Distillery in Bardstown, noting that the union's contract at 1792 Barton does not expire until 2024.
This story will be updated with additional information as it becomes available.
Editor's note: This story was updated with additional information following an interview with UFCW Local 23-D president Matt Aubrey. In addition, we have clarified where Local 23-D members are allowed to picket to include the company's maturation warehouse sites where union members work.
---
August 23, 2021 – Jack Daniels became the world's best-selling American Whiskey without an age statement, but that's not how Jack Daniel himself made his whiskey. Before his death in 1911, Jack Daniel regularly bottled whiskies with age statements ranging from 10 to 21 years old. After Prohibition ended and the Motlow family resumed distilling, the lack of older whiskies forced them to bottle Jack Daniel's without an age statement.
That changes with the debut of the new Jack Daniel's 10 Year Old Tennessee Whiskey, the first whiskey from Jack Daniel's in more than 100 years to carry an age statement.
"Back in his day, things were quite a bit different…certainly with the level of control we have with raw materials, ingredients, and our know-how with distillery operations and distillation, and of course the barrels that we're able to produce ourselves at our cooperages, we have so many advantages today that Jack didn't have," says Chris Fletcher, the 8th master distiller in Jack Daniel's history. "Why not do it…why not go back to our roots and do something that Jack himself did…I couldn't be more excited," he said in an interview at the distillery.
Fletcher and his team, led by Assistant Master Distiller Lexie Phillips, started the process for this whiskey several years ago, selecting seven and eight-year-old barrels from the upper levels of the distillery's barrel houses where the temperatures are most extreme and moving them to the ground floor. Traditionally, barrels for the flagship Old No. 7 version of Jack Daniel's are selected from many different parts of the barrel houses and blended together for a consistent flavor, but Fletcher chose to try something different for this new expression.
"Top floor, single barrel level, that's really going to bring a lot of rich color, lot of flavor to it, and we really didn't want to go much longer than about eight on that top floor," Fletcher said. "Could you pull that off, yeah, who knows…a couple of mild summers, absolutely you could, but we decided in looking at this batch, couple of other batches, to move them down lower just to kind of slow things down and let it simmer out just a bit," he said. Fletcher also made the call to bottle the whiskey at 48.5% ABV (97 proof), a first for the brand.
The new whiskey will be available in the U.S. as an annual release starting in September at a suggested retail price of $70 per bottle, with no current plans to release it in export markets.
Tasting notes for the Jack Daniel's 10 Year Old are available now at WhiskyCast.com.
Editor's note: Our interview with Chris Fletcher was conducted during a press trip for selected whisky writers to the Jack Daniel Distillery, with travel expenses covered by Brown-Forman. However, as with all of our content, full editorial control over this story remains with WhiskyCast.
Links: Jack Daniel's
---
By Mark Gillespie
July 12, 2021 – After four years on the job, Scotch Whisky Association chief executive Karen Betts has announced her plans to leave the SWA at year's end. The former British ambassador has been tapped as the new CEO for the UK's Food & Drink Federation to succeed Ian Wright, who previously announced his plans to leave the London-based trade association at the end of this year.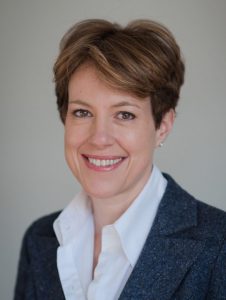 Betts became the first woman to serve as the SWA's chief executive when she joined the Edinburgh-based body in May of 2017. Like several of her seven predecessors, she left the UK's diplomatic corps for the role. Betts was serving as the British ambassador to Morocco and Mauritania at the time, and had previously been part of the British diplomatic delegations in Washington and at European Union headquarters in Brussels.
Her diplomatic experience proved useful as the SWA navigated the rocky waters caused by trade disputes between the United States and its European trading partners, as well as the Brexit divorce between the United Kingdom and the European Union. The former led to dueling tariffs on whisky imports for the first time in more than 20 years, while the latter has resulted in difficulties for SWA member companies in shipping their products from Scotland to Continental Europe since the divorce became final in January.
Federation president Jon Woods cited that experience in a statement today announcing Betts's move.
"This is a time of unprecedented change and opportunity for the food and drink industry. As we emerge from the challenges of Brexit and Covid-19, Karen will bring great understanding of, and experience in, working closely with Governments and some of the world's biggest consumer goods companies. She has spent the last four years speaking for an industry with deep provenance and a range of businesses of all sizes determined that they, too, should be heard."
Betts is currently on leave and unavailable for an interview, but in a statement released by the SWA, Edrington CEO and SWA Chairman Scott McCroskie praised her successes over the last four years.
"After more than four years in post, Karen will leave the Association with our heartfelt gratitude.  She has steered the industry successfully through a turbulent period, critically while punitive tariffs were imposed on Scotch Whisky by the United States, through the UK's departure from the EU, and during the Covid-19 pandemic. Her leadership has helped the industry emerge in a strong and forward-looking position. Karen and her team have also positioned the industry to take advantage of the opportunities that lie ahead. Her focus on increasing diversity in our workforce, achieving our net-zero emissions target and growing trade in key global markets will help to secure the industry's success in years to come.  I am confident that a new Chief Executive will be able to build on this for the benefit of our sector, at home and around the world."
Ironically, at least some of the issues Betts faced may be blamed on her immediate predecessor, Lord David Frost, who left the SWA in late 2016 to return to government service as a special adviser to then-Foreign Minister Boris Johnson. As Johnson's lead Brexit negotiator, he has taken a hard-line position in ongoing negotiations with the European Union over the Northern Ireland Protocol and other issues. Those conflicts have affected the flow of British exports to the remaining 27 European Union member nations, which remain the largest single export market for Scotch Whisky.
The SWA has started a search for its next chief executive.
---
By Mark Gillespie
June 15, 2021 – The trade dispute over government subsidies to Airbus and Boeing that spilled over into the whisky industry has been resolved for now. U.S. and European Union negotiators have agreed to a framework for settling their 17-year-long dispute that includes suspending retaliatory tariffs linked to the dispute for the next five years. That's where the distilled spirits industry comes in, since spirits had become collateral damage in the dispute with tariffs imposed on both sides of the Atlantic.
The agreement was announced today in Brussels during the summit between U.S. President Joe Biden and EU leaders. It means that the U.S. 25% tariffs on liqueurs, cordials, Cognacs, and brandies from Germany, France, Ireland, Italy, and Spain will not resume on July 11, when the current four-month pause for negotiations was set to expire. Likewise, the EU will drop its 25% tariffs on American-made rum, brandy, and vodka.
"For almost 20 years we have been at each other's throats, fighting each other in terms of competition between our industries. While we have been engaged in this fight, others are taking the opportunity to launch their own industries, and we have been too busy fighting each other to pay attention," U.S. Trade Representative Katherine Tai told reporters in Brussels.
"There was a fairly compelling view that the Boeing and Airbus case would get resolved in the wee hours of July 10th," said Distilled Spirits Council CEO Chris Swonger. "A lot of credit goes to the Biden Administration…they inherited a lot of challenges, including this 17-year-old Boeing and Airbus trade dispute. Certainly, they're doing this one step at a time, and I can't say enough how thankful we are…this probably wasn't easy to do," he said in a Zoom interview.
While this agreement does not include the United Kingdom, also one of the parties in the aircraft subsidies dispute, a similar announcement is expected tomorrow in London when Ambassador Tai meets with her British counterpart, International Trade Secretary Liz Truss. Great Britain and the U.S. also agreed to a four-month long pause in their retaliatory tariffs in March, and a similar agreement would have the largest impact on the whisky industry by ending the U.S. 25% tariff on imports of Single Malt Scotch Whisky. The tariff imposed in October of 2019 has resulted in a 35% decline in Scotch Whisky exports to the United States with millions of dollars in lost sales, according to the Scotch Whisky Association.
The two sides have also been discussing the ongoing dispute over steel and aluminum, another area in which the whisky industry has become collateral damage. EU leaders imposed a 25% retaliatory tariff three years ago this month on imports of Bourbons and other American whiskies after the Trump Administration slapped tariffs on imported steel and aluminum. That move used a little-known part of U.S. law dating back to 1962 allowing for punitive tariffs on "national security" grounds, and the Trump Administration cited the need to protect the domestic steel industry from low-cost imports.
Great Britain has started a consultation period aimed at restructuring the tariffs it inherited from the EU in Brexit, but European leaders have held firm on keeping the tariff on whisky and other consumer goods until the U.S. removes the "Section 232" tariff. Since the tariff took effect in June 2018, exports of American whiskies to Great Britain have declined by 53% and 37% to the European Union's 27 member countries. The Biden Administration has expressed support for resolving the steel dispute, which it blames on China's subsidization of its steel and aluminum makers. However, the administration is under pressure at home from domestic steel makers and unions representing their workers to keep the tariff in place.
According to Swonger, the Brussels summit may end with a joint statement from the U.S. and EU leaders pledging to work toward a resolution of the steel dispute by December 1.
"That public commitment would be well-received, because that would give us some hope," Swonger said. "Unfortunately, we have to continue to press hard because we don't want the American whiskey tariffs hanging out there too much longer, but we're anticipating this communique coming out, hopefully, from the U.S. and the EU, to resolving the Section 232 tariffs…which would ultimately remove the tariffs on American whiskey, and then we'd be back to zero-for-zero tariffs."
During the last "zero-for-zero" period where there were no import tariffs on spirits between Europe and the United States from 1997 until the 2018 European tariff, whisky exports on both sides skyrocketed and helped spur a global boom in whisky sales. Last week, more than 100 different industry associations representing spirits and other consumer goods affected by the trade war urged politicians on all sides to set aside their differences to help the transatlantic economy recover from the economic impact of the Covid-19 pandemic.
This story will be updated with additional information as necessary.
Links: Office of the U.S Trade Representative | European Commission | Distilled Spirits Council of the United States
---
June 15, 2021 – Think back to February 3, 1940. World War II was raging in Europe, but British Prime Minister Winston Churchill had not yet given the orders to shut down Scotland's whisky distilleries. On that day, Gordon & MacPhail filled a Sherry butt from the Jose Ramirez bodega in Porto de Santa Maria, Spain with new make spirit at the Glenlivet Distillery. George Urquhart and his father John had long-standing contracts with Glenlivet and other distilleries to purchase new make spirit for their family's growing business based nearby in Elgin.
That cask rested for 80 years in Gordon & MacPhail's Elgin warehouses until February 5, 2020, 80 years and two days after it was filled. The whisky has been stored carefully in an inert tank since then, but will be released to the world this autumn as the "world's oldest" single malt whisky, the Gordon & MacPhail Generations 80 Year Old from Glenlivet Distillery. The definition of "world's oldest whisky" is based on the time a whisky spends maturing in wood, and not when it may have been distilled. That aging stops when the whisky is emptied from its barrel, and does not include the time between then and when it is bottled.
The family-owned company plans to release 250 decanters of the vintage whisky in collaboration with noted architect and designer Sir David Adjaye OBE. Adjaye is designing the bespoke decanters and cases for the whisky, and those designs will be unveiled shortly before the first decanter is auctioned at Sotheby's in early October. The proceeds from the auction will benefit Trees for Life, a Scottish charity focused on reforestation efforts.
Gordon & MacPhail holds the current record with its Generations 75 Year Old from Mortlach Distillery released in 2015, and has also released 70-year-old single malts from Mortlach and Glenlivet as part of its Generations range.
Pricing for the whisky has not yet been announced. WhiskyCast has requested interviews with Gordon & MacPhail executives, and this story will be updated as necessary.
Links: Gordon & MacPhail
---
By Mark Gillespie
June 15, 2021 – Single malt whiskies have been a mainstay of the whisky world for decades, but in one of the world's largest whisky markets, there is no legal definition for "single malt" whisky. Now, the Treasury Department's Alcohol and Tobacco Tax & Trade Bureau has taken the first baby step in the process of creating a legal standard for "American Single Malt" whisky.
The agency has added the topic to the federal government's "Unified Agenda" overseen by the Office of Management and Budget. That document outlines proposed regulatory actions across all federal agencies, and serves as a guide to both current and future plans for changes in federal regulations.
In this case, the TTB acknowledged the requests from distilling industry groups and consumers to create a "standard of identity" for American Single Malt whiskies. That includes the American Single Malt Commission, a group of more than 170 distillers either selling American Single Malt whiskies now or maturing them for future releases. Matt Hofmann, master distiller and co-founder of Seattle's Westland Distillery, is one of the Commission's leaders and praised the move in an Instagram post Monday night.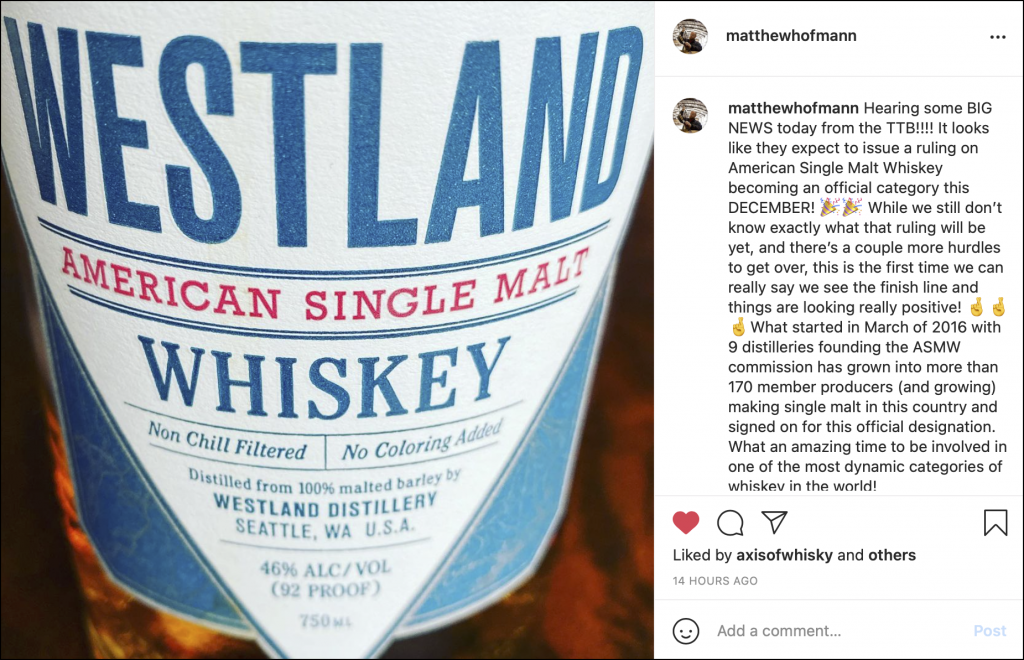 "Whether it takes six months or 18 months…we're whiskey makers, we're used to waiting," Hofmann said in a telephone interview. "To be able to have a start to the process and to really have it be publicly declared 'OK, this is on the table, this is what's being worked on,' is definitely a big achievement," he said.
The agency's Unified Agenda notice does not give any guidance on what TTB staff might recommend in the proposed regulation. Those recommendations will not become public until the next step in the process, when the agency issues a "Notice of Proposed Rulemaking" (NPRM) in the Federal Register. According to the agenda, that notice could be issued as early as this December, but it should be noted that regulatory actions are often delayed long past the initial timeline. Issuing the NPRM then opens up a 60-day comment period for the public and industry to suggest changes to the proposed rules. Following that period, TTB staff then  take those comments into consideration before deciding on whether to issue a final change in the regulations.
As an example, the TTB's proposal to de-regulate specific sizes of bottles for distilled spirits was published in the Federal Register in July of 2019. After the public comment period generated criticism of the agency's original plan to only specify minimum and maximum bottle sizes and allow the use of any size bottle in between, TTB staff went back and revised their proposed rule changes. The final regulations were not issued until December 28, 2020, 18 months after the NPRM was issued.
The desire for an official definition of American Single Malt dominated public comments during the TTB's 2020 rewrite of regulations for distilled spirits, wine, and beer labeling and advertising regulations. However, agency staff decided at the time to postpone action on the issue until a later date.
The Distilled Spirits Council of the United States was one of the groups submitting comments in favor of creating the definition at that time, and CEO Chris Swonger re-stated his support for it today. "It just underscores how thriving American whiskey is, and it's really exciting news…certainly DISCUS will be supportive and just make sure that we preserve and protect the integrity of American whiskey and now, it looks like American Single Malt Whiskey as well," he said in an interview.
Given that this is the first time the agency has considered creating a "standard of identity" for not just American Single Malt, but any single malt whisky, it's likely the initial draft regulations will not please everyone. Until now, the United States has treated most single malts under the standard for "malt whisky," which is written to the same requirements for Bourbon and mandates the use of  new charred oak barrels.
However, the United States allows three other countries to define their own standards for "single malt." Scotland, Ireland, and Canada have specific exemptions in the regulations where the U.S. defers to their legal definitions of whisky. That has caused conflicts in the past for importers of single malts from India, Japan, and other countries, including England and Wales — which have not always enjoyed the same treatment as their Scottish neighbors despite making their whiskies to the same legal standards. Whiskies from "non-traditional" whisky-making countries have been rejected during the TTB's label approval process under the "malt whisky" requirement for the use of new charred oak casks, though those rejections have become rarer in recent years as more countries begin exporting their whiskies to the U.S.
The American Single Malt Commission's proposal submitted to the TTB mirrors in many ways the Scotch Whisky regulations, with  the exception of Scotland's mandate that only pot stills can be used. It requires the use of 100% malted barley in whisky distilled at a single U.S. distillery to no more than 80% ABV, matured in oak casks no larger than 700 liters, and bottled at a minimum of 40% ABV. It would allow the use of either new or used barrels, and industry groups will be watching closely to see where the TTB staff comes down on that key issue. TTB officials have not yet responded to an interview request.
The American Single Malt proposal was just one of 24 proposed regulatory actions added to the Unified Agenda. Most involve the wine industry with creation of specific viticultural areas, but the list also includes a proposal that updates the current federal regulations to reflect the Craft Beverage Modernization and Tax Reform Act changes passed last December by Congress. That legislation was part of the Covid pandemic relief act and made the reduction of excise tax rates for small-scale distillers permanent.
Editor's note: This story was updated with comments from Westland Distillery's Matt Hofmann and DISCUS CEO Chris Swonger. 
Links: Tax & Trade Bureau | Westland Distillery | American Single Malt Whiskey Commission | Distilled Spirits Council of the United States
---