Each week, we bring you the latest whisky news on WhiskyCast, but a lot can happen during the week. Now, you can keep up with whisky news as it happens here on WhiskyCast.com!
September 27, 2022 – Kentucky distillers set a new production record in 2021, according to state revenue department data released today by the Kentucky Distillers Association. Distillers filled more than 2 million barrels for the fourth consecutive year, and had a total of nearly 12 million barrels of Bourbon and other spirits aging in the state's rickhouses as of January 1, when they're required to file an inventory report with the state.
The inventory generated a total of $40 million in "barrel taxes," the property tax leveled on every barrel of maturing spirits in a distiller's inventory. That money goes to local governments to fund public education and other services, but distillers have long claimed it to be "discriminatory" because Kentucky is the only place that has a barrel tax.
"We're thrilled that our homegrown and historic industry continues to flourish, but these numbers could have been much higher if Kentucky didn't have a major barrier to entry for new distilleries in the form of this barrel tax," KDA President Eric Gregory said in a news release. The KDA has successfully lobbied in previous years to get legislation passed allowing distillers to take a credit for their barrel tax payments against their state income tax bills each year, but a move by state lawmakers several years ago to reduce corporate income taxes now means some larger distillers have more credits than they pay in income taxes in some years, forcing them to carry over excess credits to future years. The total number of outstanding tax credits could exceed $100 million, according to Gregory. 
"We've got to find a solution to this, because the numbers are just soaring and the state can't afford that, the locals can't afford for it to just go away off the books, and we can't afford to continue this because it's such a disincentive to locate here and a barrier to entry for distillers," Gregory said in a telephone interview.
The KDA has proposed making the credits either refundable or transferrable, which would allow a distiller to pass along excess credits to pay a contractor for construction work as an example.
The barrel tax is politically sensitive because it is earmarked specifically for local and county governments, which build their annual budgets expecting a certain level of revenue from the property tax. Distillers have been walking a tightrope trying to get tax relief at the state level while not hurting the local communities in which they operate.
The legislature has a task force looking at the issue and taking testimony from local governments as well as the industry, and will be spending the time between now and the start of the next legislative session in January trying to craft a solution.
Editor's note: This story was updated with additional information following an interview with Eric Gregory.
Links: Kentucky Distillers Association
---
September 15, 2022 – Irish Distillers plans to expand Ireland's largest distillery once again to meet growing global demand for Irish Whiskey. The €250 million project will see an all-new distillery built on a 55-acre site just across the Dungourney River from the existing Midleton distillery, which opened in 1975 to replace the original Midleton Distillery.
"We have a vision that by 2030, we'll be selling 15 million cases of Jameson (annually)," Midleton master distiller Kevin O'Gorman told WhiskyCast. "Last year, to put it in context, in our financial year 2022…we for the first time surpassed 10 million cases of Jameson, we actually did 10.4 million cases…so to match that demand, we need a new distillery," he said.
The new distillery will produce both grain and single pot still whiskey for use in Jameson and the company's other whiskies, including Redbreast, Power's, and Midleton Very Rare. Assuming timely approval from Cork county regulators, construction could begin early next year and be completed by 2025 in time for Midleton's 200th anniversary.
The new distillery will be designed to be carbon-neutral from day one of production, according to O'Gorman. The Pernod Ricard unit is already investing €50 million to make the existing distillery carbon-neutral with new boilers, heat recompression technology, and an anaerobic digestion system for distillery waste products that will produce biogas to fuel both distilleries. Work on that project is expected to be completed by 2025 as well.
Links: Irish Distillers
---
August 17, 2022 – Six inductees will join the Kentucky Bourbon Hall of Fame next month in the first induction ceremony since 2019. The honorees were announced today, including the late Stephen Thompson of Kentucky Artisan Distillery, this year's recipient of the Parker Beam Lifetime Achievement Award. Thompson passed away last year at the age of 79 following an accident.
"He's another one that everyone misses," said Kentucky Distillers Association president Eric Gregory. "He was such a resource and an advocate for the craft distilleries…he had almost an encyclopedic knowledge of production facilities and what to do, and if you knew Steve, man, he was a straight shooter. He told you what was on his mind and he was very candid and that was a breath of fresh air in meetings that could sometimes get a bit stodgy." Thompson will be presented for induction by another Hall of Fame member, longtime master distiller Jim Rutledge, during the invitation-only luncheon in Bardstown on September 13.
The rest of the Class of 2022 includes Andrea Wilson of Michter's in Louisville. In addition to being the distillery's longtime master of maturation, she was the first woman to serve as the KDA's chairperson in 2009. Julian P. Van Winkle III joins his legendary grandfather, "Pappy" Van Winkle, in the Hall of Fame, along with Rabbit Hole Distilling founder Kaveh Zamanian and two retiring Kentucky political leaders, U.S. Representative John Yarmuth and Kentucky State Representative Chad McCoy. Both men were cited for their legislative work to help the Bourbon industry, with Gregory describing Yarmuth as a global ambassador for Kentucky Bourbon and McCoy as one of the most effective state lawmakers in recent years for his work on spirits legislation at the state level.
This year's class will be the first since 2019, with no classes inducted in 2020 and 2021 because of the pandemic. The hiatus gave KDA leaders the chance to take a new look at how Hall of Fame members are selected, with an eye toward giving previous inductees more of a say in the process. As in the past, nominees were proposed by the KDA board and member distilleries, but instead of the board also voting on inductees, a new selection panel was given the final say. That panel included all four living recipients of the Parker Beam Lifetime Achievement Award: Jimmy Russell, Bill Samuels, Jr., Max Shapira, and Even Kulsveen. In addition, KDA chair Kevin Smith, KDA board member and Hall of Fame inductee Chris Morris, and Dixie Hicks, the former Bardstown mayor and also a Hall of Fame inductee, served on the panel.
"Once they started looking at all the nominees to the Hall of Fame, they went in depth and talked about the person and the personalities, and what it means to be in the Hall of Fame and what an honor it is," Gregory said. "It was a three or four hour meeting…the process worked great, and I'm looking forward to continuing that in the future," he said.
---
Updated July 29, 2022 – American single malt whisky distillers are finally getting the recognition they've sought from the U.S. government for the last six years. The Treasury Department's Alcohol and Tobacco Tax and Trade Bureau (TTB) has now published its proposed standards for American single malts in the Federal Register and opened a 60-day public comment period.
"American Single Malt is already outpacing a lot of other categories in growth, and I think this is only going to serve to fuel that even more," said Steve Hawley of the American Single Malt Whiskey Commission. The group is made up of single malt whisky distillers, and has been advocating for official recognition of the category since 2016. "I think you'll see more people get into single malt production in America, and I think you'll see a lot more exporting of single malt now that there's a standard of identity in place that will not only mean something here, but it's also important to remember that this allows us to have real conversations with export markets and get some reciprocity there as well," he said in a telephone interview Friday.
The proposed standard comes nearly 5 years after Seattle's Westland Distillery and other Commission members filed petitions with the TTB to create a "standard of identity," or official definition of American single malts. Westland co-founder Matt Hofmann told WhiskyCast the proposed definition is almost exactly what the Commission came up with. "For me, that is the first really big win," he said in a telephone interview Thursday. "The second big thing is that it looks like there's an accelerated public comment period…so it seems like we've got everything ready to go for the final act, and hopefully, we could have this thing done by the end of the year."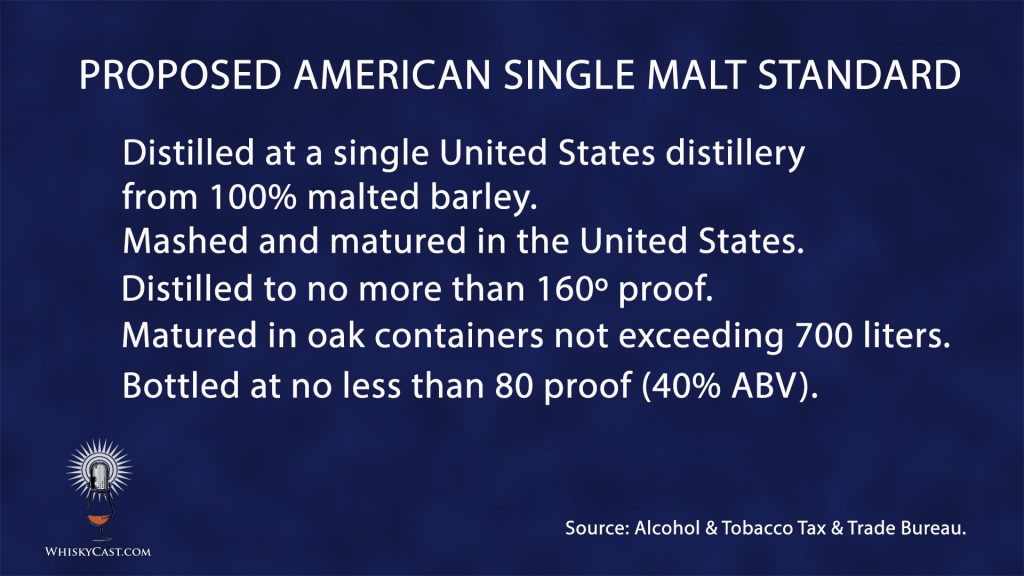 The proposal gives distillers the flexibility to use either used or new oak barrels to mature their whiskies, instead of the new charred oak barrels required for most other forms of American whiskies. It essentially mirrors the requirements Scotch Whisky distillers are held to under Scottish law, and would put American single malts on an equal footing. "To be able to use both used oak and new oak is consistent with what everybody expects of the single malt category at a global level," Hofmann said. "What we wanted out of this definition was to have the structure of American Single Malts, for those words to have meaning that they should but still allow people to innovate, to be able to use both new oak and used oak, and actually non-oak casks as long as it goes into oak at some point…all of that stuff is doable," he said.
The proposed American definition differs from the Scottish standard in two key areas. While Scottish law decrees that single malts must be distilled in pot stills, the TTB's proposal appears to give American Single Malt distillers the choice of using either pot or column stills. In addition, the U.S. does not require a minimum period of aging – other than the two years required for a whisky to be labeled as "straight." Scotland has a three-year minimum maturation requirement. It should be noted that the proposed standard would not have any regulatory effect on single malts produced in Scotland or other countries.
"It really focuses on the two major parts of the word…single and malt, single distillery, and it's gotta be malted barley," said Gareth Moore of the Virginia Distillery Company, one of the co-founders of the Commission. "We're not putting in the other types of restrictions like you'd see in Scotland, like an age minimum of three years, or used oak, or that it must be in pot stills because the industry and the category is still in its relative infancy…every few months, you see someone with a new product out there, and we don't want to limit innovation," he said Friday in a Zoom interview.
Even without an official standard of identity, more than 100 distilleries have been producing American Single Malt whiskies, with many using the existing standards for "malt whisky." That standard only requires the use of 50% malted barley in a mashbill, along with requiring the use of new barrels. The creation of an official standard is expected to lead to even more distilleries jumping into the segment, including some of the nation's largest distillers. As an example, Jack Daniel's this summer released a "triple mash" whiskey that includes malt whiskey, formally acknowledging that the distillery has been laying down stocks of malt whiskey for several years.
"The formal establishment of standards of identity for American Single Malt Whisky is a clear recognition that this rapidly growing category is unique and deserves to be defined and protected as a distinctive product of the United States. Consumer fascination with American Single Malt Whisky is at an all‐time high and establishing a clear definition will drive innovation and help maintain the integrity of this category as more products enter the market," Distilled Spirits Council CEO Chris Swonger said in a statement.
The public comment period will end on September 27, 2022, and agency officials are not bound by a timeline in issuing a final regulation.
Listen to the next episode of WhiskyCast for more on this developing story.
Editor's note: This story has been updated following interviews with Steve Hawley of the American Single Malt Whiskey Commission and Gareth Moore of Virginia Distillery Company. 
Links: Tax and Trade Bureau | American Single Malt Whiskey Commission | Westland Distillery
---
May 15, 2022 – Police Scotland is investigating an overnight break-in at the Glenfarclas Distillery visitors centre. According to the distillery, the burglars smashed display cases and stole a bottle of 60-year-old single malt along with a number of Family Casks releases valued at more than £100,000.
In an Instagram post, the distillery asked anyone who may be offered these bottles in a private sale to contact them.
Police have not disclosed whether any cameras were operating at the distillery that might have captured images of the break-in.
This story will be updated with more information as available.
Links: Glenfarclas
---
April 29, 2022 – Pernod Ricard is planning major expansions at its Aberlour and Miltonduff distilleries in Scotland. The two Speyside distilleries will receive a total of £88 million ($110 million USD) in upgrades that will increase production by 14 million liters of alcohol annually.
In a news release, the company's Chivas Brothers unit unveiled plans for an all-new still house at Aberlour, along with a new visitors center to replace the tiny shop at the distillery's main gate. The distillery's production will be doubled to nearly eight million liters of alcohol each year using sustainable distilling technology as part of the company's goal to reach net zero carbon emissions at its distilleries by 2026.
Miltonduff, known as one of the "fingerprint" malts used in the Ballantine's blends, will see an all-new distillery built adjacent to the existing distillery. The new distillery will have an annual capacity of 10 million liters of alcohol, which Chivas Brothers expects to use in fueling continued sales growth for Ballantine's worldwide.
In a statement, Chivas Brothers CEO Jean-Etienne Gourgues said "this expansion will allow us to increase our volume to capitalise on the increased demand and interest in Scotch, but also supports our drive to reduce emissions in line with our sustainability ambitions. We're once again betting big on the future of Scotch so we can bring in new consumers to the category and continue to shape a sustainable future of whisky."
Both projects are expected to be completed by mid-2025.
Links: Chivas Brothers
---
April 27, 2022 – Groundbreaking is expected in June for Heaven Hill's return to distilling in Bardstown, Kentucky. The family-owned distiller plans to build a $135 million dollar distillery in Bardstown. When it opens in 2024, the distillery will make Heaven Hill's first whiskey in Bardstown since the historic 1996 fire that destroyed the Shapira family's original distillery.
The announcement comes after Tuesday night's approval of zoning changes for the site by the Nelson County Planning Commission. The distillery will be built on a 61-acre vacant piece of land just east of Bardstown Community Park along Highway 245, just west of the proposed Kentucky Owl Park development. This represents a shift away from Heaven Hill's main campus on Loretto Road southeast of Bardstown, home to the company's main bottling facility and maturation warehouses along with the newly-expanded Heaven Hill Bourbon Experience visitors center.
The new distillery will complement Heaven Hill's Bernheim Distillery in Louisville, which the company acquired after the 1996 fire and has used as its main production facility for more than 20 years. That distillery produces approximately 1,300 barrels of whiskey each day, but has little room for future growth.
"We've been planning for this for years, what the expansion process looked like for American whiskey long-term, and we found that Bernheim, which is more or less landlocked based on three or four expansions there, just could not contain the space that we needed to continue to expand and grow our American whiskey portfolio," Heaven Hill spokesman Josh Hafer told WhiskyCast Thursday.
"We take great pride in being a part of the Bourbon Capital of the World," Hafer said. "It's where we were founded…our old distillery, our bottling operations, and a disproportionate amount of our team members are there in Bardstown and Nelson County, and so it was important for us to have this homecoming to Bardstown with this distillery because it plays such a big role in our success," he said.
Listen to Mark Gillespie's interview with Josh Hafer of Heaven Hill:
"For them to return, I think it demonstrates a very strong amount of confidence with our community that we can deliver the infrastructure that they need, the people that are available for employment, and there's a level of trust that comes with that as well," Bardstown Mayor Dick Heaton told WhiskyCast. "We weren't the only community considered for the project…I know there were at least three other counties and county seats of those counties like Bardstown is for Nelson that were looked at by Heaven Hill and their team in making their decision, so I think that sends a message that we are the Bourbon Capital of the World. It's not just something we talk about, but we have earned that reputation," he said in a telephone interview. Heaton called the $135 million dollar project the largest single economic development project in the town's history.
The project has also been approved for $1.5 million in economic development incentives by the Kentucky Economic Development Finance Authority on March 31. According to Heaven Hill's application for those incentives, the new distillery is expected to create 25 new jobs when it opens and increase to 38 jobs over a ten-year period. That goes along with the company's plans to start with an annual production capacity of 10 million proof gallons of spirit and eventually expand production to as much as 30 million gallons per year.
As of now, there are no plans to build maturation warehouses at the site. Instead, the distillery's output will be matured at Heaven Hill's existing warehouse sites located around the Bardstown area, including the old Schenley warehouses adjacent to the distillery site. There are also no immediate plans for a visitors center at the site, though Hafer said the distillery might one day be part of tours originating at the Heaven Hill Bourbon Experience.
Editor's note: This story was updated following an interview with Heaven Hill's Josh Hafer.
Links: Heaven Hill
---
February 16, 2022 – Hans Island sounds like the name of the villain in a James Bond movie, but it's actually more like a lair for a Bond villain. It's a small island in the North Atlantic on the border between Canada and Greenland, and has been the subject of a low-key diplomatic dispute between Canada and Denmark for decades.
Both sides claim sovereignty over Hans Island, but the dispute escalated in 1984 when Canadian soldiers "invaded" the island, planted the Maple Leaf flag, and left behind a bottle of Canadian Whisky. Denmark's minister for Greenland followed up on that visit with a mission of his own to replace the Canadian flag with Denmark's and the whisky with a bottle of schnapps. Ever since then, the two sides have regularly visited Hans Island to re-stake their claim to ownership while diplomats have tried and failed to come up with a resolution.
Now, Denmark's Stauning Distillery is upping the ante. It's one of nine whisky distillers in Denmark, and is threatening to stop production unless both sides come to an agreement.
"We don't care who actually gets what, or if there's a line down the middle or if  it's owned for half of the year or whatever the solution is, but it's more the symbol of not being able to agree to something," says Stauning's Rasmus Bendtsen. He describes both countries as "peace-loving" and the conflict as calm, but with climate change increasing the potential for mineral exploration on Hans Island, he said in a Zoom interview that now is the time to resolve the dispute.
"Even as it is charming, what would happen if one day, one of the nations came and found a bottle of vodka, or mezcal, or Champagne or anything else, because now with climate change, the whole region will become much more important," he said.
Watch Mark Gillespie's interview with Rasmus Bendtsen:
Bendtsen and his colleagues are threatening to stop production on World Whisky Day (May 21), and want other distillers to join them in a #WhiskyPeace movement. They have offered the use of the distillery as a place for negotiations between Canadian and Danish diplomats. Bendtsen and his colleagues have already been invited to the Canadian Embassy in Copenhagen, where they were told that the Canadian government endorsed their calls for a resolution and told them talks remain active between the two countries. However, they have not heard yet from their own government.
Ironically, the Danes have never left a bottle of Stauning or any other Danish whisky on Hans Island. That's because when the dispute started, there were no active whisky distilleries in Denmark.
Links: Stauning Distillery | WhiskyPeace.com
---
Updated February 2, 2022 – Heaven Hill is expanding its portfolio to include "craft" whiskey brands such as FEW Spirits, Widow Jane, and Brenne with its acquisition of Samson & Surrey. The craft producer has been one of the fastest-growing spirits companies in the industry since it was founded by industry veterans Robert Furniss-Roe and Juan Rovira five years ago, and will operate as a standalone unit within the Shapira family's Heaven Hill Brands.
"This is actually right in our wheelhouse of what our strategy is, both currently and long-term," Heaven Hill president Max Shapira said in an interview Wednesday. "We've been looking to premiumize our portfolio for a number of years and have worked hard with brands like Elijah Craig, Parker's Heritage, with our Old Fitzgerald Bottled in Bond series, and that's taken us a good long way toward that step, but we're always looking for something additional to that. This group of brands fits absolutely, squarely in the premium to luxury section of the business," he said, disclosing that the company will also use Samson and Surrey to develop other spirits brands and may move some of Heaven Hill's existing brands into the unit.
In addition to the FEW, Widow Jane, and Brenne brands, the deal also includes Philadelphia Distilling's Bluecoat Gin, Tequila Ocho, and Mezcal Vago. Heaven Hill will also acquire the FEW Spirits Distillery in Evanston, Illinois, Widow Jane's distillery in Brooklyn, New York, and Philadelphia Distilling's distillery along with the company's other production facilities. Terms of the deal were not disclosed, and Shapira said key Samson and Surrey team members like FEW founder Paul Hletko and Widow Jane master distiller Lisa Roper Wicker will remain with the company.
"Over the last five years we have enjoyed unprecedented success thanks to the talents of our team, the truly remarkable award-winning liquids we make, and the engaging consumer stories we tell. The combined talent, scale, and resources of Heaven Hill now present a unique opportunity to provide a long-term home for Samson & Surrey and to further accelerate our growth," Furniss-Roe said in a statement. The unit will operate in a similar fashion to Heaven Hill's Texas-based Deep Eddy Vodka brand, which has its own brand and sales teams while sharing back-office functions with Heaven Hill headquarters offices in Louisville and Bardstown, Kentucky. 
The acquisition is the first for Heaven Hill since its 2019 purchase of Black Velvet Canadian Whisky and the Black Velvet distillery in Lethbridge, Alberta from Constellation Brands.
Editor's note: This story was updated following an interview Wednesday morning with Heaven Hill president Max Shapira.
Links: Heaven Hill | Samson & Surrey
---
January 29, 2022 – Sales of "private selection" barrels by distillers in Kentucky have become popular choices for retailers, bars, restaurants, and even whiskey clubs. However, it turns out that those sales actually violate state liquor regulations in Kentucky, and perhaps even at the federal level. It's not because sales by the barrel are specifically banned, but because the process of selecting those barrels violates a number of state regulations.
Kentucky's Alcoholic Beverage Control Board enforces the state's regulations, and has issued informal guidance to that effect, according to Kentucky Distillers Association president Eric Gregory. "Right now, the ABC has given us a grace period, if you will, to work with us while the Legislature is in session to get that fixed," he said in a telephone interview. "That's not a want…that's a need, and we've gotta get that done," he said, citing support from the groups representing liquor wholesalers and retailers for reforms.
The process of selecting a barrel usually involves tasting samples from multiple barrels during a customer's visit to a distillery, and that is where the legal issues begin to build up. State regulations do not make any difference between "trade" visitors to a distillery and consumer visitors to that distillery's visitors center, and the regulations limit the amount of samples to 1.75 ounces per visitor per day. In addition, regulations also limit the amount of whiskey an individual customer can buy at a distillery to one nine-liter case per day. Once again, that doesn't allow for the sale of an entire barrel of whiskey to a single customer, since that barrel could yield 200 bottles or more in what would be counted as a single purchase.
A spokesperson for ABC Commissioner Allyson Taylor told WhiskyCast in an email that "there are no laws or regulations related to private barrel selects so we are working with KDA, lawmakers, and others in the industry to solidify the legality of these activities." She was not specific about the issues Gregory raised in terms of sampling and sale limits.
Private barrel selections can be critical for retailers trying to set themselves apart from their competitors. Westport Whiskey & Wine in Louisville has been among the most active participants in private barrel programs with more than 60 barrel picks, and owner Chris Zaborowski says the loss of that opportunity would have a critical impact on his business. "Just to use a conservative number, if that's around $8,000 a barrel, that's a fairly impactful number, almost half a million dollars in sales."
While the Kentucky ABC's opinion applies only within the Commonwealth, it could have nationwide implications. Not only do Kentucky distillers sell private barrels to customers in other states, but similar restrictions on sampling and sales exist in most of the states with craft distillers. As of now, regulators in other states have not moved to block private barrel selections, but the Kentucky decision could set a precedent.
There is also a potential issue at the federal level as well. Kentucky's opinion also cited the potential violation of the state's "tied house" regulations banning distillers from offering anything of value to retailers, based on the exclusive nature of a private selection barrel not available to other retail competitors. In addition, when consumers purchase an entire barrel of whiskey from a distillery, the bottles are shipped through a wholesale distributor to the retailer of the consumer's choice, and Gregory says that compliance with the "three-tier system" also is seen as a violation of tied house restrictions. Similar bans exist in federal regulations enacted after the end of Prohibition to keep distillers from having undue influence over the retail sector. Gregory indicated that the KDA is working with federal regulators to address the issue.
"It's not quite a problem in search of a solution, or a solution in search of a problem, it's just a case of getting the language cleaned up so no one can create a problem," Zaborowski said. "It's a point of distinction for us, and to turn that switch off would be devastating for our business," he said in a telephone interview.
State lawmakers are currently in session at the state Capitol in Frankfort, with the current legislative session scheduled to run through mid-April. "We're urgently seeking a resolution in the Legislature, and it's going to have to have an emergency so as soon as it's signed by the Governor — if we're fortunate enough to get it passed — it would take effect immediately and we wouldn't miss a beat on private barrel sales," Gregory said.
Gregory doesn't want to think about the alternative.
"It would be a big impact on the distillers, but more importantly, it would be a big impact on retailers and consumers," he said.
While the needed changes appear to have strong support and would be relatively simple to enact, Zaborowski is reminded of the constant threat that hangs over any piece of proposed legislation: the so-called "Christmas Tree" effect.
"It's what gets tacked on to an easy bill that could make the bill more difficult," he said with a laugh. "That's the only real fear that I have, because Kentucky still has a large percentage of dry counties and a lot of these legislators don't like dealing with alcohol bills because, you know…it's sinful."
Editor's note: This story was updated with comments from a spokesperson for Kentucky ABC Commissioner Allyson Taylor.
Links: Kentucky Distillers Association | Kentucky Alcoholic Beverage Control Board | Westport Whiskey & Wine
---