Each week, we bring you the latest whisky news on WhiskyCast, but a lot can happen during the week. Now, you can keep up with whisky news as it happens here on WhiskyCast.com!
November 18, 2019 – Joseph A. Magnus & Co. started selling its whiskies in Washington, DC in 2015. Highland Park Distillery was founded by Magnus Eunson as an illicit distillery hidden inside his Orkney church in 1798. Which one has the exclusive right to use the word "Magnus" on its whiskies?
That's the question a federal judge is being asked to decide after the owners of Joseph A. Magnus & Co. filed a lawsuit in the U.S. District Court for the District of Columbia earlier this month. The Washington-based company is suing Highland Distillers Ltd., the owner of Highland Park Distillery and its namesake Scotch Whisky brand, along with the owners of the online retailer ReserveBar.com. The lawsuit filed November 6 accuses them of trademark infringement, along with "false designation of origin and unfair competition," and wants Highland Park's Magnus expression pulled off the market and pay an unspecified amount in damages. ReserveBar.com was named because it sold and promoted the Highland Park whisky within the District of Columbia, but according to the Washington City Paper, which first reported on the lawsuit, the site has now removed all references to the Highland Park Magnus.
Glasgow-based Edrington is the majority owner of Highland Distillers, and the company's U.S. spokesman, Marc Bromfeld, declined to comment on the specifics of the lawsuit. Spokesmen for Joseph A. Magnus & Co. also declined to comment on their accusations.
In their filing with the court, lawyers for Magnus cite the company's registered trademarks for the "Magnus" name awarded by the U.S. Patent & Trademark office on March 12, 2019 – along with "common-law rights" for the "Magnus" name that date back to when the company launched its whiskies in 2015. The lawsuit also accuses Highland Distillers of using a bottle design for the Highland Park Magnus that features a "similar design and overall appearance" to the Joseph A. Magnus bottle. In addition, it cites a 2018 Patent & Trademark Office decision to suspend Highland Park's own trademark applications for the Magnus edition because of a "likelihood of confusion" with the Joseph A. Magnus brand.
As noted earlier, Highland Park's history with the term "Magnus" dates back to the distillery's founding in 1798. However, the brand also has a more recent usage of the word that pre-dates the Highland Park Magnus. In 2009, Highland Park released the 15-year-old Earl Magnus I single malt as the first of three annual releases in what was called the "Magnus Editions" celebrating Orkney's Viking heritage. The 12-year-old Saint Magnus single malt was released a year later, and the series was completed in 2011 with the release of the 18-year-old Earl Haakon single malt. However, none of the three whiskies were released in the United States, and that may complicate Edrington's potential to argue that it has "common-law" usage rights that would counter the Joseph A. Magnus  & Co. arguments.
The whiskies from both companies received federal approval for their labels from the Treasury Department's Tax & Trade Bureau. However, the TTB has traditionally advised its permit holders that label approvals do not provide any trademark or copyright protection.
The agency usually avoids granting label approvals for products within the spirits category that share a name with a previously-approved product from another permit holder. However, this case might not have fallen into that category because of a technical difference in federal labeling regulations between "brand names" and "fanciful names." The "brand name" is used as the predominant name for a specific brand, such as "Joseph A. Magnus & Co." or "Highland Park." In this case, Highland Park's use of the word "Magnus" would fall into the "fanciful" category since it describes a specific expression within the larger range. The TTB has a policy against commenting on specific label approval or other regulatory decisions.
While the original label design for the Highland Park Magnus featured the "Magnus" branding in a larger font size than the "Highland Park" brand name when it was released in 2017, the packaging was revised in early 2018, according to Edrington's Marc Bromfeld. In an email to WhiskyCast following the original publication of this story, Bromfeld provided a current "bottle shot" for the Magnus expression in which the Highland Park brand name is displayed much more prominently than "Magnus." Our use of the original image was based on the design in use at the time we posted our tasting notes for the whisky at the WhiskyCast web site. In keeping with the company's policy of not commenting on litigation, Bromfeld did not provide a reason for the label's redesign, but did confirm that Edrington did not issue a news release or public announcement of the redesign at the time.
Lawyers for Highland Distillers/Edrington and ReserveBar.com have not yet filed their responses to the lawsuit with the court. Defendants have 21 days after being served with a lawsuit to file an "answer" to the original complaint.
Editor's note: As with all civil litigation, accusations in a lawsuit only reflect the filing party's view of a dispute, and should not be considered as proven fact until argued and ruled on in a court of law. We have provided a .pdf copy of the original filing in this case at the WhiskyCast web site, and will provide similar links to filings by the defendants as they become available. We should also note that Highland Park has been a sponsor of WhiskyCast in the past, but is not currently a sponsor. This story was edited to include an image of the redesigned labeling for Highland Park Magnus and details on that redesign.
Links: Joseph A. Magnus & Co. | Highland Park
---
November 5, 2019 – There isn't much that politicians on both sides of the aisle in Washington agree on these days., with one exception. There is bipartisan support in both the House and Senate for the tax break many U.S. craft distillers have relied on for the last two years, but which is scheduled to expire at midnight on New Year's Eve unless Congress extends it. 315 House members and 73 Senators have now signed on as co-sponsors for the "Craft Beverage Modernization and Tax Reform Act," according to updated totals released today by a group of spirits industry trade associations pushing for the extension.
That tax break reduced the federal excise tax distillers pay on the first 100,000 proof gallons of spirits they remove from bonded storage for sale each year from $13.50 per proof gallon to $2.70. While the nation's major distillers can hit the annual limit within weeks, most craft distillers never come close to the threshold and the tax savings can have a major impact. For instance, a small-scale distiller who removes 10,000 proof gallons from bond during 2019 would owe the federal government $27,000 in excise taxes under current law. If the tax break is not passed, the 2020 tax bill for the same amount would be $135,000.
"When they went down, we hired people, and you know, we're going to have to look at our budgets and tighten our belts…it's going to be a really big deal," says Scott Harris of Catoctin Creek Distilling in Purcellville, Virginia. Scott and Becky Harris opened their small distillery ten years ago to make rye whiskey and other spirits, but have been forced to spend almost as much time focusing on politics as they have on distilling.
The tax break has saved them nearly $80,000 in federal excise taxes in 2018 and 2019, even though they never get close to the threshold where the regular tax rate would kick in. Becky Harris says there are many misconceptions about the tax break on Capitol Hill, despite the significant level of general support for extending it.
"So many of our representatives don't know that we have never had a tiered system like beer and wine have for the federal excise tax. They were under the impression that this would just basically bring us back to being tiered, and we're like, no…essentially, this brings us back to paying exactly what Jim Beam and Heaven Hill pay," she said. Historically, brewers and winemakers have had a tiered system of excise tax rates tied to their annual production. However, the excise tax for distilled spirits had always been a single rate until the current reduction was approved in tax legislation at the end of 2017.
Both the House and Senate are essentially on recess this week with no votes scheduled, and the bill to make the tax cut permanent has been languishing since last February in the House Committee on Ways and Means and the Senate Finance Committee. Even though there is bipartisan support for that bill, the challenge remains finding a place for it on the crowded Congressional agenda – especially with a November 21 deadline to pass budget legislation in time to avoid another federal government shutdown.
"We're told that if there is a vehicle, that we will almost certainly be in it, but one of the big questions right now is will there be a tax extender package or a vehicle for us to ride across the finish before the end of the year," says Mark Shilling of Revolution Spirits in Austin, Texas. Shilling is a former president of the American Craft Spirits Association and has been active on the excise tax issue for many years. "We are part of a large universe of folks who have temporary tax provisions that need to be reauthorized, so it's not just us out there saying 'hey, hey, look at us – we've got this thing and it's really going to hurt if we don't get an extension,'" he said.
Distillers started lobbying to make the tax cut permanent as soon as the temporary cut took effect, and Becky Harris has been pushing Virginia Senators Tim Kaine and Mark Warner to join the list of co-sponsors. "Senator Kaine just had a roundtable talking about the rural economy, and I know he's a fan of our whiskey…I was bending his ear on it just a couple of weeks ago," she said.
The Harrises also had another chance to lean on Senator Kaine. Scott Harris personally delivered several bottles of Catoctin Creek Rye to Kaine's office at the Senator's request last week to help them celebrate the Washington Nationals World Series championship. We have asked Sen. Kaine's office for his position on the extension, and will update this story when we receive a response.
Links: Catoctin Creek Distilling | Revolution Spirits | American Craft Spirits Association
---
November 1, 2019 – There's a countdown clock on the home page of the American Craft Spirits Association web site for midnight on New Year's Eve. It's not there to help revelers figure out when the ball drops in Times Square, but when one of Wile E. Coyote's ACME anvils will drop on the craft distilling industry.
When the calendar flips from 2019 to 2020, a tax break that has helped dozens of craft distillers expand their businesses will expire unless Congress and the Trump Administration act to extend it. That cut was part of the 2017 tax reform act, and reduced the federal excise tax distillers pay on the first 100,000 proof gallons of spirit they remove from bond for sale each year. The move lowered the tax rate from $13.50 to $2.70 per proof gallon, but only through December 31, 2019.
The change affected all distillers, but has had a proportionately larger impact on small-scale distillers who rarely even come close to the tax threshold. For instance, a craft distiller who removes 25,000 proof gallons of spirits from bonded storage for sale this year would owe the federal government a total of $67,500 in federal excise taxes – compared to $342,500 at the $13.50 rate for a savings of $275,000.
"The marginal distilleries out there that are just barely making it…they are possibly going to go away or they're going to have significant challenges," says Mark Shilling of Revolution Spirits in Austin, Texas. Shilling is a former president of the ACSA and has been working on the excise tax issue for nearly a decade, and notes that many distillers reinvested the savings from the tax cut in new equipment and to create new jobs. "Some of the more stable guys may have to cut back on labor…that might mean cutting back production a bit because of staff, it might be cutting back in the market because you can no longer afford to have that person out there making account visits. I think every distillery will be affected a little bit differently," he said in a telephone interview.
There is widespread bipartisan support on Capitol Hill to make the tax break permanent, with 315 co-sponsors of legislation in the House and 73 co-sponsors for the companion bill in the Senate. However, there are also many other issues jamming the legislative agenda that are higher priorities. That includes the need to pass appropriations bills or a short-term extension to fund government operations by November 21 or face the second federal government shutdown this year. It also includes the ongoing impeachment probe, which could stress the bipartisan support for this piece of legislation.
In theory, Congress could vote in early 2020 to make the tax break permanent and retroactive to January 1, but according to Shilling, that would still put smaller distillers in a bind. Excise taxes are due when spirits are removed from bond, and distillers generally file their returns and tax payments on a bi-monthly basis. "By the time that happens, we've already had to pay those taxes, and I think that there are probably quite a number of smaller and marginal distillers out there that if this is not extended, we're going to see them go away, and this is not hyperbole, I think it really, really is the case," he said. The ACSA and other industry groups marshaled nearly 2,000 industry members from all 50 states for a day-long lobbying campaign in mid-October targeting their members of Congress, and also spent time on Capitol Hill in July during an industry summit in Washington.
Listen to Mark Gillespie's interview with Mark Shilling:
There could also be an unintended consequence of failing to extend the tax break, given the ongoing trade disputes that have led to a 21 percent decrease in exports of Bourbon and other American whiskies over the past year. Major distilleries have been running full-steam for several years to meet current and projected demand, and earlier this week, the Kentucky Distillers Association released state data showing record production of 2.1 million barrels of whiskey last year, along with a record 9.1 million barrels of spirits maturing in the state's rickhouses.
KDA President Eric Gregory's members in the craft distilling sector are watching both factors nervously. "The fear among the craft distilleries is that the production obviously continues and we have a glut in the domestic market that could cause a price war, and at that point, that's really going to hurt our small craft distilleries that are really now just starting to grow…and then if something happens in Congress where we do not get a reauthorization of that federal excise tax cut, boy, they're just going to take a double whammy," he said.
WhiskyCast has contacted Rep. Ron Kind (D-Wisconsin) and Sen. Ron Wyden (D-Oregon), the lead sponsors in both chambers, and this story will be updated when we receive responses from them.
Editor's note: This story has been updated with the latest number of co-sponsors in each chamber.
Links: American Craft Spirits Association | Revolution Spirits | Kentucky Distillers Association
---
October 30, 2019 – Kentucky's Bourbon distillers are running their stills at full steam to catch up with current – and projected – demand for Bourbon, with two key barometers of the industry's health at record highs. For the first time on record, the industry filled more than two million barrels of Bourbon during 2018 (2.1 million) and Kentucky's rick houses are holding more than 9 million barrels of maturing spirits. Of that, approximately 8.5 million barrels are filled with Bourbon, while the rest hold Rye whiskey, Brandy, and other spirits.
The previous records date back to the last "Bourbon Boom," when distillers filled 1.9 million barrels of Bourbon in 1967. A year later, those barrels helped to account for the 8.7 million barrels of spirits being matured in Kentucky, with nearly all of that being Bourbon. The new record of 9.1 million barrels means there are two barrels of maturing spirits for every person living in Kentucky, based on the latest Census Bureau population estimate of 4.5 million people.
The figures are based on inventory and production reports Kentucky's 72 distilleries are required to file with the state on an annual basis, and the growth of the state's distilling industry can be gauged by when the annual report comes out, according to Kentucky Distillers Association president Eric Gregory. "We used to have those numbers by March or April, but now it takes until September or October for everybody to get those things in and for the state to make sure all the "i's" are dotted and the "t's" are crossed," he said in a telephone interview. The KDA represents 40 of Kentucky's 48 distilling companies.
The barrel count is critical, and not just as a barometer of the industry's success. Kentucky assesses inventory taxes on maturing spirits, with $25 million in annual revenue from the "barrel tax" going to local governments to support schools, public works, and other local functions. The assessed value of those 9.1 million barrels currently stands at $3.4 billion, and has doubled since 2009.
In 2014, industry leaders persuaded state lawmakers to create the "Bourbon Barrel Reinvestment Credit", which allows distilleries to offset the barrel tax with credits against their state corporate income taxes. The credit requires distillers to reinvest that money into capital projects within the state, which has helped create a construction boom in new warehousing and visitors centers along with distillery upgrades. However, a 2018 cut in the state's corporate income tax now means distillers are paying far more in barrel taxes than they are able to offset in credits, and Gregory is hoping to persuade the General Assembly to make those credits refundable in the 2020 legislative session.
---
October 25, 2019 – The record price for a single bottle of whisky sold at auction fell like autumn leaves in the wind at London's Olympia Thursday as Sotheby's held its first single-owner spirits auction. More than 460 bottles belonging to an anonymous American collector went on the block, bringing a total of £7,635,619 GBP ($9.9 million USD) in bids and premiums.
The "holy grail" of whisky auction records was shattered by a record £1,452,000 ($1,873,951) bid for what has often been described as the "holy grail" of Scotch whiskies, the 60-year-old 1926 Macallan Fine and Rare Series. The winning bid broke the previous record of £1.2 million set last November at Christie's in London for a 1926 Macallan with a hand-painted bottle by artist Michael Dillon. Like that bottle, this was one of 16 bottles released by The Macallan as part of its Fine and Rare Series out of a total of 40 produced by the distillery, while artists Valerio Adami and Sir Peter Blake each created bespoke labels for 12 of the remaining bottles.
Sotheby's spirits specialist Jonny Fowle described the mood in Olympia as electric as serious bidders kicked in, both in person and by telephone. "I thought it would go about £800,000, so when it started to slow down, I thought that was probably the end of it at around £650,000, and then it was unbelievable…the energy in the room was amazing and everybody started crowding around, the bids kept on coming in and as it hit the million-pound mark, everyone cheered and then it carried on all the way to £1.2 million," he said in a telephone interview.
The winning bid came from an anonymous bidder in Olympia, and Sotheby's declined to release any other information about the winner. As for the "ultimate whisky collector" who decided to sell his valuable collection in one single auction, while he too must remain anonymous, Fowle said the American collector was ecstatic after the results nearly doubled pre-auction estimates in the £4 million range.
A spokesman for Edrington, the owner of The Macallan, declined Friday to comment on the results of the auction, noting that the distillery does not profit from auction sales or other sales on the "secondary market." However, he noted in an email that "it is a testament to the fine quality and consistent production process of The Macallan that collectors would seek out and pay for the privilege of obtaining such a fine dram."
In addition to the 1926 Macallan, 177 other Fine and Rare Series bottlings went on the block, while two complete Macallan in Lalique Six Pillars Collections each brought bids of more than £600,000. A Springbank 50-year-old single malt distilled in 1919 brought a high bid of £266,200 ($343,558), far higher than when that whisky was listed years ago by the Guinness Book of World Records as the "most expensive bottle of whisky ever sold." Bottle number one (of 12) of Bowmore's 54-year-old "Crashing Waves" single malt sold for £363,000 ($468,488), while nine casks of single malts sold for a combined £399,300 ($515,337), and a Brora 40-year-old single malt sold for £54,450 ($70,273).
A complete list of auction results is available at the Sotheby's web site. All prices listed here include the Sotheby's 21 percent premium, which covers commissions charged to both buyers and sellers.
Editor's note: This story was updated to include reaction from an Edrington spokesman.
Links: Sotheby's | The Macallan
---
October 18, 2019 – We've received a lot of questions about the Trump Administration's decision to impose a 25% tariff on imports of single malt whiskies from Scotland and Northern Ireland, along with liqueurs, wines, and other goods from throughout the European Union. It's hard to cut through all of the bureaucratic language, so we've cranked up the red tape translator to try and answer some of your questions in plain English.
Where did this come from?
We had to use a different translator to put that question into language that can get past profanity blockers.
In 2004, the Bush Administration filed a complaint at the World Trade Organization accusing EU members France, Germany, Spain and the United Kingdom of violating the trade body's rules by providing low-interest loans to European aircraft maker Airbus. These "launch aid" loans were used to finance the development of Airbus commercial aircraft that compete with Boeing, and the U.S. argued that those loans were illegal government subsidies.
The European Union responded with a complaint of its own accusing the U.S. of essentially doing the same thing for Boeing in the form of research grants from NASA and the Department of Defense, along with federal and state tax credits, Export-Import Bank financing, and other aid. The two complaints have been working their way through the WTO's dispute resolution process ever since, and on October 2, a WTO arbitrator ruled in favor of the U.S. on its complaint. The ruling granted the U.S. permission to impose "countermeasures" valued at $7.5 billion to compensate for the impact of the illegal European subsidies on the U.S. economy.
The European Union complaint is still pending at the WTO, and is reported to be about six months behind the U.S complaint. Look for an arbitrator's ruling siding with the Europeans next spring.
But why single malt whisky, and why only those from Scotland and Northern Ireland?
The Office of the U.S Trade Representative released an initial list of proposed tariffs in July, and that list included all European-made whiskies. By the time the "preliminary list" was released in conjunction with the WTO arbitrator's ruling, the list had been whittled down to target only single malts that are "products of the United Kingdom from Scotland and Ireland." Keep in mind that the primary targets for the tariffs are the four countries responsible for the "illegal" subsidies, including the United Kingdom, and the U.S. is the largest single export market for Scotch Whisky by value with £1.03 billion in exports during 2018.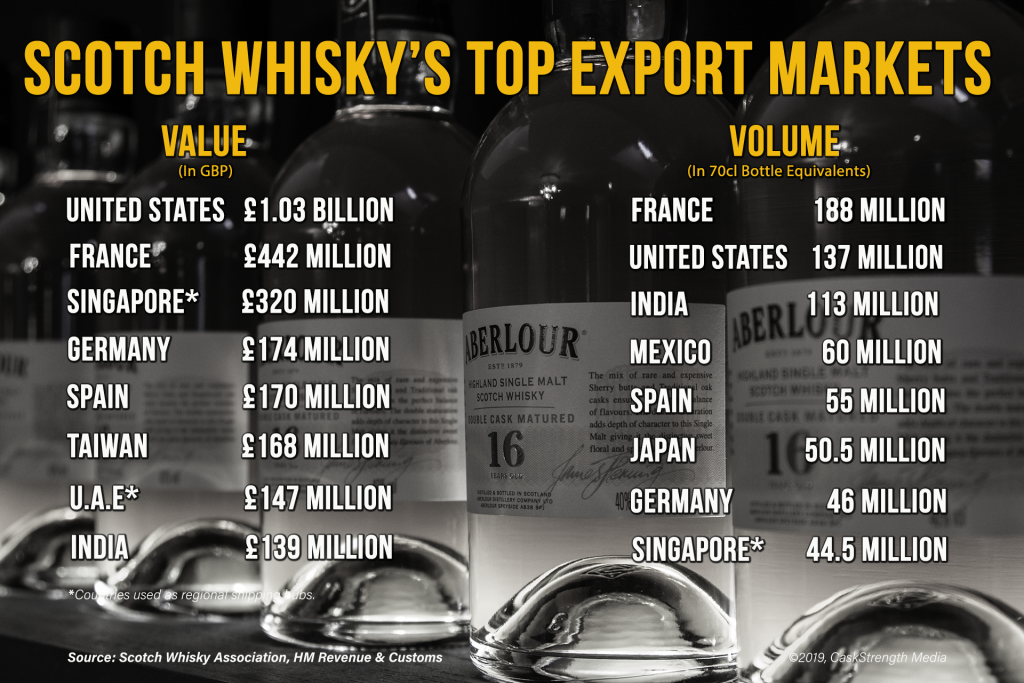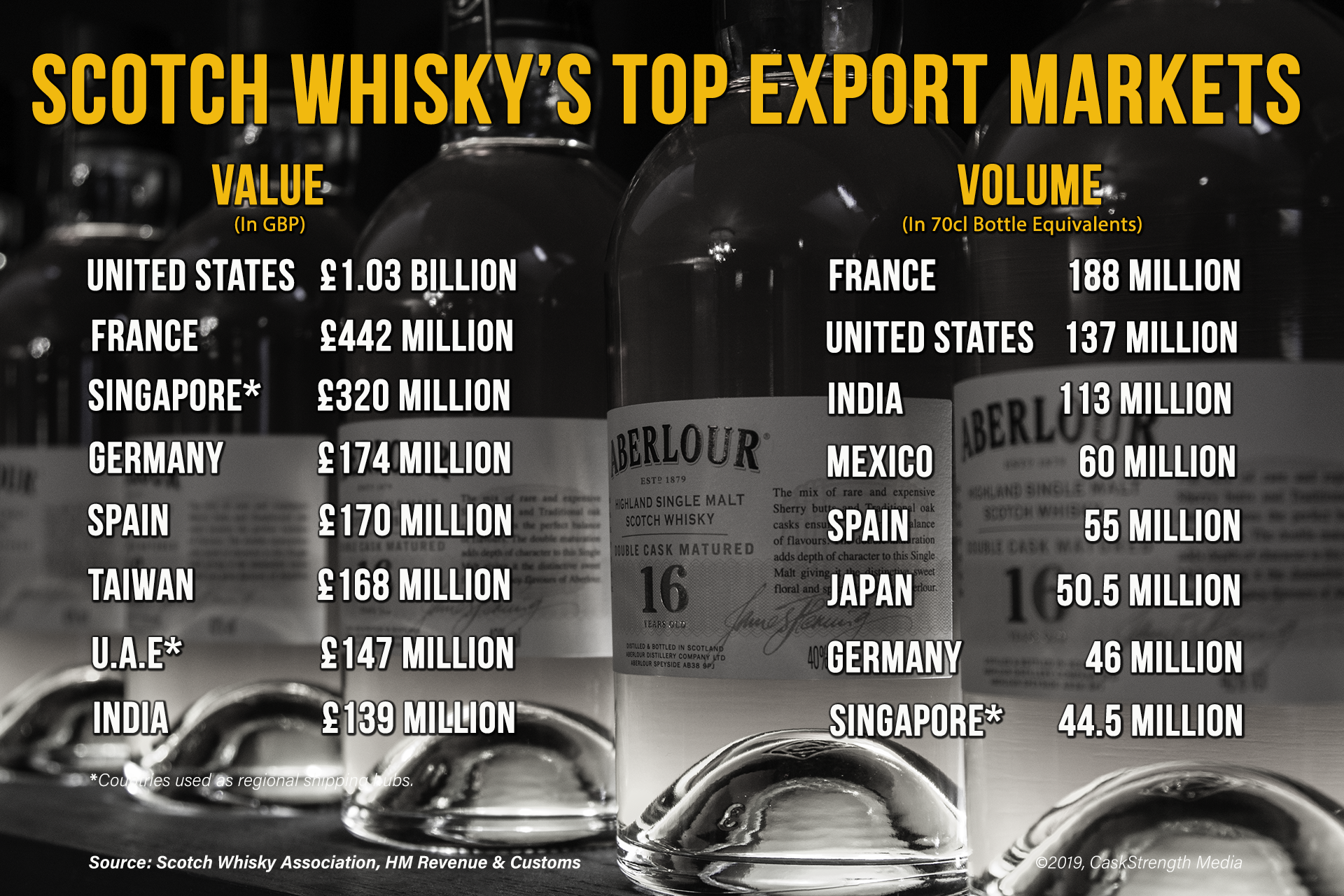 Single malts make up about 30% of those exports, and since Scotch Whisky is one of the UK's largest exports to the United States, it was "low-hanging fruit" for administration officials who wanted to target luxury goods along with other European exports. According to the Scotch Whisky Association, single malt exports will account for about 60% of the overall impact of the tariff on the United Kingdom.
OK, but that doesn't explain including Northern Ireland while not including Wales and England. Their whiskies are "products of the United Kingdom," too. What gives?
That's a fair question, and it's one we'd like to have an answer for. The impact in Northern Ireland will largely be felt by New Jersey-based Proximo Spirits, which owns the Old Bushmills Distillery in Northern Ireland's County Antrim and makes Bushmills and The Sexton whiskies there. Bushmills has three single malt expressions (10, 16, and 21 years old) that it exports to the U.S. along with The Sexton single malt. Company representatives have declined to comment on the tariffs since the announcement earlier this month. There are craft distillers in Northern Ireland that are distilling single malts, but they are not yet exporting to the United States.
As for not including Wales and England on the list, your guess is as good as ours. We have asked the Office of the U.S. Trade Representative for an explanation, but have not received a response. For the record, neither have the industry trade associations in Washington that have been working with the USTR on this issue for months now.
How does Brexit figure into all of this, and will the tariff end when the UK leaves the European Union?
The two are separate issues, but it's easy to wonder whether that might be the case. While the USTR has not specifically addressed this question, a reading of the final tariff notice in the Federal Register would indicate that there's no linkage with Brexit. If that notice had said "products of the European Union" instead of "products of the United Kingdom," then one could make that argument. However, the original WTO complaint from 2004 specifically named the UK, France, Germany, and Spain along with the "European Communities," since those four EU member nations were responsible for providing the subsidies to Airbus.
Can the European Union respond with more tariffs on Bourbon and other American whiskies?
Technically, no. That's because the WTO does not allow countries to retaliate when "countermeasures" are approved. This is different from the 25% tariff the European Union imposed in July of 2018 on imports of Bourbons and other American whiskies, which was in retaliation for the tariff the Trump Administration placed on steel and aluminum exports from Europe to the United States. That dispute did not go through the WTO process, but was initiated directly by the Trump Administration on "national security" grounds to protect the domestic steel and aluminum industry.
However…remember that WTO complaint the European Union has pending against the U.S. over its support for Boeing? If the WTO arbitrator finds in Europe's favor in that case and grants the EU the right to impose "countermeasures," European leaders have said they will take that opportunity to impose tariffs of their own. At that point, all bets are off. The two sides have been trying to reach a compromise that could resolve the issue, but after 15 years of bickering, there's a lot of baggage that will need to be sorted out.
What will this do to the price of my favorite single malt?
Let's be clear for a moment – this is not a 25% tax that will be applied at the cash register when you're buying a bottle. When a shipment of single malt whisky that's subject to the tariff arrives at a U.S. port of entry, Customs & Border Protection agents will look at the price on the invoice accompanying the shipment to the U.S. importer. Let's say a 9-liter case of single malt (12 750ml bottles) has a supplier invoice price of $100 – in this case, CBP would charge the U.S. importer $25 based on the 25% tariff to clear it for entry into the United States.
Now that the importer's cost for that case is $125, the importer has to decide whether to eat that additional cost or pass it along to the regional distributor. Most of the multinational drinks corporations (Diageo, Pernod Ricard, Beam Suntory, etc.) have their own U.S.-based subsidiaries that serve as their importers, so it's possible that they could decide to absorb part or all of the tariff costs to keep consumer prices low and protect their market share. In fact, that's what Brown-Forman did in some European markets last year where it had control of its "route to market" to keep prices for Jack Daniel's and Woodford Reserve steady.
Most smaller Scotch Whisky producers don't have that option, since they work with independent importers. They may be able to work with their importers to compensate for the impact of the tariff, but it's likely that the importers will have to pass along the higher costs to their regional distributors – the companies responsible for supplying retailers, bars, and restaurants. If every link in the chain raises its prices to cover the cost of that $25 tariff…by the time you're buying your favorite single malt, the 25% tariff could actually cost you much more than that original $25 the importer paid at the port.
Holy $#!%! How soon will I see prices go up?
Depends on where you're buying your whisky.
Keep in mind that as of this weekend, no single malt whisky on the shelf at any U.S. retailer has actually been hit with this tariff. The tariff will only be applied to any shipment that arrives at a U.S. port of entry starting today (October 18), and since drinks companies traditionally move a lot of product to the U.S. in advance of the holiday shopping season, there's a lot of whisky in the system that was not subject to the 25% tariff.
That said…there's nothing to stop a retailer from immediately raising prices for single malts from Scotland and Northern Ireland, and it's a safe bet that some are already doing just that. Most states do not allow whisky brands and their distributors to actually dictate what prices a retailer can charge, which is why you'll see terms like "recommended retail price" a lot. It's the same principle that allows retailers to mark up the price of "Lot B" Old Rip Van Winkle Special Reserve Bourbon from the "recommended" $79.99 to $799.99 a bottle.
In a perfect world, retailers would adjust their prices only when replacing depleted inventory with new bottles that are subject to the tariff. Of course, if it were a perfect world, the politicians would have sorted this out years ago and we wouldn't be facing higher prices today.
I'm traveling back to the U.S. from Scotland with some single malt whisky. Will I have to pay the tariff?
We checked with U.S. Customs & Border Protection, and an agency spokesperson confirmed that tourists will not have to pay the tariff for what's technically called an "informal entry" where a traveler arrives at a border crossing with goods acquired outside the country. Tariffs are usually only applied to goods being imported into a country for resale, which is why whisky importing companies with the appropriate federal licenses will have to pay the tariff.
You might still have to pay duty and the federal excise tax on any bottles that exceed the duty-free limit of one liter per person, depending on what else you bought during your trip and how long you were out of the country. However, Customs & Border Protection agents at several different border crossings have told us that they have a certain amount of leeway to waive the duty if it's a small amount – usually less than $20. It actually costs the government more to process the paperwork for payments that small than the revenue it generates. However, this practice can vary depending on where you're crossing the border into the U.S., and some CBP stations can be stricter than others. Don't assume that just because you've not had to pay any duty on previous trips means you won't have to the next time.
I ordered some single malt Scotch from an online retailer in another country, and it's being shipped now. Will I have to pay the tariff?
Good question. Not all online retailers work the same way, and it may depend on which retailer you're working with. Technically, individuals aren't allowed to import alcoholic beverages into the U.S. unless they're traveling from another country with those specific bottles (see above). Some online retailers work around this by working with a licensed U.S. importer and shipping orders to them (usually combining orders from several customers into one package), with the importer then forwarding the whiskies on to the original purchaser. Those orders would be subject to the tariff, and it's up to the retailer whether to try and bill you separately for that now. Don't be surprised if those retailers adjust their pricing on U.S. orders to reflect the tariff.
If the politicians in the U.S. and Europe get their acts together and work out a compromise on the aviation dispute that leads to the tariff being removed, will whisky prices come back down to pre-tariff levels?
Our Magic 8-Ball said "probably not" and rolled under the sofa laughing hysterically.
If you have a question that we haven't addressed yet, let us know. We'll add more questions and answers as needed.
---
October 18, 2019 – Hopes in the Scotch Whisky industry for a last-minute reprieve from the Trump Administration's new 25% tariff on imports of single malt whiskies from Scotland and Northern Ireland have been dashed. The tariff went into effect at midnight on all imports of those single malts and a wide range of other European goods, with no grace period to allow for shipments already in transit.
The whisky tariff is part of a $7.5 billion package of countermeasures that received final approval Monday from the World Trade Organization to compensate for European Union subsidies to aircraft giant Airbus in a 15-year-long dispute. A WTO dispute resolution panel ruled in favor of the U.S., which argued that low-interest loans to Airbus from the governments of the United Kingdom, France, Germany, and Spain violated WTO rules on government subsidies. The dispute was prompted originally by Boeing, which claimed that the low-interest loans gave Airbus an unfair advantage in developing new aircraft models to compete with Boeing. A similar complaint filed by the European Union accusing the U.S. of providing similar illegal subsidies to Boeing is in the final stages of the WTO's dispute resolution process, with a ruling expected several months from now.
Scotch Whisky Association officials have been working with British Prime Minister Boris Johnson's government in an attempt to head off the tariff. Single malts from Scotland and Northern Ireland were specifically targeted because of the UK Government's role in the Airbus subsidies, and SWA chief executive Karen Betts said her members are being unfairly targeted for a dispute they had no role in.
"Scotch Whisky is now paying for over 60% of the UK's tariff bill for the subsidies it provided to Airbus, eight times more than the next most valuable UK product on the tariff list. That Single Malts are being targeted is particularly damaging for smaller producers, who stand to be the hardest hit," Betts said in a statement.
The association projects lost sales to Scotch Whisky's largest export market by value could reach 20% over the next 12 months. That is similar to the 21% loss in export sales of Bourbons and other American whiskies to the European Union following the EU's imposition of a 25% tariff on those whiskies in July of last year to retaliate for US tariffs on European steel and aluminum imports. 
Until that tariff was imposed, whiskies and other alcoholic beverages had been tariff-free in trade between the United States and the European Union since 1994. That easy access to export sales for whisky producers in both countries has been seen as one of the contributing factors in the global whisky boom. The SWA and 14 other spirits trade associations called on both the Trump Administration and European leaders to resolve their differences over the aviation dispute.
"The next quarter is the busiest time of the year for spirits and wine producers on both sides of the Atlantic as consumers gear up for holiday gift-giving and entertaining.  In order to protect the jobs and communities we support, we urgently call on the U.S. and the EU to reach an agreement to de-escalate the current trade disputes by immediately and simultaneously removing the EU's retaliatory tariff on U.S. whiskey and the U.S. tariffs on EU spirits and wines," the associations said in a joint letter to US Trade Representative Robert Lighthizer and the European Commission.
This story will be updated with additional information as necessary.
Links: Office of the U.S. Trade Representative | World Trade Organization | Scotch Whisky Association
---
October 3, 2019 – Whisky industry leaders on both sides of the Atlantic have one key question about the 25% tariff on some Scotch and Irish whiskies to be imposed by the United States later this month.
What does whisky have to do with the aviation industry?
It's a fair question.
WhiskyCast's Mark Gillespie discusses the impact of the tariff on BBC News:
The tariff on single malt whiskies from Scotland and Northern Ireland, along with liqueurs, specific luxury goods, and other products from around Europe is the Trump Administration's planned response to a favorable World Trade Organization ruling Wednesday in a 15-year-long dispute with the European Union over subsidies to Airbus and Boeing. The WTO ruled that European subsidies to Airbus violate global trade agreements, and will allow the U.S. to impose punitive tariffs on up to $7.5 billion USD in European goods. A similar complaint filed by the EU over American subsidies to Boeing is expected to generate a similar ruling in early 2020, and the EU has already pledged to respond with subsidies against U.S. exports.
"All parties to this dispute need to be escalated…they need to get back round the negotiating table and they need to find a negotiated settlement to these industrial disputes," Scotch Whisky Association chief executive Karen Betts told WhiskyCast in a telephone interview. "They need to find a way through them that doesn't involve unrelated sectors, because as far as we're concerned, there will be real-life consequences in our sector, and it doesn't seem right that our sector is going to bear the damage for decisions that were taken by governments in another sector that has nothing to do with us at all," the former British diplomat said.
The tariff will affect goods primarily from the United Kingdom, France, Germany, and Spain. The latter three countries own about 25 percent of Airbus shares, while all four countries provided below market rate "launch aid" loans to Airbus to help develop new aircraft models. However, the preliminary list of affected goods also includes food products from 27 different European Union member nations.
In a statement issued late Wednesday afternoon announcing the tariffs, U.S. Trade Representative Robert Lighthizer said the Trump Administration expects to enter into negotiations with the European Union aimed at resolving this issue in a way that will benefit American workers."
His boss, President Donald Trump, was less diplomatic during a news conference Wednesday with Finnish President Sauli Niinisto. "All of those countries were ripping off the United States for many years. They know that I'm wise to it…we've had a lot of wins, this was a $7 billion win…not bad."
Distilled Spirits Council of the United States CEO Chris Swonger is joining his counterparts in Europe in urging both sides to find a solution. "This could have a $3.4 billion impact on our industry here in the U.S. and with our European trading partners, and it could potentially impact 13,000 jobs…whether that's truckers, farmers, bartenders, servers, and certainly the supplier community as well, so we're very alarmed," he said in a telephone interview. Swonger noted that U.S. whiskey exports to the European Union have declined 21 percent since the EU imposed a 25% tariff on American Bourbon and other whiskies in July of 2018 to retaliate for U.S. tariffs on steel and aluminum imports.
The tariff will only affect Single Malt whiskies from Scotland and Northern Ireland, as a close reading of the preliminary list shows those whiskies under a category of "Products of the United Kingdom" subject to the tariffs.  According to Betts, the biggest impact will be felt by smaller producers unable to either ship extra inventory to the U.S. in advance of the October 18 effective date or absorb the cost of the tariff for their importers. "Many of our smaller producers only produce malts, and they will export to the U.S., so their exports are all going to get caught by this tariff," Betts said.
Irish Whiskey industry leaders have been reluctant to comment publicly on the tariff decision, since whiskey is one of the areas where producers on both sides of the Irish border work closely together. The Irish Whiskey Association declined interview requests, except for one Twitter comment by executive director William Lavelle that the tariff will affect only "a very small proportion of Irish Whiskey."
However, Drinks Ireland director Patricia Callan said in a statement that the tariff will cause economic issues on both sides of the border. "Last year, 78.5 million bottles of both Irish whiskey and Irish cream liqueur were sold in the US. These sales help support thousands of jobs across the US and in Ireland, north and south, including in the agricultural sector which supplies Irish barley and cream for these products. With Brexit looming, the imposition of tariffs will have a highly-detrimental impact on the All-island economy, particularly for Northern Ireland where spirits exports to the US have greatly supported economic revitalisation since the Good Friday Agreement. The imposition of tariffs will also disproportionately hit smaller, craft distillers – threatening businesses and jobs," Callan said while encouraging the Irish government to lower excise taxes and provide targeted funding to support Irish producers in the upcoming budget.
Assuming there are no major changes to the final list of goods when it is published in the Federal Register before taking effect, the largest impact in Ireland would be on Proximo Spirits. The New Jersey-based company is owned by Mexico's Beckmann family, and owns the Old Bushmills Distillery in County Antrim. Bushmills produces at least three different Irish single malts for export under its own brand, and Proximo also produces The Sexton Irish Single Malt at Bushmills. Company executives have not yet responded to a request for comment from WhiskyCast.
We have also reached out to importers and whisky makers on both sides of the Atlantic for comments on the potential impact of the tariff on their business. Listen to this weekend's WhiskyCast podcast for more coverage.
Links: Office of the U.S Trade Representative | Scotch Whisky Association | Distilled Spirits Council of the United States | Irish Whiskey Association | Drinks Ireland | Proximo Spirits
---
October 2, 2019 – The popular Christmas gift of a bottle of expensive Single Malt Scotch whisky could become more expensive this holiday season for American consumers. The Trump Administration is including Scotch and Irish single malt whiskies on a preliminary list of European imports to be hit with 25% tariffs as early as October 18. The list also includes French wines, Italian cheeses, British cashmere, and a wide array of other products.
The move comes after a much-expected World Trade Organization ruling allowing the United States to take punitive action against the European Union for providing subsidies to Airbus that violate WTO rules. The WTO granted permission for the U.S. to impose tariffs on approximately $7.5 billion (USD) of goods imported from European Union member countries to compensate for the impact of the Airbus subsidies on the U.S. economy.
"For years, Europe has been providing massive subsidies to Airbus that have seriously injured the U.S. aerospace industry and our workers. Finally, after 15 years of litigation, the WTO has confirmed that the United States is entitled to impose countermeasures in response to the EU's illegal subsidies," U.S. Trade Representative Robert Lighthizer said in a news release announcing the tariffs. The U.S. will formally ask for permission to impose the tariffs in a meeting expected October 14 at WTO headquarters in Geneva, Switzerland.
The WTO is expected to issue a similar ruling next year in a European Union complaint that the U.S. illegally subsidizes Boeing in the same way. The EU complaint is lagging several months behind the U.S. complaint in the trade organization's dispute resolution process, and European Union leaders have pledged to retaliate in a similar way once their complaint is resolved.
The U.S. tariffs primarily target goods from the United Kingdom, France, Italy, and Spain – the four countries deemed most responsible for providing the subsidies to Airbus, and here is where the issue of Irish Whiskey becomes murky. Lighthizer's list of goods subject to the tariffs in Wednesday's announcement is described as preliminary, with the "definitive product coverage" to be published in the Federal Register before the tariffs take effect. It also specifies that the tariffs will apply only to "Products of the United Kingdom."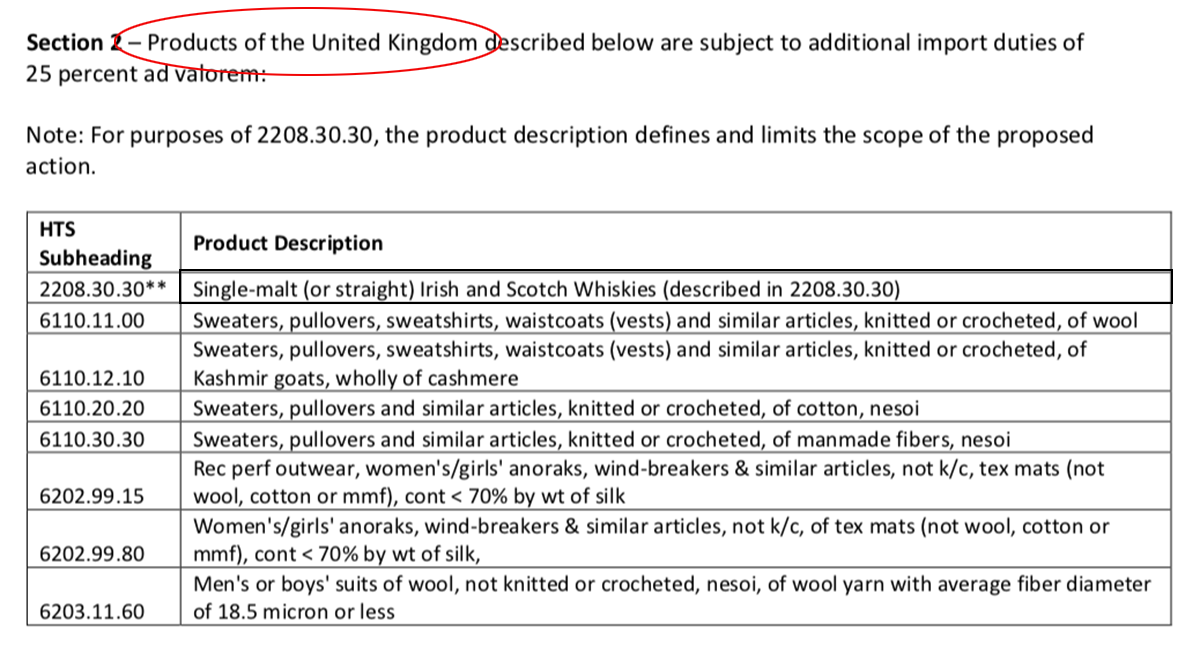 Of course, that raises the question of whether the tariff will apply to all Irish whiskies, since only the six counties of Northern Ireland are part of the United Kingdom. The remainder of Ireland is most certainly not part of the United Kingdom – as anyone who has been following the Brexit negotiations and the debate over the "Irish backstop" aimed at preventing the return of a hard border between Northern Ireland and the Republic of Ireland. The USTR's list is unclear on this point, and WhiskyCast has asked the agency for clarification on this issue.
Industry trade groups on both sides of the Atlantic had been pleading with the Trump Administration to leave whisky out of this dispute, which is separate from the issue over steel and aluminum tariffs imposed by the U.S. last year that led to retaliatory tariffs on exports of Bourbon and other American whiskies to Europe. That 25% tariff has cost American whiskey makers more than $100 million in lost export sales since it was imposed in July of 2018, according to the Distilled Spirits Council of the United States.
DISCUS CEO Chris Swonger called the move a devastating blow for the spirits industry. "While we recognize the U.S. and EU are trying to solve long standing trade disputes, distillers on both sides of the Atlantic have become collateral damage in matters that are completely unrelated to our industry," he said in a statement Wednesday evening. "As the important holiday season approaches, we urgently call upon the U.S. and the EU governments to get back to the negotiating table and return to tariff-free trade with our largest export market." WhiskyCast has also contacted the Scotch Whisky Association and the Irish Whiskey Association for their reaction to the tariffs.
The tariff is expected to have a serious impact on prices of Scotch and Irish single malt whiskey for consumers, since the tariff will be imposed on importers as shipments reach the U.S. border and will likely be passed on to regional distributors, local retailers, and eventually consumers.
The United States has been the largest export market for Scotch Whisky by value, according to export data from HM Revenue & Customs compiled by the Scotch Whisky Association. In 2018, exports of all Scotch Whiskies to the U.S. were valued at around $1.3 billion USD (£1.03 billion GBP). The decision to only impose tariffs on "single malt" Scotch Whiskies, though, could mitigate some of the impact. Single malts make up about 30 percent of all Scotch Whisky exports to the United States, while the rest is dominated by Blended Scotch whiskies.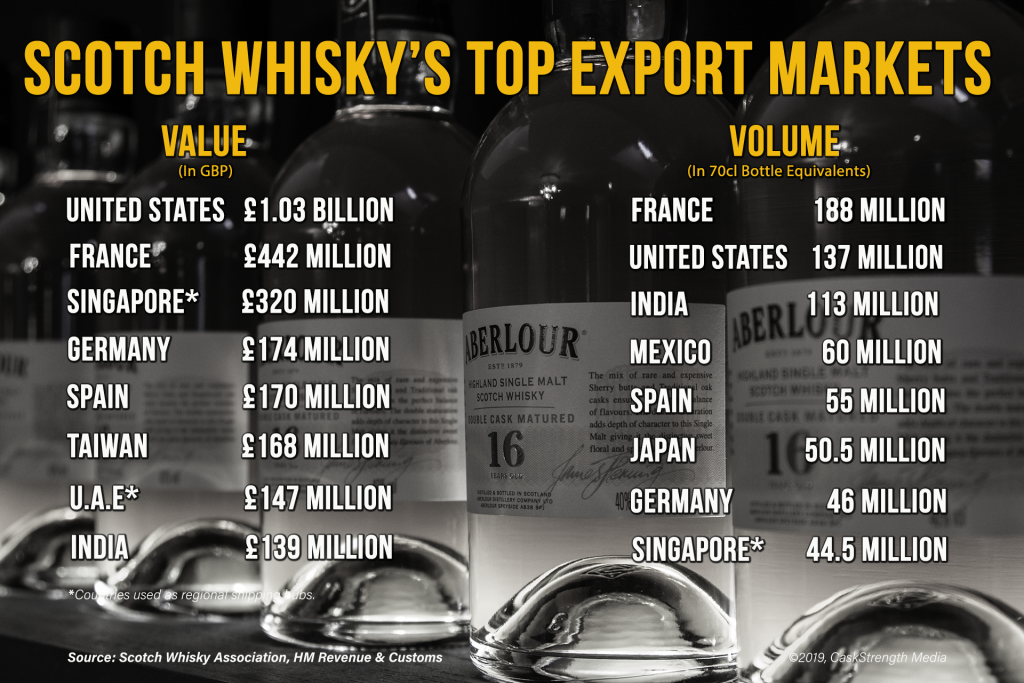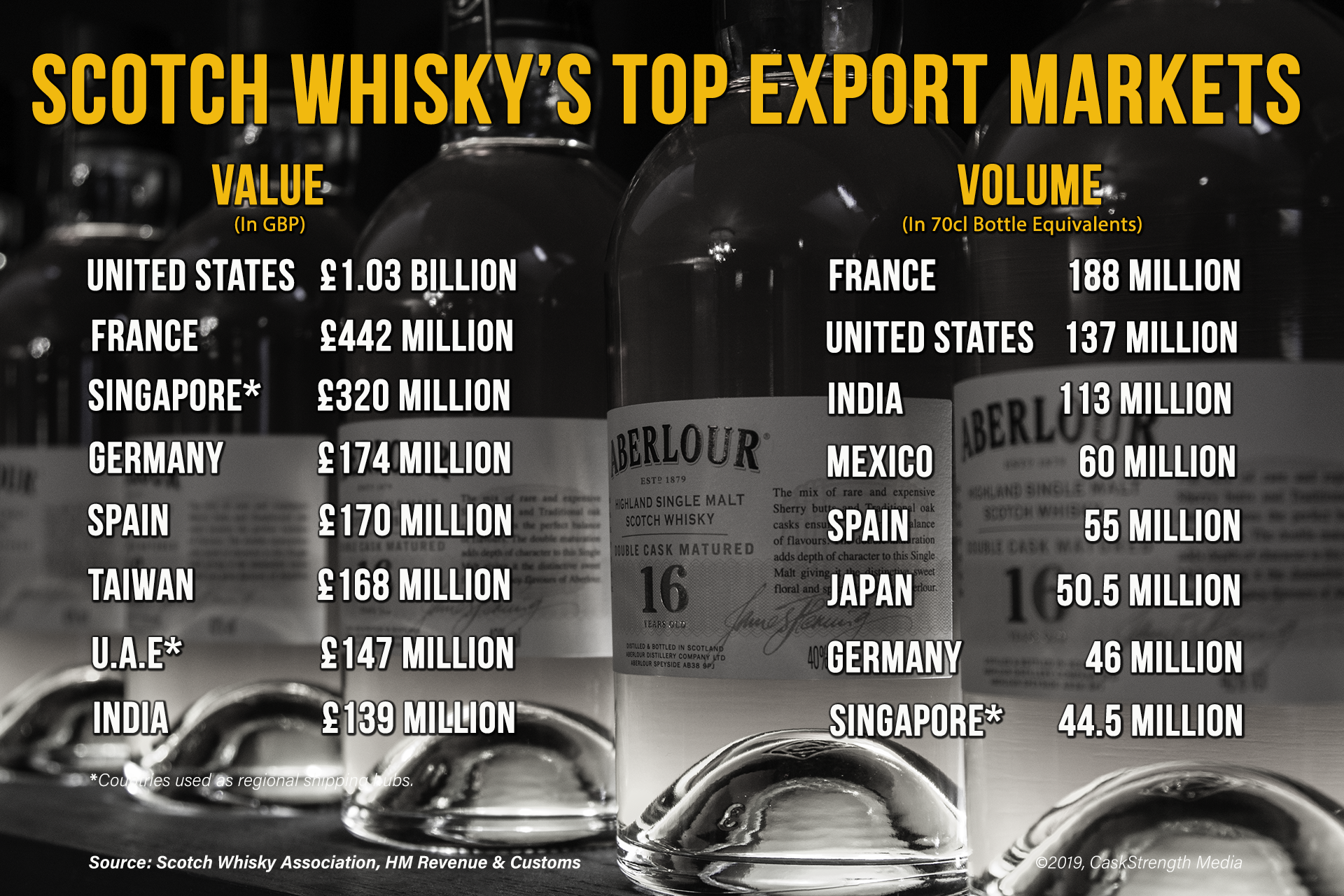 Similarly, while the U.S. is the single largest market worldwide for Irish Whiskey, the decision to only impose tariffs on single malts from Ireland will affect just a small portion of exports – should it be applied to all Irish single malts instead of just those produced in Northern Ireland. Pernod Ricard-owned Jameson and many top-selling Irish Whiskeys are blended from varying recipes of single malt, single pot still, and grain whiskey, and will apparently not be subject to the tariff. That also applies to Single Pot Still Irish Whiskies such as Redbreast, which are distilled from a combination of malted and unmalted barley.
Should the tariff be limited to Northern Ireland, the hardest-hit company would likely be Proximo Spirits, which owns the Old Bushmills Distillery in County Antrim. Bushmills produces several ages of single malt whiskies in addition to its blended whiskies, and is one of the largest exporters of Irish single malt whiskey to the United States under the Bushmills and The Sexton brands. While several small craft distillers have opened in Northern Ireland in recent years, very little of their production reaches the export market at the present time.
If the tariff is extended to cover all of Ireland, it would not only affect Bushmills, but other top-selling  brands of Irish single malt whiskey such as Knappogue Castle (owned by Castle Brands, which agreed last month to a merger with Pernod Ricard), and Tullamore D.E.W. (owned by William Grant & Sons). In addition, a number of Ireland's emerging craft distilleries have been exporting single malts to the U.S. over the last couple of years, including the Teeling Whiskey Company, Glendalough Distillery, and Clonakilty Distillery.
Listen to this weekend's WhiskyCast podcast for more coverage.
Editor's note: This story has been updated to include more details on the extent of the tariff and the issue of whether it will only apply in Northern Ireland or include the Republic of Ireland. 
Links: Office of the U.S. Trade Representative | Distilled Spirits Council of the United States | Scotch Whisky Association | Irish Whiskey Association
---
September 19, 2019 – Six new legends joined some of Bourbon's greatest names today as the Kentucky Bourbon Hall of Fame inducted the Class of 2019 during the Kentucky Bourbon Festival. The class is led by Willett Distillery's Even Kulsveen, who was also presented with the Parker Beam Lifetime Achievement Award during the ceremony.
Kulsveen and his wife Martha are credited with reviving the family's distillery founded by her father in the hills above Bardstown, along with becoming one of the largest independent bottlers and exporters of Kentucky Bourbon worldwide. Today, their daughter Britt is Willett's president, while son Drew oversees distilling and blending operations at the company. In a news release, Britt Kulsveen said "our father has lived several lifetimes with all of the career paths he has taken – from tending bar to having a glass factory that produced decanters and envisioning the kingdom we have built together as a family today. We have always said that he is lifetimes ahead of his time with all of the innovative, genius creations he has imagined and brought to fruition. This award is a long time coming."
Other inductees include Charles W. Medley, a member of Owensboro's legendary Medley family and longtime master distiller at the former Medley Distillery, retired Heaven Hill director of trade and media relations Larry Kass, longtime Brown-Forman executive and Bourbon Women founder Peggy Noe Stevens, and Katrina Egbert of Wild Turkey. Egbert's official title is "visitor center marketing coordinator," but she's more widely known as being the right-hand person for legendary Wild Turkey Master Distiller Jimmy Russell for more than 30 years.
There was one second-generation inductee into the Hall of Fame. Angel's Envy co-founder and chief innovation officer Wes Henderson rounds out the class, and joined his father, the late Lincoln Henderson, in the Hall of Fame. Lincoln Henderson was the longtime master distiller at Brown-Forman and a member of the inaugural Hall of Fame class in 2001.
The Hall of Fame recognizes individuals and groups that have made significant impacts on the Kentucky Bourbon industry, and is a partnership between the Kentucky Distillers Association and the Kentucky Bourbon Festival. Candidates are nominated each year by the association, its member distilleries, and the Bourbon Festival board – with the KDA board voting on those nominees to be inducted.
Editor's note: This story was originally published on September 17, and was updated following the induction ceremony.
Links: Kentucky Bourbon Hall of Fame | Kentucky Distillers Association | Kentucky Bourbon Festival
---