Each week, we bring you the latest whisky news on WhiskyCast, but a lot can happen during the week. Now, you can keep up with whisky news as it happens here on WhiskyCast.com!
Updated January 18, 2021 – A Virginia craft distillery and its founder have been indicted in the state's first-ever criminal case alleging violations of the state's water control law. A Shenandoah County grand jury returned indictments on 115 separate felony charges against Filibuster Distillery founder Sid Dilawri as an individual, along with the distillery's two separate limited-liability corporations, Filibuster Distillery LLC and Filibuster Barrels LLC.
A hearing has been scheduled for next Wednesday in Shenandoah County Circuit Court. A spokesperson for Dilawri and the distillery declined to comment on the indictments citing the pending litigation, but confirmed late Monday that Dilawri "voluntarily met with authorities last week" and is free at home until the January 27 hearing.
The charges come following a two-year-long investigation by the county's fire marshal and state environmental regulators that found evidence that the distillery illegally dumped more than 40,000 gallons of "industrial waste water" into a nearby stream between November of 2018 and last September. According to a statement from Virginia Attorney General Mark Herring, Dilawri allegedly lied about the dumping to investigators at first, before describing it as a "one-time accident" and later acknowledging the extent of the dumping.
"That will not be tolerated in Virginia. I want to thank our partners at DEQ (the Department of Environmental Quality) and the Shenandoah County Fire Marshal for their help and coordination on this case. I hope these charges will send a message to other businesses that Virginia takes protecting our environment very seriously," Herring said in the statement.
Dilawri was featured in a WhiskyCast In-Depth interview last November in which he noted that the distillery's location in Shenandoah County was selected for its high water quality.
"The reason why Scotland is Scotland, why Kentucky is Kentucky, the reason why…you know, it's water plays the major role, so we are, we sit on 80 feet of limestone in Virginia, which is…we are blessed," he said in the interview. In addition, Filibuster's web site highlights what is described as its "bio-sustainable" nature.
"After distilling, the water undergoes an intense filtration process and is then injected back into Shenandoah water tables. Our used grains are also converted into nourishing poultry feed. We are serious about safeguarding the environment for future generations."
According to the Attorney General, the "waste water" allegedly dumped into the stream contained excessively high levels of zinc and copper. The 115 separate counts in the indictment are consistent with Virginia's Water Quality Law, which considers each day of violation as a separate crime. Under that law, conviction can bring a minimum prison sentence of one year for an individual defendant along with a minimum $5,000 fine for each charge, while corporations can be fined a minimum of $10,000 for each charge. In addition, the accusation that Dilawri misled investigators about the dumping could put the distillery's state license at risk, since Virginia law allows the Alcoholic Beverage Control Board to revoke or suspend licenses in cases where a licensee deliberately tries to mislead federal, state, or local regulators.
Dilawri and his family opened Filibuster in 2013, and also own Modern Liquors in Washington, DC.
This story will be updated as additional information becomes available.
Editor's note: This story has been updated to add information provided by a spokesperson for Filibuster. As in all criminal cases, those indicted should be considered innocent until proven guilty in court, and the Attorney General's statement provides only one side of the facts in the case. Lawyers for Dilawri and Filibuster have not yet filed their response to the indictments, and we will update this story with their response when it is available. 
Links: Filibuster Distillery | Virginia Attorney General's Office | Virginia Department of Environmental Quality
---
By Mark Gillespie –
January 1, 2021 – One of the frequent comments seen on social media after the U.S. Food & Drug Administration announced plans to start charging a regulatory "user fee" to distilleries that produced hand sanitizer during the Covid-19 pandemic: "No good deed goes unpunished." In fact, we used that line in our original story Thursday about the backlash over the user fee.
Several hours after that story posted, and at an hour when most Washington bureaucrats would likely have already started their New Year's Eve dramming instead of cutting red tape, the chief of staff to Health and Human Services Secretary Alex Azar tweeted this announcement through the HHS Public Affairs Office.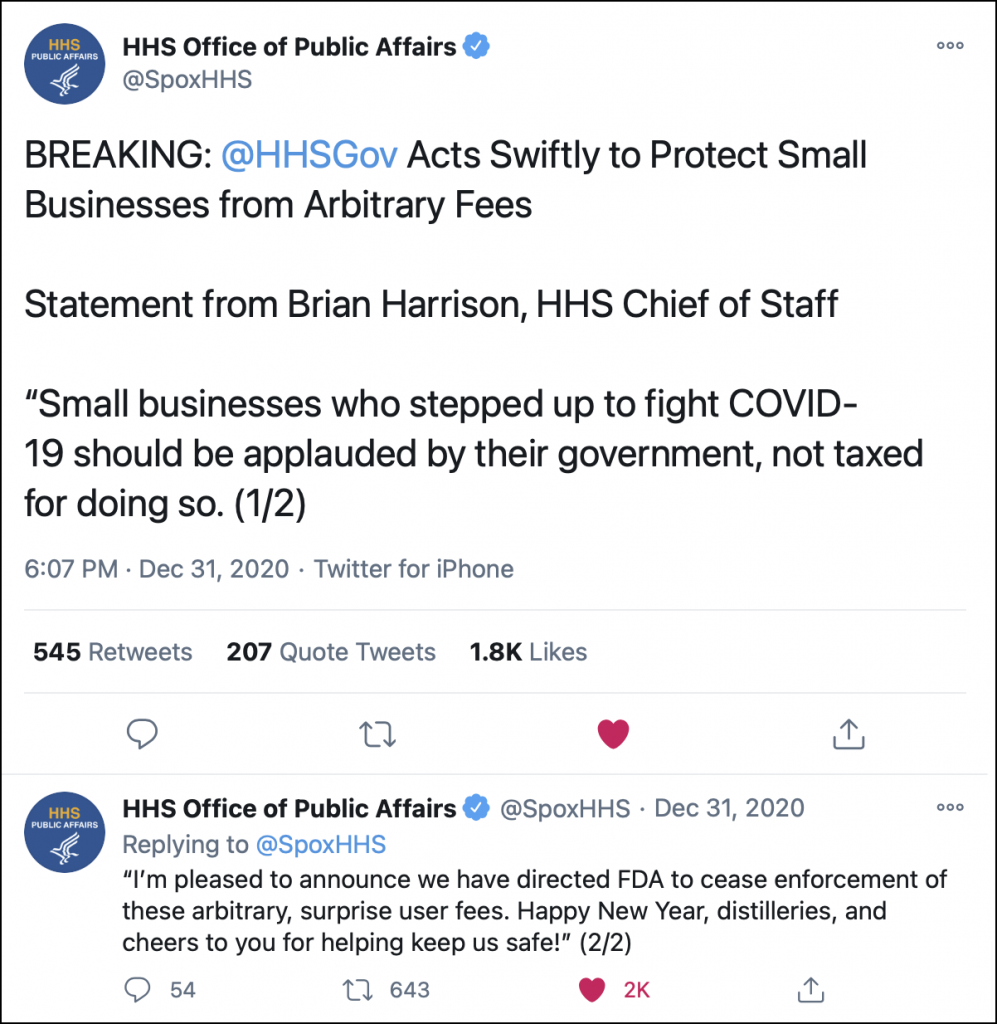 The FDA is part of the larger Health and Human Services Department, and issued its "user fee" schedule for makers of non-prescription health care products Tuesday in the Federal Register. The move was intended to implement a provision of the CARES Act pandemic relief legislation enacted by Congress last March that allows the agency to charge user fees to recover some of the costs of regulating non-prescription products. In a statement provided Thursday afternoon to WhiskyCast by the FDA, the agency stated that Congress did not give the agency any authority to waive the user fees and that only Congress could do so.
However, HHS officials overruled the FDA in less than 24 hours – what may be a new record for Washington, accusing the agency of overstepping its bounds.
"This action was not cleared by HHS leadership, who only learned of it through media reports late yesterday (December 30). HHS leadership convened an emergency meeting late last night to discuss the matter and requested an immediate legal review. The HHS Office of the General Counsel (OGC) has reviewed the matter and determined that the manner in which the fees were announced and issued has the force and effect of a legislative rule. Only the HHS Secretary has the authority to issue legislative rules, and he would never have authorized such an action during a time in which the Department is maximizing its regulatory flexibility to empower Americans to confront and defeat COVID-19. Because HHS OGC has determined the notice is really a legislative rule and that no one at FDA has been delegated authority to issue such a rule, the notice is void. HHS leadership, based on this legal opinion, has ordered the Federal Register Notice to be withdrawn from the Federal Register, meaning these surprise user fees will not need to be paid."
That decision means distillers who registered earlier this year with the FDA to make sure their hand sanitizer production complied with federal regulations will not be subject to a $14,060 fee due next month.
American Craft Spirits Association president Becky Harris of Catoctin Creek Distilling told WhiskyCast Thursday that HHS Chief of Staff Brian Harrison had already reached out to her that morning with word that "HHS was on it." While the user fee was intended to cover all manufacturers of "over the counter" health care products, Harris noted that neither the FDA nor distillers had worked closely together in the past.
"The challenge is that FDA is used to dealing with associations of drug manufacturers and people who are doing medical devices and things…they're not used to taking calls from a ragtag bunch of craft distillers," she said with a laugh. It should be noted that the same "ragtag bunch" had just successfully persuaded bipartisan majorities in both houses of Congress to make a federal excise tax break for small-scale distillers permanent just a week earlier, and was already starting to bring their friends on Capitol Hill into the discussion.
There are three types of phone calls many Washington bureaucrats would like to avoid at all costs, especially after issuing a schedule of user fees:
Members of the news media
Lobbyists and the people they represent
Members of Congress who have already heard from the media, lobbyists, and the people they represent
With the FDA's public affairs office being swamped on New Year's Eve with media calls and emails (such as ours), along with their colleagues elsewhere in the agency and at the HHS headquarters as word of the user fee spread through social media, there was pressure to get a decision made quickly.
In a statement after the HHS announcement, ACSA chief executive Margie Lehrman said "we are truly a community of craft distillers — who collectively sounded the alarm with legislators and local news outlets as ACSA worked around the clock to speak to regulators here in Washington — and that is more evident than ever tonight as we receive this news." Distilled Spirits Council CEO Chris Swonger issued a statement calling the decision a relief for the nation's distillers, saying "We want to thank HHS leadership for quickly intervening and protecting distillers from these unwarranted fees. Distillers were proud to help make hand sanitizer for their communities and first responders during their time of need."
The FDA, having received the bureaucratic equivalent of a jolt from a high-voltage cattle prod, issued its own statement as well:
"The FDA appreciates and understands the concerns raised by manufacturers, especially the small businesses that stepped up during the COVID-19 pandemic to help meet the increasing demand for alcohol-based hand sanitizers. The agency remains committed to working with all parties to ensure an adequate supply of this important public health tool to help all Americans practice good hand hygiene. With these concerns in mind, the FDA intends to appropriately and transparently implement the drug user fee program enacted by Congress and signed into law."
Loosely translated: "you won this round, but we still plan to implement the user fee at some point…we'll just make sure we get everyone on board first."
Links: Food & Drug Administration | Department of Health & Human Services | American Craft Spirits Association | Distilled Spirits Council of the United States
---
By Mark Gillespie
December 31, 2020 –  In March, Sagamore Spirit Distillery president Brian Treacy took a call from the Johns Hopkins Hospital with one question.
"Do you know how to make hand sanitizer?"
After checking with his production team, Treacy responded later that their equipment for distilling rye whiskey was not designed to produce the high-proof alcohol needed in hand sanitizers. The Johns Hopkins team painted a grim picture based on their discussions with colleagues on the West Coast, who were already seeing ten times the demand for hand sanitizer and no available inventory.
"The supply chain is completely eroded, there's no hand sanitizer available on the market, and there isn't going to be any any time soon…could you please figure it out?"
Like many distillers around the United States, Treacy and his team immediately went to work figuring it out and pivoted from producing whisky, gin, vodka, and other spirits to producing alcohol-based hand sanitizer. According to the Distilled Spirits Council of the United States, more than 800 different distilleries around the country produced hand sanitizer during the pandemic. Many donated their time, equipment, and the ingredients along with supplying their sanitizers to health care providers and first responders free of charge during the early days of the pandemic.
There's a cynical saying: "No good deed goes unpunished."
Months after Sagamore Spirit and many other distilleries returned to producing distilled spirits, they're being hit with an unexpected bill. The Food and Drug Administration published a schedule of user fees for so-called "Over the Counter Monograph Drug Facilities" Tuesday in the Federal Register. Hand sanitizers are regulated by the FDA as an "over the counter" topical treatment, and the CARES Act passed by Congress in March included a provision allowing the FDA to impose annual user fees from qualifying manufacturers of monograph drugs (defined as "a nonprescription drug without an approved new drug application.")
The fee: $14,060, along with a fee of $9,373 for facilities that produce monograph drugs under contract for export use only. The user fees are intended to raise approximately $24 million to cover the agency's cost of overseeing the monograph drug program.
In addition, the annual fee schedule takes effect on January 1, meaning any distiller still making or selling hand sanitizer on that day will be subject to the fee unless they completely exit the sanitizer business and de-register with the FDA before the start of the new year. Since the schedule was published on December 29, distilleries had barely 48 hours to respond to an agency few of them had ever dealt with until the pandemic.
"In the last 24 hours, we started seeing notices flying around saying 'hey, the FDA's updating its policy," said Phillip McDaniel of Florida's St. Augustine Distillery and the chair of the DISCUS Craft Advisory Council. "No discussion, no explanation, no real understanding of what do we do with the inventory we have…we just got really blindsided," he said in a telephone interview.
FDA spokesman Jeremy Kahn told WhiskyCast no one from the agency would be available for an interview, but provided the following statement:
"The FDA appreciates industry's willingness to help supply alcohol-based hand sanitizer to the market to meet the increasing demand for these products during COVID-19, and we are grateful for their efforts. We understand the concern that manufacturers have about the fees they are being asked to pay, especially from small businesses during this difficult time. The Coronavirus Aid, Relief, and Economic Security Act (CARES Act) enacted by Congress and signed into law in March 2020, imposes user fees for fiscal year 2021 (and thereafter) to be collected from over-the-counter (OTC) monograph drug facilities, such as hand sanitizer manufacturers. The statute does not provide any waiver provisions for any specific category of manufacturer or for the deadline for assessing those fees, however we stand ready to work with Congress on ways this can be addressed. The FDA has made information regarding its planned implementation of this new user fee program publicly available on the agency's website, beginning in May 2020. As with our other user fee programs, we anticipate that these user fees will provide additional resources to help the agency conduct our important regulatory activities in a timelier manner and ultimately help provide the public with access to innovative OTC monograph drugs." 
During the peak of the pandemic, the agency was a roadblock for distilleries who wanted to help by producing hand sanitizer that met World Health Organization global requirements. Those standards do not require the addition of "denaturing" agents that make alcohol products intended for topical use unsafe to drink, while the FDA mandates their use in topical products in the U.S. Distillers were concerned because the use of those denaturing agents in their equipment would lead to extensive cleaning processes afterward or the replacement of contaminated pipes, tanks, and other equipment. In the end, the agency held firm over strong opposition from the industry and members of Congress, while the Treasury Department's Alcohol and Tobacco Tax & Trade Bureau (TTB) approved waivers of federal excise tax on alcohol produced for sanitizing use only if the products met FDA standards.
The regulatory move comes just days after President Donald Trump signed into law the massive year-end legislative package that included a permanent extension of a federal excise tax break that largely benefits small-scale distillers. Without that extension, many distillers were planning layoffs starting early next week facing a 400% increase in their excise tax bills starting on New Year's Day.
"It's absolutely the same kind of real scary challenge that not getting FET relief passed would have been," American Craft Spirits Association president Becky Harris said. "If FET permanence hadn't come…depending on your production level, you could be anywhere from an extra thousand dollars to an extra five thousand dollars or ten thousand dollars in excise tax just in January, and right now, everybody's looking at an extra $14,000 fee due to the FDA, and that's just as scary," the co-founder of Virginia's Catoctin Creek Distillery said in a telephone interview
Harris sees a potential for resolving the issue before anyone has to write a check, though.
"I actually got a call from the HHS (Department of Health and Human Services) Secretary's chief of staff…HHS says they're on it, and we have been tagging in with FDA in a number of different ways. The way I see it, and the way ACSA sees it, it's obvious that this is a fee that the FDA has been designing for a while, and they didn't design it thinking about thousands of small distilleries making hand sanitizer, right? They mostly deal with larger drug manufacturers, and the model they came up with is one they already use for prescription drugs," she said, noting that the FDA just slotted distilleries making hand sanitizer into its larger model without considering the consequences.
"The scale of these operations are totally out of line with the amount of these fees," Harris said, citing the example of a South Carolina craft distiller who makes about a gallon of hand sanitizer each month to donate to local first responders and doctors. "He's like 'am I gonna have to pay this fee," and the letter of what's been put out says yes," she said.
While Harris remains optimistic about a resolution, WhiskyCast has started a Change.org petition aimed at persuading the FDA to waive the user fee for distillers who do not produce any other products subject to FDA regulation for over-the-counter medical use.
Editor's note: This story was updated to include a statement from the FDA and additional clarifications, including the definition of "monograph" drugs. In addition, Sagamore Spirit and Catoctin Creek are both sponsors of WhiskyCast. 
Links: Food & Drug Administration | Sagamore Spirit | Distilled Spirits Council of the United States | St. Augustine Distillery | American Craft Spirits Association | Catoctin Creek Distilling
---
December 28, 2020 – Years of frustration from America's whisky lovers may be near an end, as the federal government is about to open up the U.S. market to whiskies never before imported into the United States. The Treasury Department's Tax and Trade Bureau, which regulates alcoholic beverages at the federal level, will publish new regulations Tuesday in the Federal Register on the so-called "standards of fill" for distilled spirits and wine.
That change will allow 700ml bottles to be imported legally for sale in the U.S. for the first time. 700ml has been the European Union standard  f0r more than three decades, while the U.S. settled on a 750ml standard when the Carter Administration adopted metric measurements in 1980. The change only affects commercial imports of whiskies and other distilled spirits intended for resale — travelers returning from overseas trips with whiskies have not been affected by the regulation.
While the difference is small — 50ml is the standard "airline size" bottling, that difference has created massive headaches over the years for whisky makers when it comes to making their whiskies available in the lucrative U.S. market. It forced whisky makers to produce 700ml bottlings for the European market and special 750ml bottlings to sell in the U.S., and many small independent bottlers and distillers chose to avoid the extra costs and not export their whiskies to the U.S. In addition, it will allow smaller American distilleries to produce 700ml bottles for sale in export markets and at home for the first time.
That was one of the reasons TTB officials cited in their reasoning behind the regulatory change, along with a desire to "eliminate restrictions on competition and the movement of goods in domestic and international commerce." The change takes effect immediately upon publication in the Federal Register, and will leave South Africa as the only country where 750ml bottles are a national standard. Most other countries either use the European 700m standard or have no established "standards of fill" regulations.
The regulatory change began in July of 2019, when the TTB started soliciting public and industry comments on the proposed change. At the time, the agency's plan was to essentially eliminate all specific bottle sizes and set only minimum and maximum sizes. However, industry opposition led to the final regulation, which adds 700ml as a standard size along with 720ml, 900ml, and 1.8 liter sizes for distilled spirits while allowing 200ml, 250ml, and 355ml sizes for wines. The additional sizes for distilled spirits were added to bring U.S. regulations into line with the latest free trade agreement between the U.S. and Japan, where producers of shochu and other spirits traditionally use those sizes.
The decision came despite industry opposition, with Möet Hennessy USA and Constellation Brands along the companies objecting to the addition of  700ml as an approved bottle size. Industry objections included the potential for consumer confusion between 750ml and 700ml bottle sizes as well as the claim that allowing 700ml bottles would open the U.S. market up to "grey market" or counterfeit whiskies. TTB's statement indicates that current enforcement efforts would be sufficient to tackle any counterfeiting issues, while past experience with imported beers and malt beverages where there are no specific "standards of fill" show no issues with consumer confusion.
This story will be updated with additional information.
Links: Tax and Trade Bureau
---
Updated December 28, 2020 – Christmas came a few days early for members of the U.S. craft distilling movement. Last Monday night, both the U.S. House of Representatives and the Senate approved a massive package of legislation that includes a permanent reduction in federal excise taxes for small-scale distillers and spirits importers. However, distillers had to sweat for six days until President Donald Trump finally signed the bill into law Sunday evening after threatening to veto the entire package over coronavirus economic stimulus payments that he deemed unacceptably small.
The tax break was just one small part of the overall legislation, which included around $908 billion in Covid-19 economic aid and covers funding for federal agencies through the rest of the fiscal year ending next September. That includes a $600 payment to adults and $500 for each child in a family. Trump insisted after the final vote that Congress increase the payments to $2,000 for adults, but House Minority Leader Kevin McCarthy (R-CA) blocked a Democratic attempt to increase the payments on Christmas Eve.
The tax cut for distillers was originally part of the 2017 tax reform legislation, and extended for one year last December. It reduced the amount of federal excise tax from $13.50 per proof gallon to $2.70 on the first 100,000 proof gallons of spirits removed from bonded storage for sale each year. While large distilleries can run through that amount in weeks or a couple of months at the beginning of a calendar year, most small-scale distilleries never even come close to reaching the threshold for paying the higher tax amount. A return to a flat rate of $13.50 would have gone into effect January 1 without Congressional action, hitting those distillers with the equivalent of a 400% tax increase.
The permanent change actually creates a three-tier schedule of excise tax rates, with the $2.70 rate applied to the first 100,000 proof gallons removed from bond each year. The rate rises to $13.34 per proof gallon for the next 22,130 proof gallons, and the original $13.50 rate for production above that level.
"When I got a call, I actually burst out crying," American Craft Spirits Association CEO Margie Lehrman told WhiskyCast. "It was just incomprehensible that finally we were doing the right thing and listening to these small businesses because this was exactly the PPE these small businesses needed in order to survive for so very many," she said in a telephone interview Tuesday. ACSA and other industry groups have led a massive lobbying campaign involving distillers, brewers, and winemakers trying to extend the tax break, and Lehrman said a failure would have led to layoffs at many small distilleries in the coming weeks.
When the tax break took effect in 2018, many small distillery owners took the savings from the lower tax rate and reinvested it in their businesses, hiring new employees and adding benefits along with expanding production capacity. Most small distilleries rely on sales through their tasting rooms for most of their revenue, and public health shutdowns of bars and restaurants caused by the Covid-19 pandemic have decimated those sales during 2020. The legislation also includes added funding for small business relief programs, such as the Paycheck Protection Program loans that many small distilleries used to keep their employees on the payroll during the pandemic.
Negotiations on Capitol Hill went down to the wire Monday as Congressional leaders tried to hammer out the compromise on pandemic aid. According to The Washington Post, distilled spirits may have played a part in helping bring together a bipartisan agreement. Sen. Joe Manchin (D-West Virginia) brought a Mason jar filled with 170-proof "farm fuel" to a negotiating session with several of his centrist colleagues last week that led to a compromise that helped create the framework for Monday's final package.
Editor's note: This story was updated to include details on President Trump's delay in signing the bill into law.
---
By Mark Gillespie
December 4, 2020 – Irish Whiskey makers have had a decade to remember. The years between 2010 and 2019 saw arguably the biggest growth for Irish Whiskey in more than a century, with global sales rising 140 percent over the decade from just under five million cases in 2010 to 12 million cases last year, according to a new report today from Drinks Ireland/Irish Whiskey Association.
The 2019 results helped the industry meet a goal set back in 2015 of reaching 12 million cases (equal to 144 million bottles) by 2020 and reflect an annual growth rate of 9.1%, continuing the segment's trend as the fastest-growing category in the spirits business. The data reflect sales of whiskies from both the Republic of Ireland and Northern Ireland, with the number of distilleries growing from just four in 2010 to 38 operating distilleries as of today.
"The past decade has been referred to as a period of revival and renaissance for Irish Whiskey, but for me, I think it should be referred to as a period of restoration as Irish Whiskey has retaken its place once again as one of the island of Ireland's leading industries," Irish Whiskey Association chairman David Stapleton said during a news briefing to release the report's findings. While the report does not yet reflect the economic impact of the Covid-19 pandemic on this year's sales, the Connacht Whiskey Company founder told reporters the industry's proven resilience will lead to a recovery in 2021 and continued growth in the next decade.
The report's release came as many parts of the Republic of Ireland's economy have started to reopen following the latest three-week long lockdown to keep coronavirus infection rates under control. Northern Ireland is scheduled to follow suit next Friday, though strict public health restrictions will remain in effect during the holidays.
"I know the challenges have been great in 2020," Irish Finance Minister Paschal Donohoe TD said during the briefing. "I really believe 2021 is going to be so much different, so much better. It's a really special day, a really important day today as we see many parts of the hospitality sector reopen, and it's really important that that goes well from both a health and an economic point of view," Donohoe said.
The report highlights approximately €1.55 billion ($1.8 billion USD) in capital investments for the industry during the decade, mostly in construction of new distilleries and visitors centers. "We knew that we were going to put a lot of work behind it…we knew there was going to be a lot of money spent in the Irish Whiskey market, we knew that there was a lot of people, entrepreneurs, going to build distilleries," Dublin Liberties Distillery master distiller Darryl McNally said during the WhiskyCast #HappyHour webcast Friday night. "We were doing a quick calculation on even, how much liquid you'd have to lay down in order to have that, bottling capacity, and all those good things, but as the years went past, you sort of went, 'OK, we're on target here,' so you sort of then believed in it and we hit the 12 million sooner than we expected even…that was great," McNally said.
The growth in Irish Whiskey sales globally over the past decade came as a natural outgrowth of the boom in Bourbon sales in the years leading up to 2010, according to Walsh Whiskey Company founder Bernard Walsh. His company was one of the few independent Irish Whiskey producers at the start of the decade with The Irishman and Writers' Tears whiskies.
"The Bourbon boom and the interest in all things Bourbon…that was migrating to Irish and the experimentation in Irish," Walsh said in a WhiskyCast interview following the publication of the report. "From 2010 on, we started to see an interest…'oh, tell me more about Irish…what do you mean there are three different styles of Irish Whiskey…' so this was all new and exciting, Walsh said.
Watch Mark Gillespie's interview with Walsh Whiskey Company founder Bernard Walsh:
Walsh projects global Irish Whiskey sales could reach 20 million cases by 2030 and will challenge Scotch Whisky's longtime dominance in the United States, which is the largest single market worldwide for Irish Whiskey. "In the next five years, we will surpass Scotch Whisky sales in the U.S. — we've already surpassed single malt Scotch sales in the U.S., and that will be a milestone, and we're gonna mark that," he said with a laugh.
Editor's note: Walsh Whiskey Company is a sponsor of the WhiskyCast podcast.
Links: Drinks Ireland/Irish Whiskey Association | Dublin Liberties Distillery  | Walsh Whiskey Company
---
By Mark Gillespie
December 4, 2020 – Beam Suntory's flagship Jim Beam American Stillhouse attraction in Clermont, Kentucky will remain closed to visitors until late next summer while construction continues on a $60 million overhaul of the facility. The visitors center is one of the most popular stops on the Kentucky Bourbon Trail, but is being refreshed with new features and a new emphasis on the Beam Suntory Bourbon portfolio under the banner of the James B. Beam Distilling Company.
"James B. Beam is really intended to give us the room and space to talk not only about our 225 years of whiskey-making heritage, but the family stories and the breadth and depth of the full portfolio," managing director Malini Patel told WhiskyCast in an interview. The James B. Beam Distilling Company was the original name for Col. Jim Beam's post-Prohibition distillery, which was the home of the family's longtime Old Tub Bourbon brand until the Jim Beam brand debuted in 1943. The new emphasis will include Jim Beam and Old Tub, the Small Batch Collection of whiskies (Knob Creek, Booker's, Basil Hayden's, and Bakers), and all of Beam Suntory's other Kentucky whiskies with the exception of Maker's Mark, which is managed by a separate team within Beam Suntory.
The project has been in the works for the last two years, and will include a return to the original Jim Beam American Outpost branding dating back to its opening in 1981 until the name was retired in 2012 when the current American Stillhouse opened. The major feature is the Fred B. Noe Craft Distillery named for 7th-generation master distiller Fred Noe. It replaces the small microdistillery that opened in 2012 as part of the American Stillhouse tours, and will allow for more experimental projects that are difficult to do in the main distillery without affecting daily production. "When you have that big of an operation, it is highly disruptive to do that," Patel said. The distillery will also be used for teaching aspiring distillers as part of the company's partnership with the University of Kentucky's James B. Beam Institute for Kentucky Spirits.
Watch Mark Gillespie's entire interview with Malini Patel:
The American Outpost will also include The Kitchen Table restaurant, which will feature locally-grown ingredients on the menu. There will also be a refreshed gift shop and tours along with new tasting rooms, and the timeline is to have work completed in time for the Kentucky Bourbon Festival scheduled for September 16-19, 2021.
According to Patel, the American Outpost will become the flagship portal for Beam's visitor outreach in Kentucky. Beam Suntory has operated the Jim Beam Urban Stillhouse experience in Louisville's downtown Fourth Street Live entertainment district since 2015, but will close it permanently at the end of this month. Patel says the decision was made as the lease on the venue came up for renewal.
"It was really a conversation around…is this the experience and is there an extension that naturally fits today, and I think the answer was…not really," Patel said. "Even if we were going to continue the lease, we would actually re-think the whole experience and presence there," she said, noting that there is still a long-term desire to have a venue in downtown Louisville. The Fourth Street Live spot was convenient to several downtown hotels, but also was several blocks south of the "Whiskey Row" Bourbon attractions on Main Street that have become popular with Bourbon tourists.
---
Scotland's Bladnoch Distillery has more than 200 years of history, but had fallen into administration and was on the verge of being lost when Australian entrepreneur David Prior decided to buy the Wigtown landmark in 2015. Since then, he's invested millions of pounds to rebuild the distillery and its visitors center, and his team led by Nick Savage is now laying down stocks of whisky for the future while using the casks acquired with the distillery to create today's Bladnoch single malts.
WhiskyCast's Mark Gillespie interviewed David Prior on November 23, 2020 via webcam from his home base in Melbourne, Australia.
Links: Bladnoch Distillery
---
By Mark Gillespie
Updated November 29, 2020 – Craft distillers had a lot to be thankful for over the Thanksgiving holiday weekend, but also have to be wary of the proverbial cartoon anvil hanging over their heads. Just weeks from now, the arrival of 2021 is likely to see the thin thread holding that anvil snap absent Congressional action to extend the three-year-old break small-scale distillers receive on the federal excise tax they pay on their mature spirits. The result will be an immediate 400% increase, with higher payments due as early as January 15 for some distillers. Tuesday, industry trade groups will hold a "day of action" campaign urging distillers to contact their members of Congress and ask for action in time to save the tax break.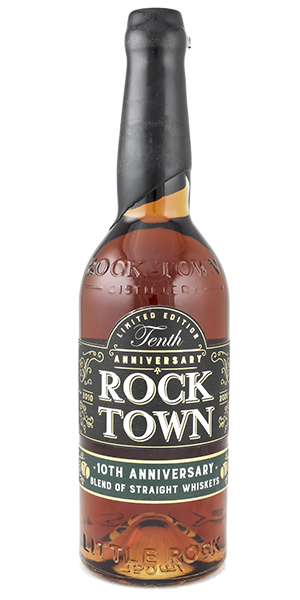 A year ago, Congress went down to the final night of legislative action before the holiday recess before including a one-year extension on the excise tax break in the spending plan needed to prevent another shutdown of federal agencies over the holidays. That break reduces the excise tax distillers pay from $13.50 per proof gallon to just $2.70 on the first 100,000 proof gallons of distilled spirits removed from bonded storage for sale each year.
While large distillers usually blow through that threshold by springtime, virtually all small-scale distillers never reach it over the course of an entire year — and the tax savings are significant. As an example, a craft distiller that bottles 500 standard 9-liter cases of 50% ABV whisky this year would pay approximately $3,210 in federal excise tax. If the tax break is not extended, that bill goes up to $16,052 on production that reaches just 12% of the annual threshold.
"We've been able to maintain our staff and pay everybody, offer health insurance and 401(k), and do everything that we can do," says Phil Brandon, the founder and head distiller of Rock Town Distillery in Little Rock, Arkansas. "If it goes away, and we pray that it doesn't, it'll be cost-cutting measures, layoffs, and all kinds of consternation trying to figure out what to do," he said in a telephone interview.
The distillery recently celebrated its 10th anniversary with a special bottling that blends its 5-year-old Bourbon and Rye whiskies, and recently released a Bourbon made with Arkansas-grown rice along with an Arkansas single malt. Brandon sources all of his grain from farmers within 125 miles of the distillery, and cutbacks in production would likely include reductions in those grain purchases.
As for the prospects of an extension right now…
"It is questionable, and the how remains to be seen," according to Margie Lehrman, the CEO of the American Craft Spirits Association. ACSA and other industry groups started lobbying to make the current temporary break permanent practically as soon as members of Congress returned to Washington last January. The proposal is one of the few issues where Republicans and Democrats agree, with more than 350 House members and 76 Senators signing on as co-sponsors at last count. However, the legislation remains in limbo as Congress focuses on passing another continuing budget resolution by December 11 to avert another government shutdown, along with ongoing negotiations on a coronavirus economic stimulus package.
"The complicating factor is we don't know the appetite right now in the current White House even if we were to get this extender through whether the President would sign it," Lehrman said in a telephone interview. In addition, Covid-19 has sidelined a number of key leaders on Capitol Hill, including Senate Finance Committee chairman Chuck Grassley (R-Iowa), who would have to sign off on any legislation that could include the excise tax break.
Listen to Mark Gillespie's entire interview with Margie Lehrman:
And then…there's the election. While the transition to the Biden Administration has now started, Capitol Hill is still in campaign mode.
"The Georgia Senate runoffs do not take place until the first week in January, which means that in terms of a complicated picture, it's about as complicated as it could be," Lehrman says. With both Senate seats in Georgia at stake in what currently stands at a 50-48 split between Republicans and Democrats, there is little incentive on either side to do anything that could be perceived as giving the other party an advantage.
A year ago, some distillers had already prepared their financial plans for the scenario that the tax break would not be extended. According to well-placed sources within the industry, a number of distillers had layoff notices ready to go out on December 21 had Congress gone home the night before without extending the tax. While there remains several weeks before that possibility comes into play this year, distillers have started making contingency plans for a return to paying the full excise tax rate in 2021.
"I think there's a lot of distilleries that have never actually paid the $13.50 a gallon versus the $2.70, and again, this is just parity with beer and wine, we're not asking for any special treatment," says Sagamore Spirit Distillery president Brian Treacy. "There's so much uncertainty still with Covid and the economy and small distilleries, they're not going to be hiring, they're probably going to stop working with local agricultural communities because you pay a little more for local grains, and it could lead to some closing their doors," he said in an interview at the distillery Saturday.
While Sagamore Spirit is on solid financial ground thanks to its ownership by Under Armor founder Kevin Plank, that does not mean the distillery would be immune from effects caused by an end of the tax break. "We probably wouldn't do any hiring at all next year…we'd love to do some hiring, but we're not doing it until we better understand that, and it would probably affect any type of market expansion," Treacy said, noting that it would also likely put a cap on the distillery's purchases of grain from local farmers.
ACSA and other industry groups have been pressuring Congressional leaders for action in recent weeks, but Lehrman calls Tuesday's "day of action" critical for persuading rank-and-file members of Congress to lean on their leadership teams.
"December 18 feels like an eternity away, but it's not…it's literally right around the corner when we know what needs to get done."
Editor's note: Sagamore Spirit is a sponsor of WhiskyCast. This story was originally published on November 25, 2020, and has been updated.
Links: American Craft Spirits Association | Rock Town Distillery | Sagamore Spirit
---
By Mark Gillespie
November 11, 2020 – As Americans are drinking more at home during the Covid-19 pandemic, it's becoming harder to find some popular whiskies at local stores.
The shortage also affects other popular liquor brands across the entire range of distilled spirits, as well as beer and wine. As with most other shortages of high-demand consumer goods, the Covid-19 pandemic is to blame for major problems with the North American trucking industry. There was already a shortage of truck drivers in both the United States and Canada before the pandemic, according to the American Transportation Research Institute, and the pandemic has only made that worse as a growing number of American long-haul drivers have become less willing to accept longer trips in favor of staying closer to home.
While the U.S.-Canada border remains open to commercial truck traffic, news reports indicate many Canadian-based truck drivers are reluctant to cross the border and risk exposure to the virus. That has led to shortages of Crown Royal, the top-selling Canadian Whisky in the U.S. market. Sales of Diageo's flagship Canadian Whisky brand topped 6.8 million (9-liter) cases during 2019, according to the Beverage Information Group, and could be even higher this year — if consumers weren't having problems finding it.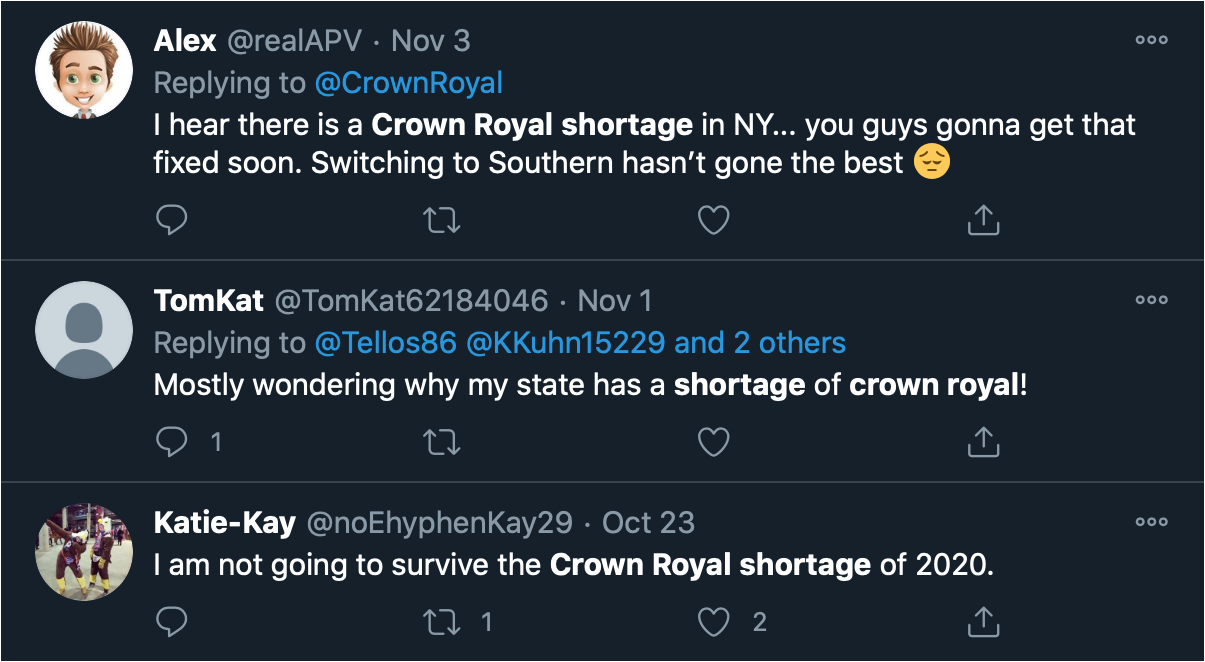 Crown Royal is distilled and matured in Gimli, Manitoba, with mature whisky shipped by rail to Diageo's facilities in Amherstburg, Ontario for blending and bottling. The Amherstburg facility is subject to both Canada's federal health restrictions and Ontario's provincial restrictions to prevent the spread of Covid-19, and in a statement provided by email, a Diageo spokesperson indicated that the plant is producing at peak capacity given the restrictions.
"With the continued high demand of Crown Royal in recent months, coupled with the ongoing impact of COVID-19 on our production in terms of protocols and precautions, a handful of our bestselling whiskies may be temporarily out of stock in some U.S. locations. We are working to resolve this as soon as possible, while also upholding the exceptional quality and flavor that has made us the number-one selling Canadian whisky brand in the world."
U.S.-bound shipments of Crown Royal generally travel by truck across the border, making them subject to the overall shortage of truck drivers. That has forced Southern Glazer's Wine & Spirits, which distributes Diageo's portfolio in 44 states, and other regional distributors to allocate limited inventories of Crown Royal and other spirits to their retail and bar/restaurant customers. Southern Glazer's has not responded to email inquiries about its allocation policies.
Pandemic-related shortages may become even more widespread this winter. Ryan Maloney, the owner of Julio's Liquors in Westborough, Massachusetts, has been able to avoid the Crown Royal shortage so far after stocking up on inventory earlier this year, but in an email to WhiskyCast, acknowledged that his team has now put the last of their stock on the shelves. He also predicted additional shortages of spirits may come as more European countries impose a new round of lockdowns in response to increasing Covid-19 infection rates, with a significant concern about the situation in Ireland since the Boston area's historic ties to Ireland mean Irish whiskies are in high demand year-round.
Links: Crown Royal | Diageo | American Transportation Research Institute | Southern Glazer's | Julio's Liquors
---