Each week, we bring you the latest whisky news on WhiskyCast, but a lot can happen during the week. Now, you can keep up with whisky news as it happens here on WhiskyCast.com!
July 2, 2019 – When the European Union imposed punitive tariffs on Bourbon and other American-made whiskies a year ago in the ongoing trade dispute with the Trump Administration, distillers in Scotland and Ireland waited nervously for the other shoe to drop.
It dropped Monday, as the Office of the U.S. Trade Representative (USTR) included Scotch Whisky, Irish Whiskey, and whiskies from all European Union member nations on a new list of $4 billion in European goods that could be hit with new tariffs later this year. The U.S. is the leading export market for both Scotch Whisky and Irish Whiskey, which have had tariff-free status on exports to the United States since 1995. Based on 2018 data, whiskies would account for nearly half of the imports subject to the proposed tariffs.
The proposal comes on top of punitive tariffs announced by the U.S. in April on $21 billion of European imports – including wine, brandy, liqueurs, and cordials – in connection with a long-standing dispute over subsidies for Airbus and Boeing. Both sides have complaints pending at the World Trade Organization accusing each other of illegally subsidizing the aviation giants, and a WTO arbitrator has already ruled that both are violating global trade rules. The arbitrator is expected to rule later this summer on countermeasures the U.S. can legally impose to compensate for the economic impact of those subsidies, while a ruling on the European Union's case is expected early next year.
The EU's 2018 25 percent tariff on imports of American whiskies was in response to the Trump Administration's decision to impose tariffs on imports of European steel and aluminum on national security grounds using a provision of U.S. law, while this dispute has been working its way through the WTO's resolution process for years.
Scotch Whisky exports to the U.S. set a record in 2018 with a value of $1.3 billion on shipments of 137 million bottles, according to HM Revenue & Customs data compiled by the Scotch Whisky Association, which estimates that its exports account for 12% of all U.S. whisky sales. SWA executives have not been available for interviews, but in a statement provided to WhiskyCast, the association expressed disappointment that Scotch Whisky has been drawn into the dispute.
"The Scotch Whisky industry has consistently opposed the imposition of tariffs, which harms economies on both sides of the Atlantic which depend on trade for their continued prosperity. There is a close relationship between the US whiskies and Scotch Whisky, not least due to the use of bourbon casks for maturation which generates around £70m for the US economy each year. We continue to urge the UK government, the EU and the US government to resolve the Airbus-Boeing subsidies dispute without resorting to tariff retaliations for unrelated sectors."
Irish Whiskey has been the fastest-growing segment of the global whisky market for the last several years, and the United States is not only the largest export market for Ireland's distillers, but the largest single market period. According to Bord Bia, Ireland's national food and drink promotion agency, whiskey exports to the U.S. in 2018 were valued at €620 million ($700 million USD), while sales in the U.S. broke the billion-dollar mark for the first time on sales of nearly 4.7 million 9-liter cases (approximately 56.4 million 750ml bottles).
Irish Whiskey Association spokesmen declined a request for interviews, but said in a statement that the trade body will file its objections with the USTR.
"The Irish Whiskey industry opposes the imposition of tariffs, which harms distillers and businesses both in Ireland and in the US. Any tariffs imposed on Irish Whiskey entering the US market will negatively impact investment and employment in both jurisdictions. We urge both sides to continue to strive to achieve a mutually acceptable solution to this issue and to avoid imposing barriers to trade which will ultimately adversely impact businesses and consumers on both sides of the Atlantic."
Scotch and Irish whiskeys account for almost all of Europe's whisky exports to the United States, with small amounts of exports from England, France, the Netherlands, and other countries that collectively add up to fewer than one million cases annually. Many of those whiskies are imported into the U.S. by smaller independent importers, for whom the potential impact of even small tariffs could be significant.
Both Scotch and Irish whisky producers and importers are also represented in the United States by the Distilled Spirits Council, which counts among its members the largest producers and importers of both whisky categories. The group's 2018 economic data showed a significant impact on American whiskey exports in the second half of the year following the imposition of the European Union tariffs, and the Council issued a statement today citing an 18 percent drop in American whiskey exports to Europe because of the tariffs.
Robert Maron, the Council's Vice President for International Trade, warned that the USTR's proposed tariffs could backfire with "unintended consequences," based on an analysis of the domestic impact from the drinks tariffs proposed by the USTR in April. "A 10 percent tariff on all of those products would result in a loss of about 6,600 jobs, a loss of 15,000 jobs for a 25 percent tariff, and a loss of 45,000 jobs for a 100 percent tariff," he said in a telephone interview. Those job losses would likely be spread throughout the entire three-tier system made up of importers, regional distributors, and local retailers. While the organization has just started calculating the potential impact from adding Scotch and Irish whiskies to the tariff list, Maron projected those numbers would likely increase.
In addition, the European Union has prepared its own list of more American goods that could be subject to retaliatory tariffs, including American-made rums, vodkas, and wines. "There's a potential for this to further escalate and impact American spirits exports to the EU even more on top of the 18 percent decline we've seen in American whiskey exports to the EU," Maron said.
The USTR is currently seeking public comments on the impact of the proposed tariffs on American businesses and consumers, and will hold a hearing on the proposal in Washington on August 5. However, the Trump Administration is reserving the right to impose the tariffs immediately if the WTO arbitrator's ruling comes before the public comment process is complete.
WhiskyCast has requested interviews with the USTR, and this story will be updated with more details as they become available.
Editor's note: This story has been updated with comments from the Distilled Spirits Council's Robert Maron and additional information. 
Links: Office of the U.S. Trade Representative | Scotch Whisky Association | Bord Bia | Irish Whiskey Association | Distilled Spirits Council
---
June 21, 2019 – The Vancouver whisky bar raided in January 2018 for selling Scotch Malt Whisky Society whiskies has lost its bid to have the case dismissed as a violation of Charter rights. A British Columbia Liquor & Cannabis Regulation Branch adjudicator rejected the arguments by Fets Whisky Kitchen owners Eric and Allura Fergie, and ordered a fine of $3,000 in addition to the loss of 242 SMWS bottles seized in the raid.
Fets is one of four Scotch Malt Whisky Society "partner bars" in British Columbia that were part of the province's undercover "Operation Malt Barley" investigation that began with an anonymous tip in late 2017. Little Jumbo and the Union Club in Victoria, along with the Hotel Grand Nanaimo, all settled their cases with the province without going to a hearing. The Fergies, faced with losing approximately $40,000 worth of SMWS whiskies, chose to fight the "contravention" on the grounds that the raid was illegally conducted without a search warrant, and that Allura Fergie was never notified of her Charter rights or given time to contact a lawyer during the January 18, 2018 raid.
Adjudicator Nerys Poole issued a written ruling in the case following two days of hearings last month, declaring that the Branch's liquor inspectors were authorized under provincial law to enter the bar and seize "illegal" product without a search warrant. Poole ruled that the liquor agency acts in an "administrative" function under provincial law instead of a "criminal" one, and that liquor license holders have a reduced expectation of freedom from search and seizure than they otherwise would as private citizens because of the highly regulated nature of the liquor licensing system.
In a statement provided to WhiskyCast, the Ministry of Attorney General said the LCRB's approach to enforcement has not changed, and that liquor inspectors follow up on all complaints. "This is done to ensure fairness to all licensees and to prevent law-abiding businesses from being put at a disadvantage," the Ministry said, noting that the LCRB "expects the licensee will use this contravention as a means to review its business practices and ensure that all aspects of its licence are being operated lawfully."
In an email to WhiskyCast, Eric Fergie said he and his wife will ask for reconsideration of the ruling by a different adjudicator within the liquor agency – a mandatory prerequisite to appealing the case in court. "What the ruling states is that the government is not required to follow their own rules and that they are free to interpret their own guidelines and the rule of law," he said, claiming that Poole made her decision in the case before hearing any of the evidence. Fergie declined an interview until after consulting further with their attorney.
SMWS Canadian Chapter owners Kelly and Rob Carpenter also criticized the ruling. "We support Fets and their request for re-adjudication. BCLDB regulations that deny restaurants like Fets the right to purchase bottles from private liquor stores take choice away from B.C. consumers and have been identified as anti-competitive by Canada's federal Competition Bureau. And allowing the BCLDB, the agency that pursued a covert investigation against Fets and then raided it, to rule on its own actions while at the same time denying Fets the right to any evidence related to the investigation and raids, is fundamentally unjust. We urge B.C. consumers and the B.C. hospitality industry to continue to support Fets in their efforts to free the whisky," they said in an email to WhiskyCast.
The case stems from a British Columbia regulation requiring bars and restaurants to source all of their liquor directly from the Liquor & Cannabis Distribution Branch or a designated outlet, limiting licensees to products that the provincial wholesale monopoly chooses to make available in its retail outlets. The SWMS whiskies are not available legally to "hospitality" licensees through that system, but are available to consumers through two privately-owned retail stores in Vancouver and Victoria which order them through the provincial agency.
Fets and the other three bars bought their SMWS whiskies through either Legacy Liquor Store in Vancouver or The Strath in Victoria, and Allura Fergie testified during the hearing that she believed Fets was acting legally by sourcing the whiskies through Legacy, a licensed British Columbia retailer that paid all of the required taxes to the province.
"When the LDB does not have the products that we require to have a successful business, we need to go to the alternative store to find the products.We can't have a strong business with the monopoly. We buy so much from the LDB, you look at all the taxes and now we are being treated like criminals. So wrong," she testified. However, neither store is considered a "designated outlet" by the Liquor & Cannabis Distribution Branch for sales to hospitality licensees.
Fergie also argued that liquor inspectors had never raised the issue previously during routine inspections, but Poole rejected that, noting that the Fergies never asked inspectors whether they were operating within the rules. In addition, she cited that "the liquor regulatory regime relies on voluntary compliance and expects liquor licensees to comply with the rules and regulations, regardless as to how they feel about them." The $3,000 fine is the maximum for a first-time offender, and Poole determined that the length of the violations warranted the maximum fine. Poole could also have ordered a one to three-day suspension of the Fets liquor license, but chose not to impose that penalty.
Editor's note: This story was updated to include comments from the British Columbia Ministry of Attorney General.  The adjudicator's ruling is available for download at the WhiskyCast web site. 
Links: Fets Whisky Kitchen | British Columbia Liquor & Cannabis Regulation Branch | Scotch Malt Whisky Society Canada
---
June 18, 2019 – When the phone rings at a distillery manager's house in the early morning hours, rarely is it someone calling with good news. Jacob Call's phone started ringing early Monday morning after the discovery that part of a maturation warehouse had collapsed overnight at the O.Z. Tyler Distillery in Owensboro, Kentucky. Around 4,500 barrels crashed to the ground after severe thunderstorms in the area Sunday night, and while engineers will determine the exact cause later, Mother Nature is getting the initial blame.
No one was hurt in the collapse, which came hours before warehouse workers would have reported to the distillery Monday morning. "We're thankful that it happened at midnight on a Sunday night, nobody was injured, nobody was around…really a blessing that it happened the way that it did," Call told WhiskyCast in a telephone interview Tuesday just before he was scheduled to meet with local officials to discuss cleanup plans. The road running alongside the rickhouse remains closed to traffic, but distillery operations have not been affected.
Equipment is being staged around the remains of Warehouse H to prepare for cleanup work expected to start Wednesday morning. "We're sort of treating it as a controlled takedown of the warehouse…there's really no safe way to get the barrels out with laborers, so we're going to use a machine and probably take the roof off and just start picking the barrels out of the ricks," Call said. The warehouse has a capacity of 20,000 barrels, and the collapse affected one corner of the building while leaving the rest too unstable for workers to safely enter it.
As the sun comes up you can see the full scope of damage here at the OZ Tyler facility pic.twitter.com/amGOVDzn8x

— Jim Stratman (@JimS14News) June 17, 2019
Fortunately, there appears to be no major environmental damage from spilled whiskey, as Call said very few barrels broke open in the collapse. "We're still trying to analyze how much actually broke, but there's no EPA issues, there's no river of Bourbon, the grass really isn't stained…right now, it's looking pretty good."
Warehouse H was built in the late 1960's when the Medley family owned the distillery, and is one of seven rickhouses on the 26-acre site. All of the rickhouses have undergone extensive repairs and ongoing maintenance since Terressentia acquired the distillery in 2014, according to Call. "It was in really bad shape when we got here, and we spent nearly $30 million rebuilding the facility, did a lot of work on all of the warehouses," he said.
Ironically, this is not the first time Mother Nature has targeted Warehouse H. In September of 2008, the warehouse was heavily damaged when the remnants of Hurricane Ike tore through the Owensboro area and required extensive repairs at the time.
"I don't know if it's just bad luck or what," Jacob Call said.
This story will be updated with additional information as necessary.
Links: O.Z. Tyler Distillery
---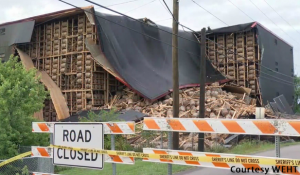 June 17, 2019 – Cleanup work is underway as investigators begin to search for the cause of an overnight rickhouse collapse at the O.Z. Tyler Distillery in Owensboro, Kentucky. No injuries were reported in the collapse, which affected one corner of the 20,000 barrel capacity rickhouse and followed a series of thunderstorms in the area Sunday night.
According to Evansville, Indiana television station WEHT, wooden debris from the collapse and the potential for additional parts of the rickhouse to come down forced police to close the road alongside the rickhouse. The station quotes master distiller Jacob Call as saying about 4,500 barrels fell during the collapse, but there appears to be no environmental damage from spilled whiskey at the present time. WhiskyCast has requested an interview with Call, and this story will be updated with additional information as available.
The O.Z. Tyler Distillery is owned by South Carolina-based Terressentia, and was known for decades as the Medley Distillery. Terressentia acquired the distillery in 2014 and renamed it in 2016 for scientist O.Z. Tyler, who invented the company's proprietary accelerated maturation process that uses ultrasonic sound waves to break down chemical compounds inside young whiskies. The company has not yet said how old the rickhouse is or when it was last inspected for potential structural issues.
The incident comes almost a year to the day after half of a Barton 1792 rickhouse collapsed on June 22, 2018 in Bardstown, Kentucky. The remaining half of the warehouse collapsed on July 4, 2018, affecting about 18,000 barrels of maturing whiskey. Sazerac, which owns Barton 1792, has not yet released the results of its investigation into the cause of that collapse.
Editor's note: This story was updated to include details on weather in the area before the collapse. 
Links: O.Z. Tyler Distillery 
---
June 14, 2019 – Ten years after exiting the Kentucky whiskey business with the $575 million sale of Wild Turkey to Gruppo Campari, Pernod Ricard is back in the Commonwealth. The second-largest spirits producer is acquiring a majority stake in Louisville's Rabbit Hole Distillery from founder Kaveh Zamanian and his investors.
Zamanian is heading to Paris, where the deal will be celebrated at Pernod Ricard's annual summer party at Centre Pompidou. "Hopefully, I'll serve up some Rabbit Hole Mint Juleps," he said in a telephone interview from Cincinnati, where he was honored by Ernst & Young last night in its annual Entrepreneur of the Year regional awards. In addition, he will join Pernod Ricard CEO Alexandre Ricard to promote Rabbit Hole at next weekend's French Grand Prix Formula One race to be held at Circuit Paul Ricard – named for Alex Ricard's grandfather.
"What Kaveh and his team have done with Rabbit Hole in the last couple of years in terms of establishing a showpiece distillery in downtown Louisville and creating a great reputation as a new craft whiskey producer really attracted us to the business," said Pernod Ricard USA's Jeff Agdern. "After meeting Kaveh and the team, we really wanted to partner with them and help them to achieve the ambition that they wanted to achieve," he said in a telephone interview. Agdern heads up the New Brand Ventures unit within Pernod Ricard USA, which is responsible for finding potential acquisitions in the craft spirits sector. The unit's investments include a similar 2016 acquisition of Smooth Ambler Spirits, along with Del Maguey mezcal and a recent deal for Italy's Malfy Gin.
Terms of the deal were not released, but Zamanian retains a majority of his shares in the distillery and the Rabbit Hole Whiskey brand and will continue to manage day-to-day operations. In addition, two of his family members will also retain small stakes in the company, while all of the shares held by other investors are being acquired by Pernod Ricard. "I'm so thankful for their support to help us get to where we are," Zamanian said. "We were able to bring a lot of relatively small investors, local investors, probably 95 percent of them from Kentucky…these folks have lived and breathed Bourbon all their life. They've been on the sidelines, and this was an opportunity for them to join a brand and see it get launched, get off the ground, and get to the point that it is."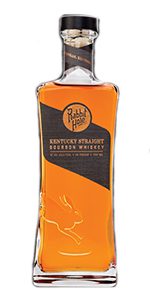 While Rabbit Hole's Bourbon and Rye whiskies are currently produced using sourced whiskey, Rabbit Hole's state-of-the-art distillery opened near downtown Louisville in May of 2018 and has been laying down stocks for future releases. In addition, Rabbit Hole recently released a gin finished in Rye whiskey casks. However, Zamanian said future growth depended on finding the right partner. He received many offers from potential suitors over the last two years, but rejected them all until the Pernod Ricard CEO asked to meet with him earlier this year.

"Alex really presented it in a way that, very candidly, was unexpected," he said. "He approached me and my team in a very respectful way, and after a lot of conversation, a lot of discussions, it was clear that we were fully aligned when it comes to our culture, particularly for me the entrepreneurship element of it that's really important."
Zamanian also cited the access to Pernod Ricard USA's extensive sales and distribution network as a crucial benefit. "That's one of the biggest challenges as you know, with all of these consolidations going around, the most recent one being with Young's and RNDC – it really showcases how challenging it is to take a brand to market," he said. The deal between Young's Market Company and Republic National Distributing Company was announced Thursday, with both companies agreeing to a joint venture partnership with operations in 33 U.S. states. As the number of independently-owned spirits distributors shrinks through mergers and acquisitions, that has left smaller brands such as Rabbit Hole facing challenges when it comes to getting space on retail shelves and bar menus.
Rabbit Hole's whiskies and gin are available now in 18 U.S. states, and Agdern told WhiskyCast his goal is to expand that to all 50 states by the end of 2020 – then work on the export market. "We've got the largest distribution network in the world, so I'm sure that we're going to have international affiliates of Pernod Ricard asking us when they can get their hands on some," he said.
Listen to this weekend's episode of the WhiskyCast podcast for more on this story.
Editor's note: This story was updated following our interviews with Rabbit Hole founder Kaveh Zamanian and Pernod Ricard's Jeff Agdern. 
Links: Rabbit Hole | Pernod Ricard
---
June 10, 2019 – While the Treasury Department's Tax & Trade Bureau has not yet officially published a proposed regulatory change to eliminate most requirements on bottle sizes for distilled spirits, the very idea is beginning to generate some controversy. The agency's proposal to eliminate all mandated "standards of fill" except for currently unspecified minimum and maximum sizes appears in the Unified Agenda, a schedule of upcoming regulatory changes maintained by the White House's Office of Management & Budget.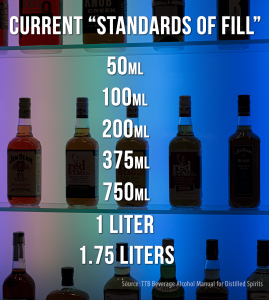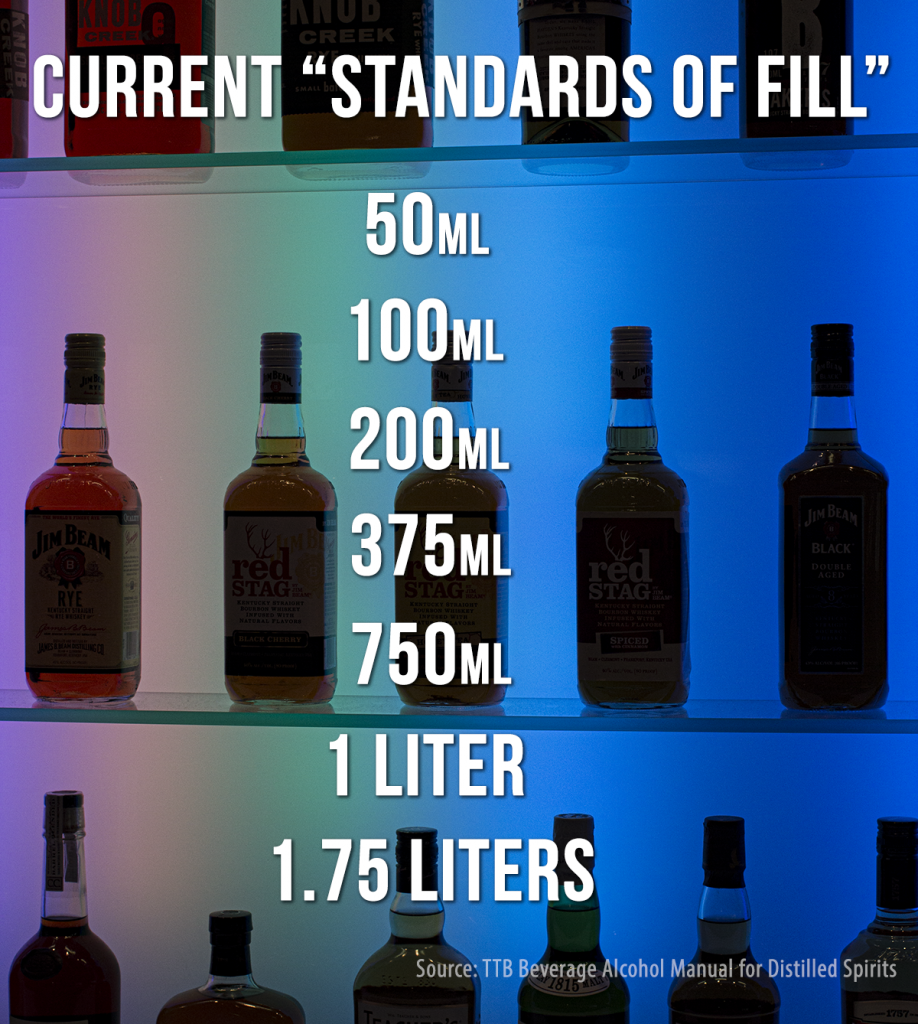 The current standards of fill regulation specifies seven allowable sizes ranging from 50ml to 1.75 liters, and was last updated in 1989 when a ban on 500ml bottles took effect. The standards date back to 1980, when the Carter Administration attempted to switch the U.S. to the metric system starting with beverage containers. As whiskies have regained their popularity in recent years, those standards have come into question because of a conflict with the European Union's standards. The EU allows both 500ml and 700ml bottle sizes, while not allowing the U.S. standard 750ml bottles. South Africa is the only other country with a 750ml standard, while most other countries will accept either size.
As a result, whisky makers in Europe and other countries have to produce separate bottling runs for whiskies destined for export to the American market, while U.S. whiskey makers have to do the same for their export products. That has long been seen as a barrier to small distilleries and independent bottlers, as the cost of compliance eats into already small profit margins.
Mark Watt of Cadenhead's, the Campbeltown, Scotland-based independent bottler, called the proposal "brilliant" and said it would give companies like his more flexibility to meet consumer demand. "Last year for the rest of the world, we maybe had 200 different bottlings, where we had 15 for the U.S.," he said in a telephone interview for the latest WhiskyCast podcast. "We have different bottles and you have to get different labels…I know it doesn't sound like much, but it all adds up to being a pain – you've got to reset your bottling line to fit the different bottles, so it's much easier to bottle larger amounts of the same thing in one go," he said.
As an example, Watt cited a bottle in his office that would likely never make it to the U.S. under the current standard. "I've got a 1991 Cambus (single grain) in front of me which is gorgeous…we might bottle a whole cask of that for America, but if we're bottling a single cask of that for the world in 700's, we're not going to bother putting it in 750's, so that would be an example of one just sitting on my desk that America might miss out on," he said. Other independent Scotch Whisky bottlers have echoed similar comments over the years as well.
Raj Sabharwal of Glass Revolution Imports is the U.S. importer for India's Amrut Distilleries, the English Whisky Company, the independent bottler Blackadder, and other spirits brands. While Sabharwal has had a number of battles with the TTB in the past over getting single malt whiskies from his partners approved for sale in the U.S., he praised the agency's latest move.

Part of the TTB's rationale for changing the rules focuses on the specific issue of flexibility. The agency describes its proposal as a deregulatory move designed to increase consumer choices while eliminating regulations that "inhibit competition and the movement of goods in domestic and international commerce." TTB spokesman Thomas Hogue told WhiskyCast in an email that no specific date has yet been set for publishing a "notice of proposed rulemaking," which would trigger a public comment period for the industry and consumers to submit their views before a final decision is made.
When that happens, the U.S. distilling industry's largest trade association intends to oppose the TTB's proposed changes as currently described. The Distilled Spirits Council represents most of the country's largest spirits producers, along with a number of small-scale "craft" distillers. Spokeswoman Lisa Hawkins told WhiskyCast in an email that the Council opposes setting minimum and maximum sizes, but "would support expanding the current containers sizes allowed to provide companies some added flexibility." Hawkins did not give a reason for the Council's position, but said the group would share its members' views with the TTB "as part of the comment process."
Other leading industry groups are taking a more tentative approach. A spokeswoman for the American Craft Spirits Association, which represents small-scale distillers, told WhiskyCast that "ACSA is in favor of any policy changes that provide our community of craft distillers with easier access to new markets around the world." Kentucky Distillers Association president Eric Gregory told WhiskyCast he is still waiting for feedback from his members before taking a position. However, at least one U.S. distillery is already supporting the proposal in public. Chris Riesbeck of Rémy Cointreau-owned Westland Distillery in Seattle tweeted that the proposal is "great for the whisky community" and "hoping that everyone sees the value of this long term."
The proposal is also generating some concern in South Africa, which would be the only country with a 750ml standard size if the TTB's proposed change takes effect. Andy Watts of South Africa-based Distell told WhiskyCast in a tweet that the move might pressure the South African government to change its regulations, while others expressed concern that it might lead to fewer whiskies being available without the leverage from the U.S for whisky makers to produce 750ml bottles.

The TTB's entry for the proposed change is listed on the Unified Agenda as a "Spring 2019" item. However, the agency is already in the middle of a major rulemaking process to revise many of the federal government's regulations for alcoholic beverages, with a public comment period that has been extended to June 26. As a result, the Distilled Spirits Council's Lisa Hawkins projected that action on the "standards of fill" proposal may be delayed until later this year.
In addition, the TTB is under interim leadership following the death of longtime administrator John Manfreda on May 25. Deputy Administrator Mary Ryan has been named acting TTB administrator until the Treasury Department names a permanent administrator.
Links: Tax & Trade Bureau | Cadenhead's | Glass Revolution Imports | Distilled Spirits Council | American Craft Spirits Association | Kentucky Distillers Association | Westland Whiskey
---
May 5, 2019 – Ask most serious U.S. whisky connoisseurs about their biggest complaints, and odds are you'll hear a few say "why can't we get all of the whiskies they only sell in Europe?" While a change in that situation may still be a year or more away, the Treasury Department's Tax & Trade Bureau has opened the door a crack with one of its latest proposals to update federal alcohol regulations. The agency has received requests for years to change the regulation that specifies the legal sizes of bottles that whiskies and other distilled spirits, and now appears to be poised to act on those requests.
"Authorized standards of fill" is the bureaucratic jargon for the rules that specify the size of bottles for whiskies and other distilled spirits, and since the U.S. switched to the metric system in 1980, those standards of fill have been based largely on a nine-liter case with 12 750ml bottles. That conflicts with the European Union's regulations requiring the use of 700ml bottles. While most other countries will accept either size, the conflicting standards force whisky makers to produce both sizes or risk being shut out of a major sales market. For smaller European-based distillers and independent bottlers, the choice has usually been to produce a few 750ml whiskies for the U.S. market while focusing most of their attention on their home market. The same applies for American distillers, who also have to have special bottles made when they want to export whiskies to Europe.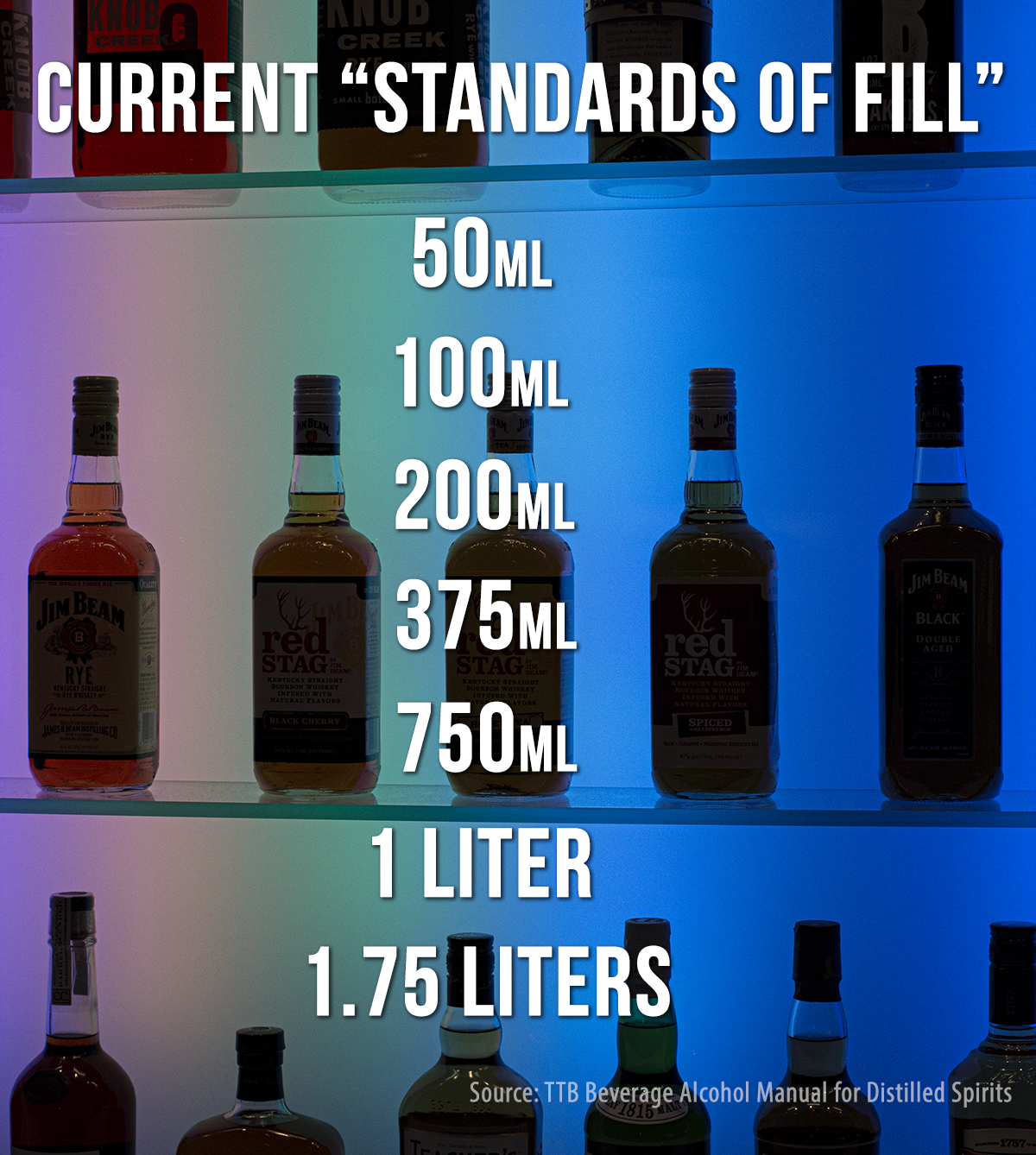 The TTB proposal to eliminate all but a minimum and maximum "standard of fill" appears in the Office of Management and Budget's "Unified Agenda," which outlines plans for upcoming regulatory changes that do not require Congressional approval. It's listed as a "Spring 2019" project, and TTB spokesman Thomas Hogue told WhiskyCast in an email that no specific date for publishing the proposal has been set while emphasizing that this is "in no way a foregone conclusion." Once the proposed changes are published in the Federal Register and at Regulations.gov, a public comment period would open for feedback from the industry and consumers.
According to the agency, the proposed change would "provide industry members greater flexibility in production and sourcing of containers, and provide consumers broader purchasing options. This deregulatory action would also eliminate restrictions that are no longer required for tax administration, and that inhibit competition and the movement of goods in domestic and international commerce."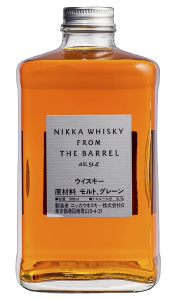 In short, it would allow American distillers and bottlers the ability to produce 700ml bottles for both the domestic and export markets while allowing importers to bring in whiskies not available in 750ml bottles. For instance, Nikka importer Hotaling & Co. had to persuade the Japanese distiller to produce its popular "Nikka From the Barrel" whisky in a special 750ml bottle last year so that it can legally be sold in the U.S. market. That whisky has traditionally only been available in 500ml bottles, which have not been allowed in the U.S. since 1989. 
As for the "restrictions that are no longer required for tax administration" language, that is a direct nod to the original reason for setting the authorized standards of fill in 1980. In those days, federal agents didn't have access to computers and spreadsheets, forcing them to calculate the amount of excise taxes due on imported spirits manually (U.S. distillers, then as now, are taxed on proof gallons).
Former National Association of Beverage Importers president Bill Earle was with the Treasury Department's Bureau of Alcohol, Tobacco, and Firearms at the time, and explained the rationale in a 2010 WhiskyCast interview. "It's easier to count nine-liter cases or cases that are of a standard measure in order to fix the taxes. Now that has obviously been overcome by technology because computers can now very accurately account all kinds of different sizes," he said.
Earle noted that at the time the Carter Administration decided to switch the U.S. to the metric system, the beverage alcohol industry was going to be "the poster child" for converting the entire country to metrics. "Of course, that never worked out," he laughed.
In fact, nearly four decades after that switch, one other part of the TTB's proposed changes would specifically allow whisky makers to include non-metric measurements on their labels alongside the mandated metric ones. While that has always been "allowed," according to the TTB – it was never specifically stated in the regulations.
The agency is also nearing the end of the public comment period on its much larger rewrite of the regulations for labeling and advertising of whiskies and other distilled spirits announced last December. That period was originally scheduled to end in March, but was extended until June 26 at the request of industry groups.
This story will be updated, and please listen to the next episode of WhiskyCast for industry and consumer reactions.
Links: Tax & Trade Bureau
---
June 4, 2019 – When Dave Pickerell died suddenly last November on the eve of WhiskyFest San Francisco after a day of doing promotional appearances for Blackened American Whiskey, the members of Metallica pledged to continue his legacy and move forward with not only future bottlings of Blackened, but to build a distillery in the Bay Area.
While the plans for the distillery have not yet been finalized, the band's Sweet Amber Distilling has named Pickerell's successor. Rob Dietrich is leaving Proximo Spirits-owned Stranahan's Distillery in Denver to become master distiller and blender for Blackened. Dietrich started at Stranahan's in 2006, and took over as master distiller in 2011 when founder Jess Graber retired.
"The opportunity to follow in Dave Pickerell's footsteps at Blackened is humbling. Dave Pickerell set a very high standard with everything he touched," Dietrich said in the news release announcing the move. "His spirit of kindness and dedication live on with the team. I feel excited by the challenge of taking Blackened to new heights that Dave would have been proud of."
In the same statement, Sweet Amber CEO John Bilello praised Dietrich as a logical successor to Pickerell. "Dave was not only one of the most groundbreaking distillers to ever walk the earth, but he was also a great friend. He possessed an unstoppable passion for the world of whiskey. It was of utmost importance for us to find someone like Rob Dietrich, who is also devoted to the craft."
Dietrich also has a connection to the music industry on his resume, with experience as a concert promoter and tour manager. Those skills won't be needed in his new job, though … since the members of Metallica just need him to make Blackened, which is "sonically enhanced" using specially designed speakers and a variety of Metallica playlists as part of the blending process.
"When we needed to begin searching for our next master distiller, it was a priority to find someone who could honor and continue the magic that Dave started. Rob shares a great respect for craftsmanship that Dave had and that we have for Blackened and our music," the band's members said. 
No successor has been named at Stranahan's, where the brand's web site still lists Dietrich as master distiller. WhiskyCast has requested an interview with Dietrich, and this story will be updated with additional information.
Links: Blackened American Whiskey | Stranahan's
---
April 9, 2019 – It's not uncommon for whisky makers to team up with actors and filmmakers on a project. The not uncommon result, though, is usually a very expensive commercial for the whisky.
Fortunately, that is not the case with "Four," a short film directed by Jennifer Sheridan and produced by Platform Presents with funding from Dewar's. The film was co-written by John Hopkins and Tuppence Middleton, who also stars along with Iwan Rheon, Jack Farthing, Juliet Stevenson, and Nicholas Pinnock in a throwback to the classic "noir" mystery films of the past.
Set in London's Savoy Hotel, the film focuses on a mysterious brooch that brings together a young couple, a mysterious man, a dowager living at the Savoy, and the hotel manager trying to collect on the dowager's long-overdue bill. Needless to say, the manager is the only one who isn't hiding a secret – for most of the film. (No spoilers here.) "Four" is available to view online, and will be screened at a number of film festivals in the coming months.
"We literally got one thing for our brief, which was the number four, and then we were set free with it. We could run wild and really create whatever we wanted, which is quite a rare thing that you're given that opportunity and you can completely invent something," Middleton said in an interview at the premiere of "Four" last Thursday night in New York City. She currently stars in the Netflix series "Sense8," and this was her first screenwriting project.
"You read scripts every week, and so I had gotten very used to reading something and knowing if I liked it or not and what worked and what didn't, but hadn't quite gotten around to the point where I'd finished something in its entirety and then given it to someone and said 'what do you think' or 'would you like to make this?" So, when Bella (Isabella Macpherson), our producer, came to me and said 'do you fancy giving it a go," it was like, yes I do and what's the worst that could happen," Middleton said with a laugh.
There is a connection to the Dewar's brand history hidden within the film, as well as a bottle of the 21-year-old Dewar's Double Double whisky shown in the dowager's room at the Savoy. The legendary Tommy Dewar, one of the sons of Dewar's founder John Dewar and well-known for his global travels to promote the brand a century ago, made his home in London at the Savoy Hotel for many years before his death in 1930. Because of that history, the hotel's current owners were eager to host the cast and crew for several days of filming.
"With consumers thirsty for deeper storytelling, our short film "Four," a first for Dewar's, not only demonstrates the brand's timelessness within the whisky category, but cleverly captures its more premium side," Dewar's Global Brand Director Zeenah Vilcassim said. 
Dewar's used the film's premiere to help launch its new "Double Double" range of blended Scotch whiskies. The "four" reference came from the four-stage aging process Dewar's Master Blender Stephanie MacLeod used to create the three unique whiskies in the series after researching the company's archive for inspiration.
"A.J. Cameron, our first Master Blender, blended the malts by their regions, put them back into oak casks and let them set for a while, then blended them with the grain whiskies," MacLeod said in an interview. She tweaked the process by blending her component malt whiskies and grain whiskies separately, and then letting the two blends marry for a month before bringing them together. After that combination married for a month, each of the three whiskies went into a different type of Sherry cask for a final period of maturation. The 21-year-old version went into Oloroso casks, while the 27-year-old was filled into Palo Cortado casks and the 32-year-old used Pedro Ximenez casks.
While Middleton's next film project will be the film adaptation of "Downton Abbey," she also has another project in mind – one that involves her growing love of whisky.
"I'll take a blending lesson," she laughed. "We learned when we were talking to Dewar's about Stephanie, and we thought it was pretty cool that it was a woman in that amazing job, and I'd love to learn more about the process."
Links: Dewar's
---
April 2, 2019 – Let's admit something from the start. Not once in the first seven seasons of Game of Thrones have we ever seen someone drinking whisky. Wine, beer, mead…yes, but never a whisky. Perhaps if the Khaleesi had used her dragons to heat up a couple of stills, she might have taken back the Seven Kingdoms years ago. Had the Lannisters paid their debts with whisky instead of gold, they might well have never put the Iron Throne in jeopardy. And of course, nowhere do we see a "Maester Distiller."
Enough of the "what ifs," though. Diageo's partnership with HBO on the Game of Thrones Single Malt Scotch Whisky Collection isn't ground-breaking on its own, but the fact that the range includes single malts from eight different distilleries is. It would have been simpler to design a tie-in package for a couple of existing whiskies and rake in the money, but going to the time and effort to create a range of limited-edition single malts and keep them reasonably priced deserves credit.
If you're an avid Game of Thrones fan, you've probably already thought of this question. Eight whiskies? There are Seven Kingdoms. Ahhh, but you're not giving the men of Castle Black their due, and that's where we'll start tasting these whiskies created to celebrate the final season of Game of Thrones.
The Night's Watch Oban Bay Reserve (43% ABV, RRP $62.99 USD)
The "origin story" for this whisky is based on Oban's location along the western shores of Scotland at the base of a cliff that overlooks Oban Bay, much like Castle Black sits at the base of The Wall. The whisky itself carries no age statement, but the nose has subtle hints of black cherries, orange marmalade, oak, and a touch of honey in the background. The taste has notes of toasted caramel, hot fudge, a subtle touch of charred oak, and hints of dried fruits. The finish is long and warm with lingering spices, charred oak, and toasted caramel. Score: 93 points.
House Baratheon Royal Lochnagar 12 Year Old (40% ABV, RRP $64.99 USD)
Royal Lochnagar gets its name from Britain's royal family, and is located near Queen Elizabeth's Balmoral Estate in the Scottish Highlands. The distillery's single malts have always been highly regarded, but not as widely available as many whisky lovers would like, and the inclusion of Royal Lochnagar in this range is welcome. The nose has the aroma of a vanilla latté, along with raspberries, peaches, and a hint of oak sawdust. The taste is tart with notes of citrus fruits, crystallized ginger, and vanilla custard. The finish is very long with a citrusy tartness and touches of ginger and oak. Overall, a very juicy and mouthwatering dram. Score: 93 points. 
House Stark Dalwhinnie Winter's Frost (43% ABV, RRP $39.99 USD)
Of course, the Starks ruled at Winterfell, and as one of the highest distilleries in Scotland, Dalwhinnie has taken advantage of its stark weather changes to add character to its single malts. Here, the nose has notes of honey, figs, peaches, and a hint of vanilla. The taste is crisp and tart with a good balance of dried tree and citrus fruits spices, and a nice maltiness. The finish is long and tart with hints of citrus. Score: 92 points. 
House Tyrell Clynelish Reserve (51.2% ABV, RRP $59.99 USD)
The Tyrells ruled over some of the most fertile, lush farmland in Westeros (or so the story goes), and Clynelish is located in the rolling hills of the Highlands near the sea. The nose is vibrant and fruity with tropical fruits, lemon custard, vanilla pods, and subtle spices. The taste has a good balance of fruitiness and spiciness with touches of mango, pineapple, and vanilla along with peppery baking spices. The finish has lingering fruity notes, a hint of dried flowers, and a touch of sea air that give this whisky a great complexity. Score: 93 points.
House Targaryen Cardhu Gold Reserve (40% ABV, RRP $39.99 USD)
This is one of the few whiskies that's based on an existing expression in the Diageo portfolio, though the regular Cardhu Gold Reserve is not available in all markets. The nose has notes of red apples, baking spices, and hints of caramel candy and honey. The taste starts off creamy at first, followed by a burst of clove and a fruity tartness underneath with caramel apples and honey. The finish is long with a lingering tartness and a touch of clove. Score: 93 points
House Tully Singleton of Glendullan Select (40% ABV, RRP $29.99 USD)
This whisky has notes of orange marmalade, soft spices, and a hint of honey. The taste has hints of clove, raspberry jam, vanilla cream, and a nice malty touch of barley sugar. The finish is long and malty with lingering touches of clove, berries, and barley sugar. Score: 91 points.
House Greyjoy Talisker Select Reserve (45.8% ABV, RRP $44.99 USD)
The Greyjoy clan ruled the Iron Islands, and this whisky comes from Scotland's Isle of Mull. The nose is dark and smoky with a nice oakiness,  dark chocolate, campfire smoke, and the aroma of barbecued beef. The taste is spicy with chili powder, white pepper, and a hint of campfire smoke balanced by grilled fruits, toasted caramel, and a hint of honey. The finish is long, complex, and smoky with hints of pipe tobacco and old leather. Excellent! Score: 94 points.
House Lannister Lagavulin 9 Year Old (46% ABV, RRP $64.99 USD)
If you owe someone, this would be a good way to repay the debt, since "a Lannister always pays his debts." The nose is smoky with barbecue sauce and hints of heather, honey, and brine, along with a touch of dried fruits in the background. The taste is thick, smoky, and peppery with tangy barbecue sauce and tropical fruits that add a nice counterbalance along with hints of honey and toasted vanilla. The finish is long and fades away gently with touches of smoke and spices. Excellent! Score: 94 points.
In addition to the eight whiskies that make up this collection, Diageo also released the special White Walker edition of Johnnie Walker to go along with the final season of Game of Thrones.
As of this writing, we do not know who will wind up sitting on the Iron Throne when the final episode of Game of Thrones airs later this spring. With all of the plot twists between now and then, one may well need a good, stiff drink to help keep things in perspective. One of these whiskies – depending on which House or stillhouse you favor – might just help clear away the confusion.
Editor's note: Samples of the whiskies were provided by Diageo, which is also a sponsor of WhiskyCast. However, in keeping with our ethical guidelines, all control over the editorial content of this story and our tasting notes remains with WhiskyCast. 
Links: Classic Malts
---