Each week, we bring you the latest whisky news on WhiskyCast, but a lot can happen during the week. Now, you can keep up with whisky news as it happens here on WhiskyCast.com!
December 7, 2018 – After three years of starts and stops because of funding and health issues, construction of the J.W. Rutledge Distillery is likely to begin in 2019. Bourbon Hall of Fame member and longtime Four Roses master distiller and Jim Rutledge and his partners have settled on a site near La Grange, Kentucky northeast of Louisville in Oldham County, and are working on the final phase of raising $10 million in capital for the project.
"We hope to be there by early 2019…I don't think we'll make it by this year," Rutledge said in a telephone interview with Mark Gillespie for the latest episode of WhiskyCast. "In addition to the $10 million, we're making arrangements to secure a low-interest USDA loan for $12 million…between the two, we should be getting started late winter, very early spring at the latest," he said, while noting that there is still room for potential investors to join the project.
Ironically, a recent meeting with potential investors led to news of the project's status getting out before Rutledge and his team were ready to go public. The North Carolina-based architectural firm for the project issued a news release after presenting their concepts to potential investors, and Louisville Business First reported on the status Tuesday. Rutledge told WhiskyCast the preliminary release may have cost them a chance to qualify for economic development incentives, but also said it led to additional investors coming forward. "Things happen, and when they do, they do…and if it first tastes like lemons, then see what you can do to turn it into lemonade, and that's what we've done, I think," he said.
Listen to Mark Gillespie's complete interview with Jim Rutledge:


Rutledge's partners in the distillery are Stephen Camisa, Jon Mowry, and Will Conniff. Camisa and Mowry are partners in Louisville's Bedford & Grove law firm, and have worked with Rutledge dating back to his days at Four Roses. Conniff is the newest partner in the venture, and has been working as a consultant since retiring from Southern Wine & Spirits in 2016. The partners have been working with Venture First in Louisville to find additional investors for the project, but plan to maintain majority control. "We don't really want one or two investors coming in and acquiring more than 50 percent, and for example, telling us to run some blackberry-flavored Bourbon," Rutledge said with a laugh.
Once the funding is complete, Rutledge said there are still a lot of pieces that have to come together. The likely site on 183 acres of farm land in Oldham County still needs to be re-zoned from its current agricultural status for use as a distillery, and Rutledge says water and natural gas lines would need to be extended to the site as well. Plans include a biomass digester to convert distillery waste into methane gas for fuel, along with a geothermal heating and cooling system. The firms of Luckett & Farley and pod architecture + design are providing engineering and architectural services for the project. Louisville-based Luckett & Farley has extensive distillery experience with work on many of Brown-Forman's distillery projects in Kentucky and Tennessee, while Pod recently won an award for its work with Rabbit Hole Distilling in Louisville, which opened earlier this year.
The project will include a visitors center, and the proximity to Louisville would make it a natural stop for tourists along the Kentucky Bourbon Trail. The site is right off the La Grange exit on Interstate 71 about half an hour northeast of Louisville, and is 12 miles north of Interstate 64 linking Louisville and Lexington.
Rutledge, Camisa, and Mowry first proposed the distillery project in the spring of 2016 and began a crowdfunding campaign to give small investors a chance to have a stake in the project, only to cancel it within days after receiving "lackluster" results and negative feedback on social media. The project suffered additional delays in 2017 when a major investor withdrew support and after Rutledge suffered a heart attack. He notes that the health scare forced him to start taking better care of himself and is now exercising regularly and eating better, while looking forward to getting back into a distillery on a regular basis. He has been doing some contract distilling work at Castle & Key Distillery on a project with Louisville entrepreneur Brook Smith to produce a Bourbon that will eventually be sold to benefit educational programs in Eastern Kentucky.
Links: J.W. Rutledge Distillery | pod architecture + design | Luckett & Farley | Venture First
---
Updated March 20, 2019 – CFR Title 27, Part 5.
Unless you're in the alcoholic beverage industry, you've probably never heard – or cared – about this section of the United States Code of Federal Regulations. However, if you drink whisky, other distilled spirits, beer, or wine, CFR Title 27, Part 5 affects you on a regular basis. It sets out the specific definitions for all alcoholic beverages sold in the United States, along with labeling requirements, marketing restrictions, and everything right down to the size of bottles that can legally be sold in the U.S. It contains the regulation that requires whiskies be sold in 750ml bottles instead of the 700ml bottles used in most other countries, and it's also where the official definition of Bourbon lives.
The U.S. Treasury Department's Tax & Trade Bureau (TTB) administers Part 5, along with the rest of Title 27 covering the alcohol, tobacco, and excise taxes for the firearms industry. It inherited that role in 2003, when the Homeland Security Act of 2002 split up the old Bureau of Alcohol, Tobacco, and Firearms by moving its law enforcement functions to the new Department of Homeland Security while keeping the revenue and regulatory functions within the Treasury Department.
Now, TTB administrators have come forward with a massive rewrite of Part 5 that has been on the agency's schedule since 2013. While the TTB and its predecessors have made minor changes to Title 27 regulations over the years, this would be the most extensive re-write of Part 5 since the original regulations implementing the Federal Alcohol Act were enacted in 1935.
The agency issued a Notice of Proposed Rulemaking in the Federal Register on November 26, and has now extended its period for accepting public comments on proposed changes until June 26, 2019. While many of the proposed changes are so-called "housekeeping" aimed at incorporating current policy and industry practices into a simpler, more easily understood document, the agency has offered a number of proposals that could have a direct impact on distillers of all sizes while not covering changes sought by a growing number of distillers and consumers.
The most controversial proposal so far asks whether an official definition should be created for "oak barrel" that would specify a "cylindrical oak drum of approximately 50 gallons capacity" and whether smaller barrels or non-cylindrical barrels should be "acceptable for storing distilled spirits." This could have a direct impact on craft distillers, who often rely on barrels as small as five or ten gallons to mature their spirits. The impact could also be felt by distillers who use much larger ex-Sherry butts or Port wine pipes as "finishing" casks, since the TTB's proposed language does not cover the use of barrels larger than 50 gallons.
"We use 60 gallon (barrels), mostly…is that approximately 50? I don't know," said Jared Himstedt of Balcones Distilling in Waco, Texas. "For a thing that should be supposedly solving a bunch of way overdue problems, it seems like it's introducing some new ones," he said during an interview at WhiskyFest New York.
Richard Hobbs, the owner of The Barrel Mill cooperage in Avon, Minnesota is even more blunt in his objections. "Small barrels have been used for whiskey for hundreds of years. Ruling that a whisky/ey must be aged in barrels of 50+ gallons would be devastating to our customers, who have millions in aging inventory, and would most likely put us and many other cooperages out of business. We currently employ 50 people…I think that innovation, and more options of available oak and other species for aging is a positive for the consumer, not a negative," he said in an email.
The TTB's list of proposed changes would also bar distillers from counting time spent in a secondary cask in age statements. For instance, a whisky matured in a new oak barrel for five years and then "finished" in a different cask for another five years could only be labeled as a five-year-old whisky under the proposed revisions. There is also a proposal to create an official definition for terms like "barrel proof" and "cask strength" by allowing their use only when a whisky is bottled within two proof degrees (one percent ABV) of the actual strength of the whisky when it is dumped from a barrel.
TTB spokesman Thomas Hogue declined WhiskyCast's request for an interview with a TTB administrator to explain the reasoning behind the proposed changes, saying in an email that the agency has no official comment beyond what is in the public record. However, he also emphasized that the proposal is simply that – a proposal.
"This is an opportunity for all interested stakeholders to comment and help us bring these regulations into alignment with current industry practice and public understanding.  If industry members believe that a specific proposal will be detrimental to their business, we strongly encourage them to submit substantive comments explaining the issue and, wherever possible, proposing an alternative. Keep in mind, stakeholders are not limited to commenting on just what has been proposed.  If there are areas of concern or interest that were not included in this document, we welcome substantive comments to address those as well."
One often-requested change not included in the proposed revisions was a definition for "single malt" whiskies. Craft distillers formed the American Single Malt Whiskey Commission in 2016 to lobby for a separate category in Part 5's "standards of identity" to cover single malts, which are currently treated as "malt whiskies" under Part 5. Those whiskies need only be made from at least 51 percent malted barley, but must be matured in new oak barrels. The group's members want an official definition based on the standards set in Scottish law, which require 100 percent malted barley distilled at a single distillery and matured in oak casks not exceeding 700 liters. In addition, the lack of a generic standard for "single malt" whiskies has been an issue for at least a decade as importers of single malts from "non-traditional" whisky-making countries have had to fight for label approval status because their clients routinely use used barrels in maturation. The proposed changes do not affect whiskies from Scotland, Ireland, and Canada, which would continue to enjoy automatic recognition of the laws in those countries defining single malts and other specific types of whiskies.
There are a couple of proposals receiving support from distillers. One would create a new standard of identity for unaged or "white whiskies" often produced by startup distilleries, while the second would loosen the tolerance for bottling strength stated on a whisky's label. Distillers and bottlers often proof their spirits at a slightly higher strength before bottling to allow for a small amount of evaporation during the bottling process, but are currently only allowed to be under the listed label strength by within 0.15% with no margin for error above the listed strength. For example, a whisky labeled at 40% ABV can actually be between 39.85% and 40% without violating the current standards, but the proposal would change that tolerance to 0.3% either way and allow for slightly "overproof" bottles. TTB agents routinely audit licensees by buying spirits at retail for testing in the agency's laboratory, and a failure to meet the tolerance limits could result in enforcement actions against a spirits producer.
Industry trade groups are still evaluating the TTB's proposals with their lawyers and members. Representatives from the Distilled Spirits Council, American Craft Spirits Association, and the Kentucky Distillers Association all declined to comment on the proposed changes at the present time. The industry groups asked for, and received, additional time from the TTB to file comments on the proposal.
Because the TTB's entire proposal covers a wide range of proposed changes to regulations covering malt beverages and wine as well as distilled spirits, we are providing a copy of the Federal Register publication at WhiskyCast.com with specific areas that affect whiskies highlighted. The document also includes instructions on how to submit a comment for the agency's review.
This story will be updated with additional information as necessary.
Editor's note: This story has been updated to reflect the extension of the public comment period until June 26, 2019. 
Links: Tax & Trade Bureau | Balcones Distilling | American Single Malt Whiskey Commission | Distilled Spirits Council | American Craft Spirits Association | Kentucky Distillers Association
---
November 29, 2018 – Move over, Valerio Adami. Step back, Sir Peter Blake. Make way for Michael Dillon!
The Irish artist's one-of-a-kind hand-painted 1926 Macallan shattered the current world record for a single bottle of whisky sold at auction when it went on the block today at Christie's in London. The high bid was £1.2 million GBP ($1,532,880 USD), breaking the previous record of £848,750 GBP ($1,107,663 USD) set October 3 at Bonhams in Hong Kong by one of the twelve Valerio Adami 1926 Macallan bottles. As is customary, the name of the winning bidder was not released.

Until today, the Adami and Blake bottles had traded places at the top of the world record list. A Blake bottle first broke the record in May at Bonhams in Hong Kong, only to be topped later in the same auction by the Adami bottle that held the record until the October 3 auction. Both of the award-winning artists created a bespoke label used by The Macallan's owners for 12 bottles each to be used as corporate gifts and offered for sale to select buyers.
Dillon's bottle was one of 16 remaining from that tranche of 40 bottles of 60-year-old Macallan that became part of the distillery's Fine & Rare Collection for sale to the public. It was the only one to feature Dillon's hand-painted scene of The Macallan's landmark Easter Elchies house with the Cairngorm Mountains in the background, and was sold at London's Fortnum & Mason in 1999. The bottle had not been seen in public since that sale, and has been regarded as the "holy grail" for Macallan collectors.
In a statement issued by Christie's, International Director of Wine Tim Triptree MW said "the results confirm the strength of the market for whisky and the continued success of Christie's in offering the finest spirits to our collectors across the globe." In addition to the Dillon bottle, Christie's also auctioned several whiskies provided by Macallan owner Edrington. A bottle of The Macallan 50 Years Old brought a high bid of £72,000 GBP ($92,016 USD), while five bottles of The Macallan Genesis sold for a combined £11,400 GBP ($14,566 USD). Genesis was released earlier this year to celebrate the opening of The Macallan's new distillery in Speyside, and the proceeds from those five bottles will be donated to Speyside community organizations.
WhiskyCast has requested interviews with executives from Christie's and The Macallan. This story will be updated with additional information as available.
Editor's note: Currency conversions in this story are based on the Bloomberg Generic Composite Rate as of publication. 
Links: Christie's | The Macallan
---
November 2, 2018 – Dave Pickerell, the master distiller and blender responsible for helping dozens of would-be whiskey entrepreneurs achieve their dreams, has died at the age of 62. He passed away Thursday in San Francisco, where he was scheduled to be at tonight's WhiskyFest sponsored by Whisky Advocate magazine, and where his next distillery project was also to be built. Pickerell had been touring this fall with the members of Metallica to promote their Blackened American Whiskey, and the next step was to build a distillery in the Bay Area to make their own whiskey. In fact, he, the four members of Metallica, and their management team were scheduled to visit the proposed site of the distillery Saturday morning to get Pickerell's final approval before moving forward with the project. Smooth Amber CEO John Billelo told WhiskyCast in a telephone interview that not only will the band go ahead with the distillery, but it will be named the Dave Pickerell Distillery when it opens.
According to Danielle Eddy, one of the publicists who worked with him on many of his projects, Pickerell had spent the day Thursday doing a full slate of appearances in the San Francisco area on behalf of his clients' brands, and returned to his hotel room to rest. He was found later in the evening, and died of natural causes.
As word spread of Dave Pickerell's passing, many of the distilleries he worked with posted tributes to him on their web pages. The members of Metallica took down the entire Blackened American Whiskey web site, and replaced it with a single image of Dave at one of their concerts.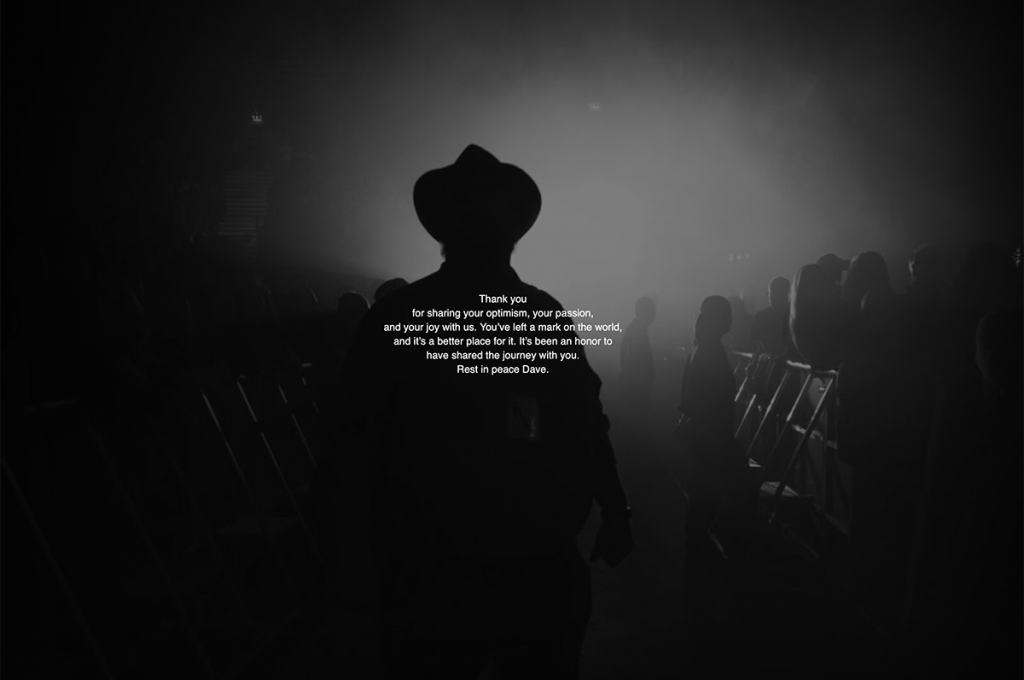 In a September WhiskyCast interview, when asked about his work with Metallica, Dave broke into song, singing "On the Cover of the Rolling Stone."
"Oh my God, this boy from the slums got his picture with Metallica in the Rolling Stone…what's not to love about that."
The feeling was mutual, according to John Billelo. "The reality is, we were on our way to becoming quite the family, and obviously, Dave will be terribly, terribly missed. There's not much we can say that hasn't been said other than the fact that there are very few people in life that walk the talk, and Dave was proud of saying that he did business by handshake…he was a true gentleman, a man of his word, an amazing artist in the spirit he created, but more importantly, he was a dear and wonderful person who enjoyed being around people, and we will miss him," Billelo said in a telephone interview Friday afternoon.
Billelo also passed on condolences from Metallica's Lars Ulrich, who was unavailable for a telephone interview because of rehearsals for the band's acoustic concert Saturday night to raise money for their All Within My Hands Foundation. "He adored Dave and the time they spent together and the whiskies he created for them, and like the rest of us, it's just a very, very difficult day," Billelo said. Dave had donated one of his trademark felt hats to be auctioned at the concert along with a bottle of Blackened signed by himself and the four members of Metallica. Billelo says the hat has been pulled from the auction, and will instead be displayed in the new distillery, which will also be named the Dave Pickerell Distillery in his honor.
Pickerell was a 1978 graduate of the U.S. Military Academy at West Point, graduating with a degree in chemistry and playing on the Army football team. He later received his Master's degree in chemical engineering from the University of Louisville in 1988 while serving in the Army, and after leaving the military,  went on to become a consultant in the distilling industry. One of his clients at the time was Maker's Mark, and Bill Samuels, Jr. hired him away in 1994 to become the distillery's Vice President of Operations and Master Distiller. Maker's Mark released a statement on behalf of the Samuels family Friday afternoon:
"We were very saddened to learn of the passing of Dave Pickerell and send our heartfelt condolences to the Pickerell family.  Dave was an accomplished and important figure in bourbon. He certainly made a mark on the industry he loved, and will truly be missed."
After leaving Maker's Mark in 2008, he founded Oak View Spirits and began working with startup distillery projects and whisky brands worldwide, along with serving as the original master distiller for the restored George Washington's Distillery at Mount Vernon in Virginia.
His partners and clients included Hillrock Estate Distillery in New York, J. Rieger & Sons in Kansas City, and Vermont's WhistlePig Farm, where Dave sourced the original Canadian Rye whisky that became the foundation for WhistlePig's early releases. In a statement, WhistlePig CEO Jeff Kozak said:
"To us, Dave was family. He was larger than life and truly part of the WhistlePig fabric. Working with him never felt like work. It was his passion, humor and storytelling that helped this brand come alive. Saying we are going to miss him isn't enough, and we will continue to honor his memory and keep him in our stories and our hearts."
Funeral arrangements are pending, but following a private service for the family in Kentucky, plans are being made for memorial services in several cities around the United States.
Please join us in expressing our condolences to Dave Pickerell's family and his many friends around the world.
Editor's note: Dave rarely discussed his age, and our original reporting that he was 70 years old was based on information provided by one of his publicists. We have since confirmed through West Point alumni records that Dave was born in 1956 and was 62 when he died. We regret the error. 
Links: Oak View Spirits | Blackened Whiskey | WhistlePig Rye  | Maker's Mark
---
October 29, 2018 – While announcing billions of pounds in new government spending, Great Britain's Chancellor of the Exchequer gave his country's whisky lovers a break. Philip Hammond announced in today's budget address to the House of Commons that the government will extend the current duty freeze on whisky and other spirits, along with beer and cider.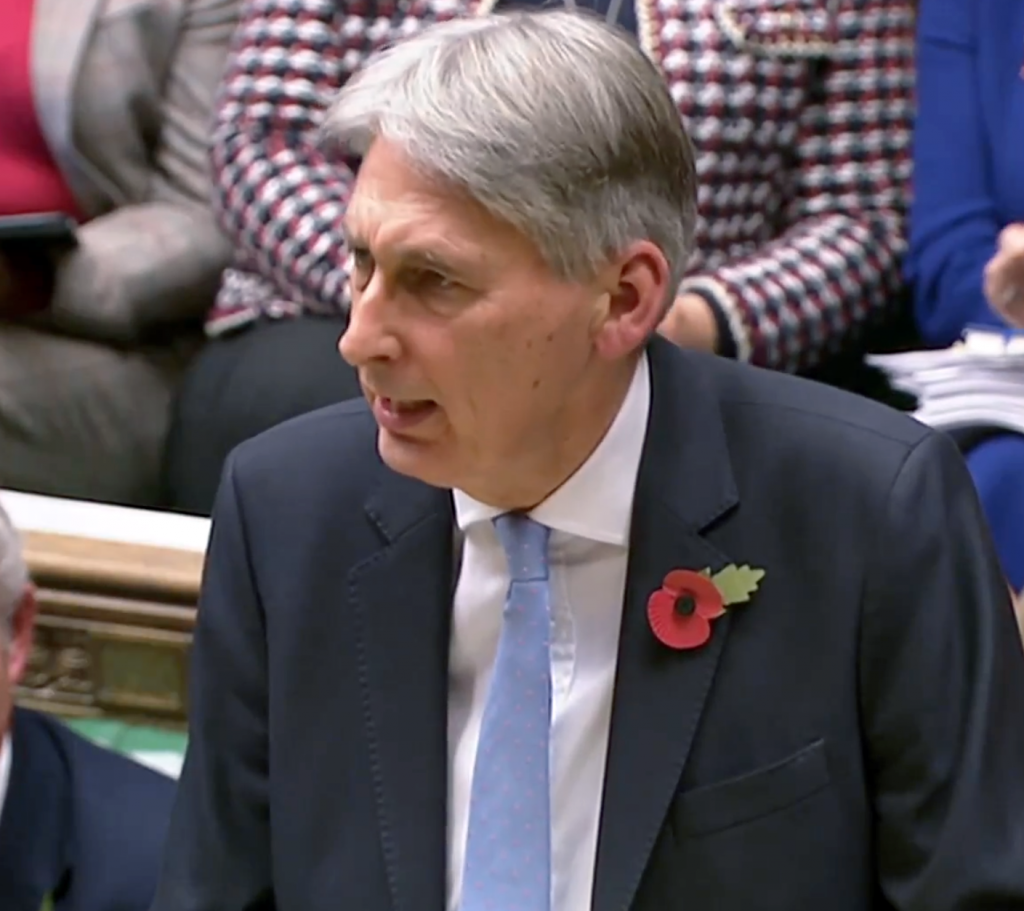 "I realize that many people are feeling pressure on their household budgets now, and because the hard work of the British people is paying off, I am pleased to be able to announce today a series of measures to help families across Britain with the cost of living," Hammond said. The finance minister told members of Parliament that the freeze will save consumers two pence on a pint of beer, one pence on a pint of cider, and 30 pence on a bottle of Scotch or gin based on the government's inflation forecast of 3.4 percent in the coming year. Hammond froze duties on whisky and most alcoholic beverages last autumn after raising them by four percent in the government's 2017 spring budget, and acknowledged intense lobbying from Scottish Conservative members of Parliament to extend the freeze.
Scotch Whisky Association executives welcomed the announcement after previously expressing pessimism ahead of Hammond's budget address, given that the UK Government faces financial pressures from Brexit and a host of other funding issues. The SWA had led a public campaign calling for a continued duty freeze, arguing that the government's tax revenues from spirits showed a 9.1 percent gain between February and the end of September due to increased sales.
"We've been banging on the Treasury for years now that a more competitive and more stable rate of tax on Scotch Whisky will drive revenue," said the SWA's Graeme Littlejohn. "It did it when we got a cut in 2015, it did it after a freeze in 2016, and it did it again after the freeze in November 2017, but interestingly, when we put tax up by four percent in March 2017, tax revenues went down in the first six months of that year…spirits is a very price-elastic product in the UK, it's very price-sensitive, so therefore, the Treasury and the Chancellor have to be very careful about how they're applying duty rates on spirits," he said in a telephone interview following the budget address.
However, the Association still refers to the UK's current level of spirits taxes as the "Scotch Super Tax," given that taxes make up 74 percent of the price consumers pay for an average-priced bottle of Scotch Whisky. According to the SWA, that average bottle of Scotch sells for £14.15 ($18.12 USD). Excise duty accounts for £8.05 ($10.31 USD) and VAT of £2.36 ($3.02 USD), bringing the total tax on that bottle to £10.41 ($13.33 USD). The Association called on Hammond and his colleagues to begin discussions with the industry on a long-term reform of the UK's spirits taxation system, noting that spirits are still taxed at a much higher rate than beer, cider, or wine.
Links: Scotch Whisky Association
---
October 23, 2018 – Scotch Whisky exports appear to be headed for a new record in 2018, based on statistics for the first half of the year released Friday by the Scotch Whisky Association. According to data from HM Revenue & Customs, the value of Scotland's whisky exports rose 10.8 percent over the same period in 2017 to around £1.97 billion GBP ($2.557 billion USD), while the volume of exports rose by 5.6 percent to the equivalent of nearly 558 million (70cl) bottles. Assuming that the second half of 2018 follows a similar pattern, the year's exports are likely to break the record set in 2017 when the value of Scotch Whisky exports totaled £4.36 billion GBP ($6.03 billion USD)
"Value has gone up more than volume, which to generalize, means that there's continued premiumization in the market as people switch to higher value products," said Graeme Littlejohn of the SWA. That trend is reflected in the exports of Single Malt Scotch Whiskies, which accounted for a record 28 percent share of all Scotch Whisky exports, while the value of Blended Scotches also rose by 8.9 percent as consumers "traded up" to more expensive whiskies.
Littlejohn highlighted sharp increases in exports to India and China, along with other emerging markets. The value of exports to India increased by 44.4 percent to more than £56 million GBP, while China's imports rose by 34.8 percent to more than £36 million GBP. However, exports to the industry's traditional markets remained strong, with Japan accounting for a strong increase in sales. The volume of exports to Japan rose 46.4 percent to 21.4 million bottles, while the value of those exports grew by 31.1 percent to £56.2 million pounds. The United States and France remain the largest export markets, with the Americans holding on to the top spot by value (£407.8 million GBP) and the French consuming far more Scotch Whisky by volume (89.7 million bottles).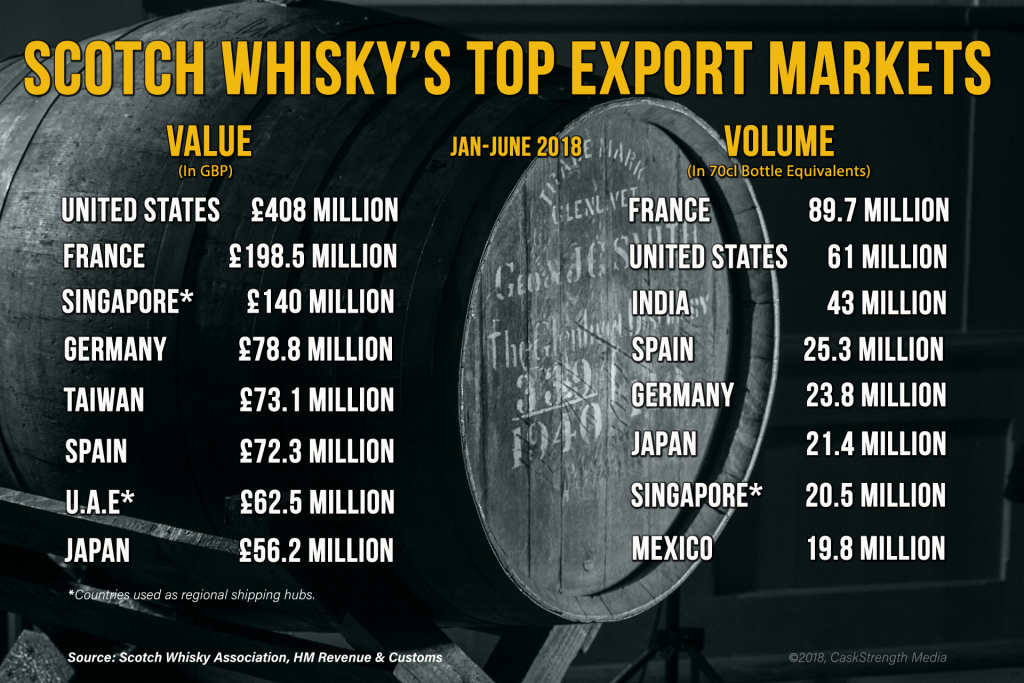 However, there are storm clouds on the horizon that could affect the industry's long-term outlook. With a little more than five months left before Great Britain leaves the European Union, there is still no "divorce agreement" that will govern relations between Britain and the other 27 EU member nations. Together, those nations account for around a third of all Scotch Whisky exports each year, and there are concerns with the industry over the potential impacts of a "no-deal" Brexit likely to affect the ability to move whisky shipments from Scotland to markets within Europe. The SWA's Littlejohn also notes a key goal of making sure the UK is able to extend the terms of existing free trade agreements with Mexico and other emerging markets that were negotiated by the European Union on Great Britain's behalf after Brexit.
Listen to Mark Gillespie's interview with the SWA's Graeme Littlejohn:
Of more immediate concern, though, is the UK domestic market. Chancellor Philip Hammond is scheduled to present the government's annual budget in London this coming Monday. The SWA has been leading a campaign to persuade Hammond to freeze duties on whiskies and other spirits for a second consecutive year, arguing that a duty increase will lead to reduced sales with a resulting decrease in tax revenue.
"The freeze last year in the budget have actually generated additional revenue for government…there's been an additional £163 million in pounds this year compared to last year in spirits revenue. That's up 9.1 percent," Littlejohn said. "We've been saying for years that a more competitive rate of duty on Scotch Whisky can drive revenue to the UK government, which can then be used to fund vital public services." While there have been no signals out of Hammond's office on where the final decision will come down, Littlejohn noted that the inflation rate is expected to reach 3.4 percent, and members of Parliament have indicated that the government's need for additional revenue heading into Brexit make a second year of a duty freeze unlikely.
Links: Scotch Whisky Association
---
October 15, 2018 – Long before master blenders became celebrities within the spirits industry, Tom Jago was creating spirits that are regarded as global icons to this day. He was responsible for developing Johnnie Walker Oldest – known today as Blue Label, along with the original Classic Malts range of single malts, Bailey's Irish Cream, Malibu Rum, and many others during his career. Tom Jago passed away Friday at the age of 93, just months after the death of his wife Penelope.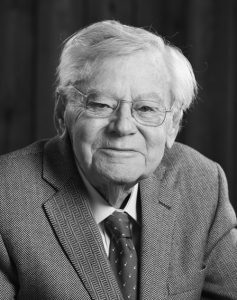 His drinks career spanned six decades, starting with Diageo predecessor IDV. In 1977, as IDV's head of global innovation, he teamed up with marketing guru James Espey in what became a lifelong partnership. Over the years, Jago and Espey worked together at United Distillers, where Jago selected the whiskies and Espey created the marketing programs behind the Classic Malts and Johnnie Walker Oldest. At Chivas, where Espey was the company's chairman and brought in Jago to run new product development, they created the iconic Chivas Regal 18.
In a statement announcing his friend and partner's death, James Espey noted that today's drinks industry owes a lasting debt to Tom Jago for his decades of work. "Today, a significant proportion of the profits of both Diageo and Pernod Ricard are due to the creative genius of Tom Jago. He never received a bonus for his work but he genuinely loved what he did until his very last day," Espey noted. "Only a fortnight ago he was teaching his granddaughter Emily all about the Scotch Whisky industry, including a tutored tasting, before her WSET exam!"
"If you aren't having fun doing it, you can go and be a hedge funder or something…I've had fun all the time I've been in since 1963, and I'm still having a lot of fun." – Tom Jago
In 2007, at an age where most people would have gratefully retired after a long and successful career, Jago and Espey teamed up with Peter Fleck to create The Last Drop Distillers in 2007 to bottle small unique parcels of spirits. Their first release came in 2008 with The Last Drop 1960 Blended Scotch, and Tom Jago continued to serve as the company's president until his death. Both men brought their daughters, Rebecca Jago and Beanie Espey, into management roles with the company, which became a unit of Sazerac in 2016.
"Tom and I have worked together for 40-odd years," James Espey said in a 2008 WhiskyCast interview with both men. "If you like, I painted the big picture while Tom is the craftsman who puts in all the details and makes it happen, so we complement each other." Together, they ignored market research and went with their gut instincts. "Nobody ever loved any of the brands we created," Jago said at the time – until the profits started rolling in.
In addition to his daughter Rebecca, Tom Jago is survived by three other children, including Berry Bros. & Rudd CEO Dan Jago, along with six grandchildren and a brother.
Links: The Last Drop Distillers
---
October 15, 2018 – Irish Distillers Pernod Ricard has scotched rumors of a planned second distillery in Ireland, at least for now. The country's largest distiller has announced plans for a €150 million ($173.7 million USD) investment to upgrade its facilities in Midleton and Dublin over the next two years, with the bulk of the work to be done at Midleton Distillery in County Cork.
Irish Distillers executives cited the continued growth in global sales for their flagship Jameson Irish Whiskey and the need to meet projected future demand for the latest investment. In a news release, Irish Distillers Pernod Ricard Chairman & CEO Conor McQuaid said "Irish whiskey is the fastest growing premium spirit in the world, with sales now accounting for more than one third of all Irish beverage exports. This investment will help to allow this growth to continue for years to come."  WhiskyCast has requested interviews with Irish Distillers executives, and this story will be updated with additional information. 
The project calls for new fermenters and a third mash filter to be installed at Midleton, along with another vapor recompression evaporator to allow for increased production capacity. In addition, a new office building is being constructed to replace the distillery's original offices that date back to 1975, when the current Midleton Distillery opened adjacent to the original distillery. The building will include upgraded laboratory space, as well as offices for the distillery's production team, and is expected to be completed in July of 2019.
The latest expansion at Midleton was completed in early 2017 with the addition of three new pot stills in the Garden Stillhouse, which opened in 2013 next to the original 1975 Barry Crockett Stillhouse named for Midleton's longtime Master Distiller Emeritus. The company also plans to expand its Dungourney maturation campus near Midleton with eight new warehouses capable of holding 16,800 barrels each, and is also investing in additional land for more warehouses at the site.
More than €20 million ($23 million USD) will be invested in upgrades at the Fox and Geese bottling plant in Dublin, which bottles all of the Irish Distillers whiskies. That site will see an expansion to the bottling hall and equipment upgrades, along with new storage warehouses and office space.
Links: Irish Distillers
---
October 13, 2018 – Close, but not quite. That's the best way to describe bidding for a rare bottle of The Macallan 1926 today at Sotheby's in New York City. Bottle number nine of twelve with custom labels by British artist Sir Peter Blake brought a winning bid of $843,200 including all premiums, according to the Sotheby's web site. Last week, another bottle of the 60-year-old single malt with a label by Italian artist Valerio Adami set the world record at Bonhams in Edinburgh with a high bid of $1,107,663 (£848,750 GBP), surpassing the previous record set in May by another Adami bottle at Bonhams in Hong Kong.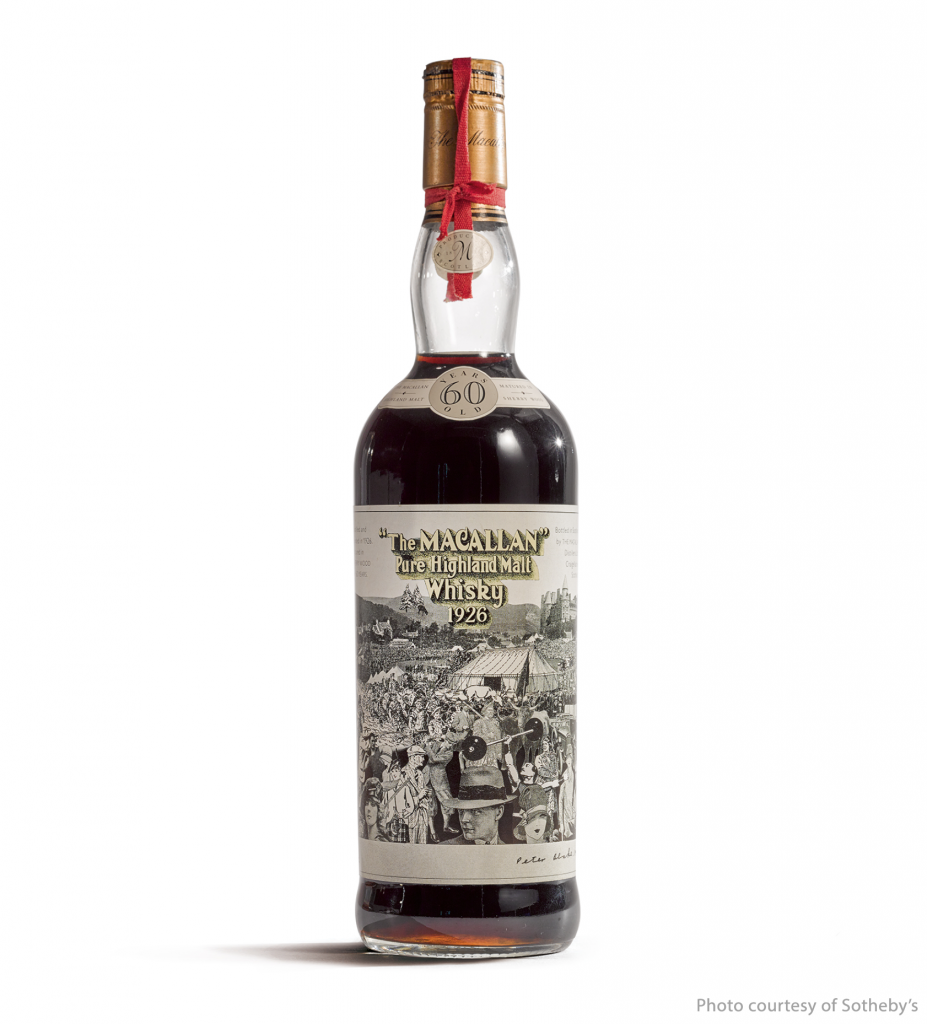 The bottles date back to 1986, when The Macallan's owners bottled a single cask of whisky distilled in 1926 and later commissioned Blake and Adami to create custom labels for twelve bottles each. Many of those bottles were used as corporate gifts, however, it appears that the seller of this bottle bought it directly from the distillery. The remaining 16 bottles from that cask were placed on sale as part of The Macallan's Fine & Rare Collection. One of those bottles with a bespoke label by Irish artist Michael Dillon is scheduled to be auctioned next month at Christie's in London. That bottle has not been seen in public since it was sold at London's Fortnum & Mason in 1999, and has been referred to by auction observers as the "Holy Grail" of collectible Macallans.
Sotheby's has not identified the winning bidder or the anonymous seller of the Blake #9 bottle, which was estimated before the two-day auction to sell for between $700,000 and $1.2 million USD. However, the seller wrote a commentary for the auction house's web site explaining the story behind their acquisition of the bottle in 1986.
"It is my hope that whoever purchases this bottle will appreciate that it is not simply a rare and exquisite spirit. That he or she understands that it is more than just an investment. It is representative of the finer things in life. It represents the life's work of many people."
The seller described their experience with the bottle as "magical," even though the only taste they may have had of that whisky was at the distillery during a private tasting with The Macallan's whisky maker at the time, Sandy Curle. The seller did not disclose what the 1986 purchase price was for that bottle. It is assumed that today's auction was profitable.
Links: Sotheby's | The Macallan
---
October 5, 2018 – The frenzy over two dozen bottles of 60-year-old Macallan single malt whisky has led to a likely new world record for the most expensive bottle of whisky ever sold at auction. Bottle number five of The Macallan 1926 60-year-old Valerio Adami edition went on the auction block Wednesday at Bonhams in Edinburgh, Scotland. After the whisky was bottled in 1986, The Macallan's owners commissioned Adami and Sir Peter Blake to create special labels, with each artist's work to appear on 12 of the 24 bottles that were used as corporate gifts.
Bottle number five had been in the original giftee's possession ever since, and according to Bonhams, an unidentified Asian bidder placed the winning bid of £848,750 GBP ($1,107,663 USD) by telephone. The high bid eclipsed the previous record set in May at Bonhams in Hong Kong, when bottle number two of the Adami edition sold for £841,430 GBP ($1,101,936 USD). The previous record was set earlier that day in the same auction when a bottle of the Blake edition sold for £774,511 GBP ($1,014,422 USD).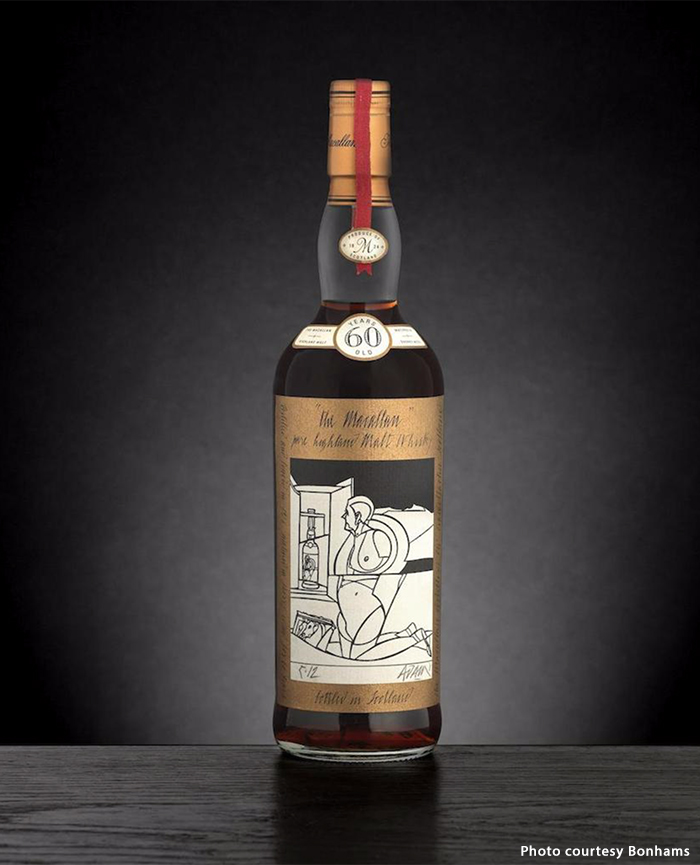 While the current record has already lasted longer than that Blake bottle's record, it may well not last long enough for Guinness World Records to complete the certification process. Sotheby's will place bottle number nine of the Blake edition on the block October 12 in New York City, and Christie's will auction another 60-year-old 1926 Macallan from the same batch in November. The remaining 16 bottles from the 1986 bottling went into The Macallan's Fine & Rare Collection for sale to the public, but this was the only one with a label hand-painted by Irish artist Michael Dillon. It has not been seen in public since it was sold at London's Fortnum & Mason in 1999.
Links: Bonhams | The Macallan
---