Each week, we bring you the latest whisky news on WhiskyCast, but a lot can happen during the week. Now, you can keep up with whisky news as it happens here on WhiskyCast.com!
June 10, 2019 – While the Treasury Department's Tax & Trade Bureau has not yet officially published a proposed regulatory change to eliminate most requirements on bottle sizes for distilled spirits, the very idea is beginning to generate some controversy. The agency's proposal to eliminate all mandated "standards of fill" except for currently unspecified minimum and maximum sizes appears in the Unified Agenda, a schedule of upcoming regulatory changes maintained by the White House's Office of Management & Budget.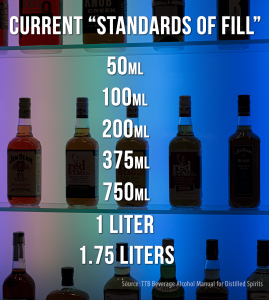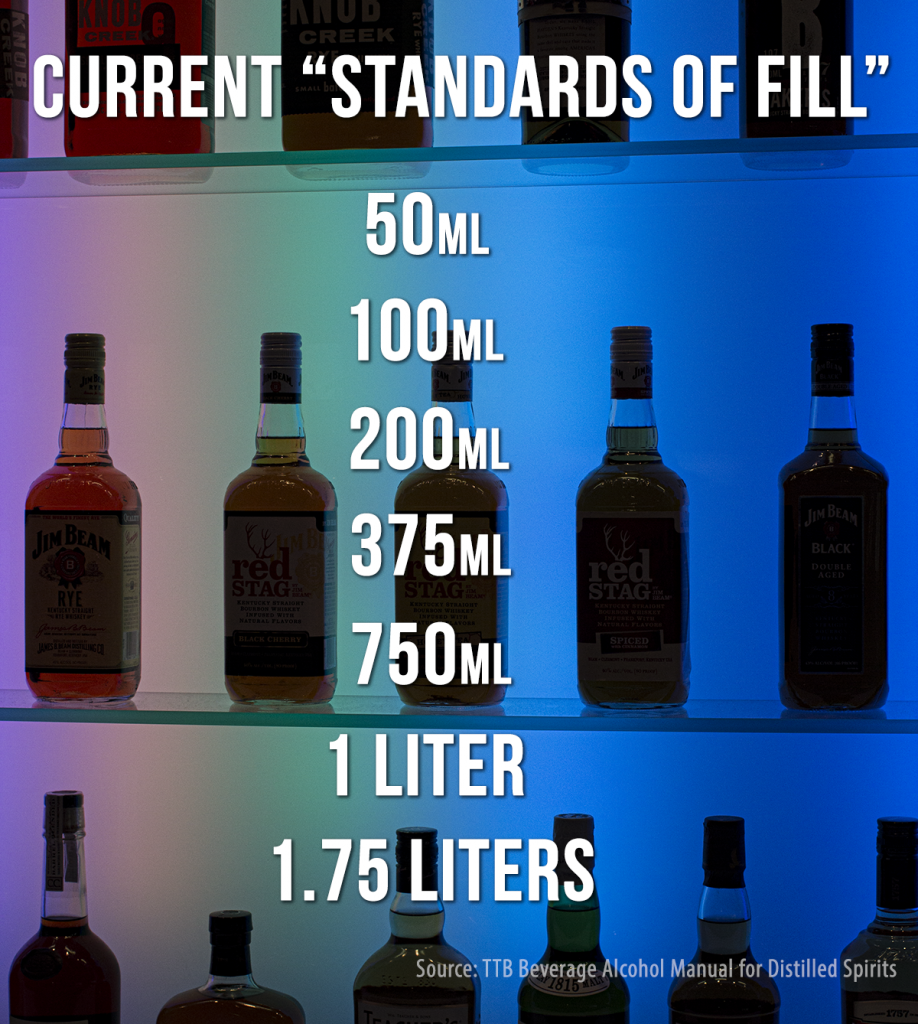 The current standards of fill regulation specifies seven allowable sizes ranging from 50ml to 1.75 liters, and was last updated in 1989 when a ban on 500ml bottles took effect. The standards date back to 1980, when the Carter Administration attempted to switch the U.S. to the metric system starting with beverage containers. As whiskies have regained their popularity in recent years, those standards have come into question because of a conflict with the European Union's standards. The EU allows both 500ml and 700ml bottle sizes, while not allowing the U.S. standard 750ml bottles. South Africa is the only other country with a 750ml standard, while most other countries will accept either size.
As a result, whisky makers in Europe and other countries have to produce separate bottling runs for whiskies destined for export to the American market, while U.S. whiskey makers have to do the same for their export products. That has long been seen as a barrier to small distilleries and independent bottlers, as the cost of compliance eats into already small profit margins.
Mark Watt of Cadenhead's, the Campbeltown, Scotland-based independent bottler, called the proposal "brilliant" and said it would give companies like his more flexibility to meet consumer demand. "Last year for the rest of the world, we maybe had 200 different bottlings, where we had 15 for the U.S.," he said in a telephone interview for the latest WhiskyCast podcast. "We have different bottles and you have to get different labels…I know it doesn't sound like much, but it all adds up to being a pain – you've got to reset your bottling line to fit the different bottles, so it's much easier to bottle larger amounts of the same thing in one go," he said.
As an example, Watt cited a bottle in his office that would likely never make it to the U.S. under the current standard. "I've got a 1991 Cambus (single grain) in front of me which is gorgeous…we might bottle a whole cask of that for America, but if we're bottling a single cask of that for the world in 700's, we're not going to bother putting it in 750's, so that would be an example of one just sitting on my desk that America might miss out on," he said. Other independent Scotch Whisky bottlers have echoed similar comments over the years as well.
Raj Sabharwal of Glass Revolution Imports is the U.S. importer for India's Amrut Distilleries, the English Whisky Company, the independent bottler Blackadder, and other spirits brands. While Sabharwal has had a number of battles with the TTB in the past over getting single malt whiskies from his partners approved for sale in the U.S., he praised the agency's latest move.

Part of the TTB's rationale for changing the rules focuses on the specific issue of flexibility. The agency describes its proposal as a deregulatory move designed to increase consumer choices while eliminating regulations that "inhibit competition and the movement of goods in domestic and international commerce." TTB spokesman Thomas Hogue told WhiskyCast in an email that no specific date has yet been set for publishing a "notice of proposed rulemaking," which would trigger a public comment period for the industry and consumers to submit their views before a final decision is made.
When that happens, the U.S. distilling industry's largest trade association intends to oppose the TTB's proposed changes as currently described. The Distilled Spirits Council represents most of the country's largest spirits producers, along with a number of small-scale "craft" distillers. Spokeswoman Lisa Hawkins told WhiskyCast in an email that the Council opposes setting minimum and maximum sizes, but "would support expanding the current containers sizes allowed to provide companies some added flexibility." Hawkins did not give a reason for the Council's position, but said the group would share its members' views with the TTB "as part of the comment process."
Other leading industry groups are taking a more tentative approach. A spokeswoman for the American Craft Spirits Association, which represents small-scale distillers, told WhiskyCast that "ACSA is in favor of any policy changes that provide our community of craft distillers with easier access to new markets around the world." Kentucky Distillers Association president Eric Gregory told WhiskyCast he is still waiting for feedback from his members before taking a position. However, at least one U.S. distillery is already supporting the proposal in public. Chris Riesbeck of Rémy Cointreau-owned Westland Distillery in Seattle tweeted that the proposal is "great for the whisky community" and "hoping that everyone sees the value of this long term."
The proposal is also generating some concern in South Africa, which would be the only country with a 750ml standard size if the TTB's proposed change takes effect. Andy Watts of South Africa-based Distell told WhiskyCast in a tweet that the move might pressure the South African government to change its regulations, while others expressed concern that it might lead to fewer whiskies being available without the leverage from the U.S for whisky makers to produce 750ml bottles.

The TTB's entry for the proposed change is listed on the Unified Agenda as a "Spring 2019" item. However, the agency is already in the middle of a major rulemaking process to revise many of the federal government's regulations for alcoholic beverages, with a public comment period that has been extended to June 26. As a result, the Distilled Spirits Council's Lisa Hawkins projected that action on the "standards of fill" proposal may be delayed until later this year.
In addition, the TTB is under interim leadership following the death of longtime administrator John Manfreda on May 25. Deputy Administrator Mary Ryan has been named acting TTB administrator until the Treasury Department names a permanent administrator.
Links: Tax & Trade Bureau | Cadenhead's | Glass Revolution Imports | Distilled Spirits Council | American Craft Spirits Association | Kentucky Distillers Association | Westland Whiskey
---
May 5, 2019 – Ask most serious U.S. whisky connoisseurs about their biggest complaints, and odds are you'll hear a few say "why can't we get all of the whiskies they only sell in Europe?" While a change in that situation may still be a year or more away, the Treasury Department's Tax & Trade Bureau has opened the door a crack with one of its latest proposals to update federal alcohol regulations. The agency has received requests for years to change the regulation that specifies the legal sizes of bottles that whiskies and other distilled spirits, and now appears to be poised to act on those requests.
"Authorized standards of fill" is the bureaucratic jargon for the rules that specify the size of bottles for whiskies and other distilled spirits, and since the U.S. switched to the metric system in 1980, those standards of fill have been based largely on a nine-liter case with 12 750ml bottles. That conflicts with the European Union's regulations requiring the use of 700ml bottles. While most other countries will accept either size, the conflicting standards force whisky makers to produce both sizes or risk being shut out of a major sales market. For smaller European-based distillers and independent bottlers, the choice has usually been to produce a few 750ml whiskies for the U.S. market while focusing most of their attention on their home market. The same applies for American distillers, who also have to have special bottles made when they want to export whiskies to Europe.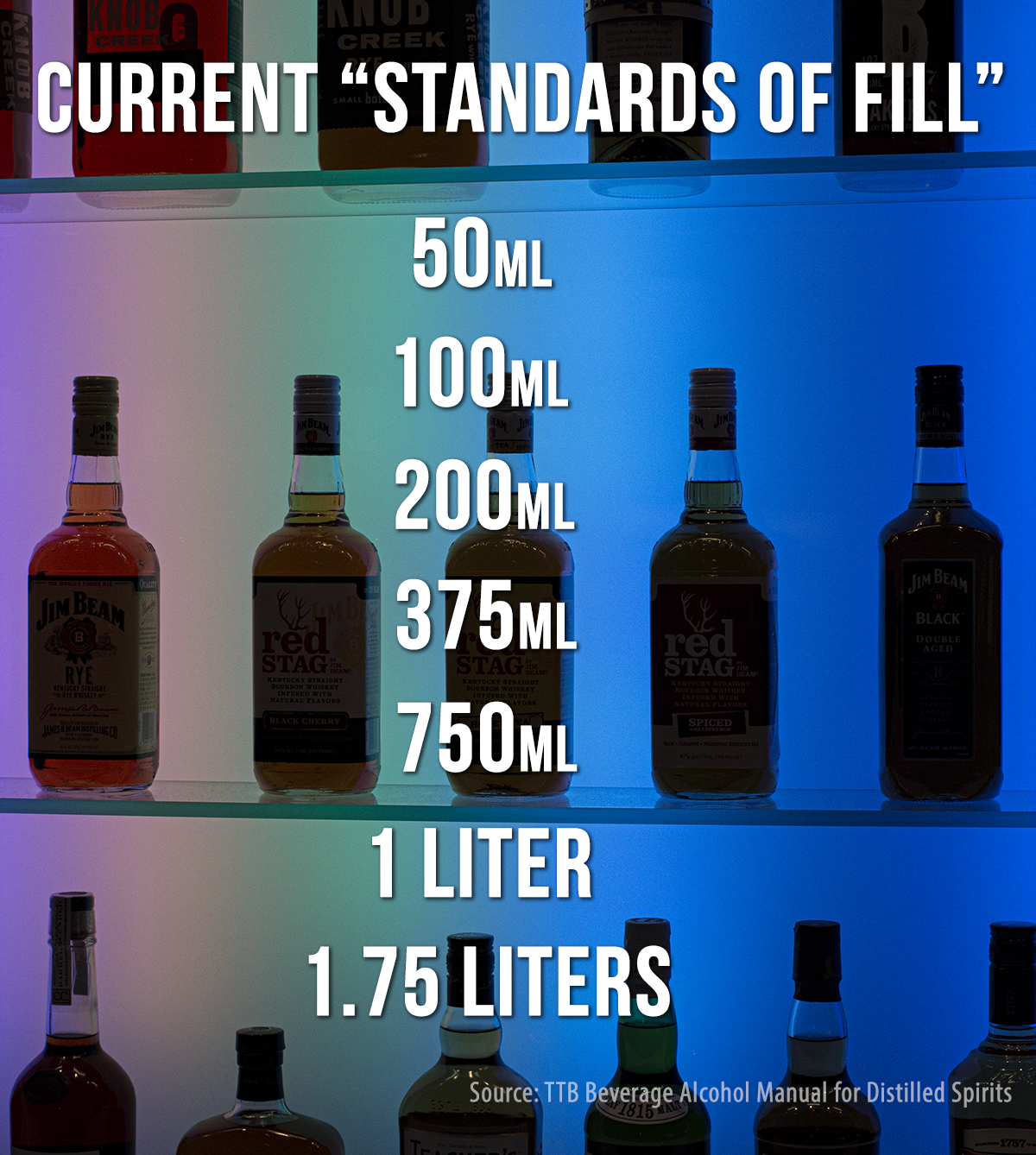 The TTB proposal to eliminate all but a minimum and maximum "standard of fill" appears in the Office of Management and Budget's "Unified Agenda," which outlines plans for upcoming regulatory changes that do not require Congressional approval. It's listed as a "Spring 2019" project, and TTB spokesman Thomas Hogue told WhiskyCast in an email that no specific date for publishing the proposal has been set while emphasizing that this is "in no way a foregone conclusion." Once the proposed changes are published in the Federal Register and at Regulations.gov, a public comment period would open for feedback from the industry and consumers.
According to the agency, the proposed change would "provide industry members greater flexibility in production and sourcing of containers, and provide consumers broader purchasing options. This deregulatory action would also eliminate restrictions that are no longer required for tax administration, and that inhibit competition and the movement of goods in domestic and international commerce."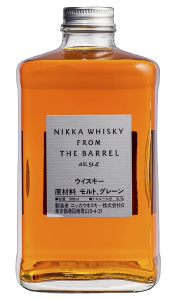 In short, it would allow American distillers and bottlers the ability to produce 700ml bottles for both the domestic and export markets while allowing importers to bring in whiskies not available in 750ml bottles. For instance, Nikka importer Hotaling & Co. had to persuade the Japanese distiller to produce its popular "Nikka From the Barrel" whisky in a special 750ml bottle last year so that it can legally be sold in the U.S. market. That whisky has traditionally only been available in 500ml bottles, which have not been allowed in the U.S. since 1989. 
As for the "restrictions that are no longer required for tax administration" language, that is a direct nod to the original reason for setting the authorized standards of fill in 1980. In those days, federal agents didn't have access to computers and spreadsheets, forcing them to calculate the amount of excise taxes due on imported spirits manually (U.S. distillers, then as now, are taxed on proof gallons).
Former National Association of Beverage Importers president Bill Earle was with the Treasury Department's Bureau of Alcohol, Tobacco, and Firearms at the time, and explained the rationale in a 2010 WhiskyCast interview. "It's easier to count nine-liter cases or cases that are of a standard measure in order to fix the taxes. Now that has obviously been overcome by technology because computers can now very accurately account all kinds of different sizes," he said.
Earle noted that at the time the Carter Administration decided to switch the U.S. to the metric system, the beverage alcohol industry was going to be "the poster child" for converting the entire country to metrics. "Of course, that never worked out," he laughed.
In fact, nearly four decades after that switch, one other part of the TTB's proposed changes would specifically allow whisky makers to include non-metric measurements on their labels alongside the mandated metric ones. While that has always been "allowed," according to the TTB – it was never specifically stated in the regulations.
The agency is also nearing the end of the public comment period on its much larger rewrite of the regulations for labeling and advertising of whiskies and other distilled spirits announced last December. That period was originally scheduled to end in March, but was extended until June 26 at the request of industry groups.
This story will be updated, and please listen to the next episode of WhiskyCast for industry and consumer reactions.
Links: Tax & Trade Bureau
---
June 4, 2019 – When Dave Pickerell died suddenly last November on the eve of WhiskyFest San Francisco after a day of doing promotional appearances for Blackened American Whiskey, the members of Metallica pledged to continue his legacy and move forward with not only future bottlings of Blackened, but to build a distillery in the Bay Area.
While the plans for the distillery have not yet been finalized, the band's Sweet Amber Distilling has named Pickerell's successor. Rob Dietrich is leaving Proximo Spirits-owned Stranahan's Distillery in Denver to become master distiller and blender for Blackened. Dietrich started at Stranahan's in 2006, and took over as master distiller in 2011 when founder Jess Graber retired.
"The opportunity to follow in Dave Pickerell's footsteps at Blackened is humbling. Dave Pickerell set a very high standard with everything he touched," Dietrich said in the news release announcing the move. "His spirit of kindness and dedication live on with the team. I feel excited by the challenge of taking Blackened to new heights that Dave would have been proud of."
In the same statement, Sweet Amber CEO John Bilello praised Dietrich as a logical successor to Pickerell. "Dave was not only one of the most groundbreaking distillers to ever walk the earth, but he was also a great friend. He possessed an unstoppable passion for the world of whiskey. It was of utmost importance for us to find someone like Rob Dietrich, who is also devoted to the craft."
Dietrich also has a connection to the music industry on his resume, with experience as a concert promoter and tour manager. Those skills won't be needed in his new job, though … since the members of Metallica just need him to make Blackened, which is "sonically enhanced" using specially designed speakers and a variety of Metallica playlists as part of the blending process.
"When we needed to begin searching for our next master distiller, it was a priority to find someone who could honor and continue the magic that Dave started. Rob shares a great respect for craftsmanship that Dave had and that we have for Blackened and our music," the band's members said. 
No successor has been named at Stranahan's, where the brand's web site still lists Dietrich as master distiller. WhiskyCast has requested an interview with Dietrich, and this story will be updated with additional information.
Links: Blackened American Whiskey | Stranahan's
---
April 9, 2019 – It's not uncommon for whisky makers to team up with actors and filmmakers on a project. The not uncommon result, though, is usually a very expensive commercial for the whisky.
Fortunately, that is not the case with "Four," a short film directed by Jennifer Sheridan and produced by Platform Presents with funding from Dewar's. The film was co-written by John Hopkins and Tuppence Middleton, who also stars along with Iwan Rheon, Jack Farthing, Juliet Stevenson, and Nicholas Pinnock in a throwback to the classic "noir" mystery films of the past.
Set in London's Savoy Hotel, the film focuses on a mysterious brooch that brings together a young couple, a mysterious man, a dowager living at the Savoy, and the hotel manager trying to collect on the dowager's long-overdue bill. Needless to say, the manager is the only one who isn't hiding a secret – for most of the film. (No spoilers here.) "Four" is available to view online, and will be screened at a number of film festivals in the coming months.
"We literally got one thing for our brief, which was the number four, and then we were set free with it. We could run wild and really create whatever we wanted, which is quite a rare thing that you're given that opportunity and you can completely invent something," Middleton said in an interview at the premiere of "Four" last Thursday night in New York City. She currently stars in the Netflix series "Sense8," and this was her first screenwriting project.
"You read scripts every week, and so I had gotten very used to reading something and knowing if I liked it or not and what worked and what didn't, but hadn't quite gotten around to the point where I'd finished something in its entirety and then given it to someone and said 'what do you think' or 'would you like to make this?" So, when Bella (Isabella Macpherson), our producer, came to me and said 'do you fancy giving it a go," it was like, yes I do and what's the worst that could happen," Middleton said with a laugh.
There is a connection to the Dewar's brand history hidden within the film, as well as a bottle of the 21-year-old Dewar's Double Double whisky shown in the dowager's room at the Savoy. The legendary Tommy Dewar, one of the sons of Dewar's founder John Dewar and well-known for his global travels to promote the brand a century ago, made his home in London at the Savoy Hotel for many years before his death in 1930. Because of that history, the hotel's current owners were eager to host the cast and crew for several days of filming.
"With consumers thirsty for deeper storytelling, our short film "Four," a first for Dewar's, not only demonstrates the brand's timelessness within the whisky category, but cleverly captures its more premium side," Dewar's Global Brand Director Zeenah Vilcassim said. 
Dewar's used the film's premiere to help launch its new "Double Double" range of blended Scotch whiskies. The "four" reference came from the four-stage aging process Dewar's Master Blender Stephanie MacLeod used to create the three unique whiskies in the series after researching the company's archive for inspiration.
"A.J. Cameron, our first Master Blender, blended the malts by their regions, put them back into oak casks and let them set for a while, then blended them with the grain whiskies," MacLeod said in an interview. She tweaked the process by blending her component malt whiskies and grain whiskies separately, and then letting the two blends marry for a month before bringing them together. After that combination married for a month, each of the three whiskies went into a different type of Sherry cask for a final period of maturation. The 21-year-old version went into Oloroso casks, while the 27-year-old was filled into Palo Cortado casks and the 32-year-old used Pedro Ximenez casks.
While Middleton's next film project will be the film adaptation of "Downton Abbey," she also has another project in mind – one that involves her growing love of whisky.
"I'll take a blending lesson," she laughed. "We learned when we were talking to Dewar's about Stephanie, and we thought it was pretty cool that it was a woman in that amazing job, and I'd love to learn more about the process."
Links: Dewar's
---
April 2, 2019 – Let's admit something from the start. Not once in the first seven seasons of Game of Thrones have we ever seen someone drinking whisky. Wine, beer, mead…yes, but never a whisky. Perhaps if the Khaleesi had used her dragons to heat up a couple of stills, she might have taken back the Seven Kingdoms years ago. Had the Lannisters paid their debts with whisky instead of gold, they might well have never put the Iron Throne in jeopardy. And of course, nowhere do we see a "Maester Distiller."
Enough of the "what ifs," though. Diageo's partnership with HBO on the Game of Thrones Single Malt Scotch Whisky Collection isn't ground-breaking on its own, but the fact that the range includes single malts from eight different distilleries is. It would have been simpler to design a tie-in package for a couple of existing whiskies and rake in the money, but going to the time and effort to create a range of limited-edition single malts and keep them reasonably priced deserves credit.
If you're an avid Game of Thrones fan, you've probably already thought of this question. Eight whiskies? There are Seven Kingdoms. Ahhh, but you're not giving the men of Castle Black their due, and that's where we'll start tasting these whiskies created to celebrate the final season of Game of Thrones.
The Night's Watch Oban Bay Reserve (43% ABV, RRP $62.99 USD)
The "origin story" for this whisky is based on Oban's location along the western shores of Scotland at the base of a cliff that overlooks Oban Bay, much like Castle Black sits at the base of The Wall. The whisky itself carries no age statement, but the nose has subtle hints of black cherries, orange marmalade, oak, and a touch of honey in the background. The taste has notes of toasted caramel, hot fudge, a subtle touch of charred oak, and hints of dried fruits. The finish is long and warm with lingering spices, charred oak, and toasted caramel. Score: 93 points.
House Baratheon Royal Lochnagar 12 Year Old (40% ABV, RRP $64.99 USD)
Royal Lochnagar gets its name from Britain's royal family, and is located near Queen Elizabeth's Balmoral Estate in the Scottish Highlands. The distillery's single malts have always been highly regarded, but not as widely available as many whisky lovers would like, and the inclusion of Royal Lochnagar in this range is welcome. The nose has the aroma of a vanilla latté, along with raspberries, peaches, and a hint of oak sawdust. The taste is tart with notes of citrus fruits, crystallized ginger, and vanilla custard. The finish is very long with a citrusy tartness and touches of ginger and oak. Overall, a very juicy and mouthwatering dram. Score: 93 points. 
House Stark Dalwhinnie Winter's Frost (43% ABV, RRP $39.99 USD)
Of course, the Starks ruled at Winterfell, and as one of the highest distilleries in Scotland, Dalwhinnie has taken advantage of its stark weather changes to add character to its single malts. Here, the nose has notes of honey, figs, peaches, and a hint of vanilla. The taste is crisp and tart with a good balance of dried tree and citrus fruits spices, and a nice maltiness. The finish is long and tart with hints of citrus. Score: 92 points. 
House Tyrell Clynelish Reserve (51.2% ABV, RRP $59.99 USD)
The Tyrells ruled over some of the most fertile, lush farmland in Westeros (or so the story goes), and Clynelish is located in the rolling hills of the Highlands near the sea. The nose is vibrant and fruity with tropical fruits, lemon custard, vanilla pods, and subtle spices. The taste has a good balance of fruitiness and spiciness with touches of mango, pineapple, and vanilla along with peppery baking spices. The finish has lingering fruity notes, a hint of dried flowers, and a touch of sea air that give this whisky a great complexity. Score: 93 points.
House Targaryen Cardhu Gold Reserve (40% ABV, RRP $39.99 USD)
This is one of the few whiskies that's based on an existing expression in the Diageo portfolio, though the regular Cardhu Gold Reserve is not available in all markets. The nose has notes of red apples, baking spices, and hints of caramel candy and honey. The taste starts off creamy at first, followed by a burst of clove and a fruity tartness underneath with caramel apples and honey. The finish is long with a lingering tartness and a touch of clove. Score: 93 points
House Tully Singleton of Glendullan Select (40% ABV, RRP $29.99 USD)
This whisky has notes of orange marmalade, soft spices, and a hint of honey. The taste has hints of clove, raspberry jam, vanilla cream, and a nice malty touch of barley sugar. The finish is long and malty with lingering touches of clove, berries, and barley sugar. Score: 91 points.
House Greyjoy Talisker Select Reserve (45.8% ABV, RRP $44.99 USD)
The Greyjoy clan ruled the Iron Islands, and this whisky comes from Scotland's Isle of Mull. The nose is dark and smoky with a nice oakiness,  dark chocolate, campfire smoke, and the aroma of barbecued beef. The taste is spicy with chili powder, white pepper, and a hint of campfire smoke balanced by grilled fruits, toasted caramel, and a hint of honey. The finish is long, complex, and smoky with hints of pipe tobacco and old leather. Excellent! Score: 94 points.
House Lannister Lagavulin 9 Year Old (46% ABV, RRP $64.99 USD)
If you owe someone, this would be a good way to repay the debt, since "a Lannister always pays his debts." The nose is smoky with barbecue sauce and hints of heather, honey, and brine, along with a touch of dried fruits in the background. The taste is thick, smoky, and peppery with tangy barbecue sauce and tropical fruits that add a nice counterbalance along with hints of honey and toasted vanilla. The finish is long and fades away gently with touches of smoke and spices. Excellent! Score: 94 points.
In addition to the eight whiskies that make up this collection, Diageo also released the special White Walker edition of Johnnie Walker to go along with the final season of Game of Thrones.
As of this writing, we do not know who will wind up sitting on the Iron Throne when the final episode of Game of Thrones airs later this spring. With all of the plot twists between now and then, one may well need a good, stiff drink to help keep things in perspective. One of these whiskies – depending on which House or stillhouse you favor – might just help clear away the confusion.
Editor's note: Samples of the whiskies were provided by Diageo, which is also a sponsor of WhiskyCast. However, in keeping with our ethical guidelines, all control over the editorial content of this story and our tasting notes remains with WhiskyCast. 
Links: Classic Malts
---
March 28, 2019 – "What have you done!"
My mouth was puckering, trembling, and shivering all at the same time as a briny, fishy taste with just the barest hints of whisky took control of my palate – and my entire nervous system. My stomach clenched, along with the rest of my body. A few feet away, the distillery manager that presented us with this blind sample at the end of a tasting had a big grin on his face.
"What the hell is this stuff?"
This is the story of that whisky, and how I came to taste it in a prank worthy of an April Fool's joke.
Klaus Pinkernell never set out to bottle one of the world's worst whiskies in 2006, but he did want to send a message.
"At that time, it was the beginning of the movement that everyone wanted to do some sort of finishing, and everyone wanted to be the first to do something more strange," says the owner of two whisky shops bearing his name in Austria and Germany. "I said, OK folks, you call all these things serious even though they are stupid, and I decided to do something even more stupid."
At this point, we need to backtrack to the early 1990's.
At the time, Pinkernell was visiting Islay and trying to buy casks of whisky for his private collection. He succeeded in persuading Invergordon Distillers, which owned Bruichladdich Distillery at the time, to sell him some casks that were maturing at the distillery, one of which had recently been filled with new make spirit. Invergordon closed Bruichladdich in 1994, but kept a skeleton crew on hand to oversee the maturation warehouses on site with Pinkernell's casks and the rest of the distillery's inventory.
When Mark Reynier and his partners bought the distillery and reopened it in 2001, Pinkernell reached out to Islay legend Jim McEwan, who had come on board as Bruichladdich's production director. After checking Pinkernell's casks, McEwan declared the barrels as less than optimal and offered to re-cask the whisky into better-quality ex-Sherry casks. With the help of a couple of Norwegian whisky lovers Pinkernell ran into at the Bowmore Hotel, he and his friends transferred the whisky from cask to cask using an old hand pump.
"It was quite hard work, but we didn't have to do it because the Norwegians quite enjoyed it," Pinkernell said with a laugh.
By this time, Pinkernell had opened his whisky shops in Salzburg and Berlin under the Cadenhead's banner, and had moved the casks from Islay to the warehouses at Springbank Distillery in Campbeltown. With the fifth anniversary of his stores coming up, he wanted to do something memorable – while sending that message at the same time.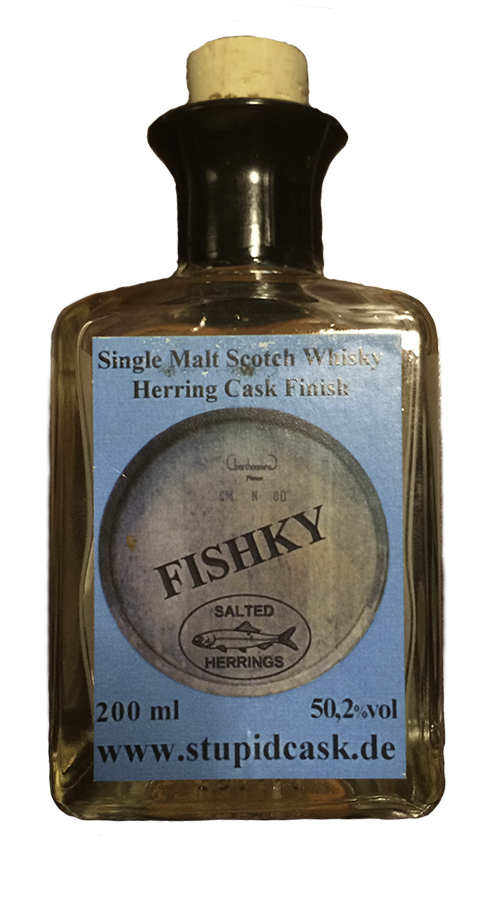 "I invented my private label called Stupid Cask and wanted to do a herring cask finish."
That's right…a herring cask finish. While others were trying to find rare wine, rum, and other types of casks to finish their whiskies in, Pinkernell wanted to return to a part of Scotch Whisky history where whiskies were kept in any kind of barrel that could hold liquid…including the briny sea water used to keep herring fresh from port to market.
Trouble is, those days were long past, and herring is transported in large plastic totes instead of barrels, and Pinkernell's attempts to source a herring cask were unsuccessful.
"I found a fish trader just outside Berlin who was willing to help out, but obviously, he had the fish but no cask." A cooperage near Berlin just happened to have a freshly-emptied red wine cask, the fish trader filled it with herring fillets, and Pinkernell arranged to get that cask of 14-year-old Bruichladdich moved from Campbeltown to Germany. At the time, it was still legal to export whole casks of single malt whisky from Scotland.  The practice has since been banned, though Pinkernell's diabolical project had nothing to do with it.
After six months of "seasoning," the herring and red wine cask was ready to be filled with whisky. At this point, Pinkernell hesitated briefly.
"What if the whole thing works out horribly wrong?"
At this point, asking that question and answering it with the likely reality of ruining an entire cask of vintage single malt whisky worth thousands of dollars might have dissuaded most people from plowing ahead. Klaus Pinkernell is not most people. He decided to only use half of the Bruichladdich cask and keep the rest of the whisky in its original cask.
Six months later, he hand-bottled both casks for the fifth anniversary of the shops. The whisky from the Bruichladdich cask carried a standard Cadenhead's label, while the whisky from the herring cask bore a label that will live infamously in whisky history.
Fishky.
"I think the thing was quite funny," Pinkernell said years later. "The idea was to show funny things can be done, and the even better thing is that you could even sample the whisky before the finish and including the finish from the same cask, so you can really see what a finish can do within a couple of months."
As one might expect, there was a great deal of hyperventilating and clutching of pearls among the whisky purists of that time, and Pinkernell eventually decided to pull his remaining bottles of Fishky off the market. As the legend of Fishky circulated on the Internet, he kept getting inquires about whether any bottles might still be available. Since Fishky was bottled in 200ml bottles, he still had – and has – some for sale through what's now known as Pinkernell's Whisky Market.
Fast forward to October of 2014. I was visiting the Inver House distilleries in Scotland with a small group of writers when we did an online Twitter tasting in the conference room at Balblair Distillery in Edderton. Distillery manager John MacDonald had just led us through the Balblair single malt range and we'd all put our smartphones and tablets down when he said something I'll never forget.
"I've got something else I want you to taste…"
He brought out a tray of Glencairn glasses, and we started nosing them. Briny aroma, but something not out of place in a whisky matured near the ocean. The nose was keeping a secret, though…a secret that became instantly apparent as soon as I took a sip. These are my tasting notes from that night, leading to a score of 40 out of a possible 100 points.
The nose hides the secrets of this whisky well, with notes of malt, brine, and heather. The taste reveals all, though, with sour butyric baby vomit, brine, and stomach acid. The finish is salty, greasy, and nasty with no redeeming qualities.
"You impressed me very much that day, Mark," John MacDonald said this week in a telephone interview. "You were one of the few people that reacted as I reacted when I tasted it…as you know, there's a few other people sitting at that table who will remain nameless that were saying this, that, waxing lyrical about it," he said."I'll never forget it, Mark…I'm sorry. It was a bit cruel, but it was for my amusement," he laughed.
MacDonald doesn't remember where that bottle of Fishky came from. Klaus Pinkernell knows exactly how it got to Balblair.
"I do remember that I was at Balblair Distillery and I left these bottles there, so the bottle that you had was one that I actually brought to Balblair myself," he said.
Thanks, Klaus.
Technically, Fishky's 40-point score is tied for the lowest score I've ever given to a whisky. For April Fool's Day in 2016, Westland Distillery released Inferno, a single malt matured for more than 4 years in a barrel previously used for maturing a well-known and heavily trademarked brand of Louisiana hot pepper sauce. Equally nasty in its own right, but released with a sense of humor – so much so that when I scored it a 40, Westland's Steve Hawley told me in an email that "we would have been offended with a higher score."
There's an argument for tasting bad whiskies, since they help you appreciate the good ones all the more. One sip of Fishky is enough to lock in that appreciation for a lifetime, though.
Links: Pinkernell's Whisky Market | Balblair
---
March 5, 2019 – Two people suffered minor injuries today in the second accident in less than a year at Sazerac's Barton 1792 Distillery in Bardstown, Kentucky. According to Nelson County emergency management officials, a "beer well" storage tank holding an estimated 60,000 gallons of fermented mash failed, while a second tank was punctured and a pipe connected to a third tank failed. The tanks hold "distiller's beer" after it is removed from fermentation tanks and before it is fed into the stills.
The spill overflowed a holding basin surrounding the tanks, and aerial video from Louisville television station WDRB show the slurry as it flowed into an adjacent parking lot and toward a nearby stream.
SKYCAM: An apparent tank failure left sour mash spilled across Barton 1792 Distillery grounds today. @WDRBNews pic.twitter.com/NrdQzdNMaG

— Hobie Crase (@HobieWDRB) March 5, 2019
Distillery workers were able to erect containment berms to keep the flow of liquid from reaching the stream, in a repeat of last summer's emergency attempts to keep whiskey from a collapsed Barton 1792 warehouse out of that stream. In that case, alcohol from an estimated 9,000 barrels flowed into the stream following the collapse of part of the warehouse on June 22, and was responsible for a large-scale fish kill, according to state environmental regulators. The remainder of the warehouse collapsed on July 4 with an additional 9,000 barrels inside, but the whiskey from those barrels was contained by berms erected after the initial collapse. No cause has ever been publicly disclosed for the collapse of the warehouse.
Two workers were taken to Flaget Memorial Hospital by ambulance after today's accident, and were released after being treated. Sazerac executives said in a statement that the company is still working to secure the site, and no cause has been found for the tank failure.
This story will be updated as additional details become available.
Links: Sazerac
---
February 12, 2019 – There's some good news, and some bad news. That phrase usually makes one's stomach churn, and it wouldn't be a surprise if this morning's Distilled Spirits Council economic briefing in New York had some U.S. spirits industry executives reaching for the antacids at lunchtime. While there were a number of bright spots in the overall report, the impact of retaliatory tariffs on U.S. whiskey exporters had a significant impact in the final half of 2018.
The European Union, Canada, Mexico, and China all imposed punitive tariffs ranging from 10 to 30 percent on Bourbon, Tennessee Whiskey, and other American-made whiskies starting in June following the Trump Administration's decision to slap tariffs on imported steel and aluminum from those trading partners. Turkey went one step further, imposing a 140 percent tariff on all U.S.-made spirits.
The result: while total U.S. spirits exports for the first eleven months of 2018 set a new record of nearly $1.7 billion dollars, the value of whiskey exports during that period actually fell slightly. In the pre-tariff period between January and the end of June, whiskey exports rose by 28 percent over the previous year to nearly $600 million. However, once the tariffs took effect, exports between July and November fell 8.2 percent from 2017 according to data from the U.S. International Trade Commission.
"We're facing the most challenging period for our exporters than probably we ever have, which has increased the amount of uncertainty for our exporters," Christine LoCascio of the Distilled Spirits Council told reporters and analysts at the briefing, while noting that the spirits industry has been caught up in a trade dispute it had no role in creating. LoCascio acknowledged that some of the early increase may have been due to exporters shipping more whiskies in anticipation of the tariffs, but said the overall increase for the period was in line with gains from previous years.
"Whiskey is so important for our exporters – it accounted for $1.1 billion worth of export sales in 2017…of that $1.1 billion, 59 percent went to the EU alone. The EU market is extremely important to our exporters, so hence the 25 percent tariff in that market on whiskey is particularly harmful," LoCascio said. EU-bound whiskey exports grew by 17 percent between 2016 and 2017, and grew by 33 percent during the first half of 2018. However, the impact of the European tariff led to an 8.7 percent decline during the July-November period from 2017.
Listen to the Distilled Spirits Council's economic briefing teleconference:
The Council recently received a grant from the Agriculture Department to help fund additional export promotion programs as part of a federal effort to aid agriculture-based industries affected by the trade war. That comes as little comfort to Catoctin Creek Distillery co-founder Scott Harris, who saw export sales at his family's Virginia distillery shrivel almost as soon as the European Union tariff took effect. Harris said their importer stopped returning their calls, let alone placing any orders for new shipments.
"When have lower sales, that affects not just our own bottom line and the families of 20 employees that we have, but also we have four farms that we source from for our rye whiskey, we have a fifth and sixth farm that are cattle farms that we give our spent mash to that offsets their cost for cattle farming. We source all of our materials for bottling in the U.S., so that means the glass coming from Anchor Hocking in western Pennsylvania, the closures coming from South Carolina, so this has an impact that spreads a lot further than just our little home town," Harris said.
The situation is brighter on the domestic side, where the overall spirits industry recorded a ninth consecutive year of gains in market share against beer and wine along with increases in both revenue and volume. Supplier revenues grew by 5.1 percent over 2017 to $27.5 billion, according to the Council's data. Volume grew by 2.2 percent to the equivalent of 231 million nine-liter cases.
The American whiskey category recorded another strong year in 2018, with gains across all price categories and a 6.6 percent increase in revenue. Bourbon, Tennessee Whiskey, and Rye all recorded sales increases, while sales of corn and so-called "white whiskey" declined. The U.S. remains one of the largest single markets for Scotch Whisky exports, and sales of both blended and single malt Scotch whiskies grew during 2018.
Irish Whiskey also depends on the U.S. for a significant percentage of its overall growth, and the category grew by 10.2 in volume and 12 percent in sales – which reached $1 billion for the first time on growth in high-end sales. Canadian whisky sales were flat during the year. with a 0.3 percent increase in annual revenue of $2 billion and a decline of 1.1 percent in volume.
Links: Distilled Spirits Council | Catoctin Creek Distilling
---
February 12, 2019 – Scotch Whisky exports set new records during 2018, according to statistics released today by HM Revenue & Customs. The export value of all Scotch Whisky exports during the year reached £4.7 billion GBP ($6.057 billion USD), a 7.8 percent gain from the previous record set in 2017. In addition, the volume of exports also set a new record with the equivalent of 1.28 billion 70cl bottles, up 3.6 percent from 2017 and breaking the previous high of 1.26 bottles set in 2011.
"If you take market by market, there's some important growth as well," said Graeme Littlejohn of the Scotch Whisky Association. The United States continued to be the most important single export market for the Scotch Whisky industry, and became the first-ever "billion pound" export market in 2018 with a 12.8 percent increase in export value to £1.04 billion GBP ($1.8 billion USD). The U.S. also remains the second-largest market by volume at 127.5 million bottles (70cl equivalent) behind France, which continues to lead the world at 178.4 million bottles. The difference is generally attributed to more "value-priced" bottles being exported to the French market, while the need to bottle whiskies in 75cl bottles for the U.S. market makes it more economically practical to export higher-priced whiskies to America.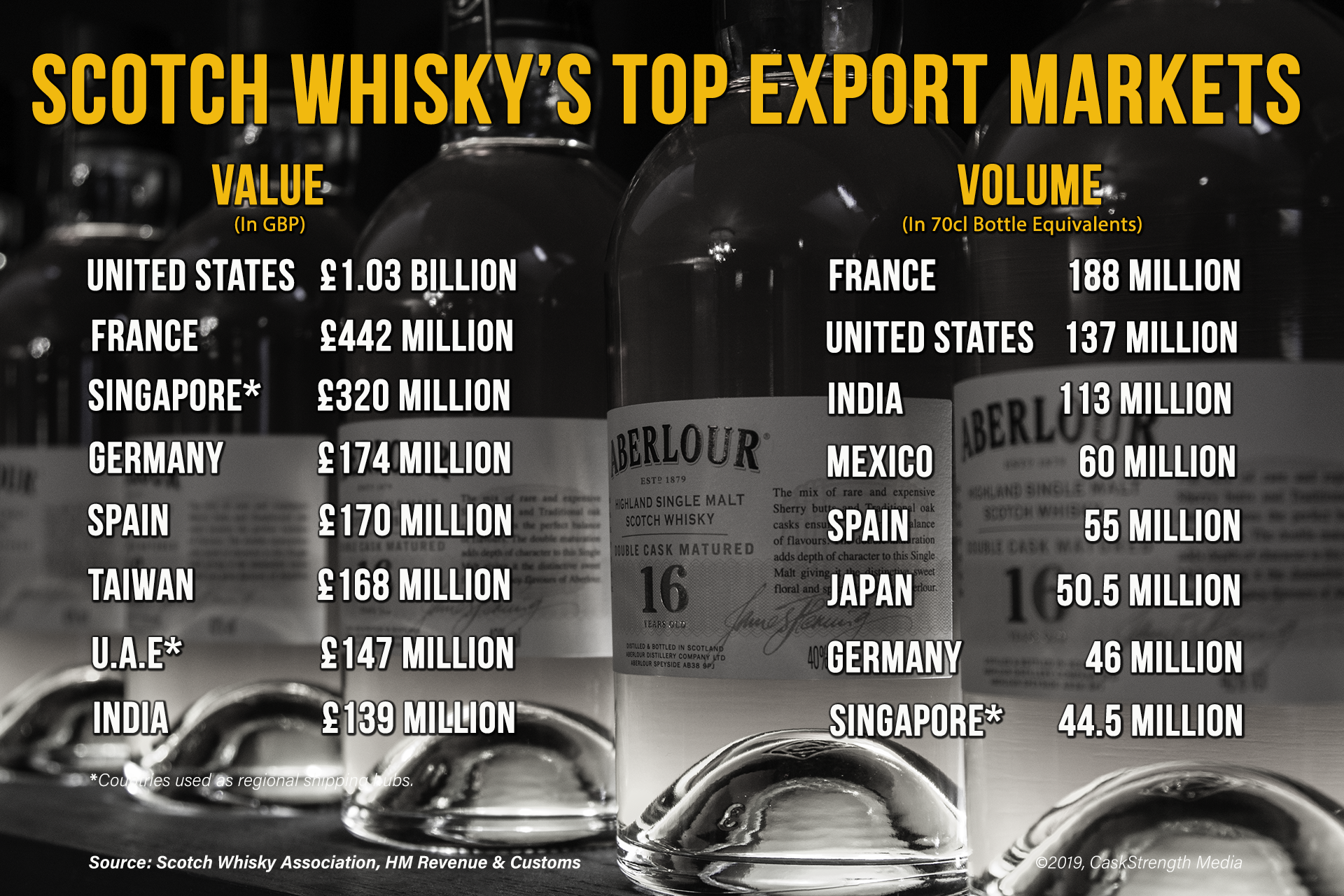 "The underlying strength of the Scotch Whisky industry is at the heart of this," Littlejohn said in a telephone interview following the annual release from HMRC. "There's a growing trend for premiumisation across spirits – that's not just involving Scotch Whisky, of course, it's across all spirit categories, but there's demand for Scotch Whisky growing in some developing markets across the world," he said.
Among those markets, India was a surprise with significant gains in both volume and value. Littlejohn noted the gains came despite India's 150 percent import tariff India charges on imported whiskies, but said the trade association's economists will need some time to analyze the government data before coming to specific conclusions on the gains in India and other countries.
On a regional basis, the European Union remains the largest market for Scotch Whisky exports. With Great Britain still scheduled to depart the EU on March 29 and no final agreement on their future relationship in place, the SWA is calling on UK officials and their counterparts in Brussels to agree on an "open and positive" future relationship with "frictionless" trade.
"The EU is still our biggest regional market with 30 percent of Scotch Whisky by value going to EU countries, 36 percent by volume with France being the number one market in the world by volume again…it's important that we get some clarity around Brexit so that we can continue to improve on some very strong numbers in exports last year," Littlejohn said.
Scottish Rural Economy Secretary Fergus Ewing praised the 2018 results while calling for support to protect the whisky industry as the Brexit date approaches.
"It's an industry that, despite having been established for centuries, has still gone from strength to strength in recent years, thanks in part to the determination from the Scottish Government and the industry to work together, in order to create a national brand with a global reputation. Thanks to that success abroad, Whisky is a major employer in Scotland. Of course Brexit continues to threaten that progress, particularly in relation to the European market which accounts for 30% of our exports. But we are doing what we can to support the sector against growing uncertainty, and ensure it remains one of the biggest contributors to Scotland's economy," he said in a statement.
Links: HM Revenue & Customs | Scotch Whisky Association
---
February 8, 2019 – There's a feud brewing in Kentucky, and it could make the legendary feud between the Hatfields and McCoys look tame. That feud in the years following the Civil War started with a forbidden romance, but this one is all about money – and whiskey.
Wednesday, when the Kentucky Distillers Association released its biennial study of the Bourbon industry's economic impact on Kentucky, University of Louisville economists cited the multiplier effect of jobs indirectly linked to the industry such as coopers, truck drivers, and even marketing executives in claiming the industry is responsible for 20,100 jobs.
However, that estimate did not include retail employment at the state's liquor stores. Not all Kentucky liquor retailers have benefitted from the state's boom in Bourbon-related tourism, which drew an estimated 1.4 million visitors to Kentucky distilleries in 2018 according to the KDA. While no specific statistics are available, anecdotal evidence suggests retailers in Louisville, Lexington, Bardstown, and other areas located near distilleries do benefit from tourist traffic along the Kentucky Bourbon Trail.
As Bourbon-related tourism has grown in recent years, there has been an uneasy truce between the retailers and the distillers. As recently as a few years ago, it was common for distillery shops to price their whiskies slightly higher than local retailers were charging, while emphasizing that they were not trying to take business away from small businesses in the community. In addition, distillers are only allowed to sell a visitor 4.5 liters of whiskey – the equivalent of six 750ml bottles – each day, while retailers have no limit.
That truce may be in its final days, though. The KDA is supporting House Bill 200 in this year's session of Kentucky's General Assembly, and the bill would remove one long-standing restriction that ensured parity between the distillery shops and retailers. Kentucky law requires that so-called "souvenir" bottles sold at distillery shops be made available to any licensed retailer in the state, making it impossible for distilleries to offer the "fill your own bottle from a cask" exclusive whiskies common at distilleries in Scotland and Ireland.
According to KDA President Eric Gregory, the legislation would create parity between distillers and Kentucky's brewers and wineries, both of which can offer exclusive products in their shops. "It also keeps Kentucky competitive with other states, and distillers around the world, who have enjoyed this privilege for years," he said in an email to WhiskyCast. "Visitors expect that they can buy something at one of our innovative and immersive visitor centers that they can't get anywhere else, and they're disappointed when they find that's not the case," he said.
However, that puts the distillers into direct conflict with the liquor retailers, who are already marshaling their forces to fight the bill. Karen Lentz is the executive director of the Kentucky Association of Beverage Retailers, and told WhiskyCast that her members already have problems getting access to the limited-edition releases now available at a number of the Commonwealth's distilleries.
"We have lots of retailers who don't get a single bottle of some premium products even though those products are sold at the distillery shop. Sometimes it's just not practical for anyone who wants it to get it," " she said in an email while also providing a statement on the association's behalf arguing the impact on consumers.
"House Bill 200 would allow any distillery, for any reason, to withhold from distribution to Kentucky retailers any product they chose and sell it exclusively at their distillery.  There would be no competition to keep prices reasonable because they would be the only place in the Commonwealth where the product would be available for purchase.  We certainly want to support our Kentucky distilleries and applaud their success with the Bourbon Trail.  However, we do not believe that it is in the best interest of our customers to force them to travel to the distillery location just to purchase a product that today they could get at their local package retailer.  Premium bourbon is in such high demand and this bill would allow a distillery to restrict access to their most coveted bourbons, like Old Forester Birthday, Woodford Double Oak, or Pappy Van Winkle, by making it only available to Kentuckians from their distillery.  If you live in Paducah or Pikeville and have the good fortune to purchase some of these high-demand bourbons at your neighborhood package retailer, this bill could force you to drive 4 or 5 hours to the distillery and hope you are lucky enough to purchase a bottle.  We believe this is not in the best interest of Kentucky bourbon consumers to allow a distillery to withhold from retail shelves some of the world's best bourbons and force bourbon lovers to drive to the distillery.  We do not believe that all distilleries will use this opportunity to drive customers to their own stores, but House Bill 200 in its current form would certainly allow that to happen. We plan to discuss our concerns with the bill sponsor."
One example can be found at the Jim Beam American Stillhouse visitors center on the Jim Beam Distillery campus in Clermont. The shop sells souvenir bottles of Old Tub Bourbon as a nod to the Beam family's heritage dating back to the pre-Prohibition era when the Beams sold it to people by the jug at their distillery. Old Tub doesn't play any part in the current Jim Beam portfolio, but the Kentucky law requires Beam Suntory's wholesaler to make the 375ml bottles of Old Tub available to retailers who want to carry it.
Kevin Smith represents Beam Suntory on the KDA board, and argues that a growing number of Kentucky retailers already get an advantage over the distillery shops – with the help of the distillers themselves. "They come in and do these (single) barrel selections, and all we're trying to do is extend this out a little bit to see how we can have an exclusive program that helps to build tourism at the distilleries just like wine and beer," he said in a telephone interview. Smith also suggested that a possible compromise would be to create "exclusive" bottlings for sale only at Kentucky retailers. "Exclusive can also mean sometimes that there's exclusives for retailers, I don't know…but it could be a win all the way around if it's done right," Smith said.
The KDA represents most of the Commonwealth's distilleries, with the notable exception of Sazerac-owned Buffalo Trace and 1792 Barton. While not taking a direct position on House Bill 200, Sazerac CEO Mark Brown told WhiskyCast in an email that his company's distilleries would not take advantage of any change in the current law.
"We do not have an interest in creating "distillery exclusive" products for many reasons but in particular we believe it would disadvantage our customers that are not within reach of the distillery nor do we want to disadvantage our retail partners' product selection," Brown said. "Although there are many current obstacles in the market which we are working to overcome, we continue to believe and work hard to ensure that our brands are distributed across the country as fairly as possible at fair prices."
It should be noted that Sazerac employs Frankfort-based Commonwealth Alliances as a political consultant and lobbyist at the state level. Commonwealth Alliances also lists the Kentucky Association of Beverage Retailers as a client, and Karen Lentz is a partner at the firm.
No committee hearing has been scheduled for the bill, which was introduced by House Licensing, Occupations, and Administrative Regulations Committee vice chair Rep. Matthew Koch (R-Paris). This year's General Assembly session is limited to 30 business days, with action on pending legislation scheduled to be completed by March 7.
Links: Kentucky Distillers Association | Beam Suntory | Sazerac | Commonwealth Alliances
---