Each week, we bring you the latest whisky news on WhiskyCast, but a lot can happen during the week. Now, you can keep up with whisky news as it happens here on WhiskyCast.com!
The Balvenie is adding a new 12-year-old Single Barrel expression to its core range of Single Malts.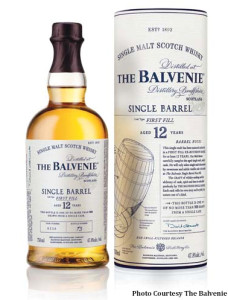 The new expression joins the longtime 15-year-old Single Barrel in The Balvenie's lineup, but will have a different flavor profile from the older whisky. Malt Master David Stewart selects the casks for bottling in both expressions, but  chooses casks with sweetness and subtle vanilla notes for the 12-year-old. Each cask is slightly different, and no more than 300 bottles will come from each individual cask.
The Balvenie Single Barrel, Aged 12 Years is bottled at 47.8% ABV with no chill-filtering, and will be available at a recommended price of $69.99 USD.
---
That Boutique-y Whisky Company is releasing 5 new Single Malt Scotch whiskies and their first Blended Malt exclusively through Master of Malt.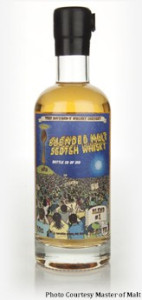 The lineup includes whiskies from Auchentoshan, Deanston, Braes O'Glenlivet (Braeval), Bunnahabhain, Clynelish, and "Blended Malt Number One-Batch 1". It's the first Blended Malt release for the label, and is one spoonful of whisky away from being a single malt. Almost all of the whisky in the cask came from one distillery, but before it was made available to a broker, a spoonful of malt whisky from another distillery was added. That makes it officially a Blended Malt Scotch Whisky and keeps the original distillery's name from being used on the final bottling.
---
The Balvenie has announced plans for Malt Master David Stewart's latest Tun 1401 release. Batch #7 will be available in global travel retail starting in March, and is bottled at 49.2% ABV.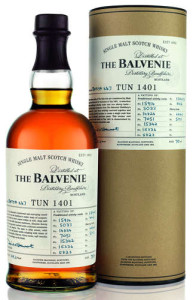 Tun 1401 is the special vatting tun at The Balvenie where David Stewart combines rare casks for each release. Batch #7 is a vatting of nine American oak Bourbon casks and two European oak ex-sherry casks. It follows Batch #6, which was released in North America last October. Look for Batch #8 to be released in the UK and European markets later this year, if the customary rotation for Tun 1401 releases continues.
I'll have tasting notes here on the WhiskyCast web site as soon as I can arrange for a sample.
---
According to The Whisky Advocate's John Hansell, Diageo plans to reopen the mothballed Stitzel-Weller Distillery on Louisville's west side.  Diageo has not confirmed the report.
Stitzel-Weller was opened by the Van Winkle family in the suburb of Shively in 1933, and owned it until 1972. It closed in 1992, when the company now known as Diageo moved production to the Bernheim Distillery in Louisville. Diageo has used the Stitzel-Weller warehouses for whiskey maturation since then, but concerns over asbestos contamination in the distillery have been the primary reason for not reopening the distillery.
There has been increased activity at the distillery, where the main office building has been turned into a showcase for Bulleit Bourbon. As we heard in November of 2011 from Tom Bulleit during WhiskyCast Episode 345, the "Bulleit Bourbon Experience" is being used for trade education, with plans to open it to the public eventually.
More details as they become available…
---
Beam has agreed to sell several of its minor Canadian whisky and vodka brands to St. Louis-based Luxco, for $65 million.  Beam intends to focus on its premium spirits brands and several brands recently acquired since the breakup of Fortune Brands into three separate companies a year ago.
The deal includes the Lord Calvert and Canada House Canadian whisky brands, along with the Bellows blended whiskey and Bourbon lines. The Calvert and Bellows names are also used on gin, vodka, and other spirits.  Beam will continue to produce and bottle the brands through the end of 2012.
Luxco's brands include Rebel Yell Bourbon Whiskey.
---