Each week, we bring you the latest whisky news on WhiskyCast, but a lot can happen during the week. Now, you can keep up with whisky news as it happens here on WhiskyCast.com!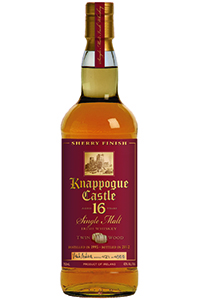 March 11, 2013 – Just weeks after releasing a 14-year-old version of its Knappogue Castle Twin Wood Irish Whiskey, Castle Brands is coming out with a 16-year-old version. Just as the earlier release was finished in sherry casks, the 16-year-old version spent 21 months in sherry casks after 14 years and three months in ex-Bourbon barrels.
4,500 signed and numbered bottles of the 16-year-old Twin Wood are available at 40% ABV. The bottles are signed by Castle Brands chairman Mark Andrews III.
---
While Buffalo Trace is not commenting on reports that a so-called "Baby Stagg" version of its George T. Stagg Bourbon is in development, public records available from the U.S. Treasury Department's Tax & Trade Bureau web site indicate that a lower-proof version of Stagg is close to being released.  These images are taken from Buffalo Trace's application for label approval filed with the TTB on December 12, 2012 and approved on January 18, 2013.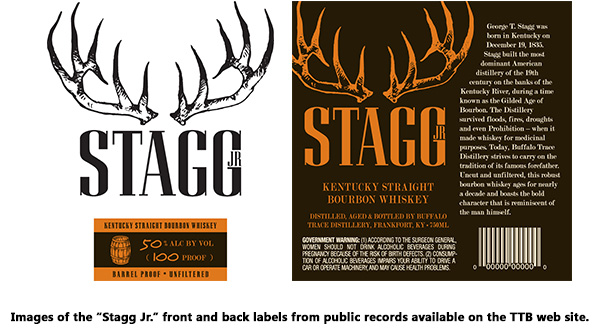 George T. Stagg is one of the whiskies in the Buffalo Trace Antique Collection series released each autumn, and is one of the highest-proof Bourbons available with ABV strengths as high as 71% in some years. It is named for the original founder of what is now known as the Buffalo Trace Distillery in Frankfort, Kentucky.
The demand for Stagg and other whiskies in the Antique Collection would indicate a demand for a Bourbon with the same intense flavor characteristics as Stagg, but in a lower proof that would allow it to be more widely available. In Episode 415 of WhiskyCast (March 10, 2013), Buffalo Trace Master Distiller Harlen Wheatley acknowledged the information available on the Internet. "We are working on new brands, and uh, that's a great idea, a Baby Stagg, and it's exciting, but that's about all I can tell you…it's stuff we're working on."
It should be noted that while label approval from the TTB is required before a whisky or other distilled spirit can be released for sale, applying for and receiving label approval does not automatically mean that that spirit will be produced.
Links: Buffalo Trace | Tax & Trade Bureau
---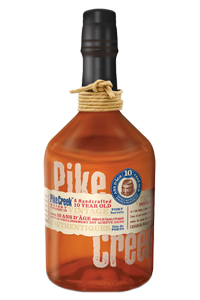 One of the new whiskies in the 2012 Canadian Whisky Awards was Pike Creek from Corby's (Pernod Ricard), distilled at the Hiram Walker Distillery in Windsor, Ontario under the supervision of Corby's Master Blender Dr. Don Livermore. As Davin de Kergommeaux says on his Canadian Whisky blog, Pike Creek resurrects one of the brands from Corby's Canadian Whisky Guild series originally introduced in the 1990's. Now, Pernod Ricard USA plans to import Pike Creek into 10 U.S. states beginning in April.
Pike Creek is distilled in small copper column stills, then matured for 10 years in ex-Bourbon Casks before a short finishing period in Port Wine casks. The whisky won a Bronze medal in the Canadian Whisky Awards (disclosure: Mark Gillespie was one of the judges in the competition's blind tasting). It's bottled at 40% ABV, and look for Mark's tasting notes soon on the WhiskyCast web site.
Links: Pike Creek
---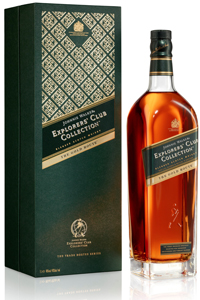 March 7, 2013 – The second edition in the Johnnie Walker Explorers' Club series of travel retail releases is now available worldwide. "The Gold Route" joins "The Spice Road", which was launched in November.
The Gold Route (not to be confused with Gold Label or Gold Label Reserve) was inspired by voyages taken by the Walker family and its agents through Central and South America, with a blend emphasizing tropical fruit flavors in balance with the traditional Johnnie Walker smokiness. It will be available in 1-liter bottles (40% ABV) at a suggested price of $95.
The third and final release in the Explorers' Club Series, "The Royal Route", will be available this summer.
Links: Johnnie Walker
---
Jefferson's Presidential Select, produced by Castle Brands, is releasing a new 21-year-old Bourbon with limited availability starting April 1, 2013. The whiskey comes from an unspecified distillery and casks ranging in age from 21 to 24 years old.
Read more »
---
Heaven Hill is shipping a limited-edition release of its Elijah Craig Bourbon to retailers in the U.S. this month. Elijah Craig Barrel Proof will be at cask-strength and not chill-filtered, and while ABV levels will vary from batch to batch, the initial release will be bottled at 67.1% ABV (134.2 proof), making it one of the strongest Bourbons on the market.
In a news release, Heaven Hill's Susan Wahl said the new Bourbon will hit the right sweet spots for Bourbon lovers, with barrel-proof bottling, 12 years of maturation, no chill-filtering, and very small batches of barrel dumps.
Links: Heaven Hill | Elijah Craig
---
Japanese whisky maker Ichiro Akuto has reached an agreement that American whisky lovers have been waiting for for years. In an email exchange this weekend, he advised that he has agreed to an import agreement with Chicago-based Tenzing Wine & Spirits.
(Update: Tenzing's Ken Frederickson told WhiskyCast in an email that his company will assist with the rollout, but the actual importer of record will be New York City-based Domaine Select Wine & Spirits. )
Akuto's family has made sake in Japan for four centuries, and his family opened the Hanyu Distillery in 1941. The distillery's owners stopped producing at Hanyu in 2000, and dismantled the stills in 2004. Akuto was able to acquire the remaining stocks of Hanyu single malt and the distilling equipment, and opened his own Chichibu distillery in 2008.
In 2011, he released the last expressions from the Hanyu stocks, along with Ichiro's Malt: Chichibu the First One, the initial 3-year-old single malt from his new distillery. Pending U.S. label approval, he advises that that will be the first of his whiskies to be available in the U.S. market.
To hear Ichiro Akuto's interview from the autumn of 2011, listen to WhiskyCast Episode 342. For tasting notes on Ichiro's Malt: Chichibu the First One, please check the Tasting Notes section.
---
San Antonio-based Ranger Creek Brewing & Distilling will release Rimfire Smoked  Texas Whiskey on March 21, with a series of tasting events in San Antonio, Austin, Houston, and Dallas. Rimfire is the second release in Ranger Creek's Small Caliber Series of whiskies.
The single malt whiskey is a lightly-smoked whiskey using mesquite wood supplied by a local cattle farmer in exchange for Ranger Creek's spent grains. Ranger Creek converted a 20-foot-long shipping container into a giant smoker to hand-smoke its barley before mashing. Ranger Creek uses the smoker to make its Mesquite Smoked Porter beer, and uses the same recipe for Rimfire without the hops.
Fewer than 500 cases of Rimfire will be available in various Texas markets. Details on the Rimfire tasting events are available in the Calendar of Events.
---
Jim Beam has entered the "white whiskey" category popular with bartenders by launching "Jacob's Ghost", named in honor of Jacob (Boehm) Beam, the Beam family's founding distiller.
Unlike other white whiskeys, which are primarily "new make" spirit straight off the still with minimal aging in wood, Jacob's Ghost is matured for a year in new charred oak barrels, then filtered to remove the color while leaving the taste of slightly more mature whiskey intact.
Read more »
---
Diageo's George Dickel Tennessee Whiskey has teamed up with the producers of reality shows "Deadliest Catch" and "Ice Road Truckers" for a reality series to be shown on the subscription-based online video service Hulu.com.
"Raising the Bar" will feature six teams of craftsmen from the Kansas City area trying to build unique bars, with the projects ranging from a bar crafted from thousands of metal washers to one using the front end of a vintage car. The goal is to build a bar ready to pour a shot of George Dickel in eight hours or less.
The series is produced by Original Productions, and hosted by Diageo Master of Whiskey Gerry Graham and former Cincinnati Reds pitcher turned radio talk show host Rob Dibble.
Links: Diageo | George Dickel
---