Each week, we bring you the latest whisky news on WhiskyCast, but a lot can happen during the week. Now, you can keep up with whisky news as it happens here on WhiskyCast.com!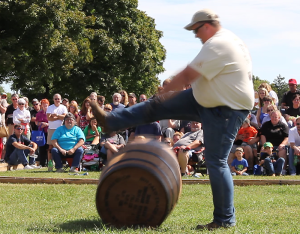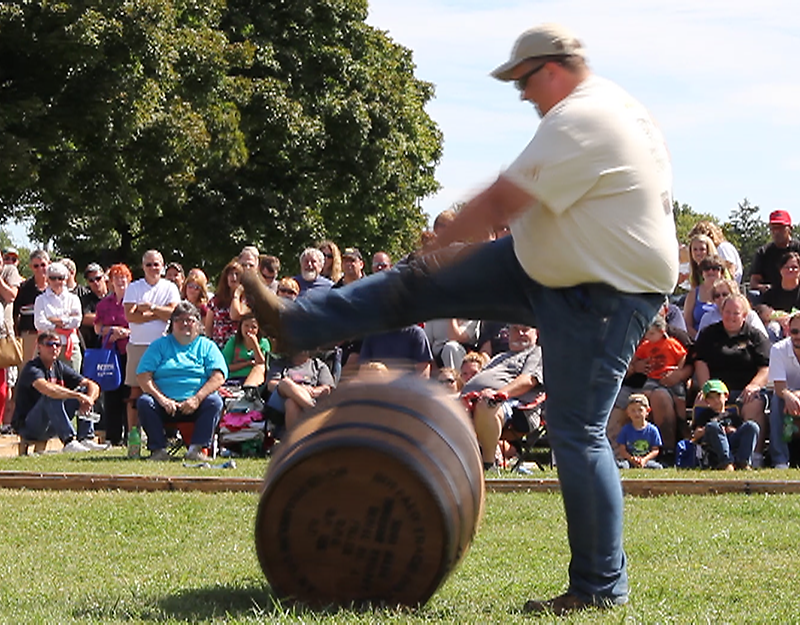 February 10, 2013 – Truman Cox, the master distiller at Sazerac's A. Smith Bowman Distillery in Fredericksburg, Virginia, passed away on Saturday, February 9, after a short illness. Truman had been at the Bowman distillery since 2011, after working as the Lead Chemist at Buffalo Trace in Kentucky since 2004.
In a statement, Sazerac officials said "Truman's passion for our industry was evident to everyone who knew him and he left a notable and positive mark on our company in the time he was with us."
That's putting it mildly. Truman was one of these larger-than-life characters with a big heart and a bigger laugh. He had the ability to make you smile no matter how badly you felt, and his enthusiasm could fill an entire Bourbon warehouse, let alone a room. He performed his barrel dance routine annually at the Kentucky Bourbon Festival, even after leaving Buffalo Trace to move to Virginia, and I hope you'll take a look at the WhiskyCast HD segment featuring his final barrel dance. It sums up Truman perfectly…full of life and joy, but making sure he shared the credit with those who helped him along the way.
Truman leaves behind his wife Susan and young daughter Emmy, and on behalf of the WhiskyCast community, I'd like to express our deep condolences to them and all of Truman's colleagues in Fredericksburg and Frankfort.
---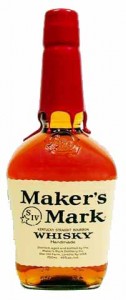 In what may well be the first major change to its flagship bourbon since Bill Samuels Sr. perfected his recipe for Maker's Mark in the 1950's, the distillery plans to reduce the bottling strength of Maker's Mark to 42% ABV in an attempt to stretch existing supplies to meet demand.  The distillery has been trying to expand production for years, but with a lead time of around 6 years between adding production capacity and being able to bottle the final product, reducing the ABV was the final possible step, according to Maker's Mark Chief Operating Officer Rob Samuels and Chairman Emeritus Bill Samuels, Jr.
Read more »
---
Spirits sales in the United States rose by 3% in volume during 2012, according to data released by the Distilled Spirits Council of the United States today.  Revenue grew by 4.5%, largely on increased sales of whiskies and higher-end spirits in other categories.
The data is based on wholesale shipments from producers and importers to distributors, along with export sales. Bourbon and Tennessee Whiskies remained the largest-selling whisky category, with volume up 5.2% to 16.9 million 9-liter cases and revenue up by 7.3% to $2.2 billion. DISCUS reports 46 new Bourbons were introduced during 2012, with 3 flavored whiskeys joining the market.
Read more »
---
Midleton Distillery Master Distiller Barry Crockett has announced his plans to retire in March after 47 years. The announcement came days after he was named this year's Lifetime Achievement Award winner in The Whisky Advocate's annual awards. Editor John Hansell cited the Crockett family's 70-year legacy in Irish Whiskey distilling, as well as Barry's many achievements over the years.
Barry's father Max was the longtime Master Distiller at what is now known as the Old Midleton Distillery in County Cork, and Barry was born in and grew up in the Distiller's Cottage on the Midleton grounds. He succeeded his father in 1981, and has been responsible for shaping the entire range of whiskies for Irish Distillers, from the global favorite Jameson to the Midleton Very Rare range and the Single Pot Stills of Midleton range. In 2011, Barry was honored with his own whiskey as part of that range, the Midleton Barry Crockett Legacy (which happens to be my wife Christina's personal favorite whisky of all time). That expression was also the first Irish Distillers expression to be named for an individual distiller since John Jameson.
Barry will be succeeded by Brian Nation, who has been Barry's understudy for the past 10 years. Irish Distillers plans to honor Barry at a special dinner during the events surrounding the dedication of Midleton's expansion in September.
If you'd like to hear my interview with Barry Crockett in the Distiller's Cottage at Midleton from the fall of 2010, you'll find it here in Episode 279 of WhiskyCast.
---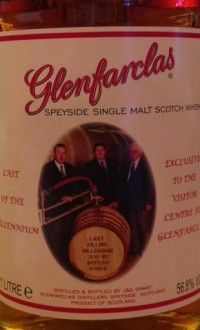 Glenfarclas has released a special "Last of the Millennium" bottling exclusively for visitors to the distillery in Speyside.
The cask was filled on December 31, 1999 by three generations of the Grant family:  George S. Grant, who passed away three years later, John L.S. Grant, the current chairman of the company, and George S. Grant, the sixth-generation member of the family currently serving as Brand Ambassador for Glenfarclas.
The cask was bottled at 56.8% ABV, and is available at the distillery for £59.99 per 1-litre bottle.
---
Diageo plans to invest approximately $2.4 million to expand its company archives at the company's facilities in Menstrie, Clackmannshire, Scotland.
The archive contains about 500,000 different items, ranging from vintage whisky bottlings to memorabilia and historical artifacts from Diageo's facilities around the world.  The expansion will include a new reception and library area, along with additional storage space. The archive expansion is needed because of the need to store historical material linked to Diageo's recent acquisitions, including the Scotch whiskies produced by India's United Spirits. It's not been decided whether the archive will house elements from Whyte & Mackay, since the United Spirits-owned unit is likely to be spun off as part of the acquisition and already maintains its own archives in Glasgow.
As we heard from Diageo's Joanne McCutcher in Episode 325 (July, 2011), the Diageo archive is not generally open to the public, but is available for research by historians on an application-only basis. The archives supply historical material for the visitors centers at many of Diageo's distilleries.
The project still requires approval from local officials.
---
Scotland's newest distillery has gone into full production as Wolfburn Distillery started filling its first casks on January 25. The distillery becomes the northernmost distillery on the Scottish mainland, located in Thurso about 20 miles north of Wick in Caithness.
Wolfburn's history dates back to 1821, when the Smith family built the original Wolfburn distillery several hundred yards from the new facility. At one point, Wolfburn was the largest distillery in the region, but closed sometime during the late 18th Century. Construction began on the new distillery in August, with Shane Fraser being hired away from Glenfarclas Distillery in Speyside to serve as Production Manager, and then some. Shane and the only other employee, Matt Beeson, do everything from checking in malt shipments to brewing, mashing, distilling, and filling casks.
The first bottling of whisky from Wolfburn is expected in 2016. To hear an interview with Shane Fraser, listen to Episode 410 of WhiskyCast.
---
Heaven Hill has announced that longtime Master Distiller Parker Beam has been diagnosed with the early stages of ALS, also known as "Lou Gehrig's Disease." He'll continue to work at Heaven Hill as long as possible, and the company is planning to donate $20 from each bottle of this year's Parker's Heritage Collection whiskey to the ALS Association, with a goal of raising $250,000.
Parker celebrated his 50th anniversary in the whiskey business at a celebration on October 23, 2009 at Heaven Hill's Bourbon Heritage Center in Bardstown, Kentucky. Here's his entire speech from that evening.
Of course, we wish Parker and his entire family all the best!
---

An Cnoc is adding a new 22-year-old expression to its core range of Highland Single Malts distilled at Knockdhu Distillery near Huntly in Aberdeenshire.
The 22-year-old bottling uses predominantly American Oak ex-Bourbon casks, with some Spanish Oak ex-Oloroso Sherry casks as well. It's bottled at 46% ABV, with no chill-filtering or caramel color added.
The new expression will be available in the UK, along with the USA, Japan, Taiwan, Sweden, Russia, Germany, and Denmark. 950 cases are being made available in the initial release at a suggested price of  $135 USD.
---
The Balvenie is adding a new 12-year-old Single Barrel expression to its core range of Single Malts.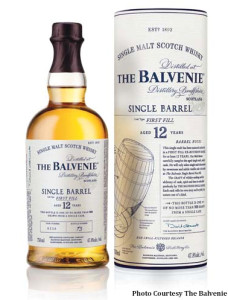 The new expression joins the longtime 15-year-old Single Barrel in The Balvenie's lineup, but will have a different flavor profile from the older whisky. Malt Master David Stewart selects the casks for bottling in both expressions, but  chooses casks with sweetness and subtle vanilla notes for the 12-year-old. Each cask is slightly different, and no more than 300 bottles will come from each individual cask.
The Balvenie Single Barrel, Aged 12 Years is bottled at 47.8% ABV with no chill-filtering, and will be available at a recommended price of $69.99 USD.
---