Each week, we bring you the latest whisky news on WhiskyCast, but a lot can happen during the week. Now, you can keep up with whisky news as it happens here on WhiskyCast.com!
December 2, 2016 – International Beverage's Inver House Distillers division took Distiller of the Year honors in the Scotland round of Whisky Magazine's annual Icons of Whisky Awards. The winners were announced today at the magazine's annual holiday luncheon in Edinburgh, along with the results of this year's Independent Bottlers Challenge and the inductions of longtime whisky author Charles MacLean and Glenfiddich's Ian Millar to the magazine's Hall of Fame.
The Glenlivet's Alan Winchester was named Master Distiller/Master Blender of the Year, while Benromach's Keith Cruickshank was named Distillery Manager of the Year. George Grant of Glenfarclas was honored as Scotch Whisky Brand Ambassador of the Year. Orkney's Highland Park Distillery took Visitor Attraction of the Year honors, and Rikki Scott of Aberlour was named Visitor Attraction Manager of the Year. Tomatin Distillery won the Brand Innovator Award, while the fledgling Glasgow Distillery Company won Craft Producer honors. In the retailer categories, Robert Graham took the award for multiple-outlet retailers, Gordon & MacPhail for single-store retailers, Royal Mile Whiskies won for online, World of Whiskies in travel retail, and Tesco for supermarkets.
The winners will go on to compete against regional winners announced earlier this year for India and the "Rest of the World," which includes all whisky-producing countries other than Scotland, India, and the United States. Winners of the U.S. round have yet to be announced, and the overall global winners will be announced in March at the magazine's annual awards luncheon in London on the eve of Whisky Live London.
Malts of Scotland was named Independent Bottler of the Year in the Independent Bottlers Challenge, while claiming regional awards for Speyside and Islay and the award for independent grain whiskies. Dublin's Celtic Whiskey Shop was named the Non-Scotch Independent Bottler of the Year, while the Scotch Malt Whisky Society, Douglas Laing & Co., The Vintage Malt Whisky Company, and That Boutique-y Whisky Company also won regional awards.
The complete results are available at Whisky Magazine's web site.
Links: Icons of Whisky Awards
---
December 1, 2016 – Rémy Cointreau is making its second whiskey acquisition in recent weeks, with the announcement today that the Paris-based company is acquiring Seattle's Westland Distillery for an undisclosed amount. The transaction is expected to be completed by the end of the year, according to a company statement. In October, Rémy announced a similar deal to acquire the Domaine des Hautes Glaces distillery in the French Alps. The move expands Rémy's whisky portfolio, which began with the 2012 acquisition of Islay's Bruichladdich Distillery.
According to Westland Master Distiller and co-founder Matt Hofmann, Rémy's approach with Bruichladdich was what made the proposal so attractive. "We were really comfortable with this deal because of what we saw with Bruichladdich," Hofmann said in a telephone interview. "That's where I fell in love with the single malt whisky business, going to Islay and seeing Bruichladdich and what they did over there…that's a company that we've long respected." Hofmann cited Westland's intensive need for investment to fund future expansion as the reason for the sale, while noting that Rémy's move shows faith in the growing American Single Malt whiskey category. "That's the coolest part about it," Hofmann said after fielding a number of congratulatory calls from his colleagues in the American Single Malt movement.
Listen to Mark Gillespie's interview with Matt Hofmann:

Under Hofmann's leadership, Westland has become a leader in the American Single Malt whiskey movement, with numerous awards in whisky competitions over the past several years. The distillery near downtown Seattle produces single malts from both peated and unpeated barley, and is the only American distillery with its own peat bog on the Olympic Peninsula.
Westland was founded by Hofmann and Emerson Lamb in 2010 with funding from Lamb's family, which has been active in Washington's timber industry for decades. Lamb was responsible for sales and marketing before leaving Westland last year, but his family will continue to have business ties with Westland, which uses buildings on the family's manufacturing campus in Hoquiam, Washington for maturing, blending, and bottling operations.
Westland's whiskies are currently distributed throughout the U.S. by Anchor Distilling, and the future of that relationship is still to be determined. Rémy eventually took U.S. import and distribution of Bruichladdich's whiskies in-house after that acquisition, but Hofmann said Westland's contract with Anchor will be one of the areas to be reviewed before the deal is finalized.
The Westland sale is the second in recent months involving an American craft whiskey maker. In October, Constellation Brands acquired Utah's High West Distillery for $160 million in a move to enter the craft distilling market.
This story will be updated with additional information, and listen to this weekend's episode of WhiskyCast for complete coverage.
Editor's note: This story was updated with comments from Westland's Matt Hofmann. 
Links: Rémy Cointreau | Westland Distillery
---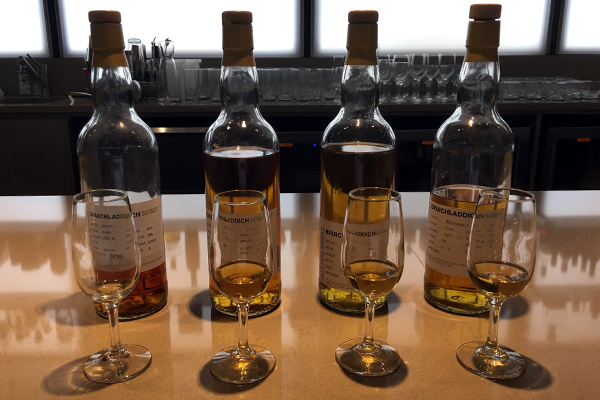 November 4, 2016 – While Bruichladdich master blender Adam Hannett was in New York City this week for a series of tastings around Whisky Advocate's annual WhiskyFest, his colleagues on Islay were busy bottling the distillery's largest batch of new releases since Rémy Cointreau acquired Bruichladdich in 2012. New 10-year-old bottlings of Bruichladdich, Port Charlotte, and Octomore will appear on retail shelves over the next several weeks, along with a 25-year-old exclusively for the travel retail market and Hannett's first version of the Black Art single malt. The mysterious whisky has been the lone counterpoint to Bruichladdich's well-known openness since the distillery reopened in 2001, with only the age of the youngest cask in the blend and the bottling strength being disclosed.
"The Black Art is a huge quality whisky, and for me to take over that role from Jim (McEwan)…this was quite a symbolic one," Hannett said during an interview at the bar in Rémy Cointreau's New York office. Longtime Bruichladdich production director and master blender Jim McEwan created the Black Art range in 2009, and only after Hannett was identified as his eventual successor did McEwan pass along his secret recipe for creating Black Art. According to Hannett, when McEwan retired two years ago, he left behind a note with his original plan for Black Art 5. Hannett decided to ignore that plan and create his own take on Black Art. "I can tell you it'll give you a lot of sleepless nights," he laughed, while disclosing only that the youngest whisky was distilled in 1992 and it's been bottled at 48.4% ABV. 12,000 bottles of Black Art 5.1 will be available worldwide with a recommended US retail price of $399.
Listen to Mark Gillespie's interview with Adam Hannett:

The Laddie Ten returns for the first time since it was discontinued in 2014 because of supply shortages, along with 10-year-old versions of the heavily peated Port Charlotte and even more heavily peated Octomore. 18,000 bottles of each edition will be available globally, and Hannett said the releases reflect a change in Bruichladdich's philosophy. "Rather than getting stuck in the idea that because we can't continue it, maybe we can do 10-year-old…we only have a certain amount, we can't continue that release so we can't do it —  we started thinking, well…that's interesting, people want to taste it, we want to have it out there, so let's release it," he said.
The Laddie Ten's Second Limited Edition has been tweaked slightly from the original, with an increase in bottling strength to 50% ABV – up from 46% in the original, and will carry a recommended US retail price of $66 per bottle. The Port Charlotte 10 is also bottled at 50% ABV, and is the second 10-year-old release of Port Charlotte following the 2012 release of Port Charlotte PC10. It will carry a recommended US retail price of $72 per bottle. The Octomore 10 is also the second 10-year-old release of Octomore, and is peated at 167 parts per million of phenols. It will have a recommended US retail price of $234 per bottle.
The Bruichladdich 25 Year Old Sherry Cask will be available exclusively in the travel retail market. Pricing and initial availability have not been announced yet.
Tasting notes will be available soon at WhiskyCast.com.
Links: Bruichladdich
---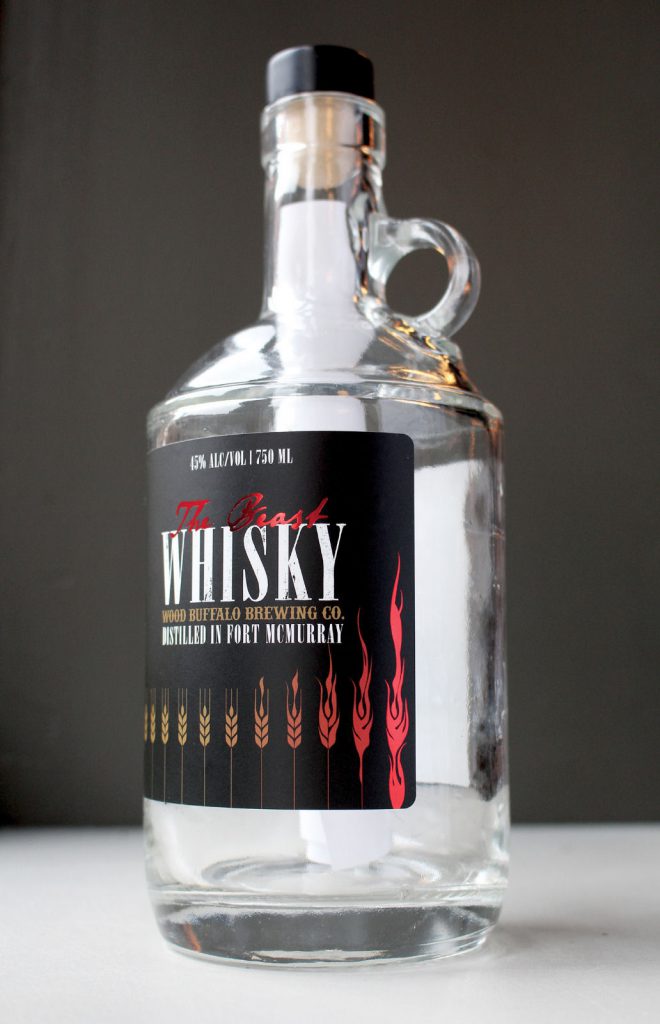 October 27, 2016 – Months after one of Canada's worst wildfires scorched nearly 1.5 million acres of the Alberta prairie, forcing thousands of people to flee their homes and businesses with little more than the clothes on their backs, the region is still recovering. One sign of that recovery came Friday, when distiller Spike Baker and his colleagues at Fort McMurray's Wood Buffalo Brewing Company filled their whisky barrels with a special "new make" spirit that will eventually be bottled as "The Beast".
When they left the brewpub and distillery behind to run for their lives, they also left a pallet full of heavily peated Scottish malt outside on the patio. "It absorbed a lot of the smoke flavor," Baker said in a telephone interview. "We sent it off to Canada Malting right away for them to run through their lab, and it came back safe on all counts, so we decided to go ahead and make a one-off unrepeatable whisky with it." Baker will be putting the spirit through its final distillation run on Wood Buffalo's still Friday before putting "The Beast" into barrels to mature over the next five years.
Even though that whisky won't be bottled until at least 2021, the first ten bottles were auctioned to raise money for the Friends of Fort McMurray Firefighters Association charity fund. "The people who win the auction will receive a bottle with a scroll inside listing what number bottle they have and what they're entitled to…and a little blurb on what it means to the community," Baker said. Bottle #1 raised $7,100 CAD ($5,300 USD), and along with seven other bottles auctioned Friday raised around $31,000 CAD. Two bottles auctioned on eBay sold for a combined $7,800 CAD, bringing the total raised during the auction to around $39,000 CAD ($29,100 USD).
Baker and the Wood Buffalo team have been making whisky at the brewpub and distillery for the last two years, but have not released any of it while it continues to mature. While they had to dump hundreds of liters of beer that had been tainted by smoke, none of their maturing whisky was affected.
Nearly 2,400 buildings were destroyed in the wildfire, with many people losing their homes and still working to rebuild their lives as winter approaches.
"The word came down we had to get out of town…it was a little scary at times, but everyone made it out and the community has survived."
Editor's note: This story was updated to include the results of the charity auction for the first ten bottles of "The Beast."
Links: Wood Buffalo Brewing Company
---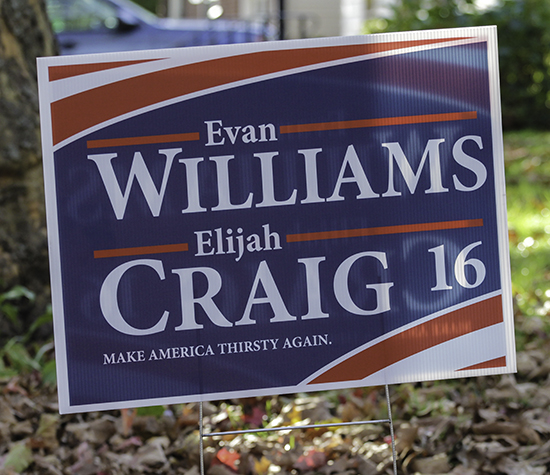 October 27, 2016 – As Americans prepare for the most contentious presidential election in recent memory, with many voters holding their noses to pick one of the two main party candidates, a new ticket is stepping forward to offer an alternative that could appeal to whiskey lovers of all parties. The Evan Williams/Elijah Craig "Make America Thirsty Again" ticket was the brainchild of Louisville advertising agency owner Hill Harcourt and local whiskey blogger Matt Evans, and features two of Kentucky's Bourbon pioneers.
"He (Matt) made a t-shirt a couple of months back, and as a joke, I made a political sign…tweaked it a bit and printed it, and put it in his front yard when he returned from vacation," Harcourt says. Evans posted photos of the yard sign on social media, and the campaign took off. "Heaven Hill caught wind of it, and they ordered 200 yard signs and 800 t-shirts!" The company makes both Evan Williams and Elijah Craig Bourbons, and saw the opportunity to have some fun while raising money for charity.
"That's a good way to make America thirsty," Heaven Hill president Max Shapira said Wednesday night at an Elijah Craig event in New York City. "You talk about history and heritage and tradition, long experience, names that are associated with quality, you couldn't find two better names than Evan Williams and Elijah Craig." Heaven Hill is selling the yard signs through the Evan Williams web site for $12.99 each, with proceeds to be donated to charities that benefit military veterans. According to Shapira, the site has already sold several hundred signs, and Harcourt's Ashton Advertising agency is selling them as well.
Harcourt says the idea has become so popular that knockoffs are already appearing. "It's all in fun…we basically were trying to figure out a third candidate based on the two choices we have right now, and not a lot of people are happy with that. It's kind of fun seeing more of those signs that we did than Trump or Hillary ones, 'cause people are afraid to put them in their yards 'cause who knows what's going to happen to their house." Plans are already in the works for a post-election campaign project, but Harcourt won't give any specifics yet.
As for Williams and Craig, a Heaven Hill news release quoted Williams as saying "In the current political climate, Rev. Craig and I believe that America's Future is grounded in our past. As forefathers of the American Whiskey movement, we are seriously good alternatives to the current candidates."
It should be pointed out that both Williams and Craig have been dead for nearly 200 years, which would pose an impediment to their being able to take office if elected. It should also be pointed out that the ticket does not appear on any state's ballot, though that would not preclude someone from casting "write-in" votes for Williams and Craig. 
Editor's note: This story was updated with original photos using a sign provided by Heaven Hill. 
Links: Evan Williams | Ashton Advertising | Bourbon Banter
---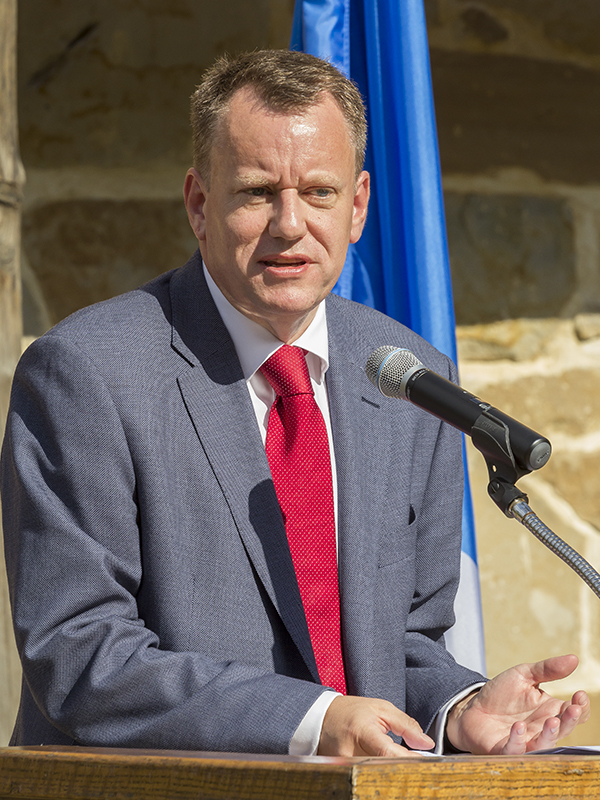 October 25, 2016 – Scotch Whisky Association chief executive David Frost is leaving the Edinburgh-based trade association, and will return to government service as a special adviser to Foreign Minister Boris Johnson. The move brings Frost's career back to his roots in the Foreign and Commonwealth Office, where he served as a diplomat for many years before joining the SWA in January 2014. His resignation takes effect November 4, and deputy chief executive Julie Hesketh-Laird will serve as acting chief executive until the appointment of a permanent replacement.
In a statement released by the SWA, Frost said "I have thoroughly enjoyed my time as chief executive and I want to thank SWA members and my team for their support.  Scotch Whisky is a wonderful industry to represent, vital to Scotland and to Britain, operating on a global scale, and held in affection by so many around the world.  I leave the Association and the industry well-placed to continue to succeed in a competitive market-place during a time of change, including Brexit." 
During his diplomatic career, Frost served as the UK's ambassador to Denmark along with a posting at the European Union headquarters in Brussels, and finally in the Department of Business, Innovation, and Skills. His expertise in trade affairs is likely to be valuable in the UK's upcoming negotiations to leave the European Union, and his appointment comes as the UK Government has been beefing up its foreign trade staff in preparation for "Brexit."
In an August WhiskyCast interview, Frost acknowledged that the question of his rejoining the government had been raised several times following the June 23 Brexit vote. At the time, he said "it'd have to be a pretty good offer to get me back into the task that we've just been describing…I'm enjoying the path of the Scotch Whisky industry…it's a great industry and great fun to be in." During that interview, he described himself as a "fan of Boris Johnson's" and noted that they had worked together many times during their government service. "He's a very erudite, clever guy who actually knows the EU pretty well," Frost said of Johnson in that interview.
WhiskyCast has requested an interview with David Frost. This story will be updated with additional information as necessary.
Links: Scotch Whisky Association
---
October 23, 2016 – Workers at the Jim Beam Distillery in Clermont, Kentucky and the Booker Noe Distillery in nearby Boston will return to work Monday morning after a week-long strike. Members of United Food & Commercial Workers Local 111-D voted overwhelmingly to ratify a new contract with Beam Suntory Friday. The new contract includes some wage increases, while largely resolving the key issue for union members – excessive overtime caused by the global boom in demand for the company's Bourbon and Rye whiskies.
Union members complained during the strike that they were being required to work up to 80 hours a week, and one of their demands was that Beam Suntory hire more full-time workers to spread out the workload. The contract calls for Beam Suntory to hire 27 to 30 new full-time employees by July, 2017, and limits mandatory overtime to four hours per shift. Local 111-D president Janelle Mudd told the Louisville Courier-Journal that the company "really addressed everything we asked them to." Mudd was unavailable for interviews this weekend.
Both distilleries remained open during the strike, with company officials implementing unspecified contingency plans to maintain whiskey production. In an emailed statement, Beam Suntory praised the resolution of the labor dispute that had received national attention:
"This outcome is good news for our people, our customers and fans of Jim Beam everywhere," said David Hunter, chief supply chain officer for Beam Suntory. "The successful resolution of this matter resulted from constructive good faith dialogue with the union leadership, and valuable listening sessions with a broad cross section of team members. We developed solutions that include less reliance on temporary workers, better management of overtime, and a number of improvements to promote work-life balance. This contract builds on the values shared by our company and our workforce, and will help make these plants even better places to work."
Suntory Holdings chief executive Takeshi Niinami was able to avoid questions about the labor dispute during a brief visit to Kentucky this week. During a speech Tuesday before the Japan/America Society of Kentucky, Niinami said the company plans to invest up to $1 billion to expand its Kentucky production facilities over the next five years as it grows its Bourbon business worldwide.
Links: Jim Beam | United Food & Commercial Workers
---
October 15, 2016 – Union employees at Beam Suntory's two Kentucky distilleries have walked off the job after their contract expired at midnight. The strike by members of the United Food & Commercial Workers Local 111D affects the Jim Beam Distillery in Clermont and the Booker Noe Distillery in Boston, and comes after rank and file members rejected the second tentative agreement in a week. Friday afternoon's vote was 174-46 to reject the agreement, which was an improvement on Tuesday's 201-19 vote but still shows widespread dissatisfaction among workers.
In a statement provided to WhiskyCast by a UFCW executive in Washington, Local 111D president Janelle Mudd outlined the union's ongoing issues in the talks:
"This afternoon, hard-working and dedicated members of United Food and Commercial Workers (UFCW) Local 111-D voted on a tentative agreement that was reached by the negotiating committee and management. The vote was 174-46 to reject it and go on strike at midnight October 14th. 
"We are committed to ensuring that no worker and no member of our union family struggles alone.
"The main issues that we are hoping to resolve are protection of seniority, job security, clear contract language, and improvements in safety. Most importantly, we are seeking a better work/life balance and a return to the family values and heritage upon which the Jim Beam brand is based. All of us work hard and have earned and deserve a better life."
Earlier this week, Mudd cited an "atmosphere lacking respect" for workers at the two distilleries while not providing specifics. The union represents 230 workers at the two distilleries, which produce all of the whiskey for Jim Beam and Beam Suntory's other Bourbon and Rye whiskey brands, including Knob Creek, Booker's, Basil Hayden's, Baker's, and Old Grand-Dad. Jim Beam is the world's largest-selling Bourbon brand, and the strike not only affects distilling, but bottling operations at the Clermont distillery. Beam Suntory has other bottling facilities in Kentucky, but workers at those sites are not represented by Local 111D.
Beam Suntory executives have declined interviews on the strike, but issued this statement Saturday morning:
"Jim Beam has implemented comprehensive contingency plans to keep operations running at its Clermont and Boston, Kentucky distilleries in view of the vote by its unionized workforce to go on strike after midnight tonight.  The decision came after the hourly workers at these facilities voted down a revised contract proposal that had been unanimously endorsed by the union leadership after intensive negotiations in recent days with the assistance of a federal mediator.
"Our valued team members in Clermont and Boston voted down a revised contract negotiated in good faith all day yesterday and agreed to with union leaders," said David Hunter, chief supply chain officer for Beam Suntory. "As a result, we have no choice but to implement our contingency plans to help ensure the continuity of our operations and supply of our products for our distributors, customers and consumers. Given our inventories and contingency plans, we currently do not anticipate shortages of Jim Beam or any other products made at these facilities.  We hope that these team members will reconsider the attractive terms offered and ultimately support the proposal."
The revised proposal addressed union concerns in areas including overtime and temporary workers, and also included wage increases."
Beam Suntory announced Saturday afternoon on Facebook that it will keep the American Stillhouse visitors center at the Jim Beam Distillery open during the strike, though tours will be modified to skip the distillery and the adjacent micro-distillery. The visitors center staff is not represented by Local 111D, but the union does represent workers who lead tours through the micro-distillery and custom bottling line adjacent to the main distillery.
This story will be updated with additional information as necessary.
Editor's note: This story was updated with information on Beam Suntory's plans to keep the Jim Beam American Stillhouse visitors center in Clermont open during the strike. 
Links: Jim Beam | United Food & Commercial Workers
---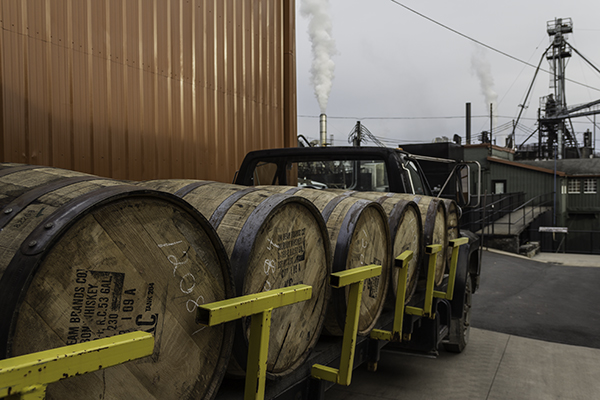 Updated October 14, 2016 – Negotiations aimed at preventing a strike by workers at two Jim Beam distilleries in Kentucky are underway today as a midnight deadline approaches. Beam Suntory executives and United Food and Commercial Workers Local 111D leaders are meeting in an attempt to reach an agreement, according to a union executive. Tuesday, Local 111D members voted 201-19 to reject the company's contract offer, citing an "atmosphere lacking respect" for workers at two Jim Beam distilleries in Kentucky as one of their main reasons for voting to go on strike when their current contract expires at midnight tonight.
The local represents production workers at the Jim Beam Distillery in Clermont and the Booker Noe Distillery in Boston, Kentucky, and reached a tentative agreement with Beam Suntory with the help of a federal mediator after more than a month of negotiations.
In a statement provided to WhiskyCast by the UFCW's international office in Washington Thursday, Local 111D president Janelle Mudd said her bargaining team had already agreed to extend the current contract offer three times before taking an agreement to rank and file members for a vote.
"The recommendation of the negotiating committee to bring the offer to a vote was based on its determination that it was the best that the company was willing to offer. While it included some economic gains, issues such as job security given the number and use of temporary agency workers, the honoring of seniority, open-ended contract language, and an atmosphere lacking respect for the incredible value brought by hard-working union employees drove the vote total."
The Clermont distillery is Beam's flagship distillery and home to the Jim Beam American Stillhouse visitors center, which attracts thousands of tourists every year. Local 111D represents the distillery's production workers, including those who lead tour groups through the micro-distillery adjacent to the main distillery. It does not represent workers in the American Stillhouse visitors center.
Beam Suntory's vice president of Kentucky Beam Bourbon Affairs, Kevin Smith, released this statement late Tuesday after the results of the vote were announced.
"We value the positive relationship we have with our UFCW associates at our Clermont and Boston facilities, and we have worked constructively with their negotiating committee and a federal mediator to develop a very attractive new contract over 33 days of bargaining. We are seeking to understand the reasons why the union membership voted down this competitive two-year contract proposal unanimously recommended by their own representatives. The proposal includes substantial wage increases, coupled with other enhancements including elimination of the two-tiered wage system for almost all employees.
While we have not been advised of any specific objections to the proposal, we are committed to resolving this matter expeditiously. We greatly value our teams at these facilities, and we look forward to working with the union leadership to help ensure a full understanding of the proposal by the union membership. Ultimately, we hope the employees will reconsider and support this agreement.
As the current contract extends through Friday, we anticipate business as usual tomorrow at our facilities."
Beam Suntory executives have declined to comment beyond Smith's statement, which did not address whether the company has contingency plans to keep the Clermont distillery operating in a strike. While Jim Beam does operate other bottling plants in Kentucky, the Clermont distillery also has bottling operations that would be affected by a walkout. It is not clear whether UFCW-represented workers at Beam's other Kentucky facilities would honor the strike, nor whether the American Stillhouse would remain open during a strike.
This story will be updated as new details become available.
Editor's note: This story was updated with details on Friday's resumption of negotiations. 
Links: Jim Beam | United Food & Commercial Workers
---
October 8, 2016 – With the controversy over Republican presidential candidate Donald Trump's 2005 comments about women dominating the headlines, it didn't take long for a Colorado whiskey distiller to take a stance of its own.
"Grab Whiskey, not P#$$y" was the tweet on Deerhammer Distilling Company's official Twitter account Saturday afternoon, along with a similar post on the distillery's Facebook page.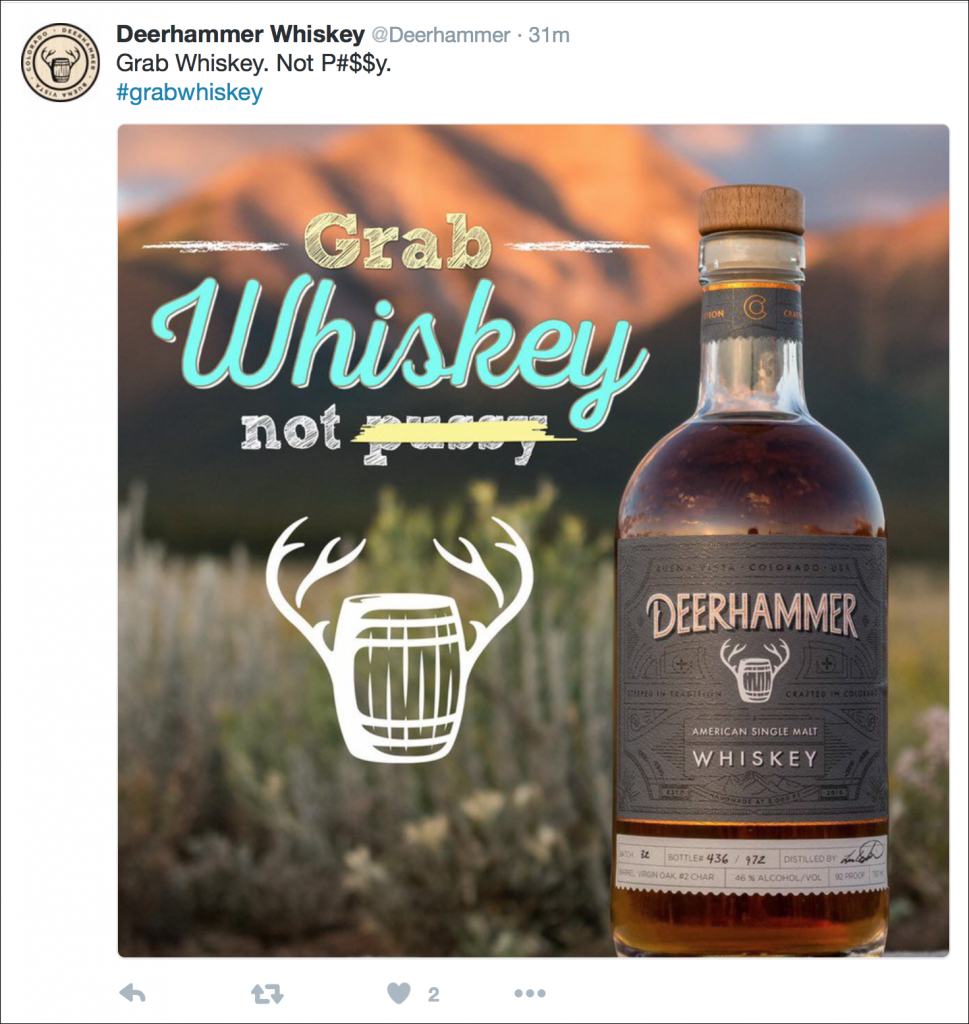 "We try not to get too political at Deerhammer, but sometimes things like this present themselves," Deerhammer co-founder and head distiller Lenny Eckstein said in a telephone interview. "Deerhammer tends to think of itself as a somewhat edgy brand…tricky thing to balance sometimes between being edgy and being who you are and being the right thing to all the people, but sometimes we've just gotta do what comes naturally," he said.
The distillery opened in 2011 in Buena Vista, Colorado, and produces single malt whiskey along with unaged "white" whiskey, brandy, and gin. Deerhammer is located in a relatively conservative area of Colorado, but Eckstein is hoping that his neighbors won't be offended. "I think most folks have a pretty good sense of humor, and when it comes to whiskey, they know how to put aside those things and take it for what it is," he said.
So far, the reaction has been limited, with one Facebook user posting a simple comment: "Lenny for President 2016".
This story will be updated as necessary.
Links: Deerhammer Distilling
---