Each week, we bring you the latest whisky news on WhiskyCast, but a lot can happen during the week. Now, you can keep up with whisky news as it happens here on WhiskyCast.com!
By Mark Gillespie
December 30, 2019 – The end of a year always brings with it reflections of the events that shaped the year. While the "year in review" piece is an annual rite for reporters, if one remembers that journalism is what's always been referred to as the "first draft of history," then it makes some sense to take a look back.
That said, here are my Top Five stories for the whisky world in 2019. There's no polling to determine this list – just my gut instincts based on the stories we focused most on at WhiskyCast during the year.
#1: The Politics of Whisky 
Given the number of stories we did on politics and whisky during 2019, this has to be the obvious choice. That's because the political events of 2019 (and the couple of years leading up to it), have the potential to derail years of consistent growth in whisky sales around the world fueled by consumer demand.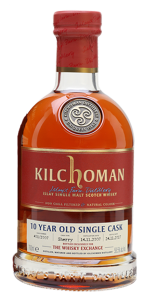 The impact of the Trump Administration's decision to impose a 25% tariff on imports of single malt whiskies from Scotland and Northern Ireland in mid-October really has yet to be determined. By that time, most importers had already received their shipments for the holidays. While Kilchoman and its U.S. importer Impex received much-deserved praise for announcing plans to absorb the cost of the tariff on future shipments, it's not clear how many other importers will be able to do the same when they start placing new orders after the holidays.
While most Irish Whiskey companies were able to breathe a sigh of relief in October after escaping the initial U.S. tariff, they rightly decided to keep a low profile in the media and not risk poking the bear. A wise move, considering that the ongoing aircraft subsidy battle between the U.S. and the European Union now has the Trump Administration proposing to not only raise the current tariff on whiskies to as high as 100 percent, but is reviving the threat to extend that tariff to all other whiskies from EU member nations. Industry groups will be lobbying both Washington and Brussels in January to ease the tensions that have made whisky collateral damage in the larger trade conflict between the two sides.
What could the potential long-term impact of the U.S. tariff have on whisky imports? We can use the EU's 25% tariff imposed on American whiskey imports in July of 2018 as an example. Between January and October of 2019, American whiskey exports to Europe fell by 28% compared to the same period in 2018 according to data provided by the Distilled Spirits Council.
Brown-Forman, the largest publicly-traded U.S. whiskey maker, has estimated the cost of the EU tariffs at $125 million annually – and that does not include the tariffs it's now paying to import the single malts from its three Scottish distilleries into the United States. While Brown-Forman, Beam Suntory, and other major U.S. whiskey makers have the ability to absorb some of those costs, the impact has been largely felt by smaller distillers and importers. They already faced retail pricing disadvantages against larger competitors because of higher production costs, and the EU tariff has either sharply affected or completely eliminated export sales by many smaller U.S. brands. 
Also on the political side…
Congress and the Trump Administration did agree at the last minute to extend for one year the federal excise tax break that primarily benefits small-scale distillers and the tax deduction for "capitalized interest" that allows distillers to deduct the interest they pay on loans secured by their maturing whisky inventory. However, that means the industry will have to spend another year lobbying in Washington to get those changes made permanent and remove the roadblock to long-term stability within the industry. 
#2: Mergers & Acquisitions
The largest deal of the year was Heaven Hill's purchase of Black Velvet Canadian Whisky from Constellation Brands in August. The deal was valued at $266 million, including the Black Velvet Distillery in Lethbrdge, Alberta. It is the first expansion outside the United States for the Shapira family, and gave the company control of one of the largest-selling Canadian Whisky brands.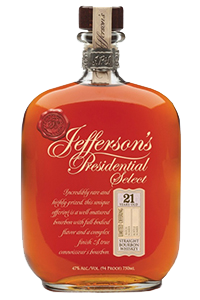 August also brought Pernod Ricard's $223 million acquisition of Castle Brands, which produces Jefferson's Bourbon, Knappogue Castle Irish Whiskey, and other spirits brands. Jefferson's was the key brand in the deal for Pernod Ricard, which made its third major acquisition of the year in the American Whiskey industry. Pernod Ricard CEO Alexandre Ricard's bets on continued growth in American Whiskey sales included the purchase of Louisville's Rabbit Hole Distilling and Firestone and Robertson Distilling in Fort Worth, Texas, with plans to market all three in the premium segment of the whisky market.
It remains to be seen where Knappogue Castle will fit into the company's long-term plans, since Pernod Ricard's Irish Distillers unit already dominates the premium segment of the Irish Whiskey market with Redbreast, Powers, and Midleton, while Jameson is the world's largest-selling Irish Whiskey brand. While there has been no indication that Knappogue Castle might be for sale, it would not be a surprise given the company's stated desire to focus on premium brands across its portfolio. 
Ricard's moves have so far helped fight back against criticism from activist shareholder Paul Singer's Elliott Management. In late 2018, the hedge fund bought a billion-dollar stake in Pernod Ricard and Elliott started making noises about shaking things up at the company. Ricard replaced some of his board members this year, and had already started making other internal changes to boost profit margins. So far, Singer appears to be going along. 
#3: China
Western whisky makers have bent over backwards trying to make inroads into the Chinese market for years. While whisky sales in China continue to grow by double-digit percentages on an annual basis, there are developments worth watching that could have a long-term impact. China's economy has started to slow down after years of rapid expansion, and it's not clear what the impact of the ongoing trade dispute with the United States might have on economic growth. 
In addition, Western whiskies will start to see more competition in the coming years from within China. In August, Pernod Ricard broke ground on China's first malt whisky distillery in Sichuan province. The $150 million dollar project is expected to start production in 2021, with plans to sell its whisky primarily in China's domestic market. Earlier this month, a Chinese energy firm announced plans to build a malt whisky distillery in Inner Mongolia with help from Scottish firms.
Baiju remains China's most popular distilled spirit, and a growing domestic whisky market could cut into export sales over time. 
#4: Continued Growth in American Single Malts
More than 200 distilleries are now either selling their own single malt whiskies or maturing them for future sale. This is one of the few areas of the American Whiskey market where major distillers have largely stayed on the sidelines, and that has given small-scale distillers a foothold to compete on their own terms.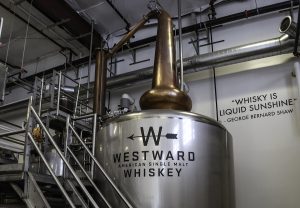 The one thing that could send this category into orbit would be an official definition of "Single Malt" in U.S. federal regulations. When the Treasury Department's Tax & Trade Bureau (TTB) unveiled its proposed re-write of the federal regulations governing whiskies at the end of last year, it did not include a "standard of identity" for single malts, and there hasn't been one since the regulations were first written in 1935. Instead, "single malts" are lumped in with "malt whisky" and its tolerance for a mash bill of just 51% malted barley along with the requirement for maturation in new charred oak barrels.

American Single Malt distillers have been lobbying the TTB to include a definition more closely aligned with Scotland's, which requires 100% malted barley and would allow for the use of used barrels as well as new ones. The Title 27 rewrite is in regulatory limbo right now following a public comment period earlier this year, and distillers are hoping that an American Single Malt category could be part of the final package of regulations. 
#5: Growth in "World Whiskies"
Let's end with a positive note.
We're still seeing growth in so-called "world whiskies," those that come from non-traditional whisky-producing nations – essentially everywhere other than Scotland, Ireland, the U.S, and Canada. Sales are still small, and basically amount to a rounding error when overall whisky sales worldwide are calculated, but there's plenty of anecdotal evidence to support this argument given the emails I receive regularly asking if I've "heard anything about such and such whisky and whether it's any good" or from emerging distillers asking me to taste and review their whiskies.
The growth of small-scale distilling has expanded the market for distilling equipment in recent years, and that's helped bring down some of the startup costs for a small-scale distillery. As the initial releases from some of those distilleries start to reach the market, we're seeing more and more good whiskies from places like Sweden, Germany, Italy, Israel, and Australia…just to name a few.
That can only be a good thing for the world of whisky…
Here's hoping that 2020 is a year with less political intrigue, economic stability, and of course…more good whiskies for all of us!
---
December 28, 2019 – Beam Suntory has agreed to pay the state of Kentucky more than $700,000 following the environmental damage from last July's warehouse fire in Woodford County. According to the Louisville Courier-Journal, the Kentucky Energy and Environment Cabinet negotiated a $600,000 fine with the company's Jim Beam Brands unit, with an additional $112,000 to reimburse the agency for its expenses from the fire.
On July 3, lightning struck a warehouse at Beam's maturation complex on the site of the former Old Crow Distillery on McCracken Road. That warehouse held an estimated 40-thousand barrels of whiskey, and collapsed in the resulting fire. The site is located on the banks of Glenns Creek, which flows into the Kentucky River and eventually into the Ohio River. State fish and wildlife investigators later found dead fish along 62 miles of all three waterways, with most of the impact in Glenns Creek and the Kentucky River.
After the fire, Beam launched a campaign to mitigate the environmental damage, including the use of equipment designed to increase the amount of oxygen in the waterways. When alcohol is spilled into a stream, it displaces the amount of oxygen available for fish to breathe. As a result, large-scale fish kills are common following whiskey warehouse accidents in which spilled alcohol reaches nearby streams.
Beam Suntory issued this statement Friday on the fines:
"While we were able to minimize impacts to the surrounding environment and wildlife — including by deploying aerators in nearby creeks and the Kentucky River, fire suppression and containment strategies to minimize runoff and ongoing water sampling and water field screening — we recognize the regrettable and unavoidable impacts of the incident and have been committed to doing what we can to restore the environment. That includes making payments to the state to compensate for time spent, resources utilized and costs to supplement the local fish population."
According to the Courier-Journal, the settlement also provides for future mitigation requirements if ethanol from the spill causes any environmental issues in the future.
Links: Beam Suntory | Kentucky Energy and Environment Cabinet
---
By Mark Gillespie
December 26, 2019 – Look at the "About" section of Al Young's Facebook profile. In the "work" category, you'll see only one entry.
Four Roses Bourbon.
For more than five decades, Al Young and Four Roses were synonymous. His death Christmas night at the age of 77 left his colleagues and friends in shock, and a void that will never be filled.
The distillery issued this statement.
"The Four Roses family is in mourning. Al Young was an integral part of Four Roses' legacy and history, and the sad and sudden news of his passing is shocking for all of us. Al was truly one of a kind and we sorely miss him. Al embodied the spirit of Bourbon. He was a friend to all, always there with a story and ready for a good laugh together. We offer our deepest condolences to Al's entire family. Funeral arrangements will be forthcoming."
At the time Al Young joined Seagram's in 1967, he was working in public relations at Louisville's Actors Theatre company and about to marry his wife Gretchen. "They hired me, and I said well, that's a good thing because I need a week off to get married and go on a honeymoon…and they said, well, yeah…so I figured this is a pretty good place," he said in a 2018 WhiskyCast interview. He started out in the old Seagram's sensory lab on Seventh Street in Louisville as the lab assistant in charge of setting up samples for the nosing and blending team. "Jim Rutledge says he gave me my first tour at the Seventh Street plant, and quite frankly, I was so happy to have a job, I just really didn't remember it," he said with his trademark laugh.
They eventually wound up in Lawrenceburg at the Four Roses Distillery – Jim as the Master Distiller and Al as the distillery manager, leading the team that returned Four Roses to prominence after decades of decline under Seagram's ownership. Together, they traveled the country urging consumers to try their Bourbon – Jim explaining how it was made, and Al – with his ever-present grin – sharing the stories of Four Roses' history.
In 2007, Al gave up his manager's role at the distillery after 17 years to become the Senior Brand Ambassador for Four Roses, while also serving as the official historian and archivist for the distillery. In 2010, he literally wrote the book on the history of Four Roses. "Four Roses: The Return of a Whiskey Legend" covered not only the brand's rise to prominence in its pre-Prohibition days, but its decline under decades of Seagram's ownership as the Bronfman family switched Four Roses from a classic Bourbon into a cheap "bottom-shelf" blended whiskey – at least in the U.S. market. The book is now in its third edition.
A year later, he was inducted into the Kentucky Bourbon Hall of Fame as a member of the Class of 2011. Kentucky Distillers Association president Eric Gregory mourned Young's death while remembering his life. "Al was an ambassador for Kentucky Bourbon long before the job was even invented," Gregory said in a statement Thursday morning. "The thing I'll remember most is that Al was always smiling. Always. You just knew he loved his job, his family and his life. We were lucky to share in his spirit. Al was one of our industry's truest champions, and he will be missed by all." The KDA also inducted Young into its Order of the Writ as part of the inaugural class in 2019.
In 2017, the distillery celebrated his 50th anniversary with the release of a limited-edition small batch Bourbon named for him. In addition to using some of the whiskey distilled during his tenure as distillery manager, that bottling also revived the 1967 vintage bottle design and label that he had preserved in the Four Roses archive.
At the end of our 2018 interview, I asked Al what he wanted to be most remembered for when historians update the Four Roses story in the future.
"If they remember me for anything, it may be to be a steward of the brand, working to preserve the integrity and the history of Four Roses, and if that spills over 50 years from now with all the things we've collected for years and years and all of the things we've added to that collection, and the book, and all that sort of thing…" He paused.
"My God, that's enough!"
Please join us in expressing our condolences to Al's wife Gretchen and their entire family, along with his colleagues and friends at Four Roses and the whiskey industry.
Links: Four Roses
---
By Mark Gillespie
December 21, 2019 – "As soon as the President signs, I will be raising my glass…I will not tell you what spirit's is inside it, but it will be a darn good craft spirit."
Margie Lehrman is the executive director of the American Craft Spirits Association, and she had to wait until late Friday night to raise that glass. President Donald Trump waited until then to sign into law the spending bill approved by Congress this week that includes a one-year extension of the break small-scale distillers receive on the federal excise tax they pay on their spirits. While the tax break was not set to expire until midnight on New Year's Eve, the President signed the legislation just hours before federal agencies would have run out of money and would have had to begin shutting down operations.
The ACSA and other trade groups representing distillers, brewers, and winemakers spent the last two weeks on Capitol Hill mounting a full-court press on members of Congress to include at least a short-term extension in the "must-pass" spending bills that needed to be approved before the holiday recess. The original break was approved two years ago as part of tax reform legislation, and bills to make it permanent languished in both House and Senate committees despite widespread bipartisan support with 331 co-sponsors in the House and 73 in the Senate at last count. Negotiations to include an extension in the spending bill wound up being tied in with a series of other temporary tax breaks also needing to be renewed by the end of the year.
"The reality is one moment you are feeling pretty good, and the next moment based on the number of conversations, whether  it's in the hall or in an office, you're feeling maybe somewhat defeated," Lehrman said in a telephone interview following the Senate vote Thursday. In addition to two spending bills, one covering defense spending and the remainder for the rest of the federal government, members of Congress also wanted to take action on the impeachment of President Trump and vote on the US-Mexico-Canada trade agreement before leaving Washington for the holidays. After the Senate vote, it was disclosed that White House officials had threatened a presidential veto of the spending bills unless lawmakers removed language requiring that aid to Ukraine be processed within a 45-day deadline. Had that veto occurred, it would have torpedoed the distillers' tax break because Congress would not have been in session to take action until after it expired on December 31.
The legislation continues a break all distillers and spirits importers receive on the first 100,000 proof gallons of spirit removed from bond for sale each calendar year from $13.50 per proof gallon to $2.70. While the industry's largest distillers do benefit from that break, many reach the threshold for paying the higher rate within weeks after the start of a new year. Most small-scale distillers never come close to reaching it, and the savings can be substantial. For a small distiller removing 10,000 proof gallons of spirits from bonded storage for sale over the course of a year, the tax savings would be $108,000. During 2018 and 2019, small-scale distillers have reinvested that savings into new equipment and hiring additional workers, and according to veteran distiller and consultant Mark Shilling, a number of distillers had planned to start laying off workers during the holidays had the extension not been approved.
Distilled Spirits Council CEO Chris Swonger praised Congress and President Trump for approving the temporary extension. "Because of the president's support, more than 2,000 craft distillers no longer have to worry about waking up to a huge tax increase come January. Instead, they can focus on creating more jobs, buying more grains from farmers and stimulating local economies. We look forward to continuing to work with Congress and the administration on permanently lowering tax rates for craft distillers to give them certainty for growth and planning beyond 2020," Swonger said in a statement. 
Links: American Craft Spirits Association | Distilled Spirits Council
---
By Mark Gillespie
December 12, 2019 – Remember that New Year's Eve deadline for extending the break America's small-scale distillers currently get on their federal excise taxes? That's the deadline in the letter of the law passed two years ago this month, but the real-world deadline is just eight days from now. Both houses of Congress are scheduled to wrap up work next Friday and head home for the holidays, and the agenda is blocked up with the legislative equivalent of a kidney stone.
It's already too late to start singing "The 12 Days of Appropriations Bills" at this point, since none of the 12 separate bills needed to fund federal agencies past next Friday have been passed yet. While that could lead to a second consecutive holiday season government shutdown, Congressional leaders are working to get those bills passed in time. There's also the approval of USMCA, the new trade agreement between the United States, Canada, and Mexico – and at some point in the next week, the House will likely vote on whether to impeach President Donald Trump.
The bill to make the federal excise tax cut permanent for small-scale distillers, brewers, and winemakers is one of the few pieces of legislation with widespread bipartisan support in both houses, and craft distillers, brewers, and winemakers are all pressuring lawmakers to get something done while there's still time.
"There has been talk of doing something later next year and making it retroactive as a credit or a refund," says Mark Shilling of Austin, Texas-based Shilling/Crafted. Shilling is a former president of the American Craft Spirits Association, and is in Washington with other ACSA board members and leaders to make their case to Congressional leadership. "The problem with that is for a lot of these folks, once you've paid that money…it's real money out of your pocket. The TTB (Tax & Trade Bureau) does not have a process in place to process refunds, to send checks back to distillers once it happens, so it would take them a significant amount of time to put something in place," he said in a telephone interview.
The tax reform act passed two years ago reduced the excise tax rate distillers pay on the first 100,000 proof gallons of spirits removed from bonded storage each year from $13.50 per proof gallon to $2.70. While larger distilleries may reach that threshold early in a calendar year, most craft distillers never even come close to it. As an example, a craft distiller that removed 25,000 proof gallons from bond for sale during 2019 would owe $67,500 in federal excise tax under the reduced rate. Without an extension, that tax bill would rise to $342,500 in 2020 – and unlike most businesses which remit tax payments on a quarterly basis, distillers have to pay their excise taxes in a much shorter time frame that can be as often as every other month depending on production.
The ACSA delegation has been meeting with aides to House Speaker Nancy Pelosi (D-CA), Senate Majority Leader Mitch McConnell (R-KY), and other members of the leadership in both houses this week. "I spoke with (Sen. Charles) Schumer directly, we met with Pelosi's tax counsel, and everyone's positive about this issue," Shilling said. "Everyone has a slightly different take on what needs to happen in order to get this across the goal line," he said. The House would need to vote on an extension before the Senate can consider it, and lawmakers are negotiating it as part of a larger package of industry-specific tax breaks also scheduled to expire at the end of the year.
If Congress fumbles the ball on an extension before the holidays, Shilling says the impact on distillers would be immediate. "It's too late for a lot of us, and it won't matter any more…there are folks who are waiting for December 20th because they are regretfully prepared to start laying people off on the 21st if this doesn't happen – that's how significant this is for some of the folks out there," Shilling said while declining to identify specific distilleries where layoffs could occur.
Listen to Mark Gillespie's interview with Mark Shilling:
Many distillers used the money saved from the reduced tax rate in 2018 and 2019 to hire new employees and invest in additional production equipment based on the expectation that Congress would act to extend the lower tax rate or make it permanent. Others were able to use that savings to cover ongoing expenses, and industry leaders have warned for months that a return to the higher tax rate could force many struggling craft distillers out of business.
Shilling, speaking for the entire ACSA delegation, said they've received one consistent message from the leadership on Capitol Hill. "All of them gave us the advice to talk to all of the other folks and make sure they're on board, and again, they're on board with this…it's the other things that are holding them up." He's urging consumers to contact their representatives in Washington to keep the pressure on.
"There are negotiations going on right now that, an hour from now, the picture of what a vehicle might be or when something might happen could change dramatically."
Links: American Craft Spirits Association | Shilling/Crafted
---
November 18, 2019 – Joseph A. Magnus & Co. started selling its whiskies in Washington, DC in 2015. Highland Park Distillery was founded by Magnus Eunson as an illicit distillery hidden inside his Orkney church in 1798. Which one has the exclusive right to use the word "Magnus" on its whiskies?
That's the question a federal judge is being asked to decide after the owners of Joseph A. Magnus & Co. filed a lawsuit in the U.S. District Court for the District of Columbia earlier this month. The Washington-based company is suing Highland Distillers Ltd., the owner of Highland Park Distillery and its namesake Scotch Whisky brand, along with the owners of the online retailer ReserveBar.com. The lawsuit filed November 6 accuses them of trademark infringement, along with "false designation of origin and unfair competition," and wants Highland Park's Magnus expression pulled off the market and pay an unspecified amount in damages. ReserveBar.com was named because it sold and promoted the Highland Park whisky within the District of Columbia, but according to the Washington City Paper, which first reported on the lawsuit, the site has now removed all references to the Highland Park Magnus.
Glasgow-based Edrington is the majority owner of Highland Distillers, and the company's U.S. spokesman, Marc Bromfeld, declined to comment on the specifics of the lawsuit. Spokesmen for Joseph A. Magnus & Co. also declined to comment on their accusations.
In their filing with the court, lawyers for Magnus cite the company's registered trademarks for the "Magnus" name awarded by the U.S. Patent & Trademark office on March 12, 2019 – along with "common-law rights" for the "Magnus" name that date back to when the company launched its whiskies in 2015. The lawsuit also accuses Highland Distillers of using a bottle design for the Highland Park Magnus that features a "similar design and overall appearance" to the Joseph A. Magnus bottle. In addition, it cites a 2018 Patent & Trademark Office decision to suspend Highland Park's own trademark applications for the Magnus edition because of a "likelihood of confusion" with the Joseph A. Magnus brand.
As noted earlier, Highland Park's history with the term "Magnus" dates back to the distillery's founding in 1798. However, the brand also has a more recent usage of the word that pre-dates the Highland Park Magnus. In 2009, Highland Park released the 15-year-old Earl Magnus I single malt as the first of three annual releases in what was called the "Magnus Editions" celebrating Orkney's Viking heritage. The 12-year-old Saint Magnus single malt was released a year later, and the series was completed in 2011 with the release of the 18-year-old Earl Haakon single malt. However, none of the three whiskies were released in the United States, and that may complicate Edrington's potential to argue that it has "common-law" usage rights that would counter the Joseph A. Magnus  & Co. arguments.
The whiskies from both companies received federal approval for their labels from the Treasury Department's Tax & Trade Bureau. However, the TTB has traditionally advised its permit holders that label approvals do not provide any trademark or copyright protection.
The agency usually avoids granting label approvals for products within the spirits category that share a name with a previously-approved product from another permit holder. However, this case might not have fallen into that category because of a technical difference in federal labeling regulations between "brand names" and "fanciful names." The "brand name" is used as the predominant name for a specific brand, such as "Joseph A. Magnus & Co." or "Highland Park." In this case, Highland Park's use of the word "Magnus" would fall into the "fanciful" category since it describes a specific expression within the larger range. The TTB has a policy against commenting on specific label approval or other regulatory decisions.
While the original label design for the Highland Park Magnus featured the "Magnus" branding in a larger font size than the "Highland Park" brand name when it was released in 2017, the packaging was revised in early 2018, according to Edrington's Marc Bromfeld. In an email to WhiskyCast following the original publication of this story, Bromfeld provided a current "bottle shot" for the Magnus expression in which the Highland Park brand name is displayed much more prominently than "Magnus." Our use of the original image was based on the design in use at the time we posted our tasting notes for the whisky at the WhiskyCast web site. In keeping with the company's policy of not commenting on litigation, Bromfeld did not provide a reason for the label's redesign, but did confirm that Edrington did not issue a news release or public announcement of the redesign at the time.
Lawyers for Highland Distillers/Edrington and ReserveBar.com have not yet filed their responses to the lawsuit with the court. Defendants have 21 days after being served with a lawsuit to file an "answer" to the original complaint.
Editor's note: As with all civil litigation, accusations in a lawsuit only reflect the filing party's view of a dispute, and should not be considered as proven fact until argued and ruled on in a court of law. We have provided a .pdf copy of the original filing in this case at the WhiskyCast web site, and will provide similar links to filings by the defendants as they become available. We should also note that Highland Park has been a sponsor of WhiskyCast in the past, but is not currently a sponsor. This story was edited to include an image of the redesigned labeling for Highland Park Magnus and details on that redesign.
Links: Joseph A. Magnus & Co. | Highland Park
---
November 5, 2019 – There isn't much that politicians on both sides of the aisle in Washington agree on these days., with one exception. There is bipartisan support in both the House and Senate for the tax break many U.S. craft distillers have relied on for the last two years, but which is scheduled to expire at midnight on New Year's Eve unless Congress extends it. 315 House members and 73 Senators have now signed on as co-sponsors for the "Craft Beverage Modernization and Tax Reform Act," according to updated totals released today by a group of spirits industry trade associations pushing for the extension.
That tax break reduced the federal excise tax distillers pay on the first 100,000 proof gallons of spirits they remove from bonded storage for sale each year from $13.50 per proof gallon to $2.70. While the nation's major distillers can hit the annual limit within weeks, most craft distillers never come close to the threshold and the tax savings can have a major impact. For instance, a small-scale distiller who removes 10,000 proof gallons from bond during 2019 would owe the federal government $27,000 in excise taxes under current law. If the tax break is not passed, the 2020 tax bill for the same amount would be $135,000.
"When they went down, we hired people, and you know, we're going to have to look at our budgets and tighten our belts…it's going to be a really big deal," says Scott Harris of Catoctin Creek Distilling in Purcellville, Virginia. Scott and Becky Harris opened their small distillery ten years ago to make rye whiskey and other spirits, but have been forced to spend almost as much time focusing on politics as they have on distilling.
The tax break has saved them nearly $80,000 in federal excise taxes in 2018 and 2019, even though they never get close to the threshold where the regular tax rate would kick in. Becky Harris says there are many misconceptions about the tax break on Capitol Hill, despite the significant level of general support for extending it.
"So many of our representatives don't know that we have never had a tiered system like beer and wine have for the federal excise tax. They were under the impression that this would just basically bring us back to being tiered, and we're like, no…essentially, this brings us back to paying exactly what Jim Beam and Heaven Hill pay," she said. Historically, brewers and winemakers have had a tiered system of excise tax rates tied to their annual production. However, the excise tax for distilled spirits had always been a single rate until the current reduction was approved in tax legislation at the end of 2017.
Both the House and Senate are essentially on recess this week with no votes scheduled, and the bill to make the tax cut permanent has been languishing since last February in the House Committee on Ways and Means and the Senate Finance Committee. Even though there is bipartisan support for that bill, the challenge remains finding a place for it on the crowded Congressional agenda – especially with a November 21 deadline to pass budget legislation in time to avoid another federal government shutdown.
"We're told that if there is a vehicle, that we will almost certainly be in it, but one of the big questions right now is will there be a tax extender package or a vehicle for us to ride across the finish before the end of the year," says Mark Shilling of Revolution Spirits in Austin, Texas. Shilling is a former president of the American Craft Spirits Association and has been active on the excise tax issue for many years. "We are part of a large universe of folks who have temporary tax provisions that need to be reauthorized, so it's not just us out there saying 'hey, hey, look at us – we've got this thing and it's really going to hurt if we don't get an extension,'" he said.
Distillers started lobbying to make the tax cut permanent as soon as the temporary cut took effect, and Becky Harris has been pushing Virginia Senators Tim Kaine and Mark Warner to join the list of co-sponsors. "Senator Kaine just had a roundtable talking about the rural economy, and I know he's a fan of our whiskey…I was bending his ear on it just a couple of weeks ago," she said.
The Harrises also had another chance to lean on Senator Kaine. Scott Harris personally delivered several bottles of Catoctin Creek Rye to Kaine's office at the Senator's request last week to help them celebrate the Washington Nationals World Series championship. We have asked Sen. Kaine's office for his position on the extension, and will update this story when we receive a response.
Links: Catoctin Creek Distilling | Revolution Spirits | American Craft Spirits Association
---
November 1, 2019 – There's a countdown clock on the home page of the American Craft Spirits Association web site for midnight on New Year's Eve. It's not there to help revelers figure out when the ball drops in Times Square, but when one of Wile E. Coyote's ACME anvils will drop on the craft distilling industry.
When the calendar flips from 2019 to 2020, a tax break that has helped dozens of craft distillers expand their businesses will expire unless Congress and the Trump Administration act to extend it. That cut was part of the 2017 tax reform act, and reduced the federal excise tax distillers pay on the first 100,000 proof gallons of spirit they remove from bond for sale each year. The move lowered the tax rate from $13.50 to $2.70 per proof gallon, but only through December 31, 2019.
The change affected all distillers, but has had a proportionately larger impact on small-scale distillers who rarely even come close to the tax threshold. For instance, a craft distiller who removes 25,000 proof gallons of spirits from bonded storage for sale this year would owe the federal government a total of $67,500 in federal excise taxes – compared to $342,500 at the $13.50 rate for a savings of $275,000.
"The marginal distilleries out there that are just barely making it…they are possibly going to go away or they're going to have significant challenges," says Mark Shilling of Revolution Spirits in Austin, Texas. Shilling is a former president of the ACSA and has been working on the excise tax issue for nearly a decade, and notes that many distillers reinvested the savings from the tax cut in new equipment and to create new jobs. "Some of the more stable guys may have to cut back on labor…that might mean cutting back production a bit because of staff, it might be cutting back in the market because you can no longer afford to have that person out there making account visits. I think every distillery will be affected a little bit differently," he said in a telephone interview.
There is widespread bipartisan support on Capitol Hill to make the tax break permanent, with 315 co-sponsors of legislation in the House and 73 co-sponsors for the companion bill in the Senate. However, there are also many other issues jamming the legislative agenda that are higher priorities. That includes the need to pass appropriations bills or a short-term extension to fund government operations by November 21 or face the second federal government shutdown this year. It also includes the ongoing impeachment probe, which could stress the bipartisan support for this piece of legislation.
In theory, Congress could vote in early 2020 to make the tax break permanent and retroactive to January 1, but according to Shilling, that would still put smaller distillers in a bind. Excise taxes are due when spirits are removed from bond, and distillers generally file their returns and tax payments on a bi-monthly basis. "By the time that happens, we've already had to pay those taxes, and I think that there are probably quite a number of smaller and marginal distillers out there that if this is not extended, we're going to see them go away, and this is not hyperbole, I think it really, really is the case," he said. The ACSA and other industry groups marshaled nearly 2,000 industry members from all 50 states for a day-long lobbying campaign in mid-October targeting their members of Congress, and also spent time on Capitol Hill in July during an industry summit in Washington.
Listen to Mark Gillespie's interview with Mark Shilling:
There could also be an unintended consequence of failing to extend the tax break, given the ongoing trade disputes that have led to a 21 percent decrease in exports of Bourbon and other American whiskies over the past year. Major distilleries have been running full-steam for several years to meet current and projected demand, and earlier this week, the Kentucky Distillers Association released state data showing record production of 2.1 million barrels of whiskey last year, along with a record 9.1 million barrels of spirits maturing in the state's rickhouses.
KDA President Eric Gregory's members in the craft distilling sector are watching both factors nervously. "The fear among the craft distilleries is that the production obviously continues and we have a glut in the domestic market that could cause a price war, and at that point, that's really going to hurt our small craft distilleries that are really now just starting to grow…and then if something happens in Congress where we do not get a reauthorization of that federal excise tax cut, boy, they're just going to take a double whammy," he said.
WhiskyCast has contacted Rep. Ron Kind (D-Wisconsin) and Sen. Ron Wyden (D-Oregon), the lead sponsors in both chambers, and this story will be updated when we receive responses from them.
Editor's note: This story has been updated with the latest number of co-sponsors in each chamber.
Links: American Craft Spirits Association | Revolution Spirits | Kentucky Distillers Association
---
October 30, 2019 – Kentucky's Bourbon distillers are running their stills at full steam to catch up with current – and projected – demand for Bourbon, with two key barometers of the industry's health at record highs. For the first time on record, the industry filled more than two million barrels of Bourbon during 2018 (2.1 million) and Kentucky's rick houses are holding more than 9 million barrels of maturing spirits. Of that, approximately 8.5 million barrels are filled with Bourbon, while the rest hold Rye whiskey, Brandy, and other spirits.
The previous records date back to the last "Bourbon Boom," when distillers filled 1.9 million barrels of Bourbon in 1967. A year later, those barrels helped to account for the 8.7 million barrels of spirits being matured in Kentucky, with nearly all of that being Bourbon. The new record of 9.1 million barrels means there are two barrels of maturing spirits for every person living in Kentucky, based on the latest Census Bureau population estimate of 4.5 million people.
The figures are based on inventory and production reports Kentucky's 72 distilleries are required to file with the state on an annual basis, and the growth of the state's distilling industry can be gauged by when the annual report comes out, according to Kentucky Distillers Association president Eric Gregory. "We used to have those numbers by March or April, but now it takes until September or October for everybody to get those things in and for the state to make sure all the "i's" are dotted and the "t's" are crossed," he said in a telephone interview. The KDA represents 40 of Kentucky's 48 distilling companies.
The barrel count is critical, and not just as a barometer of the industry's success. Kentucky assesses inventory taxes on maturing spirits, with $25 million in annual revenue from the "barrel tax" going to local governments to support schools, public works, and other local functions. The assessed value of those 9.1 million barrels currently stands at $3.4 billion, and has doubled since 2009.
In 2014, industry leaders persuaded state lawmakers to create the "Bourbon Barrel Reinvestment Credit", which allows distilleries to offset the barrel tax with credits against their state corporate income taxes. The credit requires distillers to reinvest that money into capital projects within the state, which has helped create a construction boom in new warehousing and visitors centers along with distillery upgrades. However, a 2018 cut in the state's corporate income tax now means distillers are paying far more in barrel taxes than they are able to offset in credits, and Gregory is hoping to persuade the General Assembly to make those credits refundable in the 2020 legislative session.
---
October 25, 2019 – The record price for a single bottle of whisky sold at auction fell like autumn leaves in the wind at London's Olympia Thursday as Sotheby's held its first single-owner spirits auction. More than 460 bottles belonging to an anonymous American collector went on the block, bringing a total of £7,635,619 GBP ($9.9 million USD) in bids and premiums.
The "holy grail" of whisky auction records was shattered by a record £1,452,000 ($1,873,951) bid for what has often been described as the "holy grail" of Scotch whiskies, the 60-year-old 1926 Macallan Fine and Rare Series. The winning bid broke the previous record of £1.2 million set last November at Christie's in London for a 1926 Macallan with a hand-painted bottle by artist Michael Dillon. Like that bottle, this was one of 16 bottles released by The Macallan as part of its Fine and Rare Series out of a total of 40 produced by the distillery, while artists Valerio Adami and Sir Peter Blake each created bespoke labels for 12 of the remaining bottles.
Sotheby's spirits specialist Jonny Fowle described the mood in Olympia as electric as serious bidders kicked in, both in person and by telephone. "I thought it would go about £800,000, so when it started to slow down, I thought that was probably the end of it at around £650,000, and then it was unbelievable…the energy in the room was amazing and everybody started crowding around, the bids kept on coming in and as it hit the million-pound mark, everyone cheered and then it carried on all the way to £1.2 million," he said in a telephone interview.
The winning bid came from an anonymous bidder in Olympia, and Sotheby's declined to release any other information about the winner. As for the "ultimate whisky collector" who decided to sell his valuable collection in one single auction, while he too must remain anonymous, Fowle said the American collector was ecstatic after the results nearly doubled pre-auction estimates in the £4 million range.
A spokesman for Edrington, the owner of The Macallan, declined Friday to comment on the results of the auction, noting that the distillery does not profit from auction sales or other sales on the "secondary market." However, he noted in an email that "it is a testament to the fine quality and consistent production process of The Macallan that collectors would seek out and pay for the privilege of obtaining such a fine dram."
In addition to the 1926 Macallan, 177 other Fine and Rare Series bottlings went on the block, while two complete Macallan in Lalique Six Pillars Collections each brought bids of more than £600,000. A Springbank 50-year-old single malt distilled in 1919 brought a high bid of £266,200 ($343,558), far higher than when that whisky was listed years ago by the Guinness Book of World Records as the "most expensive bottle of whisky ever sold." Bottle number one (of 12) of Bowmore's 54-year-old "Crashing Waves" single malt sold for £363,000 ($468,488), while nine casks of single malts sold for a combined £399,300 ($515,337), and a Brora 40-year-old single malt sold for £54,450 ($70,273).
A complete list of auction results is available at the Sotheby's web site. All prices listed here include the Sotheby's 21 percent premium, which covers commissions charged to both buyers and sellers.
Editor's note: This story was updated to include reaction from an Edrington spokesman.
Links: Sotheby's | The Macallan
---