Each week, we bring you the latest whisky news on WhiskyCast, but a lot can happen during the week. Now, you can keep up with whisky news as it happens here on WhiskyCast.com!
September 17, 2019 – Six new legends will join some of Bourbon's greatest names Thursday when the Kentucky Bourbon Hall of Fame inducts the Class of 2019 during the Kentucky Bourbon Festival. The class is led by Willett Distillery's Even Kulsveen, who will also receive the Parker Beam Lifetime Achievement Award during the ceremony.
Kulsveen and his wife Martha are credited with reviving the family's distillery founded by her father in the hills above Bardstown, along with becoming one of the largest independent bottlers and exporters of Kentucky Bourbon worldwide. Today, their daughter Britt is Willett's president, while son Drew oversees distilling and blending operations at the company. In a news release, Britt Kulsveen said "our father has lived several lifetimes with all of the career paths he has taken – from tending bar to having a glass factory that produced decanters and envisioning the kingdom we have built together as a family today. We have always said that he is lifetimes ahead of his time with all of the innovative, genius creations he has imagined and brought to fruition. This award is a long time coming."
Other inductees include Charles W. Medley, a member of Owensboro's legendary Medley family and longtime master distiller at the former Medley Distillery, retired Heaven Hill director of trade and media relations Larry Kass, longtime Brown-Forman executive and Bourbon Women founder Peggy Noe Stevens, and Katrina Egbert of Wild Turkey. Egbert's official title is "visitor center marketing coordinator," but she's more widely known as being the right-hand person for legendary Wild Turkey Master Distiller Jimmy Russell for more than 30 years.
There will also be one second-generation inductee into the Hall of Fame. Angel's Envy co-founder and chief innovation officer Wes Henderson rounds out the class, and will join his father, the late Lincoln Henderson, in the Hall of Fame. Lincoln Henderson was the longtime master distiller at Brown-Forman and a member of the inaugural Hall of Fame class in 2001.
The Hall of Fame recognizes individuals and groups that have made significant impacts on the Kentucky Bourbon industry, and is a partnership between the Kentucky Distillers Association and the Kentucky Bourbon Festival. Candidates are nominated each year by the association, its member distilleries, and the Bourbon Festival board – with the KDA board voting on those nominees to be inducted.
This year's ceremony will be on Thursday afternoon at My Old Kentucky Home State Park in Bardstown.
Links: Kentucky Bourbon Hall of Fame | Kentucky Distillers Association | Kentucky Bourbon Festival
---
August 29, 2019 – A Virginia distillery has settled a lawsuit filed last month by the Scotch Whisky Association over its use of the word "Highland" in the branding for its whiskies. The Virginia Distillery Company has used the term "Virginia-Highland" on its whiskies blended from the distillery's own malt whisky with whisky imported from Scotland, but has agreed to stop using the term once existing inventory is sold off.
The lawsuit filed in U.S. Federal Court in Delaware July 8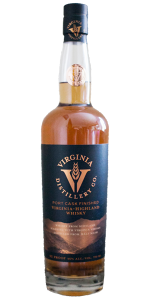 accused Virginia Distillery Company of misleading consumers by falsely claiming that "defendant's product is Scotch Whisky when it is not" by using the "Highland reference. In addition, U.S. regulations also bar whiskey makers from using "Highland" and other Scotland-specific terms on their labeling when the whiskies are not from Scotland.
Virginia Distillery CEO Gareth Moore emphasized that there was never any attempt to mislead consumers, and said in a joint statement that "we stand behind the quality of the Virginia-Highland Whisky products and the awards and general recognition they have received the past three-plus years, but are happy to work with the Scotch Whisky Association to ensure that there is no chance of confusion about our products." The distillery will be releasing a new range of "Courage & Conviction" single malts using its own whiskies exclusively in the spring of 2020. 
Scotch Whisky Association executives praised the Virginia distillery for its "prompt and positive attitude" to resolving the dispute. The two sides had been negotiating for several months before the association filed its lawsuit. The SWA has a long track record of legal action worldwide to keep distillers outside of Scotland from using terms historically associated with Scotch Whisky.
Links: Virginia Distillery Company | Scotch Whisky Association
---
August 28, 2019 – Pernod Ricard Chairman and CEO Alexandre Ricard sees the United States as his company's most important market, and is investing heavily to build up Pernod Ricard's American whiskey portfolio. The latest move sees Pernod Ricard paying approximately $223 million USD to acquire Castle Brands, which makes Jefferson's Bourbon along with the Knappogue Castle and Clontarf Irish whiskey brands and other spirits. Castle Brands shareholders will receive $1.27 per share in cash when the deal closes in the fourth quarter of 2019.
This is the third Bourbon-related acquisition for Pernod Ricard in recent months. In June, the company acquired majority ownership in Louisville-based Rabbit Hole Distilling through its US-based New Brand Ventures unit, with founder Kaveh Zamanian retaining a minority stake and remaining in control of day-to-day operations. A month later, Pernod Ricard acquired Firestone & Robertson Distilling in Fort Worth, Texas for an undisclosed price. Until those deals, Pernod Ricard's only US-based distillery and brands were the Smooth Ambler whiskies made in West Virginia, which were acquired in a New Brand Ventures deal in 2016.
"This deal aligns well with our consumer-centric strategy to offer our consumers the broadest line-up of high-quality premium brands, "Alexandre Ricard said in a news release. "As with our American whiskies Smooth Ambler, Rabbit Hole and TX, we would provide Jefferson's a strong route to market and secure its long-term development, while remaining true to its authentic and innovative character."
Castle Brands produces its Jefferson's Bourbon expressions at the Kentucky Artisan Distillery in Crestwood, Texas using whiskey from that distillery and other distilleries under contract. The company is an investor in Kentucky Artisan Distillery, and that ownership stake is expected to transfer to Pernod Ricard when the deal closes.
Castle also serves as the U.S. importer for Isle of Arran Distillers and its Arran, Robert Burns, and Machrie Moor Scotch whiskies. While those brands were mentioned in the news releases announcing the deal, Arran managing director Euan Mitchell has confirmed to WhiskyCast that his independently-owned company will be looking for a new importer to re-launch its whiskies in the United States once the deal closes. Pernod Ricard's U.S. unit does not handle imports for so-called "agency brands," according to Mitchell.
The move also leaves unclear the future for Castle's two Irish whiskey brands. Knappogue Castle and Clontarf. Knappogue Castle was the company's original brand when Chairman Mark Andrews founded the company in 1988, and took its name from the castle his parents owned in Ireland. Clontarf was added to the portfolio later as a value entry in the Irish whiskey market, and both brands use whiskey sourced from distillers in Ireland. Pernod Ricard's Dublin-based Irish Distillers unit has been focusing in recent years on its premium brands, including Redbreast, Powers, Midleton, and Jameson. The division sold Paddy, one of its original brands dating back to the 1965 merger of the three remaining Irish distilling families, to Sazerac in 2016. Pernod Ricard executives have not disclosed their plans for Knappogue Castle and Clontarf once the Castle Brands acquisition closes.
Links: Pernod Ricard | Castle Brands
---
August 13, 2019 – Heaven Hill Brands has agreed to acquire Black Velvet, the #2 selling Canadian Whisky brand, from Constellation Brands. The deal was valued by Constellation at $266 million (USD) in cash, and includes the Black Velvet Distillery in Lethbridge, Alberta along with its existing stocks of maturing whisky and several smaller Canadian Whisky brands. The transaction is expected to close this autumn following regulatory review by the Alberta Liquor and Gaming Commission, which must approve the transfer of the distillery's operating permits.
"Black Velvet is a historic brand, one that we're excited about because it fits our portfolio of whisky brands and frankly, non-whisky brands that are of unique scale and at a price point that we're very good at selling," said Heaven Hill spokesman Josh Hafer. Black Velvet's three expressions sell approximately 2 million cases annually, primarily in the United States. "If you look at, notably, Evan Williams, Christian Brothers Brandy, Admiral Nelson's Rum…these are brands of large volume that fit with what we're trying to do as a company and can help us grow brands like Elijah Craig, Pikesville, Lunazul Tequila, and those types of brands that are smaller in scale but growing at a rapid pace," Hafer said.
The acquisition is not Heaven Hill's first foray into Canadian Whisky, but it will be the first time the privately-held company has acquired a distillery outside the United States. Carolans Irish Cream liqueur is produced in Ireland under a supply contract, and until now, Heaven Hill's only distillery outside of Kentucky has been the Deep Eddy Vodka distillery in Austin, Texas.
The deal received praise from longtime Canadian Whisky writer Davin de Kergommeaux, the author of "Canadian Whisky: The New Portable Expert" and editor of CanadianWhisky.org. "This is good for Black Velvet as it was withering under Constellation, where the emphasis had switched to the wine portfolio," he said in an email. "It is also good for Canadian Whisky as Black Velvet is an important brand with lots of potential for premiumization, and Heaven Hill has a reputation for investing in brands and building them," de Kergommeaux said. In 2018, de Kergommeaux honored Black Velvet master blender Vicky Miller with a lifetime achievement award in the Canadian Whisky Awards for her contributions to the industry.
Constellation Brands has been known primarily as an acquirer of whisky brands and distilleries in recent years, mostly in the craft distilling space as it re-focuses on premium spirits brands along with beer and wine. In a news release, Constellation CEO Bill Newlands said "this decision aligns with our consumer-led premiumization strategy to deliver accelerated growth and shareholder value as we continue to focus our wine and spirits portfolio on higher-end, fast-growing brands. For Heaven Hill, Black Velvet is a historic, well-known, and high-volume brand that complements their broad distilled spirits portfolio and aligns with their business strategy."
The Constellation spirits strategy has also focused on craft distilling in recent years. In May, it acquired a majority stake in Nelson's Green Brier Distillery in Tennessee to go along with High West Distillery in Utah. The company also has minority stakes in Catoctin Creek Distilling, Bardstown Bourbon Company, and Montanya Distillers.
The transaction marks Constellation's departure from the Canadian Whisky market. It acquired Black Velvet in 1999 from Diageo, two years after Grand Metropolitan and Guinness merged to form the drinks giant. The brand was created by Heublein in 1951 and originally distilled at the Schenley distillery in Valleyfield, Quebec. In 1973, production moved to the newly-constructed Palliser Distillery in Lethbridge, Alberta.
In 2009, Constellation moved production of Schenley's Golden Wedding, OFC (not to be confused with the O.F.C. Kentucky whiskies from Buffalo Trace), and other former Schenley brands to Lethbridge. Those "heritage" brands are also part of the Heaven Hill transaction. The distillery has around 60 employees, and according to Hafer, no jobs will be affected after the transaction is completed.
This is the second distillery transaction announced so far during August. Last week, Pernod Ricard acquired the assets of Fort Worth, Texas-based Firestone & Robertson Distilling Company as CEO Alexandre Ricard continues to revive the company's American Whiskey portfolio. In June, Ricard completed the acquisition of a majority stake in Rabbit Hole Distilling, marking Pernod Ricard's return to Kentucky Bourbon a decade after it sold Wild Turkey to Gruppo Campari for $575 million.
Editor's note: Heaven Hill Distillery is a sponsor of WhiskyCast. 
Links: Black Velvet | Heaven Hill | Constellation Brands
---
August 1, 2o19 – Four months and 29 days may seem like a long time for most of us, but many American craft distillers are viewing it with increasing urgency. When the clock strikes midnight on New Year's Eve, just as Cinderella's glittering coach turned back into a pumpkin, the federal excise tax break distillers received two years ago will disappear unless extended by Congress and the Trump Administration.
"If you want to see our industry continue to grow, this is what it takes…by changing the tax structure, we saw beer explode. You change the tax structure and we saw wine explode," says Chris Montana of Du Nord Craft Spirits in Minneapolis and president of the American Craft Spirits Association. "We changed the tax structure…spirits are thriving. You pull that back and you make the small guys compete at the exact same level as the big guys in a system that isn't made for them., you're going to see contraction.
Montana was one of more than 150 distillers from around the country in Washington last week for the annual public policy conference sponsored by the ACSA and the Distilled Spirits Council. It also served as a chance for distillers to push their representatives on Capitol Hill to advance legislation that would make the tax cut permanent – or at least extend it for one or two more years.
"An extension is great, but we need to make it permanent because there's guys like me – little distillers who just in my little home state…are trying to make decisions that are long term; equipment to buy, people to hire. We can't do that when we have this uncertainty, so we need to make this thing permanent. We'll take an extension if we can get it, but it's absolutely crucial," Montana said.
That tax break on the first 100,000 proof gallons of spirits a distiller removes from bonder sale each year has saved the industry millions of dollars during 2018 and 2019. The difference between the full rate of $13.50 per proof gallon and the discounted $2.70 rate adds up to $275,000 for a craft distiller based on 25,000 proof gallons, and for many distillers, that savings has made the difference between struggling and being able to expand.
Ted Huber and his family own Huber's Starlight Winery and Distillery in Borden, Indiana, and like many of his colleagues, they plowed the savings from the tax break back into the business.
"Our barrel warehouse number three is up and we put about 700 barrels in it last year, so make a lot of whisky to set down, that was our goal. We also hired a couple of new employees in our facility to to help us market and help us produce, so we took the money and we didn't put it back into our personal pockets. We didn't buy new cars or condos in Florida. We literally put it back into the business to further the business, further our whisky, to make better whisky and make better brands," Huber said.
Other distillers have used the tax savings to help provide health insurance and other benefits for their employees, including Chris Montana, who also doubled the size of his staff to help produce Du Nord's whisky, vodka, and other spirits. "Craft distilleries are wildly inefficient," he said. "It actually takes a lot of people, it takes a lot of equipment, and takes a lot of expertise for us to do even a fraction of what the big guys do. So when we get a tax credit, it goes to all those things, it goes to people."
Failing to extend the tax break means distillers would face an immediate tax hike on January 1, 2020 and either be forced to cut costs by laying off workers or reducing benefits, but P.T. Wood of Wood's High Mountain Distillery in Salida, Colorado says distillers could also try to pass the cost on to consumers. "It's gonna be tough on our industry, it's going to drive up prices for our consumers. We need to get it done and keep the industry moving forward."
Looking at the dockets in the House of Representatives and the Senate, it would appear that the extension should be a bipartisan slam dunk. Sen. Ron Wyden (D-Oregon) has 67 co-sponsors in the Senate for his bill to make the extension permanent, while Rep. Ron Kind (D-Wisconsin) has 267 sponsors for his House version. Both bills are pending in committee, and with both houses scheduled to recess until after Labor Day by this weekend, no action will be likely until the fall.
Part of the success behind the original legislation in 2017 was the increasing number of craft distillers, with more than 1,800 now operating in all 50 states. Those distillers and the growing number of state distillers' guilds were able to persuade their representatives on Capitol Hill that a tax cut would have a direct impact in their districts, and are now proving that – as Chris Montana says – "this is a tax cut that works."
"The reception's always been great," Montana said. "The question is who's going to be that champion who's going to step up and push this thing across the finish line. Whoever that person is or whoever those people are they are welcome at Du Nord Craft Spirits and we'll give them all the whiskey they want."
Links: American Craft Spirits Association | Distilled Spirits Council | Du Nord Craft Spirits | Huber's Starlight Winery & Distillery | Wood's High Mountain Distillery
---
July 9, 2019 – When is a "Highland" whisky not a "Highland" whisky? That's the crux of a federal lawsuit filed Monday by the Scotch Whisky Association against the Virginia Distillery Company over its "Virginia-Highland Whisky." It's the latest legal battle for the Edinburgh-based trade association over the use of words traditionally associated with Scotch Whisky on whiskies produced outside of Scotland – a battle the association has been fighting vigorously for years.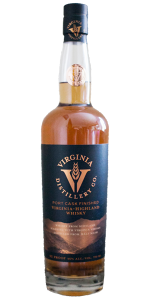 In this case, "Virginia-Highland Whisky" is a blend of malt whiskies imported from Scotland with American single malt whisky distilled at Virginia Distillery Company's own facility in Lovingston, Virginia. The SWA's complaint filed in the U.S. District Court in Wilmington, Delaware argues that both the use of the term "Highland" and the spelling of "Whisky" falsely give consumers the impression that "defendant's product is Scotch Whisky when it is not."
Virginia Distillery Company's web site clearly describes the various expressions of "Virginia-Highland Whisky" as "marrying whisky from Scotland with whisky made on-site in Virginia." While previous court rulings have not declared Tax & Trade Bureau label approvals to be a "safe harbor" from lawsuits, the whiskies have received label approvals from the agency required before they can be legally sold in the United States.
The company was founded in 2011 by the late Dr. George Moore, and continues to be run by his family. CEO Gareth Moore declined an interview request on the advice of legal counsel, but issued a statement pledging to fight the lawsuit.
"We are confident this complaint will be resolved, and we will be responding through the court system.  We stand behind our product and its labeling. Our independent distillery launched the Virginia-Highland Whisky series over three years ago. Our production process pays tribute to both old world and new world techniques while taking advantage of our location and the climate provided by Virginia's Blue Ridge Mountains. Our label clearly indicates the source of our whisky, stating "Whisky from Scotland, Married with Virginia Whisky", and we have always been upfront in descriptions to our customers. Our team invested countless hours and took the necessary and appropriate steps to design labeling for the series in conjunction with the federal TTB regulations and an additional inquiry from the Scotch Whisky Association. We've always been extremely transparent about our production process – from our labeling to the product's marketing. As the largest independently owned American Single Malt distillery in the U.S. with the capacity to make over 120,000 9L cases of ultra-premium American Single Malt whiskey per year, we're proud of our role in growing and championing the American Single Malt category. We plan to continue our expansion of the Virginia-Highland Whisky series line across the U.S. and look forward to the upcoming release of our Courage & Conviction American Single Malt line." 
In addition, the SWA accuses Virginia Distillery Company of violating U.S. regulations banning the use of words associated with Scotland. In a statement, the association called its legal strategy vital for protecting the intellectual property of Scotch Whisky.
"In this instance, we believe that Virginia Distillery's products are being passed off as Scotch Whisky, particular on account of their use of the term 'Highland' which is reserved exclusively for Scotch Whisky under US Federal Regulations. These proceedings were not taken lightly, but only after more than 12 months of attempts by the SWA to resolve this issue privately with the company in question. The Association would still welcome a resolution of the matter without the need for Federal Court involvement."
The complaint also cites a partnership between the distillery and "Scotch Trooper" photographer Brett Ferencz for a "Scotch Trooper Cask" release last December as further proof of the intention to create a "false association between its products and Scotch Whisky. Ferencz's Instagram feed largely focuses on his passion for "Star Wars," and often feature photos of action figures from the series interacting with whisky bottles or glasses. He is not named as a party in the lawsuit.
The Scotch Whisky Association's legal team has a successful track record over the last 15 years in lawsuits similar to this filed in courts around the world. Its only significant loss came in 2009, when Canada's Supreme Court rejected the SWA's appeal of lower court rulings allowing Nova Scotia's Glenora Distillers to continue using the "Glen Breton" brand name for its Canadian single malt whisky. The distillery released a "Battle of the Glens" whisky in 2010 to celebrate the ruling.
No date has been set for a hearing in the case, and Virginia Distillery Company has 21 days to file its response to the SWA's complaint with the court.
This story will be updated as necessary.
Editor's note: We have provided a link to view the SWA's complaint at the WhiskyCast web site. As in all civil lawsuits, court filings only present one party's side in a dispute and should not be considered as proven facts until argued and ruled upon in court. We will update this story with a link to the defendant's response once it is filed with the court. 
Links: Scotch Whisky Association | Virginia Distillery Company 
---
July 8, 2019 – Investigators are now looking through the rubble of a rickhouse at Beam Suntory's Old Crow warehousing site near Versailles, Kentucky to confirm whether a lightning strike started the fire that destroyed 45,000 barrels of Jim Beam Bourbon. The fire started around midnight on Tuesday, July 2, and burned until Saturday as firefighters allowed spilled alcohol that had pooled in the warehouse's basement substructure to burn off. There were no injuries reported from the fire.
While the investigation continues at the site that was home to the Old Crow Distillery for more than a century, state environmental officials are monitoring environmental damage downstream from a plume of alcohol that stretches more than 23 miles to the Ohio River. Spilled whiskey from the warehouse flowed into Glenns Creek, which feeds into the Kentucky River and reached the Ohio River Monday morning, according to John Mura of the Kentucky Energy & Environment Cabinet.
"We're still trying to aerate the leading edge of the plume," Mura said in a telephone interview. State fish and wildlife officers are reporting thousands of fish killed or dying because of a lack of oxygen in the water. "We are seeing dead fish floating on the Ohio River…people who use the river are seeing and smelling the dead fish," Mura said, noting that the impact is on a scale similar to that from a Wild Turkey warehouse fire in 2000 when an estimated 228,000 fish were killed when whiskey flowed directly into the Kentucky River.
According to Mura, when alcohol from a warehouse accident flows into a creek or river, bacteria in the water eat the sugars in the alcohol and multiply rapidly, which robs the water of its oxygen content and causes fish to suffocate. Sampling at the trailing edge of the plume near the Old Crow site shows oxygen levels returning to near normal, and the plume is expected to dissipate quickly as it enters the Ohio River's faster-moving currents. While the river is safe for boating, Mura said swimmers should avoid areas where there may be stagnant water or dead fish for now.
The Kentucky River also provides drinking water for Frankfort's water utility and other systems downstream from the site, and traces of alcohol have turned up in samples of drinking water. However, Mura says tap water is safe to drink despite some residual aroma or taste. There are no "boil orders" in place, but fish from the river should not be considered safe to eat at the present time.
Mura credited Beam Suntory executives with responding quickly to the fire and the environmental issues, noting that Beam has hired two environmental contractors to respond to the spill and has been participating actively in daily meetings with state regulators. The drinks company will eventually face one fine for polluting the river system and a separate fine from the Fish & Wildlife department for the damage to fish stocks.
On Monday afternoon following the original publication of this story, Beam Suntory provided the following statement:
"With the fire extinguished and everyone safe, we are focused on minimizing and remediating environmental impacts. Since Wednesday, we have been working collaboratively with local, state and federal government agencies. In this collaborative approach, we immediately initiated actions to minimize the environmental impacts. This included deployment of aerators to support regeneration of the affected water. Once it was safe to do so, aerators were placed in the creek on Wednesday, and a barge was deployed in the Kentucky River to operate aerators late Thursday. We've seen oxygen levels rebound well in both waterways. We have built berms at our site, to avoid further runoff to the nearby waterways, and we are conducting water sampling and water field screening to get real time results of water quality on the river, as part of a coordinated effort. We have been informed that the situation is now sufficiently under control that the State of Kentucky is preparing to end emergency response activities and transition to longer-term, more routine monitoring. We look forward to partnering with them to protect water and the natural environment. As we focus on remediating the environmental impacts, we remain grateful for the outpouring of support we have received from the community and government partners."
This story will be updated as necessary.
Editor's note: This story was updated to include a statement provided by Beam Suntory.
Links: Beam Suntory | Kentucky Energy & Environment Cabinet | Kentucky Department of Fish & Wildlife Resources
---
July 5, 2019 – The fire that destroyed a Jim Beam Bourbon maturation warehouse is still burning, nearly three days after it started late Tuesday night. The blaze is being fueled not only by 45,000 barrels of whiskey being stored inside the warehouse on the site of the former Old Crow Distillery near Versailles, but by the wooden structure of "ricks" that held the oak barrels in place during the years of maturation time.
Woodford County Emergency Management Director Drew Chandler says the fire will be allowed to burn itself out unless it poses a danger to other warehouses at the site. "The warehouse that collapsed has a basement substructure to it, and it is acting as a pool for some of the distillate that is still continuing to burn off," he told WhiskyCast in a telephone interview Friday afternoon.
According to Chandler, the decision was made because flooding the structure with water could create more environmental problems. Spilled whiskey from the warehouse flowed into nearby Glenns Creek and from there into the Kentucky River, which supplies drinking water for the city of Frankfort downstream. While state and federal environmental officials are monitoring the water supply, they recommended that firefighters allow the remaining whiskey to burn off instead of risking additional contamination.
Beam Suntory, which has used the Old Crow maturation warehouses since 1987, has deployed excavating equipment to the scene to start removing barrel hoops and other debris in order to allow firefighters to better monitor the fire. The debris pile sits on top of the basement substructure, and there is no way to tell how much whiskey remains to be burned off. The company has not commented on the incident since an initial statement Wednesday morning shortly after the fire began.
There is still no word on what caused the fire, which started during a thunderstorm late Tuesday night. At its peak, the fire spread briefly to a second warehouse at the site, but firefighters were able to knock that fire down before it spread throughout the building. There was no damage reported at the Glenns Creek Distillery, which is located about 300 yards from the fire scene on 16 acres of land that was originally part of the Old Crow complex.
Chandler told WhiskyCast he was not able to get close to the scene for several hours because of the intense heat. He credited Woodford County ambulance personnel with keeping firefighters safe during the worst of the fire, which generated temperatures similar to those of aircraft accidents involving burning jet fuel.
"The firefighters were not actively fighting fire for more than a few minutes at a time, and then (the medics were) rotating them out and back in when their vital signs and hydration had occurred, contributed to no heat exhaustion injuries," Chandler said. "The kind of protective clothing they needed to get closer than they did would be similar to what airport fire and rescue would use."
The Old Crow site is in a rural area along McCracken Pike, and the fire did not spread to the nearby woods along Glenns Creek that sit between Old Crow and the Castle & Key Distillery less than a mile away. Castle & Key co-owner Will Arvin told WhiskyCast in an email that the fire caused no impact on operations at the distillery, which reopened in 2016 after two years of restoration work on what was known for decades as the historic Old Taylor Distillery. "The fire department was valiant at controlling a very scary situation…hoping for the best for our friends at Jim Beam," Arvin said.
While firefighters allow the remaining whiskey to burn off, they have reopened McCracken Pike to traffic. Chandler noted that at least one Bourbon tour provider has added the fire scene to its itinerary. "There was a minibus that drove by slowly with people hanging out the windows with their cameras…ordinarily, the bus would have turned around in the parking lot at the distillery next door (Castle & Key) because this stretch of McCracken Pike really doesn't go anywhere, but they extended their tour so the folks could see where the fire happened," he said with a chuckle.
---
July 3, 2019 – In a move certain to set off fireworks within the distilled spirits industry, the U.S. Treasury Department's Tax & Trade Bureau appears to be "fast-tracking" a plan to eliminate most of the requirements for distilled spirits and wine bottle sizes. The agency published its notices of proposed rule making on Monday, kicking off a public comment period that has been extended until October 30, 2019.
There are separate proposals covering distilled spirits and wine, since they appear in different sections of Title 27, the section of the Code of Federal Regulations that covers alcoholic beverages. While the wine proposal only sets a minimum size, the proposal for distilled spirits would set a minimum and maximum size for the "standards of fill," which defines what sizes distilled spirits can be packaged in. The current standards have been in place since a switch to metric sizes in 1980.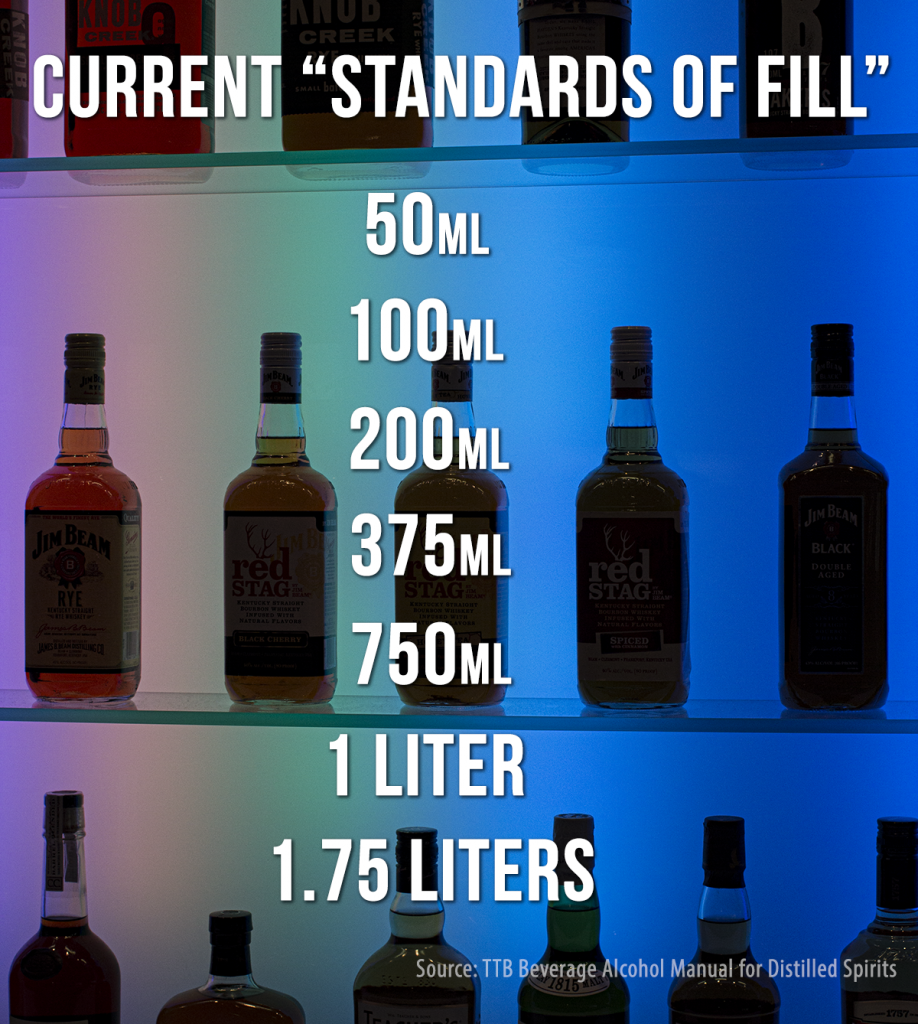 When the agency first announced on June 10 that its agenda for upcoming regulatory changes would include the standards of fill question, TTB officials declined to say be more specific on when the proposals would be published. A number of industry officials believed at the time that the proposal would not receive more attention until later this year. The Distilled Spirits Council has already expressed opposition to a large-scale revision of bottle sizes, while allowing that some flexibility might be appropriate.
The agency's rationale for considering the change covers both increased purchasing options for consumers while eliminating regulations that "inhibit competition and the movement of goods in domestic and international commerce." The current regulations ban the import and sale of distilled spirits in 700 milliliter bottles, which is the European Union standard. As a result, U.S. whisky makers who want to export their products to Europe face the increased cost of producing 750ml bottles for the domestic market and 700ml bottles for export. European whisky and spirits makers, including all Scotch and Irish Whiskey brands, face the same problem when they want to export their products to the United States. 
Last week, the TTB closed its extended public comment period on a wider re-write of many Title 27  regulations. The agency acknowledged that a number of comments on that proposal also included feedback on the standards of fill issue, and will apply those comments to this rulemaking as well.
Editor's note: This story was updated to reflect the TTB's extension of the public comment period originally scheduled to end August 30 to October 30, 2019.
Links: Tax & Trade Bureau
---
July 3, 2019 – First responders are on the scene of a massive fire involving two Bourbon maturation warehouses at a Jim Beam facility in Woodford County, Kentucky. The fire started shortly before midnight Tuesday night at the site of the former Old Crow Distillery on McCracken Pike as thunderstorms hit the area. The distillery closed in 1987, but Beam Suntory continues to use the warehouses on the site to mature whiskey.
According to Lexington television station WKYT, approximately 45,000 barrels of whiskey were in the one warehouse still burning as of Wednesday morning. The fire spread to a second warehouse nearby, but firefighters were able to contain it shortly after arriving on the scene. There is no word on what caused the fire, but Woodford County emergency officials are not ruling out a lightning strike as the potential cause.
Beam Suntory has declined to make executives available for interviews at the present time, but issued a statement Wednesday morning:
"We are thankful that no one was injured in this incident, and we are grateful to the courageous firefighters from multiple jurisdictions who brought the fire under control and prevented it from spreading. Initial reports suggest the fire resulted from a lightning strike, and we will work with local authorities to confirm the cause and to remediate the impacts. We have a comprehensive warehouse safety program that includes regular inspections and rigorous protocols to promote safety and the security of our aging inventory. We operate 126 barrel warehouses in Kentucky that hold approximately 3.3 million barrels for our brands, and the warehouse that was destroyed contained 45,000 barrels of relatively young whiskey from the Jim Beam mash bill. Given the age of the lost whiskey, this fire will not impact the availability of Jim Beam for consumers."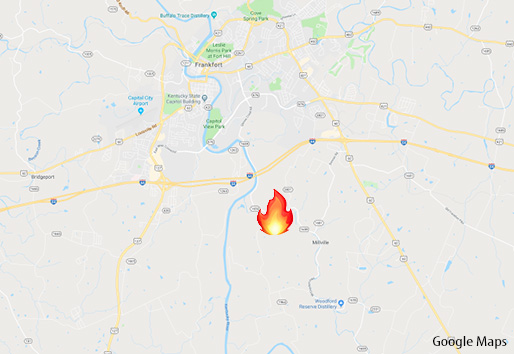 The Old Crow site is a key part of Kentucky Bourbon history. Oscar Pepper built the original distillery along Glenns Creek, and distiller Dr. James Crow made what would become known as "Old Crow" there in the years leading up to the Civil War. The distillery passed through several hands in the years before and after Prohibition until it was purchased by National Distillers. In 1987, Beam Suntory's predecessor company, American Brands, acquired the distillery along with the whiskey brand and promptly closed the distillery.
Glenns Creek Distilling resumed distilling in 2015 on 16 acres of the original Old Crow site adjacent to the Beam warehouses. A distillery worker told WhiskyCast there has been no impact on their operations from the fire, other than water pooling in the yard outside the distillery and the access road being closed for emergency equipment. The scene is less than half a mile from Castle & Key Distillery, which is also located along Glenns Creek.
This is the second major incident involving a maturation warehouse in Kentucky within the past month, and the third in the past year. Part of a rickhouse at Terressentia's O.Z. Tyler Distillery in Owensboro collapsed during an overnight thunderstorm on June 16, and barrel recovery work continues at the site. Weather is also believed to be the cause for that collapse, but investigators are still going through the wreckage to determine the exact cause. On June 22, 2018, half of a warehouse at Sazerac's Barton 1792 Distillery in Bardstown collapsed, while the rest of the warehouse collapsed on July 4, 2018. No cause has ever been disclosed for that incident.
This story will be updated with additional information as it becomes available.
Links: Beam Suntory | Glenns Creek Distilling
---