Each week, we bring you the latest whisky news on WhiskyCast, but a lot can happen during the week. Now, you can keep up with whisky news as it happens here on WhiskyCast.com!
June 23, 2017 – The annual budget battle between the White House and Capitol Hill is escalating to a new level this summer as the Trump Administration seeks significant cuts in domestic spending for the next fiscal year beginning in October. While Congressional leaders have routinely referred to budgets submitted by previous administrations as "dead on arrival," even Republican leaders on the Hill have referred to the administration's proposed cuts as "draconian."
While a microscopic part of the overall proposed $4.1 billion budget, two programs targeted for budget cuts have U.S. distillers lobbying Congress to protect their funding: the Agriculture Department's Market Access Program for exports and the overall budget for the Treasury Department's Alcohol and Tobacco Tax & Trade Bureau (TTB).
The proposed budget cuts overall TTB funding by 7 percent and eliminates an additional $5 million in funding earmarked to help speed up the processing of label and formula applications. Those applications must be approved before a distiller, brewer, or winemaker can bring a new product to market, and distillers have complained about delays in processing time for years. Two years ago, Congress and the Obama Administration agreed to add the $5 million in the 2016 and 2017 budgets to help eliminate a growing backlog of pending applications.
"That has proven to be a great success over the last couple of years since it's been in the budget," said Mark Gorman, senior vice president of government relations for the Distilled Spirits Council of the United States. "They've gotten label approvals down to a week or ten days at the most…before, it could have been a couple of months in processing," he said in a telephone interview. Gorman and his colleagues led a group of more than 45 distillers through the Capitol this week to meet with legislators as part of the Council's annual Public Policy Conference, and the TTB's budget was one of the key areas of concern. "There's a tremendous recognition about the rapid growth of the industry and the need to bring new products on line and into the marketplace as expeditiously as can be done," Gorman said, noting that the issue is also a priority for brewers and winemakers. Assuming the new budget is enacted as currently written, the 10-day target for processing label and formula applications would be changed to 30 days.
According to the Treasury Department's budget proposal, the TTB budget cuts will also lengthen the processing time for basic permits required to enter the beverage alcohol industry, including permits for importers and wholesalers as well as distillery permits (DSP permits). The 2016 budget called for 85 percent of those applications to be processed within 75 days, but the bureau only met that standard 32 percent of the time. In 2018, the standard will be changed to 130 days based on the bureau's  staffing and funding levels.
"ACSA opposes any cuts to TTB funding, particularly when TTB itself reports a DSP application submitted in May 2017 will — on average — take 162 days to process," said Margie Lehrman, executive director of the American Craft Spirits Association in an email to WhiskyCast. "It's axiomatic that waiting almost one-half year to receive notice of whether an application is approved is outrageous. For many spirits producers, that is just the first step in being able to secure a state license to operate, let alone make a product that requires it to barrel age." The craft spirits group's board will meet Monday to stake out a formal position on the budget cuts.
TTB spokesman Thomas Hogue deferred an explanation for the proposed cuts to the Treasury Department and the White House's Office of Management & Budget. OMB spokesman John Baker has not yet responded to emailed questions submitted by WhiskyCast earlier this week on the administration's justification for the proposed cuts at both the TTB and the Agriculture Department, where the proposed budget eliminates all funding for the Market Access Program (MAP) and Foreign Market Development Programs.
Agriculture Department spokesmen declined to make anyone available for an interview, but provided this prepared statement in an email.
"The President has proposed his budget, and now the appropriators in Congress will make their mark on it.  We cannot know what form the final budget will take, and so it is premature to comment on the specific impacts it may have on any USDA program. Secretary Perdue has communicated to all USDA staff that there is no sense in sugar coating the budget, but he will be as transparent as possible throughout the budget process."
The Distilled Spirits Council is one of many organizations that have received MAP funding to help cover the costs of export promotion and marketing activities. Since 2005, the program has helped fund promotions in 17 countries, and has been credited with playing a role in the 51 percent increase in U.S. whiskey exports between 2006 and 2016.
"We've had a good number of both large and small distillers who have participated in the Market Access Program in countries all over the world," Gorman said. "I think we stand a good chance of having that re-authorized, re-funded…there's pretty strong support for it in Congress, so we're optimistic." Gorman is also optimistic about the industry's key legislative goal: a cut in the Federal Excise Tax on alcohol production commonly referred to in Washington as the "beer bill." That legislation has been promoted by a coalition of brewers, distillers, and winemakers, and would also include tax reforms primarily promoted by Kentucky's distillers to allow the deferral of taxes on barrels of maturing whiskey until after those barrels are removed from bonded warehouses. While the "beer bill" has significant support in Congress, it is not expected to move until after action on health care reform and infrastructure development.
Links: Distilled Spirits Council | American Craft Spirits Association | TTB | U.S. Department of Agriculture
---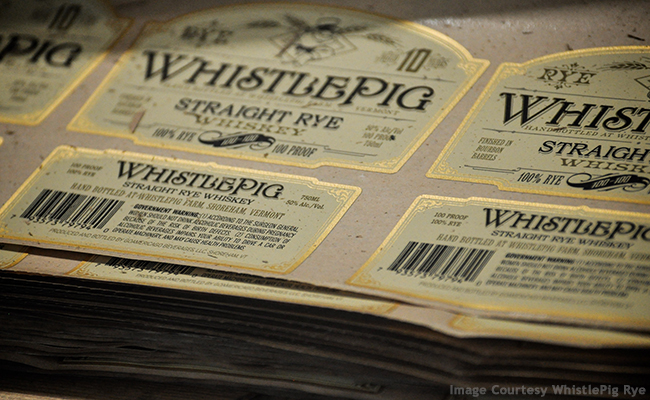 June 23, 2017 – The owners of WhistlePig Rye, the occasionally controversial but highly regarded Vermont whiskey distiller and bottler, have decided to consider offers for the brand and the WhistlePig Farm distillery. Dave Pickerell, WhistlePig's master distiller and owner of a small equity stake in the company, confirmed the decision Friday following a Bloomberg News report citing "people familiar with the situation."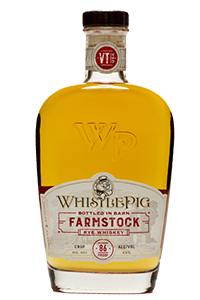 "We'd be foolish not to entertain offers," Pickerell said in a telephone interview. "We have been contacted by some folks that have expressed interest, and at this time, we're not closing the door on saying no…that's the easiest way of saying it." The veteran distiller and consultant declined to name potential bidders for WhistlePig, which began bottling its rye whiskey originally sourced from Canada's Alberta Distillers in 2010. In 2015, WhistlePig opened its own distillery at founder Raj Bhakta's WhistlePig Farm in Shoreham, Vermont, and earlier this year released "FarmStock Crop #001," its first whiskey made with spirit distilled at the farm and blended with older sourced whiskies.
"We're in a feeding frenzy right now in the craft spirits world, and when you've got a company like WhistlePig that's doing well and has got a good reputation and great products, it's only a matter of time before people start looking to buy," Pickerell said. Over the past two years, large distillers have been snapping up smaller distilleries – either completely or as minority stakeholders. In April, William Grant & Sons acquired New York's Tuthilltown Spirits distillery after buying the rights to the distillery's Hudson Whiskey brands in 2010. Constellation Brands has been among the most active buyers, taking a minority stake in Virginia's Catoctin Creek Distillery and buying Utah's High West Distillery outright for $160 million last October. In December, Pernod Ricard acquired West Virginia's Smooth Ambler Distillery while keeping its existing management team in place. Of course, those deals are dwarfed by Diageo's announcement this week to acquire Casamigros Tequila from actor George Clooney and his partners for $700 million in cash and up to $300 million in incentives based upon the brand's future sales. According to Bloomberg, wine and spirits companies have announced around $937 million in mergers and acquisitions so far this year.
Listen to Mark Gillespie's interview with Dave Pickerell:

The decision to put WhistlePig on the market was not unexpected, given the relationship between Bhakta and two of his major investors. As we reported in May of 2016, Bhakta had been clashing with board members Wilco Faessen and Christopher Evison in a dispute that eventually wound up in Delaware Chancery Court after Faessen and Evison moved to replace Bhakta as WhistlePig's operating manager. In court documents filed by Bhakta seeking to overturn his ouster, he claimed the two had been trying to force a sale of the company over his objections. Bhakta and his family control around 50 percent of the company's shares, while Faessen owns around 15 percent. Evison represents the US-based investments of Colombia's Santo Domingo family, with an estimated net worth of more than $15 billion – including a large stake in Anheuser-Busch and other investments in the spirits industry. The case had been scheduled for a trial last October, but was removed from the court's docket with no explanation, indicating that a settlement of some kind had been reached.
While the quality of WhistlePig's whiskies has never been questioned and they have won a number of major awards in competition, there have been complaints over transparency in whether they should have been labeled as Canadian or American whiskies. In a 2015 WhiskyCast interview, Bhakta blamed the issue on federal regulators changing their rulings on whether the finishing, blending and bottling of WhistlePig's Alberta-distilled whiskies was enough to deem them as American-made products. In addition, Bhakta's plan to build the distillery at his farm was delayed because of a dispute with Vermont regulators over whether whiskey could be considered an "agricultural product" because of its water content. Without that designation, WhistlePig Farm would have been subject to more stringent environmental regulations for commercial properties instead of being treated as a farm.
This story will be updated as necessary.
Links: WhistlePig
---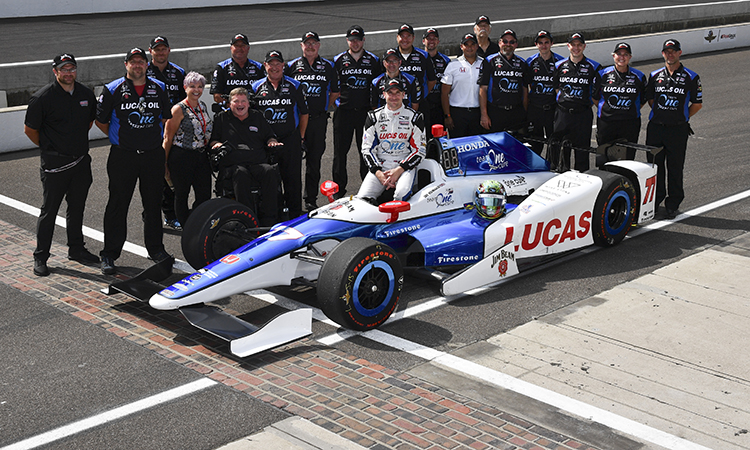 May 25, 2017 – When Jay Howard takes the green flag Sunday in his Honda-powered #77 Schmidt-Peterson Motorsports IndyCar for the Indianapolis 500, it will mark a rare occasion for fans of whisky and motorsports. After almost a decade away from the "Greatest Spectacle in Racing," Jim Beam is back as an associate sponsor on Howard's Team One Cure/Tony Stewart Foundation/Lucas Oil car. With Johnnie Walker on board two-time F1 World Champion Fernando Alonso's car, this will be the first time that both the world's top-selling Bourbon and Scotch Whisky have faced off as sponsors at the Indianapolis Motor Speedway. The deal is for Howard's car only, and does not extend to the other SPM cars driven by James Hinchcliffe and Mikhail Aleshin.
"To join a distinguished list of drivers who have had the opportunity to be associated with a brand like Jim Beam is really special to me," Howard said in a news release. "Our 2017 program continues to grow daily and bringing in big brands is really fundamental to the longevity of this effort with the Tony Stewart Foundation. This first year is simply definitely the start to a greater initiative, and I'm thrilled to welcome everyone from Beam Suntory to this family." The British native first competed in the 500 in 2011, and his return to the Speedway was engineered by the Tony Stewart Foundation as a way to raise awareness for "Team One Cure" and the "comparative oncology" cancer research program at Colorado State University. Doctors and veterinarians at CSU are studying potential links between cancer treatments for pets and those for humans.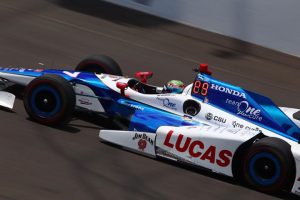 While Johnnie Walker has not sponsored a car in the 500 before, Jim Beam's logo was a familiar sight at the Speedway between 2003 and 2008, when it sponsored cars for Andretti Green Racing. In 2005, Beam was one of the two primary sponsors on Dan Wheldon's winning car along with Klein Tools. The following year, Michael Andretti came out of retirement to carry the Jim Beam colors in the 2006 500, finishing third behind his 19-year-old son Marco and winner Sam Hornish, Jr.
Marco Andretti had replaced Wheldon following his move to Target Chip Ganassi Racing, and one of the reasons behind his father's decision to race in the 500 was the need to shuffle sponsorships around the team because of Marco's age. The team placed Beam's Canadian Club sponsorship on Dario Franchitti's car for the 500, while Michael Andretti's car carried the Jim Beam sponsorship. That move led to the last Indianapolis 500 victory for a whisky-sponsored car in 2007 when Franchitti won the rain-shortened race in his Canadian Club-sponsored car.
In addition to the Andretti Green program, Jim Beam also sponsored Team Penske's cars in 2008, but withdrew from IndyCar at the end of that season. The Bourbon brand also sponsored Robby Gordon's NASCAR team until 2009, when it largely withdrew from North American motorsports. However, Beam was a major supporter of the V8 Supercars series in Australia between 2007 and 2012 with Dick Johnson Racing.
Whisky brand sponsorships have been relatively rare at the Indianapolis 500, and were banned for many years. Those bans were relaxed for IndyCar starting in 2003 with Beam's Andretti Green deal, and a year later, NASCAR followed suit and began allowing liquor sponsorships, though beer brands had never been under a similar restriction. The sponsorships have generally been used in conjunction with responsible use programs.
Links: Jim Beam | Schmidt Peterson Motorsports | Tony Stewart Foundation | Indianapolis Motor Speedway
---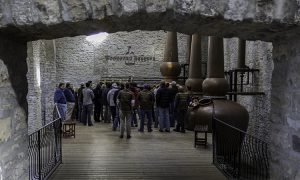 May 24, 2017 – Shares of Constellation Brands dropped slightly more than one percent in Wednesday's trading on the New York Stock Exchange as Brown-Forman publicly rebuffed a reported takeover offer, while so-called "B" shares of the Brown family-controlled spirits company rose nearly two percent. Brown-Forman chairman Geo. Garvin Brown IV and CEO Paul Varga issued a statement after the close of trading on behalf of the Louisville-based company emphasizing the family's desire to keep Brown-Forman independent.
"As a matter of corporate policy, Brown-Forman does not comment on market rumors or speculation. However, it is important to reiterate that Brown- Forman is not for sale. For nearly 150 years, the Company and the Brown family have been committed to preserving Brown-Forman as a thriving, family controlled, independent company. That commitment is unchanged, and our goal is to continue creating value for all shareholders for generations to come."
According to CNBC, Constellation Brands approached Brown-Forman with an offer to buy the company, in which the Brown family controls a majority of the voting stock. Constellation, which is controlled by the Sands family and owns Corona beer, has been actively trying to expand its spirits portfolio over the last year. The CNBC report did not specify how much Constellation was offering, but Brown-Forman's current market capitalization is around $21 billion USD according to Bloomberg data. By way of comparison, Constellation's market cap is estimated at $34.8 billion USD.
Historically, Brown-Forman has been more interested in acquisitions than in being an acquisition target, as evidenced by the Brown family's nearly 150 years of ownership. In the past, Brown-Forman owned a number of other consumer brands, including Lenox china and Hartmann luggage. However, it sold those brands in 2005 and refocused on its core spirits and wine businesses. Brown-Forman's "B" shares have gained 13 percent in value over the past year as the company's sales of Jack Daniel's, Woodford Reserve, Old Forester and other brands have benefitted from global demand for American whiskies. The company expanded into the Scotch Whisky market last year with its acquisition of the BenRiach Distillery Company and its three distilleries (BenRiach, GlenDronach, and Glenglassaugh), and has just debuted its new Slane Irish Whiskey brand, with construction of a new distillery at Ireland's Slane Castle scheduled for completion this summer.
Links: Brown-Forman | Constellation Brands
---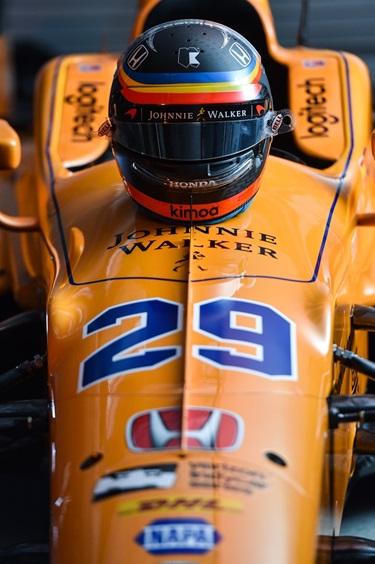 May 3, 2017 – When two-time Formula One World Champion Fernando Alonso took to the Indianapolis Motor Speedway today for his first testing session in preparation for the Indianapolis 500 May 28, one question on the minds of whisky-loving motorsports fans was answered: would Johnnie Walker be part of Alonso's sponsorship package? The Scotch Whisky brand has been one of McLaren's major sponsors for years, and when McLaren announced its partnership with Honda and Andretti Autosport to run Alonso at Indianapolis instead of F1's Monaco Grand Prix the same day, it was widely assumed that McLaren's F1 sponsors would be part of the effort. However, Andretti Autosport did not respond to a request for confirmation of those plans at the time.
The livery for Alonso's one-off entry was unveiled as Alonso's car was rolled out to the pits, and features the Johnnie Walker logo on the nose of the car just above Alonso's car number (#29), as well as on his helmet and fire suit.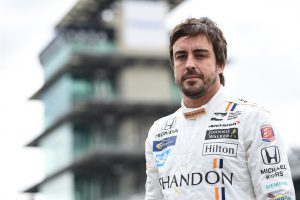 It is believed that this is the first time Johnnie Walker will be a sponsor for an Indianapolis 500 entry, though the brand sponsored McLaren's entries in 2006 and 2007 when the United States Grand Prix was held at the Speedway. Alonso's best finish at Indianapolis was a second-place run for McLaren in 2007, the final year that Formula One raced at the Speedway. He finished fifth in 2006 while driving for Renault, though he later won his second consecutive F1 title that season.
Whisky brands have played only a minor role in sponsoring cars at the Indianapolis 500 compared to other consumer brands, but have been successful when teaming with Andretti in recent years. Scotland's Dario Franchitti had Canadian Club as his primary sponsor in 2007, when he won the first of his three Indianapolis 500 victories for what was then known as Andretti Green Racing. In 2005, the late Dan Wheldon won with Jim Beam as one of his major sponsors for Andretti Green Racing. In between, team co-founder Michael Andretti finished third in 2006 with Jim Beam as the primary sponsor on his car.
In 1965, Jim Clark became the first driver to win the Indianapolis 500 after winning the F1 World Championship. Graham Hill repeated the rare accomplishment the following year, followed by Emerson Fittipaldi with Indy wins in 1989 and 1993. Mario Andretti won the F1 title in 1978 after winning the 500 in 1969, and Jacques Villeneuve won the F1 title in 1997 after winning Indy in 1995. He is also the last F1 World Champion to race in the Indianapolis 500, posting a 14th place finish in 2014.
Editor's note: Photos are courtesy of Indianapolis Motor Speedway and photographer Chris Owens.
Links: Johnnie Walker | McLaren Honda | Andretti Autosport | Indianapolis Motor Speedway
---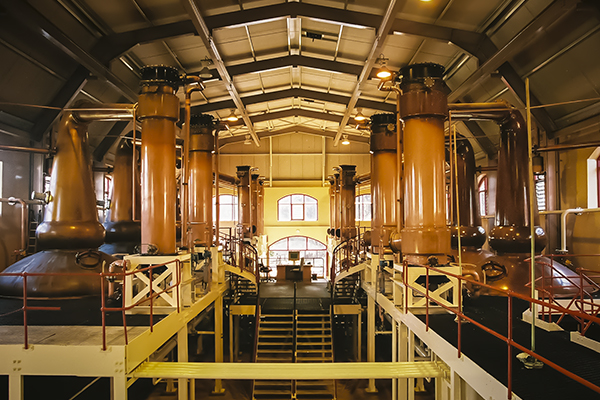 May 2, 2017 – After years of confusing cross-ownership deals and distribution agreements, The Glenrothes Scotch Whisky brand and the Speyside distillery that shares its name are back under one owner. Edrington and Berry Bros. & Rudd announced a deal to reunite the brand and its distillery under Edrington ownership today, bringing The Glenrothes back into Edrington's Scotch Whisky portfolio alongside The Macallan, Highland Park, The Famous Grouse, Cutty Sark, and The Glenturret. No financial details were disclosed.
"We would like to thank Berry Bros. & Rudd for their excellent stewardship of The Glenrothes over the past seven years," Edrington's Paul Ross said in a news release announcing the deal. "We are very pleased to be reuniting the brand with its distillery and we know it will be an excellent member of Edrington's leading family of premium brands, including The Macallan and Highland Park. We are very much looking forward to accelerating the growth of this award-winning single malt in international markets." Ross was not available for an interview Tuesday afternoon, and this story will be updated with additional information as needed.
Historically, Edrington and its predecessor, Highland Distillers, have owned the Glenrothes Distillery going back to 1887. The distillery has also been the backbone for Cutty Sark, which was historically owned by Berry Bros. & Rudd since its founding. The two companies joined forces in 1987, with Berry Bros. & Rudd marketing the first Glenrothes-branded single malt produced by Highland Distillers. While Berry Bros. & Rudd handled marketing and distribution for the brand, Highland Distillers – and later Edrington – took care of production under master blenders John Ramsay and Gordon Motion.
In 2010, the two companies executed an asset swap in which Edrington acquired control of Cutty Sark and Berry Bros. & Rudd took complete control of The Glenrothes single malt brand while distillery ownership and production remained with Edrington under a long-term supply contract. Now, Berry Bros. & Rudd will be the contractor, as the agreement calls for the London-based wine and spirits merchant to handle UK distribution for The Glenrothes through its Fields, Morris, & Verdin subsidiary. In the United States, Edrington Americas will take over importing duties from San Francisco-based Anchor Distilling, in which Berry Bros. & Rudd owns a minority stake. Other global distribution agreements will transfer to Edrington with the sale.
For whisky fans, there is also an answer to one key question: the fate of longtime Glenrothes brand ambassador Ronnie Cox, who has represented the brand worldwide for many years. In an email Tuesday, Cox confirmed that he will be remaining with Berry Bros. & Rudd as the heritage director for its spirits brands. Cox will continue to represent the brand in the UK on behalf of Berry Bros. & Rudd.
Links: The Glenrothes | Edrington | Berry Bros. & Rudd
---
April 28, 2017 – It's been a big week for announcements of new whiskies from around the world, and even a rare sneak preview of Diageo's annual Special Releases from its Classic Malts range.
Traditionally, the world's largest Scotch Whisky producer announces its Special Releases lineup in the autumn, but gave whisky lovers a taste of what will be coming out later this year. The release lists nine of the ten whiskies in the 2017 series, but in a statement outlining the upcoming releases, Diageo Director of Whisky Outreach Dr. Nick Morgan said "We're keeping one in our back pocket as a surprise for you all later on this year."
Here's what we know will be coming, though prices were not disclosed. Closed distilleries are highlighted with an asterisk. 
1979 Port Ellen* bottled after 37 years in a combination of refill American Oak hogsheads and butts (51% ABV, 2,988 bottles)
1982 Brora* bottled at 34 years of maturation in refill American Oak hogsheads (51.9% ABV, 3,000 bottles)
1984 Convalmore* bottled after 32 years 

in refill American Oak hogsheads (48.2% ABV, 3,972 bottles)

1964 Port Dundas* single grain matured for 52 years in 

in refill American Oak hogsheads (44.6% ABV, 752 bottles)

1993 Blair Athol matured for 23 years in ex-Bodega European Oak butts (58.4% ABV, 5,514 bottles)
Caol Ila 18 matured 

in refill American Oak hogsheads (59.8% ABV, limited quantities available worldwide with no number announced)

Glen Elgin 18 matured in 

in ex-Bodega European Oak butts (54.8% ABV, 5,352 bottles)

Lagavulin 12 matured in 

in refill American Oak hogsheads (56.5% ABV, limited quantities available worldwide with no number announced)

Teaninich 17 matured in refill American Oak hogsheads and barrels (55.9% ABV, 

limited quantities available worldwide with no number announced)
Diageo's statement did not specify which expressions will be available in specific markets. Traditionally, not all of the 10 whiskies released each year are available in the U.S. or most other major whisky markets. Those details will likely be announced later this year when recommended retail pricing and photos of each expression are released.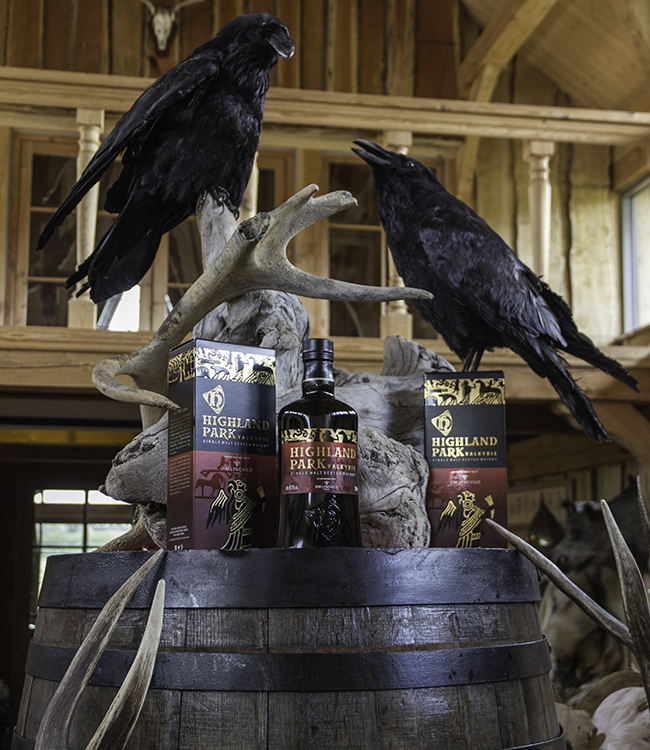 Highland Park unveiled its new Valkyrie single malt from Orkney in Denmark this week, along with new packaging that will be available soon in most markets for the distillery's 10 and 12-year-old expressions, and later this summer for the 18-year-old single malt. Valkyrie's packaging was created by Danish designer Jim Lyngvild, who traces his Viking ancestry all the way back to the first Earl of Orkney, where Vikings ruled the islands for eight centuries until ceding control to the Scots in 1472. The whisky was created by Gordon Motion using spirit distilled from 100% peated malt produced at the distillery. Typically, Highland Park uses a ratio of 20% peated malt to 80% unpeated malt in distilling, but has been laying down casks of 100% peated malt for around a decade now.
"We were looking for a new series that's starting to go towards Valhalla…Viking Heaven, if you want, and it just seemed the perfect time to start using some of this heavily peated stock," Motion said in an interview for this week's WhiskyCast. "It fits the right character," he said, noting that the heavily peated whisky makes up about half of the blend using a combination of first-fill ex-Bourbon and American Oak ex-Sherry casks with a few refill ex-Sherry casks. Valkyrie is bottled at 45.9% ABV, and is already available in the UK and some European markets at a recommended retail price of £55 GBP ($71 USD). It will be available in the US as well, though US pricing for 750ml bottles has not been confirmed yet.
In addition to Valkyrie, Highland Park announced other major changes to its range. The 15-year-old and Dark Origins bottling are being discontinued, while a new Magnus expression will be available in the US market at the end of the summer. Full Volume is a rare 100% ex-Bourbon cask expression that will be released in most global markets worldwide later this year as a replacement for the 15-year-old Highland Park.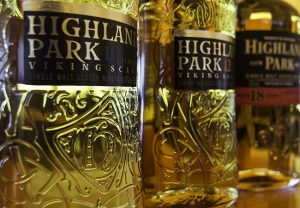 While the whiskies in the 10, 12, and 18-year-old Highland Park expressions have not been changed, they will be getting new names in addition to their age statements. The 10-year-old will be known as "Viking Scars" and the 12-year-old gets the added name "Viking Honour." The 18-year-old will be known as "Viking Pride." All three will appear in new bottles heavily embossed with designs inspired by an ancient Viking church in Ornes, Norway that feature a lion fighting serpent-like dragons depicting the ancient battle between good and evil.
This week's WhiskyCast from Copenhagen will have more details on the Highland Park story.
In addition, we also have news on several new Irish whiskies, including two single malts with a connection to Scotland. Liam Ahern and his wife, Jennifer Nickerson, have established the Tipperary Distillery, and have released two new whiskies crafted by Jennifer's father, longtime Scotch Whisky distiller and blender Stuart Nickerson. Knockmealdowns comes from six ex-bourbon barrels filled 10 years ago at an undisclosed distillery, while Watershed also uses six first-fill ex-Bourbon barrels but carries no age statement. Both whiskies are bottled at 47% ABV, and are available in the US as well as Ireland.
Prizefight from Pugilist Spirits is a unique collaboration between West Cork Distilling in Ireland and Tamworth Distilling in New Hampshire, which supplied American Oak Rye whiskey casks to finish the whiskey. It's available in Ireland with a recommended retail price of €50 ($55 USD). No plans have been announced for export sales yet.
Links: Classic Malts | Highland Park | Tipperary Distillery | Prizefight Irish Whiskey
---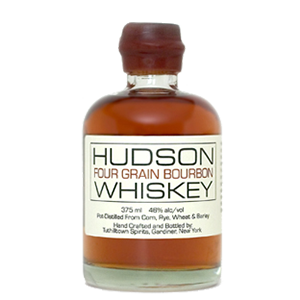 April 23, 2017 – "Brian and I had always had it in our minds that we weren't going to die on the distillery room floor, and eventually be passing the whole of Tuthilltown over to a more substantial organization with the right resources."
That's the way Tuthilltown Spirits co-founder Ralph Erenzo describes the decision he and partner Brian Lee made to sell their upstate New York distillery to William Grant & Sons. The two companies have been partners since 2010, when the family-owned maker of Glenfiddich and The Balvenie single malts bought Tuthilltown's Hudson Whiskey brand while leaving production in the hands of Erenzo and Lee. While there was never a formal agreement giving Grant's an option to buy the distillery, there was an understanding that when Erenzo and Lee were ready to sell, Grant's would be ready to buy.
"The real question that both Ralph and Brian and the team at William Grant & Sons had discussed is 'when is the right time,' William Grant & Sons USA managing director Jonathan Yusen said in a telephone interview for this week's episode of WhiskyCast. "With the explosive growth of not only the Hudson brand, but also the local craft movement and certainly American whiskey, collectively we believed that now was the right time," he said.
Listen to Mark Gillespie's interview with Jonathan Yusen and Ralph Erenzo:

In the 13 years since Erenzo and Lee founded their distillery in a historic grist mill and became New York's first whiskey distillery since the end of Prohibition, Erenzo has become a leading figure in the craft distilling movement, while Lee played a key role behind the scenes at the distillery. The two self-funded Tuthilltown, with the only influx of outside capital coming in 2010 with the sale of the Hudson Whiskey brand to Grant's. However, Erenzo cited the need to invest in the distillery's long-term growth as a key reason for bringing the relationship with Grant's to its logical conclusion.
"We're sort of on the cusp of a very large leap forward, both in distribution but also in the public knowledge of our place here, that there's a place to come with the family and spend the day," Erenzo said. "Brian and I, as a private company and totally self-funded for the last 13 years, we felt that it was time that an organization with greater resources and experience in the development of this place…this was the right time." While Tuthilltown has a small restaurant at the distillery currently, William Grant & Sons has extensive experience with developing visitor programs at its two large distilleries in Scotland, and Yusen's team will draw on that experience to enhance Hudson's appeal to visitors.
The move is also expected to result in increased international distribution for Hudson's range of whiskies. Tuthilltown recently started bottling its whiskies in 750ml bottles in addition to its familiar 375ml bottles, and that move will help in producing European-standard 700ml expressions for export sales. While Erenzo and Yusen both expect to increase production at the distillery, they are firm on handling that by bringing in Grant's engineers from Scotland to figure out methods of boosting production without expanding the facility, or as Erenzo puts it, "without having to turn this place into an industrial complex…nobody wants that…it is very nice just the way it is."
Erenzo will have a more formal role with Tuthilltown as the distillery's principal contact with regulators and the public, while Lee will serve as a consultant. The former broadcast engineer devoted much of his time to the distillery's design and engineering work, and is expected to work closely with the team of engineers and chemists from Grant's.
The Tuthilltown sale is the latest in a series of acquisitions of craft distillers by major whisky producers over the past 18 months, including Constellation Brands' purchase of High West and a minority stake in Catoctin Creek. In addition, Rémy Cointreau acquired Westland Distillery in Seattle and France's Domaines des Hautes Glaces, Pernod Ricard purchased West Virginia's Smooth Ambler, Sazerac acquired the Popcorn Sutton Distillery in Tennessee, and Diageo's internal venture capital unit has taken minority stakes in Denmark's Stauning Distillery and Starward in Australia. When asked about concerns that yet another craft distillery is being acquired by a "conglomerate," Erenzo described it as a logical stage in what has become a more mature industry.
"The parallel can be drawn to anybody who starts a very successful business and then spends a lot of time in it developing it and seeing it be successful" he said. "At some point, that person is going to want to make sure it gets into the hands of someone who will take over the responsibility and the expansion of whatever business it is, and carry it on into the future, secure the employment for the employees, and keep the place true to its original form."
Links: Tuthilltown Spirits | William Grant & Sons
---
April 18, 2017 – Seven years after buying the Hudson Whiskey brand from Tuthilltown Spirits founders Ralph Erenzo and Brian Lee, William Grant & Sons has taken the widely-expected step to acquire the rest of the company, including its distillery in Gardiner, New York. The deal is the latest acquisition of a craft distiller by a major spirits producer seeking to enter the American craft whiskey market, following recent moves by Constellation Brands (High West and a minority stake in Catoctin Creek), Pernod Ricard (Smooth Ambler), Rémy Cointreau (Westland), and Sazerac (the Popcorn Sutton Distillery). Terms of the sale were not announced.
The family-owned company purchased Tuthilltown's Hudson Whiskey brand in 2010, while signing a long-term supply contract with Tuthilltown to supply whiskey for the brand's expressions. Under that deal, the Tuthilltown team had access to Grant's team of chemists and engineers as needed, while still being responsible for overall production and quality control at the distillery. Erenzo and Lee built the distillery in 2003 by converting a granary at the historic Tuthilltown Gristmill, and released their first batch of Hudson Whiskey in 2006 using grain sourced from local farmers. While Tuthilltown's reputation was built on its whiskies, the distillery also produces gin, vodka, and a range of liqueurs at the Gardiner distillery.
In a news release, William Grant & Sons CEO Simon Hunt called the acquisition a logical addition to the company's North American operations, which also includes Gibson's Canadian Whisky and distribution for its Scotch Whisky portfolio (Glenfiddich, The Balvenie, Grant's, Monkey Shoulder), Tullamore D.E.W Irish Whiskey, and other spirits. According to Hunt, Ralph Erenzo will continue to work with the Grant team. "Ralph will still be very much involved in the business on a day to day basis collaborating and experimenting with our team of distillery experts and Master Blenders," Hunt was quoted as saying. 
WhiskyCast has attempted to contact Ralph Erenzo, who became widely known within the craft distilling community for his work at Tuthilltown. In the Grant news release, he said "William Grant & Sons is a company that holds true family values and is home to a number of spirits brands we respect and admire.  It is renowned for its excellence in distilling and we share similar views.  We've been working with William Grant & Sons for a number of years and look forward to building on that relationship to help Tuthilltown fully achieve its potential." 
This story will be updated with additional information, and please listen to this weekend's WhiskyCast for complete coverage.
Links: Tuthilltown Spirits | William Grant & Sons
---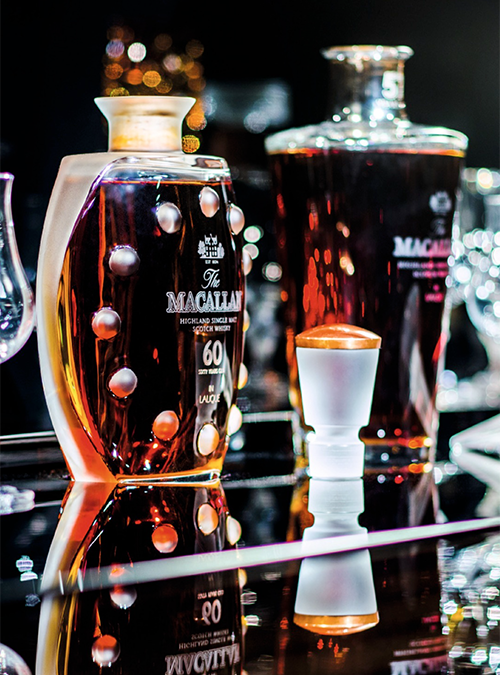 April 3, 2017 – Whisky collectors outdid themselves Sunday at Sotheby's in Hong Kong, as a rare complete set of The Macallan's Six Pillars series may well have set a new record for the highest price ever paid at auction for a collection. Bidding for what was termed "The Macallan in Lalique Legacy Collection had been estimated before the auction to go as high as $525,000 USD. However, the lure of the sole complete set available directly from the distillery, along with a bespoke ebony display cabinet and whisky glasses created by Lalique, sent bids far higher than expected. The final hammer price – including the buyer's premium – was HK$7,717,500 ($993,242 USD).
"We are absolutely thrilled about this," The Macallan's creative director Ken Grier said in a telephone interview from his home in Scotland. "It just goes to show again the value of Macallan at auction…people, investors in particular, are really buying into quality, strong investment-grade product," he said. Grier declined to identify the winning bidder, but noted that all of the net proceeds from the auction will go to local charities. "We have a bunch of charities in Hong Kong, and again, in keeping with the background of our company's charitable ideals and doing things with integrity, the money will go to charity," he said. The Macallan is owned by Edrington, which in turn is owned by the Robertson Charitable Trust.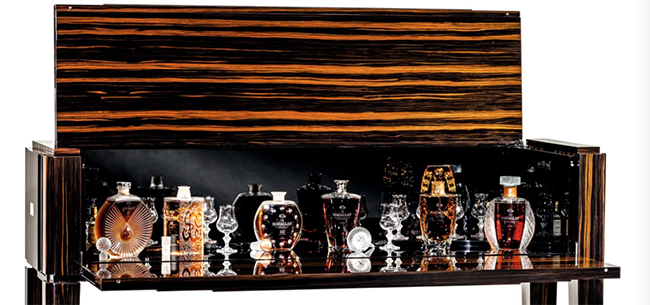 While the winning bid may well be a record for a collection, the official Guinness world record price for a single bottle of whisky sold at auction remains at $628,000 USD for The Macallan Imperial M Decanter. As with the Legacy Collection, that decanter was also sold at Sotheby's in Hong Kong during a January 2014 auction. Edrington executives have not yet decided whether to seek world record certification for the Legacy Collection auction result.
"We thought it was fitting to have a real crescendo to the series," Grier said. "Six beautiful (Lalique) decanters all describing the six pillars of The Macallan, the things that make us special and talk about the mastery of our craft. This does wind up that series, and we thought it was really fitting to have one official collection only, hence the value that it achieved."
In addition to the Legacy Collection, 80 other lots also featured whiskies from The Macallan and other distilleries. A 26-bottle collection of various Macallan expressions bottled between 1964 and 1987 sold for HK$673,750 ($86,712 USD), while a six-bottle collection of Macallans bottled between 1962 and 1967 brought a hammer price of HK$343,000 ($44,144 USD), both well above pre-auction estimates. A single bottle of The Macallan 65 Year old in Lalique VI – the final release in the Six Pillars series – had been estimated to bring a high bid of up to HK$300,000, but went for HK$551,250 ($70,946 USD).
The top performer from distilleries other than The Macallan was a bottle of The Dalmore Candela Aged 50 Years, which went for nearly four times its pre-auction estimate at a hammer price of HK$588,000 ($75,676 USD). That was more than double the price for the runner-up, a bottle of Gordon & MacPhail's Generations Mortlach 70 Year Old from 1938, which brought a high bid of HK$208,250 ($26,802 USD).
Editor's note: All prices quoted include a buyer's premium. Conversions from Hong Kong dollars to US dollars via Bloomberg Generic Composite Rate as of April 3, 2017.
Links: The Macallan | Sotheby's
---