Each week, we bring you the latest whisky news on WhiskyCast, but a lot can happen during the week. Now, you can keep up with whisky news as it happens here on WhiskyCast.com!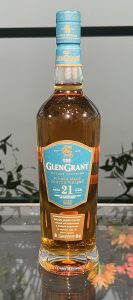 March 26, 2023 – Glen Grant has introduced the oldest permanent addition to its range with a new 21-year-old single malt. The whisky was matured in a combination of Oloroso Sherry butts and hogsheads along with ex-Bourbon barrels, and is bottled at 46% ABV with no chill filtering.
"The 18-year-old was our oldest one before, and it was mainly Bourbon wood which gives you much more floral notes to it," said Master Distiller Dennis Malcolm. The 62-year veteran of the Scotch Whisky industry was on hand this week at an event in New York City to introduce the new whisky. "We're using Oloroso Sherry butts, hoggies, and barrels married together, and it's got these wonderful rich fruity notes to it," he said.
The 21-year-old will be an annual release with a recommended retail price of $360 per bottle.
"It's the gateway to many more expressions in the future, which we'll be able to share with you as they're being launched," Malcolm teased. The entire interview with Dennis Malcolm can be heard on this week's WhiskyCast podcast.
Other new whiskies announced this week:
Maker's Mark has released the fifth and final expression in its Wood Finishing Series. BEP is a tribute to the distillery's traditional 55% ABV (110 proof) barrel entry proof, and used ten virgin toasted American Oak finishing staves in the maturation process. It is available throughout the U.S. with a recommended retail price of $69.99 per bottle.
Ardbeg has unveiled this year's limited edition release. BizarreBQ comes from three different types of barrels: Pedro Ximenez Sherry casks, double-charred oak, and a special extra-charred barbecue cask. 
It will go on sale at the distillery and in Germany starting next Monday, and will be available worldwide later this year, likely around Islay Festival time at the beginning of June. 
Scapa Distillery is opening a new tasting room next week, and is launching a new Distillery Reserve Collection edition…the Scapa 19-year-old Pedro Ximenez hogshead finish. It is available at the distillery and online to U-K residents only for 185 pounds a bottle…
Bruichladdich has released two new whiskies. The Port Charlotte Islay Barley 2014 uses barley grown on eight farms within 15 miles of the distillery, and is available in the U-S with a recommended retail price of 85 dollars a bottle…
The second release is more unusual…it's Islay's first rye whisky. Local farmer Andrew Jones started growing rye in 2017 as a cover crop in between his annual barley crops after Bruichladdich agreed to buy his entire rye crop for making whisky. It's a single grain whisky dubbed "The Regeneration Project, and is available through the Bruichladdich web site for 125 pounds a bottle.
Finally, 2023 marks the 50th anniversary of Secretariat's historic Triple Crown, and while Woodford Reserve's annual Kentucky Derby bottle features a painting of Secretariat, the family who raised the horse is teaming up with another distillery.
The Chenery family is endorsing Ragged Branch Distillery's Secretariat Reserve Bourbon. The Virginia distillery used corn grown on the farm where Secretariat was born to make the five year old Bottled in Bond whiskey.
It will go on sale April 22nd in Virginia state liquor stores and at the distillery, with limited availability in the Mid-Atlantic region and online.
Links: Glen Grant | Maker's Mark | Ardbeg | Scapa | Bruichladdich | Ragged Branch Distillery
---
March 22, 2023 – In a nearly 90-minute hearing punctuated with laughter, the United States Supreme Court heard oral arguments in a lawsuit over whether a "Bad Spaniel's" dog toy violates the trademark protection Jack Daniel's has for its whisky bottles. The lawsuit (Jack Daniel's Properties, Inc v. VIP Products) filed by Jack Daniel's owner Brown-Forman claims the dog toy creates consumer confusion, while the poop-themed toy's maker argues it falls within legal exceptions for parodies.
The Supreme Court agreed to take the case after VIP Products won an appeals court ruling when the court used a standard defining when a potential trademark infringement enjoys First Amendment protection. The court ruled that because the dog toy was a "non-commercial use" done with humorous intent for an "expressive purpose," it is protected on free speech grounds.
During today's hearing, Justice Elena Kagan appeared to have some issues understanding the parody involved in the "Bad Spaniel's" dog toy in an exchange with VIP Products lawyer Bennett Cooper.
JUSTICE KAGAN: Well, what is there to it? What is the parody here?
MR. COOPER: The parody?
JUSTICE KAGAN: Yeah.
MR. COOPER: The parody is of —
JUSTICE KAGAN: Because maybe I just have no sense of humor, but — (Laughter) – what's the parody?
MR. COOPER: The parody is multifold. The — the — the testimony indicates, and it's not been disputed, that the parody is to make fun of marks that take themselves seriously.
JUSTICE KAGAN: Well, I mean, you say that, but you — you know, you make fun of a lot of marks: Doggie Walker, Dos Perros, Smella R Paw, Canine Cola, Mountain Drool. Are all of these companies taking themselves too seriously?
MR. COOPER: Yes. In fact, you don't see a parody as — as a bourbon —
(Laughter.)
JUSTICE KAGAN: I mean, just like soft drinks and liquor —
MR. COOPER: And — and I would say all —
JUSTICE KAGAN: — companies take themselves too seriously as a class?
MR. COOPER: I think there are a lot of products that take them too seriously — seriously and merchandise. You don't see, for example, something near and dear to my heart, a parody of Woodford Reserve bourbon because you don't get that building up of an edifice of making them into an iconic — a cultural icon and reference point.
Listen to the Oral Arguments 
The case could be a landmark one for trademark holders. Attorneys for Jack Daniel's argued in a court filing that a ruling for VIP Products "gives copycats free license to prey on unsuspecting consumers and mark holders" by producing all forms of products under the argument that they qualify as parodies.
The Court is expected to rule on the case before the end of its term in June.
---
March 15, 2023 – The Scotch Whisky Association's pleas for a freeze on excise duty fell on deaf ears, as Chancellor Jeremy Hunt's new budget calls for a 10.1% increase in duty on whisky and other distilled spirits. Hunt's budget plans a tax increase in line with inflation effective August 1 for all four alcohol categories (distilled spirits, wine, beer, and cider), with relief being offered for on-draught products sold at bars and restaurants.
According to the Scotch Whisky Association, the duty rate on spirits will rise to £31.64 per liter of pure alcohol, raising the tax burden on an average bottle of whisky from 70% to 75%.
SWA Chief Executive Mark Kent blasted what he calls a historic blow to the industry.
"We have been clear with the UK Government that increasing duty would be the wrong decision at the wrong time, so it is deeply disappointing that one of Scotland's largest and longest-standing industries has been treated in this way. The industry continues to grapple with significant domestic headwinds, including the soaring cost of energy, intense pressure on the hospitality sector, and increasing regulatory burdens like the Deposit Return Scheme. This tax hike just adds to the pressures on the sector and breaks the UK government's commitment to support Scotch," he said in a statement. 
Kent called on members of Parliament to reject the "unjustifiable" tax hike when they vote on the Finance Bill later this spring.
Links: Scotch Whisky Association
---
March 12, 2023 – American distillers exported a record $2.06 billion in spirits during 2022, a 30 percent gain over 2021 as the temporary end of tariffs on Bourbons and other American whiskies helped exports rebound. According to a new report from the Distilled Spirits Council, American whisky exports grew 32 percent with a value of $1.28 billion during the year.
"Growth to the European Union and United Kingdom lagged behind other markets," DISCUS Vice President of International Trade Rob Maron told WhiskyCast in a telephone interview. Both trade partners ended their punitive tariffs on American whisky exports in 2022, though Maron noted the tariffs could return if no agreement on sustainable steel and aluminum trading is reached with the Biden Administration by this October.
"We urge the Biden administration to secure the permanent removal of these tariffs. If an agreement on steel and aluminum is not reached with the EU before the end of 2023, the EU will reimpose its retaliatory tariff at 50% on American Whiskeys.  That will bring this renewed interest in American Whiskey among EU consumers to a screeching halt," Maron said. 
While the end of tariffs helped push export sales, the report also found shifting consumer preferences toward premium and luxury spirits, along with the gradual reopening of the hospitality sector following pandemic-related closures.
The 27-member European Union remains the single largest export market for U.S. spirits at $703 million, more than double Canada's second-place ranking at $268 million. The United Kingdom ($159 million), Australia ($141 million) and Japan ($113 million) round out the top five export markets by value.
Links: Distilled Spirits Council
---
March 2, 2023 – Jack Daniel's is being ordered to stop work on a new whisky warehouse being built near the distillery in Lincoln County, Tennessee. The county's chancellor ordered zoning officials to issue a stop-work order after a lawsuit over the "whiskey fungus" that has covered a neighboring events venue with black mold.
Christi Long sued local zoning officials over what her lawyer described as improperly approved permits for the warehouses. Six have already been built on the site, with a seventh under construction. County Chancellor J.B. Cox ruled that the permitting process was never fully completed in issuing his order, and Long's attorney expects another order to shut down the six operating barrel houses.
Long and her attorney claim the warehouses are responsible for the black mold, which she has spent thousands of dollars to remove using power washers and bleach. The mold, known as Baudoinia compniacensis, has been the subject of several lawsuits in Kentucky and Scotland from people living near distilleries. It's a naturally occurring fungus that feeds on alcohol vapors, such as those released by barrels of maturing whisky. 
Jack Daniel's owner Brown-Forman was not named in the lawsuit. Jack Daniel's spokesman Svend Jansen issued the following statement to WhiskyCast:
"We respect the Chancellor's ruling and look forward to working with Lincoln County on updated permits. The Jack Daniel Distillery will continue to comply with regulations and industry standards regarding the design, construction and permitting of our barrelhouses."
Long and other neighbors are demanding that Brown-Forman install air filters on its warehouses to remove the vapors.
This story will be updated with additional information as necessary.
Links: Jack Daniel's
---
February 27, 2023 – We all know that whisky is best when it's shared with friends, and whisky clubs are becoming more and more popular…but how do you form a whisky club? We're going to stay away from the huge clubs with hundreds of members, and focus instead on smaller clubs…like the Texas Whiskey Association and Tasting Society in Sulphur Springs, Texas.
Martin Fielder founded the group, which has around 25 members that meet in his home once a month to learn more about whisky.
"I thought, there's no way in the world I'm ever going to drink all this whiskey by myself. So I need to find some whiskey friends and not many of my friends were into whiskey so much, and so I thought, well, why don't I just introduce them to it and why don't I start my own club. There's not a club in my community, so I figured that I would be the one to start on that journey," he said.
Most of Fielder's members are whisky novices, so he focuses on education during the club's tastings.
"We'll have a topic, so we'll do scotch or bourbon, rye, something like that, and I'll provide some bottles and we'll go through tasting them and then I'll talk about some various themes. You know, if it's Scotch, I'll go over the various regions with what's a Speyside, what's the Highlands and and kind of the general ideas behind that and the history of the whisky and whisky making in Scotland," Fielder said. The club ends its meetings with a "whiskey battle," a blind one-on-one tastings in which the winner moves on toward an eventual champion at the end of the year.
The Dead Liver Society in Massachusetts came about via social media. Elias Aoude is one of the founders, and credits Reddit with bringing the club together.
"There's various whiskey subreddits, so let's say one for scotch, one for bourbon, one for world whiskey, so on and so forth. Probably seven or eight years ago, people started founding a smaller subreddits for folks within their communities, kind of like regional whiskey subreddits. One of those was the New England Whiskey Subreddit. And at one point we decided that some of us should try and meet up and do a bottle share and just hang out and actually get to know each other. You know, put faces, you know, put names to faces, so on and so forth. And so we had our first meet up. There was just three of us the first time, but we did it again and again. And each time, more people showed up and we ended up with, you know, probably like 12 to 15 people that at one point were showing up every single time.
Alin Wagner's Redhead Whisky Club in New Jersey has two chapters, with a combined total of 190 members. Her clubs came about as a result of the pandemic.
"I had a little bit more free time and I found myself going to different liquor stores and picking up food and going to friends, you know, to hang out at home," she said. "And then I realized that I have a lot of friends that like whiskey, and it's an expensive business  if you want to try different things that you want to share. So I thought, you know, why not open a chat group together and we can all share, pitch in. So I thought it would be 7-10 people and I opened a group on WhatsApp, and started adding friends and you know, people were adding their friends as members and instead of 7 to 10 people, we were all of a sudden 50."
Wagenr started reaching out to brands and brand ambassadors to lead tastings for her club, which has chapters in Bergen County and Hoboken that meet every six to eight weeks. Members pay a fee for each tasting that covers the cost of the bottles and the venue, while Wagner organizes the tastings and leads the meetings.
It's not hard to create a whisky club…all three of our club founders suggest starting small, with perhaps a few friends around the dinner table.
"Grab some some friends, some people that you know, and kind of start it that way and get your feet wet. You know, I don't know that I would just put out an open invitation on Facebook and have 100 people show up to your front door," Fielder said.
If you grow beyond what the dinner table or living room can hold, you're going to have to find a place to hold meetings…here's where it can become tricky.
Depending on where you are, liquor licensing laws may not allow you to bring your own bottles to share at a club meeting, and that puts you at the mercy of what the bar or restaurant has on hand. It's a problem Elias Aoude's club is going through right now. The club started out meeting at a restaurant with a "bring your own bottle" license that allowed club members to bring bottles and order food at the restaurant, but eventually, the restaurant switched to a regular liquor license.
"So we can't even use that as a meeting spot anymore. So now for the Dead Liver Society, we're trying to figure out how do we move forward, because we do want to keep meeting, but we need a new meeting spot," he said.
But even with growing pains, there are benefits to being part of a whisky club. Alin Wagner says it changed her life…
"Whiskey is a one of a kind glue that brings people together in a way that nothing else does. It has a story, about the distilleries, the process, what it means, everything around it, the terroir, the geography, the politics, the gossip, all of that. It has the social aspect of sitting with other people and connecting and it has, obviously the sensual aspect of smelling and tasting and feeling the whiskey. So that's what I've learned. And as soon as I started bringing in different experts and different ambassadors, I just got into this world more and more. I've just completed my bourbon professional certificate and I'm going to get the Scotch one because there's so much to explore. It's never ending. It's never ending. We always have different people talk about the same thing and it's never boring. It's always different. There's no other thing like that to me."
---
February 28, 2023 – Kentucky state lawmakers have just 11 legislative days left to consider a bill that would phase out the state's "barrel tax" on barrels of aging Bourbon. House Bill 5 would start phasing out the tax in 2026 and end it completely in 2039, and is pending in the Kentucky House Appropriations and Revenue Committee.
Kentucky is the only state that taxes inventories of maturing spirits, and the tax raised approximately $40 million for local governments in 2021. Distillers have the ability to take a credit for the barrel taxes they pay against their corporate state income taxes, but income tax cuts in past years have made it so that they pay more in barrel taxes than they do in state income taxes.
The bill is the product of the General Assembly's "barrel tax task force" that met last summer in Frankfort to hear testimony from stakeholders, including the Bourbon industry and local government officials. It would continue the current 100% credit through 2025, but distillers would only receive a 3% credit starting in 2026 with incremental increases each year until 2039, when the tax would be eliminated. That would significantly increase the amount of money the tax generates in the first 10 to 12 years of the phaseout, while gradually reducing it in subsequent years.
Eric Gregory of the Kentucky Distillers Association issued qualified support for the bill in a statement:
"Eliminating the job-killing inventory tax on aging barrels requires consideration of the distilleries that pay it and the local communities that benefit from it.  Kentucky's signature Bourbon industry believes the phase-out schedule in House Bill 5 ultimately benefits local communities across Kentucky by more than doubling the industry's tax before any reduction occurs. In fact, most local communities will see no reduction from current revenues for at least the next 10 years. 
While the bill will initially and significantly increase our tax liability, we appreciate the leadership of A&R Chairman Jason Petrie and Speaker David Osborne to put forth a proposal to slowly phase out the discriminatory tax. 
The success or failure of House Bill 5 will determine whether Kentucky's distilling industry continues to call the Commonwealth home, bringing jobs and tax revenue as it grows, or whether it is forced to look at other states for future growth or even potentially relocating existing facilities.  
Thank you to the legislature for addressing this crisis. It is imperative that the Kentucky General Assembly end the tax on a $9 billion homegrown industry that employs 22,500 Kentuckians and attracts millions of tourist visits to Kentucky each year."
Local leaders blasted the bill during a news conference Monday in Bardstown, claiming the elimination of the tax will lead to cuts in local services and public schools.
---
February 19, 2023 – There are a lot of myths and misconceptions surrounding whisky, and every so often, we need to puncture those myths and shed some light on the facts…
For instance, the common perception is that if a whiskey is labeled as "straight," then it can't have any coloring or flavoring materials added.
This is where things get tricky…straight Bourbons, straight malt, straight rye, straight wheat, straight corn, and straight rye malt can't have any coloring or flavorings added to them…
However, according to the TTB's Beverage Alcohol Manual, "blended" versions of those whiskies (such as "a blend of Straight Bourbons") can have so-called harmless coloring, flavoring, or blending materials added to them, as long as they don't exceed two-point-five percent of the total volume. There's no requirement to disclose that on the label.   
Here's another one: there's a myth that Jameson sales in the U-S account for 70 percent of all Irish Whiskey sales worldwide.
Not quite…and we have data that proves that.
Irish Distillers reported its half-year-financial outlook this week, and said Jameson U-S sales accounted for two-point-five million cases sold during the period. Let's assume that the second half of the year is just like the first, and about 5 million cases are sold in the U-S during the 2023 fiscal year. Irish Whiskey sales worldwide this year are forecast to reach 12-point-6 million cases according to Euromonitor. That would make Jameson's U-S sales about 40 percent of all global Irish Whiskey sales.
A large market share, yes…but not 70 percent. 
What are some of your favorite myths about whiskey…share them with us on social media or use our contact form, and we'll do a truth test again on an upcoming episode.
Links: TTB Beverage Alcohol Manual
---
February 19, 2023 – In 2021, Kentucky distillers filled 2-point-6 million barrels of Bourbon. Each one of those barrels was a new, charred oak barrel…just like the law requires. Other states don't track Bourbon production specifically, but if we look at more than 2-thousand distilleries operating now in the other 49 states, it's easy to get to somewhere between 3 and a half to four million new barrels that are needed every year, not to mention what makers of other spirits and wine need. 
That's created a lot of pressure on cooperages to meet the demand, and those distilleries without long-term supply contracts are often being turned away.
"I had a person I know through the industry met at a convention a couple times reach out to me on Instagram, PM'd me on Instagram and said, 'Hey, can we have a conversation? I've been tasked with trying to find barrels.' And so she and I got on a call and and I was like, have you tried these people and these people? And I gave her some I had talked to and most of them were like, she said, 'Oh, I talked to them and, you know, they're not even returning calls,'" said American Craft Spirits Association president Becky Harris of Catoctin Creek Distilling in Virginia.
Over the last decade, the number of distilleries in the U-S has exploded exponentially, while only a handful of new cooperages have come on line. Melissa Zoeller of the Associated Cooperage Industries of America, the cooperage industry's trade group, said her members are also facing the same factors that have affected other manufacturing industries over the last three years.
"During COVID, the price went up astronomically. And then also with a lot of the loggers, the next generation not wanting to get into logging, so there's been a price increase there. It's been hard to get the wood for the mills, and then the mills are struggling for with labor as well. So from our members' standpoint, I think we're still struggling to keep up and that's where the shortage comes in," she said.
Listen to Episode 992 of WhiskyCast to find out more:
It's a perfect storm: labor shortages, increased cost for logs, and surging demand. All those factors have combined to raise the cost of barrels by up to 40 percent over the last two years…when you can find them. Earlier this month, the ACSA held its annual conference and trade show in Portland, Oregon…and while cooperages were on hand for the trade show, they largely left their order books at home, preferring instead to deepen relationships with existing customers instead of trying to get new business.
"If you have a current customer and they're going to grow every year,  correct. The whole intention of a business is to grow each year. So if your current customers are growing and you're keeping up with their demand, how are you going to take on new demand," says Ben McGinnis of McGinnis Wood Products in Cuba, Missouri. The family-owned cooperage recently added a second shift and an extra half-day to the production schedule to keep up with its current contracts from Heaven Hill and other clients.
"We're getting logs right now, we got plenty of employees, but just because you can get logs today doesn't mean that you can double your size in a year because other people are putting in new distilleries and there's not as many loggers there used to be. That's been the big issue is getting people to cut the timber to compensate for demand," he said.
Logging is one of the most dangerous occupations in the U-S, and most logging companies are small, family-owned operations where younger generations aren't interested in taking on the family business. In fact, logging industry employment is down about 1 percent a year over the last five years, and the cooperage industry competes with lumber companies and the housing industry for supplies of American White Oak timber.  That's led to sharp increases in the price of raw timber, as well as a shortage of staves, the rough cut dried wood that goes into making barrels. There's an equal shortage of stave and heading mills that supply the cooperages, though more mills are coming on line each year.
Brown-Forman is the only U-S distiller that owns its own cooperages. It sold off three of its four stave and heading mills to new ownership recently, but signed long-term supply contracts for the output from those mills. The company's two cooperages in Louisville, Kentucky and Trinity, Alabama produce around 4,000 barrels a day, but even that's not enough to meet Brown-Forman's needs. It still has to buy 800 to a thousand barrels every day just to keep up with the growing demand for Bourbon.
Greg Roshkowski manages the Brown-Forman cooperage operations, and notes the headlines almost every day about distillery expansions.
"I know from our aspect, Brown-Forman is in the process of doubling the capacity at Woodford Reserve, we're expanding or distillery here in Shively, as well as our distillery at Jack Daniels. And that, you know, is going on throughout the U.S. and the bourbon industry and worldwide," he said.
Roshkowski believes capital investment is the only way to solve the problem, though he says cooperages fall at the bottom of the list behind distilleries, warehousing, and bottling facilities when it comes to that investment.
Not everyone sees a barrel shortage. Independent Stave CEO Brad Boswell said in an email that the opening of his third cooperage and expansion industry-wide mean there's no shortage of barrel-making capacity, but he does see the need for more stave and heading mills. Independent Stave is currently building its ninth stave mill in Batesville, Arkansas, and Boswell expects to announce plans for a tenth stave mill soon.
What's the advice from coopers to those trying to build distilleries? Don McGinnis of McGinnis Wood Products has seen too many distillery owners fail to plan for their barrel needs.
"There's a lot of them that contact us already building their distilleries, but they don't have any barrels. They said they never thought about not being able to get them," he said.
Catoctin Creek's Becky Harris believes distillers will have to become more creative when it comes to making their whiskies in order to be able to use used barrels. She cites examples of corn whiskey, light whiskies, and the catchall "American Whiskey" category where the use of used barrels is allowed under federal regulations. Harris also sees the need to start a discussion with regulators over whether once-used and recharred barrels could qualify as new barrels. That's something the cooperage industry isn't ready to explore yet.
Links: American Craft Spirits Association | Associated Cooperage Industries of America| McGinnis Wood Products | Brown-Forman
---
February 19, 2023 – There's a scandal brewing in Oregon, where both the executive director and chairman of the state's liquor control board have resigned under pressure from Governor Tina Kotek. Oregon Liquor and Cannabis Commission chairman Paul Rosenbaum resigned Thursday following the ouster of executive director Steve Marks. Marks was one of several OLCC executives implicated in an internal investigation last year that found they had diverted bottles of Pappy Van Winkle and other rare Bourbons from retail sale for their own use
The Oregonian newspaper broke details of the internal probe, which also found that the agency executives paid for the bottles and denied selling them on the secondary market.
Oregon's attorney general has launched a criminal investigation to see whether any state ethics laws were broken.
Links: The Oregonian
---