Each week, we bring you the latest whisky news on WhiskyCast, but a lot can happen during the week. Now, you can keep up with whisky news as it happens here on WhiskyCast.com!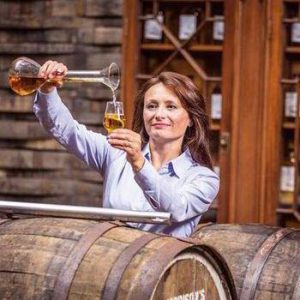 February 20, 2017 – Brown-Forman has now confirmed the hiring of veteran master blender Rachel Barrie as the new whisky maker for its Scotch Whisky portfolio. News of Barrie's impending departure from Beam Suntory's Morrison Bowmore Distillers unit in Scotland spread widely through the Scotch Whisky industry last week, as reported on this week's episode of WhiskyCast. Barrie's last day at Morrison Bowmore will be this coming Friday, and she will begin her new role on March 1.
Barrie will succeed Billy Walker, who founded the BenRiach Distillery Company with his South African-based partners in 2004 when they acquired the BenRiach Distillery in Speyside from Chivas Brothers. The company expanded in 2008 with the purchase of GlenDronach Distillery in Aberdeenshire and again in 2013 with a deal to buy Glenglassaugh Distillery in Banffshire. Last year, they sold the company to Brown-Forman in a deal valued at £285 million GBP ($416 million USD).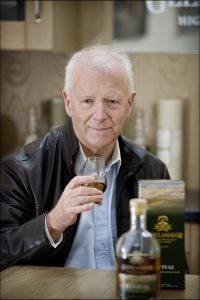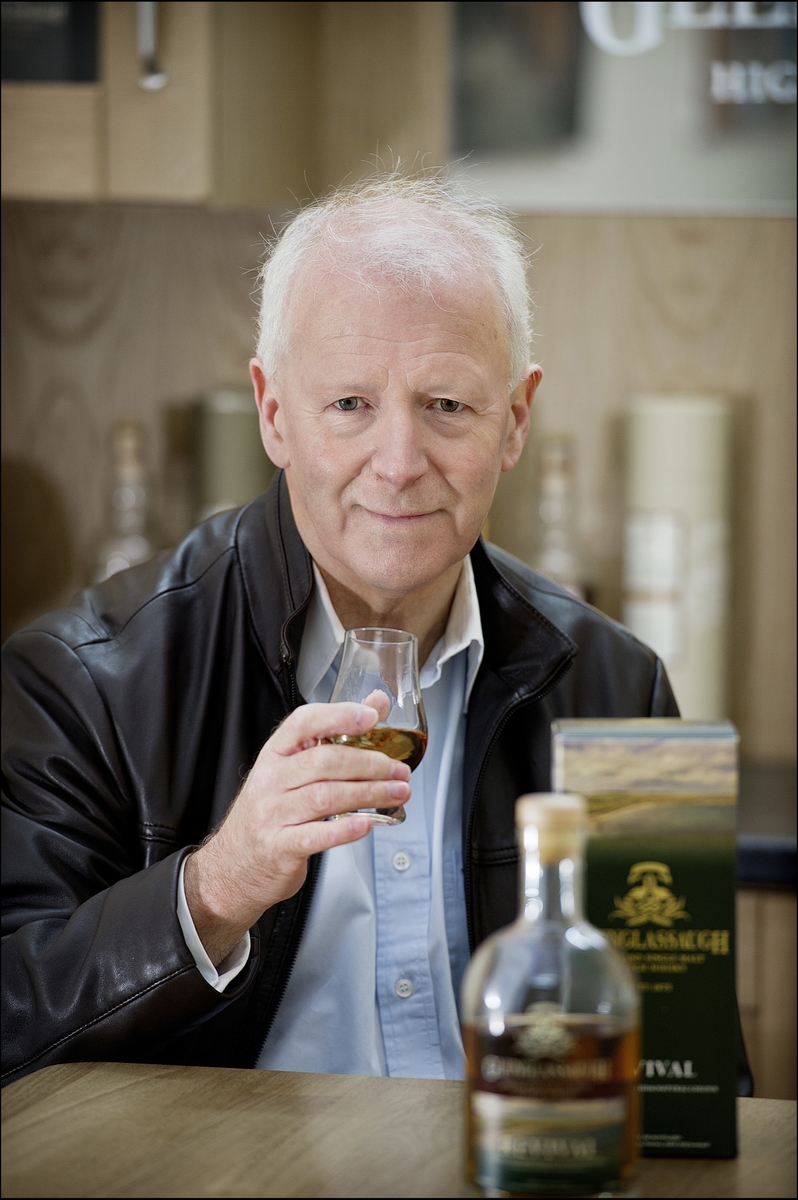 In addition to serving as managing director for the company, Billy Walker was also the master blender for the single malts from all three distilleries, winning numerous awards in whisky competitions around the world. In a news release, Brown-Forman chief production officer Alex Alvarez noted that Walker will stay with the company during the transition. "We are very pleased that Rachel Barrie is joining our team and will continue the excellent Scotch whisky-making tradition fostered by the venerable Billy Walker. We take great comfort in knowing that Billy will continue with our team over the coming months to ensure a smooth transition for Rachel," he said. Brown-Forman has not addressed whether Walker will continue in a management role after the transition is completed. 
Barrie joined Suntory-owned Morrison Bowmore Distillers in 2012 before the company's acquisition of Beam, Inc. and its merger into Beam Suntory. Her principal responsibility was working with Bowmore, Auchentoshan, and Glen Garioch, but also helped with whisky creation for the Laphroaig and Ardmore single malts and Teacher's Blended Scotch Whisky. Ron Welsh, Beam Suntory's senior manager for inventory management and spirit quality, praised Barrie's contributions in a company statement.
"We are delighted for Rachel, and we know she will be a great asset to BenRiach. Rachel has made a lasting impact during her time at MBD and Beam Suntory, playing an important role in the creation of some of our most innovative and premium whiskies. We wish her all the best as she moves to her new position."
Before joining Morrison Bowmore, Barrie spent 16 years at The Glenmorangie Company as a member of the company's whisky creation team for the Glenmorangie and Ardbeg single malts, along with the now-discontinued Baillie Nicol Jarvie blend. She began her career after graduating from the University of Edinburgh as a research scientist at the Scotch Whisky Research Institute.
Links: Brown-Forman | The BenRiach Distillery Company | Beam Suntory
---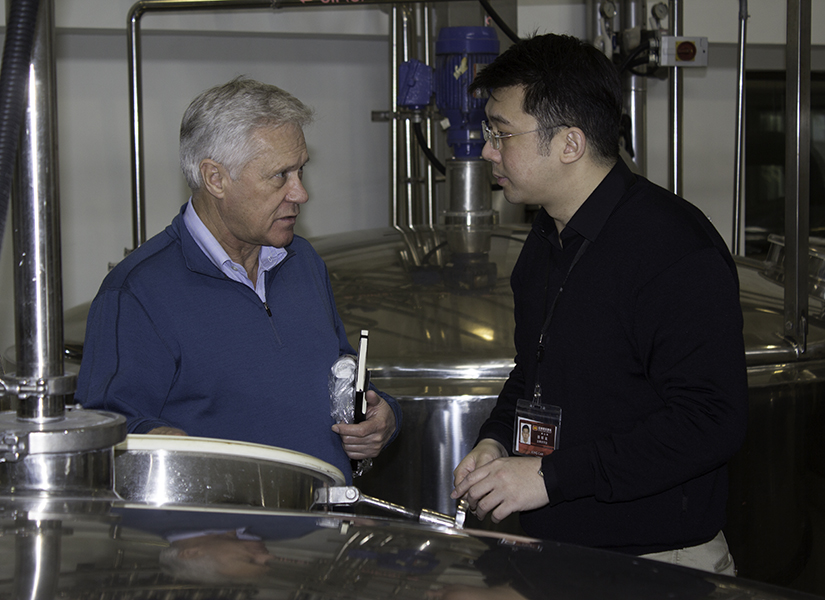 February 15, 2017 – Most whisky connoisseurs will likely have never heard of Dr. Jim Swan, but the longtime whisky industry consultant helped shape many of the whiskies we enjoy today. Dr. Swan passed away Tuesday at his home in Edinburgh at the age of 75, leaving behind a legacy of whisky excellence. "He will be sadly missed by all who knew him," his daughter Caroline said in an email today.
While he was known most for his work with Taiwan's King Car Distillery and its award-winning Kavalan single malt whiskies, Dr. Swan worked with distilleries around the world, including the Welsh Whisky Company (Penderyn), Israel's Milk & Honey Distillery, the Dublin Distillery Company, the fledgling Lindores Abbey Distillery in Scotland, and countless others. His special touch was in getting whisky from new distilleries to have maturity and complexity well beyond its years.
"There is a secret, there is a technique, but I'm not going to share it," he said with a laugh during a 2014 WhiskyCast interview. "It's a case of optimizing each stage of the process for being ready at a young age." Dr. Swan earned his degrees from Heriot-Watt University in Edinburgh and spent ten years at Pentlands Scotch Whisky Research, which later became the Scotch Whisky Research Institute. He later became one of the partners in the Tatlock & Thompson consultancy before founding his own firm in 2002.
In addition to his academic credentials, Dr. Swan humorously described himself as a graduate of the "school of hard knocks" and the "University of Life." He was a guest on the very first episode of WhiskyCast in 2005, and was always generous with his time to answer questions about the science behind whisky. Please join us in sending our condolences to his family and friends.
---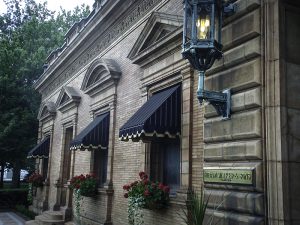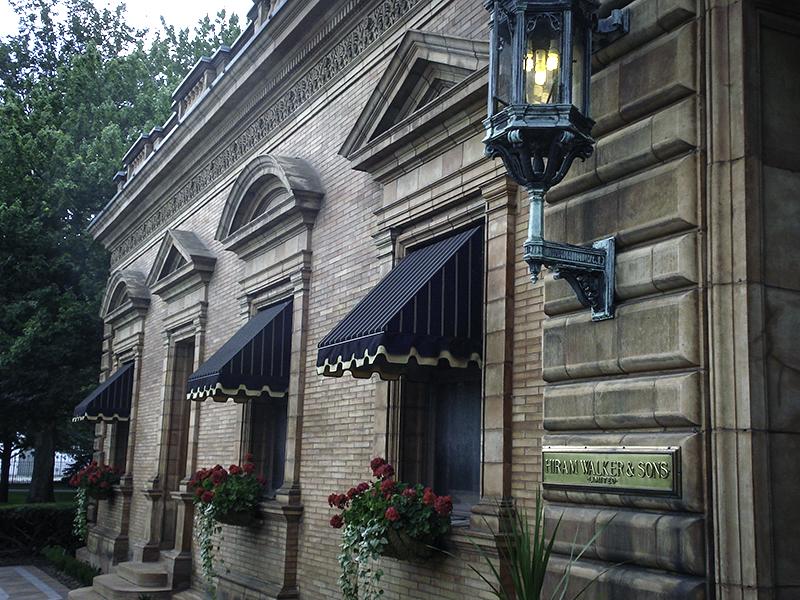 February 14, 2017 – Windor, Ontario Mayor Drew Dilkens is back home after meeting with Beam Suntory executives in Chicago Monday hoping to keep his city's Canadian Club Heritage Centre open. The mayor met with CEO Matt Shattock and other company executives in what Beam Suntory termed a "constructive discussion." However, there appears to be no change in the company's plan to close the Canadian Club brand home to public tours March 31.
This is the complete statement Beam Suntory provided to WhiskyCast via email:
"Beam Suntory and Mayor Dilkens had a constructive discussion about the Canadian Club Heritage Centre, and Beam Suntory looks forward to further dialogue about ways that they might be able to work together to support the Windsor community and Canadian Club's unique role in the city's history."  
WhiskyCast has contacted Mayor Dilkens to follow up on the meeting, and we will update this story as more information becomes available. As we reported last week, Beam Suntory plans to reinvest the money it spends on the Heritage Centre into other promotional efforts for Canadian Club, both in Windsor and globally. The museum attracts around 15,000 visitors annually, and the Canadian Club brand has played a major role in Windsor's history since Hiram Walker opened his distillery in Windsor in 1858.
The Heritage Center occupies the old Hiram Walker & Sons headquarters building adjacent to the Hiram Walker Distillery along the Detroit River. Beam Suntory's predecessor, Fortune Brands, acquired the Canadian Club brand in 2005 as part of the breakup of Allied Domecq. However, Pernod Ricard's Corby Spirit & Wine unit would up with the distillery, and signed a 99-year lease with Beam for the headquarters building along with a long-term production contract to supply whisky from the distillery for Canadian Club.
While Beam Suntory has confirmed that – barring a change in plans – it will terminate its lease on the Heritage Centre building at the end of 2017, Corby executive Ross Hendry told WhiskyCast in an email that his company has not received any notice from Beam Suntory on those plans. According to Hendry, it is "too early to speculate on any future plans or activities" for the building housing the Heritage Center. However, Hendry emphasized that Corby and the Hiram Walker Distillery, which produces Corby's J.P. Wiser's and other Canadian whisky brands, "have always been – and always will be – committed to Windsor." Corby has never opened the distillery to public tours, but recently opened a Wiser's training center at the distillery that could eventually become the base for a tour program.
This story will be updated with more information as it becomes available.
Links: Beam Suntory | Canadian Club | Corby Spirit & Wine
---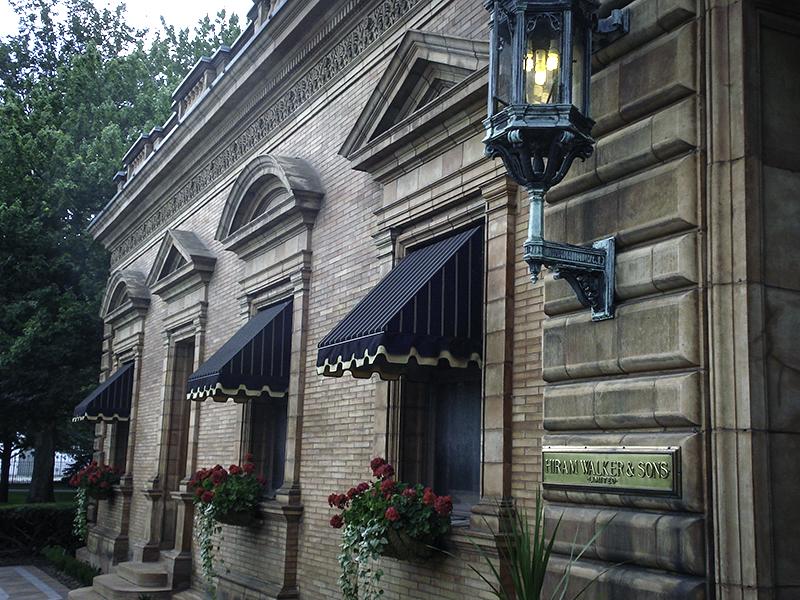 February 10, 2017 – Barring a last-minute change of plans, Beam Suntory will close its brand home for Canadian Club in Windsor, Ontario to tours at the end of March. The Canadian Club Heritage Centre occupies the historic building used originally as the headquarters for Hiram Walker, who opened his distillery in what is locally referred to as "Walkerville" in 1858. The visitors center attracts around 15,000 guests annually, according to the Windsor Star, which first reported the company's plans.
"Certainly, it was a complete shock to me and I was terribly disappointed," Windsor Mayor Drew Dilkens said in a telephone interview, noting that he had only been notified of the decision shortly before Beam Suntory announced it Wednesday. "The history in that brand centre, the history of Hiram Walker and Canadian Club in our community, it runs so deep – it's the foundation by which so much of this community was built upon," he said. Dilkens will meet Monday with Beam Suntory CEO Matt Shattock and other executives to make the case for keeping the center open. "I just want to sit down and have a conversation and figure out what is the path forward – how can we work on this together," he said.
Listen to Mark Gillespie's interview with Mayor Drew Dilkens:

Beam Suntory declined to make executives available for interviews, but in a statement provided to WhiskyCast, confirmed that tours will end at the Heritage Centre on March 31 while contracts for previously booked weddings will be honored through the end of the year. The Heritage Centre is a popular site for weddings, corporate meetings, receptions, and other special events in addition to serving as a display for the brand's extensive archive of historical records and artifacts. A Beam Suntory spokeswoman told WhiskyCast in an email the company will retain ownership of that material with plans to use it "to help promote the brand's rich history and heritage, and to support the Windsor community."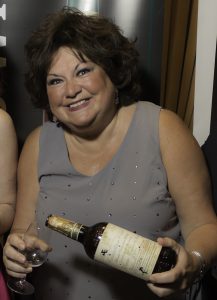 One full-time employee and five part-time employees will lose their jobs when the center closes, while longtime Heritage Center manager Tish Harcus will stay on as the curator for the historical archives and Beam Suntory's Canadian Whisky Brand Ambassador. 
The Heritage Centre opened after Beam Suntory's predecessor, Fortune Brands, acquired the Canadian Club brand in 2005 as part of the breakup of Allied Domecq, and has a complex back story. In the breakup, the distillery went to Pernod Ricard's Canadian affiliate, Corby Spirit & Wine, along with J.P. Wiser's and the other brands distilled there. At the time, Fortune Brands signed a 99-year lease for the building that houses the Heritage Centre and a ten-year production contract for whisky from the distillery. While it has never been publicly announced, that contract was apparently extended for an undisclosed length of time, since Beam Suntory's statement indicates that Canadian Club will continue to be produced in Windsor. Because of the different ownership structure, tours at the Canadian Club Heritage Centre have never been able to include the distillery complex itself, and are limited to the headquarters building.
The building's future is not clear at this time. According to Mayor Dilkens, the 1894 Renaissance-style building is designated as a heritage property and cannot be torn down or substantially modified without City Council approval. Beam Suntory's spokeswoman confirmed Friday night that the company intends to terminate its lease at the end of the year and return the building to Corby. Corby has been raising the profile of the J.P. Wiser's brand in recent years, and recently opened a brand center at the distillery to use for training purposes with the idea of opening it to the public in the future. WhiskyCast has contacted Corby executives to inquire about future plans for the building, and this story will be updated with more details as available.
Editor's note: This story was updated with additional information on Beam Suntory's plans to terminate its lease at the end of 2017.
Links: Beam Suntory | Canadian Club | J.P. Wiser's
---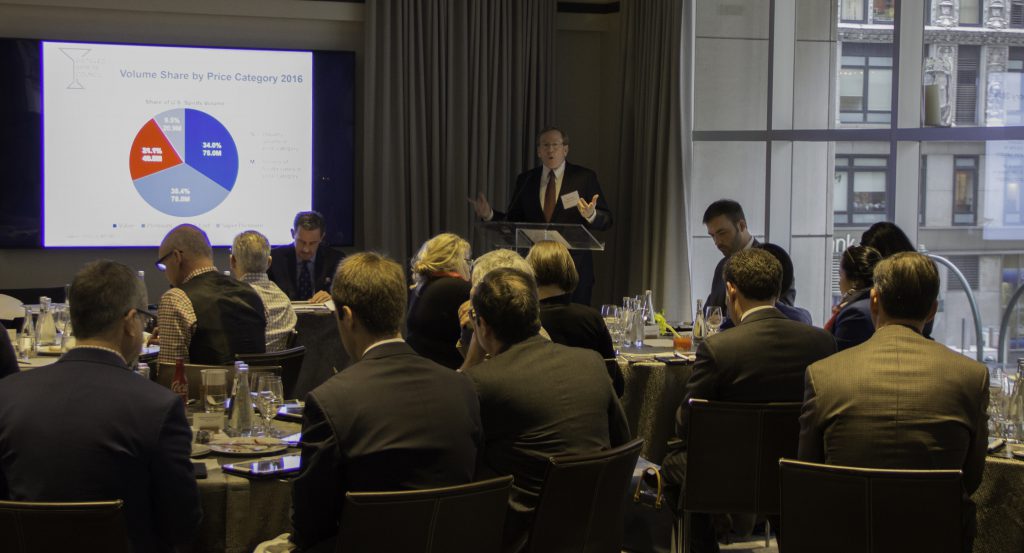 February 7, 2017 – Led by the whiskey industry, U.S. spirits sales recorded another year of growth during 2016, according to the Distilled Spirits Council of the United States. Revenue was up by 4.5 percent over 2015 to $25.2 billion (USD), while volume grew by 2.4 percent to 220 million (9-liter) cases as consumers continued a trend of purchasing more expensive premium spirits. While vodkas account for one out of every three bottles of spirits sold in the U.S., American whiskies continued to show increasing sales across all price categories for an overall 6.8 percent increase in volume during the year.
"We've added two billion dollars in revenue just from the North American whiskey market since 2010, growing in 2016 from $5.4 billion up to $5.7 billion," Distilled Spirits Council chief economist David Ozgo told reporters and analysts at the trade body's annual economic briefing in New York City. That figure includes not only Bourbon, Tennessee, and Rye whiskies, but Canadian whiskies and blended whiskies as well. The American-made whiskies showed significant levels of growth again in 2016, with revenue growth of 7.7 percent to $3.1 billion, while Canadian whiskies grew at a 5.8 percent rate to $2 billion. The value of those Canadian whiskies outpaced the volume (2.4 percent growth) on increased sales of premium whiskies.
Listen to the entire Distilled Spirits Council economic briefing:

Ireland's whiskies continued to show strong growth in the world's largest market for Irish Whiskey exports, with an 18.7 percent increase in volume to nearly 4 million cases and a 19.8 percent increase in value – again on increased sales of higher-end whiskies. Blended Scotch sales were down slightly in volume, but showed a slight increase in value while Single Malt Scotch revenues grew by more than four percent despite less than a one percent increase in volume.
On the export side, American whiskies continue to account for around 70 percent of all U.S. spirits exports, and grew by 10.2 percent over 2015. However, the stronger dollar cut into the value of those exports by nearly 9 percent, reducing the value of American whiskey exports for the year to slightly less than $1 billion. Canada remains the largest export market for U.S. spirits in both value and volume, while Vietnam was the fastest-growing export market during 2016 following a series of industry promotional efforts in that country.
Editor's note: The entire Distilled Spirits Council 2017 economic report can be downloaded from our web site, along with the supporting data supplement. 
Links: Distilled Spirits Council
---
February 7, 2017 – The global Bourbon boom is paying off in Kentucky, perhaps more than ever before in the Commonwealth's history. According to a new study released today by the Kentucky Distillers Association, the Bourbon industry is easily Kentucky's fastest-growing industry with an annual economic impact of $8.5 billion. The report is the latest in a series of economic studies conducted by the University of Louisville Urban Studies Institute and tracks not only the actual spending by distilleries and whiskey producers, but the "spin-off" effect on other industries that benefit from increasing Bourbon sales worldwide. The researchers found an increase of $1 billion in economic impact and an additional 2,000 distillery-related jobs since their last report was released in October, 2014.
Distillers and their associated trades now account for around 17,500 jobs in Kentucky with an annual payroll of more than $800 million. "We know we're growing…the distilleries are expanding and adding tourism ventures and other things, but we don't really realize it until we take a step back and have somebody come in to do an independent study to see how successful we really are," KDA President Eric Gregory said in a telephone interview.
Listen to Mark Gillespie's interview with Eric Gregory:

While the state's distilleries and their parent companies directly employ around 4,300 workers in Kentucky, the links to other industries such as construction, trucking, cooperages, and agriculture creates a significant "multiplier effect." According to the research team led by Urban Studies Institute Executive Director Janet Kelly, the only industry in Kentucky with a larger multiplier effect is light truck and utility vehicle manufacturing centered around Ford and Toyota's assembly plants.
The report was released during a news conference at the State Capitol in Frankfort led by Governor Matt Bevin. "The powerful growth of Kentucky's Bourbon industry is a testament to our proud history of innovation, engineering and manufacturing," he said in a statement released by the KDA. "It is a genuine, home grown, only-in-Kentucky success story." Senate President Robert Stivers (R-Manchester) concurred, saying" Kentucky Bourbon is proof that our pro-business tax agenda works."
The industry is in the middle of a $1.2 billion construction boom fueled by tax cuts approved under the administration of former Gov. Steve Beshear in which the so-called "barrel tax" that distillers pay on each barrel of maturing whiskey was offset by income tax credits; the caveat being that the money had to be reinvested in capital projects such as distillery expansions, new maturation warehouses, and visitors centers. Bevin, who took office last year, pledged to continue cutting bureaucratic road blocks to the industry's expansion, and additional tax reforms could come later this year as Bevin and state lawmakers are considering a special legislative session devoted to rewriting the Commonwealth's tax code.
The potential for tax reform comes as welcome news for the state's distillers, as the report also shows that they have a higher tax burden than any of Kentucky's 536 other industrial sectors. When federal, state, and local taxes are combined, distillers pay 34 cents in taxes for every dollar of output. By comparison, the second highest-taxed industry is amusement parks at around 20 cents for every dollar of output. In addition, Kentucky's tax rate on spirits is the fifth highest in the nation among the so-called "open market" states where sales of alcoholic beverages are not managed directly by state agencies. The KDA's Gregory says Gov. Bevin and legislative leaders have asked the industry to suggest areas for reform, noting that "we're currently working on that with our member distilleries to figure out 'what do we need, what are the obstacles that are keeping us from reaching our full potential here', because clearly, 34.4 cents per dollar of output in taxes is staggering."
The report comes just days after the release of tourism data for 2016 from the state's distilleries. 889,000 visits were recorded at the major distilleries along the KDA's Kentucky Bourbon Trail during 2016, a 17 percent increase from 2015. Buffalo Trace Distillery in Frankfort, which does not participate in the Bourbon Trail promotion, reported 170,587 visitors during the year – also a 17 percent increase.
Editor's note: The entire University of Louisville Urban Studies Institute report is available to download from our web site. 
Links: Kentucky Distillers Association | University of Louisville Urban Studies Institute
---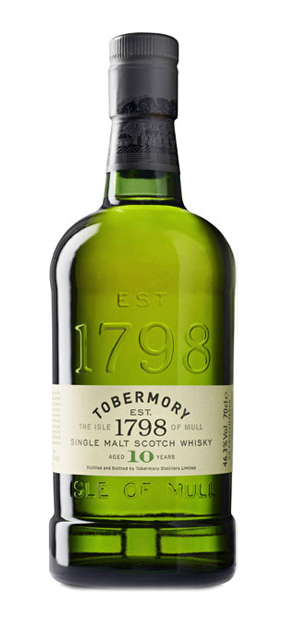 Updated February 3, 2017 – Tobermory Distillery on Scotland's Isle of Mull will shut down production on March 31 for up to two years as Distell plans a major upgrade project at the distillery and its visitor center, along with a revamping of the Tobermory single malt brand.
"This is about trying to make Tobermory going forward a more interesting, more special, more significant offering for the whisky public," Distell executive Alan Wright said in a telephone interview. "There's a lot that we're going to do in terms of the development of that brand…we're going to try and lift it from being what's probably been an entry-level malt into something a bit more special going forward."
The distillery upgrade will include completion of a still replacement and repair project that began two years ago, when one still was replaced completely and a second was partially replaced. The copper from those stills was cut into pieces and recycled as part of the Ledaig Dùsgadh 42-year-old expression. Wright said the upgrade will also include structural work on the main distillery buildings, some of which date back to Tobermory's opening in 1798. No price tag has been announced for the project, since preliminary architectural and engineering work is still being done.
Listen to Mark Gillespie's interview with Distell's Alan Wright:

The South Africa-based company will keep the Tobermory visitor center open during the project, which will idle the island's only distillery and one of its largest tourist attractions. There are plans for a new visitors center on land in front of the distillery utilizing the existing distillery manager's residence. "We're the only distillery on Mull, we've got a real jewel in the crown there…I call it the jewel of Mull, and I think we've got a real opportunity there," Wright said. Arrangements have been made to keep the distillery's staff working during the project, and Wright said the distillery has been producing extra spirit over the last 18 months to cover future needs for mature spirit that would have been produced during the two-year closure.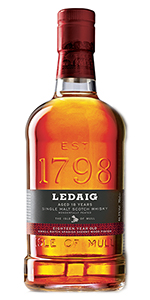 Tobermory is rare among Scottish distilleries in that it produces two different single malts in separate production cycles during the year. The distillery's unpeated malts are sold under the Tobermory label, while its peated malts are sold under the Ledaig label. While Tobermory's existing 10 and 15-year-old expressions have largely been removed from the market over the past 18 months, the 10-year-old malt will be available at the visitors center during the shutdown. Distell plans to keep the Ledaig 10 and 18-year-old malts on the market during the period. In addition, Wright says up to ten limited edition expressions from both brands are in the pipeline for release during the shutdown.
When the distillery reopens in 2019, Distell plans to unveil a new range under the Tobermory brand. Plans for that range are still being developed, with much of the work to be done by a newly-hired marketing manager for Distell's single malt portfolio, which also includes Bunnahabhain and Deanston single malts. That executive has not been named publicly, since the person is still working for another company and will not join Distell until March 1. Distell recently named Andy Watts, the longtime master distiller at its James Sedgwick Distillery in South Africa, as the company's new "head of whisky intrinsic excellence" with technical responsibility for the entire Distell whisky portfolio.
Distell acquired Tobermory in 2013 when it bought Burn Stewart Distillers from CL Financial for $245.4 million dollars. In addition to Bunnahabhain and Deanston, the deal also included the Black Bottle blended Scotch whisky brand. Last year, the Burn Stewart corporate name was officially replaced with Distell International Ltd.
Editor's note: This story has been updated following an interview with Distell Group General Manager for Operations Alan Wright to include audio from the interview. 
---
January 31, 2017 – Diageo is returning to the Irish Whiskey category, a little more than two years after it sold Bushmills to Mexico's Casa Cuervo in exchange for complete ownership of the Don Julio tequila brand and $408 million in cash. The world's largest liquor producer is creating a new Irish Whiskey brand from scratch and will invest €25 million ($27 million USD) to build a new distillery in the former Power Station at its St. James's Gate Guinness brewing complex in Dublin over the next three years. Assuming Diageo receives planning approval for the project on a timely basis, the company expects to begin production in the first half of 2019.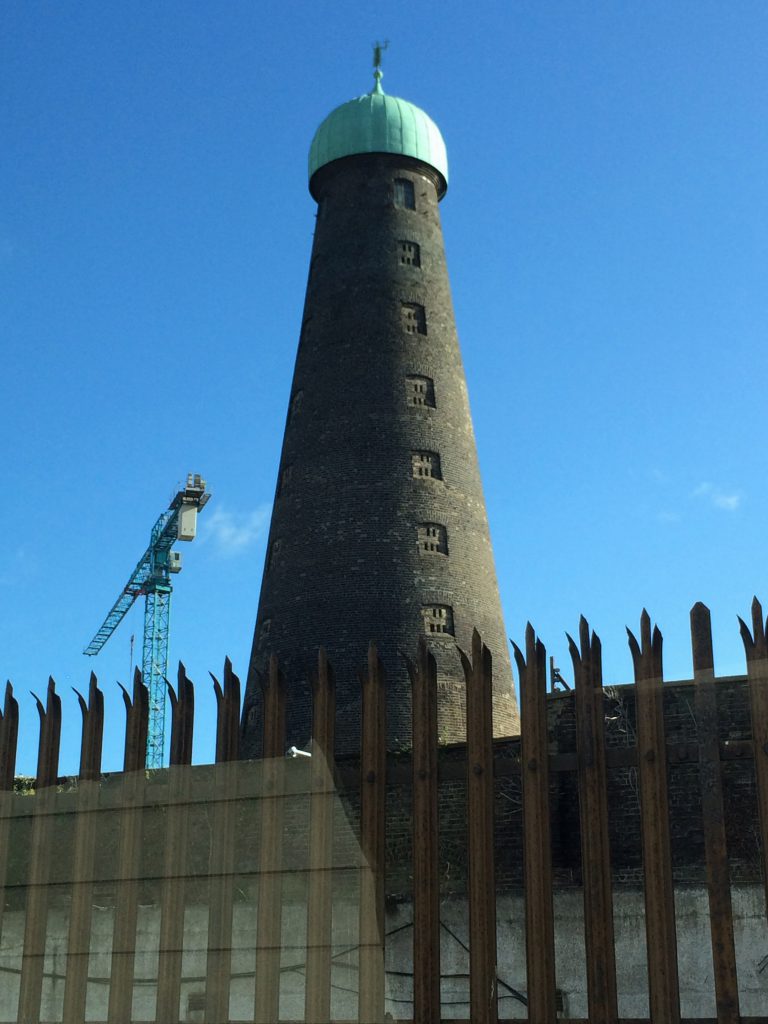 In a news release, Diageo announced the launch of Roe & Co., a new premium blended Irish Whiskey that will debut in Europe beginning in March. The brand gets its name from George Roe, one of the key figures in Irish Whiskey history. Roe's distillery was Ireland's largest at one time, and was located across the street from Diageo's Guinness brewery in Dublin. Parts of the old distillery are still standing today, though many of the original buildings have been demolished or converted to other uses. Distilling on that site dates back to at least 1757, when George Roe's father Peter acquired a distillery on the Thomas Street site, according to Irish Whiskey historian Fionnán O'Connor in his book A Glass Apart. George Roe later consolidated several smaller distilleries in Dublin's Liberties neighborhood into the 17-acre site of his main distillery. His sons later took over the distillery, which eventually closed in 1923 after Prohibition in the U.S. dried up much of the export market for Irish Whiskey. Ironically, Roe and his family were often at odds with Arthur Guinness over Ireland's "malt tax" on malted barley, which forced distillers to switch to unmalted barley, oats, and other grains for their whiskies.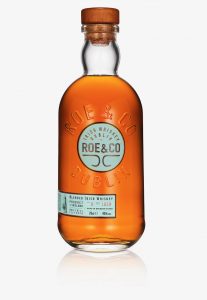 The revived Roe & Co. brand will use whiskey sourced from undisclosed distilleries in Ireland, and according to Diageo's statement, has been in development since December 2014, just a month after the Bushmills sale was announced. Earlier that year, Diageo CEO Ivan Menezes acknowledged to investment analysts that the company had failed to capitalize on the global growth in demand for Irish Whiskey with Bushmills, saying  "we have tried hard over the years to get this brand into growth, and we've struggled." 
Diageo Master Blender Caroline Martin led a team of blenders in creating more than 100 prototype blends for the Roe & Co. project, which will be part of the company's Reserve portfolio of spirits brands. Reserve Europe General Manager Tanya Clarke said in the Diageo statement that "we explored the demands of today's consumers for more premium drinking experiences and the desire of bartenders for an adaptable, flavourful whiskey that works in both traditional and new cocktails."
The new distillery is also likely to have a tourism element, with Diageo executives noting that it will complement the Guinness Storehouse experience at St. James's Gate, which is one of Ireland's most popular tourism destinations. Plans for that part of the project have not been announced, and are not expected to be available until closer to the distillery's expected opening in 2019.
WhiskyCast has requested interviews with Diageo executives to discuss the project, and this story will be updated with additional information as necessary.
Links: Diageo
---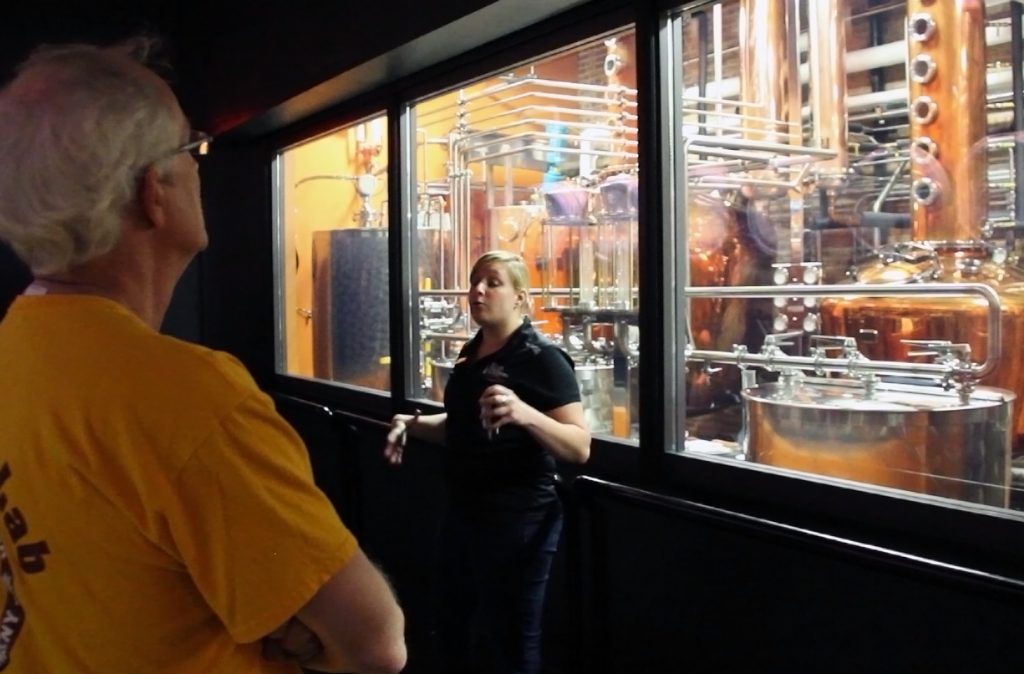 January 25, 2017 – Kentucky's emphasis on Bourbon-related tourism promotion in recent years has led to another banner year for the state's distilleries. According to a new report from the Kentucky Distillers Association, the 20 distilleries that make up the Kentucky Bourbon Trail's two tours hosted more than a million visits in 2016. The nine large distilleries that make up the original Bourbon Trail hosted 888,733 visits, up 17 percent from 2015. The Bourbon Trail's Craft Tour of 11 smaller artisanal distilleries drew 177,228 visits during its fourth full year, up 32 percent over 2015. The numbers do not reflect individual travelers, since many visited more than one distillery during their travels.
"It seems like every year that we've had the Kentucky Bourbon Trail since 1999, we keep on breaking a new record each year," KDA President Eric Gregory said in a telephone interview. "We count stops along the Kentucky Bourbon Trail…we had more than a million for the first time ever." The association is currently compiling data for its latest economic impact study in partnership with University of Louisville researchers, but Gregory cited data from previous years showing tourists spend in a range of $400-$1,200 during a visit, depending on how many nights they spend in hotels. "You look at a million different stops, and you're talking about a whole lot of money here for Kentucky," he said.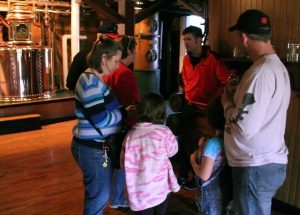 The Kentucky Bourbon Trail includes nearly all of the state's major whiskey distillers, including Jim Beam, Maker's Mark, Heaven Hill, Wild Turkey, Woodford Reserve, and Four Roses, along with Louisville-based visitor experiences for Jim Beam, Evan Williams, and Bulleit Bourbon, as well as Lexington's Town Branch Distillery and a Four Roses satellite visitors center at its Cox's Creek maturation and bottling facility near Bardstown. An announcement is expected next month on a new addition to the Bourbon Trail, bringing the number of stops to ten. The Craft Tour added Kentucky Artisan Distillery in Crestwood during 2016, and is expected to announce at least one new addition for 2017 soon.
In addition to the 1,065,961 visits to the distilleries on the two Kentucky Bourbon Trail tours, Buffalo Trace Distillery in Frankfort reported a similar 17 percent increase in visitor traffic with 170,587 guests during 2016. The Sazerac-owned distillery is not a KDA member and does not participate in the Kentucky Bourbon Trail program, but it is fair to assume that many of the same tourists made stops at Bourbon Trail-affiliated distilleries as well.
The growth potential for Kentucky Bourbon tourism remains strong. According to Gregory, many of the 16 new distilleries that are currently under construction are being built with tourism in mind, and others that have opened recently are bracing for a surge in guests. "A big question for several of these distilleries that we're working with them on is…do they start out on the Craft Tour and kind of grow organically, or do they jump into the deep end immediately and join the big Kentucky Bourbon Trail knowing that means a lot more visitors, a lot more parking, a lot more infrastructure needed," he said.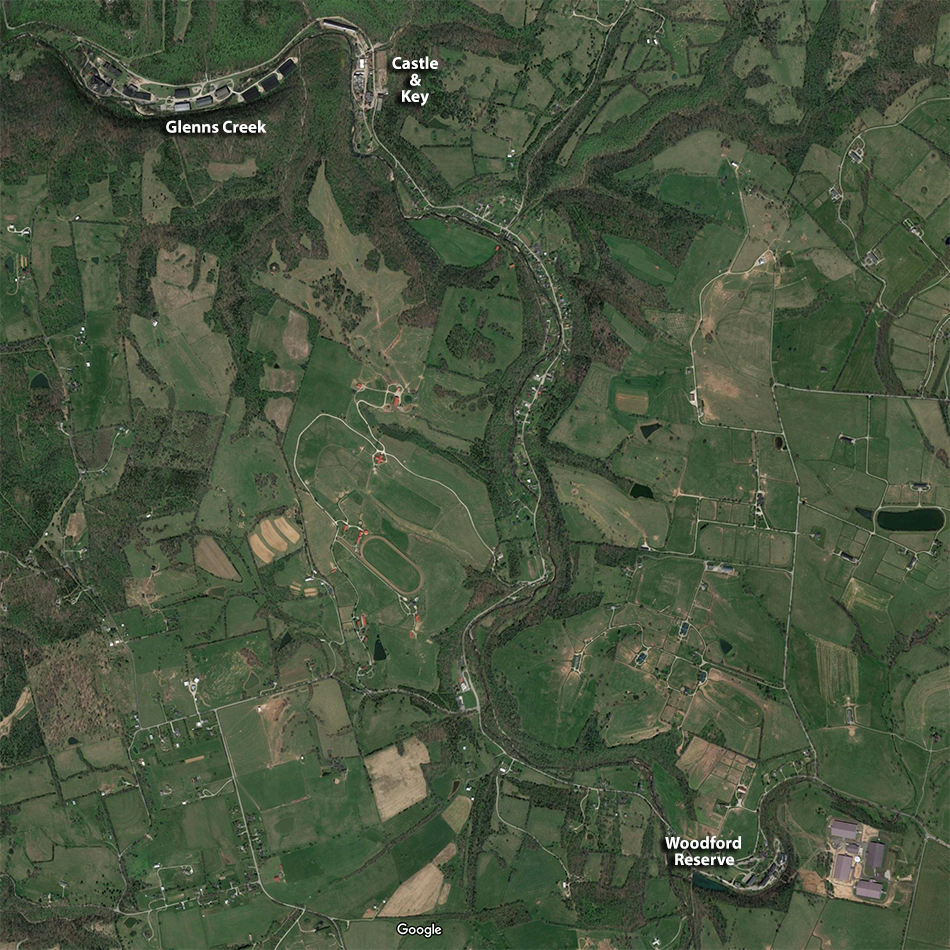 In some cases now, members of the Craft Tour are receiving more visits now than members of the main tour received just several years ago, and the traffic may be too much to handle without a state investment in infrastructure. As an example, Gregory cites McCracken Pike in Woodford County, where the Castle & Key Distillery is expected to open for tours later this year less than a mile away from Glenns Creek Distillery. Both are on the sites of historic distilleries located on McCracken Pike several miles north of Woodford Reserve, which draws significant numbers of tourists each year as part of the Kentucky Bourbon Trail.
While McCracken Pike has been upgraded between Versailles and Woodford Reserve to handle higher traffic volume, it narrows significantly north of Woodford Reserve as it passes through Millville to the point where grain trucks and high volumes of vehicle traffic may have problems. Gregory said the KDA has been in touch with state and federal officials to discuss potential road improvements, but the proximity of Glenns Creek along the road and a series of cliffs would make a widening project difficult. Castle & Key's owners intend to make tourism and events a key part of their business, but Gregory said they have decided to hold off on joining the Trail until they are ready to handle the potential volume of tourists. Glenns Creek has also not joined the Trail, and offers tours only by appointment.
Links: Kentucky Bourbon Trail | Buffalo Trace | Castle & Key | Glenns Creek Distillery
---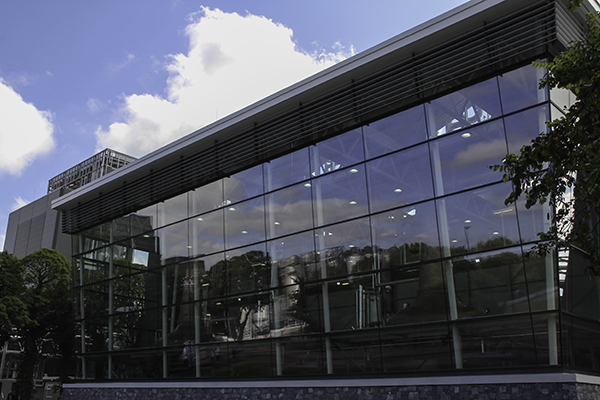 January 19, 2017 – Nearly three and a half years after opening its new Garden Stillhouse dedicated to producing Irish single pot still whiskey, Irish Distillers is expanding its capacity with an €10.5 million ($11.2 million USD) project that will double the number of pot stills from three to six. Combined with the four pot stills in Midleton's original Barry Crockett Stillhouse, the move will increase pot still production by around 30%, according to the Dublin-based unit of Pernod Ricard.
In a statement, Irish Distillers Chairman & CEO Jean-Christophe Coutures said the expansion will help position Midleton to meet future demand for Irish Whiskey, which is the fastest-growing segment of the global whisky market. "We are seeing growth accelerating across Jameson and the wider Single Pot Still Irish whiskey range, such as Redbreast and Green Spot, and we will continue to direct our focus for growth here. With our increased production capacity, we are confident that the category will hit the ambitious targets set by the Irish Whiskey Association – increasing exports to 12 million cases by 2020 and 24 million cases by 2030," he said.
Irish Distillers and Pernod Ricard have invested more than €230 million ($242.5 million USD) to increase production capacity since 2012, with €120 million at Midleton, €100 million on warehouses at the nearby Dungourney maturation campus, and €20 million to expand the Fox & Geese bottling facility in Dublin. In addition, the €11 million redevelopment of the Old Jameson Distillery visitor experience in Dublin is on track to open in March.
Midleton's existing pot stills are among the largest in use in the world, and the Garden Stillhouse was designed to accommodate new stills with minimal disruption to existing operations. The three massive pot stills with a capacity of 75,000 liters each were built by Forsyth's in Rothes, Scotland, and arrived at the distillery in County Cork Wednesday. Installation work has begun, and Midleton general manager Paul Wickham expects the work to be completed by June. While the project will support 60 jobs during the construction period. Wickham said the long-term economic impact of the expansion will be equally significant.
"All our barley comes from farms located within 100 miles of Midleton Distillery, supporting families who have produced barley for centuries. Using unmalted barley is a long-standing tradition of Irish whiskey and one which Irish Distillers continues, believing it contributes to the smooth characteristics of our products. At present, we spend €60 million annually on cereals, energy, capital projects and payroll in the local economy and this will increase with the installation of these new stills," Wickham said in the Irish Distillers statement. 
The distillery produces all of the spirit for Irish Distillers whiskies, including market-leading Jameson, along with Powers, Redbreast, Midleton and the Spot range of single pot still whiskies. In 2011, Pernod Ricard Chairman & CEO Alexandre Ricard, who headed Irish Distillers at the time, pledged to introduce two new single pot still whiskey expressions from Midleton each year over the next ten years. Since then, the Yellow Spot brand has been revived and the Midleton brand has been expanded from its original use on the Midleton Very Rare annual release to include Dair Ghaelach, a  single pot still whiskey matured for part of its life in Irish Oak casks. Redbreast expressions since then have included a cask-strength edition of Redbreast 12, along with the award-winning Redbreast 21 and the Lustau Edition introduced last September.
Links: Irish Distillers
---