Each week, we bring you the latest whisky news on WhiskyCast, but a lot can happen during the week. Now, you can keep up with whisky news as it happens here on WhiskyCast.com!
October 23, 2016 – Workers at the Jim Beam Distillery in Clermont, Kentucky and the Booker Noe Distillery in nearby Boston will return to work Monday morning after a week-long strike. Members of United Food & Commercial Workers Local 111-D voted overwhelmingly to ratify a new contract with Beam Suntory Friday. The new contract includes some wage increases, while largely resolving the key issue for union members – excessive overtime caused by the global boom in demand for the company's Bourbon and Rye whiskies.
Union members complained during the strike that they were being required to work up to 80 hours a week, and one of their demands was that Beam Suntory hire more full-time workers to spread out the workload. The contract calls for Beam Suntory to hire 27 to 30 new full-time employees by July, 2017, and limits mandatory overtime to four hours per shift. Local 111-D president Janelle Mudd told the Louisville Courier-Journal that the company "really addressed everything we asked them to." Mudd was unavailable for interviews this weekend.
Both distilleries remained open during the strike, with company officials implementing unspecified contingency plans to maintain whiskey production. In an emailed statement, Beam Suntory praised the resolution of the labor dispute that had received national attention:
"This outcome is good news for our people, our customers and fans of Jim Beam everywhere," said David Hunter, chief supply chain officer for Beam Suntory. "The successful resolution of this matter resulted from constructive good faith dialogue with the union leadership, and valuable listening sessions with a broad cross section of team members. We developed solutions that include less reliance on temporary workers, better management of overtime, and a number of improvements to promote work-life balance. This contract builds on the values shared by our company and our workforce, and will help make these plants even better places to work."
Suntory Holdings chief executive Takeshi Niinami was able to avoid questions about the labor dispute during a brief visit to Kentucky this week. During a speech Tuesday before the Japan/America Society of Kentucky, Niinami said the company plans to invest up to $1 billion to expand its Kentucky production facilities over the next five years as it grows its Bourbon business worldwide.
Links: Jim Beam | United Food & Commercial Workers
---
October 15, 2016 – Union employees at Beam Suntory's two Kentucky distilleries have walked off the job after their contract expired at midnight. The strike by members of the United Food & Commercial Workers Local 111D affects the Jim Beam Distillery in Clermont and the Booker Noe Distillery in Boston, and comes after rank and file members rejected the second tentative agreement in a week. Friday afternoon's vote was 174-46 to reject the agreement, which was an improvement on Tuesday's 201-19 vote but still shows widespread dissatisfaction among workers.
In a statement provided to WhiskyCast by a UFCW executive in Washington, Local 111D president Janelle Mudd outlined the union's ongoing issues in the talks:
"This afternoon, hard-working and dedicated members of United Food and Commercial Workers (UFCW) Local 111-D voted on a tentative agreement that was reached by the negotiating committee and management. The vote was 174-46 to reject it and go on strike at midnight October 14th. 
"We are committed to ensuring that no worker and no member of our union family struggles alone.
"The main issues that we are hoping to resolve are protection of seniority, job security, clear contract language, and improvements in safety. Most importantly, we are seeking a better work/life balance and a return to the family values and heritage upon which the Jim Beam brand is based. All of us work hard and have earned and deserve a better life."
Earlier this week, Mudd cited an "atmosphere lacking respect" for workers at the two distilleries while not providing specifics. The union represents 230 workers at the two distilleries, which produce all of the whiskey for Jim Beam and Beam Suntory's other Bourbon and Rye whiskey brands, including Knob Creek, Booker's, Basil Hayden's, Baker's, and Old Grand-Dad. Jim Beam is the world's largest-selling Bourbon brand, and the strike not only affects distilling, but bottling operations at the Clermont distillery. Beam Suntory has other bottling facilities in Kentucky, but workers at those sites are not represented by Local 111D.
Beam Suntory executives have declined interviews on the strike, but issued this statement Saturday morning:
"Jim Beam has implemented comprehensive contingency plans to keep operations running at its Clermont and Boston, Kentucky distilleries in view of the vote by its unionized workforce to go on strike after midnight tonight.  The decision came after the hourly workers at these facilities voted down a revised contract proposal that had been unanimously endorsed by the union leadership after intensive negotiations in recent days with the assistance of a federal mediator.
"Our valued team members in Clermont and Boston voted down a revised contract negotiated in good faith all day yesterday and agreed to with union leaders," said David Hunter, chief supply chain officer for Beam Suntory. "As a result, we have no choice but to implement our contingency plans to help ensure the continuity of our operations and supply of our products for our distributors, customers and consumers. Given our inventories and contingency plans, we currently do not anticipate shortages of Jim Beam or any other products made at these facilities.  We hope that these team members will reconsider the attractive terms offered and ultimately support the proposal."
The revised proposal addressed union concerns in areas including overtime and temporary workers, and also included wage increases."
Beam Suntory announced Saturday afternoon on Facebook that it will keep the American Stillhouse visitors center at the Jim Beam Distillery open during the strike, though tours will be modified to skip the distillery and the adjacent micro-distillery. The visitors center staff is not represented by Local 111D, but the union does represent workers who lead tours through the micro-distillery and custom bottling line adjacent to the main distillery.
This story will be updated with additional information as necessary.
Editor's note: This story was updated with information on Beam Suntory's plans to keep the Jim Beam American Stillhouse visitors center in Clermont open during the strike. 
Links: Jim Beam | United Food & Commercial Workers
---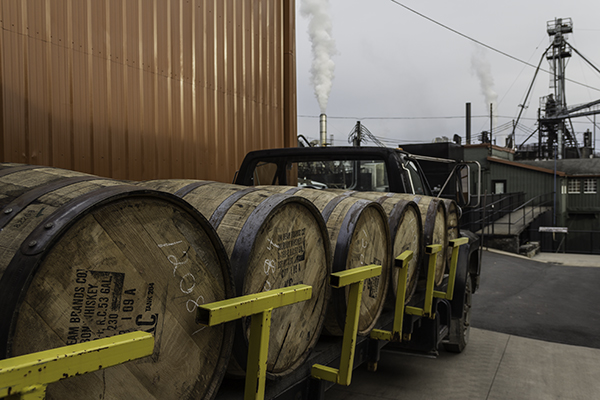 Updated October 14, 2016 – Negotiations aimed at preventing a strike by workers at two Jim Beam distilleries in Kentucky are underway today as a midnight deadline approaches. Beam Suntory executives and United Food and Commercial Workers Local 111D leaders are meeting in an attempt to reach an agreement, according to a union executive. Tuesday, Local 111D members voted 201-19 to reject the company's contract offer, citing an "atmosphere lacking respect" for workers at two Jim Beam distilleries in Kentucky as one of their main reasons for voting to go on strike when their current contract expires at midnight tonight.
The local represents production workers at the Jim Beam Distillery in Clermont and the Booker Noe Distillery in Boston, Kentucky, and reached a tentative agreement with Beam Suntory with the help of a federal mediator after more than a month of negotiations.
In a statement provided to WhiskyCast by the UFCW's international office in Washington Thursday, Local 111D president Janelle Mudd said her bargaining team had already agreed to extend the current contract offer three times before taking an agreement to rank and file members for a vote.
"The recommendation of the negotiating committee to bring the offer to a vote was based on its determination that it was the best that the company was willing to offer. While it included some economic gains, issues such as job security given the number and use of temporary agency workers, the honoring of seniority, open-ended contract language, and an atmosphere lacking respect for the incredible value brought by hard-working union employees drove the vote total."
The Clermont distillery is Beam's flagship distillery and home to the Jim Beam American Stillhouse visitors center, which attracts thousands of tourists every year. Local 111D represents the distillery's production workers, including those who lead tour groups through the micro-distillery adjacent to the main distillery. It does not represent workers in the American Stillhouse visitors center.
Beam Suntory's vice president of Kentucky Beam Bourbon Affairs, Kevin Smith, released this statement late Tuesday after the results of the vote were announced.
"We value the positive relationship we have with our UFCW associates at our Clermont and Boston facilities, and we have worked constructively with their negotiating committee and a federal mediator to develop a very attractive new contract over 33 days of bargaining. We are seeking to understand the reasons why the union membership voted down this competitive two-year contract proposal unanimously recommended by their own representatives. The proposal includes substantial wage increases, coupled with other enhancements including elimination of the two-tiered wage system for almost all employees.
While we have not been advised of any specific objections to the proposal, we are committed to resolving this matter expeditiously. We greatly value our teams at these facilities, and we look forward to working with the union leadership to help ensure a full understanding of the proposal by the union membership. Ultimately, we hope the employees will reconsider and support this agreement.
As the current contract extends through Friday, we anticipate business as usual tomorrow at our facilities."
Beam Suntory executives have declined to comment beyond Smith's statement, which did not address whether the company has contingency plans to keep the Clermont distillery operating in a strike. While Jim Beam does operate other bottling plants in Kentucky, the Clermont distillery also has bottling operations that would be affected by a walkout. It is not clear whether UFCW-represented workers at Beam's other Kentucky facilities would honor the strike, nor whether the American Stillhouse would remain open during a strike.
This story will be updated as new details become available.
Editor's note: This story was updated with details on Friday's resumption of negotiations. 
Links: Jim Beam | United Food & Commercial Workers
---
October 8, 2016 – With the controversy over Republican presidential candidate Donald Trump's 2005 comments about women dominating the headlines, it didn't take long for a Colorado whiskey distiller to take a stance of its own.
"Grab Whiskey, not P#$$y" was the tweet on Deerhammer Distilling Company's official Twitter account Saturday afternoon, along with a similar post on the distillery's Facebook page.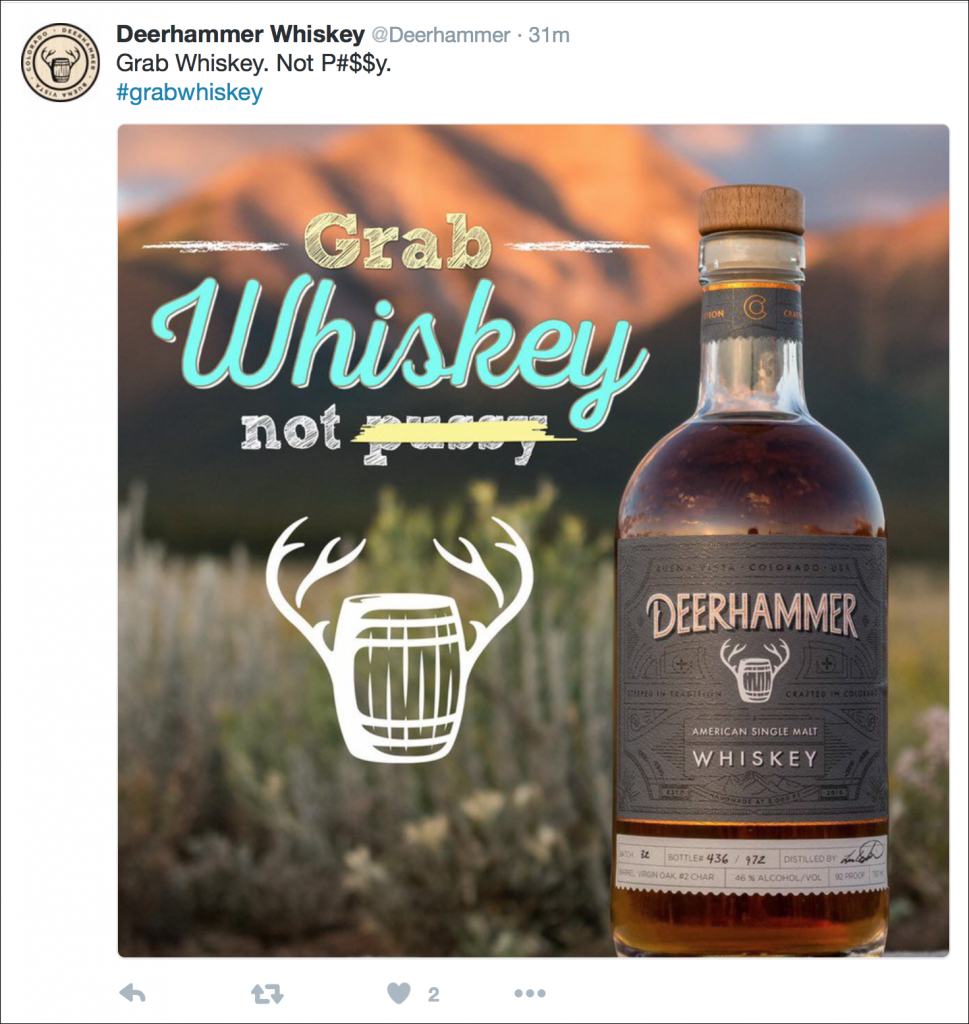 "We try not to get too political at Deerhammer, but sometimes things like this present themselves," Deerhammer co-founder and head distiller Lenny Eckstein said in a telephone interview. "Deerhammer tends to think of itself as a somewhat edgy brand…tricky thing to balance sometimes between being edgy and being who you are and being the right thing to all the people, but sometimes we've just gotta do what comes naturally," he said.
The distillery opened in 2011 in Buena Vista, Colorado, and produces single malt whiskey along with unaged "white" whiskey, brandy, and gin. Deerhammer is located in a relatively conservative area of Colorado, but Eckstein is hoping that his neighbors won't be offended. "I think most folks have a pretty good sense of humor, and when it comes to whiskey, they know how to put aside those things and take it for what it is," he said.
So far, the reaction has been limited, with one Facebook user posting a simple comment: "Lenny for President 2016".
This story will be updated as necessary.
Links: Deerhammer Distilling
---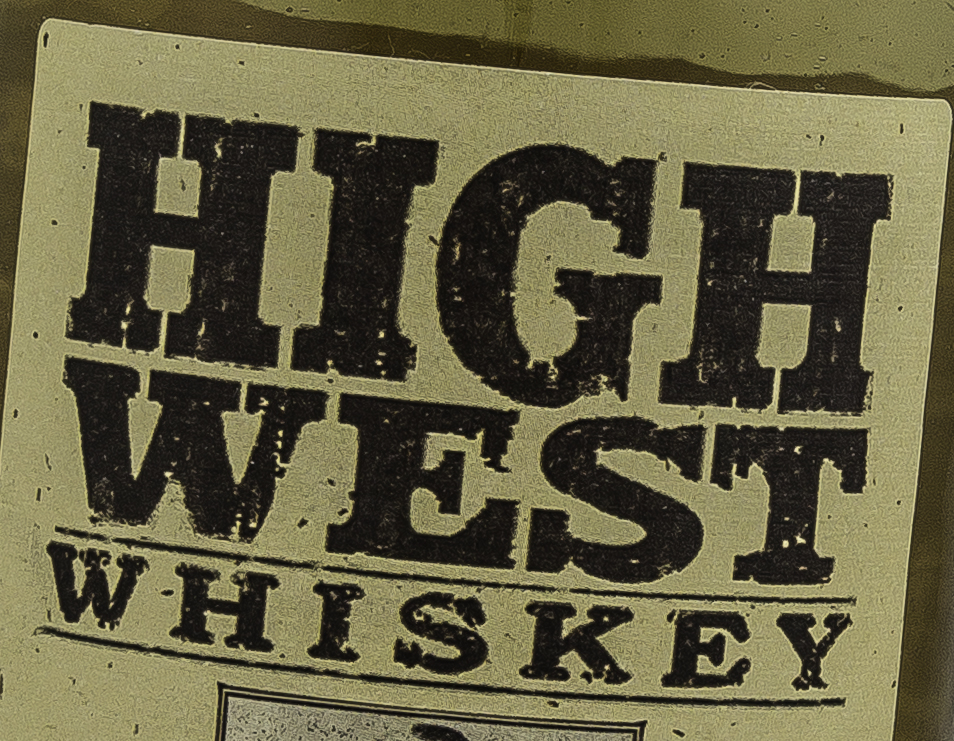 October 7, 2016 – $160 million is a lot of money, especially for a single distillery that has only been producing its own spirit for a few years. However, this week's acquisition of Utah's High West Distillery by Constellation Brands was as much about the intangible assets that came with the deal as much as it was for the distillery, according to Constellation's Bill Newlands, who runs the company's wine and spirits division. Constellation has been looking to grow its spirits portfolio, which currently includes SVEDKA Vodka, Casa Noble Tequila, and Black Velvet Canadian Whisky, and Newlands wanted to make an inroad into the booking American craft spirits sector.
"High West has done an outstanding job, in our minds, of innovating and doing things a little differently, and it's got a lot of authenticity," Newlands said in a telephone interview. "All of those things said this could be very foundational for us, which is to give us a good base in building a high-end spirits business," he said. Newlands cited High West's success in building a presence in the highly-competitive "on-premise" bar and restaurant market along with the high-end whisky market, and plans to use the 200-member High West team as a base to grow its overall spirits business. While Constellation does not break out financial data for its individual brands, Newlands projected the High West acquisition will generate significant returns from both its own sales and the expertise the Utah-based team led by High West CEO John Esposito will bring to Constellation.
Listen to Mark Gillespie's interview with Constellation's Bill Newlands:

The all-cash deal is expected to close later this month, and came after High West's current owners decided to seek deeper pockets to help fund the company's continued growth. While High West master distiller Brendan Coyle and founder David Perkins have been laying down spirit at their new distillery in Wanship, Utah for the last year and a half, the company depends on access to the bulk whiskey market for blending stock to produce its core range of whiskies. With the global boom in demand for Bourbon and Rye whiskies, blending stock has become significantly more expensive. High West has supply contracts in place with MGP and other distillers, but Perkins confirmed that the need to increase its supplies of blending stock was one of the key factors in deciding to sell. "There's no question we would have needed more money, the question is really how you get that," Perkins said Saturday in a telephone interview. "You can talk to lots of private equity firms or talk to a larger player that's in the space…it just made more sense for us to talk to someone that was in the space that understood what we were doing and brought more to the table." Constellation is also expected to fund a multi-million dollar expansion of the Wanship distillery that would increase production capacity by up to 50,000 cases per year.
Listen to Mark Gillespie's interview with High West co-founder David Perkins: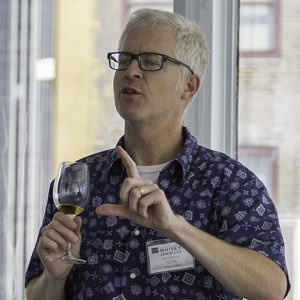 Perkins founded High West with his wife Jane in 2004, and he will remain with the distillery as its brand ambassador and an adviser to Brendan Coyle and the management team. "I think it's a dream come true for us," he laughed. "We knew it was big and hairy and audacious…it's a long, tough road to get there and to have a company like Constellation come in and help us…I think it's a real match made in Heaven," he said. Perkins declined to disclose how much of the company he and his wife still own, but noted that many investors have come on board over the years. "Hopefully, they'll appreciate the return they made," he said.
The High West acquisition is the latest in a series of deals for the Sands family-controlled Constellation, which this week reported second quarter net sales of $2.02 billion (USD), up 17 percent from a year ago. The company has acquired the Ballast Point craft brewery, Prisoner Wine, and Meiomi wine over the past year, and told investors this week that it projects capital expenditures of up to $1.22 billion during the 2017 fiscal year. Newlands declined to address reports that the company is considering a sale of its Canadian wine and spirits portfolio in a deal that could be worth as much as $1 billion, but confirmed that Black Velvet will remain part of the Constellation portfolio for the long-term future. Black Velvet is made at the company's distillery in Lethbridge, Alberta, and while Newlands says there was no consideration of potential synergies between High West and Black Velvet, he acknowledged that some of the expertise the High West team will bring to Constellation is likely to benefit Black Velvet. "They've brought some great perspective to the high-end whisky category, and if we're going to build a stronger high-end whisky business, having that group at the forefront of how we do that we thought was critically important," Newlands said.
Editor's note: This story was edited to include comments from High West co-founder David Perkins. 
Links: High West | Constellation Brands
---
October 4, 2016 – Constellation Brands has won the bidding for Utah's High West Distillery in a deal valued at approximately $160 million (USD). According to the Wall Street Journal, the New York-based wine and spirits company beat out several other bidders, including Pernod Ricard and Glenmorangie parent LVMH Moët Hennessy. Constellation is best-known for its Corona, Robert Mondavi, and Clos du Bois beer and wine brands, but also owns Black Velvet Canadian Whisky. The company is reportedly seeking offers for its extensive portfolio of Canadian wineries in a deal that could be worth as much as $1 billion.
While Constellation executives have not commented on the Canadian asset sale, such a move would be in line with the company's goals of focusing on premium brands in the US. Former Beam US President Bill Newlands now runs Constellation's wine and spirits business, and told the Wall Street Journal that the High West deal will help Constellation build a "truly significant" craft spirits business.  The acquisition is expected to close by the end of the month, with all of High West's 200 employees at the original distillery and restaurant in Park City and a distillery in Wanship to retain their jobs.
That includes High West co-founder David Perkins, who turned over day-to-day management to former Bacardi executive John Esposito last year. Esposito will continue to run High West and report directly to Newlands, while Perkins will continue to work in product development with master distiller Brendan Coyle and serve as a "brand ambassador." According to the Journal report, Perkins saw the partnership with Constellation as necessary to continue the company's expansion in Wanship, where he opened the second distillery in late 2014 as part of a ranch resort development. Constellation is expected to fund the addition of a second still that will increase production by up to 50,000 additional cases of whiskey per year.
This story will be updated with additional information.
Links: High West | Constellation Brands
---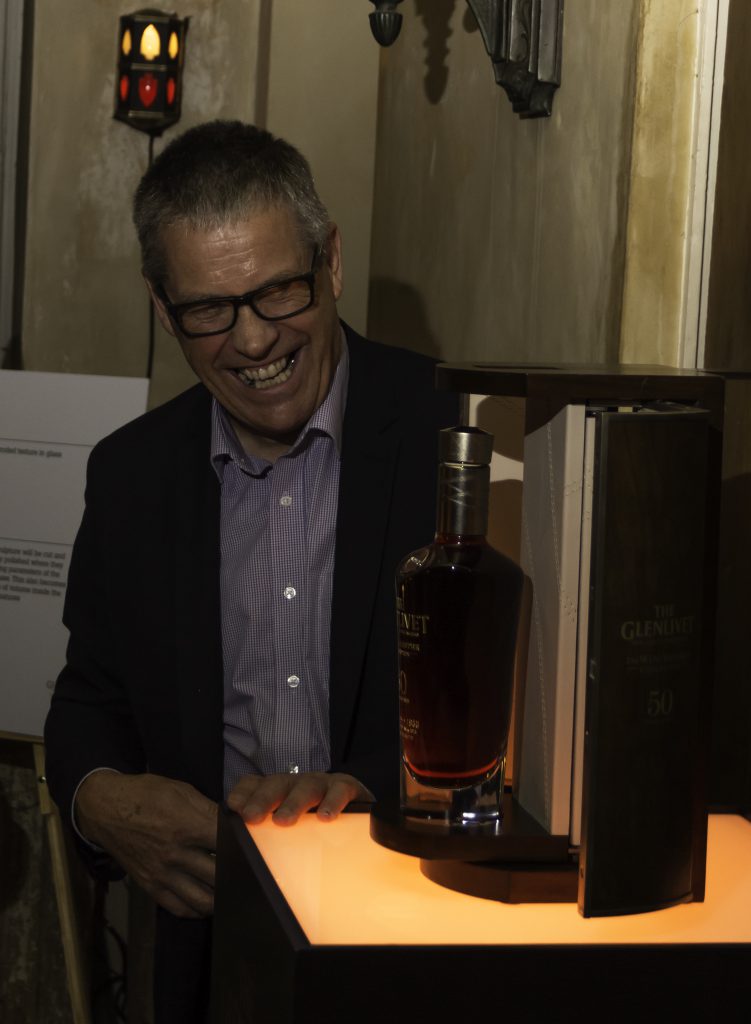 September 30, 2016 – While Alan Winchester was just a small boy, he had a chance meeting with Robert Arthur, then the distillery manager at The Glenlivet, and that meeting changed his life.
"I remember him in the garage getting his car serviced, and thinking jeepers … getting his car serviced on the company's account … that sounds like the job for me, with a company car thrown in," Winchester said with a laugh. Little did he know that not only would he eventually have Robert Arthur's job, but would bottle some of the casks the longtime whisky maker laid down during his decades at the distillery. One of those casks, an ex-sherry barrel filled in 1966, produced the second edition in the Winchester Collection series of vintage single malts from The Glenlivet. Winchester unveiled the first bottle of the Vintage 1966 last night at a dinner in New York City.
Winchester first worked with the casks from that era in 1979 when he was working as a young cooper in Speyside. "The cooperage was at Glen Grant at the time, and we used to cooper the casks (for The Glenlivet) … we would drive the hoops and paint the ends, and I said 'that's 12-year-old whisky from the Sixties, '66 through '67, and little did I know that I'd be reunited at different points in my career," he said.
Listen to Mark Gillespie's interview with Alan Winchester: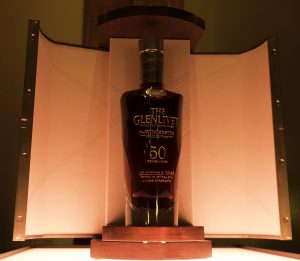 At 50 years old, the Winchester Collection Vintage 1966 is one of the oldest distillery bottlings ever released by The Glenlivet. Only 100 bottles will be available for sale at a recommended retail price of $25,000 each. The first bottle is Winchester's personal bottle, but he has chosen to donate it to UK-based The Crafts Council for an auction to be held October 21 at Christie's in New York City. The winning bidder that night will receive not only the Vintage 1966 whisky, but will be invited to visit The Glenlivet later this year and help Winchester fill a cask with new make spirit that will be laid down to mature for 50 years. When that cask is bottled in 2066, the winning bidder (or their heirs) will also receive a bottle from that cask.
"I hope to get invited back for the tasting then, because there's a fair chance I might be retired by that time," Winchester laughs. The Vintage 1966 is the second release in the series, following the debut release of the Vintage 1964 two years ago. There are casks from 1968 in The Glenlivet's warehouses, and the next edition in the Winchester Collection is likely to come from one of those casks in 2018.
Links: The Glenlivet | The Crafts Council | Christie's
---
September 23, 2016 – Ever since the late Booker Noe created the original Knob Creek Bourbon in 1992, the whiskey has carried an age statement: nine years old. Now, WhiskyCast has confirmed that beginning in the next week, the age statement will be removed from bottles being filled with Knob Creek at Jim Beam's bottling plants in Kentucky. A Beam executive confirmed the move in emails today, while noting that the whiskey inside the bottle will continue to be at least nine years old "for a while." Pricing for the small batch Bourbon will not change as a result of the move.
The decision is not being made because of supply shortages, according to the Beam executive. The company's Kentucky maturation warehouses have significant supplies of older Bourbon as well as younger whiskies, and the brand's long-term plan is to start blending those casks in order to maintain the same taste profile, according to the Beam executive. Beam's master distiller and the son of Booker Noe, Fred Noe, will be responsible for making sure the taste profile of the new blend is consistent with the current nine-year-old version of Knob Creek. No firm decision has been made on when the switch will take place, but in an email, Noe insisted that consumers will not be able to tell the difference.
"When Dad created Knob Creek 24 years ago, he set out to restore the standards of pre-prohibition bourbon – one that's distilled, aged and blended in small batches and bottled at 100 proof to achieve a big, full-flavored taste profile. While our label will no longer feature an age statement, our taste profile and the high quality standards Booker demanded are not. THAT'S what defines Knob Creek … and it's what Knob Creek will always deliver."
Ironically, Fred Noe was involved in the last age statement debate over Knob Creek – when he and company executives agreed to stop production of the whiskey in 2009 for nearly six months after Beam's maturation warehouses in Kentucky ran out of casks for nine-year-old Knob Creek. In an October, 2009 WhiskyCast interview, Fred Noe said Beam could have used younger whiskies to solve that shortage – but chose not to. "We could have compromised the Knob Creek and went to a younger age and not hold as strong on our nine years of age, but then we would have been – I think – compromising the product and the loyal people who support Knob Creek and want it nine years of age," he said at the time.
Since then, Beam's stockpiles of maturing whiskey have expanded and Noe emphasizes that older whiskies will remain part of the Knob Creek blend. "We have plenty of liquid older than nine years and plenty under nine from the best parts of the rackhouse that may be blended to deliver the same taste profile that Booker demanded for Knob Creek Bourbon," he said today.
The move will not affect the Knob Creek Single Barrel Bourbon, which will continue to carry the nine-year age statement.
Editor's note: This story was updated to include comments from Beam master distiller Fred Noe. 
Links: Knob Creek
---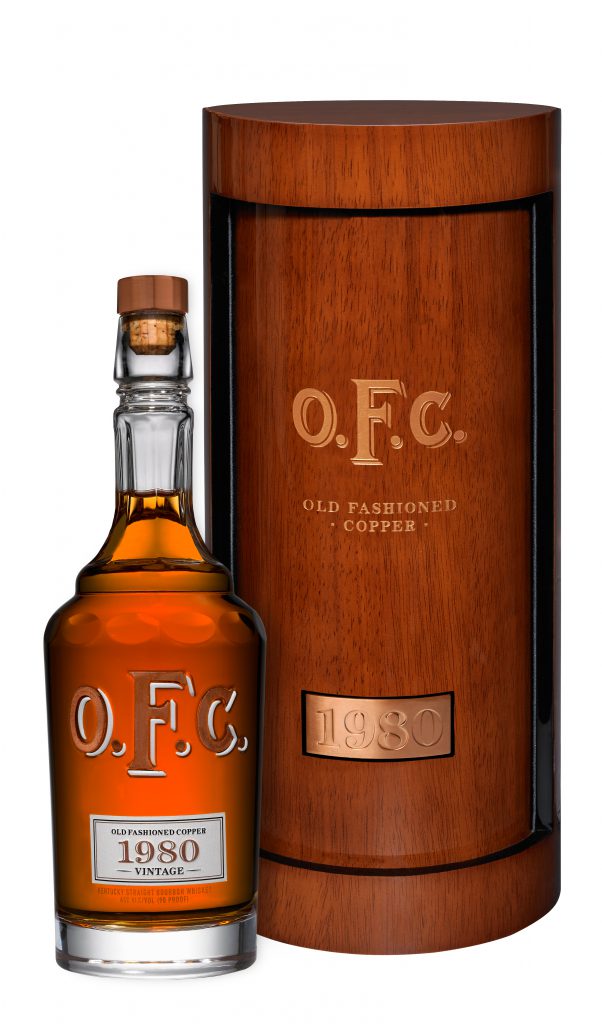 September 22, 2016 – While Buffalo Trace Distillery's name dates back only to the late 1990's, the distillery itself has a history going back to 1786. Though the distillery has had many names over the years, it was best known as the O.F.C. Distillery (for Old, Fire, and Copper) when it was owned by the legendary Col. E.H. Taylor, Jr., who gave the distillery that name in 1870.  Now, the Sazerac-owned distillery plans to release a series of vintage Bourbons under the O.F.C. label for retail sale starting in 2017. However, the name has been updated slightly to "Old Fashioned Copper", though the whiskies will be bottled in a replica of an original O.F.C. decanter from the early 1900's.
However, the first 200 bottles of O.F.C.'s whiskies will be given away this fall – not to the public, but to charities that will be able to auction the bottles to raise money for their programs. The initial release will include 100 bottles from 1980, 50 bottles from 1982, and 50 bottles from 1983. Registered charitable organizations can apply online to be considered for the program, and will have until March 1, 2017 to auction their bottle.
This is the second time Sazerac and Buffalo Trace have conducted a charitable program with rare whiskies. The Millennium Barrel project in 2011 raised more than $150,000 for charities through auctions of the 174 bottles that came from the final barrel of Bourbon filled on December 31, 1999 before the turn of the century.
Links: O.F.C. Vintages | Buffalo Trace
---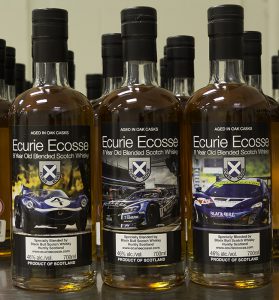 September 22, 2016 – While the focus of this year's 24 Hours of Le Mans was centered on the 50th anniversary of Ford's legendary dominance of the 1966 race, 2016 is also the 60th anniversary of one of the high marks in Scottish motor racing. In 1956, the Ecurie Ecosse Jaguar D-Type won the overall title at Le Mans with drivers Ron Flockhart and Ninian Sanderson. Flockhart repeated as champion the following year with Ivan Bueb, while Sanderson and John Lawrence gave the team a 1-2 finish.
To celebrate the 60th anniversary of the 1956 race, Duncan Taylor is releasing a special Ecurie Ecosse Scotch Whisky. The eight-year-old blend has three different labels featuring three of Ecurie Ecosse's cars: the 1956 Jaguar D-Type Le Mans winner, the 2015 BMW Z4 that won overall honors in last year's 24 Hours of Spa, and this year's McLaren 650S GT3 car that competed in the British GT Championship. Duncan Taylor's Black Bull brand has been the primary sponsor for Ecurie Ecosse's racing program for several years, and the new blend was unveiled at a party Wednesday night in Oldmeldrum to cap off the 2016 season.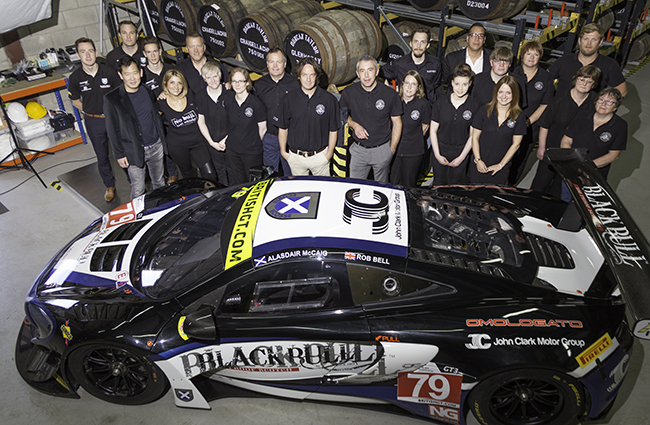 During the evening, two sets featuring all three bottles signed by the Ecurie Ecosse drivers, team principal Hugh McCaig, and Duncan Taylor chairman Euan Shand were auctioned to raise money for Race Against Dementia. Sir Jackie Stewart founded the Alzheimer's charity after his wife Helen was diagnosed with the disease in 2014, and the auction raised £2,000 GBP ($2,615 USD). The three-time F1 World Champion is one of the many Scottish racers who have competed for Ecurie Ecosse, along with F1 World Champion and 1965 Indianapolis 500 winner Jim Clark.
The evening also served as a "retirement" celebration for Euan Shand, who announced his plans to step back from managing the company's day-to-day operations. Shand has owned Duncan Taylor since 2001, when he acquired the company and its stocks of whisky originally laid down by the late Abe Rosenberg. While he will still be heavily involved in buying and selecting casks of whisky for bottling, CEO Moji Shand and newly-hired general manager Gavin Birnie will manage the company's operations in Huntly, Aberdeenshire and Southern California.
The Ecurie Ecosse blend will be available at UK whisky shops and through Duncan Taylor's Whiskies of Scotland online shop at SingleMaltsDirect.com, with a recommended retail price of £28 per 700ml bottle.
Links: Duncan Taylor | Ecurie Ecosse | Race Against Dementia | SingleMaltsDirect.com
---