Each week, we bring you the latest whisky news on WhiskyCast, but a lot can happen during the week. Now, you can keep up with whisky news as it happens here on WhiskyCast.com!
By Mark Gillespie
June 15, 2021 – The trade dispute over government subsidies to Airbus and Boeing that spilled over into the whisky industry has been resolved for now. U.S. and European Union negotiators have agreed to a framework for settling their 17-year-long dispute that includes suspending retaliatory tariffs linked to the dispute for the next five years. That's where the distilled spirits industry comes in, since spirits had become collateral damage in the dispute with tariffs imposed on both sides of the Atlantic.
The agreement was announced today in Brussels during the summit between U.S. President Joe Biden and EU leaders. It means that the U.S. 25% tariffs on liqueurs, cordials, Cognacs, and brandies from Germany, France, Ireland, Italy, and Spain will not resume on July 11, when the current four-month pause for negotiations was set to expire. Likewise, the EU will drop its 25% tariffs on American-made rum, brandy, and vodka.
"For almost 20 years we have been at each other's throats, fighting each other in terms of competition between our industries. While we have been engaged in this fight, others are taking the opportunity to launch their own industries, and we have been too busy fighting each other to pay attention," U.S. Trade Representative Katherine Tai told reporters in Brussels.
"There was a fairly compelling view that the Boeing and Airbus case would get resolved in the wee hours of July 10th," said Distilled Spirits Council CEO Chris Swonger. "A lot of credit goes to the Biden Administration…they inherited a lot of challenges, including this 17-year-old Boeing and Airbus trade dispute. Certainly, they're doing this one step at a time, and I can't say enough how thankful we are…this probably wasn't easy to do," he said in a Zoom interview.
While this agreement does not include the United Kingdom, also one of the parties in the aircraft subsidies dispute, a similar announcement is expected tomorrow in London when Ambassador Tai meets with her British counterpart, International Trade Secretary Liz Truss. Great Britain and the U.S. also agreed to a four-month long pause in their retaliatory tariffs in March, and a similar agreement would have the largest impact on the whisky industry by ending the U.S. 25% tariff on imports of Single Malt Scotch Whisky. The tariff imposed in October of 2019 has resulted in a 35% decline in Scotch Whisky exports to the United States with millions of dollars in lost sales, according to the Scotch Whisky Association.
The two sides have also been discussing the ongoing dispute over steel and aluminum, another area in which the whisky industry has become collateral damage. EU leaders imposed a 25% retaliatory tariff three years ago this month on imports of Bourbons and other American whiskies after the Trump Administration slapped tariffs on imported steel and aluminum. That move used a little-known part of U.S. law dating back to 1962 allowing for punitive tariffs on "national security" grounds, and the Trump Administration cited the need to protect the domestic steel industry from low-cost imports.
Great Britain has started a consultation period aimed at restructuring the tariffs it inherited from the EU in Brexit, but European leaders have held firm on keeping the tariff on whisky and other consumer goods until the U.S. removes the "Section 232" tariff. Since the tariff took effect in June 2018, exports of American whiskies to Great Britain have declined by 53% and 37% to the European Union's 27 member countries. The Biden Administration has expressed support for resolving the steel dispute, which it blames on China's subsidization of its steel and aluminum makers. However, the administration is under pressure at home from domestic steel makers and unions representing their workers to keep the tariff in place.
According to Swonger, the Brussels summit may end with a joint statement from the U.S. and EU leaders pledging to work toward a resolution of the steel dispute by December 1.
"That public commitment would be well-received, because that would give us some hope," Swonger said. "Unfortunately, we have to continue to press hard because we don't want the American whiskey tariffs hanging out there too much longer, but we're anticipating this communique coming out, hopefully, from the U.S. and the EU, to resolving the Section 232 tariffs…which would ultimately remove the tariffs on American whiskey, and then we'd be back to zero-for-zero tariffs."
During the last "zero-for-zero" period where there were no import tariffs on spirits between Europe and the United States from 1997 until the 2018 European tariff, whisky exports on both sides skyrocketed and helped spur a global boom in whisky sales. Last week, more than 100 different industry associations representing spirits and other consumer goods affected by the trade war urged politicians on all sides to set aside their differences to help the transatlantic economy recover from the economic impact of the Covid-19 pandemic.
This story will be updated with additional information as necessary.
Links: Office of the U.S Trade Representative | European Commission | Distilled Spirits Council of the United States
---
June 15, 2021 – Think back to February 3, 1940. World War II was raging in Europe, but British Prime Minister Winston Churchill had not yet given the orders to shut down Scotland's whisky distilleries. On that day, Gordon & MacPhail filled a Sherry butt from the Jose Ramirez bodega in Porto de Santa Maria, Spain with new make spirit at the Glenlivet Distillery. George Urquhart and his father John had long-standing contracts with Glenlivet and other distilleries to purchase new make spirit for their family's growing business based nearby in Elgin.
That cask rested for 80 years in Gordon & MacPhail's Elgin warehouses until February 5, 2020, 80 years and two days after it was filled. The whisky has been stored carefully in an inert tank since then, but will be released to the world this autumn as the "world's oldest" single malt whisky, the Gordon & MacPhail Generations 80 Year Old from Glenlivet Distillery. The definition of "world's oldest whisky" is based on the time a whisky spends maturing in wood, and not when it may have been distilled. That aging stops when the whisky is emptied from its barrel, and does not include the time between then and when it is bottled.
The family-owned company plans to release 250 decanters of the vintage whisky in collaboration with noted architect and designer Sir David Adjaye OBE. Adjaye is designing the bespoke decanters and cases for the whisky, and those designs will be unveiled shortly before the first decanter is auctioned at Sotheby's in early October. The proceeds from the auction will benefit Trees for Life, a Scottish charity focused on reforestation efforts.
Gordon & MacPhail holds the current record with its Generations 75 Year Old from Mortlach Distillery released in 2015, and has also released 70-year-old single malts from Mortlach and Glenlivet as part of its Generations range.
Pricing for the whisky has not yet been announced. WhiskyCast has requested interviews with Gordon & MacPhail executives, and this story will be updated as necessary.
Links: Gordon & MacPhail
---
By Mark Gillespie
June 15, 2021 – Single malt whiskies have been a mainstay of the whisky world for decades, but in one of the world's largest whisky markets, there is no legal definition for "single malt" whisky. Now, the Treasury Department's Alcohol and Tobacco Tax & Trade Bureau has taken the first baby step in the process of creating a legal standard for "American Single Malt" whisky.
The agency has added the topic to the federal government's "Unified Agenda" overseen by the Office of Management and Budget. That document outlines proposed regulatory actions across all federal agencies, and serves as a guide to both current and future plans for changes in federal regulations.
In this case, the TTB acknowledged the requests from distilling industry groups and consumers to create a "standard of identity" for American Single Malt whiskies. That includes the American Single Malt Commission, a group of more than 170 distillers either selling American Single Malt whiskies now or maturing them for future releases. Matt Hofmann, master distiller and co-founder of Seattle's Westland Distillery, is one of the Commission's leaders and praised the move in an Instagram post Monday night.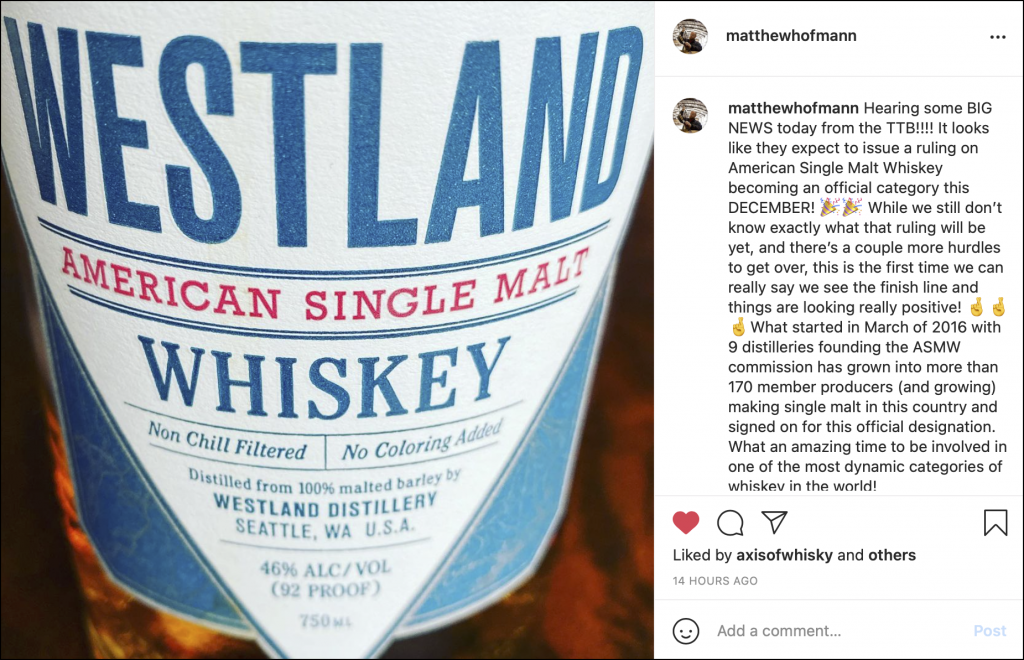 "Whether it takes six months or 18 months…we're whiskey makers, we're used to waiting," Hofmann said in a telephone interview. "To be able to have a start to the process and to really have it be publicly declared 'OK, this is on the table, this is what's being worked on,' is definitely a big achievement," he said.
The agency's Unified Agenda notice does not give any guidance on what TTB staff might recommend in the proposed regulation. Those recommendations will not become public until the next step in the process, when the agency issues a "Notice of Proposed Rulemaking" (NPRM) in the Federal Register. According to the agenda, that notice could be issued as early as this December, but it should be noted that regulatory actions are often delayed long past the initial timeline. Issuing the NPRM then opens up a 60-day comment period for the public and industry to suggest changes to the proposed rules. Following that period, TTB staff then  take those comments into consideration before deciding on whether to issue a final change in the regulations.
As an example, the TTB's proposal to de-regulate specific sizes of bottles for distilled spirits was published in the Federal Register in July of 2019. After the public comment period generated criticism of the agency's original plan to only specify minimum and maximum bottle sizes and allow the use of any size bottle in between, TTB staff went back and revised their proposed rule changes. The final regulations were not issued until December 28, 2020, 18 months after the NPRM was issued.
The desire for an official definition of American Single Malt dominated public comments during the TTB's 2020 rewrite of regulations for distilled spirits, wine, and beer labeling and advertising regulations. However, agency staff decided at the time to postpone action on the issue until a later date.
The Distilled Spirits Council of the United States was one of the groups submitting comments in favor of creating the definition at that time, and CEO Chris Swonger re-stated his support for it today. "It just underscores how thriving American whiskey is, and it's really exciting news…certainly DISCUS will be supportive and just make sure that we preserve and protect the integrity of American whiskey and now, it looks like American Single Malt Whiskey as well," he said in an interview.
Given that this is the first time the agency has considered creating a "standard of identity" for not just American Single Malt, but any single malt whisky, it's likely the initial draft regulations will not please everyone. Until now, the United States has treated most single malts under the standard for "malt whisky," which is written to the same requirements for Bourbon and mandates the use of  new charred oak barrels.
However, the United States allows three other countries to define their own standards for "single malt." Scotland, Ireland, and Canada have specific exemptions in the regulations where the U.S. defers to their legal definitions of whisky. That has caused conflicts in the past for importers of single malts from India, Japan, and other countries, including England and Wales — which have not always enjoyed the same treatment as their Scottish neighbors despite making their whiskies to the same legal standards. Whiskies from "non-traditional" whisky-making countries have been rejected during the TTB's label approval process under the "malt whisky" requirement for the use of new charred oak casks, though those rejections have become rarer in recent years as more countries begin exporting their whiskies to the U.S.
The American Single Malt Commission's proposal submitted to the TTB mirrors in many ways the Scotch Whisky regulations, with  the exception of Scotland's mandate that only pot stills can be used. It requires the use of 100% malted barley in whisky distilled at a single U.S. distillery to no more than 80% ABV, matured in oak casks no larger than 700 liters, and bottled at a minimum of 40% ABV. It would allow the use of either new or used barrels, and industry groups will be watching closely to see where the TTB staff comes down on that key issue. TTB officials have not yet responded to an interview request.
The American Single Malt proposal was just one of 24 proposed regulatory actions added to the Unified Agenda. Most involve the wine industry with creation of specific viticultural areas, but the list also includes a proposal that updates the current federal regulations to reflect the Craft Beverage Modernization and Tax Reform Act changes passed last December by Congress. That legislation was part of the Covid pandemic relief act and made the reduction of excise tax rates for small-scale distillers permanent.
Editor's note: This story was updated with comments from Westland Distillery's Matt Hofmann and DISCUS CEO Chris Swonger. 
Links: Tax & Trade Bureau | Westland Distillery | American Single Malt Whiskey Commission | Distilled Spirits Council of the United States
---
June 1, 2021 – 100 years ago today, White supremacists went on a rampage through the Greenwood neighborhood of Tulsa, Oklahoma. Greenwood had become known as the "Black Wall Street" because of its large number of Black-owned businesses, but when the smoke cleared, an estimated 300 Black residents had been killed and hundreds of businesses burned – while local leaders looked the other way.
Today, Uncle Nearest Tennessee Whiskey founder Fawn Weaver announced the creation of the Uncle Nearest Venture Fund, a $50 million fund that will invest in minority and women-owned spirits brands. The first two brands to benefit from the fund have already been selected: Sorel Liqueur and Equiano Rum. Sorel was created in 2012 by Brooklyn-based bartender and writer Jackie Summers, and is believed to be the first Black-owned distillery in the United States since the end of Prohibition. Equiano is the brainchild of longtime Rum ambassador Ian Burrell and Aiisha Dadral, and gets its name from the writer Olaudah Equiano, whose memoirs led to the 1807 law abolishing the slave trade in British colonies and inspired the U.S. abolitionist movement.
The fund is an outgrowth of the Nearest and Jack Advancement Initiative unveiled a year ago in the wake of social justice protests over the murders of George Floyd, Breonna Taylor, and other Blacks by police. That initiative includes support for emerging spirits brands owned by people of color and women, and according to Uncle Nearest founder Fawn Weaver, it helped highlight the need for something greater.
"There were so many people reaching in to us that were Black-owned businesses, some women-owned but mostly Black-owned businesses that kept reaching in and wanting help, and we weren't turning any away…if they were already in the market, then we were going to help them because we didn't want their businesses to fail," Weaver said in a telephone interview. She decided to tap the investment community that had been reaching in to her to invest in Uncle Nearest and leverage that interest to build something larger.
"All I had to do was go back to everyone I'd said no to for Uncle Nearest," Weaver said with a big laugh. "All I did was circle back and say, 'hey, I'm still not raising money for Uncle Nearest, but this is what I am doing, and we're going to raise up the next generation of Uncle Nearests, multiple…I think the harder part was that people wanted more than what I was offering. The whole fund is $50 million, and the first one I talked to was 'Can I take 25 of that?' and I said, 'no, you can't,'" she said.
The investment will allow Summers to bring Sorel back to the market this summer. While his initial launch in the New York market was successful in 2012, he was unable to raise additional capital to expand the business and had to mothball the brand. "Many do not know this, but I went homeless for about 18 months as I pounded the pavement to continue growing my business. I never gave up because I knew it was special and that one day, someone would be willing to invest in it and in me. The moment the Uncle Nearest Venture Fund agreed to do so, we were ready – we'd only been waiting on capital," Summers said in the news release announcing the fund. Sorel will be available in an exclusive partnership with ReserveBar.com, which has launched its own Spirited Change Initiative to help minority-owned spirits brands.
The timing of the announcement on the 100th anniversary of the massacre in Tulsa is deliberate. Weaver notes that most people never learned about the massacre until recently because it was never taught in American history classes. "The amount that was lost among that Black community was $2 million that day. The equivalent of that today is $26.7 million, and so it is not a coincidence that the fund amount that we decided to raise is about double that, and it's also not a coincidence that the two Black-owned brands that we decided to fund…each of those investments are $2 million each," she said.
While the world has been focusing on the anniversary of that horrific event in American history, though, Weaver sees it as an opportunity to embrace change. "You know me well enough to know I like to have the conversation, but then I'm really big on now what…what do we do with this information we've now just taken in and and this is a bit of that 'now what.'"
Links: Uncle Nearest Venture Fund | Sorel Liqueur | Equiano Rum
---
By Mark Gillespie
May 24, 2021 – British Prime Minister Boris Johnson pledged to end Great Britain's import tariff on Bourbon and other American whiskies during his 2019 campaign, and now, his government is taking the first step that could do just that. International Trade Secretary Liz Truss announced today that the government will start a six-week long consultation period with UK stakeholders to review the "Section 232″ tariffs imposed on American exports in 2018 by the European Union.
The tariffs were in retaliation for those imposed by the Trump Administration on imports of steel and aluminum to protect the U.S. steel industry on national security grounds. Great Britain inherited the tariffs when it left the EU earlier this year, and Truss said her goal is to shape tariffs to reflect UK-specific interests. She cited positive discussions with U.S. negotiators and a desire to remove the tariffs for today's move.
"The UK will do whatever is necessary to protect our steel industry against illegal tariffs that could undermine British industry and damage our businesses. Ultimately, however, we want to deescalate these disputes so we can move forward and work closely with the US on issues like WTO reform and tackling unfair trade practices by non-market economies," Truss said in a statement issued by the Department of International Trade.
Last week, European Union leaders announced a suspension of the automatic doubling of the tariffs from 25% to 50% scheduled for June 1. That move follows a similar agreement with the Biden Administration to open talks aimed at solving the global oversupply of steel and aluminum that led to the Trump Administration's 2018 move.
The retaliatory tariffs also targeted other exports from politically sensitive U.S. states, such as motorcycles, orange juice, and tobacco, as European leaders hoped Congressional leaders from those states would put pressure on former President Donald Trump to withdraw the steel and aluminum tariffs. That move was unsuccessful, and may have led to the U.S. specifically targeting single malt whiskies from Scotland and Northern Ireland in its 2019 tariffs against the EU for illegal subsidies to Airbus.
This story is developing, and will be updated with additional information.
---
May 17, 2021 – A thaw in relations between the European Union and the United States has American whisky makers breathing easier. Just two weeks before the EU's 25% tariff on imports of Bourbon and other American whiskies was set to double, that move has been put on hold.
Trade negotiators for both sides have agreed to start talks aimed at solving the global oversupply of steel and aluminum and "avoid changes on these issues that negatively affect bilateral trade," according to a joint statement released this morning by EU Trade Commissioner Valdis Dombrovskis, U.S. Trade Representative Katherine Tai, and Commerce Secretary Gina Raimondo.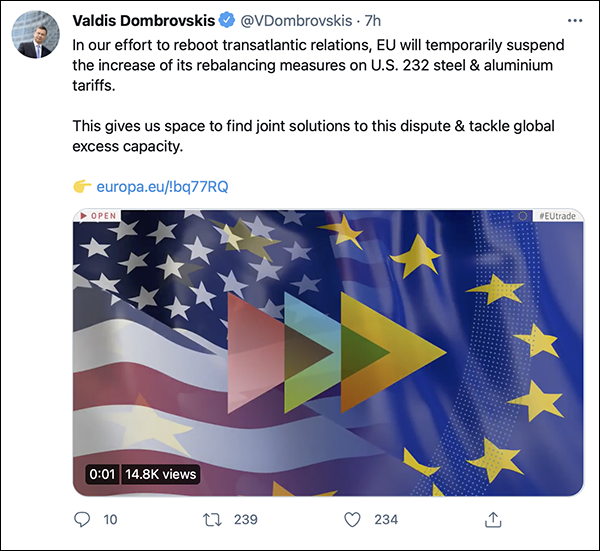 That includes a pause in what would have been an automatic doubling of Europe's whisky tariff on June 1, nearly three years after the tariff was imposed to retaliate for the Trump Administration's decision to impose tariffs on imports of steel and aluminum. Those tariffs were intended to protect the U.S. steel industry on "national security" grounds under what's known as Section 232 of the Trade Expansion Act of 1962.
At the time, European Union leaders chose to target American whiskies, along with motorcycles, orange juice, and other consumer goods largely produced in politically sensitive states. Their hope was that Congressional leaders from those states would pressure the Trump Administration to drop the tariffs, but that proved to be in vain. Since the change in administrations, Biden Administration officials have expressed a desire to support the domestic steel industry, while also trying to rebuild relations with the EU and other key trading partners.

"We want to get back to zero for zero tariffs, where between 1997 and June 2018, we had around a 450% increase in export growth between us and the EU," says Chris Swonger, the CEO of the Distilled Spirits Council. The Washington-based trade group has been one of dozens within the drinks industry calling for politicians to resolve the trade disputes that have left whisky makers as collateral damage. "Just the anxiety and the anticipation of our tariffs going to 50% would have been utter disaster for this great industry, so we can breathe a sigh of relief, but we still have a lot more work ahead of us," he said in a Zoom interview.
Since the tariff took effect in June 2018, American whiskey makers have lost millions of dollars in export sales. Export data shows U.S. whiskey exports to the 27 EU member nations fell 37% between 2018 and 2020, with a 53% drop in exports to Great Britain during that period. The British numbers have been broken out separately following Great Britain's final exit from the European Union earlier this year.
According to Swonger, Prime Minister Boris Johnson's government has not given any indication that it planned to join with Europe in raising the tariff on June 1, and there is a possibility that it may remove the tariff entirely – as Johnson had pledged to do during the 2019 parliamentary election. "We do anticipate that the UK and Liz Truss, who's their Secretary of State, may be commencing what's called a consultation which could be an opportunity for them potentially to remove the tariffs off American whiskey…full stop," he said.
The decision is being welcomed throughout the whisky industry. Brown-Forman, the largest exporter of American whiskies with its Jack Daniel's and Woodford Reserve brands, applauded both sides while noting in a statement that its whiskies still remain subject to 25% percent retaliatory tariffs and expressing hope that negotiators can build on "the progress that's been made so far."
The EU's decision follows mutual pauses in March on tariffs affecting whiskies and other spirits on both sides of the Atlantic. Those tariffs stem from a separate dispute over aircraft subsidies to Airbus and Boeing that led to World Trade Organization rulings against both the European Union and the United States. Ambassador Tai and Commissioner Dombrovskis have also been discussing potential resolutions to that dispute, and Tai expressed optimism last week during a pair of Congressional hearings that an agreement can be reached before the four-month pause on the tariffs expires in July.
Editor's note: This story has been updated with additional information.
Links: European Commission | Office of the U.S. Trade Representative | Distilled Spirits Council of the United States | Brown-Forman
---
May 1, 2021 – While Prince Charles is known to most people worldwide as the Prince of Wales, he is known in Scotland by a different title: the Duke of Rothesay. The heir to the British throne has long been a lover of Scotch Whisky, and was made an honorary member of the Keepers of the Quaich in 1996.
While this spring's Keepers of the Quaich induction banquet was cancelled because of the Covid-19 pandemic, Prince Charles recorded a special message for the organization, which honors those who have made major contributions to the Scotch Whisky industry. The video was recorded in early April, but its release was delayed until this week because of the death of Charles's father Prince Philip.
"From grain to glass, Scotch whisky is, in a very palpable sense, woven into the very fabric of Scottish society and culture," he said, while noting that the industry would help play a major role in Great Britain's economic recovery from the Covid-19 pandemic and praising the industry's commitment to improving its record on environmental sustainability.
Keepers management committee chairman Peter Prentice welcomed the Prince's comments. "He is a tremendous advocate for the Scotch whisky industry and our shared values of heritage, rural economic development and passion for the natural environment. His message to the industry and its people is a timely and inspirational show of support as we prepare to make a leading contribution to the post-COVID economic recovery and to taking on the challenge of climate change and environmental sustainability."
Links: Keepers of the Quaich
---
April 27, 2021 – Mixed Martial Arts fighter Conor McGregor has already made millions of dollars from his Proper No. Twelve Irish Whiskey brand, and stands to make even more in the coming years following the sale of the brand to Becle. The Mexican-based holding company for the Beckmann family's spirits portfolio disclosed in today's quarterly earnings report that it has completed the acquisition of the 51% stake in Eire Born Spirits owned by McGregor, his manager Audie Attar, and spirits entrepreneur Ken Austin.
In its earnings announcement, Becle said that McGregor and his partners will "retain an interest" in the brand and McGregor will continue as its spokesman. Chief Financial Officer Fernando Suárez Gerard told analysts during a conference call that the company paid $169 million to take majority control of Eire Born Spirits, with a "total aggregate" investment of $244 million.
However, the brand's spokespersons are not denying a Shanken News Daily report that the deal could be worth as much as $600 million to the founding partners over time. That figure likely reflects the potential for revenue sharing from future sales of Proper No. Twelve in the coming years, similar to previous deals for celebrity-owned spirits brands. Executives for Becle's Proximo Spirits unit declined WhiskyCast's request for interviews following the announcement.
The acquisition was announced earlier this year during Becle's year-end earnings report, but left McGregor's future role with the brand in question as Becle executives declined comment on whether the controversial fighter would remain the "face" of the brand. The Dublin native has been involved in a number of legal issues since he and his partners founded the brand in 2018, including one where he punched an older bar patron in 2019 after the man refused his offer of a glass of Proper No. Twelve. McGregor later pleaded guilty to assault charges, but the story added a new chapter last week when The Currency reported that he is purchasing the Marble Arch pub where the incident took place – and McGregor promptly banned not only the patron, but the journalist who broke the story in a Twitter post.
Becle was the fourth partner in Eire Born Spirits, with a 20% ownership stake initially and options to acquire the rest of the company over time. Last year, Becle exercised an option to increase its ownership to 49%, and while the original announcement noted that it intended to "acquire 51% of the equity interests of EBS," today's earnings report noted only that Becle has acquired "additional equity interests" in the company. However, specific terms of how much ownership McGregor, Attar, and Austin retain was not disclosed.
Becle's Proximo Spirits division will take on responsibility for Proper No. Twelve, which is blended at the company's historic Old Bushmills Distillery in Ireland. In a news release, Proximo president and CEO Mike Keyes said "it is rare to see a celebrity impact a brand the way Conor McGregor has Proper No. Twelve Irish Whiskey, and I have not seen many brands in the spirits industry catapult to this level of success in such a short period of time.  This agreement is a vote of confidence in the incredible potential of this brand and a testament to the incredible work of Conor, Audie, Ken and the Proper No. Twelve team, as well as the efforts of Proximo and its distributors, who have all made this success possible."
Editor's note: This story was updated with additional information from Becle's conference call, along with the company's decision to decline our request for interviews. 
Links: Becle | Proper No. Twelve
---
Commentary by Mark Gillespie
March 6, 2021 – After the United States reached tentative truces with Great Britain and the European Union this week and suspended its "whisky tariffs," I started getting questions like this on social media:
"How long before we see whisky prices fall now that the tariffs are gone?"
Before I answer that question, let's explain just what happened this week. The Biden Administration is still waiting for Senate confirmation of Katherine Tai, President Biden's nominee to become U.S. Trade Representative. A vote is expected this coming week now that the Senate has completed work on a $1.9 trillion Covid-19 economic relief package. While there is no Senate-confirmed diplomatic in charge of U.S. trade policy, permanent staff in the Office of the U.S. Trade Representative have been working with acting leadership on key trade issues, including the aerospace subsidies dispute pitting the U.S. against Great Britain and the European Union that led to the "whisky tariffs."
The agreements announced this week only suspend for four months the tariffs both sides imposed on each other's exports following World Trade Organization rulings that both sides illegally subsidized aircraft makers, with the EU (including Great Britain) helping Airbus and the U.S. backing Boeing. Those rulings allowed each side to impose tariffs on goods equivalent to the amount of economic damage caused by the subsidies. In October of 2019, the U.S. chose to levy a 25% tariff on imports of single malt whiskies from Scotland and Northern Ireland, along with other luxury goods from European Union member nations. Last year, Europe (including Great Britain pre-Brexit) imposed its own tariffs on U.S. made spirits and other goods.
This is a different dispute than the one over steel and aluminum in 2017 and 2018 when the Trump Administration slapped tariffs on those imports on "national security" grounds, which led to the EU's 25% tariff on Bourbon and other American whiskies in June 2018. That tariff remains in effect, and is scheduled to double to 50% in June unless an agreement is reached on steel and aluminum imports.
Now, I know what you're thinking…
"Mark, you mentioned "Star Trek" in the headline. How does Star Trek figure into all of this, or were you just playing the "clickbait" game?"
Dear reader…I would never toy with you like that!
In "Star Trek: The Next Generation," we met the Ferengi for the first time, but it wasn't until "Deep Space Nine" that Quark and his interstellar bar introduced us to the Ferengi Rules of Acquisition. Of course, the first Ferengi Rule of Acquisition is:
"Once you have their money, you never give it back."
That's the simple explanation why U.S. prices for most single malt Scotches won't likely be come down with an end to the tariffs, but it's a bit more complex than that.
The "three-tier" system for alcohol distribution in the U.S. plays a key role in our story, since it was designed after the end of Prohibition to maintain independence between whisky makers and the retail tier, including liquor stores, bars, and restaurants. While they can suggest a "recommended retail price" for whiskies, many states actually make it illegal for whisky makers or their regional distributors to dictate prices to retailers. Essentially, most retailers are free to set whatever price they feel their local market will bear – except in states where governments play a role in setting prices.
This becomes important when we look at how the tariffs are actually imposed. It's not the whisky company in Scotland that was responsible for paying the 25% tariff, but the U.S.-based import company that actually takes delivery of a whisky shipment once it arrives at the border – and pays the tariff based on the wholesale price listed on the shipping invoice. With larger global spirits companies, that importer is often an internal unit, such as Diageo North America, Pernod Ricard USA, and the like. Most of the time, though, the importer is a small independent company that has a contract with distilleries to be the "exclusive" U.S. importer for their whiskies.
For those larger companies, tariff accounting has been more opaque since a company can juggle its finances internally to account for the tariffs and either pass along the entire cost to their regional distributors or absorb it to keep retail prices low. Most of the major whisky makers have not publicly disclosed their policy on tariff accounting for competitive reasons, and it's a small enough expense that it doesn't show up on their quarterly financial statements.
On the other hand, small distilleries have been hit much harder by the tariffs. They're more likely to work with equally small independently-owned importers who make their purchasing decisions with very sharp pencils, and many of those importers have been cutting back on the number of distilleries they work with or reducing the size of their orders because of the cost of the tariffs. One example (and there are many) where there has been a compromise remains Kilchoman Distillery and Impex, with both agreeing early on to split the cost of the tariffs in order to keep retail pricing steady.
When importers gets shipments after they have cleared Customs, they then sends cases of whisky to regional distributors along with an invoice that may or may not reflect the tariffs. As a distributor drops off a case at your local liquor store, the owner will get an invoice that almost certainly includes its increased cost because of the tariffs. The retailer then takes that higher price into account when figuring the final price you'll see on the shelf, which is how you wind up paying the final cost of the tariffs.
So…why doesn't an end to the tariffs mean prices will come down?
Had the tariffs only been in place for a few weeks, they wouldn't have had much of an impact. However, as the trade dispute has dragged on for nearly 18 months, the cost of the tariffs has become "baked in" to pricing across the tiers, and that's a disincentive to lowering prices. As shipments make their way from Scotland to your local liquor store, it's become harder to differentiate between cases of a whisky brand in a warehouse that may or may not have been subject to the tariff…especially once new "non-tariff" shipments hit the warehouse.
While economics has its own laws, we can also look to the one of the laws of physics to see how they might work together in this case. Newton's First Law of Motion tells us that an object will remain at rest unless it is influenced by an outside force. In this case, the Trump Administration's whisky tariffs acted as a force to send whisky prices rising. A starship in Star Trek will continue along a trajectory once its engines shut off unless gravity interferes with that motion, and in this case, a four-month suspension of the tariffs amounts to turning off the engine. Unless another force – such as a decision to lower prices – comes along, inertia will probably keep whisky prices where they are.
Of course, that decision would violate Ferengi Rule of Acquisition Number One. Since I have friends at all three tiers of the industry who might bristle at being compared to the Ferengi, let's put it this way.
Are you familiar with the concept of the snowball and Hell?
---
By Mark Gillespie
Updated March 5, 2021 – In a surprise early-morning move Thursday, the Biden Administration announced a four-month suspension of tariffs on single malt whiskies from Scotland and Northern Ireland, along with other exports from Great Britain. Those goods have been subject to a 25% import tariff imposed by the Trump Administration in October of 2019 following a World Trade Organization ruling favoring the U.S. in its long-standing dispute with Europe over subsidies to Airbus and Boeing. Friday, the U.S. and the European Union announced a similar four-month suspension in their matching tariffs from the aerospace dispute.
In joint statements issued by the U.S. Office of the Trade Representative and the UK Government, both countries cited the need for a cooling of the trade disputes on both sides of the Atlantic. From the U.S. statement:
"The United Kingdom and the United States are undertaking a four-month tariff suspension to ease the burden on industry and take a bold, joint step towards resolving the longest running disputes at the World Trade Organization. The United Kingdom ceased applying retaliatory tariffs in the Boeing dispute from January 1, 2021 to de-escalate the issue and create space for a negotiated settlement to the Airbus and Boeing disputes. The United States will now suspend retaliatory tariffs in the Airbus dispute from March 4, 2021, for four months. This will allow time to focus on negotiating a balanced settlement to the disputes, and begin seriously addressing the challenges posed by new entrants to the civil aviation market from non-market economies, such as China."
Great Britain was just one target of the tariffs imposed before its exit from the European Union, with Germany, Spain, and France as the other key targets because of the financial support their governments provided to Airbus. However, Europe's ongoing opposition to a settlement while awaiting a WTO ruling on its own case against the U.S. for support to Boeing led the Trump Administration to expand the list of good subject to tariffs last year. That list included more spirits and wines from Europe, along with liqueurs such as Irish cream liqueur. Great Britain became a separate negotiating partner for the U.S. after its final exit from the European Union on January 1, 2021, forcing U.S. trade negotiators to work with their counterparts in London and Brussels on the aerospace dispute while also working to solve other trade disputes and negotiate a new free trade agreement with Great Britain.
"I think it really is a step in the right direction, and the Scotch Whisky industry is clearly delighted," Scotch Whisky Association chief Karen Betts told WhiskyCast in a Zoom interview following the announcement. The tariffs decimated Scotch Whisky exports to the United States, with exports falling by 35% during the 16-month period — and played a significant role in the 23% global decline in Scotch Whisky exports during 2020. While the tariffs only affected single malts, that category has shown significant growth over the decade leading up to the tariffs with single malts peaking at around a third of all Scotch Whisky sales in the United States.
Scotch Whisky remains the UK's largest food and drink export according to government data, and in the UK Government's announcement, International Trade Secretary Liz Truss praised the new U.S. Administration for its desire to resolve the differences between historic trading partners.
"This is Global Britain in action: securing new opportunities as a newly nimble nation. The benefits will be felt across our nation, especially in Scotland, where Scotch whisky distillers will be able to sell at lower prices in the United States, their most valuable market. The easier it is for Americans to buy a bottle of Macallan, Talisker or Glenfiddich, the more money those producers will have to invest in their businesses, their staff and futures. Today's agreement shows that both the UK and the US are determined to work together to build back better and take our trading relationship to new heights."
However, the UK is retaining for now its 25% tariffs on American whiskies and other U.S. goods stemming from the dispute over steel and aluminum tariffs imposed by the Trump Administration in 2018. Those tariffs were also part of European Union-wide sanctions against the United States, though Prime Minister Boris Johnson had pledged during his most recent election campaign to scrap them as soon as Brexit could be implemented.
Spirits industry trade groups on both sides of the Atlantic have been arguing for those tariffs to be dropped as well. Distilled Spirits Council CEO Chris Swonger compared attempts to resolve the various differences between the U.S., Great Britain, and the European Union to "unwinding a rattlesnake."
"Nothing's black and white as it relates to trying to resolve these problems…the best news we have with today's announcement is that there is a recognition by the U.S. government that the hospitality sector has been greatly pained, and we've got four months between Monday and June for the UK and the U.S. to get the Boeing and Airbus case resolved…that's a great opportunity, but in the meantime, gotta work hard to make sure that the tariffs on American whiskey which are implicated in the steel and aluminum case, that needs to be suspended as well," Swonger said in an interview.
The "Section 232" steel and aluminum case falls under a different section of U.S. law allowing import tariffs in order to protect American industries on "national security" grounds. The Trump Administration cited the need to protect domestic manufacturing of specialized metals for defense use in imposing the tariffs on steel and aluminum imported from Europe and other key trading partners.
Last week, the Kentucky Distillers Association blamed the tariffs for a 35% global decline in Kentucky Bourbon exports during 2020, with the declines reaching 50% in both Great Britain and the remaining European Union nations.
"We strongly believe this dispute deserves similar priority in finding a resolution before more long-term damage is done," KDA President Eric Gregory said in a statement. "With a focused settlement to help the aerospace industry now underway, the KDA reiterates its call for an immediate suspension of disastrous tariffs in the steel and aluminum dispute that have ensnared unrelated American whiskey and key agricultural exports," he said. The European tariffs on American whiskies are scheduled to automatically double to 50% on June 1 unless an agreement is reached between the U.S. and EU.
The success comes even as the Office of the U.S. Trade Representative remains hollowed-out by the transition between the Trump and Biden administrations. Permanent USTR staff members worked out the truce between Washington and London while Katherine Tai, President Biden's choice to serve as U.S. Trade Representative, awaits Senate confirmation. Wednesday, the Senate Finance Committee voted unanimously to send her nomination to the floor for a final vote expected in the next several days.
Listen to the next episode of WhiskyCast for more details on this developing story.
Editor's note: This story was updated on March 5 to reflect a similar truce between the United States and the European Union, along with additional information on the European Union tariffs on American whiskies. 
Links: Office of the U.S. Trade Representative | UK Department of International Trade | Scotch Whisky Association | Distilled Spirits Council | Kentucky Distillers Association
---