This is where you'll find extended versions of WhiskyCast interviews, along with audio and video from special events that were just too long to include in a regular episode of WhiskyCast. The original idea behind WhiskyCast was to help gather oral histories of whisky, and this is a place where you can listen and learn more about the "water of life".
Received this email from Andrew Cravatta hoping to find some information on these whiskies. If you have any details you can share, please feel free to post a comment…
I've come across some blended scotch from the 50's/60's and was wondering if you could help me get any information on it. In particular, who made this whisky and, if possible, what single malts were blended in with this batch. Its a private bottling for the Chicago Club and appears to have been bottled by J.G. Thomson and Co. (except for the one square bottle, which says "Samuel Dow Ltd.") I have 12 of the standard shaped bottle and just one of the square.
Any ideas? I'm not very familiar with blended scotch (primarily single malts and bourbon). I've attached some pictures. Not sure if you'll be able to help, but I figured you'd be the person to ask.
Here are the photos:
Once again, if you have any information that could help Andrew out, please feel free to add a comment.
Thanks!
---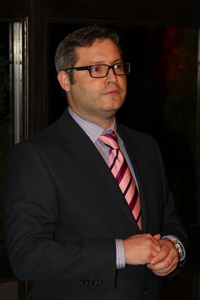 During the launch party for Highland Park's Loki single malt in New York City on March 12, 2013, I had a chance to talk with Gerry Tosh. He's now the Global Marketing Manager for Highland Park, but is more familiar to WhiskyCast listeners as Highland Park's longtime brand ambassador. We covered a lot more than I could include in Episode 416 of WhiskyCast, including the Valhalla Collection's links (or lack thereof) to the recent Avengers movies, a new duty-free series of single malts, and the difficulty of maintaining whiskies with age statements. Here's the entire interview…
---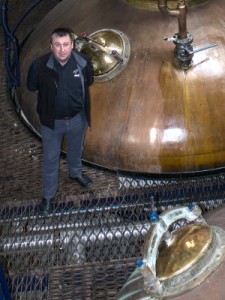 This is one of those interviews that never wound up being included in a WhiskyCast HD episode, only because I didn't have enough other video to go along with it. Back in June of 2011 during a media tour of Pulteney Distillery in Wick, Scotland, distillery manager Malcolm Waring mentioned that he'd started working there back during the days of "dramming". That's the old tradition where distillery workers got a dram during their shifts, and at the end of the tour, I asked Malcolm to explain it on camera.
Links: Old Pulteney
---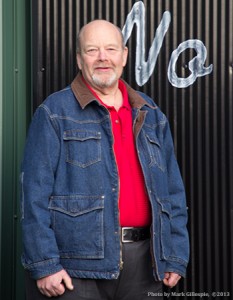 On February 13, 2013, I visited the Jim Beam Distillery in Clermont, Kentucky with a group of writers to tour Beam's new Global Innovation Center. Our day ended with a dinner at the Jim Beam American Stillhouse visitor's center with 7th generation Master Distiller Fred Noe, and after dinner, Fred read a couple of stories from his 2012 memoir with co-author Jim Kokoris, "Beam: Straight Up", and shared some memories of his father, the late Booker Noe, along with his son Freddy, who's just getting started in the family business.
I couldn't resist pulling out the microphone and recorder, even if it did make the Beam PR folks on hand blanch just a bit. You see, Fred's a master storyteller, but some of the language he uses isn't quite suitable for family audiences. What's more, some of the stories he told us that night were edited out of the book, and Jim may have been holding his head in his hands at certain points as Fred talked. I was too busy laughing to notice.
Enjoy…
By the way, we'll be giving one WhiskyCast community member a copy of "Beam: Straight Up". All you have to do is register as a member (it's free) by March 31, 2013, and we'll pick one member at random. You can also find Fred's book in the WhiskyCast Bookstore Powered by Amazon.com.
Update: Congratulations to Jared Volavka, who was selected at random to receive the signed copy of Fred's book. 
---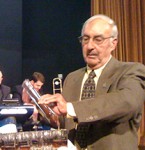 Parker Beam celebrated his 50th anniversary in the whiskey business at a celebration on October 23, 2009 at Heaven Hill's Bourbon Heritage Center in Bardstown, Kentucky. Here's his entire speech from that evening.
Parker was recently diagnosed with ALS, but will continue to work at Heaven Hill as long as his health allows. Heaven Hill plans to donate $20 from each bottle of the 2013 Parker's Heritage Collection whiskey to the ALS Association to establish a fund in Parker's honor. I'll be buying one, and hope you will too.
Links: Heaven Hill
---
Editor's note: This letter came from Dave Broom, who was the editor of the Scotch Whisky Review at the time of its original publication in January 2008. We post it here as part of the historical record. 
Dear Mark:
Thanks for allowing the SWR to make use of space on your website. We figured that your readers would be interested in the fast-developing 'Mutter Bowmore' saga.
---