This is where you'll find extended versions of WhiskyCast interviews, along with audio and video from special events that were just too long to include in a regular episode of WhiskyCast. The original idea behind WhiskyCast was to help gather oral histories of whisky, and this is a place where you can listen and learn more about the "water of life".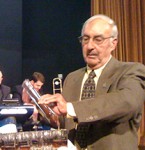 Parker Beam celebrated his 50th anniversary in the whiskey business at a celebration on October 23, 2009 at Heaven Hill's Bourbon Heritage Center in Bardstown, Kentucky. Here's his entire speech from that evening.
Parker was recently diagnosed with ALS, but will continue to work at Heaven Hill as long as his health allows. Heaven Hill plans to donate $20 from each bottle of the 2013 Parker's Heritage Collection whiskey to the ALS Association to establish a fund in Parker's honor. I'll be buying one, and hope you will too.
Links: Heaven Hill
---
Editor's note: This letter came from Dave Broom, who was the editor of the Scotch Whisky Review at the time of its original publication in January 2008. We post it here as part of the historical record. 
Dear Mark:
Thanks for allowing the SWR to make use of space on your website. We figured that your readers would be interested in the fast-developing 'Mutter Bowmore' saga.
---