This is where you'll find extended versions of WhiskyCast interviews, along with audio and video from special events that were just too long to include in a regular episode of WhiskyCast. The original idea behind WhiskyCast was to help gather oral histories of whisky, and this is a place where you can listen and learn more about the "water of life".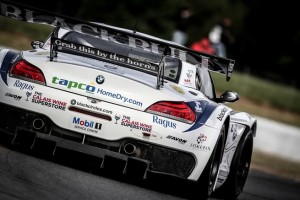 June 15, 2014 – If you're a longtime WhiskyCast listener, you're probably aware that motorsports is one of my other passions. I've been a racing fan since I was old enough to have a toy checkered flag and race cars as a kid growing up in Indianapolis.  For years, I've dreamed of going to France to watch the 24 Hours of Le Mans…and it's one of the things on my "bucket list."
Since I couldn't make it this year, I decided to do the next best thing…
The 24 Hours of Whisky.
During this year's race, I posted a new tasting note each hour on the Tasting Notes page, and tried to tie in some of the whiskies to Le Mans or racing-related subjects. In the interests of transparency (and responsibility), I did not stay up for 24 hours straight tasting whiskies. While I did taste 17 whiskies during the weekend, the remaining notes came from recent competitions I helped judge blindly and received the entry lists later, allowing me to cross-reference my notes against the entries and add them to the site. Here's the complete list with links to each tasting note:
9:00am (3:00pm in France): The race begins with Sazerac Rye 18's 2013 Edition
10:00am: Cutty Sark 12
11:00am: Wiser's 18
Noon: Stauning Young Rye (9-time Le Mans winner and this year's runner-up Tom Kristensen is from Denmark)
1:00pm: Zuidam Rye from The Netherlands
2:00pm: Label 5 Extra Rare 18
3:00pm: J.R. Ewing Private Reserve ("Super Tex" A.J. Foyt is the only driver to win the Indianapolis 500, Daytona 500, and Le Mans)
4:00pm: MaQintosh Silver Edition from India
5:00pm: Pappy Van Winkle's Family Reserve 15 Year Old 
6:00pm: Glenfiddich Age of Discovery Bourbon Cask
7:00pm: Nikka Yoichi 10 (Toyota's LMP1 car was leading Le Mans at the time)
8:00pm: Lark Single Cask #659 (in memory of the late Sir Jack Brabham, the first post-war racer to be knighted)
9:00pm: Halfway there with the Col. E.H. Taylor Single Barrel Bourbon
10:00pm: Dad's Hat Pennsylvania Rye (the closest distillery to Le Mans legend Mario Andretti's home)
11:00pm: Blackadder Raw Cask Macallan 1990
Midnight: Thomas H. Handy Sazerac Rye
1:00am: Ron Burgundy's Great Odin's Raven (Le Mans is "kind of a big deal" in racing)
2:00am: Last Mountain Private Reserve from Canada
3:00am: K5 Himalayan Whisky (Hemingway said the only true sports are auto racing, mountain climbing, and bull fighting)
4:00am: OYO Michelone Reserve Bourbon from Ohio
5:00am: Gordon & MacPhail 1991 Balblair (finished in Crozes-Hermitage casks from France)
6:00am: Arran 1997 Sherry Single Cask
7:00am: The Macallan Cask Strength
8:00am: The final hour, and a French single malt seemed appropriate: Armorik Classic 2013 Edition
Links: 24 Hours of Le Mans | Sazerac Rye | Cutty Sark | Wiser's | Stauning | Zuidam | Label 5 | J.R. Ewing Bourbon | MaQintosh | Old Rip Van Winkle | Glenfiddich | Nikka | Lark | Col. E.H. Taylor | Dad's Hat | Blackadder | Ron Burgundy Scotch | Last Mountain | Spirits of Bhutan | Middle West Spirits | Gordon & MacPhail | Arran | The Macallan | Armorik
---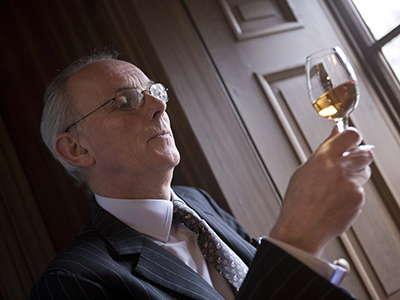 January 25, 2014 – Colin Scott is marking two anniversaries: his 40th year with Chivas Brothers in 2013 and his 25th year as Master Blender in 2014. He joined The Glenlivet Distillers in 1973 as a trainee, following in the footsteps of his father and grandfather, and became Master Blender in 1989 after an apprenticeship under the legendary Jimmy Lang.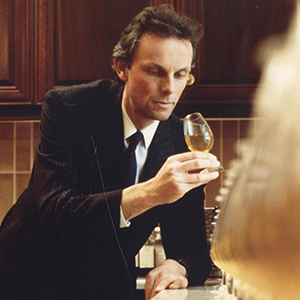 Over the years, he expanded the Chivas Regal range from its flagship 12-year-old blend to include the 18 and 25-year-old expressions, while developing Royal Salute with the Stone of Destiny, Tribute to Honour, 62 Gun Salute, 100 Casks Selection and Diamond Tribute expressions. His most recent release, the Royal Salute World Polo Batch, honors Royal Salute's growing ties with professional polo and the World Polo Series.
WhiskyCast's Mark Gillespie talked with Colin by phone on January 22, 2014.
In addition, you can hear Mark's 2009 interview with Colin on his history in the whisky business in Episode 195 of WhiskyCast.
Links: Chivas Regal | Royal Salute
---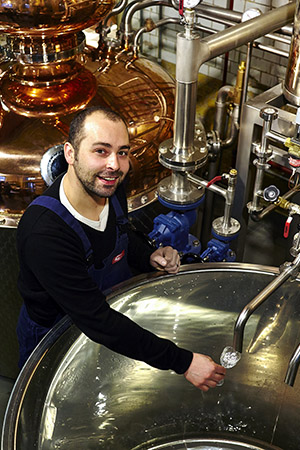 January 11, 2014 – London hadn't had a whisky distillery for nearly 100 years until Darren Rook and his partners opened the London Distillery Company in early 2013. They're focusing on gin production, but received a license to start making whisky in late 2013 and immediately started producing whisky in "Matilda", their 650-litre pot still. The goal is to revive some of the heritage of London whisky production that went away when the last distillery closed in 1905.
In Episode 460 of WhiskyCast, Darren explained his reasons for moving from selling whisky to making it, and the process for studying the old-school ways that his predecessors used. He also explained the process they used for getting regulatory approval — no small feat, since UK Customs & Revenue officials traditionally refused to license small stills for decades. While Episode 460 has an edited version of the interview, you can hear the entire interview here.
---
July 16, 2013 – Elmer T. Lee was a legend in the world of Bourbon. From 1949 until his "retirement" in 1985, he rose through the ranks at what we know today as Buffalo Trace Distillery, from the engineering department all the way to distillery manager. As Buffalo Trace CEO Mark Brown put it today in a brief statement, though, Elmer "never really retired", serving as an ambassador for the distillery and visiting every Tuesday as his health allowed to taste samples for his namesake Bourbon.
Elmer passed away today after a brief illness at the age of 93, leaving behind thousands of friends worldwide and a real impact on the world of Bourbon. It could be said that his legacy is Bourbon's worldwide popularity today, since he was responsible for introducing the first widely available Single Barrel Bourbon when Blanton's hit the market in 1984. While the concept was unusual at that time, it helped pave the way for almost every major Bourbon producer to release Single Barrel Bourbons in the years that followed.
In November, 2006, Elmer agreed to sit down for an interview and talk about his career at the George T. Stagg/Buffalo Trace Distillery:
Below is the statement from Buffalo Trace's Mark Brown on Elmer's passing:
July 16, 2013

Dear Friends,

It is with a very heavy heart that I share with you that our beloved Master Distiller Emeritus Elmer T. Lee, 93, passed away today, July 16, 2013 after a short illness.

In the world of making really fine whiskey the role of Master Distiller is pivotal, but Elmer's meaning to those he met, came to know, and worked with closely extended far beyond that of a Master Distiller. Elmer defined, in the simplest terms, what it means to be a great American – hard working, self-made, courageous, honest, kind, humble, and humorous.

Elmer was born in 1919 on a tobacco farm near Peaks Mill in Franklin County, Ky. He graduated from Frankfort County High School in 1936 and worked for Jarman Shoe Company until December 1941. He then served with the U.S. Army Air Force in World War II as a radar bombardier on a B-29. After flying missions against Japan through 1945, Elmer was honorably discharged in January 1946. He returned home and studied engineering at the University of Kentucky, where he graduated with honors in 1949.

In September 1949 Elmer began working in the engineering department of the George T. Stagg Distillery in Frankfort. In 1966, Elmer was promoted to plant superintendent, responsible for all plant operations and reporting to the plant manager. 1n 1969, he became plant manager.

But it was in 1984 that Elmer's contribution to the bourbon industry gained him the most notoriety, when he introduced Blanton's, the world's first Single Barrel Bourbon. Elmer retired in 1985 but continued to serve as an ambassador for Buffalo Trace, and in 1986 he was honored with his very own single barrel bourbon, Elmer T. Lee. Of course, for those of us who knew Elmer, he never really retired. Every Tuesday we could see Elmer making his rounds at the Distillery in his trademark cap, signing bottles, posters, and other memorabilia at the Gift Shop, visiting his friends in Blanton's Bottling Hall, and tasting bourbons (for quality control purposes!) in the lab.

Elmer was always ready to offer advice, and was a wealth of information that many of us relied on, myself included. Harlen Wheatley would inquire with Elmer when stuck on a mechanical problem, and any historical questions about the Distillery always went to Elmer, who, with his razor sharp memory, could invariably answer. To all of us, Elmer was a friend, a mentor, and a trusted advisor.

Elmer was known through the bourbon industry for his expertise and knowledge about bourbon whiskey and he received numerous awards and recognition, including induction into the Bourbon Hall of Fame in 2001, the Lifetime Achievement Award from Whisky Advocate in 2002, and the Lifetime Achievement Award and Hall of Fame induction from Whisky Magazine in 2012.

We have lost a wonderful friend today, and he will be missed terribly.

Services for Elmer T. Lee are pending and will be announced shortly.

Sincerely,

Mark Brown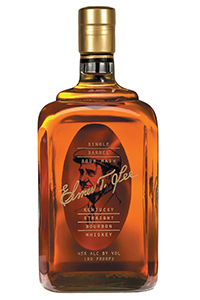 In 1986, shortly after he officially retired, the distillery named a Bourbon in his honor. At the time, Elmer was the only living distiller to have a whiskey bearing his name, and was later followed by his longtime friends Jimmy Russell (Russell's Reserve) and Parker Beam (Parker's Heritage Collection).
During our 2006 interview, Elmer said the only stipulation that he made was that he be allowed to select the barrels used for his whiskey. He continued that practice until recently, visiting Buffalo Trace on Tuesdays to taste samples selected for him and giving them his blessing for bottling. In 2009, Buffalo Trace released a special 90th Birthday bottling of Elmer T. Lee Bourbon to honor him on his 90th Birthday.
Our condolences go out to Elmer's family, friends, and his colleagues at Buffalo Trace.
---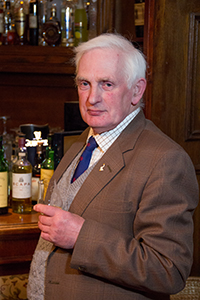 Davie Reid's a legend on Orkney, not just for his nearly 40 years at Scapa and Highland Park distilleries, but for his work with local Scouts and other community groups. Davie worked as a mashman and warehouseman over the years, then drove Highland Park's distillery van for a while before his eyesight forced him to retire a few years ago.
Those eyes saw a lot over the years, and during a press trip to Highland Park in April of 2013, Davie joined us for our final dinner at Helgi's in Kirkwall. After dinner, we persuaded him to share a few stories from his days at Highland Park as well as Scapa.
Thanks, Davie!
---
Received this email from Andrew Cravatta hoping to find some information on these whiskies. If you have any details you can share, please feel free to post a comment…
I've come across some blended scotch from the 50's/60's and was wondering if you could help me get any information on it. In particular, who made this whisky and, if possible, what single malts were blended in with this batch. Its a private bottling for the Chicago Club and appears to have been bottled by J.G. Thomson and Co. (except for the one square bottle, which says "Samuel Dow Ltd.") I have 12 of the standard shaped bottle and just one of the square.
Any ideas? I'm not very familiar with blended scotch (primarily single malts and bourbon). I've attached some pictures. Not sure if you'll be able to help, but I figured you'd be the person to ask.
Here are the photos:
Once again, if you have any information that could help Andrew out, please feel free to add a comment.
Thanks!
---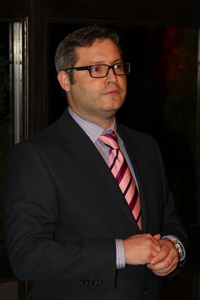 During the launch party for Highland Park's Loki single malt in New York City on March 12, 2013, I had a chance to talk with Gerry Tosh. He's now the Global Marketing Manager for Highland Park, but is more familiar to WhiskyCast listeners as Highland Park's longtime brand ambassador. We covered a lot more than I could include in Episode 416 of WhiskyCast, including the Valhalla Collection's links (or lack thereof) to the recent Avengers movies, a new duty-free series of single malts, and the difficulty of maintaining whiskies with age statements. Here's the entire interview…
---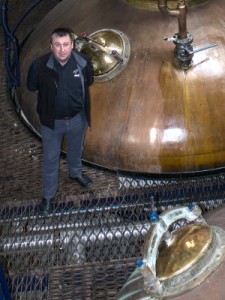 This is one of those interviews that never wound up being included in a WhiskyCast HD episode, only because I didn't have enough other video to go along with it. Back in June of 2011 during a media tour of Pulteney Distillery in Wick, Scotland, distillery manager Malcolm Waring mentioned that he'd started working there back during the days of "dramming". That's the old tradition where distillery workers got a dram during their shifts, and at the end of the tour, I asked Malcolm to explain it on camera.
Links: Old Pulteney
---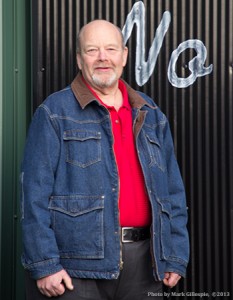 On February 13, 2013, I visited the Jim Beam Distillery in Clermont, Kentucky with a group of writers to tour Beam's new Global Innovation Center. Our day ended with a dinner at the Jim Beam American Stillhouse visitor's center with 7th generation Master Distiller Fred Noe, and after dinner, Fred read a couple of stories from his 2012 memoir with co-author Jim Kokoris, "Beam: Straight Up", and shared some memories of his father, the late Booker Noe, along with his son Freddy, who's just getting started in the family business.
I couldn't resist pulling out the microphone and recorder, even if it did make the Beam PR folks on hand blanch just a bit. You see, Fred's a master storyteller, but some of the language he uses isn't quite suitable for family audiences. What's more, some of the stories he told us that night were edited out of the book, and Jim may have been holding his head in his hands at certain points as Fred talked. I was too busy laughing to notice.
Enjoy…
By the way, we'll be giving one WhiskyCast community member a copy of "Beam: Straight Up". All you have to do is register as a member (it's free) by March 31, 2013, and we'll pick one member at random. You can also find Fred's book in the WhiskyCast Bookstore Powered by Amazon.com.
Update: Congratulations to Jared Volavka, who was selected at random to receive the signed copy of Fred's book. 
---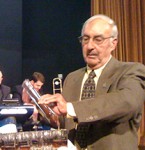 Parker Beam celebrated his 50th anniversary in the whiskey business at a celebration on October 23, 2009 at Heaven Hill's Bourbon Heritage Center in Bardstown, Kentucky. Here's his entire speech from that evening.
Parker was recently diagnosed with ALS, but will continue to work at Heaven Hill as long as his health allows. Heaven Hill plans to donate $20 from each bottle of the 2013 Parker's Heritage Collection whiskey to the ALS Association to establish a fund in Parker's honor. I'll be buying one, and hope you will too.
Links: Heaven Hill
---