This is where you'll find extended versions of WhiskyCast interviews, along with audio and video from special events that were just too long to include in a regular episode of WhiskyCast. The original idea behind WhiskyCast was to help gather oral histories of whisky, and this is a place where you can listen and learn more about the "water of life".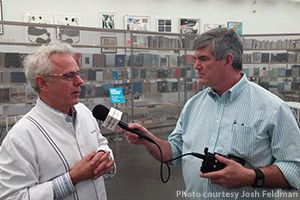 July 4, 2015 – Chef David Bouley is one of America's leading chefs, and it's almost impossible to get reservations at his namesake restaurant in New York City's TriBeCa neighborhood. Before opening the original Bouley in 1987, the Sorbonne-trained Connecticut native worked at some of Manhattan's legendary restaurants and has a wall full of awards for both his culinary and writing prowess.
For Suntory's New York City launch of the Hibiki Japanese Harmony blended whisky at a dinner on June 30, 2015, Chef Bouley and his colleague, Chef Isao Yamada, prepared a dinner featuring smoked salmon, Colorado Lamb, and other courses using the Hibiki as both an ingredient and a complementing drink. However, what may have been the most memorable dish of the evening wasn't found on the menu…Chef Bouley and his team prepared ice cream using the Hibiki and organic prunes – just because they had some whisky left to work with.
After dinner, New York Daily News reporter Jeannette Settembre and WhiskyCast's Mark Gillespie had a chance to talk with Chef Bouley about whisky, food, and that ice cream. Here's the interview:
Chef Bouley owns his namesake restaurant in Manhattan, along with Brushstroke, the Bouley Test Kitchen, and the Bouley Botanical event space.
---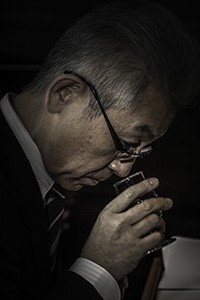 July 3, 2015 – Shinji Fukuyo was named Suntory's chief blender in 2009, and is only the fourth person to hold that title in the company's history. His responsibilities include the Yamazaki and Hakushu single malts, along with the Hibiki range of blended Japanese whiskies and the entire Suntory Whisky portfolio.
His whiskies have won numerous awards over the years, and he is regarded as one of Japanese whisky's leading innovators. His latest creation is the Hibiki Japanese Harmony blend, which is being released this month worldwide.
Earlier this year, we sat down for a conversation in New York City with the help of interpreter Hidemi Harada.
Links: Suntory Whisky
---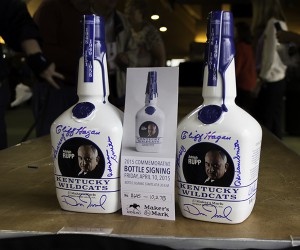 April 15, 2015 – For the last 19 years, Maker's Mark has produced what's become known as the "Keeneland Bottle" – a limited-edition bottle sold only in Kentucky to raise money for programs at the University of Kentucky. The Keeneland tie comes from the annual bottle signing party held at Lexington's Keeneland Race Course that draws hundreds of people or more from around Kentucky to have their bottles signed.
While the Keeneland bottles have featured many of the University's legendary basketball players over the years, the 2015 bottle was the first to feature longtime Kentucky coach Adolph Rupp. Rupp coached the Wildcats to four NCAA championships during a career that ran from 1930 to 1972, and at the time of his death in 1977, was college basketball's all-time leader in wins. Four of his most famous players turned out to sign their coach's bottle at Keeneland on April 10, 2015, and WhiskyCast's Mark Gillespie was there.
Listen to Mark Gillespie's story:

All of the 11,000 bottles featuring Adolph Rupp have been sold, with more than a thousand signed at Keeneland on April 10 by Dan Issel, Cliff Hagan, Frank Ramsay, Adrian Smith, Rob Samuels of Maker's Mark, and Keeneland president Bill Thomason. The 2015 bottle begins a five-year project to raise money for an academic tutoring and counseling center at the University of Kentucky, following three years of raising funds for UK Health's Gill Heart Institute.
Editor's note: This story appears in Episode 529 of WhiskyCast. While Maker's Mark covered some travel expenses, WhiskyCast retained complete editorial control over the content of this story. 
Links: Maker's Mark | Keeneland
---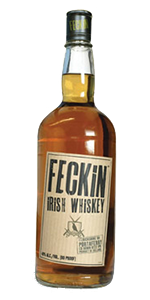 March 27, 2015 – Admit it, you've probably seen a bottle of Feckin Irish Whiskey on the shelf and snickered a bit…probably considered it a novelty and moved on. Turns out there really was a St. Feckin in Ireland, and even though he was a teetotaler, his name lives on in the whiskey Shane Braniff created in 2005. Braniff blends his whiskey from stocks distilled at Cooley Distillery, and while Feckin has achieved cult whiskey status, he'll admit that there are places where his whiskey will never be sold because of the name.
Listen to Mark Gillespie's interview with Shane Braniff:

In 2013, Braniff and his family opened Northern Ireland's first new distillery in 125 years. The Echlinville Distillery's spirit won't be ready until at least August of 2016, but in addition to Feckin and its spiced variation, Braniff has also worked to revive one of Irish Whiskey's legendary brands. Dunville's hasn't been produced since 1936, when the Belfast Distillery closed. The first release of Dunville's is expected soon – an Irish malt whiskey finished in Pedro Ximenez sherry casks.
---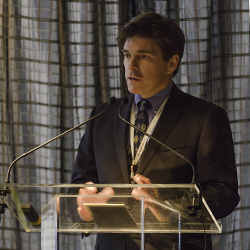 March 1, 2015 – For Bourbon lovers, it seems like the "Bourbon Boom" has been going on forever. Not true, according to Chris Bauder, general manager of Whiskies and Cognacs for Beam Suntory. During his keynote address at last Tuesday's Whiskies & Spirits Conference in New York City, Bauder pointed out that US whiskey sales have only risen in three of the last 25 years — the last three. By comparison, vodka sales have risen in 23 of the last 25 years and tequila sales have risen for 23 consecutive years. "When people ask if this is a trend that is going to continue, we think it has a very long runway," he said, citing recent sales figures showing growth among all sectors of the whisky industry.
Bauder points to several key factors for the "Bourbon Boom." Whisky's recent return to relevance as a cultural touchpoint through references on popular television shows such as "Mad Men" and "Boardwalk Empire" helped draw attention back to brown spirits, leading to the often-cited growth in interest among women. Bauer cited a demographic shift showing that more women now drink spirits in general than men, with a relatively even split between the genders in whisky consumption. He also referred to the emphasis on innovation and new product development, with the recent trend in flavored whiskies and the growth of craft distillers opening up the flavor profile of whisky to new consumers. At the other end, the boom in premium and unique expressions are bringing connoisseurs back to the Bourbon sector.
Listen to Mark Gillespie's interview with Chris Bauder:

Before joining Beam in 2011, Bauder was a senior marketing executive at consumer goods giant S.C. Johnson & Co., and learned quickly that solving the perceived shortage of whisky isn't as simple as that for other products. "If you want more Windex, you put more chemicals and water together and you get more Windex," he said in an interview following his speech. "That was a revelation…wait a minute, how can this allocation be what it is," referring to small supplies of whiskies from Beam Suntory's distilleries and the need to balance global demand with short supply.
Bauder said Beam Suntory will invest hundreds of millions of dollars over the next several years to expand whisky production at all of its facilities worldwide, but cautioned consumers to expect more whiskies without age statements. "Everybody…Scotland, Japan, and the US are struggling with this, and one of the things that's been encouraging is brands like (The) Macallan which first did it have actually been quite successful because the liquid's good and the way they blend has actually given them a good taste, plus the concept around the naming has been really interesting to consumers."
"I think talking people away from age statements is helpful…it's an easy way to think older is better, but brands like Maker's Mark or Woodford Reserve haven't traded in age statements and they're doing just fine."
In 2014, Beam Suntory removed the 8-year-old age statement from its Jim Beam Black Bourbon and introduced the no-age-statement Laphroaig Select, and Bauder said that practice will be extended to Beam Suntory's Hibiki range this year. "You're going to see your first one coming in July of this year in the US, and they're going to be launching in April in Japan." Bauder also confirmed that Beam Suntory plans to expand its Japanese whisky portfolio across the US. In the past, Suntory and its US importers focused on a handful of major cities, but part of the reason for Suntory's $16 billion acquisition of Beam in 2014 was to expand the footprint for its Japanese whiskies as well as acquire new brands for global distribution.
Editor's note: This story has been updated to remove Chris Bauder's reference to a Yamazaki Sherry Cask bottling being planned for a US release in 2015. According to a company spokesman, Bauder misspoke, and there are no plans to release one this year. 
Links: Beam Suntory
---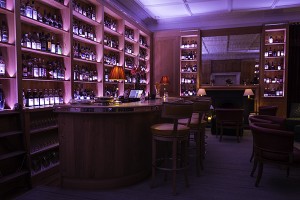 November 22, 2014 – Speyside's historic Craigellachie Hotel has been a fixture in the town of Craigellachie for 120 years. Last year, Piers Adam bought the hotel, and invested £3 million ($4.7 million USD) in a complete renovation. The final step in that process was completed earlier this month when the hotel's legendary Quaich Bar re-opened. The Quaich has been considered one of the world's best whisky bars for many years, but as with the rest of the hotel, was in need of some tender loving care.
While local craftsmen and artisans took care of the decor, Quaich Bar manager Lyndsey Gray worked with longtime whisky writers Dave Broom and Charles MacLean on the whisky selection. On November 19, 2014, WhiskyCast's Mark Gillespie sat down with Lyndsey and the hotel's general manager, Kevin Smith, to discuss the renovation.
Editor's note: This interview was conducted during a press trip sponsored by Dewar's, but as with all stories on WhiskyCast, we retained complete editorial control over the content. 
Links: Craigellachie Hotel
---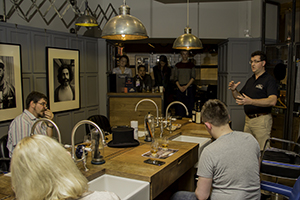 November 14, 2014 – Stuart Harvey has spent the last 11 years at Inver House as the Master Blender for the company's entire range of Scotch whiskies, including four different single malts and the Hankey Bannister, Catto's, and Inver House blends. That's a lot of different styles of whisky to keep track of, including award-winners such as the Old Pulteney 21-year-old single malt and the Hankey Bannister 40-year-old blend.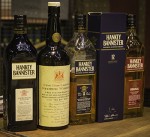 WhiskyCast's Mark Gillespie had the chance to sit down with Stuart Harvey over dinner during an Inver House press trip for a group of whisky writers in October of 2014. During this extensive interview, Stuart discussed his development as a blender, along with the unique characteristics of each of Inver House's five malt whisky distilleries (Old Pulteney, Balblair, Knockdhu, Speyburn, and Balmenach), and the differences between blending for a single malt and for a blended Scotch whisky. The entire 40+minute interview is available here.
Editor's note: This interview was conducted during a press trip in which Inver House Distillers covered travel expenses for its guests. However, WhiskyCast's Mark Gillespie retained full editorial control over the content.
Links: Inver House | Hankey Bannister | Old Pulteney | Balblair | anCnoc | Speyburn
---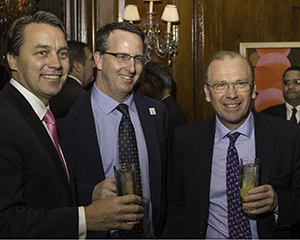 November 9, 2014 – On November 3, 2014, WhiskyCast's Mark Gillespie had a chance to sit down and talk whisky for a few minutes with Peter Grant Gordon and Andy Nash of William Grant & Sons. Gordon is one of the company's directors and a descendant of founder William Grant, while Nash is the Scotch Whisky category director for the company's USA unit.
The evening was focused on the launch of the Glenfiddich Original, but our conversation covered a wide range of topics from Irish Whiskey to the state of the Scotch Whisky industry as well as the Glenfiddich Original. We also discussed the company's recent launches of Girvan Single Grain Scotch Whisky and the single malts from Grant's Kininvie and Ladyburn distilleries, as well as the future in the U.S. for the company's namesake Grant's Blended Scotch Whisky.
Links:
William Grant & Sons
---
November 7, 2014 – Phil and Simon Thompson have been managing their family's Dornoch Castle Hotel since they were practically teenagers, and have created one of Scotland's best whisky bars at the hotel. This week, the Dornoch Castle Hotel was named as Scotland's Whisky Bar of the Year by the Scottish Licensed Trade News, and the Thompsons have developed their own reputation as two of the most outspoken whisky lovers — and critics — around. The Dornoch Castle has a few mainstream Scotch whiskies, but the bar is best known for older bottlings of those mainstream malts — because the Thompsons prefer those older bottlings to today's versions.
Last week, I stayed at the Dornoch Castle as part of an Inver House Distillers press trip. After an evening at nearby Balblair Distillery, I found Phil and Simon behind the bar at the end of a long day. Our interview lasted nearly 40 minutes — far longer than we could run in a single episode of WhiskyCast, but their views on the state of whisky today are well worth listening to. They're outspoken, occasionally profane, and don't pull their punches. Our conversation covered everything from the ethics of whisky bloggers to the lack of support distilleries give to Scotland's own whisky bars and which distillers make whisky better now than they did in past years — and the Thompsons rarely hesitate to name names.
The Thompsons hope to have their own distillery one day. Here's hoping that they succeed…and are able to make whisky the way it was done in the old days.
Links: Dornoch Castle Hotel
---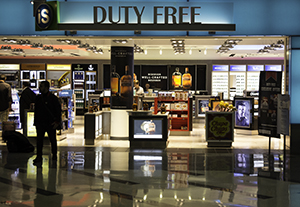 October 21, 2014 – Airports are investing a lot more money in travel retail these days, largely because the rent and revenue from retail sales can account for between 20 to 55 percent of an airport's annual revenue. In other words, think of an airport as a shopping mall with a really big parking lot.
One of the questions we receive most frequently from community members goes along the lines of "I'm traveling through X airport…what whiskies should I look for at the duty-free shop?" Of course, we also hear "can I really save money at the duty-free shop?" and "why don't US airports have any decent duty-free shops?"
Michael Payne can help answer many of those questions. Payne is the executive director of the Washington, DC-based International Association of Airport Duty Free Stores, and his members include most of the major airport retail operators around the world. Payne addressed the state of the travel retail market at this year's World Whiskies Conference in New York City, and talked with WhiskyCast's Mark Gillespie after his session.
If you have suggestions for airports with good duty-free whisky selections, we'd love to share them with other WhiskyCast community members! Just add a comment to this story with your recommendations.
Links: International Association of Airport Duty Free Stores
---