This is where you'll find extended versions of WhiskyCast interviews, along with audio and video from special events that were just too long to include in a regular episode of WhiskyCast. The original idea behind WhiskyCast was to help gather oral histories of whisky, and this is a place where you can listen and learn more about the "water of life".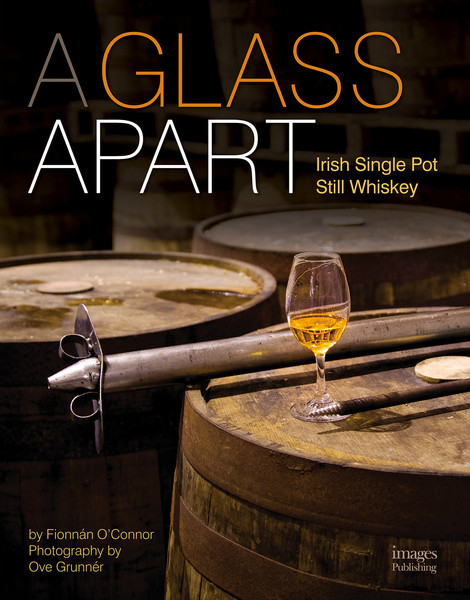 March 13, 2016 – While today's Irish Whiskies are known largely as smooth, mellow, triple-distilled drams, the sub-category known as "Single Pot Still" whiskies is enjoying a resurgence in interest. While triple-distilled as their more widely-available blended cousins, these whiskies are currently produced from a combination of malted and unmalted barley and use pot stills exclusively (blended Irish whiskies use a percentage of pot still whiskies with a much larger percentage of spirit from column stills). While the name "Single Pot Still" is a more recent term, so-called "Pure Pot Still" whiskies were the predominant style during the golden era of Irish Whiskey that ended a century ago with the combination of the Irish Civil War, World War II, and the advent of Prohibition in the United States.
Fionnán O'Connor is a postgraduate researcher at Dublin's Trinity College, and started looking into the history of Irish Whiskey while studying medieval history as an undergraduate. In late 2015, he published his first book, "A Glass Apart: Irish Single Pot Still Whiskey". While studying at the University of California Berkeley, he taught classes on whisky appreciation and worked as a brand ambassador for Bushmills, and now works as a historical consultant for Tullamore and several other Irish distilleries. He is also an active member of the Irish Whiskey Society.
Fionnán was one of the presenters during a recent Tullamore D.E.W.-sponsored press trip for a group of whisky writers and journalists, including WhiskyCast's Mark Gillespie. While traveling on a bus from Tullamore to Dublin, they had the chance to talk about the history of Irish Whiskey, along with some of the characters that helped grow – and tear apart – Ireland's national drink.
Editor's note: While this interview was conducted during a Tullamore D.E.W. press trip in which travel expenses were covered, full editorial control over the content of this story and our interview remains with WhiskyCast. 
Links: Irish Whiskey Society
---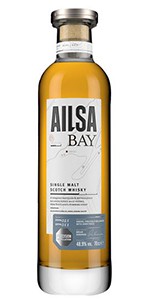 February 14, 2016 – Ailsa Bay Distillery is tucked away inside the William Grant & Sons-owned Girvan distillery complex in Ayrshire, Scotland, and now, nine years after opening its doors, the first single malt Scotch whisky from the distillery is on sale. The no-age-statement malt comes from one of the three styles of peated spirit produced at Ailsa Bay, according to Kevin Abrook of William Grant & Sons.
"We knew we couldn't out-Islay Islay," Abrook said in a telephone interview. "What we wanted to do was celebrate that at a modern distillery using the latest methods but still obviously adhering to the traditions that are in single malt whisky."
Listen to Mark Gillespie's interview with Kevin Abrook:

The distillery was designed to produce whisky for use in the company's blends, but also gave Master Blender Brian Kinsman a chance to experiment with a new style of maturation. According to Abrook, the "cask-starting" process uses small casks previously used at New York's Tuthilltown Spirits for Hudson Baby Bourbon to give the new make spirit an initial boost for several months before the whisky is transferred to a mix of traditional-size refill, first-fill, and Virgin Oak barrels for the rest of the maturation period.
Essentially, the process is the exact opposite of "finishing", in which distillers put mature whisky into a different style of cask to add unique flavor characteristics. "If you cook a roast in the oven, you put it on high for 200º (ºC, or around 392º F) and then after 20 minutes, you take it out and lower the temperature," Abrook said. "You give the maturation a real boost in the small ex-Hudson casks so you've got a great liquid-to-wood ratio, and that accelerates the maturation."
The Ailsa Bay single malt is bottled at 48.9% ABV, and is available at UK retailers and in several Nordic countries with a recommended retail price of £55 ($79 USD).
Links: William Grant & Sons
---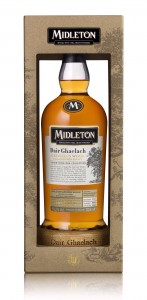 February 14, 2016 – In a few weeks, a team of foresters will visit a stand of trees at an undisclosed site near Dublin and select several mature Irish Oak trees to be felled. Those trees will make their way to a Spanish cooperage to be turned into barrels for use in maturing a future edition of Midleton Dair Ghaelach. The single pot still Irish whiskey made its debut in Ireland and Europe in early 2015, and has now been released in the US along with Green Spot Chateau Lèoville Barton, a version of the classic Green Spot finished in Bordeaux wine casks from the chateau in St. Julien, France.
Kevin O'Gorman is the Master of Maturation for Irish Distillers, based at Midleton Distillery in County Cork, and leads the Irish Oak project. Dair Ghaelach was the first whiskey to be matured in Irish Oak in at least a century, largely because of decades of deforestation during the Industrial Revolution in Ireland that left Ireland with little usable hardwood forests. Recent efforts to increase the amount of forest cover have now allowed for sustainable forestry practices such as the Dair Ghaelach project.
In Episode 576 of WhiskyCast, we briefly heard from Kevin O'Gorman about Dair Ghaelach and Irish Oak, but time constraints did not allow us to use the entire interview.
Listen to Mark Gillespie's interview with Kevin O'Gorman:
Tasting notes for Midleton Dair Ghaelach and Green Spot Chateau Lèoville Barton are available at the WhiskyCast web site.
---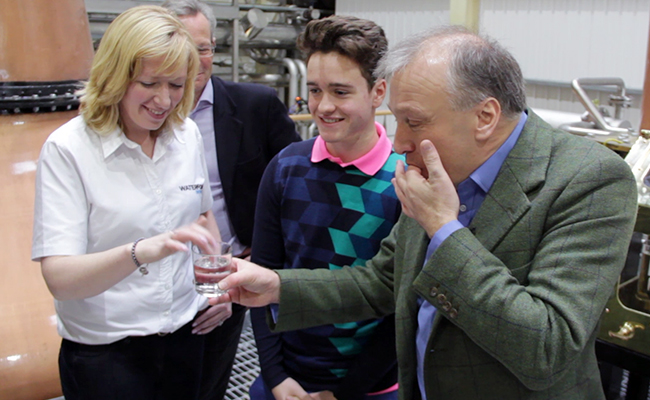 December 13, 2015 – Ireland's newest distillery came to life this past week when the stills were fired up for the first time at Waterford Distillery, just a year and a week after Mark Reynier's Renegade Spirits bought the former Guinness brewery in Waterford and started the process of turning it into a whiskey distillery. In this WhiskyCast In-Depth interview, Reynier talked with WhiskyCast's Mark Gillespie about his plans for making single malt whiskey in Ireland, the stills that his team at Bruichladdich "liberated" from the soon-to-be demolished Inverleven Distillery, the lessons he learned at Bruichladdich that he'll apply at Waterford, and how he not only made peace with the man who engineered his departure from Bruichladdich…but brought him on board as a director at Waterford.
Editor's note: WhiskyCast was invited to attend the distillation ceremony as a guest of Renegade Spirits. However, as with all of our content, full editorial control over this story remains with WhiskyCast.
Links: Waterford Distillery
---
November 1, 2015 – In the wake of the latest controversy involving Compass Box's disclosure of the exact recipes for its two most recent releases, the reaction on social media has been largely one of support for Compass Box and criticism for the rest of the Scotch Whisky industry, with demands that laws be changed to allow more transparency.

Compass Box was pressured by the Scotch Whisky Association to revise its marketing materials for "This is not a luxury whisky" and the Flaming Heart 15th Anniversary Edition to remove the age statements for all of the whiskies used in both blended malts. According to SWA legal affairs director Magnus Cormack, a competing whisky producer raised the issue on the grounds that Compass Box's disclosure violates both the Scotch Whisky Act of 2009 and corresponding European Union legislation banning all spirits producers from disclosing any age-related information other than the age of the youngest spirit that goes into a blend. While the SWA has no enforcement power of its own, Scotch Whisky producers are now required to register with HM Revenue and Customs and are subject to compliance audits under the Geographical Indicator scheme that protects "Scotch Whisky" in international trade, and the agency could have imposed sanctions against Compass Box had the changes not been made.

Even as whisky consumers on social media are demanding changes in those laws, others are raising questions about why the ban was imposed in the first place. The ban was actually put in place nearly three decades ago, largely to protect the industry from itself – according to the industry executive who led the push for the ban, former United Distillers and Chivas Brothers executive James Espey. While at United Distillers (one of Diageo's predecessor companies), Espey and colleague Tom Jago were responsible for creating Johnnie Walker Oldest – now known as Johnnie Walker Blue Label.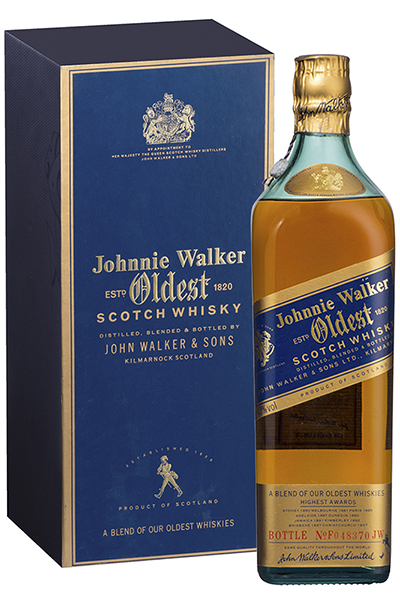 In a March, 2014 interview with WhiskyCast's Mark Gillespie, Espey explained the genesis of the age statement restrictions in context with the creation of Johnnie Walker Oldest:
"We found a barrel of 60-year old, which we blended a little bit predominantly with 15-year-old…it was young, but it was a brilliant blend. Tom created a bottle as you would imagine it a hundred years ago, and we called it Johnnie Walker Oldest. And we launched it carefully, priced it appropriately as it is today, got it on the Concorde and all over the place and it took off."

"The only thing that changed is when I left the company and became the president of Chivas Brothers, my main brand was Royal Salute, which I knew was 21 (years old). Now, it was an outstanding whisky, and I'm not sure what age it is today, but that's not the point. We found there was a new man at United Distillers who had come from McKinsey (the consulting firm) – nothing to do with the heritage of the industry, and he was pushing in nightclubs in Taiwan 'Johnnie Walker Oldest – 60 years of age…Royal Salute 21'. That's ethically immoral and incorrect…so we got the law changed,  and the law says today you can only mention the youngest age of any whisky in the blend." 
What would it take to change the laws? Given that there appears to be little interest in doing so within the whisky industry, any change is unlikely, especially given that it would require changing not only the UK's law, but changing the overriding European Union law as well. The SWA's Magnus Cormack put it bluntly in his statement:
"The law is an EU law. Neither the UK nor the SWA can derogate from it. A change would require agreement by the 28 Member States, and pre-supposes that all other spirits sectors would be in agreement."
Now, if the push by Prime Minister David Cameron's government to hold a referendum on continued UK membership in the European Union were to result in the so-called "Brexit", that would still not solve the problem. While the UK and Scottish Parliaments would be free to amend the Scotch Whisky Act of 2009, the EU law would still apply to all Scotch Whisky exported to the remaining EU member nations. In addition, US law also mandates that any whisky that carries an age statement refer to the age of the youngest whisky in the bottle.
In short, Robert Merton's Law of Unintended Consequences has been proven once again. What was originally intended to prevent unethical competition in the whisky industry now prevents the industry from being more transparent, and fixing it means the likelihood of more unintended consequences.
Be careful what you wish for…
Links: Compass Box | Scotch Whisky Association
---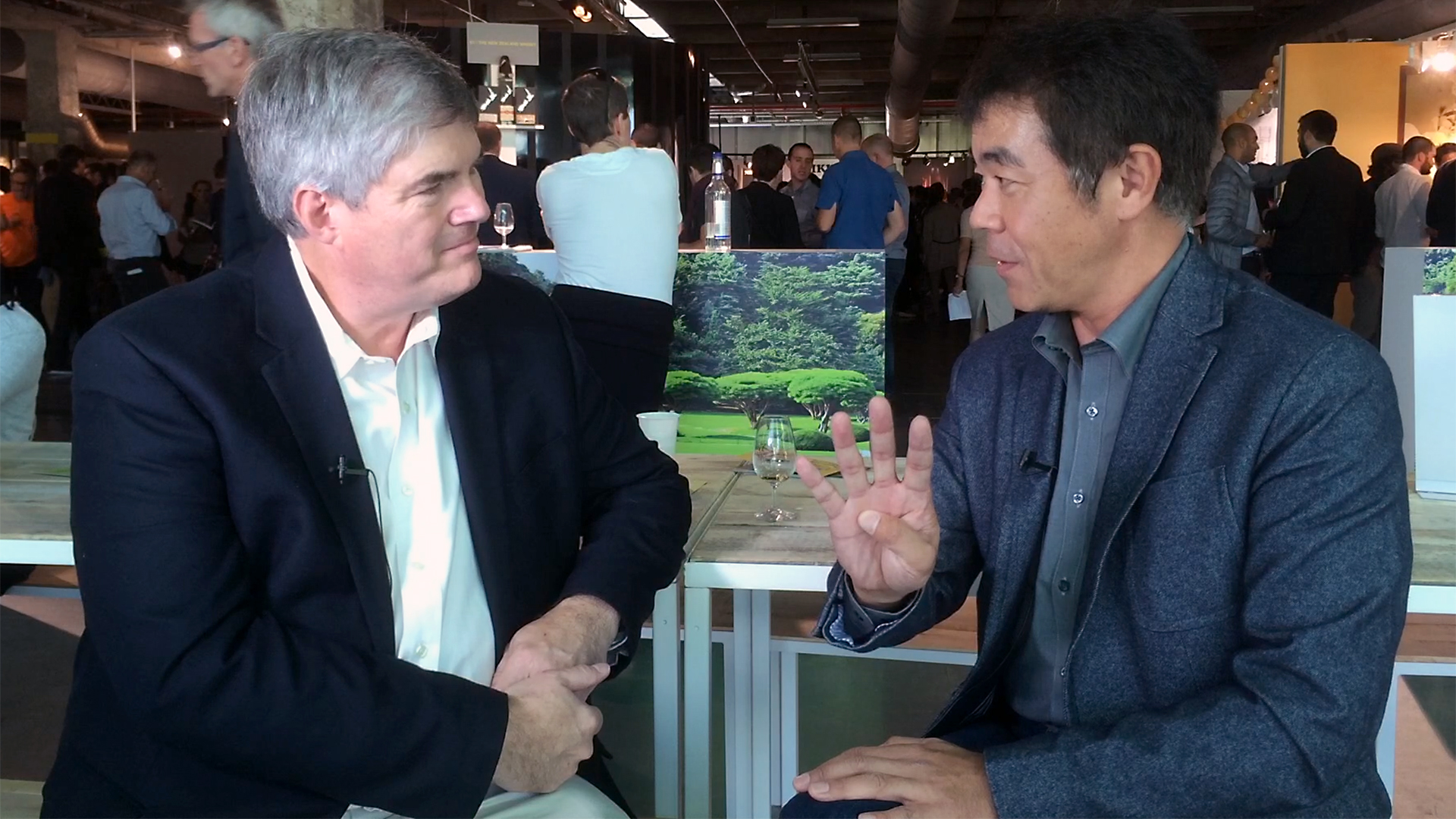 October 10, 2015 – As a rule, Japanese whisky makers tend to blend into the crowd at whisky festivals. For instance, Nikka chief blender Tadashi Sakuma was able to walk around the recent Whisky Live Paris in relative anonymity. Ichiro Akuto is the exception. Known for his legendary "Playing Cards" series of whiskies from the now-closed Hanyu Distillery, which his family owned for many years, Akuto now makes whisky at his Chichibu Distillery in the foothills of Mt. Kobu northwest of Tokyo and close to the Hanyu Distillery site. While the first release of Chichibu single malt only came out in 2011, Auto's young whiskies are already highly regarded by whisky fans around the world.
During Whisky Live Paris, Ichiro Akuto sat down with WhiskyCast's Mark Gillespie for an interview:
WhiskyCast: Tell me about your start and your family's history in the whisky business…
Ichiro Akuto: Our family business dates back to 1625 as sake brewers, and in 1941, my grandfather set up a new headquarters and factory producing pot rum and sake, shōchū, liquor, wine, and so on…including whisky.
WhiskyCast: This was the Hanyu Distillery, right?
Ichiro Akuto: That's right, and my father had to sell our company. Business was not good with the recession in the economy, but the new owner was not really interested in whisky because at that time, the whisky market was shrinking. The new owner was only interested in sake and shōchū…a very quick business. Whisky needed space and time. I wanted to release the Hanyu whisky because some of the whisky was almost 20 years old…kind of children approaching 20 years old, so I decided to set up a new company. But in the future, the Hanyu whisky will be consumed, so I had to set up a new distillery to continue in the whisky business. So, in 2008, we started making whisky in Chichibu.
WhiskyCast: And you've gone what would best be described as "old school" at Chichibu. You have a cooperage on site, you've had one of Japan's last remaining coopers teach your staff how to make barrels, and you're doing everything at Chichibu the way it was done by your grandfather and your family at Hanyu for years…and the way it was really done traditionally in Scotland as well.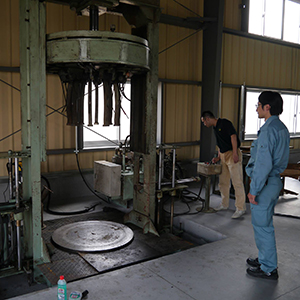 Ichiro Akuto: Actually, my father and grandfather didn't have a cooperage. There were two independent cooperages in Japan and we purchased casks from the cooperages, but one of them decided to close the cooperage. Once a year, we went there and he trained us how to make cooperage. Three years ago, he was approaching 86 years old…very old guy, and he had no successor, so he decided to close the cooperage. There was good machinery, although very old, left…and I didn't want them to be thrown away…so I asked him to let us purchase the old machinery, then I set up our cooperage on-site.
WhiskyCast: Tell me how you came up with the idea for the Playing Cards series, because that's what you're most well-known for…that series of 54 single malts from Hanyu released over several years that people around the world go nuts over. How did you come up with that idea?
Ichiro Akuto: Last year, we finished the Cards series with 54 labels (all four suits and two Jokers) and it took about nine years At first, I just wanted to release four single casks, and I talked about ideas for the labels with my friend, a designer…he also likes whisky at bars. We talked a lot about the idea for single casks, and we hit upon the idea that playing cards had four suits…we agreed, so then we made up the labels. The first four cards were very strong cards, because I didn't think that the Cards whisky would be a series….at the time, I just thought four cards. But after that, once the very unique label on the bottles (appeared) at the bars, the customers would ask the bartender "what was that?" The label was unique, the quality was good, so the popularity was getting higher among bartenders. Then, I decided to release a whole Cards (series) after that.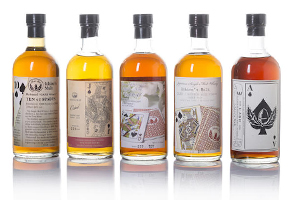 WhiskyCast: A set of the complete series, all 54 bottles, sold earlier this summer at Bonham's in Hong Kong for about $400,000 (USD)…
Ichiro Akuto: Crazy… (shaking his head)
WhiskyCast: Does this surprise you that it would go for that much, and why?
Ichiro Akuto: I'm not sure, because I just make and sell whisky. I made it for drinking…not to sit in a room or something. In a sense of speaking, I'm not sure why it gets such a high price.
WhiskyCast: Because of the rarity, because of the quality…all those things combined? Maybe you should have priced it higher originally…somebody else is making all that money off that whisky now…
Ichiro Akuto: At least we don't get that money… (laughing)
WhiskyCast: What's happening at Chichibu these days…how's the whisky coming along?
Ichiro Akuto: I often taste every cask, and now it's getting really, really nice. Hopefully, I will release 10 years old, 20 years old in the future…I hope they get much better.
WhiskyCast: You're up to about seven years old now, right?
Ichiro Akuto: Yes.
WhiskyCast: And what's your next release from Chichibu going to be?
Ichiro Akuto: Every year, we release a single malt from Chichibu Distillery, but supplies are limited, so most releases are three years old, but every year we release a peated…or "On the Way" – it contains multiple vintages, but in the future,  I hope I will release a 10-years-old in 2020.
WhiskyCast: What do you want your legacy as a whisky maker to be? Is it the Playing Cards series…is it the other whiskies from Hanyu that you've helped out with and wound up bottling later on, or the whiskies that you're creating now at Chichibu. When they tell the story of Ichiro Akuto 50 to 75 years from now after we're both long gone, what do you want to be remembered for?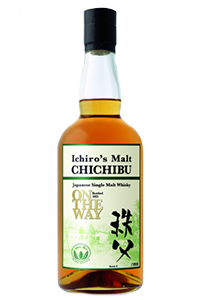 Ichiro Akuto: Ichiro's Malt…it's the brand name of our whisky. It's a bridge brand between Hanyu and Chichibu. Hanyu now, it has a very high reputation, and Chichibu is getting older and its reputation for taste is increasing. Hopefully, Ichiro's Malt is a bridge brand between the past and the future, so in the future, Chichibu will be focused on by whisky enthusiasts in the future.
WhiskyCast: And that's what people will think of when they think of Ichiro Akuto in the future, is the Chichibu?
Ichiro Akuto: (nods and smiles) Yes.
WhiskyCast: Are you still having fun…are you still enjoying making whisky?
Ichiro Akuto: Yes, I am…
WhiskyCast: Tell me about that smell when you walk into a warehouse for the first time in the morning after it's been closed up all night…and you open the door and the smell just hits you. What does that smell like?
Ichiro Akuto: It's a very comfortable place for whisky enthusiasts. In winter, it smells like wood and soil, and in summertime, it smells very, very (pauses) whisky flavor…it's a fruity and sweet flavor in the warehouse. It's different in different seasons because of the temperature differences, so I always appreciate the differences that create good whisky.
WhiskyCast: Thank you very much…
Editor's note: Thanks to Yumi Yoshikawa of Venture Whisky Ltd., the parent company of Chichibu Distillery, for serving as a translator. While Yumi translated some of our questions into Japanese, all of Ichiro Akuto's responses were in English and quoted here with minor editing as necessary.
---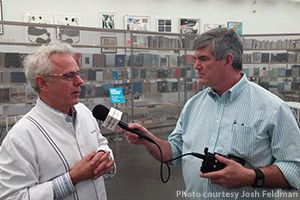 July 4, 2015 – Chef David Bouley is one of America's leading chefs, and it's almost impossible to get reservations at his namesake restaurant in New York City's TriBeCa neighborhood. Before opening the original Bouley in 1987, the Sorbonne-trained Connecticut native worked at some of Manhattan's legendary restaurants and has a wall full of awards for both his culinary and writing prowess.
For Suntory's New York City launch of the Hibiki Japanese Harmony blended whisky at a dinner on June 30, 2015, Chef Bouley and his colleague, Chef Isao Yamada, prepared a dinner featuring smoked salmon, Colorado Lamb, and other courses using the Hibiki as both an ingredient and a complementing drink. However, what may have been the most memorable dish of the evening wasn't found on the menu…Chef Bouley and his team prepared ice cream using the Hibiki and organic prunes – just because they had some whisky left to work with.
After dinner, New York Daily News reporter Jeannette Settembre and WhiskyCast's Mark Gillespie had a chance to talk with Chef Bouley about whisky, food, and that ice cream. Here's the interview:
Chef Bouley owns his namesake restaurant in Manhattan, along with Brushstroke, the Bouley Test Kitchen, and the Bouley Botanical event space.
---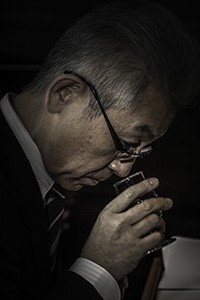 July 3, 2015 – Shinji Fukuyo was named Suntory's chief blender in 2009, and is only the fourth person to hold that title in the company's history. His responsibilities include the Yamazaki and Hakushu single malts, along with the Hibiki range of blended Japanese whiskies and the entire Suntory Whisky portfolio.
His whiskies have won numerous awards over the years, and he is regarded as one of Japanese whisky's leading innovators. His latest creation is the Hibiki Japanese Harmony blend, which is being released this month worldwide.
Earlier this year, we sat down for a conversation in New York City with the help of interpreter Hidemi Harada.
Links: Suntory Whisky
---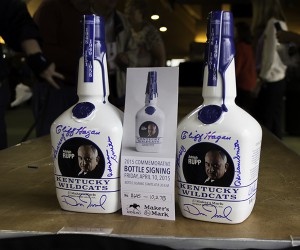 April 15, 2015 – For the last 19 years, Maker's Mark has produced what's become known as the "Keeneland Bottle" – a limited-edition bottle sold only in Kentucky to raise money for programs at the University of Kentucky. The Keeneland tie comes from the annual bottle signing party held at Lexington's Keeneland Race Course that draws hundreds of people or more from around Kentucky to have their bottles signed.
While the Keeneland bottles have featured many of the University's legendary basketball players over the years, the 2015 bottle was the first to feature longtime Kentucky coach Adolph Rupp. Rupp coached the Wildcats to four NCAA championships during a career that ran from 1930 to 1972, and at the time of his death in 1977, was college basketball's all-time leader in wins. Four of his most famous players turned out to sign their coach's bottle at Keeneland on April 10, 2015, and WhiskyCast's Mark Gillespie was there.
Listen to Mark Gillespie's story:

All of the 11,000 bottles featuring Adolph Rupp have been sold, with more than a thousand signed at Keeneland on April 10 by Dan Issel, Cliff Hagan, Frank Ramsay, Adrian Smith, Rob Samuels of Maker's Mark, and Keeneland president Bill Thomason. The 2015 bottle begins a five-year project to raise money for an academic tutoring and counseling center at the University of Kentucky, following three years of raising funds for UK Health's Gill Heart Institute.
Editor's note: This story appears in Episode 529 of WhiskyCast. While Maker's Mark covered some travel expenses, WhiskyCast retained complete editorial control over the content of this story. 
Links: Maker's Mark | Keeneland
---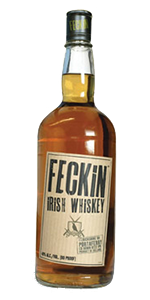 March 27, 2015 – Admit it, you've probably seen a bottle of Feckin Irish Whiskey on the shelf and snickered a bit…probably considered it a novelty and moved on. Turns out there really was a St. Feckin in Ireland, and even though he was a teetotaler, his name lives on in the whiskey Shane Braniff created in 2005. Braniff blends his whiskey from stocks distilled at Cooley Distillery, and while Feckin has achieved cult whiskey status, he'll admit that there are places where his whiskey will never be sold because of the name.
Listen to Mark Gillespie's interview with Shane Braniff:

In 2013, Braniff and his family opened Northern Ireland's first new distillery in 125 years. The Echlinville Distillery's spirit won't be ready until at least August of 2016, but in addition to Feckin and its spiced variation, Braniff has also worked to revive one of Irish Whiskey's legendary brands. Dunville's hasn't been produced since 1936, when the Belfast Distillery closed. The first release of Dunville's is expected soon – an Irish malt whiskey finished in Pedro Ximenez sherry casks.
---