This is where you'll find extended versions of WhiskyCast interviews, along with audio and video from special events that were just too long to include in a regular episode of WhiskyCast. The original idea behind WhiskyCast was to help gather oral histories of whisky, and this is a place where you can listen and learn more about the "water of life".
August 23, 2016 – With thousands of different whiskies to choose from, whisky drinkers can often be baffled by the possibilities when trying to pick just one. What if an individual's personality profile could help narrow down those possibilities with a high degree of success?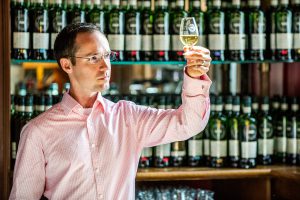 Adam Moore, Ph.D. of the University of Edinburgh has been studying that idea with support from the Scotch Malt Whisky Society. "When the SMWS approached me and asked if I thought there would be a way to connect personality types to whisky preferences, I said that I thought there might be, but no one had ever really tried anything like that before," he said in a telephone interview.
The Princeton-educated psychologist and research scientist created a psychometric test using standard questions to measure five key personality traits: Agreeableness, Neuroticism, Extraversion, Conscientiousness, and Openness to Experience. The test was given to more than 300 volunteers at SMWS tasting events in Scotland, London, Washington, Vancouver, and Melbourne over a six-month period, with the volunteers also rating their preferences among the 12 core flavors generally found in Scotch whiskies. "Through statistical modeling, I was able to find links between certain personality traits and preferences for certain flavor profiles of whisky…and then after collecting significantly more data…we began to have some confidence that these links were real and then we built the test on the basis of that," he said. The final online test uses 35 different questions and is available to the public at FlavourBehaviour.com.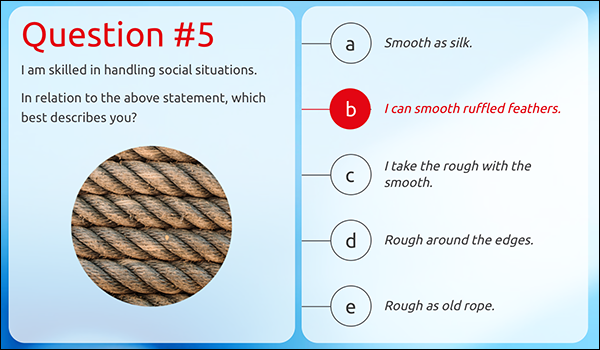 After a user completes the test, Moore's algorithm generates a personality profile such as "The Perfect Norm" and a style of whisky best suited to that profile, such as "juicy, oak, and vanilla." As an example, this combination is described as a very moderate character with no one clear dominant personality trait, so this balanced whisky flavour is sure to float your boat."
Listen to Mark Gillespie's interview with Adam Moore:
Of course, just because a whisky drinker fits one particular profile doesn't mean that individual will not enjoy other styles of whisky. "The links between personality traits and preferences for certain flavor profiles is only one aspect of the entire relationship between an individual person and the kind of whisky that they like," says Dr. Moore – who admits that the test would likely have projected that he would prefer either "juicy, oak, and vanilla" or "heavily peated" whiskies. Dr. Moore has not taken the test himself, largely because his knowledge of the questions and the algorithm would make it too easy to structure his answers to produce a desired result.
Where the test may prove to be most useful is in helping a newcomer to whisky pick a style more likely to match that person's individual personality. "I can't think of even a single time when anybody said 'I absolutely hated the thing that you recommended,'" Moore said.
Links: Scotch Malt Whisky Society
---
August 5, 2016 – Believe it or not, there was once a time when passenger trains were popular for cross-country travel in the United States. Baseball teams traveled by train on road trips, political candidates conducted "whistle-stop" campaign tours with rallies at train stations, and many Scotch Whisky lovers got their first taste of single malt whiskies in a Pullman train's bar car.
After the end of Prohibition, The Glenlivet's Captain Bill Smith Grant negotiated a deal with the Pullman Company to make his single malts the exclusive Scotch Whisky sold on board Pullman's trains. The two-ounce miniature bottles were the forerunner of today's "airline-size" bottles, and became popular in the U.S. long before Glenfiddich's highly-touted single malt debut in the mid-Sixties.
While train travel today is not nearly as popular, nor nearly as luxurious as it was during the days before airline travel became commonplace, The Glenlivet is celebrating that heritage with a series of three limited-edition single cask bottlings. The Pullman Train Collection series is only available in the U.S., with each expression selling for a recommended price of $350 per bottle. While not inexpensive, the three different cask types used for the series give us a unique opportunity to look at the different influences casks can have on a whisky, since the basic "new make" spirit off the still is the same for all three bottlings.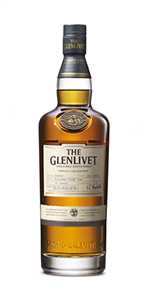 The Glenlivet Pullman Club Car
This is the oldest of the three bottlings in the series, with 18 years of maturation in an ex-Sherry butt, and as with all three, is bottled at cask-strength (56.24% ABV) with no chill-filtering. As might be expected with a Sherry butt, the nose is fruity with notes of grilled peaches, plums, and mango, balanced by figs, clove, cardamom, and cocoa. A sip reveals a creamy and chocolate-y mouthfeel followed by spicy clove and cardamom notes on top with underlying notes of milk chocolate, figs, and plums. The finish is smooth and lingering with touches of raisins and plums. Score: 92 points.
The Glenlivet 20th Century Limited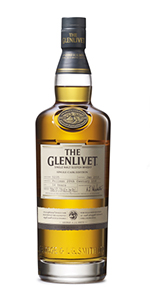 The 20th Century Limited was one of the most famous train routes of all time, second only to the fabled Orient Express. The New York Central railroad ran this red-carpet train nightly between Grand Central Station and Chicago, making it popular for business travelers as well as vacationers.
This whisky is 14 years old, bottled at 58% ABV, and was matured in a European Oak cask that helps accentuate the citrusy characteristics of the spirit. The nose is honey-sweet with notes of brown sugar, orange peel, allspice, and ginger root. The taste is where the citrus comes alive, with tart lemon zest and orange peel notes, spicy clove, allspice, and ginger root, and touches of honey and brown sugar in the background to pull the flavors together with exceptional balance. The finish is long and equally well-balanced with citrus tartness complemented by ginger root and a subtle hint of clove. Score: 93 points.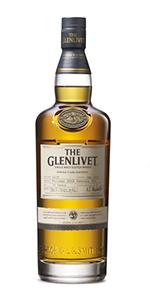 The Glenlivet Pullman Water Level Route
This expression gets its name from the scenic route the 20th Century Limited used as it skirted the rivers and lakes between New York City and Chicago, and most of that same route is still in use today on Amtrak trains between the two cities.
This whisky was matured for 14 years in an American Oak cask and bottled at 57.4% ABV. The American Oak brings out a different range of flavors and aromas than its European Oak counterpart, with a nose dominated by honey and vanilla, dried flowers, muted spices, and brown sugar. The taste has honey and black tea notes balanced by clove, lemon zest, brown sugar, and a hint of molasses. The finish is clearly different; long and chewy with molasses cookies, oatmeal, and honey. Score: 91 points.
The three whiskies in The Glenlivet Pullman Train Collection will be difficult to find. Just 270 bottles of the Pullman Water Level Route were produced, compared to 498 for the Pullman Club Car and 524 for the Pullman 20th Century Limited. All three share the same fruity, floral character that is common among all of The Glenlivet's single malts, but the nature of these single cask bottlings gives a whisky connoisseur clear differences to explore in the impact wood makes on a whisky over time.
Editor's note: These tasting notes were based on samples provided by The Glenlivet. Full editorial control over the content of this story remains with WhiskyCast.
Links: The Glenlivet
---
May 25, 2016 – Most businesses have succession plans in place, and the whisky business is no exception. At Kentucky's Four Roses Distillery, longtime Master Distiller Jim Rutledge identified Brent Elliott as his likely successor several years before his retirement last September, and Elliott moved seamlessly into the new role. Years earlier, David Stewart did the same with Brian Kinsman at William Grant and Sons, and while Stewart continues to work with The Balvenie in semi-retirement, Kinsman now serves as Master Blender for the rest of the company's portfolio.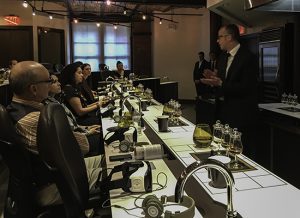 "If he gets hit by a bus or someone accidentally pushes him off a cliff, or what not, then I would take over," Brendan McCarron says with a laugh shortly before the beginning of an Ardbeg Night event at the Astor Center in New York City. McCarron joined The Glenmorangie Company two years ago, and while his official title is "Head of Maturing Whisky Stocks" – his primary role is to serve as Dr. Bill Lumsden's understudy and eventual successor. Before joining Glenmorangie, McCarron moved around for eight years within the Diageo system starting at the Burghead Maltings in Speyside, in production and distribution roles in Scotland and the U.S., spent some time as Oban's distillery manager, and finally moved to Islay to oversee Lagavulin and Caol Ila distilleries and the Port Ellen Maltings.
The University of Strathclyde graduate credits his time at Diageo with giving him a well-rounded education in the whisky business, and credits Lumsden with giving him the freedom to use that education. Both men have similar backgrounds, coming from the suburbs around Glasgow and joining Glenmorangie after working for other Scotch whisky companies. "We have the same sort of want to be innovative and make different whiskies, and that's why we moved to Glenmorangie…it's been a really good fit so far."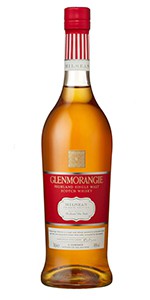 Shortly after joining Glenmorangie, McCarron was put in charge of overseeing the development of a set of casks earmarked for one of Glenmorangie's Private Edition whiskies – this year's release of Glenmorangie Milsean. The French Oak casks had previously held Portuguese red wine and had been re-charred while still wet with wine, which caramelized the sugars in the liquid and added an extra sweetness to the final whisky. "He didn't just want me watching him work because you don't learn as quickly that way, so he threw me into the deep end, told me where the casks were, helped me request the samples, and then I got to do everything from there," McCarron said.
"I had originally intended the finishing period for this to be around five years," Lumsden said during a December  2015 interview before the release of Milsean. McCarron had an idea early on that five years would probably be too long. "When I took the first samples at six months, they were already so big and had taken on some really distinctive flavors," McCarron said, noting that Lumsden let him make the final decisions on cask selection and timing. "I'd still get him to double-check sometimes and get a signoff, but he let me do it the whole way." After two and a half years, McCarron and Lumsden agreed that the time had come to get that whisky out of the casks before the French Oak influence overpowered the whisky.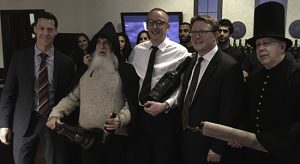 McCarron was in New York City this week to help kick off Ardbeg Night festivities going on around the world in connection with Ardbeg's own celebration this Saturday as part of the annual Islay Festival of Malt & Music. After living on Islay during his Diageo days, McCarron still has a soft spot for the island. "Sadly, I won't be there this weekend…I wish I was," he said. Part of his role includes watching over the maturing stocks of Ardbeg, which Glenmorangie purchased in 1997, and for which he oversaw peated malt production while managing Diageo's Port Ellen Maltings. McCarron and Lumsden have been working with Ardbeg Distillery manager Mickey Heads to increase spirit production without sacrificing the quality of the new make spirit. "We're a one million litre distillery…tiny, and we haven't been making a million litres ever, but the last two years we've managed to do it and I'm really happy with the quality of the spirit."
McCarron's designation as Lumsden's eventual successor could mean a lengthy wait, as the boss is still years away from retirement age. Making whisky requires a lot of patience – something McCarron has a lot of. "The longer (Lumsden) stays, the more guaranteed the success and the future of the two distilleries will be," he says.
For now, his job as Bill Lumsden's "right-hand man" is to watch out for any speeding buses.
"Hopefully, I pull him out of the way and we both get away unscathed," he laughs. "That's a scary thought…taking a bullet for Bill."
Links: Ardbeg | Glenmorangie
---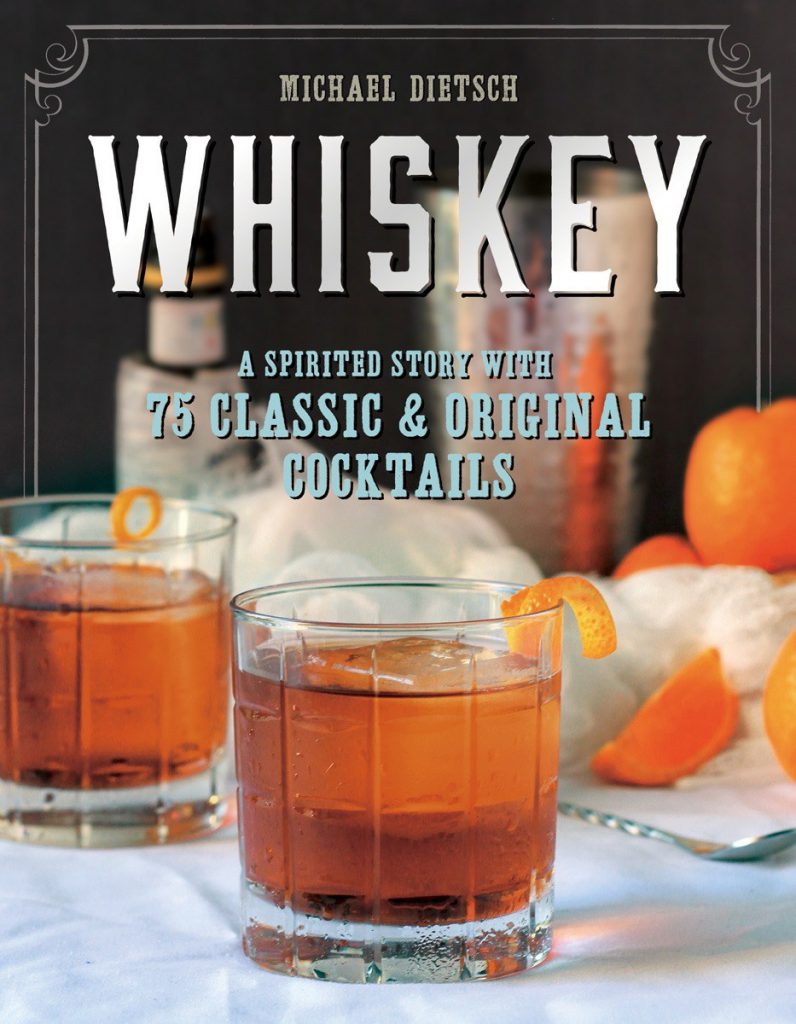 May 20, 2016 – It's hard to write a book about whisky. Make it too elementary so newcomers will understand, and longtime whisky connoisseurs will roll their eyes. Make it too detailed, and the longtime whisky lovers will love it, but you'll intimidate the newcomers and continue the perception that whisky is too difficult to comprehend. That's the challenge Michael Dietsch has balanced successfully in his second drinks book "Whiskey: A Spirited Story With 75 Classic & Original Cocktails." Dietsch covers not only the history of the various types of whisky, but looks at the history of cocktails from Revolutionary War times to the present day, and does it with a lighthearted style that will keep both groups of potential readers engaged.
"There aren't very many books out there for people who are brand new to the category and don't know much about whiskey already," Dietsch said in a telephone interview. "That's what I wanted to aim the book for…the whiskey category is growing so fast now, as you know, that clearly there are a lot of new consumers coming on board and a book that's a deep dive into Scotch isn't necessarily the right thing for them." Dietsch balances the need to bring those potential future connoisseurs up to speed while providing the right amount of historical context and depth that longtime connoisseurs expect.
Listen to Mark Gillespie's interview with Michael Dietsch:

The book features (as might be gathered from the title) 75 recipes for whisky cocktails, starting with the Cherry Bounce that Martha Washington prepared for George Washington's journeys between the Revolutionary War and becoming the first President of the United States. Award-winning Vancouver mixologist Lauren Mote contributes her recipe for The Acadien, a cocktail that combines Western Canada's legendary Rye whisky with Eastern Canada's maple syrup liqueur to, as Dietsch puts it, tell "the history of Canada through a cocktail."
There's also a nod to the original recipe for the Mint Julep – without the crushed ice, and while the modern Mint Julep is the official cocktail of the Kentucky Derby, this weekend's Preakness at Baltimore's Pimlico had its own bespoke cocktail for many years. The Preakness is a Rye-based cocktail inspired originally by the popularity of locally-distilled Ryes in the Baltimore area, but was eventually replaced by the Black-Eyed Susan as the official cocktail of the Preakness. Perhaps with the resumption of Rye Whiskey distilling at several local distilleries, The Preakness might once again find its way into favor with the Maryland Jockey Club, which operates Pimlico.
In short, "Whiskey: A Spirited Story With 75 Classic & Original Cocktails" comes highly recommended as not only a guide to whisky's origins and differences, but old and new ways to enjoy the water of life. The photography by Dietsch and his wife, Jennifer Hess, is outstanding as well. By the way, don't miss Dietsch's explanation of the differences between "whisky" and "whiskey" in the beginning…don't want to spoil it for you.
Editor's note: This article has a link to purchase the book in the WhiskyCast Bookstore powered by Amazon.com. CaskStrength Media receives a small commission on all sales. 
Links: "Whiskey: A Spirited Story With 75 Classic & Original Cocktails" 
---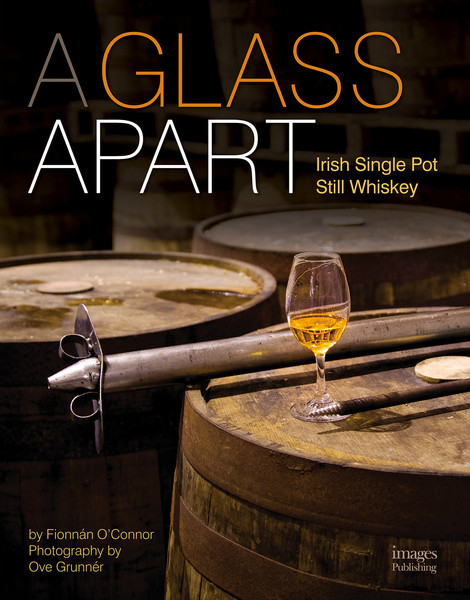 March 13, 2016 – While today's Irish Whiskies are known largely as smooth, mellow, triple-distilled drams, the sub-category known as "Single Pot Still" whiskies is enjoying a resurgence in interest. While triple-distilled as their more widely-available blended cousins, these whiskies are currently produced from a combination of malted and unmalted barley and use pot stills exclusively (blended Irish whiskies use a percentage of pot still whiskies with a much larger percentage of spirit from column stills). While the name "Single Pot Still" is a more recent term, so-called "Pure Pot Still" whiskies were the predominant style during the golden era of Irish Whiskey that ended a century ago with the combination of the Irish Civil War, World War II, and the advent of Prohibition in the United States.
Fionnán O'Connor is a postgraduate researcher at Dublin's Trinity College, and started looking into the history of Irish Whiskey while studying medieval history as an undergraduate. In late 2015, he published his first book, "A Glass Apart: Irish Single Pot Still Whiskey". While studying at the University of California Berkeley, he taught classes on whisky appreciation and worked as a brand ambassador for Bushmills, and now works as a historical consultant for Tullamore and several other Irish distilleries. He is also an active member of the Irish Whiskey Society.
Fionnán was one of the presenters during a recent Tullamore D.E.W.-sponsored press trip for a group of whisky writers and journalists, including WhiskyCast's Mark Gillespie. While traveling on a bus from Tullamore to Dublin, they had the chance to talk about the history of Irish Whiskey, along with some of the characters that helped grow – and tear apart – Ireland's national drink.
Editor's note: While this interview was conducted during a Tullamore D.E.W. press trip in which travel expenses were covered, full editorial control over the content of this story and our interview remains with WhiskyCast. 
Links: Irish Whiskey Society
---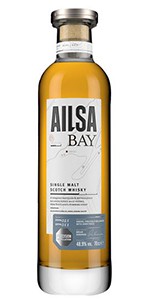 February 14, 2016 – Ailsa Bay Distillery is tucked away inside the William Grant & Sons-owned Girvan distillery complex in Ayrshire, Scotland, and now, nine years after opening its doors, the first single malt Scotch whisky from the distillery is on sale. The no-age-statement malt comes from one of the three styles of peated spirit produced at Ailsa Bay, according to Kevin Abrook of William Grant & Sons.
"We knew we couldn't out-Islay Islay," Abrook said in a telephone interview. "What we wanted to do was celebrate that at a modern distillery using the latest methods but still obviously adhering to the traditions that are in single malt whisky."
Listen to Mark Gillespie's interview with Kevin Abrook:

The distillery was designed to produce whisky for use in the company's blends, but also gave Master Blender Brian Kinsman a chance to experiment with a new style of maturation. According to Abrook, the "cask-starting" process uses small casks previously used at New York's Tuthilltown Spirits for Hudson Baby Bourbon to give the new make spirit an initial boost for several months before the whisky is transferred to a mix of traditional-size refill, first-fill, and Virgin Oak barrels for the rest of the maturation period.
Essentially, the process is the exact opposite of "finishing", in which distillers put mature whisky into a different style of cask to add unique flavor characteristics. "If you cook a roast in the oven, you put it on high for 200º (ºC, or around 392º F) and then after 20 minutes, you take it out and lower the temperature," Abrook said. "You give the maturation a real boost in the small ex-Hudson casks so you've got a great liquid-to-wood ratio, and that accelerates the maturation."
The Ailsa Bay single malt is bottled at 48.9% ABV, and is available at UK retailers and in several Nordic countries with a recommended retail price of £55 ($79 USD).
Links: William Grant & Sons
---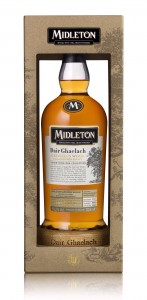 February 14, 2016 – In a few weeks, a team of foresters will visit a stand of trees at an undisclosed site near Dublin and select several mature Irish Oak trees to be felled. Those trees will make their way to a Spanish cooperage to be turned into barrels for use in maturing a future edition of Midleton Dair Ghaelach. The single pot still Irish whiskey made its debut in Ireland and Europe in early 2015, and has now been released in the US along with Green Spot Chateau Lèoville Barton, a version of the classic Green Spot finished in Bordeaux wine casks from the chateau in St. Julien, France.
Kevin O'Gorman is the Master of Maturation for Irish Distillers, based at Midleton Distillery in County Cork, and leads the Irish Oak project. Dair Ghaelach was the first whiskey to be matured in Irish Oak in at least a century, largely because of decades of deforestation during the Industrial Revolution in Ireland that left Ireland with little usable hardwood forests. Recent efforts to increase the amount of forest cover have now allowed for sustainable forestry practices such as the Dair Ghaelach project.
In Episode 576 of WhiskyCast, we briefly heard from Kevin O'Gorman about Dair Ghaelach and Irish Oak, but time constraints did not allow us to use the entire interview.
Listen to Mark Gillespie's interview with Kevin O'Gorman:
Tasting notes for Midleton Dair Ghaelach and Green Spot Chateau Lèoville Barton are available at the WhiskyCast web site.
---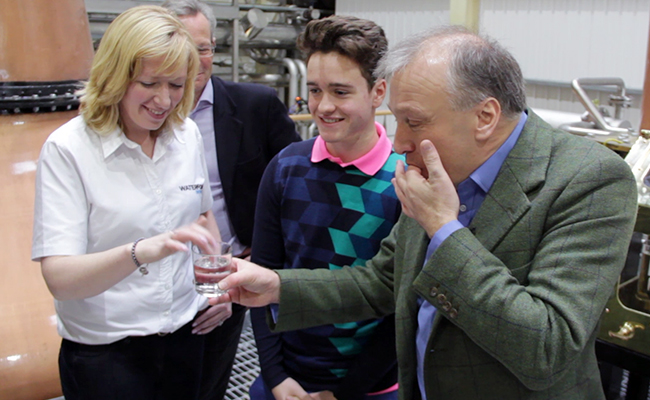 December 13, 2015 – Ireland's newest distillery came to life this past week when the stills were fired up for the first time at Waterford Distillery, just a year and a week after Mark Reynier's Renegade Spirits bought the former Guinness brewery in Waterford and started the process of turning it into a whiskey distillery. In this WhiskyCast In-Depth interview, Reynier talked with WhiskyCast's Mark Gillespie about his plans for making single malt whiskey in Ireland, the stills that his team at Bruichladdich "liberated" from the soon-to-be demolished Inverleven Distillery, the lessons he learned at Bruichladdich that he'll apply at Waterford, and how he not only made peace with the man who engineered his departure from Bruichladdich…but brought him on board as a director at Waterford.
Editor's note: WhiskyCast was invited to attend the distillation ceremony as a guest of Renegade Spirits. However, as with all of our content, full editorial control over this story remains with WhiskyCast.
Links: Waterford Distillery
---
November 1, 2015 – In the wake of the latest controversy involving Compass Box's disclosure of the exact recipes for its two most recent releases, the reaction on social media has been largely one of support for Compass Box and criticism for the rest of the Scotch Whisky industry, with demands that laws be changed to allow more transparency.

Compass Box was pressured by the Scotch Whisky Association to revise its marketing materials for "This is not a luxury whisky" and the Flaming Heart 15th Anniversary Edition to remove the age statements for all of the whiskies used in both blended malts. According to SWA legal affairs director Magnus Cormack, a competing whisky producer raised the issue on the grounds that Compass Box's disclosure violates both the Scotch Whisky Act of 2009 and corresponding European Union legislation banning all spirits producers from disclosing any age-related information other than the age of the youngest spirit that goes into a blend. While the SWA has no enforcement power of its own, Scotch Whisky producers are now required to register with HM Revenue and Customs and are subject to compliance audits under the Geographical Indicator scheme that protects "Scotch Whisky" in international trade, and the agency could have imposed sanctions against Compass Box had the changes not been made.

Even as whisky consumers on social media are demanding changes in those laws, others are raising questions about why the ban was imposed in the first place. The ban was actually put in place nearly three decades ago, largely to protect the industry from itself – according to the industry executive who led the push for the ban, former United Distillers and Chivas Brothers executive James Espey. While at United Distillers (one of Diageo's predecessor companies), Espey and colleague Tom Jago were responsible for creating Johnnie Walker Oldest – now known as Johnnie Walker Blue Label.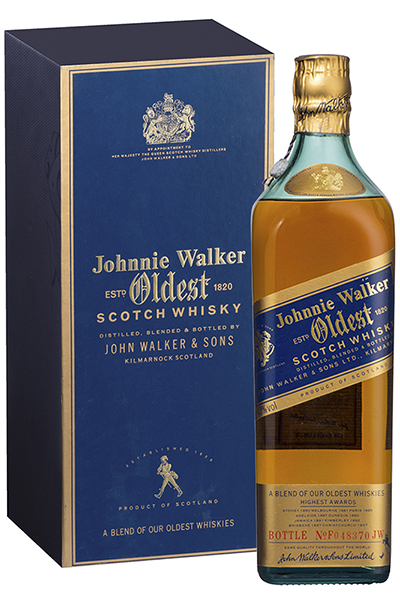 In a March, 2014 interview with WhiskyCast's Mark Gillespie, Espey explained the genesis of the age statement restrictions in context with the creation of Johnnie Walker Oldest:
"We found a barrel of 60-year old, which we blended a little bit predominantly with 15-year-old…it was young, but it was a brilliant blend. Tom created a bottle as you would imagine it a hundred years ago, and we called it Johnnie Walker Oldest. And we launched it carefully, priced it appropriately as it is today, got it on the Concorde and all over the place and it took off."

"The only thing that changed is when I left the company and became the president of Chivas Brothers, my main brand was Royal Salute, which I knew was 21 (years old). Now, it was an outstanding whisky, and I'm not sure what age it is today, but that's not the point. We found there was a new man at United Distillers who had come from McKinsey (the consulting firm) – nothing to do with the heritage of the industry, and he was pushing in nightclubs in Taiwan 'Johnnie Walker Oldest – 60 years of age…Royal Salute 21'. That's ethically immoral and incorrect…so we got the law changed,  and the law says today you can only mention the youngest age of any whisky in the blend." 
What would it take to change the laws? Given that there appears to be little interest in doing so within the whisky industry, any change is unlikely, especially given that it would require changing not only the UK's law, but changing the overriding European Union law as well. The SWA's Magnus Cormack put it bluntly in his statement:
"The law is an EU law. Neither the UK nor the SWA can derogate from it. A change would require agreement by the 28 Member States, and pre-supposes that all other spirits sectors would be in agreement."
Now, if the push by Prime Minister David Cameron's government to hold a referendum on continued UK membership in the European Union were to result in the so-called "Brexit", that would still not solve the problem. While the UK and Scottish Parliaments would be free to amend the Scotch Whisky Act of 2009, the EU law would still apply to all Scotch Whisky exported to the remaining EU member nations. In addition, US law also mandates that any whisky that carries an age statement refer to the age of the youngest whisky in the bottle.
In short, Robert Merton's Law of Unintended Consequences has been proven once again. What was originally intended to prevent unethical competition in the whisky industry now prevents the industry from being more transparent, and fixing it means the likelihood of more unintended consequences.
Be careful what you wish for…
Links: Compass Box | Scotch Whisky Association
---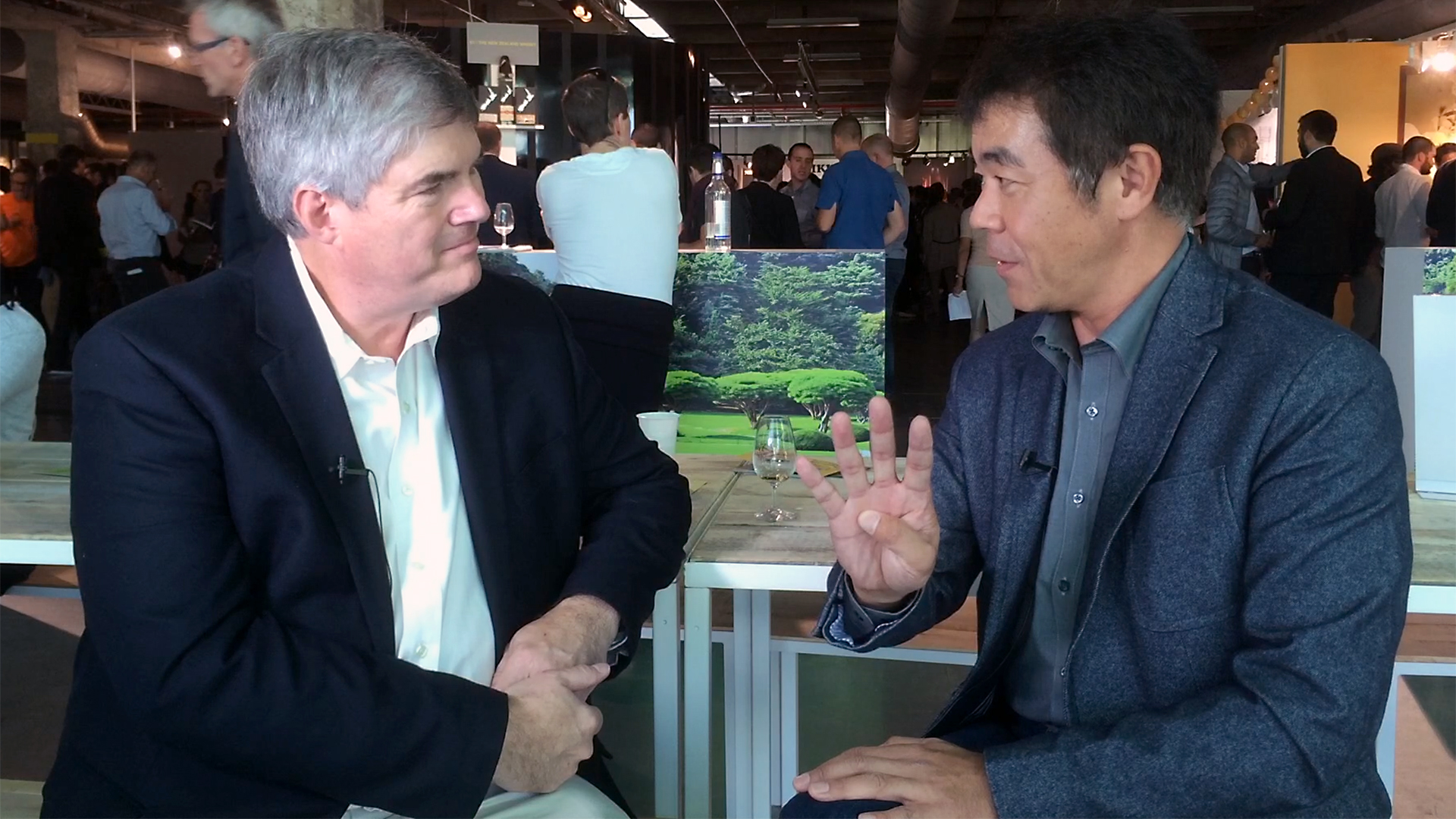 October 10, 2015 – As a rule, Japanese whisky makers tend to blend into the crowd at whisky festivals. For instance, Nikka chief blender Tadashi Sakuma was able to walk around the recent Whisky Live Paris in relative anonymity. Ichiro Akuto is the exception. Known for his legendary "Playing Cards" series of whiskies from the now-closed Hanyu Distillery, which his family owned for many years, Akuto now makes whisky at his Chichibu Distillery in the foothills of Mt. Kobu northwest of Tokyo and close to the Hanyu Distillery site. While the first release of Chichibu single malt only came out in 2011, Auto's young whiskies are already highly regarded by whisky fans around the world.
During Whisky Live Paris, Ichiro Akuto sat down with WhiskyCast's Mark Gillespie for an interview:
WhiskyCast: Tell me about your start and your family's history in the whisky business…
Ichiro Akuto: Our family business dates back to 1625 as sake brewers, and in 1941, my grandfather set up a new headquarters and factory producing pot rum and sake, shōchū, liquor, wine, and so on…including whisky.
WhiskyCast: This was the Hanyu Distillery, right?
Ichiro Akuto: That's right, and my father had to sell our company. Business was not good with the recession in the economy, but the new owner was not really interested in whisky because at that time, the whisky market was shrinking. The new owner was only interested in sake and shōchū…a very quick business. Whisky needed space and time. I wanted to release the Hanyu whisky because some of the whisky was almost 20 years old…kind of children approaching 20 years old, so I decided to set up a new company. But in the future, the Hanyu whisky will be consumed, so I had to set up a new distillery to continue in the whisky business. So, in 2008, we started making whisky in Chichibu.
WhiskyCast: And you've gone what would best be described as "old school" at Chichibu. You have a cooperage on site, you've had one of Japan's last remaining coopers teach your staff how to make barrels, and you're doing everything at Chichibu the way it was done by your grandfather and your family at Hanyu for years…and the way it was really done traditionally in Scotland as well.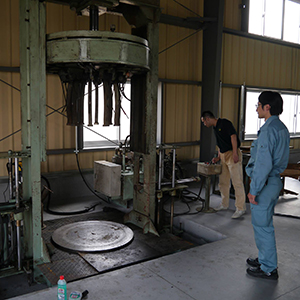 Ichiro Akuto: Actually, my father and grandfather didn't have a cooperage. There were two independent cooperages in Japan and we purchased casks from the cooperages, but one of them decided to close the cooperage. Once a year, we went there and he trained us how to make cooperage. Three years ago, he was approaching 86 years old…very old guy, and he had no successor, so he decided to close the cooperage. There was good machinery, although very old, left…and I didn't want them to be thrown away…so I asked him to let us purchase the old machinery, then I set up our cooperage on-site.
WhiskyCast: Tell me how you came up with the idea for the Playing Cards series, because that's what you're most well-known for…that series of 54 single malts from Hanyu released over several years that people around the world go nuts over. How did you come up with that idea?
Ichiro Akuto: Last year, we finished the Cards series with 54 labels (all four suits and two Jokers) and it took about nine years At first, I just wanted to release four single casks, and I talked about ideas for the labels with my friend, a designer…he also likes whisky at bars. We talked a lot about the idea for single casks, and we hit upon the idea that playing cards had four suits…we agreed, so then we made up the labels. The first four cards were very strong cards, because I didn't think that the Cards whisky would be a series….at the time, I just thought four cards. But after that, once the very unique label on the bottles (appeared) at the bars, the customers would ask the bartender "what was that?" The label was unique, the quality was good, so the popularity was getting higher among bartenders. Then, I decided to release a whole Cards (series) after that.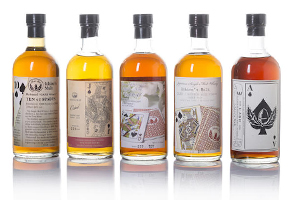 WhiskyCast: A set of the complete series, all 54 bottles, sold earlier this summer at Bonham's in Hong Kong for about $400,000 (USD)…
Ichiro Akuto: Crazy… (shaking his head)
WhiskyCast: Does this surprise you that it would go for that much, and why?
Ichiro Akuto: I'm not sure, because I just make and sell whisky. I made it for drinking…not to sit in a room or something. In a sense of speaking, I'm not sure why it gets such a high price.
WhiskyCast: Because of the rarity, because of the quality…all those things combined? Maybe you should have priced it higher originally…somebody else is making all that money off that whisky now…
Ichiro Akuto: At least we don't get that money… (laughing)
WhiskyCast: What's happening at Chichibu these days…how's the whisky coming along?
Ichiro Akuto: I often taste every cask, and now it's getting really, really nice. Hopefully, I will release 10 years old, 20 years old in the future…I hope they get much better.
WhiskyCast: You're up to about seven years old now, right?
Ichiro Akuto: Yes.
WhiskyCast: And what's your next release from Chichibu going to be?
Ichiro Akuto: Every year, we release a single malt from Chichibu Distillery, but supplies are limited, so most releases are three years old, but every year we release a peated…or "On the Way" – it contains multiple vintages, but in the future,  I hope I will release a 10-years-old in 2020.
WhiskyCast: What do you want your legacy as a whisky maker to be? Is it the Playing Cards series…is it the other whiskies from Hanyu that you've helped out with and wound up bottling later on, or the whiskies that you're creating now at Chichibu. When they tell the story of Ichiro Akuto 50 to 75 years from now after we're both long gone, what do you want to be remembered for?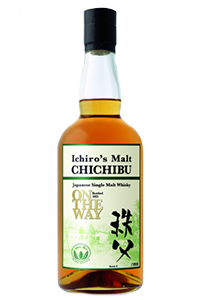 Ichiro Akuto: Ichiro's Malt…it's the brand name of our whisky. It's a bridge brand between Hanyu and Chichibu. Hanyu now, it has a very high reputation, and Chichibu is getting older and its reputation for taste is increasing. Hopefully, Ichiro's Malt is a bridge brand between the past and the future, so in the future, Chichibu will be focused on by whisky enthusiasts in the future.
WhiskyCast: And that's what people will think of when they think of Ichiro Akuto in the future, is the Chichibu?
Ichiro Akuto: (nods and smiles) Yes.
WhiskyCast: Are you still having fun…are you still enjoying making whisky?
Ichiro Akuto: Yes, I am…
WhiskyCast: Tell me about that smell when you walk into a warehouse for the first time in the morning after it's been closed up all night…and you open the door and the smell just hits you. What does that smell like?
Ichiro Akuto: It's a very comfortable place for whisky enthusiasts. In winter, it smells like wood and soil, and in summertime, it smells very, very (pauses) whisky flavor…it's a fruity and sweet flavor in the warehouse. It's different in different seasons because of the temperature differences, so I always appreciate the differences that create good whisky.
WhiskyCast: Thank you very much…
Editor's note: Thanks to Yumi Yoshikawa of Venture Whisky Ltd., the parent company of Chichibu Distillery, for serving as a translator. While Yumi translated some of our questions into Japanese, all of Ichiro Akuto's responses were in English and quoted here with minor editing as necessary.
---