This is where you'll find extended versions of WhiskyCast interviews, along with audio and video from special events that were just too long to include in a regular episode of WhiskyCast. The original idea behind WhiskyCast was to help gather oral histories of whisky, and this is a place where you can listen and learn more about the "water of life".
By Mark Gillespie
December 4, 2020 – Irish Whiskey makers have had a decade to remember. The years between 2010 and 2019 saw arguably the biggest growth for Irish Whiskey in more than a century, with global sales rising 140 percent over the decade from just under five million cases in 2010 to 12 million cases last year, according to a new report today from Drinks Ireland/Irish Whiskey Association.
The 2019 results helped the industry meet a goal set back in 2015 of reaching 12 million cases (equal to 144 million bottles) by 2020 and reflect an annual growth rate of 9.1%, continuing the segment's trend as the fastest-growing category in the spirits business. The data reflect sales of whiskies from both the Republic of Ireland and Northern Ireland, with the number of distilleries growing from just four in 2010 to 38 operating distilleries as of today.
"The past decade has been referred to as a period of revival and renaissance for Irish Whiskey, but for me, I think it should be referred to as a period of restoration as Irish Whiskey has retaken its place once again as one of the island of Ireland's leading industries," Irish Whiskey Association chairman David Stapleton said during a news briefing to release the report's findings. While the report does not yet reflect the economic impact of the Covid-19 pandemic on this year's sales, the Connacht Whiskey Company founder told reporters the industry's proven resilience will lead to a recovery in 2021 and continued growth in the next decade.
The report's release came as many parts of the Republic of Ireland's economy have started to reopen following the latest three-week long lockdown to keep coronavirus infection rates under control. Northern Ireland is scheduled to follow suit next Friday, though strict public health restrictions will remain in effect during the holidays.
"I know the challenges have been great in 2020," Irish Finance Minister Paschal Donohoe TD said during the briefing. "I really believe 2021 is going to be so much different, so much better. It's a really special day, a really important day today as we see many parts of the hospitality sector reopen, and it's really important that that goes well from both a health and an economic point of view," Donohoe said.
The report highlights approximately €1.55 billion ($1.8 billion USD) in capital investments for the industry during the decade, mostly in construction of new distilleries and visitors centers. "We knew that we were going to put a lot of work behind it…we knew there was going to be a lot of money spent in the Irish Whiskey market, we knew that there was a lot of people, entrepreneurs, going to build distilleries," Dublin Liberties Distillery master distiller Darryl McNally said during the WhiskyCast #HappyHour webcast Friday night. "We were doing a quick calculation on even, how much liquid you'd have to lay down in order to have that, bottling capacity, and all those good things, but as the years went past, you sort of went, 'OK, we're on target here,' so you sort of then believed in it and we hit the 12 million sooner than we expected even…that was great," McNally said.
The growth in Irish Whiskey sales globally over the past decade came as a natural outgrowth of the boom in Bourbon sales in the years leading up to 2010, according to Walsh Whiskey Company founder Bernard Walsh. His company was one of the few independent Irish Whiskey producers at the start of the decade with The Irishman and Writers' Tears whiskies.
"The Bourbon boom and the interest in all things Bourbon…that was migrating to Irish and the experimentation in Irish," Walsh said in a WhiskyCast interview following the publication of the report. "From 2010 on, we started to see an interest…'oh, tell me more about Irish…what do you mean there are three different styles of Irish Whiskey…' so this was all new and exciting, Walsh said.
Watch Mark Gillespie's interview with Walsh Whiskey Company founder Bernard Walsh:
Walsh projects global Irish Whiskey sales could reach 20 million cases by 2030 and will challenge Scotch Whisky's longtime dominance in the United States, which is the largest single market worldwide for Irish Whiskey. "In the next five years, we will surpass Scotch Whisky sales in the U.S. — we've already surpassed single malt Scotch sales in the U.S., and that will be a milestone, and we're gonna mark that," he said with a laugh.
Editor's note: Walsh Whiskey Company is a sponsor of the WhiskyCast podcast.
Links: Drinks Ireland/Irish Whiskey Association | Dublin Liberties Distillery  | Walsh Whiskey Company
---
Scotland's Bladnoch Distillery has more than 200 years of history, but had fallen into administration and was on the verge of being lost when Australian entrepreneur David Prior decided to buy the Wigtown landmark in 2015. Since then, he's invested millions of pounds to rebuild the distillery and its visitors center, and his team led by Nick Savage is now laying down stocks of whisky for the future while using the casks acquired with the distillery to create today's Bladnoch single malts.
WhiskyCast's Mark Gillespie interviewed David Prior on November 23, 2020 via webcam from his home base in Melbourne, Australia.
Links: Bladnoch Distillery
---
By Mark Gillespie
October 13, 2020 – Let's face it…mention Pappy Van Winkle to a whiskey lover and you'll probably get one of three responses:
"My God, that's the best whiskey ever made!"
"It's good, but there's no way in hell I'd pay THAT much for any whiskey!"
"Do you know where I can get my hands on a bottle?"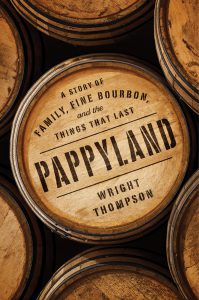 Of course, that last one is the one you're most likely to hear, especially around this time of the year. Buffalo Trace, which handles distilling, bottling, and distribution as a partner with the Van Winkle family, last week announced the 2020 releases of the Pappy Van Winkle 15, 20, and 23-year-old Family Reserve Bourbons, along with the Old Rip Van Winkle 10 and 12-year-old Bourbons and 13-year-old Rye. As usual, this year's announcement came with the recommended retail prices for the six whiskies ranging from $69.99 for the 10-year-old to $299.99 for the 23-year-old Family Reserve, along with the annual admonition to consumers to avoid the "secondary market."
However, this year's announcement came with something unusual – a request that consumers contact either the Better Business Bureau or their state Attorney General's office if they find retailers marking up the Van Winkle whiskies above the list prices. Neither the Van Winkle family, Buffalo Trace, nor its regional distributors have the ability to punish retailers themselves for price gouging, and in some states, it's even illegal for them to do so.
The story of Julian P. "Pappy" Van Winkle has been told many times over the years. As a young man, he bought out the Weller family's whiskey business in Kentucky, then merged it with the Stitzel family's business to form Stitzel-Weller. On Kentucky Derby day in 1935, he presided over the opening of the Stitzel-Weller Distillery just outside of Louisville's city limits in Shively and turned the distillery's flagship Old Fitzgerald wheated Bourbon into a legend.
His son, Julian P. Van Winkle Jr., took over when Pappy died in 1965, but was forced to sell the distillery in 1972. While he started sourcing whiskies to bottle under the Old Rip Van Winkle brand, it wasn't until after his death in 1981 when Julian Van Winkle III – we'll just call him Julian from here on – took the reins. Much as a young colt needs some time to find its legs, it took a few years and one helluva lot of hard work for the Van Winkle family's brand to catch on.
"Julian was looking far into the future, to see how this brand and whiskey would be passed from one generation to the next. The Van Winkles have done most things very well, except for that: the last time they seriously fucked up the baton pass."
That line on Page 7 should be a clue that Wright Thompson's "Pappyland" is not your typical whiskey book.
"Pappyland" begins on Kentucky Oaks Day 2017, 82 years after Pappy opened the Stitzel-Weller Distillery. Thompson, a senior writer for ESPN, was at Churchill Downs watching Julian mingle with friends, family, and more than a few admirers with a flask of Weller 12 in his pocket. That night, Thompson went with Julian as he returned to Stitzel-Weller for one of the few times since 1972 for a Derby Eve dinner party celebrating Diageo's Blade and Bow Bourbon. The memories, along with the sense of what might have been, still live deep within Julian's soul.
Julian, his wife Sissy, and their four children are revered as rock stars within the whiskey world today, especially Preston, poised to follow in his father's footsteps while his sisters develop the "Pappy & Co." lifestyle brand and their own successful careers. The Pappy Van Winkle Bourbon myth doesn't tell you how Julian dodged raccoons and other critters in a beat-to-hell bottling plant in Lawrenceburg for years, calling on Jimmy Russell down the road at Wild Turkey to ask for help with his antiquated – a nice way of saying rusty and worn-out – bottling line. The myth doesn't tell you how Sissy took the kids to the pool at the Louisville Country Club on hot summer days, but snuck them out to the car for peanut butter and jelly sandwiches at lunchtime to save money while Julian was trying to rebuild the family business and being turned down right and left by the bankers of Louisville.
The Van Winkle name carries with an air of Bourbon aristocracy, but "Pappyland" shreds the myths behind that facade to reveal the true story, one that should be inspiring and, yes, familiar to many of us. While Julian's sister, Sally Van Winkle Campbell, painted a gentle image of their father in her book "But Always Fine Bourbon," Wright Thompson tells the story of Julian Jr.'s years as a tank commander in World War II and a man capable of being both gentle and brusque. He also shares his own story – that of being the son of an alcoholic father who passed up a secure living in his father's Mississippi law firm to become a journalist (and a damn fine one at that). Thompson lays bare his own soul alongside Julian's to share some of the parallels, watching Julian and Sissy with their adult children while he and his wife Sonia fought one last battle to have a daughter of their own. (Spoiler alert: Wallace's birth plays a role in this book, along with some other heart-wrenching details I'll leave to you to find out for yourself.)
In the spirit of this book, I'm going to be honest as well. Most sons feel as though they have to compete with the legacies of their fathers, either to live up to their accomplishments or overcome their failures. As adults, many of us often wonder whether we ever truly earned the old man's respect. I used to wonder about that after my father died in March of 2012, until I realized that it would be far better to focus on making sure I earned the respect of my daughters.
This is as much a book about families as it is about Bourbon, but there's enough in here to keep the hard-core whiskey lover happy. You'll learn how Buffalo Trace eased Julian's level of stress when it bought a stake in the business in 2002, ensuring a long-term supply of whiskey and allowing him to escape the old plant in Lawrenceburg. It only eased that stress, though…because Julian spent the next 15 years obsessing over whether the whiskey Buffalo Trace was distilling for him could live up to the reputation of his dwindling stocks of Stitzel-Weller whiskey. Thompson tells the story of Julian and Preston finally tasting the samples of those first barrels, but to learn what happened in the Buffalo Trace tasting room, you'll need to read the book.
I guarantee you it'll be easier to find a copy of "Pappyland" than it is to find a bottle of Pappy…and unless you're completely heartless and soulless, it'll be just like tasting Pappy for the first time – you'll never be quite the same again.
Note: Wright Thompson and Julian Van Winkle will be taking part in an online book discussion and charity event November 16. Tickets include a signed copy of "Pappyland," with part of the proceeds going to Chef Edward Lee's Lee Initiative and its Restaurant Workers Relief Program. The ticket price also includes a raffle ticket for a bottle of Pappy Van Winkle. 
---
By Mark Gillespie
July 6, 2020 – Science has helped us figure out a lot of whisky's secrets over the last couple of decades. Gas chromatographs can show us precisely the proportions of flavor-creating compounds in a sample of "new make" spirit, allowing us to make educated guesses as to how it will mature into whisky over time in an oak barrel. Carbon-dating can tell us whether radioactive particles are present in a bottle of whisky claimed to be from before World War II, and the existence of those isotopes can definitively prove whether that claim is the truth or a fraud.
However, one elemental mystery of whisky may never be solved. In a world full of assembly-line manufacturing where identical products roll off the line to meet our consumer needs, whisky remains the mysterious stranger on the edge of the industrial park. No one knows why we can take seemingly identical casks from the same cooperage and fill them one after another with the same new make spirit, then store those casks next to each other in the same warehouse under identical conditions for the same amount of time – only to find significant differences in the whisky from each cask.
Need proof? Look no further than the three casks of 1970 Glenrothes released by Last Drop Distillers, which was founded with the goal of finding rare parcels of vintage whiskies and other spirits that had languished in the industry's equivalent of the "Island of Misfit Toys." The casks they bottle didn't fit into a blender's ideal recipe for a whisky for one reason or another; too peaty, perhaps too oily in texture, or the wrong type of wood – so they sat in a corner waiting for years until someone saw their true beauty.
But, before we look at these three whiskies, we need to go back in time almost 50 years.
When these casks were filled on December 6, 1970, the Glenrothes Distillery in the Speyside town of Rothes was owned by Highland Distillers. As with many distilleries of that day, all of its whisky was destined for blending use. Cutty Sark and The Famous Grouse were known for using a lot of Glenrothes malt, but it was in high demand by blenders all over Scotland. In fact, the first bottling of Glenrothes as a single malt wouldn't happen for 17 more years.
The whisky in today's official distillery bottlings of The Glenrothes is much different than what the distillery produced in 1970. While the floor maltings had been closed several years earlier, its malt had peat levels significantly higher than the unpeated malt in use today. In addition, the distillery also used ex-Bourbon casks much more widely in 1970, while the vast majority of today's Glenrothes spirit goes into ex-Sherry casks.
All three of The Last Drop 1970 Glenrothes whiskies were matured in ex-Bourbon casks, and are almost perfectly sequenced in number: #10586, #10588, and #10589. If we were discussing any other consumer product, there is no question that we should expect similar whiskies from each cask. While the final fate of Cask #10587 is known only to the Whisky Fairies, the other three casks were kept together for their entire maturation until they wound up with Last Drop Distillers.
Cask #10586
Our first clue that each cask is different comes from the bottling strength, since each of the three casks was bottled as it came from the barrel with no dilution. This cask was bottled at 45.3% ABV, while #10588 wound up at 44.1% and #10589 at 45%. That may be a small difference, but again, we're looking at the mysteries of maturation.
The nose is malty with gentle kisses of peat smoke, vanilla beans, dark chocolate, and touches of dried apricots, mango, and papaya. The taste starts off light and fruity at first, followed by a nice balance of spices, barley sugar, and a hint of smoke. The finish has a whiff of peat smoke, along with chocolate and a lingering touch of spices. Overall, it's luscious and vibrant with a gentle smokiness. (96 Points)
Cask #10588
While there are similarities in the three casks that can be attributed to the "distillery character," each one of the three has its own unusual characteristics.  In the case of Cask #10588, the nose is rich with orange marmalade and notes of vanilla beans, Manuka honey, a touch of smoke, and a good maltiness. The taste can be described in one word – wow! There is a great fruity character with apricots and orange peel balanced by touches of oak tannins, vanilla beans, barley sugar, and a hint of spice that lasts through the long finish along with touches of tropical fruits and a hint of oak. (95 Points)
Cask #10589
If you've ever had a campfire interrupted by rain, you're familiar with the smell of smoky, wet wood. That's the first note I get on the nose of this whisky, along with vanilla, cooked bananas, a hint of sandalwood, and touches of dried fruits. The taste is fruity and vibrant on top with fresh berries and tropical fruits. However, there's also a dark undertone of oak tannins and smoke balanced by gentle spices underneath that makes this single malt delightfully complex. The finish is very long with gentle spices and touches of fruit and smoke. Outstanding! (96 Points)
This trilogy of single casks completes a three-year series of Glenrothes bottlings by Last Drop Distillers, following their releases of 1968 and 1969 casks in 2018 and 2019 respectively. One additional difference between the three 1970 casks: the "angels' share" of evaporation affected them differently. #10586 produced 103 bottles, while #10588 only yielded 87 and #10589 just 96 bottles for an overall total of just 286 bottles for the entire world. Apparently, the angels preferred #10588 just a bit more than its siblings – but not much more!
At a recommended retail price of $6,250 USD each, it would cost you at least $18,750 to acquire the entire set…assuming that is, that you're able to find each of the three bottles at a retailer.
You might have a better chance of finding out what happened to Cask #10587.
Editor's note: Last Drop Distillers provided WhiskyCast with samples of all three 1970 Glenrothes casks. However, as with all of our content, full editorial control remains with WhiskyCast. 
Links: Last Drop Distillers
---
Since so many people are working from home, "self-isolating" or more because of the coronavirus crisis, we've decided to produce some extra content to help you pass the time.
Earlier this month during DramFest 2020 in Christchurch, New Zealand, WhiskyCast's Mark Gillespie took part in a panel discussion on "the past and future of whisky" with veteran whisky writer Charles Maclean, Michael Fraser Milne of the Whisky Galore shop in Christchurch, and moderator Dave Broom.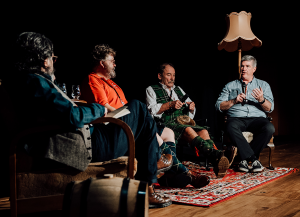 Their hour-long discussion is a bit too long for one of our regular episodes, but we thought you might enjoy listening to it on its own. The panel covered everything from the collapse of the Scotch Whisky industry in the early 80's to what the future holds given the combination of a growing craft distilling movement, global politics, and climate change.
Thanks to Michael and Stella Fraser Milne of Whisky Galore and DramFest 2020 for helping to make this special episode possible, along with the sound crew at Christchurch Town Hall and the staff at Whisky Galore.
Photos courtesy of Whisky Galore/DramFest.
---
April 2, 2019 – Let's admit something from the start. Not once in the first seven seasons of Game of Thrones have we ever seen someone drinking whisky. Wine, beer, mead…yes, but never a whisky. Perhaps if the Khaleesi had used her dragons to heat up a couple of stills, she might have taken back the Seven Kingdoms years ago. Had the Lannisters paid their debts with whisky instead of gold, they might well have never put the Iron Throne in jeopardy. And of course, nowhere do we see a "Maester Distiller."
Enough of the "what ifs," though. Diageo's partnership with HBO on the Game of Thrones Single Malt Scotch Whisky Collection isn't ground-breaking on its own, but the fact that the range includes single malts from eight different distilleries is. It would have been simpler to design a tie-in package for a couple of existing whiskies and rake in the money, but going to the time and effort to create a range of limited-edition single malts and keep them reasonably priced deserves credit.
If you're an avid Game of Thrones fan, you've probably already thought of this question. Eight whiskies? There are Seven Kingdoms. Ahhh, but you're not giving the men of Castle Black their due, and that's where we'll start tasting these whiskies created to celebrate the final season of Game of Thrones.
The Night's Watch Oban Bay Reserve (43% ABV, RRP $62.99 USD)
The "origin story" for this whisky is based on Oban's location along the western shores of Scotland at the base of a cliff that overlooks Oban Bay, much like Castle Black sits at the base of The Wall. The whisky itself carries no age statement, but the nose has subtle hints of black cherries, orange marmalade, oak, and a touch of honey in the background. The taste has notes of toasted caramel, hot fudge, a subtle touch of charred oak, and hints of dried fruits. The finish is long and warm with lingering spices, charred oak, and toasted caramel. Score: 93 points.
House Baratheon Royal Lochnagar 12 Year Old (40% ABV, RRP $64.99 USD)
Royal Lochnagar gets its name from Britain's royal family, and is located near Queen Elizabeth's Balmoral Estate in the Scottish Highlands. The distillery's single malts have always been highly regarded, but not as widely available as many whisky lovers would like, and the inclusion of Royal Lochnagar in this range is welcome. The nose has the aroma of a vanilla latté, along with raspberries, peaches, and a hint of oak sawdust. The taste is tart with notes of citrus fruits, crystallized ginger, and vanilla custard. The finish is very long with a citrusy tartness and touches of ginger and oak. Overall, a very juicy and mouthwatering dram. Score: 93 points. 
House Stark Dalwhinnie Winter's Frost (43% ABV, RRP $39.99 USD)
Of course, the Starks ruled at Winterfell, and as one of the highest distilleries in Scotland, Dalwhinnie has taken advantage of its stark weather changes to add character to its single malts. Here, the nose has notes of honey, figs, peaches, and a hint of vanilla. The taste is crisp and tart with a good balance of dried tree and citrus fruits spices, and a nice maltiness. The finish is long and tart with hints of citrus. Score: 92 points. 
House Tyrell Clynelish Reserve (51.2% ABV, RRP $59.99 USD)
The Tyrells ruled over some of the most fertile, lush farmland in Westeros (or so the story goes), and Clynelish is located in the rolling hills of the Highlands near the sea. The nose is vibrant and fruity with tropical fruits, lemon custard, vanilla pods, and subtle spices. The taste has a good balance of fruitiness and spiciness with touches of mango, pineapple, and vanilla along with peppery baking spices. The finish has lingering fruity notes, a hint of dried flowers, and a touch of sea air that give this whisky a great complexity. Score: 93 points.
House Targaryen Cardhu Gold Reserve (40% ABV, RRP $39.99 USD)
This is one of the few whiskies that's based on an existing expression in the Diageo portfolio, though the regular Cardhu Gold Reserve is not available in all markets. The nose has notes of red apples, baking spices, and hints of caramel candy and honey. The taste starts off creamy at first, followed by a burst of clove and a fruity tartness underneath with caramel apples and honey. The finish is long with a lingering tartness and a touch of clove. Score: 93 points
House Tully Singleton of Glendullan Select (40% ABV, RRP $29.99 USD)
This whisky has notes of orange marmalade, soft spices, and a hint of honey. The taste has hints of clove, raspberry jam, vanilla cream, and a nice malty touch of barley sugar. The finish is long and malty with lingering touches of clove, berries, and barley sugar. Score: 91 points.
House Greyjoy Talisker Select Reserve (45.8% ABV, RRP $44.99 USD)
The Greyjoy clan ruled the Iron Islands, and this whisky comes from Scotland's Isle of Mull. The nose is dark and smoky with a nice oakiness,  dark chocolate, campfire smoke, and the aroma of barbecued beef. The taste is spicy with chili powder, white pepper, and a hint of campfire smoke balanced by grilled fruits, toasted caramel, and a hint of honey. The finish is long, complex, and smoky with hints of pipe tobacco and old leather. Excellent! Score: 94 points.
House Lannister Lagavulin 9 Year Old (46% ABV, RRP $64.99 USD)
If you owe someone, this would be a good way to repay the debt, since "a Lannister always pays his debts." The nose is smoky with barbecue sauce and hints of heather, honey, and brine, along with a touch of dried fruits in the background. The taste is thick, smoky, and peppery with tangy barbecue sauce and tropical fruits that add a nice counterbalance along with hints of honey and toasted vanilla. The finish is long and fades away gently with touches of smoke and spices. Excellent! Score: 94 points.
In addition to the eight whiskies that make up this collection, Diageo also released the special White Walker edition of Johnnie Walker to go along with the final season of Game of Thrones.
As of this writing, we do not know who will wind up sitting on the Iron Throne when the final episode of Game of Thrones airs later this spring. With all of the plot twists between now and then, one may well need a good, stiff drink to help keep things in perspective. One of these whiskies – depending on which House or stillhouse you favor – might just help clear away the confusion.
Editor's note: Samples of the whiskies were provided by Diageo, which is also a sponsor of WhiskyCast. However, in keeping with our ethical guidelines, all control over the editorial content of this story and our tasting notes remains with WhiskyCast. 
Links: Classic Malts
---
March 28, 2019 – "What have you done!"
My mouth was puckering, trembling, and shivering all at the same time as a briny, fishy taste with just the barest hints of whisky took control of my palate – and my entire nervous system. My stomach clenched, along with the rest of my body. A few feet away, the distillery manager that presented us with this blind sample at the end of a tasting had a big grin on his face.
"What the hell is this stuff?"
This is the story of that whisky, and how I came to taste it in a prank worthy of an April Fool's joke.
Klaus Pinkernell never set out to bottle one of the world's worst whiskies in 2006, but he did want to send a message.
"At that time, it was the beginning of the movement that everyone wanted to do some sort of finishing, and everyone wanted to be the first to do something more strange," says the owner of two whisky shops bearing his name in Austria and Germany. "I said, OK folks, you call all these things serious even though they are stupid, and I decided to do something even more stupid."
At this point, we need to backtrack to the early 1990's.
At the time, Pinkernell was visiting Islay and trying to buy casks of whisky for his private collection. He succeeded in persuading Invergordon Distillers, which owned Bruichladdich Distillery at the time, to sell him some casks that were maturing at the distillery, one of which had recently been filled with new make spirit. Invergordon closed Bruichladdich in 1994, but kept a skeleton crew on hand to oversee the maturation warehouses on site with Pinkernell's casks and the rest of the distillery's inventory.
When Mark Reynier and his partners bought the distillery and reopened it in 2001, Pinkernell reached out to Islay legend Jim McEwan, who had come on board as Bruichladdich's production director. After checking Pinkernell's casks, McEwan declared the barrels as less than optimal and offered to re-cask the whisky into better-quality ex-Sherry casks. With the help of a couple of Norwegian whisky lovers Pinkernell ran into at the Bowmore Hotel, he and his friends transferred the whisky from cask to cask using an old hand pump.
"It was quite hard work, but we didn't have to do it because the Norwegians quite enjoyed it," Pinkernell said with a laugh.
By this time, Pinkernell had opened his whisky shops in Salzburg and Berlin under the Cadenhead's banner, and had moved the casks from Islay to the warehouses at Springbank Distillery in Campbeltown. With the fifth anniversary of his stores coming up, he wanted to do something memorable – while sending that message at the same time.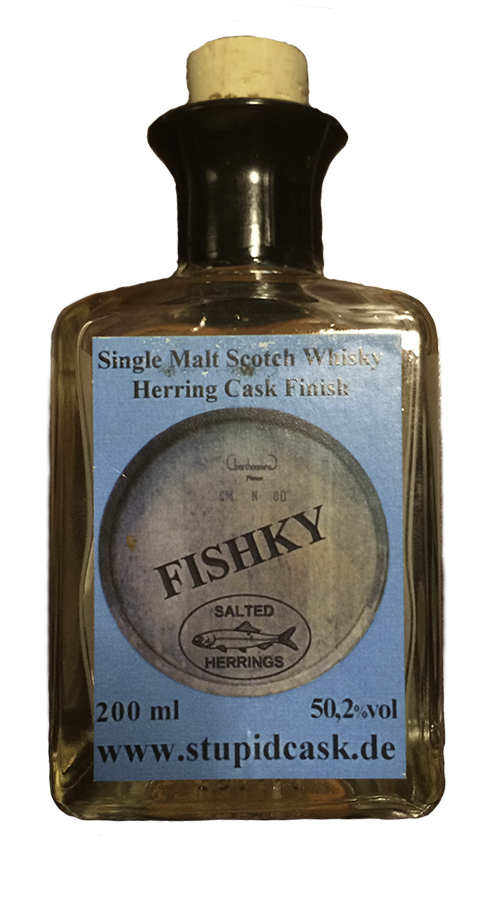 "I invented my private label called Stupid Cask and wanted to do a herring cask finish."
That's right…a herring cask finish. While others were trying to find rare wine, rum, and other types of casks to finish their whiskies in, Pinkernell wanted to return to a part of Scotch Whisky history where whiskies were kept in any kind of barrel that could hold liquid…including the briny sea water used to keep herring fresh from port to market.
Trouble is, those days were long past, and herring is transported in large plastic totes instead of barrels, and Pinkernell's attempts to source a herring cask were unsuccessful.
"I found a fish trader just outside Berlin who was willing to help out, but obviously, he had the fish but no cask." A cooperage near Berlin just happened to have a freshly-emptied red wine cask, the fish trader filled it with herring fillets, and Pinkernell arranged to get that cask of 14-year-old Bruichladdich moved from Campbeltown to Germany. At the time, it was still legal to export whole casks of single malt whisky from Scotland.  The practice has since been banned, though Pinkernell's diabolical project had nothing to do with it.
After six months of "seasoning," the herring and red wine cask was ready to be filled with whisky. At this point, Pinkernell hesitated briefly.
"What if the whole thing works out horribly wrong?"
At this point, asking that question and answering it with the likely reality of ruining an entire cask of vintage single malt whisky worth thousands of dollars might have dissuaded most people from plowing ahead. Klaus Pinkernell is not most people. He decided to only use half of the Bruichladdich cask and keep the rest of the whisky in its original cask.
Six months later, he hand-bottled both casks for the fifth anniversary of the shops. The whisky from the Bruichladdich cask carried a standard Cadenhead's label, while the whisky from the herring cask bore a label that will live infamously in whisky history.
Fishky.
"I think the thing was quite funny," Pinkernell said years later. "The idea was to show funny things can be done, and the even better thing is that you could even sample the whisky before the finish and including the finish from the same cask, so you can really see what a finish can do within a couple of months."
As one might expect, there was a great deal of hyperventilating and clutching of pearls among the whisky purists of that time, and Pinkernell eventually decided to pull his remaining bottles of Fishky off the market. As the legend of Fishky circulated on the Internet, he kept getting inquires about whether any bottles might still be available. Since Fishky was bottled in 200ml bottles, he still had – and has – some for sale through what's now known as Pinkernell's Whisky Market.
Fast forward to October of 2014. I was visiting the Inver House distilleries in Scotland with a small group of writers when we did an online Twitter tasting in the conference room at Balblair Distillery in Edderton. Distillery manager John MacDonald had just led us through the Balblair single malt range and we'd all put our smartphones and tablets down when he said something I'll never forget.
"I've got something else I want you to taste…"
He brought out a tray of Glencairn glasses, and we started nosing them. Briny aroma, but something not out of place in a whisky matured near the ocean. The nose was keeping a secret, though…a secret that became instantly apparent as soon as I took a sip. These are my tasting notes from that night, leading to a score of 40 out of a possible 100 points.
The nose hides the secrets of this whisky well, with notes of malt, brine, and heather. The taste reveals all, though, with sour butyric baby vomit, brine, and stomach acid. The finish is salty, greasy, and nasty with no redeeming qualities.
"You impressed me very much that day, Mark," John MacDonald said this week in a telephone interview. "You were one of the few people that reacted as I reacted when I tasted it…as you know, there's a few other people sitting at that table who will remain nameless that were saying this, that, waxing lyrical about it," he said."I'll never forget it, Mark…I'm sorry. It was a bit cruel, but it was for my amusement," he laughed.
MacDonald doesn't remember where that bottle of Fishky came from. Klaus Pinkernell knows exactly how it got to Balblair.
"I do remember that I was at Balblair Distillery and I left these bottles there, so the bottle that you had was one that I actually brought to Balblair myself," he said.
Thanks, Klaus.
Technically, Fishky's 40-point score is tied for the lowest score I've ever given to a whisky. For April Fool's Day in 2016, Westland Distillery released Inferno, a single malt matured for more than 4 years in a barrel previously used for maturing a well-known and heavily trademarked brand of Louisiana hot pepper sauce. Equally nasty in its own right, but released with a sense of humor – so much so that when I scored it a 40, Westland's Steve Hawley told me in an email that "we would have been offended with a higher score."
There's an argument for tasting bad whiskies, since they help you appreciate the good ones all the more. One sip of Fishky is enough to lock in that appreciation for a lifetime, though.
Links: Pinkernell's Whisky Market | Balblair
---
On June 22, 2018, half of Warehouse 30 collapsed at the Barton 1792 Distillery in Bardstown, Kentucky, spilling around 9,000 barrels of whiskey. The rest of the warehouse collapsed on July 4 with another 9,000 barrels. Crews have been working since then to recover as many barrels – and as much Bourbon – as possible. The site is closed to reporters, but Sazerac has released a video and new images showing cleanup work at the warehouse site.
Links: Barton 1792 Distillery | Sazerac
---
July 26, 2018 – To show their unity, leaders of the nine major whisky trade organizations planted an American White Oak tree on the corner of 9th and Main Street outside the Frazier History Museum in downtown Louisville following their first-ever summit meeting. Even before the first shovel of dirt was turned, observers noted that the raised brick-lined bed had routinely been damaged by vehicles using 9th Street to merge onto Interstate 64 and wondered how long the tree would last before being wiped out by a recklessly driven truck.
It's an apt metaphor for the state of the whisky industry weeks into a global trade dispute pitting the United States against many of its most important global trading partners, many of whom have imposed punitive tariffs on imports of American-made whiskies to retaliate for the Trump Administration's tariffs on their exports of steel and aluminum to the US. Years of growing global whisky sales spurred by reduced – or eliminated – import tariffs are now threatened as whisky has become one of many pieces in play in a political game of "chicken." With their collective futures at stake, the Kentucky Distillers Association invited colleagues from the other trade associations representing the world's major whisky and distilled spirits producers to a two-day conference in Louisville.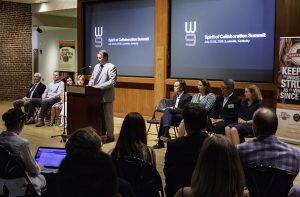 "Together, we form the W9, or the 'Whisky 9,' to serve as an open exchange of ideas, strategy, and a shared commitment to preserving free and fair trade," KDA President Eric Gregory announced at a news conference following the closed-door "Spirit of Collaboration Summit." As an example, Gregory cited the significant growth of whisky traded between the US and the European Union following the elimination of most tariffs in 1997 and similar expansion in trade with Canada following the elimination of tariffs in 1995 with the North American Free Trade Agreement.
"The bottom line: the world whisky market is large, and it's growing, and we all drink one another's whisky," Gregory said. "Trade agreements have been important to the development of this large and diverse market that consumers have chosen to create, and that's why we started expressing concern when our industry was caught in the middle of this dispute." The summit produced unanimous agreement on a resolution calling on world leaders to de-escalate the current trade conflicts and return to a system of "free and fair trade."
Listen to the "Spirit of Collaboration Summit" news briefing:

The summit started late Wednesday, hours after a White House meeting between US President Donald Trump and European Commission President Jean-Claude Juncker. That meeting, while not producing any concrete agreements, resulted in both sides agreeing to hold off on additional sanctions against each other while negotiators work toward a resolution of the original dispute over steel and aluminum trade. If – and only if – an agreement on that issue can be reached, it would clear the way for the European Union to remove its tariffs on American-made whiskies and other exports.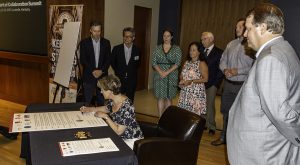 Without exception, the industry leaders praised that development as a positive step. According to Scotch Whisky Association CEO Karen Betts, the Trump-Juncker meeting "clearly has put a positive momentum behind trade talks between Europe and the US, and we hope that those now move forward to strengthen that really important trading relationship."
The pause in rhetoric would appear to delay the retaliatory moves threatened by the Trump Administration following the tariffs imposed by the EU, Canada, China, Mexico, and Turkey over the last month. The administration's public position has been that retaliation could come in the form of new tariffs on imported cars and auto parts. While Japan has not yet joined the list of countries targeting American whiskies, Jun Tanaka of the Japan Spirits & Liqueurs Makers Association predicted his country would likely follow suit if the US made that move.
"I think our government has tried to persuade the US government in a quiet way," he said in an interview. "If things come to cars and automobile parts, an important Japanese product, they would think about retaliating." Tanaka also pointed out that his country is also being affected by the current tariffs on American whiskies, since Suntory (Beam) and Kirin (Four Roses) have significant investments in the United States.
While some of the large American whisky makers have been able to minimize the impact of tariffs on their export sales by shipping extra stock to Europe and Canada in the first half of 2018, the largest impact so far has been felt by craft distillers. Margie Lehrman of the American Craft Spirits Association represented her members at the summit, and noted several instances where the trade dispute created problems even before the imposition of tariffs.
"Just the threat of some sort of trade war was enough to cut down discussion and any kind of negotiations on contracts," she said, citing a specific case where an importer forced one of her members to reduce its wholesale prices by 15 percent while an export shipment were in transit or risk losing the entire deal. "I have one distiller in Ohio who let me know he expected next year to do about 25 percent of his volume going to export, and now it's been cut down to 15 percent. In terms of dollars, that makes a big difference…he didn't say what is not going to happen, but I've talked with others who said 'you know, we were just about to institute these health benefits for employees…might not be able to do so now.'"
Lehrman and her colleagues also cited the ripple effect of tariffs throughout the economy, especially for agricultural-based products like whisky. The effect has been felt widely throughout the agriculture industry, which was promised up to $12 billion in assistance by President Trump this week. However, the tariffs reach all the way from agriculture to transportation, the manufacturers who produce bottles and packaging, and other industry sectors.
Gregory's team put together the summit in just a couple of weeks, and he deemed it a success. While members of Congress were turned away after requesting to attend the meeting, they have been in regular contact with the KDA. It also appears the industry leaders will be in regular contact with each other following this inaugural summit, as Gregory noted.
"I thought it was a good sign when we all met last night and got talking…and people were already talking about where to hold the summit next year," he said.
Listen to this week's WhiskyCast for more coverage of the Spirit of Collaboration Summit.
Links: Kentucky Distillers Association | Scotch Whisky Association | American Craft Spirits Association
---
With the ongoing trade dispute between the US and Canada, it's important to keep in mind that Canadian Whisky remains extremely popular in the US. Crown Royal has released the latest edition in its Noble Collection series – a 13-year-old "Blender's Mash" using one of the five different styles of whisky Crown Royal makes at its distillery in Gimli, Manitoba. They call it a different name at the distillery, though…and when they tried to use that "Bourbon Mash" name in the US…let's just say it didn't go quite as planned.
Links: Crown Royal
---