This is where you'll find extended versions of WhiskyCast interviews, along with audio and video from special events that were just too long to include in a regular episode of WhiskyCast. The original idea behind WhiskyCast was to help gather oral histories of whisky, and this is a place where you can listen and learn more about the "water of life".
By Mark Gillespie
July 6, 2020 – Science has helped us figure out a lot of whisky's secrets over the last couple of decades. Gas chromatographs can show us precisely the proportions of flavor-creating compounds in a sample of "new make" spirit, allowing us to make educated guesses as to how it will mature into whisky over time in an oak barrel. Carbon-dating can tell us whether radioactive particles are present in a bottle of whisky claimed to be from before World War II, and the existence of those isotopes can definitively prove whether that claim is the truth or a fraud.
However, one elemental mystery of whisky may never be solved. In a world full of assembly-line manufacturing where identical products roll off the line to meet our consumer needs, whisky remains the mysterious stranger on the edge of the industrial park. No one knows why we can take seemingly identical casks from the same cooperage and fill them one after another with the same new make spirit, then store those casks next to each other in the same warehouse under identical conditions for the same amount of time – only to find significant differences in the whisky from each cask.
Need proof? Look no further than the three casks of 1970 Glenrothes released by Last Drop Distillers, which was founded with the goal of finding rare parcels of vintage whiskies and other spirits that had languished in the industry's equivalent of the "Island of Misfit Toys." The casks they bottle didn't fit into a blender's ideal recipe for a whisky for one reason or another; too peaty, perhaps too oily in texture, or the wrong type of wood – so they sat in a corner waiting for years until someone saw their true beauty.
But, before we look at these three whiskies, we need to go back in time almost 50 years.
When these casks were filled on December 6, 1970, the Glenrothes Distillery in the Speyside town of Rothes was owned by Highland Distillers. As with many distilleries of that day, all of its whisky was destined for blending use. Cutty Sark and The Famous Grouse were known for using a lot of Glenrothes malt, but it was in high demand by blenders all over Scotland. In fact, the first bottling of Glenrothes as a single malt wouldn't happen for 17 more years.
The whisky in today's official distillery bottlings of The Glenrothes is much different than what the distillery produced in 1970. While the floor maltings had been closed several years earlier, its malt had peat levels significantly higher than the unpeated malt in use today. In addition, the distillery also used ex-Bourbon casks much more widely in 1970, while the vast majority of today's Glenrothes spirit goes into ex-Sherry casks.
All three of The Last Drop 1970 Glenrothes whiskies were matured in ex-Bourbon casks, and are almost perfectly sequenced in number: #10586, #10588, and #10589. If we were discussing any other consumer product, there is no question that we should expect similar whiskies from each cask. While the final fate of Cask #10587 is known only to the Whisky Fairies, the other three casks were kept together for their entire maturation until they wound up with Last Drop Distillers.
Cask #10586
Our first clue that each cask is different comes from the bottling strength, since each of the three casks was bottled as it came from the barrel with no dilution. This cask was bottled at 45.3% ABV, while #10588 wound up at 44.1% and #10589 at 45%. That may be a small difference, but again, we're looking at the mysteries of maturation.
The nose is malty with gentle kisses of peat smoke, vanilla beans, dark chocolate, and touches of dried apricots, mango, and papaya. The taste starts off light and fruity at first, followed by a nice balance of spices, barley sugar, and a hint of smoke. The finish has a whiff of peat smoke, along with chocolate and a lingering touch of spices. Overall, it's luscious and vibrant with a gentle smokiness. (96 Points)
Cask #10588
While there are similarities in the three casks that can be attributed to the "distillery character," each one of the three has its own unusual characteristics.  In the case of Cask #10588, the nose is rich with orange marmalade and notes of vanilla beans, Manuka honey, a touch of smoke, and a good maltiness. The taste can be described in one word – wow! There is a great fruity character with apricots and orange peel balanced by touches of oak tannins, vanilla beans, barley sugar, and a hint of spice that lasts through the long finish along with touches of tropical fruits and a hint of oak. (95 Points)
Cask #10589
If you've ever had a campfire interrupted by rain, you're familiar with the smell of smoky, wet wood. That's the first note I get on the nose of this whisky, along with vanilla, cooked bananas, a hint of sandalwood, and touches of dried fruits. The taste is fruity and vibrant on top with fresh berries and tropical fruits. However, there's also a dark undertone of oak tannins and smoke balanced by gentle spices underneath that makes this single malt delightfully complex. The finish is very long with gentle spices and touches of fruit and smoke. Outstanding! (96 Points)
This trilogy of single casks completes a three-year series of Glenrothes bottlings by Last Drop Distillers, following their releases of 1968 and 1969 casks in 2018 and 2019 respectively. One additional difference between the three 1970 casks: the "angels' share" of evaporation affected them differently. #10586 produced 103 bottles, while #10588 only yielded 87 and #10589 just 96 bottles for an overall total of just 286 bottles for the entire world. Apparently, the angels preferred #10588 just a bit more than its siblings – but not much more!
At a recommended retail price of $6,250 USD each, it would cost you at least $18,750 to acquire the entire set…assuming that is, that you're able to find each of the three bottles at a retailer.
You might have a better chance of finding out what happened to Cask #10587.
Editor's note: Last Drop Distillers provided WhiskyCast with samples of all three 1970 Glenrothes casks. However, as with all of our content, full editorial control remains with WhiskyCast. 
Links: Last Drop Distillers
---
Since so many people are working from home, "self-isolating" or more because of the coronavirus crisis, we've decided to produce some extra content to help you pass the time.
Earlier this month during DramFest 2020 in Christchurch, New Zealand, WhiskyCast's Mark Gillespie took part in a panel discussion on "the past and future of whisky" with veteran whisky writer Charles Maclean, Michael Fraser Milne of the Whisky Galore shop in Christchurch, and moderator Dave Broom.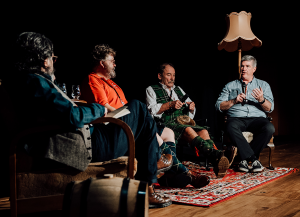 Their hour-long discussion is a bit too long for one of our regular episodes, but we thought you might enjoy listening to it on its own. The panel covered everything from the collapse of the Scotch Whisky industry in the early 80's to what the future holds given the combination of a growing craft distilling movement, global politics, and climate change.
Thanks to Michael and Stella Fraser Milne of Whisky Galore and DramFest 2020 for helping to make this special episode possible, along with the sound crew at Christchurch Town Hall and the staff at Whisky Galore.
Photos courtesy of Whisky Galore/DramFest.
---
April 2, 2019 – Let's admit something from the start. Not once in the first seven seasons of Game of Thrones have we ever seen someone drinking whisky. Wine, beer, mead…yes, but never a whisky. Perhaps if the Khaleesi had used her dragons to heat up a couple of stills, she might have taken back the Seven Kingdoms years ago. Had the Lannisters paid their debts with whisky instead of gold, they might well have never put the Iron Throne in jeopardy. And of course, nowhere do we see a "Maester Distiller."
Enough of the "what ifs," though. Diageo's partnership with HBO on the Game of Thrones Single Malt Scotch Whisky Collection isn't ground-breaking on its own, but the fact that the range includes single malts from eight different distilleries is. It would have been simpler to design a tie-in package for a couple of existing whiskies and rake in the money, but going to the time and effort to create a range of limited-edition single malts and keep them reasonably priced deserves credit.
If you're an avid Game of Thrones fan, you've probably already thought of this question. Eight whiskies? There are Seven Kingdoms. Ahhh, but you're not giving the men of Castle Black their due, and that's where we'll start tasting these whiskies created to celebrate the final season of Game of Thrones.
The Night's Watch Oban Bay Reserve (43% ABV, RRP $62.99 USD)
The "origin story" for this whisky is based on Oban's location along the western shores of Scotland at the base of a cliff that overlooks Oban Bay, much like Castle Black sits at the base of The Wall. The whisky itself carries no age statement, but the nose has subtle hints of black cherries, orange marmalade, oak, and a touch of honey in the background. The taste has notes of toasted caramel, hot fudge, a subtle touch of charred oak, and hints of dried fruits. The finish is long and warm with lingering spices, charred oak, and toasted caramel. Score: 93 points.
House Baratheon Royal Lochnagar 12 Year Old (40% ABV, RRP $64.99 USD)
Royal Lochnagar gets its name from Britain's royal family, and is located near Queen Elizabeth's Balmoral Estate in the Scottish Highlands. The distillery's single malts have always been highly regarded, but not as widely available as many whisky lovers would like, and the inclusion of Royal Lochnagar in this range is welcome. The nose has the aroma of a vanilla latté, along with raspberries, peaches, and a hint of oak sawdust. The taste is tart with notes of citrus fruits, crystallized ginger, and vanilla custard. The finish is very long with a citrusy tartness and touches of ginger and oak. Overall, a very juicy and mouthwatering dram. Score: 93 points. 
House Stark Dalwhinnie Winter's Frost (43% ABV, RRP $39.99 USD)
Of course, the Starks ruled at Winterfell, and as one of the highest distilleries in Scotland, Dalwhinnie has taken advantage of its stark weather changes to add character to its single malts. Here, the nose has notes of honey, figs, peaches, and a hint of vanilla. The taste is crisp and tart with a good balance of dried tree and citrus fruits spices, and a nice maltiness. The finish is long and tart with hints of citrus. Score: 92 points. 
House Tyrell Clynelish Reserve (51.2% ABV, RRP $59.99 USD)
The Tyrells ruled over some of the most fertile, lush farmland in Westeros (or so the story goes), and Clynelish is located in the rolling hills of the Highlands near the sea. The nose is vibrant and fruity with tropical fruits, lemon custard, vanilla pods, and subtle spices. The taste has a good balance of fruitiness and spiciness with touches of mango, pineapple, and vanilla along with peppery baking spices. The finish has lingering fruity notes, a hint of dried flowers, and a touch of sea air that give this whisky a great complexity. Score: 93 points.
House Targaryen Cardhu Gold Reserve (40% ABV, RRP $39.99 USD)
This is one of the few whiskies that's based on an existing expression in the Diageo portfolio, though the regular Cardhu Gold Reserve is not available in all markets. The nose has notes of red apples, baking spices, and hints of caramel candy and honey. The taste starts off creamy at first, followed by a burst of clove and a fruity tartness underneath with caramel apples and honey. The finish is long with a lingering tartness and a touch of clove. Score: 93 points
House Tully Singleton of Glendullan Select (40% ABV, RRP $29.99 USD)
This whisky has notes of orange marmalade, soft spices, and a hint of honey. The taste has hints of clove, raspberry jam, vanilla cream, and a nice malty touch of barley sugar. The finish is long and malty with lingering touches of clove, berries, and barley sugar. Score: 91 points.
House Greyjoy Talisker Select Reserve (45.8% ABV, RRP $44.99 USD)
The Greyjoy clan ruled the Iron Islands, and this whisky comes from Scotland's Isle of Mull. The nose is dark and smoky with a nice oakiness,  dark chocolate, campfire smoke, and the aroma of barbecued beef. The taste is spicy with chili powder, white pepper, and a hint of campfire smoke balanced by grilled fruits, toasted caramel, and a hint of honey. The finish is long, complex, and smoky with hints of pipe tobacco and old leather. Excellent! Score: 94 points.
House Lannister Lagavulin 9 Year Old (46% ABV, RRP $64.99 USD)
If you owe someone, this would be a good way to repay the debt, since "a Lannister always pays his debts." The nose is smoky with barbecue sauce and hints of heather, honey, and brine, along with a touch of dried fruits in the background. The taste is thick, smoky, and peppery with tangy barbecue sauce and tropical fruits that add a nice counterbalance along with hints of honey and toasted vanilla. The finish is long and fades away gently with touches of smoke and spices. Excellent! Score: 94 points.
In addition to the eight whiskies that make up this collection, Diageo also released the special White Walker edition of Johnnie Walker to go along with the final season of Game of Thrones.
As of this writing, we do not know who will wind up sitting on the Iron Throne when the final episode of Game of Thrones airs later this spring. With all of the plot twists between now and then, one may well need a good, stiff drink to help keep things in perspective. One of these whiskies – depending on which House or stillhouse you favor – might just help clear away the confusion.
Editor's note: Samples of the whiskies were provided by Diageo, which is also a sponsor of WhiskyCast. However, in keeping with our ethical guidelines, all control over the editorial content of this story and our tasting notes remains with WhiskyCast. 
Links: Classic Malts
---
March 28, 2019 – "What have you done!"
My mouth was puckering, trembling, and shivering all at the same time as a briny, fishy taste with just the barest hints of whisky took control of my palate – and my entire nervous system. My stomach clenched, along with the rest of my body. A few feet away, the distillery manager that presented us with this blind sample at the end of a tasting had a big grin on his face.
"What the hell is this stuff?"
This is the story of that whisky, and how I came to taste it in a prank worthy of an April Fool's joke.
Klaus Pinkernell never set out to bottle one of the world's worst whiskies in 2006, but he did want to send a message.
"At that time, it was the beginning of the movement that everyone wanted to do some sort of finishing, and everyone wanted to be the first to do something more strange," says the owner of two whisky shops bearing his name in Austria and Germany. "I said, OK folks, you call all these things serious even though they are stupid, and I decided to do something even more stupid."
At this point, we need to backtrack to the early 1990's.
At the time, Pinkernell was visiting Islay and trying to buy casks of whisky for his private collection. He succeeded in persuading Invergordon Distillers, which owned Bruichladdich Distillery at the time, to sell him some casks that were maturing at the distillery, one of which had recently been filled with new make spirit. Invergordon closed Bruichladdich in 1994, but kept a skeleton crew on hand to oversee the maturation warehouses on site with Pinkernell's casks and the rest of the distillery's inventory.
When Mark Reynier and his partners bought the distillery and reopened it in 2001, Pinkernell reached out to Islay legend Jim McEwan, who had come on board as Bruichladdich's production director. After checking Pinkernell's casks, McEwan declared the barrels as less than optimal and offered to re-cask the whisky into better-quality ex-Sherry casks. With the help of a couple of Norwegian whisky lovers Pinkernell ran into at the Bowmore Hotel, he and his friends transferred the whisky from cask to cask using an old hand pump.
"It was quite hard work, but we didn't have to do it because the Norwegians quite enjoyed it," Pinkernell said with a laugh.
By this time, Pinkernell had opened his whisky shops in Salzburg and Berlin under the Cadenhead's banner, and had moved the casks from Islay to the warehouses at Springbank Distillery in Campbeltown. With the fifth anniversary of his stores coming up, he wanted to do something memorable – while sending that message at the same time.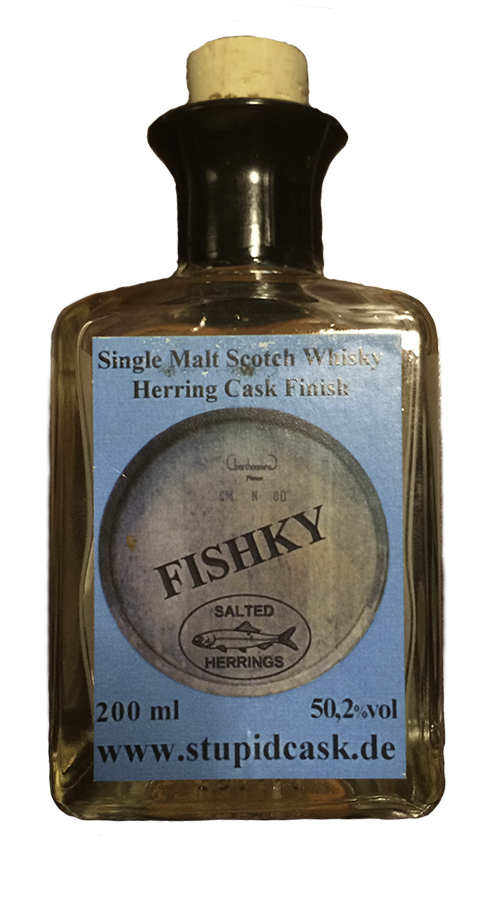 "I invented my private label called Stupid Cask and wanted to do a herring cask finish."
That's right…a herring cask finish. While others were trying to find rare wine, rum, and other types of casks to finish their whiskies in, Pinkernell wanted to return to a part of Scotch Whisky history where whiskies were kept in any kind of barrel that could hold liquid…including the briny sea water used to keep herring fresh from port to market.
Trouble is, those days were long past, and herring is transported in large plastic totes instead of barrels, and Pinkernell's attempts to source a herring cask were unsuccessful.
"I found a fish trader just outside Berlin who was willing to help out, but obviously, he had the fish but no cask." A cooperage near Berlin just happened to have a freshly-emptied red wine cask, the fish trader filled it with herring fillets, and Pinkernell arranged to get that cask of 14-year-old Bruichladdich moved from Campbeltown to Germany. At the time, it was still legal to export whole casks of single malt whisky from Scotland.  The practice has since been banned, though Pinkernell's diabolical project had nothing to do with it.
After six months of "seasoning," the herring and red wine cask was ready to be filled with whisky. At this point, Pinkernell hesitated briefly.
"What if the whole thing works out horribly wrong?"
At this point, asking that question and answering it with the likely reality of ruining an entire cask of vintage single malt whisky worth thousands of dollars might have dissuaded most people from plowing ahead. Klaus Pinkernell is not most people. He decided to only use half of the Bruichladdich cask and keep the rest of the whisky in its original cask.
Six months later, he hand-bottled both casks for the fifth anniversary of the shops. The whisky from the Bruichladdich cask carried a standard Cadenhead's label, while the whisky from the herring cask bore a label that will live infamously in whisky history.
Fishky.
"I think the thing was quite funny," Pinkernell said years later. "The idea was to show funny things can be done, and the even better thing is that you could even sample the whisky before the finish and including the finish from the same cask, so you can really see what a finish can do within a couple of months."
As one might expect, there was a great deal of hyperventilating and clutching of pearls among the whisky purists of that time, and Pinkernell eventually decided to pull his remaining bottles of Fishky off the market. As the legend of Fishky circulated on the Internet, he kept getting inquires about whether any bottles might still be available. Since Fishky was bottled in 200ml bottles, he still had – and has – some for sale through what's now known as Pinkernell's Whisky Market.
Fast forward to October of 2014. I was visiting the Inver House distilleries in Scotland with a small group of writers when we did an online Twitter tasting in the conference room at Balblair Distillery in Edderton. Distillery manager John MacDonald had just led us through the Balblair single malt range and we'd all put our smartphones and tablets down when he said something I'll never forget.
"I've got something else I want you to taste…"
He brought out a tray of Glencairn glasses, and we started nosing them. Briny aroma, but something not out of place in a whisky matured near the ocean. The nose was keeping a secret, though…a secret that became instantly apparent as soon as I took a sip. These are my tasting notes from that night, leading to a score of 40 out of a possible 100 points.
The nose hides the secrets of this whisky well, with notes of malt, brine, and heather. The taste reveals all, though, with sour butyric baby vomit, brine, and stomach acid. The finish is salty, greasy, and nasty with no redeeming qualities.
"You impressed me very much that day, Mark," John MacDonald said this week in a telephone interview. "You were one of the few people that reacted as I reacted when I tasted it…as you know, there's a few other people sitting at that table who will remain nameless that were saying this, that, waxing lyrical about it," he said."I'll never forget it, Mark…I'm sorry. It was a bit cruel, but it was for my amusement," he laughed.
MacDonald doesn't remember where that bottle of Fishky came from. Klaus Pinkernell knows exactly how it got to Balblair.
"I do remember that I was at Balblair Distillery and I left these bottles there, so the bottle that you had was one that I actually brought to Balblair myself," he said.
Thanks, Klaus.
Technically, Fishky's 40-point score is tied for the lowest score I've ever given to a whisky. For April Fool's Day in 2016, Westland Distillery released Inferno, a single malt matured for more than 4 years in a barrel previously used for maturing a well-known and heavily trademarked brand of Louisiana hot pepper sauce. Equally nasty in its own right, but released with a sense of humor – so much so that when I scored it a 40, Westland's Steve Hawley told me in an email that "we would have been offended with a higher score."
There's an argument for tasting bad whiskies, since they help you appreciate the good ones all the more. One sip of Fishky is enough to lock in that appreciation for a lifetime, though.
Links: Pinkernell's Whisky Market | Balblair
---
On June 22, 2018, half of Warehouse 30 collapsed at the Barton 1792 Distillery in Bardstown, Kentucky, spilling around 9,000 barrels of whiskey. The rest of the warehouse collapsed on July 4 with another 9,000 barrels. Crews have been working since then to recover as many barrels – and as much Bourbon – as possible. The site is closed to reporters, but Sazerac has released a video and new images showing cleanup work at the warehouse site.
Links: Barton 1792 Distillery | Sazerac
---
July 26, 2018 – To show their unity, leaders of the nine major whisky trade organizations planted an American White Oak tree on the corner of 9th and Main Street outside the Frazier History Museum in downtown Louisville following their first-ever summit meeting. Even before the first shovel of dirt was turned, observers noted that the raised brick-lined bed had routinely been damaged by vehicles using 9th Street to merge onto Interstate 64 and wondered how long the tree would last before being wiped out by a recklessly driven truck.
It's an apt metaphor for the state of the whisky industry weeks into a global trade dispute pitting the United States against many of its most important global trading partners, many of whom have imposed punitive tariffs on imports of American-made whiskies to retaliate for the Trump Administration's tariffs on their exports of steel and aluminum to the US. Years of growing global whisky sales spurred by reduced – or eliminated – import tariffs are now threatened as whisky has become one of many pieces in play in a political game of "chicken." With their collective futures at stake, the Kentucky Distillers Association invited colleagues from the other trade associations representing the world's major whisky and distilled spirits producers to a two-day conference in Louisville.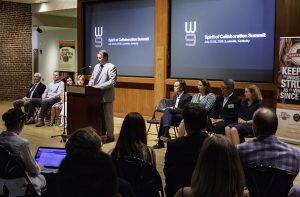 "Together, we form the W9, or the 'Whisky 9,' to serve as an open exchange of ideas, strategy, and a shared commitment to preserving free and fair trade," KDA President Eric Gregory announced at a news conference following the closed-door "Spirit of Collaboration Summit." As an example, Gregory cited the significant growth of whisky traded between the US and the European Union following the elimination of most tariffs in 1997 and similar expansion in trade with Canada following the elimination of tariffs in 1995 with the North American Free Trade Agreement.
"The bottom line: the world whisky market is large, and it's growing, and we all drink one another's whisky," Gregory said. "Trade agreements have been important to the development of this large and diverse market that consumers have chosen to create, and that's why we started expressing concern when our industry was caught in the middle of this dispute." The summit produced unanimous agreement on a resolution calling on world leaders to de-escalate the current trade conflicts and return to a system of "free and fair trade."
Listen to the "Spirit of Collaboration Summit" news briefing:

The summit started late Wednesday, hours after a White House meeting between US President Donald Trump and European Commission President Jean-Claude Juncker. That meeting, while not producing any concrete agreements, resulted in both sides agreeing to hold off on additional sanctions against each other while negotiators work toward a resolution of the original dispute over steel and aluminum trade. If – and only if – an agreement on that issue can be reached, it would clear the way for the European Union to remove its tariffs on American-made whiskies and other exports.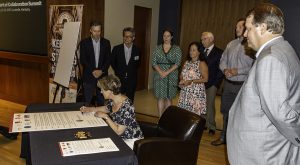 Without exception, the industry leaders praised that development as a positive step. According to Scotch Whisky Association CEO Karen Betts, the Trump-Juncker meeting "clearly has put a positive momentum behind trade talks between Europe and the US, and we hope that those now move forward to strengthen that really important trading relationship."
The pause in rhetoric would appear to delay the retaliatory moves threatened by the Trump Administration following the tariffs imposed by the EU, Canada, China, Mexico, and Turkey over the last month. The administration's public position has been that retaliation could come in the form of new tariffs on imported cars and auto parts. While Japan has not yet joined the list of countries targeting American whiskies, Jun Tanaka of the Japan Spirits & Liqueurs Makers Association predicted his country would likely follow suit if the US made that move.
"I think our government has tried to persuade the US government in a quiet way," he said in an interview. "If things come to cars and automobile parts, an important Japanese product, they would think about retaliating." Tanaka also pointed out that his country is also being affected by the current tariffs on American whiskies, since Suntory (Beam) and Kirin (Four Roses) have significant investments in the United States.
While some of the large American whisky makers have been able to minimize the impact of tariffs on their export sales by shipping extra stock to Europe and Canada in the first half of 2018, the largest impact so far has been felt by craft distillers. Margie Lehrman of the American Craft Spirits Association represented her members at the summit, and noted several instances where the trade dispute created problems even before the imposition of tariffs.
"Just the threat of some sort of trade war was enough to cut down discussion and any kind of negotiations on contracts," she said, citing a specific case where an importer forced one of her members to reduce its wholesale prices by 15 percent while an export shipment were in transit or risk losing the entire deal. "I have one distiller in Ohio who let me know he expected next year to do about 25 percent of his volume going to export, and now it's been cut down to 15 percent. In terms of dollars, that makes a big difference…he didn't say what is not going to happen, but I've talked with others who said 'you know, we were just about to institute these health benefits for employees…might not be able to do so now.'"
Lehrman and her colleagues also cited the ripple effect of tariffs throughout the economy, especially for agricultural-based products like whisky. The effect has been felt widely throughout the agriculture industry, which was promised up to $12 billion in assistance by President Trump this week. However, the tariffs reach all the way from agriculture to transportation, the manufacturers who produce bottles and packaging, and other industry sectors.
Gregory's team put together the summit in just a couple of weeks, and he deemed it a success. While members of Congress were turned away after requesting to attend the meeting, they have been in regular contact with the KDA. It also appears the industry leaders will be in regular contact with each other following this inaugural summit, as Gregory noted.
"I thought it was a good sign when we all met last night and got talking…and people were already talking about where to hold the summit next year," he said.
Listen to this week's WhiskyCast for more coverage of the Spirit of Collaboration Summit.
Links: Kentucky Distillers Association | Scotch Whisky Association | American Craft Spirits Association
---
With the ongoing trade dispute between the US and Canada, it's important to keep in mind that Canadian Whisky remains extremely popular in the US. Crown Royal has released the latest edition in its Noble Collection series – a 13-year-old "Blender's Mash" using one of the five different styles of whisky Crown Royal makes at its distillery in Gimli, Manitoba. They call it a different name at the distillery, though…and when they tried to use that "Bourbon Mash" name in the US…let's just say it didn't go quite as planned.
Links: Crown Royal
---
James Yoakum opened Cooper River Distillers in 2014 in the heart of Camden, New Jersey – just wanting to make good whiskies and rum. He and his team did just that, but they learned an important lesson along the way: size matters. They couldn't make enough whiskey and rum to meet the demand, but they also couldn't make enough money to expand the distillery. Faced with that dilemma, Yoakum decided to close the distillery with one final Kentucky Derby party on May 5, 2018.
Links: Cooper River Distillers
---
March 27, 2018 – Whiskey lovers and whiskey makers often argue over how much difference the wood in a barrel can make in the taste of a whiskey. While there's no set answer, it's estimated by experts that the wood can be responsible for 70 percent or more of the flavor in a whiskey. During the maturation process, spirit soaks into the wood and extracts flavors created by the breakdown of cellular compounds in the staves, while the wood also removes less desirable flavors from the spirit over time. Rarely, though, do we get a chance to compare the actual differences wood can make in a single whiskey.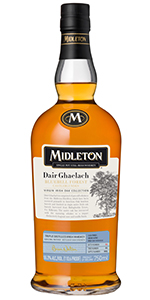 Midleton's Dair Ghaelach "Bluebell Forest" Irish Whiskeys give us the chance to do just that, though. As part of a long-term project to help restore Ireland's forests, Irish Distillers Pernod Ricard has been working with forestry experts to identify stands of sustainably managed Irish Oak that could be used to make whiskey barrels. The initial "Grinsell's Wood" 2015 release of Dair Ghaelach used ten specially selected trees to produce barrels that were used to mature the same Midleton single pot still spirit, with the wood from each tree kept separated from the others. At the time, the whiskey from each tree's barrels was destined for a separate market as well.
Just as with the first release, the wood from each of the six trees felled in the Bluebell Forest on the Castle Blunden Estate in County Kilkenny was kept separate during the coopering process and the whiskies from each tree's barrels was also kept separately from the others. However, the six bottlings in the Bluebell Forest release are all being distributed globally in limited amounts, making it possible for whiskey lovers to try more than one and see what difference the wood actually makes on the final whiskey.
Here are my tasting notes for all six of the Dair Ghaelach Bluebell Forest whiskies:
Tree #1: (Bottled at 55.3% ABV)
The nose has hints of lemon zest and butterscotch, along with straw, honey, and soft spices. The taste is tart with lemon pepper, while classic pot still spices of clove, cinnamon, and allspice develop slowly in the background along with touches of vanilla and straw. The finish gently fades away with a nice lingering tartness. Score: 92 points.
Tree #2: (Bottled at 56.2% ABV)
Much different than Tree #1, with a complex and slightly dry nose full of dark fruits, soft oak, honey, brown sugar, straw, and caramel candy. The taste is dark and spicy with notes of plums and raisins at first, followed by a crescendo of pot still spices and background notes of honey, vanilla, red grapes, and apples. The finish is very, very long with mouth-tingling spices that stick to the tongue. Wow! Score: 96 points.
Tree #3: (Bottled at 56.2% ABV)
This one has fresh-cut oak sawdust on the nose, along with honey, caramel candy, soft spices, and a hint of butterscotch candies. The taste starts off dry and oaky, then comes alive with clove, black pepper, cardamom, and allspice while honey, vanilla, straw, and a hint of dark chocolate add complexity. The finish is long –  it sits on the tongue for a while and long enough to think about charging it rent! Score: 95 points.
Tree #4: (Bottled at 56.2% ABV)
The nose has notes of pencil shavings, honey, plums, blackberries, and a hint of brandy. The taste is thick and mouthcoating with great pot still spices of clove, black pepper, and allspice balanced by honey, caramel candy, and blackberries in the background. There's a hint of anise that develops late and sticks around through the long finish with lingering spices, honey, and a soft hint of oak. Wow! Score: 95 points.
Tree #5: (Bottled at 56.3% ABV)
The nose on this bottling is soft and subtle with honey, oak sawdust, butterscotch, and a hint of lemon zest. Spices develop slowly on the palate and build to a peak with clove, white pepper and allspice complemented nicely by honey, linseed oil, and a hint of anise underneath. The spices provide a nice bite with good overall complexity. That spicy bite lasts through the finish with anise, honey, and butterscotch notes underneath. Score: 93 points.
Tree #6: (Bottled at 56.2% ABV)
The nose is very aromatic with hints of pine and cedar balanced nicely by honey, berry cobbler, and muted spices. The taste is mouth-coating, rich, and full of pot still spices that don't overpower the sweeter notes of honey, butterscotch, straw, and a hint of citrus tartness. The finish has that slight tartness with long, lingering spices. Score: 95 points.
While there's an overall consistency in many of the flavors between the six Dair Ghaelach Bluebell Forest bottlings, it's clear that each of the six trees helped contribute to the final whiskeys by playing up some flavors while downplaying others. Normally, these differences would never make it to the bottle. Not only would those differences have been minimized in blending, but the common practice of coopers to use staves from different trees when making barrels would have effectively negated the influence of a single tree on the whiskey.
That said…I found all six bottlings to be complex, well-rounded, and very, very drinkable. Give me a choice between them, though – and I'd have to pick the whiskies from #2 and #4, but not by very much.
Editor's note: Thanks to Irish Distillers Pernod Ricard for providing samples of all six Midleton Dair Ghaelach Bluebell Forest bottlings for this story.
Links: Midleton Dair Ghaelach
---
January 2, 2018 – As a journalist, I spend much of my time covering news that has already happened. There isn't always as much time to anticipate who may or may not "commit news" in the short-term future, and of course, it's risky to commit predictions to paper – or pixels – for public consumption. On New Year's Day, one of my Twitter followers, Dave Parker (@MaltTroll), challenged me to do just that, though.

Now, it would be easy to come up with a humorous and possibly even snarky list of predictions, and I'll even admit that I thought of a few. The hard thing is to come up with ten serious predictions and be able to back them up with logical reasons for each one.
Some of these may not happen until 2019, and some may not happen at all, but I have a bit of a track record for this stuff. Back in 2010 during a session at the World Whiskies Conference in Glasgow, I predicted that one of Scotland's major distillers would invest in the U.S. craft whiskey sector within five years. My reasoning was based  not on the emerging consumer interest in small-scale distilling, but because an investment in a U.S.-based distillery would allow a Scotch Whisky maker to experiment with new product development while neither affecting current production nor running afoul of the laws limiting Scotch Whisky production. Several months later, William Grant & Sons acquired the Hudson Whiskey brands from Tuthilltown Spirits and went on to buy the entire company in 2017. My only regret is that I've forgotten the name of the other panelist who laughed at that prediction and promptly bet me £100 that it wouldn't happen – I've never been able to collect on that bet.
That said, here are my ten predictions for what may – or may not – happen in the whisky business during 2018.
1: Whisky prices will continue to go up worldwide as demand increases, especially for rarer expressions.
This one's a no-brainer, given that whisky prices have been increasing consistently over and above the rate of inflation as worldwide demand for whisky continues to grow. The corollary is that the number of consumers who complain about rising whisky prices will also continue to grow, and I'll address that later.
2: We'll see several more acquisitions of small distilleries by the industry giants, but the trend will expand even more outside the USA.
Most of the recent acquisition spree took place in late 2016, with deals closing or being announced in early 2017. Möet Hennessy's July purchase of Woodinville Whiskey Company in Washington was the only major U.S. deal of the year, but I wouldn't be surprised to see three or four craft distilleries change hands this year once the impact of the new U.S. tax reform legislation on corporate finances becomes clearer. We don't have a good handle of how much cash U.S.-based companies like Sazerac and Brown-Forman may be holding overseas for tax reasons, and the changes to the tax code designed to repatriate some of those funds might spur some acquisition deals.
3: Those acquisitions will not just be complete buyouts, but minority investments designed to hedge their bets for the future.
Diageo (Distill Ventures) and Pernod Ricard USA (NBV Investments) both have in-house units looking for investment opportunities in the craft distilling sector. Until now, most of Diageo's investment has been outside of the U.S., with minority stakes in Denmark's Stauning Distillery and Starward Distillery in Australia. NBV Investments was responsible for the Smooth Ambler acquisition in late 2016. While that was a complete buyout instead of a minority stake, it was structured in a similar fashion with co-founder John Little remaining in place after the sale closed.
The best example of this in 2017 was Bacardi's move to acquire a minority stake in Ireland's Teeling Whiskey Company along with the U.S. distribution rights. That deal gave Bacardi a piece of the growing Irish Whiskey market to go along with its Scotch Whisky (John Dewar & Sons) and Bourbon (Angel's Envy) portfolio.
4: The flavored whiskey craze will finally start to die (and not too soon!).
Really, folks … how many more flavored whiskey ideas are left, and is there any evidence that consumers are actually moving up from flavored whiskies to "real" whiskies? There will always be a place for them, but this is one area where whisky makers can learn from the vodka sector. Too many flavored products cannibalize the market and confuse consumers, and if there's one thing the whisky industry needs to avoid, it's creating any more consumer confusion. We already have enough trouble getting whisky newcomers to understand the difference between Scotch, Bourbon, and "Whisky" – and people who ask for a "Japanese Scotch." That leads us to…
5: The push for an official "American Single Malt" designation will gain some momentum outside of Washington, but will be caught up in the Trump Administration's deregulatory push and not be approved this year. 
Given that the Trump Administration's current policy is that "two existing regulations need to die for every new one that's approved," I don't see this happening in 2018. We've already seen examples where the Treasury Department's Tax & Trade Bureau process for approving new American Viticultural Areas (AVA) for winemakers has been affected by the policy. Only one new AVA was approved in 2017, and according to Wine Searcher, 18 more are waiting for final approval, with some on the waiting list since 2015. Given that the TTB has not yet opened a formal rulemaking proposal to add an American Single Malt standard to the Standards of Identity list for whiskies, I don't see this happening until at least 2019.
6:  Look for some of the whisky makers that released no-age-statement whiskies several years ago to gradually bring back 10 or 12-year-old editions as maturing whisky stocks catch up.
We've already seen at least two indications of this. Chivas Brothers recently indicated that it will gradually start to reintroduce The Glenlivet 12-year-old single malt in many global markets where it was replaced in 2013 by the no-age-statement Founder's Reserve. In addition, when it introduced the Ballantine's Single Malt Collection this fall, all three malts from Glenburgie, Glentauchers, and Miltonduff carried 15-year-old age statements, when it would have been just as easy to introduce them to the market without an age statement.
It's probably still too early for Nikka to start bringing back age-statement whiskies after supply shortages forced it to replace the entire range with no-age-statement whiskies a couple of years ago. Other distillers that made similar moves are likely to start using age statements as soon as they can.
7: Exports of Bourbon and Tennessee whiskies will continue to expand in 2018, but begin to slow down late in the year when the U.S dollar gains strength against the British pound and Euro as the Brexit breakup deadline gets closer.
There's one word that describes the Brexit mess right now, and it begins with "cluster…" Great Britain's exit from the European Union comes in March of 2019, and there has been little progress toward a resolution on post-Brexit free trade between the two sides. The markets despise uncertainty, as we saw in June of 2016 when the pound crashed following the U.K.'s Brexit vote. Without some form of a trade agreement in place by the current deadline this autumn, don't be surprised if the currency traders respond by switching to U.S. dollars in a search for stability (though the U.S. midterm elections in November will bring their own concerns about stability). The pound's post-Brexit vote crash against the dollar led to increased Scotch Whisky exports to the U.S., while raising prices for Bourbon and Tennessee Whiskey exports to Great Britain. While American whiskey exporters can count on selling to more markets than just Great Britain and Europe, both represent a significant percentage of annual export sales and a late-year slowdown in shipments is not out of the question if currency markets swing on political issues.
8: The long-predicted shakeout in U.S. craft distilling will largely be avoided because of the cut in Federal Excise Tax that should help struggling distillers. Those that do go under would have done so with or without a tax cut because they weren't financed well to begin with.
While the overall tax reform legislation signed into law just before Christmas has plenty to criticize, depending on where your individual priorities lie, there is no question that small distillers benefitted the most from changes to the tax code. Yes, the big distillers will gain from saving almost $1.1 million dollars in tax on the first 100,000 proof gallons they remove from bonded storage for sale each year, but for distillers that sell millions of cases of whiskey each year, the tax savings will be a blip on the radar for the accountants.
Until now, small-scale distillers have been counting pennies while they wait for their whisky to mature, only to be hit with a whopping tax bill as soon as they're ready to start selling. For a craft distiller who only removes 25,000 gallons of whisky from bonded storage in a year, the tax bill will drop from $342,500 to just $67,500. That $275,000 in savings could mean the difference between a profitable year or another year of losses for many small-scale distillers.
9: Whisky sales in the USA will show slight gains in 2018, but increasing competition from tequila and other brown spirits could be a sign that prices are rising too fast for consumers.
Never underestimate the fickleness of the American consumer. Brand loyalty – especially in the drinks business – is a fantasy, and most people are looking for something new and unusual to drink. They want bragging rights in their circle of friends for being the one to jump on a new trend first, and that's part of the reason for whisky's booming sales over the last decade. Given that prices are rising for most whisky categories – especially the premium ones – the point is coming where more consumers will be priced out of the market and start to look for alternatives. While they may switch from mainstream brands to craft whiskies for the "artisan" or "local" flair, many craft whiskies already are priced at premium levels that could discourage some consumers. That opens up a market for producers of tequila, rum, brandy, and other brown spirits to come in at lower prices and take some of whisky's market share.
10: Look for several of the small distillers in Scotland that have opened in the last 3-5 years (or are being built now) to merge their business operations as a way to save money and create economies of scale for purchasing grain, barrels, bottles, and other commodities. 
At least a dozen new distilleries have opened in Scotland over the last three years, and as many as ten more may open this year. Their backers are betting on continued growth of Scotch Whisky sales globally, but the annals of Scotland's history are filled with stories of distilleries that went under because supplies exceeded demand…and the costs of doing business greatly exceeded revenues.
Here's another area where distillers might want to remember the past. Back in 1877, six of Scotland's major distillers merged to form the Distillers Company Limited, which went on to become the dominant force in the Scotch Whisky industry for many years and is one of the ancestors of today's Diageo. In 1966, the three families that dominated Ireland's whiskey industry realized they needed to merge together to succeed or all three would fail separately. They formed Irish Distillers, paving the way for the eventual comeback of the Irish Whiskey sector, and their successors are now sharing best practices and techniques with many of Ireland's startup distilleries.
While each of the small-scale Scottish distillers have their own style of making whisky to meet the expected demand, their chances of future success could be greatly improved by teaming up on the business side. A consortium of small distillers might well be able to negotiate better prices for barrels, grain, bottles, and other commonly-used supplies and services. In addition, shared back-office functions could cut the costs for all members, along with providing technical support and mutual assistance as needed. Distillers have a long tradition of helping each other out when needed, and if investors are willing to put their egos aside, a partnership like this might lead to greater profits in the future.
There are plenty of other predictions that could have been added to this list, such as increased expansion in visitors centers and tourism, along with the overall expansion of distillery capacity, but there also remain plenty of questions to ponder.  Will the growth of Taiwan's Kavalan and other "world whiskies" pose a serious challenge to the industry's longtime leaders? Will craft distillers continue to increase market share by attracting new consumers, taking sales away from larger brands, or will they feed off each other by competing for the same share of the market? Are we oversaturated with whisky festivals around the world? Will Jim Murray pick a Scotch Whisky as his Whisky of the Year in the 2019 Whisky Bible?
Right now, I'm guessing "maybe," "all of the above," "possibly," and "who cares?" Apply them to those questions as you see fit.
Editor's note: This commentary reflects Mark Gillespie's opinions exclusively, and the views expressed here do not necessarily reflect those of WhiskyCast or its sponsors. Our policy is to label commentary as such to avoid confusion with the news stories presented on WhiskyCast.com. All photos ©2018, Mark Gillespie/CaskStrength Media. 
---