Behind the Label tells the back stories of whisky, with a special focus on history and the scientific aspects that are often overlooked. If you have a suggestion for something you'd like us to dig into for Behind the Label, please use our contact form and let us know about it!
April 9, 2019 – It's not uncommon for whisky makers to team up with actors and filmmakers on a project. The not uncommon result, though, is usually a very expensive commercial for the whisky.
Fortunately, that is not the case with "Four," a short film directed by Jennifer Sheridan and produced by Platform Presents with funding from Dewar's. The film was co-written by John Hopkins and Tuppence Middleton, who also stars along with Iwan Rheon, Jack Farthing, Juliet Stevenson, and Nicholas Pinnock in a throwback to the classic "noir" mystery films of the past.
Set in London's Savoy Hotel, the film focuses on a mysterious brooch that brings together a young couple, a mysterious man, a dowager living at the Savoy, and the hotel manager trying to collect on the dowager's long-overdue bill. Needless to say, the manager is the only one who isn't hiding a secret – for most of the film. (No spoilers here.) "Four" is available to view online, and will be screened at a number of film festivals in the coming months.
"We literally got one thing for our brief, which was the number four, and then we were set free with it. We could run wild and really create whatever we wanted, which is quite a rare thing that you're given that opportunity and you can completely invent something," Middleton said in an interview at the premiere of "Four" last Thursday night in New York City. She currently stars in the Netflix series "Sense8," and this was her first screenwriting project.
"You read scripts every week, and so I had gotten very used to reading something and knowing if I liked it or not and what worked and what didn't, but hadn't quite gotten around to the point where I'd finished something in its entirety and then given it to someone and said 'what do you think' or 'would you like to make this?" So, when Bella (Isabella Macpherson), our producer, came to me and said 'do you fancy giving it a go," it was like, yes I do and what's the worst that could happen," Middleton said with a laugh.
There is a connection to the Dewar's brand history hidden within the film, as well as a bottle of the 21-year-old Dewar's Double Double whisky shown in the dowager's room at the Savoy. The legendary Tommy Dewar, one of the sons of Dewar's founder John Dewar and well-known for his global travels to promote the brand a century ago, made his home in London at the Savoy Hotel for many years before his death in 1930. Because of that history, the hotel's current owners were eager to host the cast and crew for several days of filming.
"With consumers thirsty for deeper storytelling, our short film "Four," a first for Dewar's, not only demonstrates the brand's timelessness within the whisky category, but cleverly captures its more premium side," Dewar's Global Brand Director Zeenah Vilcassim said. 
Dewar's used the film's premiere to help launch its new "Double Double" range of blended Scotch whiskies. The "four" reference came from the four-stage aging process Dewar's Master Blender Stephanie MacLeod used to create the three unique whiskies in the series after researching the company's archive for inspiration.
"A.J. Cameron, our first Master Blender, blended the malts by their regions, put them back into oak casks and let them set for a while, then blended them with the grain whiskies," MacLeod said in an interview. She tweaked the process by blending her component malt whiskies and grain whiskies separately, and then letting the two blends marry for a month before bringing them together. After that combination married for a month, each of the three whiskies went into a different type of Sherry cask for a final period of maturation. The 21-year-old version went into Oloroso casks, while the 27-year-old was filled into Palo Cortado casks and the 32-year-old used Pedro Ximenez casks.
While Middleton's next film project will be the film adaptation of "Downton Abbey," she also has another project in mind – one that involves her growing love of whisky.
"I'll take a blending lesson," she laughed. "We learned when we were talking to Dewar's about Stephanie, and we thought it was pretty cool that it was a woman in that amazing job, and I'd love to learn more about the process."
Links: Dewar's
---
April 2, 2019 – Let's admit something from the start. Not once in the first seven seasons of Game of Thrones have we ever seen someone drinking whisky. Wine, beer, mead…yes, but never a whisky. Perhaps if the Khaleesi had used her dragons to heat up a couple of stills, she might have taken back the Seven Kingdoms years ago. Had the Lannisters paid their debts with whisky instead of gold, they might well have never put the Iron Throne in jeopardy. And of course, nowhere do we see a "Maester Distiller."
Enough of the "what ifs," though. Diageo's partnership with HBO on the Game of Thrones Single Malt Scotch Whisky Collection isn't ground-breaking on its own, but the fact that the range includes single malts from eight different distilleries is. It would have been simpler to design a tie-in package for a couple of existing whiskies and rake in the money, but going to the time and effort to create a range of limited-edition single malts and keep them reasonably priced deserves credit.
If you're an avid Game of Thrones fan, you've probably already thought of this question. Eight whiskies? There are Seven Kingdoms. Ahhh, but you're not giving the men of Castle Black their due, and that's where we'll start tasting these whiskies created to celebrate the final season of Game of Thrones.
The Night's Watch Oban Bay Reserve (43% ABV, RRP $62.99 USD)
The "origin story" for this whisky is based on Oban's location along the western shores of Scotland at the base of a cliff that overlooks Oban Bay, much like Castle Black sits at the base of The Wall. The whisky itself carries no age statement, but the nose has subtle hints of black cherries, orange marmalade, oak, and a touch of honey in the background. The taste has notes of toasted caramel, hot fudge, a subtle touch of charred oak, and hints of dried fruits. The finish is long and warm with lingering spices, charred oak, and toasted caramel. Score: 93 points.
House Baratheon Royal Lochnagar 12 Year Old (40% ABV, RRP $64.99 USD)
Royal Lochnagar gets its name from Britain's royal family, and is located near Queen Elizabeth's Balmoral Estate in the Scottish Highlands. The distillery's single malts have always been highly regarded, but not as widely available as many whisky lovers would like, and the inclusion of Royal Lochnagar in this range is welcome. The nose has the aroma of a vanilla latté, along with raspberries, peaches, and a hint of oak sawdust. The taste is tart with notes of citrus fruits, crystallized ginger, and vanilla custard. The finish is very long with a citrusy tartness and touches of ginger and oak. Overall, a very juicy and mouthwatering dram. Score: 93 points. 
House Stark Dalwhinnie Winter's Frost (43% ABV, RRP $39.99 USD)
Of course, the Starks ruled at Winterfell, and as one of the highest distilleries in Scotland, Dalwhinnie has taken advantage of its stark weather changes to add character to its single malts. Here, the nose has notes of honey, figs, peaches, and a hint of vanilla. The taste is crisp and tart with a good balance of dried tree and citrus fruits spices, and a nice maltiness. The finish is long and tart with hints of citrus. Score: 92 points. 
House Tyrell Clynelish Reserve (51.2% ABV, RRP $59.99 USD)
The Tyrells ruled over some of the most fertile, lush farmland in Westeros (or so the story goes), and Clynelish is located in the rolling hills of the Highlands near the sea. The nose is vibrant and fruity with tropical fruits, lemon custard, vanilla pods, and subtle spices. The taste has a good balance of fruitiness and spiciness with touches of mango, pineapple, and vanilla along with peppery baking spices. The finish has lingering fruity notes, a hint of dried flowers, and a touch of sea air that give this whisky a great complexity. Score: 93 points.
House Targaryen Cardhu Gold Reserve (40% ABV, RRP $39.99 USD)
This is one of the few whiskies that's based on an existing expression in the Diageo portfolio, though the regular Cardhu Gold Reserve is not available in all markets. The nose has notes of red apples, baking spices, and hints of caramel candy and honey. The taste starts off creamy at first, followed by a burst of clove and a fruity tartness underneath with caramel apples and honey. The finish is long with a lingering tartness and a touch of clove. Score: 93 points
House Tully Singleton of Glendullan Select (40% ABV, RRP $29.99 USD)
This whisky has notes of orange marmalade, soft spices, and a hint of honey. The taste has hints of clove, raspberry jam, vanilla cream, and a nice malty touch of barley sugar. The finish is long and malty with lingering touches of clove, berries, and barley sugar. Score: 91 points.
House Greyjoy Talisker Select Reserve (45.8% ABV, RRP $44.99 USD)
The Greyjoy clan ruled the Iron Islands, and this whisky comes from Scotland's Isle of Mull. The nose is dark and smoky with a nice oakiness,  dark chocolate, campfire smoke, and the aroma of barbecued beef. The taste is spicy with chili powder, white pepper, and a hint of campfire smoke balanced by grilled fruits, toasted caramel, and a hint of honey. The finish is long, complex, and smoky with hints of pipe tobacco and old leather. Excellent! Score: 94 points.
House Lannister Lagavulin 9 Year Old (46% ABV, RRP $64.99 USD)
If you owe someone, this would be a good way to repay the debt, since "a Lannister always pays his debts." The nose is smoky with barbecue sauce and hints of heather, honey, and brine, along with a touch of dried fruits in the background. The taste is thick, smoky, and peppery with tangy barbecue sauce and tropical fruits that add a nice counterbalance along with hints of honey and toasted vanilla. The finish is long and fades away gently with touches of smoke and spices. Excellent! Score: 94 points.
In addition to the eight whiskies that make up this collection, Diageo also released the special White Walker edition of Johnnie Walker to go along with the final season of Game of Thrones.
As of this writing, we do not know who will wind up sitting on the Iron Throne when the final episode of Game of Thrones airs later this spring. With all of the plot twists between now and then, one may well need a good, stiff drink to help keep things in perspective. One of these whiskies – depending on which House or stillhouse you favor – might just help clear away the confusion.
Editor's note: Samples of the whiskies were provided by Diageo, which is also a sponsor of WhiskyCast. However, in keeping with our ethical guidelines, all control over the editorial content of this story and our tasting notes remains with WhiskyCast. 
Links: Classic Malts
---
March 28, 2019 – "What have you done!"
My mouth was puckering, trembling, and shivering all at the same time as a briny, fishy taste with just the barest hints of whisky took control of my palate – and my entire nervous system. My stomach clenched, along with the rest of my body. A few feet away, the distillery manager that presented us with this blind sample at the end of a tasting had a big grin on his face.
"What the hell is this stuff?"
This is the story of that whisky, and how I came to taste it in a prank worthy of an April Fool's joke.
Klaus Pinkernell never set out to bottle one of the world's worst whiskies in 2006, but he did want to send a message.
"At that time, it was the beginning of the movement that everyone wanted to do some sort of finishing, and everyone wanted to be the first to do something more strange," says the owner of two whisky shops bearing his name in Austria and Germany. "I said, OK folks, you call all these things serious even though they are stupid, and I decided to do something even more stupid."
At this point, we need to backtrack to the early 1990's.
At the time, Pinkernell was visiting Islay and trying to buy casks of whisky for his private collection. He succeeded in persuading Invergordon Distillers, which owned Bruichladdich Distillery at the time, to sell him some casks that were maturing at the distillery, one of which had recently been filled with new make spirit. Invergordon closed Bruichladdich in 1994, but kept a skeleton crew on hand to oversee the maturation warehouses on site with Pinkernell's casks and the rest of the distillery's inventory.
When Mark Reynier and his partners bought the distillery and reopened it in 2001, Pinkernell reached out to Islay legend Jim McEwan, who had come on board as Bruichladdich's production director. After checking Pinkernell's casks, McEwan declared the barrels as less than optimal and offered to re-cask the whisky into better-quality ex-Sherry casks. With the help of a couple of Norwegian whisky lovers Pinkernell ran into at the Bowmore Hotel, he and his friends transferred the whisky from cask to cask using an old hand pump.
"It was quite hard work, but we didn't have to do it because the Norwegians quite enjoyed it," Pinkernell said with a laugh.
By this time, Pinkernell had opened his whisky shops in Salzburg and Berlin under the Cadenhead's banner, and had moved the casks from Islay to the warehouses at Springbank Distillery in Campbeltown. With the fifth anniversary of his stores coming up, he wanted to do something memorable – while sending that message at the same time.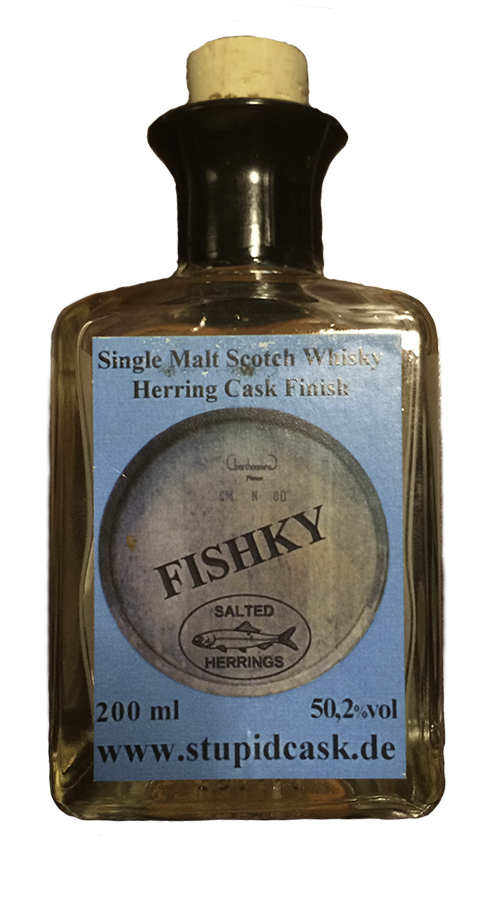 "I invented my private label called Stupid Cask and wanted to do a herring cask finish."
That's right…a herring cask finish. While others were trying to find rare wine, rum, and other types of casks to finish their whiskies in, Pinkernell wanted to return to a part of Scotch Whisky history where whiskies were kept in any kind of barrel that could hold liquid…including the briny sea water used to keep herring fresh from port to market.
Trouble is, those days were long past, and herring is transported in large plastic totes instead of barrels, and Pinkernell's attempts to source a herring cask were unsuccessful.
"I found a fish trader just outside Berlin who was willing to help out, but obviously, he had the fish but no cask." A cooperage near Berlin just happened to have a freshly-emptied red wine cask, the fish trader filled it with herring fillets, and Pinkernell arranged to get that cask of 14-year-old Bruichladdich moved from Campbeltown to Germany. At the time, it was still legal to export whole casks of single malt whisky from Scotland.  The practice has since been banned, though Pinkernell's diabolical project had nothing to do with it.
After six months of "seasoning," the herring and red wine cask was ready to be filled with whisky. At this point, Pinkernell hesitated briefly.
"What if the whole thing works out horribly wrong?"
At this point, asking that question and answering it with the likely reality of ruining an entire cask of vintage single malt whisky worth thousands of dollars might have dissuaded most people from plowing ahead. Klaus Pinkernell is not most people. He decided to only use half of the Bruichladdich cask and keep the rest of the whisky in its original cask.
Six months later, he hand-bottled both casks for the fifth anniversary of the shops. The whisky from the Bruichladdich cask carried a standard Cadenhead's label, while the whisky from the herring cask bore a label that will live infamously in whisky history.
Fishky.
"I think the thing was quite funny," Pinkernell said years later. "The idea was to show funny things can be done, and the even better thing is that you could even sample the whisky before the finish and including the finish from the same cask, so you can really see what a finish can do within a couple of months."
As one might expect, there was a great deal of hyperventilating and clutching of pearls among the whisky purists of that time, and Pinkernell eventually decided to pull his remaining bottles of Fishky off the market. As the legend of Fishky circulated on the Internet, he kept getting inquires about whether any bottles might still be available. Since Fishky was bottled in 200ml bottles, he still had – and has – some for sale through what's now known as Pinkernell's Whisky Market.
Fast forward to October of 2014. I was visiting the Inver House distilleries in Scotland with a small group of writers when we did an online Twitter tasting in the conference room at Balblair Distillery in Edderton. Distillery manager John MacDonald had just led us through the Balblair single malt range and we'd all put our smartphones and tablets down when he said something I'll never forget.
"I've got something else I want you to taste…"
He brought out a tray of Glencairn glasses, and we started nosing them. Briny aroma, but something not out of place in a whisky matured near the ocean. The nose was keeping a secret, though…a secret that became instantly apparent as soon as I took a sip. These are my tasting notes from that night, leading to a score of 40 out of a possible 100 points.
The nose hides the secrets of this whisky well, with notes of malt, brine, and heather. The taste reveals all, though, with sour butyric baby vomit, brine, and stomach acid. The finish is salty, greasy, and nasty with no redeeming qualities.
"You impressed me very much that day, Mark," John MacDonald said this week in a telephone interview. "You were one of the few people that reacted as I reacted when I tasted it…as you know, there's a few other people sitting at that table who will remain nameless that were saying this, that, waxing lyrical about it," he said."I'll never forget it, Mark…I'm sorry. It was a bit cruel, but it was for my amusement," he laughed.
MacDonald doesn't remember where that bottle of Fishky came from. Klaus Pinkernell knows exactly how it got to Balblair.
"I do remember that I was at Balblair Distillery and I left these bottles there, so the bottle that you had was one that I actually brought to Balblair myself," he said.
Thanks, Klaus.
Technically, Fishky's 40-point score is tied for the lowest score I've ever given to a whisky. For April Fool's Day in 2016, Westland Distillery released Inferno, a single malt matured for more than 4 years in a barrel previously used for maturing a well-known and heavily trademarked brand of Louisiana hot pepper sauce. Equally nasty in its own right, but released with a sense of humor – so much so that when I scored it a 40, Westland's Steve Hawley told me in an email that "we would have been offended with a higher score."
There's an argument for tasting bad whiskies, since they help you appreciate the good ones all the more. One sip of Fishky is enough to lock in that appreciation for a lifetime, though.
Links: Pinkernell's Whisky Market | Balblair
---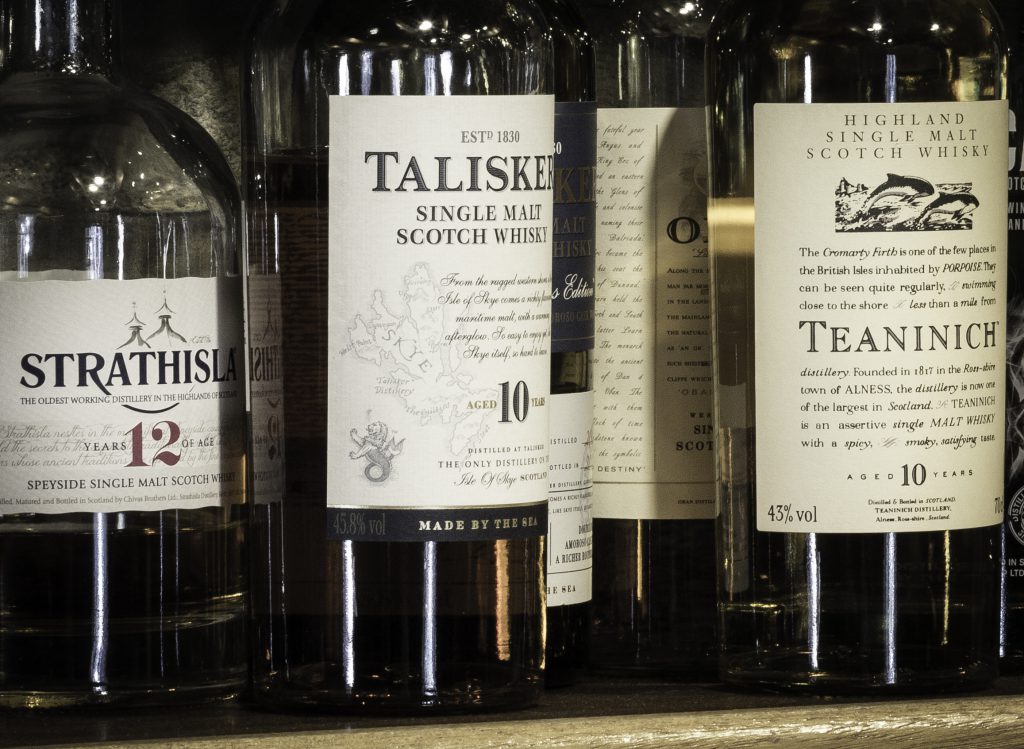 May 6, 2018 – Age statements can tell us how old a whisky is, and in some cases, how young it is.
Let's start with the easy part. If a whisky has an age statement on it, it must refer to the age of the youngest whisky used in that bottle. In other words, all of the malt and grain whiskies used in a 12-year-old Blended Scotch whisky must be at least 12 years old. However, there is no requirement that a whisky carry an age statement – with one notable exception.
The United States requires that any American-made whiskey matured for less than four years disclose that fact with an age statement on the label. Again, the requirement stipulates that the disclosed age refers to the youngest whiskey in a particular bottle. However, age statements are completely optional for any whisky older than four years old. The law also requires that whiskey be matured in oak barrels, though the specifics vary depending on whether we're talking about Bourbons, Rye Whiskies, Wheat Whiskies, and Malt Whiskies (which must be aged in new barrels) or other types of whiskies that can be aged in used barrels.
However, that law doesn't say how long a distiller must mature spirit in a barrel in order to call it whisky in the U.S.  Theoretically, one could fill a brand-new cask with spirit, dump it five minutes later, and legally call it Bourbon – assuming it met all of the other requirements. However, that's far too inefficient and expensive, since Bourbon barrels can only be used once. It's also a key reason why the U.S. has that age disclosure requirement in place for anything less than four years old, while almost every other country requires spirit to mature for at least three years before it can legally be called "whisky." The U.S. does require that any "straight" whisky be matured for at least two years, while "bottled-in-bond" whiskies have to be at least four years old.
Where did those requirements come from, since early distillers weren't known for their patience in waiting for their whisky to mature? In Scotland and Ireland, the first minimum aging requirement wasn't imposed until 1915 with the United Kingdom's Immature Spirits Act and its two-year minimum standard. It didn't take Parliament that long to raise the bar, with a change to three years imposed a year later, according to Charles MacLean in MacLean's Miscellany of Whisky.
Canada beat the rest of the world to the punch in 1887, according to Davin de Kergommeaux in Canadian Whisky: The Portable Expert. At that time, Canadian law imposed a minimum of one year's maturation time for whiskies – and it was doubled to two years in 1980. However, the current standard of three years was not enacted until 1974, meaning you might still find vintage bottles of Canadian Whisky that were made under the old requirements.
---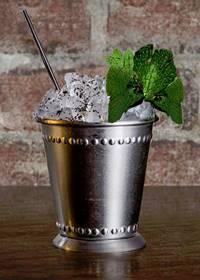 May 3, 2018 – The Mint Julep is as much a part of the Kentucky Derby as fancy hats and ripped-up betting slips, but many people associate the Derby's official cocktail with the mass-produced stuff served in plastic cups to rowdy revelers in the Churchill Downs infield. The Mint Julep has a much more cultured origin dating back centuries, as Heaven Hill's National Brand Educator Lynn House explains.
"The name julep is an adaptation of a Spanish Arabic word, julepe, which is actually an adaptation of an Arabic word, gholab, which literally meant "sweet rose water," House says. The word julep means "sweetened drink," and juleps were used for medicinal purposes by muddling herbs and leaves with spirits to create a tonic for stomach issues.
Listen to Mark Gillespie's conversation with Lynn House:
Kentucky's Henry Clay gets much of the credit for bringing the Mint Julep out of Kentucky, according to House. When he left Kentucky for Washington to serve in the Senate in 1806, he took a Mint Julep recipe with him and made it popular in the nation's capital. In 1938, the Mint Julep became the Kentucky Derby's official cocktail.
Want a Mint Julep recipe? Lynn House shared hers with us.
---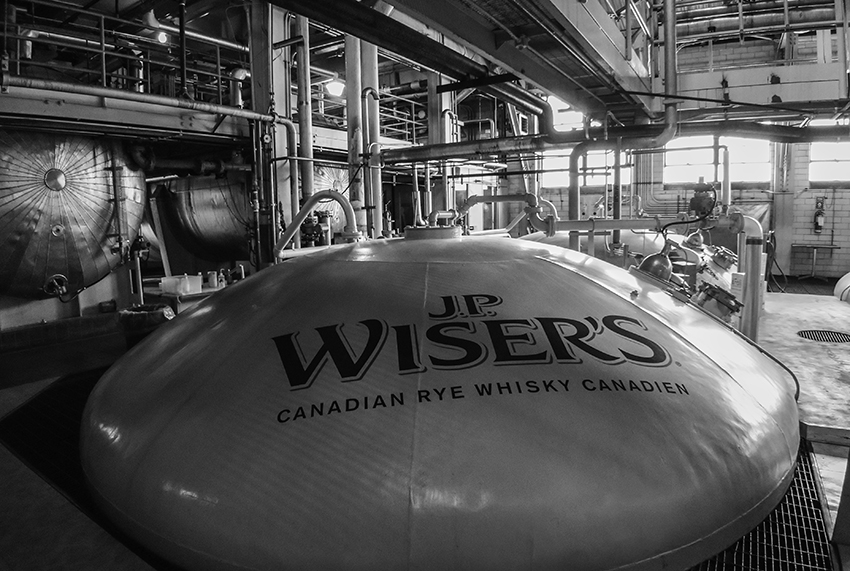 April 29, 2018 – If you've ever thought of pickles when you're nosing or tasting a rye whiskey, you're not alone. Rye whiskies can often have a dill-like aroma or taste, and it's often thought of as a characteristic of ryes. It's created during the fermentation process because of bacteria that's carried over from a previous fermenting run – either deliberately or because the fermenter wasn't cleaned properly after the previous run. The bacteria creates lactic acid – the same chemical that builds up in your muscles as you exercise and leaves your body feeling fatigued. In a whisky, that lactic acid contributes to the dill-like aroma or flavor.
Why would a distiller deliberately add bacteria to a new fermenting run as it's starting? That's part of the "sour mash" method of making whisky, in which the distiller will save some of the fermented beer or "wash" before it goes into the still and add it to the next batch of wort to be fermented. The nearly-depleted yeast and bacteria in the "backset' help kick-start fermentation into action in the next batch, helping to make it more efficient in creating alcohol.
However, not all whisky makers see dill as a desirable note in their rye whiskies. Dr . Don Livermore of Corby's Hiram Walker Distillery explained it to us…
"Rye fermentations are very difficult to run; the fermenters are very difficult to clean. We take great care here to make sure everything is sterile – we want as clean fermentations as possible to make sure our whisky does not have that distinctive dill characteristic to it."
Now, getting dill in a rye doesn't necessarily mean it's a fault. Dr. Livermore acknowledges that some people like that characteristic in their ryes, and there's nothing wrong with that. After all, each one of us has our own individual preferences.
---