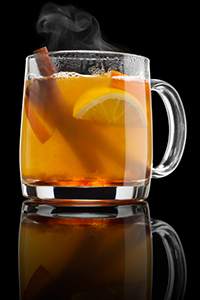 January 27, 2014 – This recipe for the classic winter pick-me-up comes from the PR folks for Beam, and was created by Luca Zanirato of Miami's Casa Tua.
2 parts Basil Hayden's Bourbon
¼ part honey
1-2 star anise
2 parts hot water
Orange zest
Lemon zest
3 Cinnamon Sticks
Add all ingredients to a cocktail shaker. Shake and strain into a hot toddy glass and garnish with a cinnamon stick.