We've all dreamed of quitting work and taking off on an adventure, but for most of us, it never gets past the dream phase to become reality. Ben Lee actually did it, and we're proud to help support Ben on his journey.
Over the next two years, Ben will be touring the United States on his motorcycle to visit, camp, and hike in all 59 of the U.S. National Parks. He started at Maine's Acadia National Park, and will spend the rest of 2013 working his way to the West Coast. Over the winter, he'll be in Hawaii and American Samoa, then return to the mainland to ride through the southern half of the country.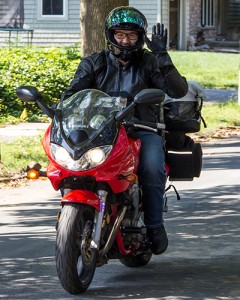 We'll have occasional updates from Ben while he's on the road, and you can follow Ben's journey through his blog at 59Parks.com and  his Twitter feed @59Parks. If he's passing through your area, we can vouch that he makes an excellent house guest! We met Ben through Boston College, where he worked in the Financial Aid Department until he left this summer to pursue his journey. He's a fellow whisky lover and photographer, and is on the journey of a lifetime!
We all have dreams and goals we'd like to pursue. Don't wait to pursue yours until it's too late.