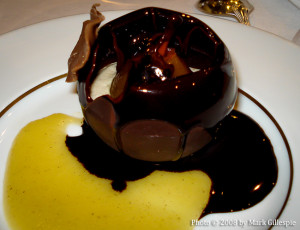 While they don't have to be as elaborate as the chocolate-encased pear and ice cream dessert with a whisky sauce that a Parisian chef whipped up for the opening dinner of Whisky Live Paris in 2008, cooking with whisky can add unique flavors and aromas to your table. For instance, one year we used an entire bottle of Johnnie Walker Red Label to brine the Thanksgiving turkey, and it was incredibly moist and full of flavor (the turkey wasn't bad, either!)
My wife Christina, works miracles in the kitchen on a daily basis, and women in the charming, yet regrettably dry town of Haddonfield have tried for years to get her to give up some of her kitchen secrets. Most of her recipes have never been written down, except for the ones handed down by the women in her family. Not even a secret wiretapping operation run by the National Security Agency could uncover some of her recipes, but she's agreed (after much begging on my part) to give up a couple of her whisky-related specialties here…Enjoy!
DRUNK GRILLED SALMON
This recipe was developed when we lived in Alaska, and I prefer to use good Alaskan salmon because it seems more substantial to me. I recommend marinating the salmon overnight and making the chutney mid-day so the flavors have a chance to play.
Two ½ pound filets of Salmon on the thicker side
Marinade:½ cup Bourbon
3 cloves of garlic finely chopped
1 teaspoon chopped ginger (you can use crystallized ginger or ginger puree from the jar, but powdered ginger does not substitute well)
1 tablespoon soy sauce
1/8 cup brown sugar
1/8 cup fresh chopped cilantro
Salt and pepper the filets. Stir marinade ingredients together and then put into a flat container with the salmon meat side down. Refrigerate overnight if possible but set fish out to come to room temperature before grilling so the salmon does not stick to the grill. Grill over a medium fire until salmon is cooked fully (if you want to know how to test for a medium cooked filet, take your middle finger and touch your thumb; with your other hand, tap the meaty part of your palm below the thumb. That is the same firmness you should feel when you tap the salmon.)
Finish with a "chutney" glaze:
Two ripe Granny Smith apples, cored and chopped
¼ cup bourbon
1/8 cup cilantro
1/8 cup dried cranberries
Pinch to taste of cayenne pepper
1 tablespoon brown sugar
Cook together above ingredients over a low heat until the apples are soft and the cranberries plump.
BOURBON BALLS 2.0 (2007 version)
My recommendation is to use the darkest chocolate you can find for this recipe, and I like the Ghirardelli Baking Chips with 60% Bittersweet Cocoa.
2 1/2 cups of pecans, finely chopped
¼ cup of bourbon
½ cup of butter
2 pounds of confectioners sugar
1 cup of dark chocolate chips
Sift the confectioners sugar and cream together with the butter, then add the bourbon and pecans. Roll into 1 inch balls, place on a cookie sheet and cover with moist paper towels. Refrigerate at least two hours. Melt the chocolate chips. Using a skewer, dip the chilled balls into a bowl of bourbon to soak for a few seconds, then into the melted chocolate. Place on cookie sheet to harden. Makes about three dozen. Extra mixture can be frozen if desired.
IMPORTANT NOTE: Since these cookies spend no time in the oven, the alcohol in the bourbon remains at full strength. These cookies are for adults only, and the usual guidelines about responsible use of alcohol apply.