WhiskyCast Virtual Tastings is your place to test your nosing skills. Each month, we bring together a panel of listeners either by Skype or in person at a whisky festival to taste and score whiskies. You generally won't find the ultra-rare exclusive bottlings here…we focus on whiskies that you're most likely to find at your local pub or retailer. If you're interested in being on the tasting panel for an upcoming episode, just use our contact form to get in touch!
This month, we're back at the "Barthenon" in Cherry Hill, New Jersey to taste Irish whiskies with the guys from the blog "It's Just the Booze Dancing". Mike Farley, John Maxwell, Angelo Veneziano, Chris Eattock, and Ray Kassekert tasted the Paddy Irish blended whiskey, Tyrconnell's 14-year-old single malt, and the Redbreast 15 single pot still whiskey.
Links:
Paddy
|
Tyrconnell
|
Redbreast
---
This month, we're bringing together two brothers who only get to see each other a couple of times a year for a Skype-based blind single malt tasting. David Lavin, Kevin Lavin, and Kevin's girlfriend Stephanie Buchert tasted the Speyburn 10, the Arran 14, and the Talisker Storm.
Links:
Speyburn
|
Arran
|
Talisker
---
There's an old saying that wisdom comes from the mouth of babes. That was proven true with this month's panel, when 6-year-old Maggie DeYoung  told her father John that talking about whisky to the world "was a great responsibility" and generously offered to help her Dad in any way that she could. John and his wife Jay make up half of our tasting panel this month, along with Jill-Ann and Robert Mark. What's more…they nosed and tasted this month's whiskies blindly, and weren't told until they had finished each whisky what they were evaluating. This month's whiskies are variations on the traditional peated single malt Scotch: Bowmore's Devil's Casks, the lightly peated Cù Bòcan from Tomatin, and Laphroaig's 2013 Cairdeas Port Cask Finish.
Links:
Bowmore
| 
Cù Bòcan
|
Laphroaig 
---
The holidays are here, and that means gathering for a dram with family and friends. This month, Mark's joined by his son-in-law, Colton Smith, Dr. Sean McMillan, and Sean's brother-in-law, Chris Killilea, and they're tasting three Irish whiskies: Powers Gold Label, Writer's Tears, and the Knappogue Castle 16-year-old Twin Wood single malt.
Links:
Powers
|
Writer's Tears
|
Knappogue Castle
---
This month, our tasting panel is sacrificing Virgins at the annual PhilCon science fiction convention in Philadelphia…Virgin Oaks, that is. Bill Ricker, Mark Richards, Wrenn Simms, and Dennis McCunney tasted the Deanston Virgin Oak, the Glen Garioch Virgin Oak, and Glenmorangie's Ealanta, which was matured for 19 years in Virgin Oak casks.
Links:
Deanston
|
Glen Garioch
|
Glenmorangie
|
PhilCon
---
October means chilly weather as the leaves turn bright red and orange, and the autumn colors were especially vibrant as our tasting panel gathered in Ottawa, Ontario…Canada's capital city. Davin de Kergommeaux, Emmett Hossack, and Herb Wallace tasted four Canadian whiskies: Stalk & Barrel Single Malt Cask #3 from Still Waters Distillery, Masterson's Rye, Wiser's Legacy, and Forty Creek Copper Pot Reserve.
Links:
Still Waters Distillery
|
Masterson's Rye
|
Wiser's
|
Forty Creek
---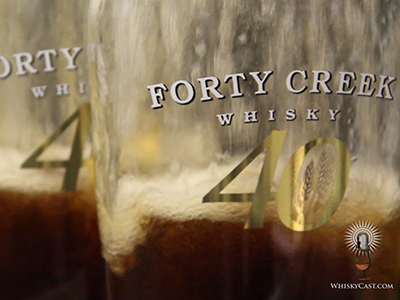 This special episode of WhiskyCast Virtual Tastings was recorded on location at Canada's Forty Creek Distillery during its annual "Whisky Weekend" at the end of September, 2013. Mark Gillespie moderated a tasting panel with Forty Creek's John Hall, Canadian Whisky Awards founder and author Davin de Kergommeaux, and the "Whisky Lassie," Johanne McInnis.
While Forty Creek is a sponsor of WhiskyCast Virtual Tastings, we have elected to present this tasting panel as a special episode because of its educational value to whisky lovers as a rare opportunity to hear whisky writers discuss a flight of whiskies with the person who created them. WhiskyCast's Mark Gillespie maintained editorial control over the content of this episode, and the opinions of each panelist are his or her own.
Links:
Forty Creek
|
Canadian Whisky
|
The Whisky Lassie
---
This month features our annual "Friends & Family" tasting panel, and comes to you from St. Mary's, Georgia. Mark's son-in-law, Colton Smith, and his fellow Marines Christopher Moon and Joe Clark tasted four flavored whiskies aimed at younger palates: Bushmills Irish Honey, Jack Daniel's Tennessee Honey, Knob Creek Smoked Maple, and Red Stag Hardcore Cider.
Links:
Bushmills
|
Jack Daniel's
|
Knob Creek
| 
Red Stag
---
This month, we're tasting whiskies with the "Lounge Lizards" at Karl Kadar's home in Newark, Delaware. In addition to Karl, our panelists are Aaron Spector, Gary Cline, Steve Husain, Mason Tyler, and Matt Taylor.These guys have a thing for Islay whiskies, and that's a good thing, because they're tasting The Laddie Ten from Bruichladdich, Bowmore's Dorus Mor (Tempest outside the U.S.), the Laphroaig 10-year-old, and the Jura 10 from just across the strait.
Links:
Jura
|
Bruichladdich
|
Bowmore
|
Laphroaig
---
The guys from the "Barthenon" and the blog "It's Just the Booze Dancing" return to WhiskyCast Virtual Tastings this month (actually, we went to the Barthenon), and they're tasting Bourbons. Our panel of Angelo Veneziano, Chris Eattock, John Maxwell, Mike Farley, and Ray Kassekert tasted the Russell's Reserve Single Barrel, Basil Hayden's, the John E. Fitzgerald Larceny Bourbon, and Jefferson's Reserve Bourbons.  Our panel had some strong opinions, as well as a lot of fun.
This month, we also welcome Forty Creek Canadian Whisky as the new sponsor of WhiskyCast Virtual Tastings. Thanks to John Hall, Beth Warner, and everyone at Forty Creek for their support!
Links:
Russell's Reserve
|
Basil Hayden's
|
John E. Fitzgerald Larceny Bourbon
|
Jefferson's Reserve
Correction: During this episode's discussion of Basil Hayden's, the comment was made that Basil Hayden's uses the same mash bill as Jim Beam and Knob Creek. According to Beam, the Basil Hayden's mash bill contains twice as much rye as traditional bourbons. 
---