Each week, we bring you the latest whisky news on WhiskyCast, but a lot can happen during the week. Now, you can keep up with whisky news as it happens here on WhiskyCast.com!
March 31, 2015 – The Glenmorangie Company has sold the Scotch Malt Whisky Society to a group of investors led by the Society's current executives for an undisclosed sum. The Society was founded in 1984 and has both owned and franchised chapters in 19 countries with more than 25,000 members. It is one of the largest independent bottlers of Scotch whisky, releasing around 350 different single cask bottlings for sale to members each year. The sale also includes the Society's member rooms at The Vaults in Leith, Edinburgh, and London.
Managing Director Paul Miles told The Scotsman that more than half of the ownership will be in Scottish hands, and all of the current management team are part of the investor group. "There's a small amount of international investment, and because we're growing so fast internationally that's an asset. Our biggest growth area remains the US, but beyond that our key markets include Taiwan, Japan and China."
In a news release, Glenmorangie president and CEO Marc Hoellinger called the move part of the company's strategy to focus on its core Glenmorangie and Ardbeg single malt Scotch whisky brands. The LVMH-owned company has sold off other distilleries and most of its blended Scotch business in recent years, and left the blending business completely in January when it discontinued production of its Baillie Nicol Jarvie blend. Glenmorangie acquired the SMWS in  2004.
This story will be updated with additional information as needed.
Links: Scotch Malt Whisky Society | The Glenmorangie Company 
---
Updated April 1, 2015 – Bacardi, the Bermuda-based and family-owned wine and spirits giant, is taking a major step into the Bourbon sector with the acquisition of Angel's Share Brands, the parent company of Angel's Envy Bourbon. Both companies are privately held, and the deal closed without fanfare on Friday (March 27).  No purchase price was disclosed, but in a Bacardi news release, company executives indicated that Angel's Share and its Louisville Distilling Company unit will continue to operate as a standalone division within Bacardi.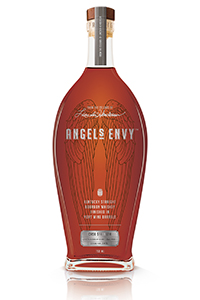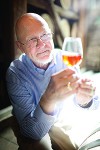 Bacardi had owned a minority stake in Angel's Share Brands since the company was created in 2006 when former Brown-Forman Master Distiller Lincoln Henderson, his son Wes, and a group of investors joined forces to start creating a new Bourbon. "They participated actively on our board, and were great partners to consult on all kinds of things related to the industry," Wes Henderson said in a telephone interview with WhiskyCast's Mark Gillespie. Henderson said discussions about a sale began several weeks ago, and Bacardi was the first company considered as a potential partner.
"We really approached this from the standpoint of who would be the best partner going forward, and the best partner didn't just necessarily mean the partner with the deepest pockets, it meant the partner that shared our vision, that had an appreciation for how we've grown the brand, and shared the determination that we're going to continue to grow the brand the same way. You know, the Bacardi family, five generations in the business…there's no better family business in the industry, and everything we've done has been centered so much around family that this was really a big thing that we considered when we were talking about selling the company."
In 2006, the Hendersons were able to source Bourbon from an undisclosed Kentucky distillery, and Lincoln Henderson began experimenting with Port casks to add a unique flavor to the whiskey. The first batch of Angel's Envy was released in 2010, and there are currently three expressions of Angel's Envy: the original Port cask-finished Bourbon, a cask-strength version released annually, and Angel's Envy Rye finished in Rum casks. Ironically, even though Bacardi was a partner in the brand, the Rum casks used for Angel's Envy Rye came from another Caribbean Rum producer. Henderson suggested that might change in the future following the acquisition, but made no commitment.
Bacardi is adding Angel's Envy to a portfolio that includes Dewar's blended Scotch, along with the recently introduced Last Great Malts of Scotland single malt range including whiskies from Aberfeldy, Craigellachie, Aultmore, MacDuff (Deveron), and Royal Brackla distilleries. In the news release, Bacardi vice chairman Barry Kabalkin said "Bacardi looks for the gems of innovation in the spirits world to complement our premium and super-premium brands, and ANGEL'S ENVY is a natural fit for our portfolio." The flagship Angel's Envy is one of the fastest-growing Bourbon brands in a sector that has shown consistent sales growth over the past several years.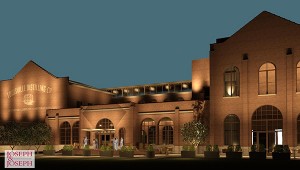 The acquisition also includes the Louisville Distilling Company's distillery, currently under construction in downtown Louisville at the eastern end of "Whiskey Row" along Main Street. The distillery is scheduled to open in 2016, and will include a visitors center. It was intended to be the hallmark of Lincoln Henderson's nearly five decades in the whiskey business when the project was announced in early 2013. Sadly, Henderson passed away later that year shortly after the ceremonial groundbreaking for the project.
Bacardi will also inherit one of the many proposed class-action lawsuits filed against whisky brands in the past several months. A class-action lawsuit charging Angel's Share with misleading consumers by claiming Angel's Envy Rye is a "small-batch" whiskey is currently being heard in US District Court in Chicago. Angel's Share sources the Rye whiskey used in Angel's Envy Rye from MGP-I's distillery in Lawrenceburg, Indiana, and the lawsuit claims that whiskey is mass-produced using the same recipe as Rye whiskies sold to other MGP-I customers. Angel's Share has moved to dismiss the lawsuit, and the next hearing in the case is set for May 28 in Chicago.
In addition to the Angel's Envy deal, Bacardi confirmed Wednesday (April 1) that it has acquired a minority stake in Compass Box Whisky Company for an undisclosed amount. In an email to WhiskyCast's Mark Gillespie, Compass Box founder John Glaser described the deal as part of a larger agreement reached last fall where Dewar's will supply whisky from its distilleries for use in Compass Box bottlings. Bacardi acquired shares in Compass Box held by a former investor, and unlike the Angel's Envy deal, this does not represent new investment in Compass Box.
Editor's note: This story was updated with additional information on the Bacardi investment in Compass Box. The entire interview with Wes Henderson can be heard on this weekend's edition of WhiskyCast. 
Links: Angel's Envy | Bacardi | Dewar's | Last Great Malts of Scotland | Compass Box
---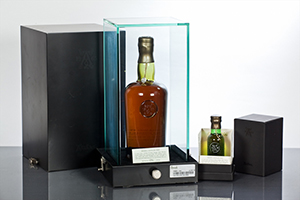 March 27, 2015 – A rare Ardbeg 1965 took top bid honors during the monthly auction of rare whiskies Wednesday at McTear's in Glasgow with a hammer price of £4,200 ($6,250 USD). The 2005 bottling came from two consecutively filled casks (#3678 and #3679), and was bottle number 31 of 261.
496 lots went on the block, with runner-up honors going to a 50-year-old Glenfarclas distilled in 1955 and bottled on September 9, 2005 to mark the 200th anniversary of distillery founder John Grant's birth. #71 of 110 bottles brought a high bid of £3,800 ($5,654 USD), narrowly beating out the lone Black Bowmore of the auction, a second-edition bottling from 1994 which brought a high bid of £3,400 ($5,058 USD).
Other bottles of interest included a 21-year-old Port Ellen bottled in 1998 to commemorate the 25th anniversary of the Port Ellen Maltings and listing the names of the staff on the rear label. The winning bid was £1,800 ($2,678 USD). A 1950 Macallan distillery bottling distributed by Gordon & MacPhail brought a high bid of £2,400 ($3,571 USD). While there have been many bottlings sold at auction that were produced to celebrate the retirements of distillery managers and corporate executives, one of six bottles of Highland Park Aged Almost 40 Years produced several years ago on the 40th birthday of the brand's former global controller, Jason Craig, made it to the block. The pre-auction estimate was between £200 and £300, but bidding for the bottle ended at £600 ($893).
The next McTear's auction is scheduled for April 29 in Glasgow.
Links: McTear's Catalog & Results
---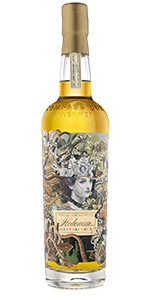 March 27, 2015 – Compass Box could have come up with a simple name for its first bottling to mark the company's 15th anniversary, but "Hedonism 15th Anniversary" isn't quite in the company's character. John Glaser and his team decided on "Hedonism Quindecimus," using the Latin word for "15th" instead.
The whisky is a fitting choice for the anniversary, since Hedonism was the first Compass Box release in 2000. The blended grain Scotch whisky helped set Glaser's young company apart from other independent bottlers and started a pattern of uniquely-named whiskies that continues to this day.
While Hedonism Quindecimus carries no age statement, the five different grain whiskies that make up the limited-edition blend have plenty of years in the barrel. Glaser and associate blender Gregg Glass used 28-year-old grain whisky from Dumbarton (closed in 2002) matured in ex-Bourbon casks, 20-year-old first-fill ex-Bourbon casks and 25-year-old rejuvenated hogsheads from Port Dundas (closed in 2009), 20-year-old first-fill ex-Bourbon casks from North British Distillery in Edinburgh, and a "mystery" batch of grain whisky sourced from Loch Lomond and matured in ex-Bourbon casks. According to Compass Box, the exact provenance of the Loch Lomond parcel is not known, but was blended at some point and left to mature for a total of 32 years. 5,869 bottles were produced at 46% ABV.
Hedonism Quindecimus will be available at whisky specialist retailers in the UK starting April 15 and in the US as of May 1, 2015. Pricing has not been announced.
Late Friday, Compass Box unveiled the second special bottle in its anniversary series. A magnum-size version of The Peat Monster will also go on sale April 15 in the UK, with US availability beginning in June.
Editor's note: This story was updated to include details on The Peat Monster special bottling. 
Links: Compass Box
---
March 26, 2015 – Four Roses Distillery is planning an $8.4 million dollar expansion at its warehouse  site in Coxs Creek around a new bottling facility. The Bullitt County facility is located between Clermont and Bardstown, and opened a new visitors center last year. The project is expected to be completed three years from now and will include both a high-speed bottling line and a separate bottling line for small-scale bottling runs such as the Four Roses Single Barrel expressions.
The Kirin Brewing-owned distillery has been approved for $800,000 in tax rebates and incentives by the Kentucky Economic Development Finance Authority. The incentives will be applied to the purchase of building materials and other equipment for the facility, which is expected to create an additional 30 jobs at Coxs Creek. The project will also be eligible for state income tax credits against the ad valorem taxes Four Roses pays annually on each barrel of maturing Bourbon in its warehouses.
Links: Four Roses | Kentucky Economic Development Finance Authority
---
March 25, 2015 – The Ultimate Spirits Challenge competition led by Spirit Journal editor F. Paul Pacult has announced its 2015 winners in whiskies, along with vodkas, gins, rums, and other spirits. 33 Chairman's Trophy winners were selected, along with 162 finalists. The competition also awards "tried and true award" status (T&TA) to spirits that have received at least 85 points from the judging panel in two Ultimate Spirits Challenge competitions since 2010, along with "great value" awards (GV) to spirits that have "a favorable relationship between their price and final USG score."
This year's winners in the various whisky categories:
American Whiskeys
American: Lone Elm Texas Wheat
Kentucky Straight Bourbon: Pappy Van Winkle Family Reserve 20 Years Old (T&TA)
Rye: Thomas H. Handy Sazerac Straight 6 Years Old (T&TA)
Tennessee: George Dickel No. 12 (GV, T&TA)
Irish Whiskeys
Blended: Jameson 18 Years Old (T&TA)
Irish Pot Still: Redbreast 15 Years Old (T&TA)
Single Malt: Bushmills 16 Years Old (T&TA)
 Scotch Whiskies
Blended Malt: Sheep Dip (T&TA)
Blended: Dewar's 18 Years Old (T&TA)
Single Malt: Aberlour A'bunadh Single Malt (GV, T&TA)
Canadian Whiskies
Tap Rye Sherry Finished 8 Years Old (GV)
French Whiskies
Armorik Single Malt Sherry Finish (T&TA)
Welsh Whiskies
Penderyn Single Malt (T&TA)
This year's judging panel was led once again by F. Paul Pacult, and included James Conley, Tad Carducci, Dale DeGroff, Gregg Glaser, Geoffrey Kleinman, Douglass Miller, Dan Nicolaescu, Steve Olson, Will Shine, Francis Schott, Andy Seymour, and Jennifer Simonetti-Bryan, MW.
Complete results are available at the competition's web site.
---
March 20, 2015 – Beam Suntory hopes a federal court hearing scheduled for May 4 in San Diego will lead to the dismissal of a second class-action lawsuit filed against the distiller over labeling claims. Lawyers representing the company's Jim Beam Brands unit filed a motion Wednesday to dismiss the lawsuit filed by Kazerouni Law Group and Hyde & Swigart on behalf of plaintiff Scott Belk and other California consumers. The lawsuit filed in February accuses Jim Beam of misleading consumers  by using the word "handcrafted" on its label, and seeks more than $5 million in damages on behalf of all California consumers who purchased Jim Beam Bourbon between February of 2011 and February of 2015. As plaintiff's attorney Abbas Kazerounian noted in an interview on Episode 524 of WhiskyCast earlier this month, the suit makes similar allegations to another lawsuit his firm filed in December against Beam Suntory's Maker's Mark Bourbon for claiming to be "handmade" on its label. A ruling is expected soon on Beam Suntory's motion to dismiss that lawsuit, which is also pending in US District Court in San Diego before a different judge.
Beam Suntory has routinely declined to comment on the dual lawsuits, citing a company policy against discussing pending litigation. In the motion to dismiss the Jim Beam lawsuit, Beam Suntory's attorneys argue that the lawsuit "defies common sense" and stretches the limits of California consumer protection laws while also ignoring the "safe harbor" protection provided with the label's approval by the US Treasury Department's Tax & Trade Bureau.
"Plaintiff presents a first-of-its-kind labeling claim: that a 1/16" high, 12-letter word ("handcrafted") on the side of a bourbon bottle—not even visible to consumers unless they pull the bottle off the shelf and turn it—fraudulently induced consumers to buy Jim Beam white label bourbon." 
The motion includes an actual-size version of the label, while accusing the plaintiffs of overstating the size of the "handcrafted" claim in their filings. In two emails to WhiskyCast, Abbas Kazerounian called it "interesting that they are making a big deal out of how the label is presented" and described the Beam argument as feeling "like a last resort argument – not actually a legal one!" As for the Beam argument that the plaintiffs' filing distorted the label, Kazerounian responded:
"I do not think that is relevant to the legal argument. We are alleging that they made false representations and they are responding with the fact that they are distorted. That does not respond to the allegation and tries to ignore divert the allegation. Once they respond to the whether that allegation is true or false, I will respond to that." 
This story will be updated with additional information as needed.
Editor's note: This story was updated with a response from Abbas Kazerounian, and includes links to court filings in the Jim Beam case. Please note that in civil cases, filings only represent one side's position and should not be considered proven as fact until they are argued and ruled upon in court. 
Links: Jim Beam | Beam Suntory | Kazerouni Law Group
---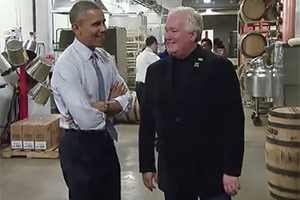 March 19, 2015 – If the "Bourbon Summit" between US President Barack Obama and Senate Majority Leader Mitch McConnell of Kentucky ever takes place,  whisky lovers will be watching to see whether the two leaders break open a bottle the President brought home from his trip to Cleveland Wednesday. Before his speech to the City Club of Cleveland, he visited Cleveland State University's MAGNET (Manufacturing Advocacy and Growth Network) Innovation Center, which is home to Cleveland Whiskey and other small manufacturing businesses. 
"It's always tentative until the motorcade pulls up," Cleveland Whiskey founder Tom Lix said in a telephone interview. "We've had Secret Service out there for a few days, we had the dogs sniffing everything…it was interesting and a pretty intense process, but it was awesome when he got there." Lix's facility takes young Bourbon spirit distilled at MGP-I in Indiana and uses a proprietary process combining oxygen, pressure, and wood to give that spirit the character of a much older whiskey. Purists and critics have derided Lix's "disruptive" process, but his whiskey is selling in eight US states with plans to add two more states this year, and will soon be exported to Germany. (Full disclosure: WhiskyCast's Mark Gillespie scored the original version of Cleveland Whiskey a 60.)
"I love Kentucky bourbon, but apparently this gets made a lot quicker. We'll have a taste test, and supposedly it's pretty good. More importantly, this is an example of how a public-private partnership created an American business," the President told reporters during a short tour of the facility. "He was very personably…he took a real interest in what we were doing, he talked with some of my staff," Lix said. "We talked about whiskey, we talked about basketball, we talked about innovation, and that's really why he was there." MAGNET is home to 20 different small manufacturing companies ranging from prosthetics development to alternative energy along with Cleveland Whiskey.
While the President did not sample any of Lix's whiskey during his visit, he did take a couple of bottles with him. The Cleveland Whiskey staff signed a bottle that Lix hopes might have a role if the "Bourbon Summit" ever takes place. "We're not all of the same political persuasion in the distillery, but everyone signed the bottle and we called it our 'bipartisan Bourbon' – I talked with the President about it and said 'you know, this might be a great bottle you could take to your meeting with Mitch McConnell if that ever happens…we'll see," Lix said.
If the "Bourbon Summit" does take place, McConnell will likely be able to trump the President's whiskey with a barrel of Bourbon presented to him last month by the Kentucky Distillers Association and the Henry Clay Center for Statesmanship for use at the summit. The 42-gallon barrel was filled with a blend of Bourbons produced by KDA-member distilleries and was named the "Bourbon Barrel of Compromise."
Links: Cleveland Whiskey | MAGNET Innovation Center | Kentucky Distillers Association | Henry Clay Center for Statesmanship
---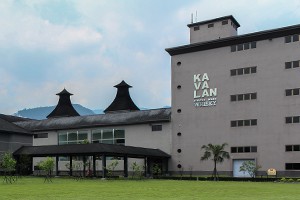 March 19, 2015 – For the second consecutive year, a "world" whisky has taken top honors as the "World's Best Single Malt" in Whisky Magazine's annual World Whiskies Awards. Kavalan's Solist Vinho Barrique single malt from the King Car Distillery in Taiwan was picked over single malts from Scotland and around the world in blind judging. Last year, Sullivan's Cove French Oak from Australia took the prize, and repeated for the third consecutive year as the best Australian single malt.
Thomas H. Handy Sazerac Rye was named the World's Best American Whiskey, defeating Pappy Van Winkle Family Reserve 20-year-old and other American whiskies announced as winners during last month's Whiskies & Spirits Conference in New York City. Batch #1 of That Boutique-y Whisky Company's Blended Scotch Whisky was named the World's Best Blended Whisky, while Nikka's Taketsuru Pure Malt 17-year-old was named World's Best Blended Malt.
Here is a list of regional winners:
Single Malts
Best Lowland Single Malt: Highland Harvest Sauternes Wood
Best Highland Single Malt: Glenmorangie 18YO
Best Campbeltown Single Malt: Longrow 11YO
Best Speyside Single Malt: BenRiach 16
Best Islands Single Malt: Ledaig 10 YO
Best Islay Single Malt: Ardbeg Kildalton
Best Asian Single Malt: Kavalan Solist Vinho Barrique
Best African Single Malt: Three Ships 10YO (James Sedgwick Distillery)
Best American Single Malt: Balcones #1 Texas Single Malt
Best Irish Single Malt: Teeling Whiskey Single Malt
Best Australian Single Malt: Sullivan's Cove French Oak
Best European Single Malt: Mackmyra Iskristall
Best Japanese Single Malt: Suntory Yamazaki 18 YO
Blends
Best Blended Scotch Whisky: That Boutique-y Whisky Company Batch #1
Best Japanese Blend: Suntory Hibiki 12 YO
Best Irish Blend: Tullamore D.E.W Phoenix
Best European Blend: Black Mountain Whisky Selection #1
Best African Blend: Three Ships Bourbon Cask Finish
Best Scotch Blended Malt: Wemyss Velvet Fig
Best Japanese Blended Malt: Nikka Taketsuru Pure Malt 17 YO
Grain Whiskies
World's Best Grain Whisky and Best European Grain: North British 18 YO Oloroso Cask Finish
Best Japanese Grain: The Fuji Gotemba Distillery Blender's Choice Single Grain Whisky (Kirin)
Other Categories
World's Best Pot Still Whiskey: Redbreast 15 YO
World's Best Flavored Whisky: Master of Malt 40 YO Speyside Whisky Liqueur
World's Best Canadian Whisky: Forty Creek Confederation Oak
The awards were presented at a ceremony in London on the eve of Whisky Live London, along with the global Icons of Whisky Awards and the final inductees in the Whisky Magazine Hall of Fame's Class of 2015. Diageo master blender Dr. Jim Beveridge, longtime Suntory chief blender Seiichi Koshimizu, and Australian whisky pioneer Bill Lark round out the Class of 2015. Michael Urquhart, Colin Ross, Bill Samuels, Jr., Al Young, and Steve Beal were inducted at ceremonies earlier this year.
Editor's note: This story was updated with additional winners not announced on Whisky Magazine's live Twitter feed from the ceremony.
Links: Whisky Magazine
---
March 19, 2015 – Whisky Magazine has named the BenRiach Distillery Company as Distiller of the Year in the 2015 Icons of Whisky Awards announced tonight during a ceremony at the Waldorf Hilton on the eve of Whisky Live London. The winners were decided in online voting by writers, whisky producers, and other industry leaders along with the editorial staff of Whisky Magazine. The winners were selected from three regional rounds of Icons awards covering Scotland, the US, and the "Rest of the World."
BenRiach Distillery Company is marking its 11th year under the leadership of Billy Walker and his team of investors, who purchased BenRiach in 2004 from Chivas Brothers and began marketing its whiskies as single malts. In 2008, the company acquired GlenDronach Distillery near Huntly, and purchased the Glenglassaugh Distillery in 2013.
US whisky producers made a respectable showing, with California's St. George's Spirits named Craft Whisky Producer of the Year, while Kentucky's Buffalo Trace was named Whisky Brand Innovator of  the Year. In addition, Julie Gorham of Four Roses Distillery was named Visitor Attraction Manager of the Year.
Japan's Yamazaki Distillery was named Visitor Attraction of the Year, while King Car/Kavalan Distillery's Ian Chang was named Distillery Manager of the Year. Jack Teeling of Ireland's Teeling Whiskey Company was named Brand Ambassador of the Year.
All three major retailer awards went to UK-based outlets. London's Berry Bros. & Rudd was named single-store Retailer of the Year, Cadenhead's took multiple-outlet honors, and Royal Mile Whiskies was named Online Retailer of the Year. Japan's Whisk-E was named Importer of the Year, while US-based Southern Wine & Spirits was named Distributor of the Year.
The Icons of Whisky Awards are just one set of awards being presented at the ceremony in London. The final results of the 2015 World Whiskies Awards will be announced, along with new inductees to the Whisky Magazine Hall of Fame representing the "rest of the world" outside of Scotland and the US. Michael Urquhart, Colin Ross, Bill Samuels Jr., Al Young, and Steve Beal were inducted in earlier ceremonies for honorees from Scotland and the US.
Links: Whisky Magazine
---