Each week, we bring you the latest whisky news on WhiskyCast, but a lot can happen during the week. Now, you can keep up with whisky news as it happens here on WhiskyCast.com!
March 20, 2015 – Beam Suntory hopes a federal court hearing scheduled for May 4 in San Diego will lead to the dismissal of a second class-action lawsuit filed against the distiller over labeling claims. Lawyers representing the company's Jim Beam Brands unit filed a motion Wednesday to dismiss the lawsuit filed by Kazerouni Law Group and Hyde & Swigart on behalf of plaintiff Scott Belk and other California consumers. The lawsuit filed in February accuses Jim Beam of misleading consumers  by using the word "handcrafted" on its label, and seeks more than $5 million in damages on behalf of all California consumers who purchased Jim Beam Bourbon between February of 2011 and February of 2015. As plaintiff's attorney Abbas Kazerounian noted in an interview on Episode 524 of WhiskyCast earlier this month, the suit makes similar allegations to another lawsuit his firm filed in December against Beam Suntory's Maker's Mark Bourbon for claiming to be "handmade" on its label. A ruling is expected soon on Beam Suntory's motion to dismiss that lawsuit, which is also pending in US District Court in San Diego before a different judge.
Beam Suntory has routinely declined to comment on the dual lawsuits, citing a company policy against discussing pending litigation. In the motion to dismiss the Jim Beam lawsuit, Beam Suntory's attorneys argue that the lawsuit "defies common sense" and stretches the limits of California consumer protection laws while also ignoring the "safe harbor" protection provided with the label's approval by the US Treasury Department's Tax & Trade Bureau.
"Plaintiff presents a first-of-its-kind labeling claim: that a 1/16" high, 12-letter word ("handcrafted") on the side of a bourbon bottle—not even visible to consumers unless they pull the bottle off the shelf and turn it—fraudulently induced consumers to buy Jim Beam white label bourbon." 
The motion includes an actual-size version of the label, while accusing the plaintiffs of overstating the size of the "handcrafted" claim in their filings. In two emails to WhiskyCast, Abbas Kazerounian called it "interesting that they are making a big deal out of how the label is presented" and described the Beam argument as feeling "like a last resort argument – not actually a legal one!" As for the Beam argument that the plaintiffs' filing distorted the label, Kazerounian responded:
"I do not think that is relevant to the legal argument. We are alleging that they made false representations and they are responding with the fact that they are distorted. That does not respond to the allegation and tries to ignore divert the allegation. Once they respond to the whether that allegation is true or false, I will respond to that." 
This story will be updated with additional information as needed.
Editor's note: This story was updated with a response from Abbas Kazerounian, and includes links to court filings in the Jim Beam case. Please note that in civil cases, filings only represent one side's position and should not be considered proven as fact until they are argued and ruled upon in court. 
Links: Jim Beam | Beam Suntory | Kazerouni Law Group
---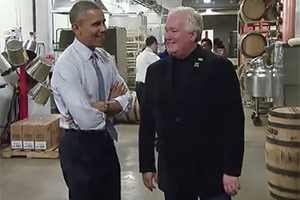 March 19, 2015 – If the "Bourbon Summit" between US President Barack Obama and Senate Majority Leader Mitch McConnell of Kentucky ever takes place,  whisky lovers will be watching to see whether the two leaders break open a bottle the President brought home from his trip to Cleveland Wednesday. Before his speech to the City Club of Cleveland, he visited Cleveland State University's MAGNET (Manufacturing Advocacy and Growth Network) Innovation Center, which is home to Cleveland Whiskey and other small manufacturing businesses. 
"It's always tentative until the motorcade pulls up," Cleveland Whiskey founder Tom Lix said in a telephone interview. "We've had Secret Service out there for a few days, we had the dogs sniffing everything…it was interesting and a pretty intense process, but it was awesome when he got there." Lix's facility takes young Bourbon spirit distilled at MGP-I in Indiana and uses a proprietary process combining oxygen, pressure, and wood to give that spirit the character of a much older whiskey. Purists and critics have derided Lix's "disruptive" process, but his whiskey is selling in eight US states with plans to add two more states this year, and will soon be exported to Germany. (Full disclosure: WhiskyCast's Mark Gillespie scored the original version of Cleveland Whiskey a 60.)
"I love Kentucky bourbon, but apparently this gets made a lot quicker. We'll have a taste test, and supposedly it's pretty good. More importantly, this is an example of how a public-private partnership created an American business," the President told reporters during a short tour of the facility. "He was very personably…he took a real interest in what we were doing, he talked with some of my staff," Lix said. "We talked about whiskey, we talked about basketball, we talked about innovation, and that's really why he was there." MAGNET is home to 20 different small manufacturing companies ranging from prosthetics development to alternative energy along with Cleveland Whiskey.
While the President did not sample any of Lix's whiskey during his visit, he did take a couple of bottles with him. The Cleveland Whiskey staff signed a bottle that Lix hopes might have a role if the "Bourbon Summit" ever takes place. "We're not all of the same political persuasion in the distillery, but everyone signed the bottle and we called it our 'bipartisan Bourbon' – I talked with the President about it and said 'you know, this might be a great bottle you could take to your meeting with Mitch McConnell if that ever happens…we'll see," Lix said.
If the "Bourbon Summit" does take place, McConnell will likely be able to trump the President's whiskey with a barrel of Bourbon presented to him last month by the Kentucky Distillers Association and the Henry Clay Center for Statesmanship for use at the summit. The 42-gallon barrel was filled with a blend of Bourbons produced by KDA-member distilleries and was named the "Bourbon Barrel of Compromise."
Links: Cleveland Whiskey | MAGNET Innovation Center | Kentucky Distillers Association | Henry Clay Center for Statesmanship
---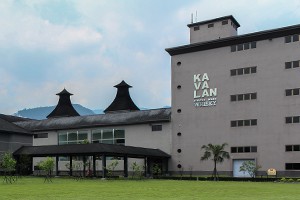 March 19, 2015 – For the second consecutive year, a "world" whisky has taken top honors as the "World's Best Single Malt" in Whisky Magazine's annual World Whiskies Awards. Kavalan's Solist Vinho Barrique single malt from the King Car Distillery in Taiwan was picked over single malts from Scotland and around the world in blind judging. Last year, Sullivan's Cove French Oak from Australia took the prize, and repeated for the third consecutive year as the best Australian single malt.
Thomas H. Handy Sazerac Rye was named the World's Best American Whiskey, defeating Pappy Van Winkle Family Reserve 20-year-old and other American whiskies announced as winners during last month's Whiskies & Spirits Conference in New York City. Batch #1 of That Boutique-y Whisky Company's Blended Scotch Whisky was named the World's Best Blended Whisky, while Nikka's Taketsuru Pure Malt 17-year-old was named World's Best Blended Malt.
Here is a list of regional winners:
Single Malts
Best Lowland Single Malt: Highland Harvest Sauternes Wood
Best Highland Single Malt: Glenmorangie 18YO
Best Campbeltown Single Malt: Longrow 11YO
Best Speyside Single Malt: BenRiach 16
Best Islands Single Malt: Ledaig 10 YO
Best Islay Single Malt: Ardbeg Kildalton
Best Asian Single Malt: Kavalan Solist Vinho Barrique
Best African Single Malt: Three Ships 10YO (James Sedgwick Distillery)
Best American Single Malt: Balcones #1 Texas Single Malt
Best Irish Single Malt: Teeling Whiskey Single Malt
Best Australian Single Malt: Sullivan's Cove French Oak
Best European Single Malt: Mackmyra Iskristall
Best Japanese Single Malt: Suntory Yamazaki 18 YO
Blends
Best Blended Scotch Whisky: That Boutique-y Whisky Company Batch #1
Best Japanese Blend: Suntory Hibiki 12 YO
Best Irish Blend: Tullamore D.E.W Phoenix
Best European Blend: Black Mountain Whisky Selection #1
Best African Blend: Three Ships Bourbon Cask Finish
Best Scotch Blended Malt: Wemyss Velvet Fig
Best Japanese Blended Malt: Nikka Taketsuru Pure Malt 17 YO
Grain Whiskies
World's Best Grain Whisky and Best European Grain: North British 18 YO Oloroso Cask Finish
Best Japanese Grain: The Fuji Gotemba Distillery Blender's Choice Single Grain Whisky (Kirin)
Other Categories
World's Best Pot Still Whiskey: Redbreast 15 YO
World's Best Flavored Whisky: Master of Malt 40 YO Speyside Whisky Liqueur
World's Best Canadian Whisky: Forty Creek Confederation Oak
The awards were presented at a ceremony in London on the eve of Whisky Live London, along with the global Icons of Whisky Awards and the final inductees in the Whisky Magazine Hall of Fame's Class of 2015. Diageo master blender Dr. Jim Beveridge, longtime Suntory chief blender Seiichi Koshimizu, and Australian whisky pioneer Bill Lark round out the Class of 2015. Michael Urquhart, Colin Ross, Bill Samuels, Jr., Al Young, and Steve Beal were inducted at ceremonies earlier this year.
Editor's note: This story was updated with additional winners not announced on Whisky Magazine's live Twitter feed from the ceremony.
Links: Whisky Magazine
---
March 19, 2015 – Whisky Magazine has named the BenRiach Distillery Company as Distiller of the Year in the 2015 Icons of Whisky Awards announced tonight during a ceremony at the Waldorf Hilton on the eve of Whisky Live London. The winners were decided in online voting by writers, whisky producers, and other industry leaders along with the editorial staff of Whisky Magazine. The winners were selected from three regional rounds of Icons awards covering Scotland, the US, and the "Rest of the World."
BenRiach Distillery Company is marking its 11th year under the leadership of Billy Walker and his team of investors, who purchased BenRiach in 2004 from Chivas Brothers and began marketing its whiskies as single malts. In 2008, the company acquired GlenDronach Distillery near Huntly, and purchased the Glenglassaugh Distillery in 2013.
US whisky producers made a respectable showing, with California's St. George's Spirits named Craft Whisky Producer of the Year, while Kentucky's Buffalo Trace was named Whisky Brand Innovator of  the Year. In addition, Julie Gorham of Four Roses Distillery was named Visitor Attraction Manager of the Year.
Japan's Yamazaki Distillery was named Visitor Attraction of the Year, while King Car/Kavalan Distillery's Ian Chang was named Distillery Manager of the Year. Jack Teeling of Ireland's Teeling Whiskey Company was named Brand Ambassador of the Year.
All three major retailer awards went to UK-based outlets. London's Berry Bros. & Rudd was named single-store Retailer of the Year, Cadenhead's took multiple-outlet honors, and Royal Mile Whiskies was named Online Retailer of the Year. Japan's Whisk-E was named Importer of the Year, while US-based Southern Wine & Spirits was named Distributor of the Year.
The Icons of Whisky Awards are just one set of awards being presented at the ceremony in London. The final results of the 2015 World Whiskies Awards will be announced, along with new inductees to the Whisky Magazine Hall of Fame representing the "rest of the world" outside of Scotland and the US. Michael Urquhart, Colin Ross, Bill Samuels Jr., Al Young, and Steve Beal were inducted in earlier ceremonies for honorees from Scotland and the US.
Links: Whisky Magazine
---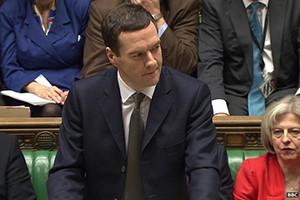 March 18, 2015 – The "Drop the Duty" campaign led by the Scotch Whisky Association and other UK spirits industry leaders has claimed a victory, as Chancellor of the Exchequer George Osborne announced plans to cut duties on spirits by two percent in the next fiscal year. Osborne told Parliament today that the British economy is "walking tall again" after five years of austerity measures forced by the global economic crunch in recent years. His budget also freezes wine duties for the second straight year, cuts beer taxes by one percent for the third consecutive year, and also freezes taxes on fuel and tobacco in what observers see as a paean to voters ahead of Parliamentary elections May 7.
The tax cut on Scotch whisky and other spirits is only the fourth in the last century, and SWA spokeswoman Rosemary Gallagher praised the move. "We've been campaigning for that now for the last few months, and it's good that we've been listened to," she said in a telephone interview with WhiskyCast's Mark Gillespie following the budget address. "There's been quite a lot of media coverage that a cut was coming, but until the Chancellor actually stood up and spoke today in the House of Commons, we had no guarantee that it was actually going to happen." Gallagher termed the cut a "good start" and said the industry will keep pushing for additional cuts in future years.
Listen to Mark Gillespie's interview with Rosemary Gallagher:

During his address, Osborne cited the importance of Scotch Whisky exports to the UK economy in justifying his decision to lower the duty. Last month, the SWA released a study showing the whisky industry generates £5 billion ($7.3 billion USD) in economic impact annually for the UK and predicted that a two percent cut would increase that impact by up to £1.5 billion per year. Before the cut, taxes made up 78% of the price of an average bottle of whisky sold in the UK, and the cut only reduces that to 77%. However, Gallagher noted that the cut should help increase consumer confidence and result in more sales.
The push for a duty cut was criticized by health groups, who told British news organizations before the budget announcement that lowering the tax rate on alcoholic beverages would only increase the nation's problems with alcohol abuse. Opposition party leaders also criticized the overall budget plan, including the Scottish National Party, which is upset over more cuts in public spending and a continued focus on austerity measures. SNP officials did not mention the cut in whisky taxes in their response to the budget address. The Liberal Democrats, which are coalition partners in the Conservative-led government, will present their own budget plan tomorrow. Observers expect that if the May 7 election produces a change in government, a new budget will be presented that could reverse the whisky and spirits tax cut as part of a much larger package of changes to Osborne's budget package.
Links: Scotch Whisky Association
---
March 16, 2015 – In a move that may be a sign of things to come, former George Dickel Master Distiller John Lunn turned up today as the new Master Distiller at the Popcorn Sutton Distillery in Newport, Tennessee. Lunn's last day at Dickel and Diageo was Friday, following 14 years with the world's largest distiller as both Master Distiller and manager at George Dickel and Southern Hub director overseeing operations at the Stitzel-Weller site in the Louisville suburb of Shively, Kentucky. Lunn had not disclosed his new employer publicly until today.
"It's the complete opposite end of the spectrum, going from the world's largest to a really small craft, true craft distillery," Lunn said in a telephone interview with WhiskyCast's Mark Gillespie at the end of his first day on the job. "I think for me, it's a great chance to learn the other side of the business…but what really appealed to me was the great story, a real authentic story that we've got all the proof to back it up, so there's none of that 'is it true, is it not true' and a great product to go along with it." He is the latest in what may become a growing number of distillers to leave multinational companies for smaller-scale whisky makers. Last month, Brown-Forman master blender Marianne Barnes left the Louisville-based giant to join Peristyle LLC's craft distillery project on the site of the historic Old Taylor Distillery near Versailles, Kentucky.
Listen to Mark Gillespie's interview with John Lunn:

Lunn said he had plenty of opportunities within Diageo, but his priority was to remain in his home state of Tennessee where his family still lives. Lunn and his family will relocate from their home near the Dickel distillery in Tullahoma to Newport, which is located about 30 miles east of Knoxville. "Newport's pretty close to Gatlinburg, where we've taken a lot of vacations in the past, and it's pretty much right on the doorstep of where Popcorn was moving and making his moonshine," Lunn said.
Popcorn Sutton remains a polarizing figure in the whisky business, nearly five years after he committed suicide rather than report to prison following his conviction on several moonshine-related charges. His fans regard him as a legendary bootlegger producing moonshine from his family's 100-year-old recipe in Cocke County and challenging authority figures throughout his life, while his critics consider him to be a criminal who could have produced legal whiskey had he chosen to. Before his death, he passed along the family recipe and distilling methods to Jamey Grosser, who founded the legal Popcorn Sutton Distillery in Nashville in 2010. The company's new distillery opened last year in Newport following Cocke County's decision to legalize microdistilleries.
The distillery produces Popcorn Sutton's Tennessee White Whiskey, along with the "Mrs. Sutton's" line of flavored liqueurs named for Sutton's widow Pam. The company recently updated its packaging to clear "Mason Jar" style bottles after settling a trademark lawsuit with Brown-Forman over its original bottle design, a squared-off black bottle that Brown-Forman claimed was too similar to its packaging for Jack Daniel's. The white whiskey is now available in 20 US states, with plans to add an additional five states by the end of 2015. Lunn hinted that his experience with aged whiskey may come in handy as the company looks at new product ideas. "You never know what we might try up here now," he laughed.
Editor's note: This story was updated following a telephone interview with John Lunn.
Links: Popcorn Sutton's Whiskey
---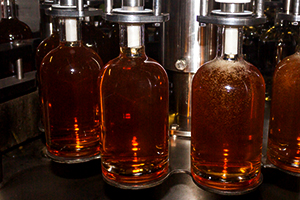 March 13, 2015 – With Chancellor of the Exchequer George Osborne's UK budget announcement less than a week away, Scotch Whisky Association leaders are turning up the pressure on calls for a cut in taxes and duties on whisky and other spirits. The SWA released data from HM Revenue & Customs today showing a 4.78% decline in domestic Scotch Whisky sales during 2014, based on a drop in the number of 70cl bottles sold to 83.3 million during the year. In 2013, the equivalent number was 87.5 million, and the drop has been steady since 2009 when 92 million bottles of Scotch were sold in the UK.
According to the SWA, 78% of the retail price of an average bottle of Scotch sold in the UK goes directly to the government in taxes and duties. In the 2014 budget, Osborne froze taxes on whisky and other spirits while also scrapping the so-called "duty escalator" that automatically raised duties 2% above the annual rate of inflation each year. In a news release, SWA Chief Executive David Frost called for a 2% cut in spirits taxes in this year's budget, which is scheduled to be released on Wednesday (March 18).
"Scotch Whisky is a massive export success for the UK so it's obviously disappointing to see this decline in volumes in our domestic market. In next week's Budget the Chancellor has the perfect opportunity to support an important UK industry. He should cut spirits duty by 2%. This move would also benefit consumers and public finances. In last year's Budget, the Chancellor highlighted Scotch Whisky as a 'huge British success story'. We hope this year too he will show his support for this world-class manufacturing industry."
Frost noted that the UK has only cut spirits duties three times in the last 100 years, and UK residents pay the largest share of spirits duties within the European Union. According to the association, UK residents pay 25% percent of all spirits duties collected within the EU, compared to 15% by the French, 14% by the Germans, and 5% by Spanish residents.
Last month, a senior Treasury official told Parliament that the coalition government recognizes the economic value of the Scotch Whisky industry and its impact on rural areas, while not committing to a cut in duties.
Links: Scotch Whisky Association
---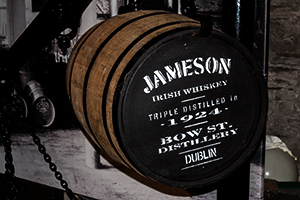 March 12, 2015 – Irish Distillers is adding a new "bottle your own" feature at its visitors centers in Dublin and Midleton, just in time for St. Patrick's Day. Visitors to the Old Jameson Distillery in Dublin and the Jameson Experience at the Old Midleton Distillery will be able to fill their own bottle of an exclusive Jameson Irish Whiskey straight from the barrel.
Jameson Select Reserve Cask Strength Black Barrel is a new expression produced just for the two visitors centers, and is based on the Select Reserve Black Barrel introduced several years ago. The whiskey is blended from single pot still whiskey and a small batch grain whiskey distilled at Midleton Distillery in County Cork, and is only produced once a year. While the retail version is bottled at 40% ABV, the "bottle your own" version's strength will depend upon the individual cask being emptied. Visitors will fill out individual labels for their bottles with the ABV, cask number, date, and their name – along with entering the data in the center's ledger. The price for the unique 70l bottles is €100 ($106 USD).
Links: Jameson
---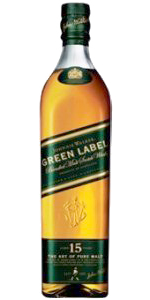 March 12, 2015 – The mysterious reappearance of Johnnie Walker Green Label at North American retailers in recent weeks has been solved. Sharp-eyed whisky lovers in the US and Canada noticed new stocks of Green Label appearing at retailers starting in mid-February, but no one at Diageo was able (or willing) to explain at the time whether the bottles were new or previously unsold stocks that had been sitting in a warehouse.
Diageo has started responding to inquiries through the official Johnnie Walker US Twitter account, and posted this notice in response to our tweets trying to answer questions from listeners.

A Diageo North America spokesman says Green Label is not returning permanently to the Johnnie Walker range, but is also not a limited-edition release. It will be available through 2015, with a decision to be made on future availability later this year based on sales. While Diageo executives had said in 2012 that Green Label production was to be discontinued, it apparently has still been produced for sale in Taiwan and a small number of other markets. The decision to bring it back in North America was based on an allocation of Green Label becoming available, along with consumer and trade demand as well as the brand's 10th anniversary.
The 15-year-old blended malt has been the only one of its kind in Diageo's Scotch Whisky portfolio since its introduction in 2005. Speculation over the reappearance was rampant on social media in recent weeks, with some retailers telling us they had been advised that the new stocks had been "found", while others questioned whether the new stocks had been previously for sale elsewhere and relabeled for sale in North America. That option was highly unlikely since Green Label bottled for sale outside of North America was packaged in 700ml bottles, while the US market requires 750ml bottles and Canada allows either size.
Editor's note: This story was updated on March 21 with additional information. 
Links: Johnnie Walker
---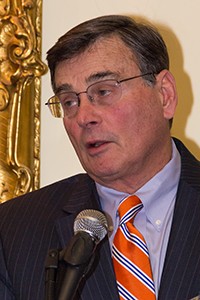 March 4, 2015 – Adm. Peter Cressy has announced his plans to step aside as CEO of the Distilled Spirits Council of the United States at the end of the year, following nearly 16 years at the trade group's helm. The 73-year-old retired US Navy Rear Admiral plans to return to the University of Massachusetts at Dartmouth, where he previously served as Chancellor and remains a tenured professor in the University's business school.
In a news release, Cressy was quoted as telling DISCUS directors last week that the time has come for a transition to new leadership, given that the association's new strategic plan has been completed. The association will begin a nationwide search for a new CEO, and plans to hire an executive search firm to help with the process. Möet Hennessy USA CEO and DISCUS Vice Chairman Jim Clerkin will head the search committee. "We are particularly pleased that Dr. Cressy has promised to stay on as long as necessary to ensure a smooth transition to a new CEO," Clerkin said in the news release. "In the meantime, we are confident that Dr. Cressy's strong leadership and our outstanding staff will ensure another strong year for the DISCUS team and the spirits industry." 
Under Cressy's leadership, the association was successful in modernizing liquor laws and regulations at the federal, state, and local level. He was also instrumental in expanding the industry's international reach with the creation of an export promotion program, and spearheaded the project to restore the historic distillery at George Washington's Mount Vernon estate in Virginia.
---