Each week, we bring you the latest whisky news on WhiskyCast, but a lot can happen during the week. Now, you can keep up with whisky news as it happens here on WhiskyCast.com!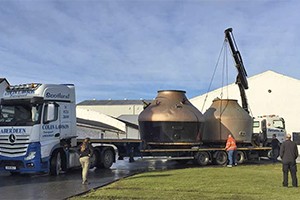 February 5, 2015 – For the last ten years, visitors to Islay's Bruichladdich Distillery have been greeted with an unusual sight…a huge still with a pair of Duncan McGillivray's old Welly boots sticking out of the top as part of the distillery's sign. Now, that still has been taken off the island with plans to put it back into service.
In a post on the distillery's blog, Bruichladdich announced that the still, along with another unused still that had been stored in nearby Port Charlotte, has been shipped to Forsyths in Rothes for refurbishing and repairs. From there, the stills will be shipped to Waterford, Ireland, where they will be used in former Bruichladdich managing director Mark Reynier's new Waterford Distillery. Reynier and his investor group acquired Diageo's mothballed Guinness Brewery in Waterford last year with plans to convert it into a distillery. Reynier noted on his Twitter feed that using the vintage stills will allow Waterford to begin production in January of 2016, two years earlier than would have been possible with brand-new stills. Reynier plans to have six new Forsyths stills in place at Waterford in 2021.
The stills were acquired when Bruichladdich bought pieces of the former Inverleven Distillery as it was being dismantled. In the blog post, Bruichladdich managing director Simon Coughlin said "there will of course be a touch of sadness at  the departure of what became an iconic symbol of the renaissance of Bruichladdich, but it is going to a good home and we hope that it can help in getting Mark's new Irish whiskey project into production sooner than would otherwise be the case.  We now have the enjoyable task of deciding what to do to replace it."
The second still that had been stored in Port Charlotte had been intended for use in the long-planned Port Charlotte Distillery that has been in the planning stages for many years. Bruichladdich has routinely renewed planning permits for the Port Charlotte project, but has yet to move forward with construction.
Editor's note: This story was updated with additional information and a photo provided by Mark Reynier. 
Links: Bruichladdich
---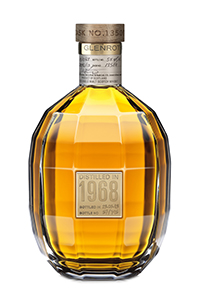 February 5, 2015 – Berry Bros. & Rudd is releasing the third expression in The Glenrothes Extraordinary Cask Collection series, a 1968 second-fill hogshead cask that produced just 145 bottles. The cask was selected by Malt Master Gordon Motion and Brands Heritage Director Ronnie Cox from a range of vintage casks previously identified as possible candidates for single cask bottlings.
The two previous releases in the series were single cask bottlings from 1970 and 1969, and both are now sold out. The 1968 bottling will be available exclusively at DFS in Singapore's Changhi Airport through the end of February, with remaining bottles to be available at select whisky specialist retailers in Asia and the rest of the world beginning in March. The expression carries a recommended retail price of 11,275 SGD (£5,500 GBP, $9,250 USD), but pricing is likely to vary by region. 
Links: The Glenrothes
---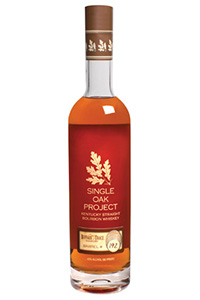 February 3, 2015 – After four years of quarterly releases, Buffalo Trace's Single Oak Project experiment is coming to a close. The final batch of 12 Bourbons in the series will be released later this month, though a final winner will not be announced until later this year. As with previous batches, the 12 whiskies will be packaged in 375ml bottles with one bottle from each barrel in a case and a recommended retail price of $46.35 each.
The project began back in 1999 when the late Ronnie Eddins selected 96 oak trees from a Missouri forest to be turned into barrels, with each half of a tree used to produce a single barrel for a total of 192 unique casks. Some of the casks received heavy charring, while others received a lighter char. The barrels were filled at the same time with spirit from either a rye-heavy or wheat-heavy mashbill, then stored at specific spots within two different warehouses at Buffalo Trace for eight years. Finally, all 192 barrels were dumped and bottled at the same time, with batches of 12 different single barrel Bourbons being released every three months starting in the spring of 2011.
While previous batches have tried to gauge the differences that changing one or two of the seven different variables have on the final product, Buffalo Trace marketing director Kris Comstock described the the final batch as full of variety in a news release.
"We've got some wheat and rye recipe, both the 105 and 125 entry proofs, all three grain sizes represented both types of warehouse floors, and oak from both the top and the bottom of the tree.  The only consistencies in this release are the stave seasoning at six months and the number four char."
Consumers have been adding their own tasting notes and ratings for each of the barrels at the Single Oak Project web site, with the specifics of each different whiskey revealed after a review is posted. Buffalo Trace plans to take the highest-rated barrel and replicate its unique characteristics for release under the Single Oak Bourbon name. More than 4,600 reviews have been posted so far, and Comstock described the race as very close with Barrel #82 (released in November, 2012) holding a narrow lead.
While the final batch is being released this month, the web site will accept reviews and votes until a winner is announced later this year. If the consumer voting does not produce a clear winner, Buffalo Trace plans to have a panel of Bourbon experts evaluate the final candidates and help determine a winner.
Editor's note: WhiskyCast's Mark Gillespie was one of the writers present for the 2011 launch of the Single Oak Project, and has been invited to return to Buffalo Trace in June to serve as a member of the final evaluation panel. While Buffalo Trace is covering travel expenses for that trip, no other compensation has been or will be paid in connection with coverage of this story. 
Links: Buffalo Trace | Single Oak Project
---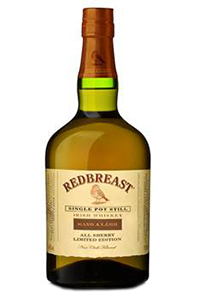 February 3, 2015 – For the first time, Irish Distillers is making a limited-edition Redbreast expression available to members of The Stillhouse, the affinity group for fans of Redbreast and the Pernod Ricard unit's other Single Pot Still Irish Whiskeys. Redbreast Mano a Lámh also is unique in that it is the first Redbreast expression to be matured exclusively in ex-Sherry casks. The core Redbreast expressions are matured in a combination of ex-Sherry and ex-Bourbon casks.
The name comes from the combined Spanish and Irish Gaelic translations for "hand in hand," reflecting the ties with Páez Morilla Bodega in Jerez, Spain. Irish Distillers has its casks handmade at Antonio Páez Lobato Bodega, then sends them to be seasoned with Sherry for two years before using them at Midleton Distillery in County Cork.
Mano a Lámh carries no age statement, as Master Blender Billy Leighton used casks of various ages to create the expression. In a news release, he described the challenge of blending Mano a Lámh.
"It was an exciting challenge as a Master Blender to work on this project; having to ensure that the right balance was achieved and the sherry contribution did not over power in the final taste. For me, Redbreast Mano a Lámh offers a distinctive, rich whiskey with intense flavours of dried fruit, which gives way to the perfection of the Spanish oak. I am really eager to learn what our Stillhouse members and Redbreast fans think of this rare expression."
Mano a Lámh is bottled at 46% ABV, with only 2,000 bottles available exclusively to Stillhouse members through the Redbreast web site for €65 ($74 USD). Because of shipping restrictions, the whiskey will not be available in the United States and a number of other countries. Mano a Lámh is the first of what is expected to be several new releases in the Single Pot Still range during 2015.
Links: Single Pot Still Whiskies of Ireland
---
February 3, 2015 – The "Bourbon Boom" and growing interest in American whiskies helped boost US spirits sales by four percent during 2014, according to the annual economic report released today by the Distilled Spirits Council of the United States. During a briefing at the New York Yacht Club, DISCUS CEO Peter Cressy also cited growing sales of so-called "high-end" and "Super Premium" spirits, with "high-end" defined as those priced $18-30 per bottle and "Super Premium" selling for $30 or more. Both segments recorded volume gains of more than 5 percent during 2014, with "high-end" volume up 5.8% and "Super Premium" volume up 5.1%. By comparison, "premium" spirits priced between $12-18 per bottle were up 3.1% and "value" spirits fell by 1.3%.
Listen to the DISCUS Briefing:

DISCUS Chief Economist David Ozgo credited the shift in sales to improving economic conditions, noting that as consumers feel better about their economic status, they tend to switch to more expensive spirits. While the volume data reflects all spirits categories, whisky helped lead the way with Bourbon and Tennessee Whiskey volumes gaining 7.4% over 2013 with sales of more than 19 million 9-liter (12 750ml bottles) cases. Irish Whiskey showed continued strength with a 9.1% gain, while Single Malt Scotch Whisky volume was up by 6.4%. Canadian Whisky dropped one percent, while Blended Scotch Whisky volumes were off by three percent.
The trend among younger consumers to favor flavored whiskies and other spirits continues to grow, with sales of flavored whisky growing by about a third to 2.8 million cases, outpacing rum (up 1.9 million cases) and vodka, where sales fell by almost a million cases. Ozgo predicted continued growth in the sector based on economic data showing income growth in the 21-34 year old age group, noting that while flavored whiskies are taking some sales away from traditional products, they are attracting new consumers to the market.
Whisky continues to account for 70% of all US spirits exports, with a projected 3.4% gain in 2014 export results when all data is received. Bourbon and Tennessee Whiskey accounted for $1.02 billion in exports during the year according to Commerce Department data, up slightly from 2013. Sales of other American whiskies gained slightly, based on increased exports of whiskies from craft distillers. Canada remains the largest export market for US spirits ($212.6 million USD), followed by the UK, Germany, Australia, and France.
Editor's note: This story was updated to include audio of the DISCUS briefing. A problem with the phone line for the conference call resulted in the first part of the briefing not being available. For that reason, we have included links to PDF files of the entire presentation.
Links: Distilled Spirits Council of the United States | DISCUS Briefing Summary | DISCUS Supplemental Tables
---
February 2, 2015 – Vinopolis, the event space and wine education experience located underneath London Bridge on the banks of the River Thames, will close at the end of 2015. In a statement, Vinopolis managing director Samantha Anderson said "we have come to the end of what could reasonably be achieved with the wine experience and feel that it is time for new life to be breathed into the timeless space. After 16 years we will close the doors proudly after a year of celebrating what has been achieved in style." The space will be converted into retail space after Vinopolis shuts down following the 2015 holiday season. 
Vinopolis is also home to The Whisky Exchange's retail store, and has served until this past October as the home of The Whisky Show London. The Whisky Exchange, which manages The Whisky Show, has been planning to move the show to a new, larger venue for 2015. and is expected to announce plans for this year's show soon.
Sukhinder and Rajbir Singh, the brothers who own both The Whisky Exchange and the Whisky Show, have not announced plans for the future of the retail operation once Vinopolis closes. The store is located within the center of the Vinopolis event space, and does not have a separate entrance of its own that would allow the store to remain open while the remainder of the space is being converted. In an email, Sukhinder Singh noted that the space will be available until the end of the year, giving them time to make plans that will be announced once finalized.
Editor's note: This story was updated on February 5 with a response from Sukhinder Singh. 
Links: Vinopolis | The Whisky Exchange
---
January 29, 2015 – With interest in Bourbon-related tourism at an all-time high, Kentucky distillers are reporting another double-digit increase in visitors during 2014. The Kentucky Distillers Association reported today that 723,503 guests visited the 18 participating distilleries on the Kentucky Bourbon Trail and the Kentucky Bourbon Trail Craft Tour in 2014. The results continue a five-year tourism boom that has seen a 62% increase in visitor traffic over the period, according to KDA President Eric Gregory. "Some of our distilleries are up 200% in attendance over the last five years, which is great news for local communities that are reaping the tourism benefits," Gregory said in a news release. "And that best news is that we keep adding more and more distilleries."
Nine sites currently make up the Kentucky Bourbon Trail following the 2014 addition of the Bulleit Frontier Whiskey Experience at Stitzel-Weller Distillery in Louisville. The Trail is expected to add a 10th site during 2015 when the Jim Beam Urban Stillhouse opens in downtown Louisville's Fourth Street Live entertainment district. The Trail includes all of Kentucky's major distilleries, with the exception of Sazerac-owned Buffalo Trace in Frankfort and the 1792 Barton Distillery in Bardstown.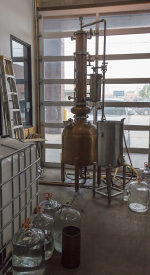 In its second year of operation, the Kentucky Bourbon Trail Craft Tour featuring nine craft distilleries recorded a 56% increase in visitor traffic with 96,471 guests. Corsair Artisan Distillery in Bowling Green, Silver Trail Distillery in Hardin, and Wilderness Trace Distillery in Danville all doubled their visits during 2013, while the other six distilleries all reported double-digit increases. The Craft Tour also added a new site during 2014 when New Riff Distillery in the Cincinnati suburb of Newport joined the group. Adam Johnson of the KDA, who oversees the Bourbon Trail and the Craft Tour, noted in the news release that there is a waiting list for new distilleries to join the tour.
In the past ten years, every one of Kentucky's major distilleries has either expanded existing visitor attractions or built new ones to capitalize on the growth in Bourbon-related tourism. A recent study by the University of Louisville's Urban Studies Institute for the KDA estimated that Bourbon Trail tourism accounts for at least $7.5 million in economic impact on the state each year.
Links: Kentucky Bourbon Trail | Kentucky Distillers Association
---
January 29, 2015 – South African-based Distell has taken top honors as Distiller of the Year in the third round of Whisky Magazine's 2015 Icons of Whisky Awards. This round honors what are called "Rest of The World" whiskies and distilleries based outside of Scotland or the United States, which were honored in the first two rounds previously announced.
Distell is best known for its James Sedgwick Distillery in Wellington, South Africa, where its Three Ships and Bain's Cape Mountain whiskies are produced under the guidance of Master Distiller Andy Watts. Both whiskies have been honored with multiple World Whiskies Awards presented by Whisky Magazine. Japan's Nikka Whisky received the "Highly Commended" award presented to the runner-up in online voting by industry members and the magazine's editorial panel.
Ian Chang of Taiwan's King Car (Kavalan) Distillery was named Distillery Manager/Master Distiller of the Year, with Etienne Bouillon of The Owl Distillery in Belgium receiving "Highly Commended" honors. Kavalan/King Car was also named the Whisky Brand Innovator of the Year, with Compass Box receiving "Highly Commended" honors.
Australia's Tasmania Distillery, which produces the award-winning Sullivan's Cove single malt whiskies, was named Craft Whisky Producer of the Year. Japan's Hombo Shuzo Company was the runner-up. Jack Teeling of Ireland's Teeling Whiskey Company was named Brand Ambassador of the Year, followed by Ichiro Akuto of Japan's Venture Whisky. The English Whisky Company's Andrew Nelstrop took top honors as Visitor Centre Manager of the Year, with Tullamore Dew's Mary  Hensey receiving "Highly Commended" honors.
Among retailers, Berry Bros. & Rudd in London took Single Outlet honors, followed by the Kensington Wine Market in Calgary, Alberta. La Maison du Whisky in Paris was the Multiple Outlet honoree, followed by Dan Murphy's in Australia. The Whisky Exchange was named Online Retailer of the Year, followed by Master of Malt. Whisk-E of Japan was named Importer of the Year, with Dublin's Celtic Whiskey Shop as runner-up. The Really Great Brand Company of South Africa was named Distributor of the Year, with the UK's Maverick Drinks receiving "Highly Commended" honors.
The winners will go up against the previously announced winners from Scotland and the United States for the Global Icons of Whisky Awards to be presented on March 19 in London on the eve of Whisky Live London.
Links: Icons of Whisky Awards
---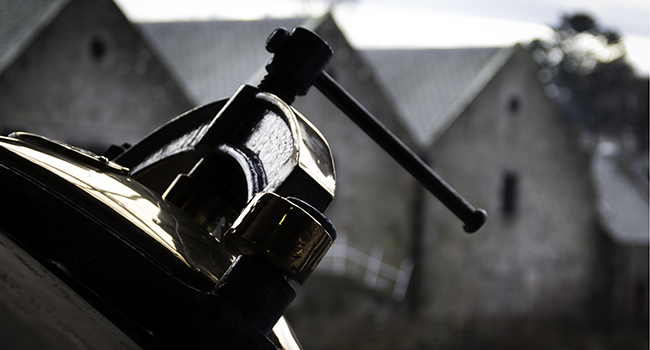 January 29, 2015 – A new report released Wednesday by the Scotch Whisky Association estimates the whisky industry's economic impact on the UK at £5 billion ($7.52 billion USD) annually, with the impact being felt not only in Scotland, but in England, Wales, and Northern Ireland. The study was done by the research firm 4-Consulting, and puts the direct impact at £3.3 billion, with secondary impacts such as packaging, logistics, and tourism accounting for around £1.7 billion.
"I think anybody who visits Scotland and visits the Scotch Whisky industry understands just what place it has in terms of Scottish society and the Scottish economy," said the SWA's David Williamson. "You don't have to go very far on Islay or in Speyside to see the evidence of that positive impact." The study puts total industry employment at 40,300 jobs, with 10,900 of those jobs directly within whisky-related businesses and the remainder employed indirectly through agriculture, logistics, manufacturing, and related industries. As a result, each whisky industry job supports 2.7 additional jobs in the UK economy.
Listen to Mark Gillespie's entire interview with David Williamson:

Additional impact comes from the location of many distilleries in rural areas, with around 20% of the whisky industry's work force located outside major cities and providing an estimated £250 million of income to rural communities. The study places Scotch Whisky as Scotland's third-largest industry, trailing only energy and financial services, with whisky accounting for 70% of the Scottish food and drink sector. The findings are based on data from the UK's Office of National Statistics and the SWA.
While 2014 export data will not be available until this spring, data from 2013 shows Scotch Whisky generates 1.4% of all UK exports but has a larger impact on the UK's trade balance. Since almost all of the industry's raw materials come from within the UK (except for imported casks, barley, and some capital equipment), 2013's £4 billion in Scotch Whisky exports made it a larger contributor to UK exports than the aviation, pharmaceutical, auto, steel, and all other industries except for mechanical equipment. The report estimates the UK's trade deficit for 2013 would have been 16% higher without the impact of Scotch Whisky exports.
The report's release comes as the SWA and other spirits industry groups are pushing for a cut in taxes on whisky and other spirits. Chancellor of the Exchequer George Osborne is scheduled to release the coalition government's next budget on March 18, and the industry wants more than just a second straight year of freezes on excise taxes and duties. The goal is a 2% cut in taxes on whisky sold within the UK, where taxes currently make up 78% of the average price of a bottle of whisky.
The SWA's Williamson cites economic studies showing that the 2% cut would generate an additional £1.5 billion each year in economic impact across the UK, but admits that the odds of getting a cut are long. "If you're paying four pounds of every five in tax to your Finance Minister, you can see that that is going to have an impact on your ability to compete," he said.
The entire SWA report is available to download.
Links: Scotch Whisky Association
---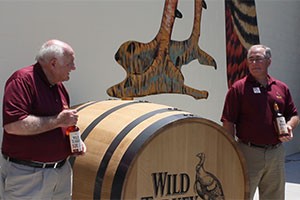 January 26, 2015 – For nearly 34 years, Wild Turkey's Eddie Russell has worked alongside his father, legendary Master Distiller Jimmy Russell. Now, he has the same title as his famous father after being promoted from Associate Master Distiller to Master Distiller – though he'll still be working alongside his father. In a news release and letter to members of the Russell's Reserve Legacy Society affinity group, Jimmy Russell said "after 34 years, I think he's finally earned it, but that doesn't mean I'm going to go any easier on him – or that I'm going anywhere anytime soon.  Eddie and I will work side by side as the industry's only father/son Master Distillers."
Reached in Brazil, where he is currently doing promotional work for Wild Turkey, Eddie Russell told WhiskyCast that his father had been planning the move for some time. "He really was going to do it last year, but for us it was about the Year of Jimmy Russell with his 60th anniversary, so we didn't want to take anything away from that." He created the Diamond Anniversary Bourbon released in 2014 to mark his father's anniversary at the distillery, and has been instrumental in all of the distillery's releases over the last several years. "34 years ago, I realized that I wanted to follow in his footsteps, and the footsteps of not only him, but all the other great master distillers," citing the late Booker Noe and Elmer T. Lee as just two of those who helped mentor him during his career.
Listen to Mark Gillespie's interview with Eddie Russell:

Eddie and Jimmy Russell have been collaborating on a new Russell's Reserve Single Barrel Rye expected to be released later this year, along with a 17-year-old Wild Turkey Bourbon that fits into what Eddie described as his more experimental nature. "Jimmy didn't really like the older whiskies, but I've really worked with it and moved it around…it's had a pretty good journey to make sure it doesn't get too oaky and too woody, which is his concern about older whiskies." Specifics on both whiskies will be announced at a later date.
Meanwhile, the next generation has already started on the path. Eddie's son Bruce received his degree from the University of Kentucky last month, and joined Wild Turkey on January 5. "He's going to take a little different approach to it…we're going to send him to Texas, which is our biggest domestic state, and be a brand ambassador for a couple of years," Eddie Russell said. "He's really interested in marketing, so he's going to learn the sales and distribution end of it, and eventually he'll come back to the distillery."
Editor's note: This story was updated with additional information following an interview with Eddie Russell. Also, Jimmy and Eddie Russell are featured in a WhiskyCast HD episode answering questions from listeners.
Links: Wild Turkey
---