Each week, we bring you the latest whisky news on WhiskyCast, but a lot can happen during the week. Now, you can keep up with whisky news as it happens here on WhiskyCast.com!
September 6, 2013 – When Fred and Stewart Laing agreed to split up the assets of their family's Douglas Laing & Co. at the end of April, both brothers pledged to have new lines of whiskies ready for the market as soon as possible — to make up for the brands each one agreed to give up to the other in the split. Now, Fred Laing and his daughter Cara have released the first batch of bottlings in the new Douglas Laing's Old Particular range of single cask bottlings.
Cara started working on the range in January after leaving her position as a brand manager at Morrison Bowmore. "When we took up the baton, the pair of us here together, we were fairly far along the road," Fred Laing told WhiskyCast's Mark Gillespie in an interview. "But, there's quite a long gestation period putting a pack together and getting the right samples that we could either accept or reject for what, for us, is a particularly important launch."
The name comes from one of the old Douglas Laing brands, and Laing said a discussion among staff members led to the decision to revive the name.
"Old Particular, we felt, was particularly nice because we're trying to make a particular claim and a particular indication that the stock we've got, the packaging we've brought, is particularly appropriate, not to bore you too much with such particulars." 
The range will launch with about 20 new bottlings each month, starting in September with a 16-year-old Laphroaig, a 31-year-old Port Ellen, a 20-year-old Tomatin, a 15-year-old Braeval, a 16-year-old Clynelish, and a 25-year-old Bowmore, along with bottlings from Arran, Bladnoch, Blair Athol, and other distilleries.
The Laings plan to announce a new small batch series coming on October 1, and a new Speyside version of their Big Peat Islay whisky on November 1.
Links: Douglas Laing & Co.
---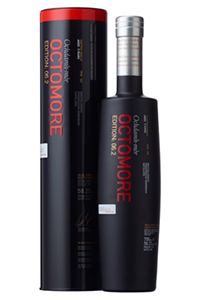 September 6, 2013 – Bruichladdich stayed out of travel retail sales for most of the time following the distillery's revival in 2001, only making a few limited forays into the market in the last couple of years. Now, Rémy Cointreau's sole whisky distillery will be making a major move into the travel retail arena, according to Just-Drinks.com. The site reports Bruichladdich will offer four new expressions as travel retail exclusives over the next six months, including Octomore 6.2, Port Charlotte 11, Bere Barley 2006, and a one-litre size Bruichladdich Organic bottling.
The distillery will rely on Rémy's extensive travel retail experience to build its presence in the sector. Decisions on which regions will get the initial bottlings are still being made.
Links: Bruichladdich
---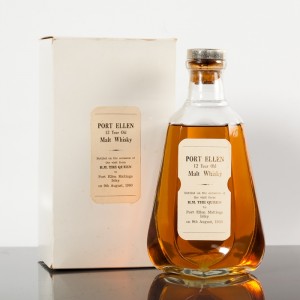 September 6, 2013 – Port Ellen bottlings are becoming scarcer, 30 years after the Islay distillery was closed and its stills removed. Now, a rare bottling from 1980 has taken top honors at the September McTear's whisky auction in Glasgow.
The 12-year-old bottling was produced to commemorate Queen Elizabeth's visit to the distillery on August 4, 1980, and brought a winning bid of £4,800 ($7,500 USD). The winning bidder's name was not released.
Runner-up honors went to a 1946 Macallan Select Reserve and a 1955 Bowmore, with both bottles receiving high bids of £4,000 each. A Dalmore 50-year-old distilled in 1926 brought a high bid of £3,200. Two 1964 Black Bowmores sold for £2,600 and £2,200, while a trio of 1964 Bowmores brought bids ranging from £3,200 for the Fino cask edition to £2,300 for the Oloroso cask and £2,200 for the Bourbon cask edition.
Complete results are available at the McTear's web site. The next McTear's auction is scheduled for October 9, 2013.
Links: McTear's
---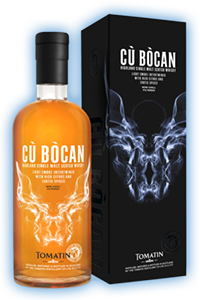 September 5, 2013 – Tomatin's mainstream single malt releases have never been known for their peatiness in recent years, so when the distillery decided to introduce a lightly peated single malt, it needed to stand apart from the rest of the range.
Enter Cù Bòcan (pronounced "koo bok-uhn"), a malt matured in a combination of Virgin Oak, ex-Bourbon, and ex-Sherry casks. The name is said to come from a mythical beast that reportedly prowled the Highlands near the village of Tomatin, and distillery manager Graham Eunson describes it in a news release as "light smoke intertwined with rich citrus and exotic spices.
The malt is bottled at 46% ABV, and will be available worldwide in limited amounts. Tomatin intends to produce 60,000 liters of Cù Bòcan each year, with a suggested retail price of £43.99 ($69 USD) per bottle.
---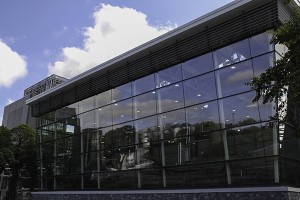 September 4, 2013 -A year and five months after breaking ground on the expansion of Midleton Distillery, Irish Distillers held a dedication ceremony to officially open the new Garden Stillhouse. Irish Taoiseach (Prime Minister) Enda Kenny spoke during the ceremony, as he did during the groundbreaking ceremony in April of 2013.
"It's a €100 million (Euro) investment in what has traditionally been a brilliant Irish product, which is now increasing in sales, volume, reputation, and competence," Kenny told WhiskyCast's Mark Gillespie in an interview following the ceremony. "This development here is a €60 million injection in the local economy, and that wouldn't have happened without belief in the competence and professionalism of the product that's produced here."
The Garden Still House will be dedicated exclusively to Pot Still Whiskey production, with three stills that will be used along with the four stills currently used in the original Midleton still house. A new column stillhouse is under construction, with completion and commissioning expected in November, and the current column stills in use at Midleton will be mothballed.
The new stills will allow Irish Distillers to dedicate more production capacity to Single Pot Still whiskies, including Redbreast, Midleton Barry Crockett Legacy, and Powers John's Lane. With the global demand for Jameson, most of Midleton's pot still production has been needed for the Jameson blends. "It means that we can continue the success story that Jameson has been," Irish Distillers CEO Anna Mahlmake said in an interview. "It also means that we can now start showing even more of the breadth of Irish Whiskey to the world through brands like Powers, Paddy, and so on. It means the world to us to be able to do this."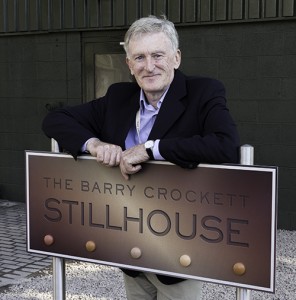 As part of what Irish Distillers called "The Housewarming", a private ceremony was held late in the afternoon to rename the original Midleton stillhouse in honor of retiring Master Distiller Barry Crockett on his final official day with Irish Distillers. The "Barry Crockett Stillhouse" honors Crockett's 47 years at Midleton, with the last 31 as Master Distiller following in his father's footsteps. With no son to continue the family tradition, Crockett spent the last ten years tutoring his successor, Brian Nation.
"I will miss the excitement of the distilling operation here," Crockett said in an interview. "Having said that, there comes a time in everyone's life when you've got to realize that it's time to hand over the mantle, hand over the reins, to another generation. I've had my day in the sun." Crockett will continue to be seen around the distillery, as he is taking on a personal project working in the Irish Distillers archives while pursuing a master's degree in industrial archaeology at University College in Cork.
For more on this story, listen to this weekend's episode of WhiskyCast.
Links: Irish Distillers | Jameson | Single Pot Still Whiskies of Midleton
---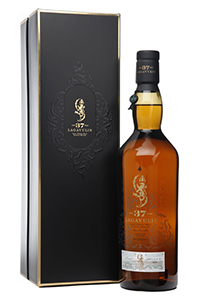 September 3, 2013 – The annual release of limited-edition single malts from Diageo's Scotch distilleries includes a 37-year-old Lagavulin, along with nine other rare bottlings. The Lagavulin expression was distilled in 1976, and is the oldest distillery bottling on record from the Islay distillery.
Only 1,868 bottles will be released, with a suggested retail price of $3,000 (USD) per bottle. In a news release, Lagavulin distillery manager Georgie Crawford called her whisky "probably the most sought-after single malt whisky in production today."
"For many years we have been unable to supply sufficient mature spirit to meet worldwide demand. So bottlings of old Lagavulin are exceptionally rare, and this year's 37 year old is the oldest that we have ever released."
In addition to the 37-year-old Lagavulin, a 12-year-old cask-strength (55.1% ABV) expression will also be part of the 2013 series. Caol Ila, the company's other distillery on Islay, will have a special release honoring retiring distillery manager Billy Stitchell and his entire family. The Caol Ila Stitchell Reserve is an unpeated malt with no age statement matured in a combination of refill and rejuvenated American Oak casks and ex-bodega Spanish Oak sherry casks. Billy Stitchell's father, both grandfathers, and a great-grandfather all worked at Caol Ila, and Billy has been a fixture there since 1974. He is scheduled to retire later this year.
The annual Port Ellen release is a 34-year-old bottling from 1978 matured in refill American and European Oak casks, with just under 3,000 bottles to be available at a recommended price of $2,350 each.
Other releases include a 36-year-old Convalmore single malt from the Dufftown distillery that closed in 1985, a 35-year-old Brora from 1977, and a 28-year-old expression of The Singleton of Dufftown. Talisker will be represented by a 27-year old expression matured in refill American Oak casks, and Oban is contributing a 21-year-old cask-strength (58.5% ABV) expression.
The only one in the series that will not be available in the U.S. is a 21-year-old Cardhu expression. 6,000 bottles will be available in other markets. All ten malts are scheduled to be available this fall in Northern Europe, selected Asian markets, and the United States.
Links: Diageo
---

September 2, 2013 – Powers Irish Whiskey, often thought of as "the Irish whiskey the Irish drink," is getting a new addition to the range with its second single pot still release. As first reported on WhiskyCast earlier this year during an interview with Powers ambassador and family member John Ryan, Powers Signature Release had a sneak preview during WhiskyFest Chicago in April. It is the second single pot still release for Powers in recent years, along with the Powers John's Lane release two years ago.
In addition, Powers Gold Label will also get a new format with a higher ABV level (43.2%), along with a new label design coordinated with Signature Release and the other whiskies in the Powers range. Signature Release and the new Gold Label will be available in the US and Ireland starting this month. The announcement follows last week's release of Paddy Centenary from Irish Distillers to celebrate that brand's 100th anniversary.
Powers was created by the Power family at the John's Lane Distillery in Dublin, but when the family merged its company with Ireland's other family-owned distilleries in 1965 to form Irish Distillers, the decision was made to focus on Jameson as the new company's main export brand. Powers remained largely a domestic brand with limited exports over the years, and became one of the leading whiskey brands in Ireland. As with all of the Irish Distillers whiskies, Powers is distilled at the Midleton Distillery in County Cork, Ireland.
Links: Powers | Irish Distillers
---
August 31, 2013 – While the annual release of the Pappy Van Winkle's Family Reserve series of Bourbons always draws overwhelming response from Bourbon lovers, the upcoming 2013 release could be one of the most sought-after yet. While all of the whiskey used for the 23-year-old Pappy Van Winkle's Family Reserve has come from the old Stitzel-Weller Distillery in Louisville until now, supplies of that whiskey are running out.
"This might be the last year…I'd have to look at the barrel model to be 100% sure," Preston Van Winkle said during a telephone interview with WhiskyCast's Mark Gillespie for this week's episode (#440). "There aren't too many bottles of anything produced at Stitzel-Weller left on this Earth."
Van Winkle, Pappy Van Winkle's great-grandson and the marketing director for Old Rip Van Winkle Distillery, and his father are selecting the final barrels for this year's releases this week at Buffalo Trace Distillery. Buffalo Trace started distilling for the Van Winkle brands in 2002, 11 years after the distillery on Louisville's west side was closed. Stitzel-Weller was the place where Pappy Van Winkle perfected his wheated Bourbons while producing Old Fitzgerald and other whiskies. Since its closing, Stitzel-Weller has achieved almost mythical status among Kentucky's Bourbon distilleries.
This year's release of the Pappy Van Winkle's Family Reserve Bourbons is expected around October 1, with limited availability for the 15, 20, and 23 year old whiskies.
Note: Preston Van Winkle contacted us on September 17 to request a correction on this story, saying that he did not specifically say that this year's Pappy Van Winkle's Family Reserve 23 would be the final one with whiskey from the Stitzel-Weller Distillery. After reviewing the audio from the interview in Episode #440, this story was edited to include his exact quotes from the interview. While we strive for 100% accuracy in all of our content, we are always glad to correct errors when necessary.  
Links: Pappy Van Winkle Bourbon
---
August 22, 2013 – The upstart New Zealand Whisky Company has been making headlines for its occasionally controversial promotions, such as the "Whisky Olympics" CEO Greg Ramsay helped organize in Michigan last year that drew the ire of the United States Olympic Committee. Now, there's a potential lawsuit brewing over the name of Ramsay's "Dunedin Doublewood" single malt whisky.
According to the New Zealand Herald, William Grant & Sons has turned an Auckland law firm loose on the New Zealand Whisky Company, claiming the "Dunedin Doublewood" name violates New Zealand's Fair Trading Act of 1986 and will confuse consumers. Grant's applied for trademark protection in New Zealand last year, but has been selling The Balvenie Doublewood expression since 1993. A "cease and desist" letter from the Simpson Grierson law firm demands that New Zealand Whisky Company stop using the word "Doublewood" on any of its products, citing the international reputation The Balvenie's expression has developed since its launch 20 years ago.
Ramsay told the Herald that the name refers to a cask-aging process, and that his company started using the name "Doublewood" in New Zealand five years ago before Grant's applied for trademark protection:
"We feel they don't have grounds for a cease and desist," said Mr Ramsay. "Their legal threat is full of bluster and heavy-handedness. "We don't contravene their existing trademark because we were using it first, and in any case, we say there is no consumer confusion."
Ramsay's whisky was produced at the now-closed Willowbank Distillery in Dunedin. His company bought the remaining stocks of Willowbank whisky in 2000, and has been maturing them at its own warehouses. For more on the company's history, listen to Mark Gillespie's interview with Greg Ramsay in Episode 391 of WhiskyCast.
This story will be updated as more details become available.
Links: New Zealand Whisky Company | William Grant & Sons | The Balvenie
---
August 22, 2013 – Jack Daniel's and Lynchburg, Tennessee have become synonymous over the years, but the latest plans to expand the Jack Daniel Distillery in Lynchburg could likely cover the cost of buying the entire town. Brown-Forman announced plans today to invest more than $100 million over the next two years to expand production at the distillery. Construction will start this fall, and will include new stills and production equipment, along with additional maturation warehouses and infrastructure to support the operation. The new stills will use the same cave spring water source as the existing still house's four stills.
In a news release, Master Distiller Jeff Arnett said the project's goal will be to make the spirit from those new stills identical to the whiskey produced in Lynchburg since Jack Daniel started making whiskey there in 1866.
"The expansion will help Jack Daniel's continue to bring our distinctive, charcoal-mellowed whiskey to the world and to follow Mr. Jack's belief when he said, 'Every day we make it, we'll make it the best we can."
The project is expected to create at least 90 new jobs over the next five years.The distillery currently employs around 430 workers in Lynchburg.
State officials praised the expansion move, and The Tennesseean reports work is underway on an economic development incentive package to help support the expansion. Brown-Forman is considering several sites in the Lynchburg area for the new maturation warehouses and stills, and General Manager John Hayes told The Tennesseean that the facilities could be spread out all over Moore County. Brown-Forman already has 78 warehouses in the area, and has been adding three a year to keep up with the demand. Jack Daniel's sales worldwide rose 9% last year, the 21st consecutive year of gains for the brand.
In June, Brown-Forman announced a similar expansion project for its Woodford Reserve Distillery in Versailles, Kentucky. The $35 million project will also see additional distilling and maturation capacity added in Versailles.
Links: Jack Daniel's 
---