Each week, we bring you the latest whisky news on WhiskyCast, but a lot can happen during the week. Now, you can keep up with whisky news as it happens here on WhiskyCast.com!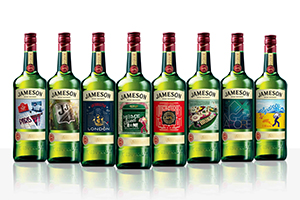 August 14, 2013 – Jameson Irish Whiskey is launching a new series of eight exclusive bottles aimed at travelers, with each bottle in the City Editions series unique to its home airport. Each of the eight bottles has a design featuring the culture of its city, with a postage stamp-inspired label design.
The City Editions series will debut at Amsterdam's Schiphol airport this month at a price of €24.50 ($32.50 USD), followed by launches in  Bangkok, Dublin, London, Moscow, Paris, Singapore, and Sydney. In a news release, Jameson Global Brand Director Daniel Lundberg cited the desire to mesh the whiskey's Irish heritage with its global popularity as the top-selling Irish Whiskey worldwide:
"With the Jameson City Editions, we wanted to celebrate the different cultures and personalities of some of the great cities around the world and we're delighted with the end results. We are hopeful that this special collection and the marketing activity we are activating to support the launch will capture the imagination of international jetsetters and provide them with a unique memento of their travels for them to enjoy with their friends or keep as collectors' items."
Purchasers will be eligible to enter a travel photo competition with photos of their bottle or city, with the winner to receive a travel trunk/liquor cabinet containing bottles from all eight cities and four  additional bottles of Jameson Original.
Links: Jameson
---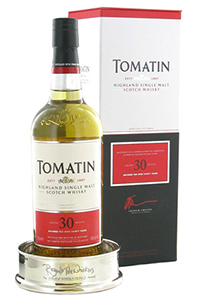 August 14, 2013 – Attendees at the annual Whisky Fringe festival this past weekend in Edinburgh, Scotland selected Tomatin's 30-year-old single malt as the winner of the Spirit of Whisky Fringe Award for the second consecutive year. Royal Mile Whiskies, which sponsors the annual event, announced the results today in an email newsletter, calling it "a remarkable achievement" and "a thoroughly well deserved result."
Balblair's 1997 single malt was the runner-up for the second year in a row, and in the Top Ten for three consecutive years. Ardbeg Uigeadail moved up five spots from last year to finish third, while a Douglas Laing Director's Cut bottling of a 1991 Highland Park cask finished fourth.
Rounding out the top ten finishers:
5th Place: Glenglassaugh 30
6th Place: Bunnahabhain 25
7th Place: Balvenie 17 Doublewood
8th Place: Hunter Laing's Old & Rare Tamdhu 1990
9th Place: Kilchoman 4 Single Cask for Royal Mile Whiskies
10th Place: BenRiach 1994 Peated
Whisky Fringe is held each August in conjunction with Edinburgh's annual Fringe Festival.
Links: Royal Mile Whiskies
---
Updated August 13, 2013 –  More changes at Whyte & Mackay are taking place, according to the Sunday Herald. Chairman Vijay Mallya and fellow director Ayani Nedunghani have left the board of the United Spirits-owned Scotch whisky unit, along with John Beard, who was named CEO just last week after leaving Bacardi Brown-Forman's UK operations. Last week, Ashwin Malik stepped down as Whyte & Mackay CEO to return to India with his family.
Mallya still maintains an indirect role at Whyte & Mackay, since he continues to serve as chairman of United Spirits even as Diageo holds a controlling stake in the India-based spirits company. Mallya paid £700 million GBP (approximately $1.4 billion USD) for Whyte & Mackay in 2007, and the debt service on the loans to finance the transaction helped contribute to serious financial problems for Mallya's business empire. His Kingfisher Airlines has been grounded since October, 2012, and the Economic Times reports a consortium of Indian banks has seized the airline's corporate headquarters building in Mumbai.
The status of Whyte & Mackay under Diageo's control is uncertain, as the UK's Office of Fair Trading is looking at whether Diageo's control of United Spirits would give it an anti-competitive position in the Scotch whisky industry. An interim decision could come later this month, with the agency likely to refer the matter to the Competition Commission for final action.  Former Diageo CEO Paul Walsh indicated earlier this year before his retirement that Whyte & Mackay was surplus to Diageo's needs, and it's expected that the unit could be sold to satisfy regulatory concerns. The Business Standard reported Tuesday that Diageo will not exert any control at Whyte & Mackay or count the unit's results in its financial statements until the OFT ruling, in compliance with the pledges it made to the OFT last month. Whyte & Mackay accounts for 17% of United Spirits' annual sales, according to the report.
Whyte & Mackay spokesmen confirmed the executive changes in an email to WhiskyCast's Mark Gillespie Tuesday, but were unable to provide any additional information.  This story will be updated as more details become available.
Links: Whyte & Mackay | United Spirits | Diageo
---
August 8, 2013– With the future of Whyte & Mackay in question as the UK's Office of Fair Trading looks at potential competition issues following Diageo's acquisition of a controlling stake in W&M parent company United Spirits, the unit's CEO is returning to corporate headquarters in India.
Just-Drinks.com reports Ashwin Malik has stepped aside, saying that while he enjoyed his time in Scotland, now was the time for he and his family to return to India. Malik has been replaced by veteran drinks industry executive John Beard, who has left his role as CEO of Bacardi Brown-Forman's UK operations to join Whyte & Mackay. Beard told Just-Drinks.com:
"I have met with (UB Group chairman) Dr Mallya personally, and there is no doubt in my mind that he is committed to this company, committed to building great premium brands, and committed to making Whyte & Mackay a major international spirits company. I am looking forward to doing my bit to help that become a reality."

In a related development, Jorge Gutierrez, who left Whyte & Mackay as head of its Americas regional unit last month, has landed as CEO at Voli Vodka. Gutierrez also took Lee Strader, who was one of Whyte & Mackay's top sales executives in the US, to Voli as national sales director.
Links: Whyte & Mackay | United Spirits | Voli Vodka
---
August 7, 2013– Just weeks after releasing a Glen Garioch single malt matured in Virgin Oak, Morrison Bowmore has done it again…this time with a Virgin Oak malt from Auchentoshan Distillery near Glasgow.
The new Auchentoshan, as with the Glen Garioch, was matured entirely in new American Oak casks. It will be available in limited quantities initially in the UK, with a possible US release later. While the number of bottles to be available has not been announced, the suggested retail price is £69.99 ($109 USD) for a 70cl bottle.
Links: Auchentoshan
---
August 7, 2013– Just weeks after releasing a Glen Garioch single malt matured in Virgin Oak, Morrison Bowmore has done it again…this time with a Virgin Oak malt from Auchentoshan Distillery near Glasgow.
The new Auchentoshan, as with the Glen Garioch, was matured entirely in new American Oak casks. It will be available in limited quantities initially in the UK, with a possible US release later. While the number of bottles to be available has not been announced, the suggested retail price is £69.99 ($109 USD) for a 70cl bottle.
Links: Auchentoshan
---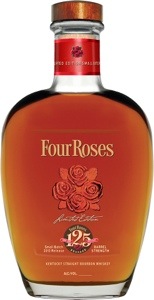 August 7, 2013– 2013 is the 125th anniversary of distilling at Four Roses Distillery in Lawrenceburg, Kentucky, and the distillery will be releasing the second of its annual limited edition Bourbons next month to mark the occasion.
The Four Roses 2013 Limited Edition Small Batch bourbon blends three of the distillery's 10 unique recipes, with Master Distiller Jim Rutledge selecting an 18-year-old OBSV) the distillery's unique code for mashbill, yeast strain, and other characteristics) batch with a mashbill of 60% corn, 35% rye, and 5% malted barley, and a yeast strain designed to impart a slightly fruity taste. The other two recipes are both 13-year-old batches of OBSK and OESK recipes, with the yeast in both imparting spiciness. The OBSK uses the same mashbill as the 18-year-old batch, while the OESK uses a mashbill of 75% corn, 20% rye, and 5% malted barley.
The final product will be bottled uncut and unfiltered at barrel strength, with around 8,000 bottles to be available. No release date has been specified, but Four Roses traditionally releases its Limited Edition Small Batch around the Kentucky Bourbon Festival in mid-September.
Links: Four Roses
---
August 6, 2013– Buffalo Trace's experimental Single Oak Project is looking for the proof with the tenth batch in the four-year-long project.
Each batch so far has tested the difference key variables make in the development of a Bourbon's aroma and flavor, by tweaking some variables while keeping others the same. The 192 expressions to be released in quarterly batches of 12 were aged for identical lengths of time in barrels made from half of a single tree — with one barrel coming from the bottom half and one from the top. The other variables include the mash bill (rye or wheat), entry proof, warehouse location, the size of the grain and the length of seasoning time for the barrel staves, and the level of charring in the barrel.
Batch #10's unique variable was entry proof, with the wheat and rye mash bills being filled into the barrels at either 125 proof (62.5% ABV, the maximum allowed under U.S. law for Bourbon) or 105 proof (52.5% ABV). All other variables remained the same, allowing consumers to see whether a noticeable difference can be found. Other Buffalo Trace experiments have found that a higher entry proof can often lead to higher evaporation rates. However, all expressions in the Single Oak Project series are bottled at 45% ABV.
The distillery has been seeking feedback from consumers on their preferences after tasting many of the 108 bottles previously released in the series. Voting and tasting notes entered at the Single Oak Project web site now show a new leader in the clubhouse, with Barrel #59 as the favorite after a long run for Barrel #106. The eventual goal will be to take the final winner after the project ends in 2015 and replicate it under the Single Oak brand name.
Links: Buffalo Trace
---
August 2, 2013 – Beam Inc. has announced plans for a new 600,000 square foot distribution center to be built next year near its main bottling facility in Frankfort, Kentucky. The center will create around 60 new jobs, and Beam will be looking for a logistics and distribution provider to own and operate the center between now and the start of construction in early 2014.
The Frankfort bottling facility handles about 55% of Beam's total production of 21 million cases annually in Kentucky, along with bottling Canadian Club and other Beam products.  The new distribution center will serve as a permanent warehousing facility for spirits before shipping to distributors around the world. In a news release, Beam global manufacturing vice president David Hunter cited the advantages of centralizing distribution around the Frankfort plant:
"In the past five years, Beam's volume at Frankfort has more than doubled, and two-thirds of Beam's annual global volume is produced out of our plants in Kentucky. By having a third-party logistics provider operate this new distribution center for us, we will be able to focus on our core competency of making the best spirits in the world and best meet the growing distribution needs of our business. We couldn't be more pleased to show once again that we're growing for the future in Kentucky."
Last month, Beam opened its Global Business Services Center in Louisville, moving more than 30 administrative positions in finance, human resources, and other areas from the company's headquarters in Deerfield, Illinois.
Links: Beam
---
August 2, 2013 – Like many towns along the Scottish coast, Oban has a team of dedicated lifeboat rescue volunteers ready to save the lives of those caught in boating or swimming accidents. Nearly 20 years ago, the Oban Distillery donated a 250-litre hogshead of whisky to the RNLI lifeboat team for use in a future fundraiser once the spirit reached 18 years. Now that the whisky has come of age, For Argyll.com reports 240 bottles of the Oban Lifeboat have raised nearly £40,000 GBP ($61,100 USD) through sales at The Green Welly Stop in Tyndrum, Oban's Birchwood Filling Station and Mulberry Bank Auctions in Glasgow.
The Oban Lifeboat Fundraising Committee held a few bottles back, and is now holding a raffle for one valued at £195, with tickets on sale for £1 each. The For Argyll.com story has contact information for the committee to order tickets by phone.
---