Each week, we bring you the latest whisky news on WhiskyCast, but a lot can happen during the week. Now, you can keep up with whisky news as it happens here on WhiskyCast.com!
Updated April 26, 2013 – Police in Toronto are still looking for a man who stole a $26,000 (CDN) bottle of Glenfiddich 50-year-old Scotch from the Liquor Control Board of Ontario's Queens Quay store April 7.
Investigators say the suspect selected the rare whisky from the downtown store's Vintages section, where rare bottles are usually kept in locked display cases, then picked out a bottle of wine. He left the store after paying for the wine, but not the whisky. Glenfiddich only releases 50 bottles of the 50-year-old whisky each year, and this was one of only 15 bottles available in Canada, according to the LCBO's Heather McGregor.
"We are cooperating with the Toronto Police Service,  and we hope that we can recover the bottle," McGregor told WhiskyCast's Mark Gillespie. "We take theft very seriously at LCBO…we have surveillance in place, we use in-store security, and we have staff training to help deal with shoplifting and theft. But, when something like this does happen, it's an opportunity for us to look at the way we do things and determine whether changes need to be made."
McGregor declined to say how the thief was able to get the bottle of whisky from the display case, citing the ongoing investigation.
Police released this photo of the suspect from the store's surveillance camera. He is described as 35-45 years old, 5'10″  in height, and clean-shaven with black-framed glasses. He was wearing a plaid Burberry-style shirt, brown cap, brown trenchcoat, and black jeans. Anyone with information on the suspect is asked to contact the Toronto Police Service's 51 Division at 416-808-5100. According to McGregor, the LCBO is not offering a reward.
This is the most valuable bottle of whisky known to have been stolen since October of 2010, when a thief stole a 20cl bottle of the Gordon & MacPhail Generations Mortlach 70 single malt from the Symposion booth at the Stockholm Beer & Whisky Festival. That bottle was never recovered.
Links: LCBO | Toronto Police
---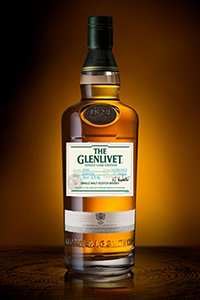 April 26, 2013 – Single cask distillery bottlings of The Glenlivet are fairly rare, and The Whisky Shop's 21 UK stores will have one starting on May 7. The Glenlivet Quercus is a 17-year-old malt matured in American white oak and bottled at 52.1% ABV.
Of course, Quercus is Latin for oak, with Quercus Alba being the specific name for American White Oak. However, that name is already in use for a single malt from The Glenrothes. 250 bottles are available exclusively through The Whisky Shop at a price of £199.99 ($309 USD).
Read more »
---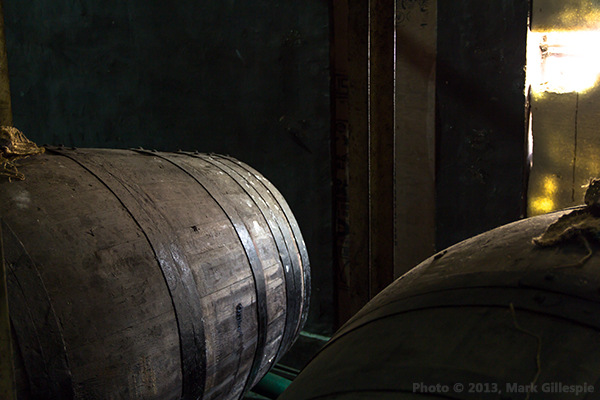 April 22, 2013 – India's Amrut Distilleries has released its oldest single malt whisky yet, an eight-year-old expression that pays tribute to the extremely high evaporation rate inside the distillery's Bangalore warehouses. "Greedy Angels" refers to the 12% annual evaporation rate for casks at the distillery, which is located in the elevated plateaus of Southern India and are affected by high temperatures, humidity, and altitude.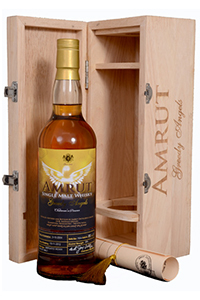 When the casks were filled in 2004, they held approximately 360 liters of spirit. During the 8 years that passed, the "Greedy Angels" claimed 274 liters to evaporation, leaving just 86 liters behind for bottling. Only 144 bottles are being released worldwide to celebrate the 60th birthday of Amrut Chairman Neelakanda Jagdale, the son of Amrut founder Sri Radakrishna N Jagdale.
For more on this story, listen to Episode 417 of WhiskyCast and Mark Gillespie's interview with Amrut managing director Rick Jagdale. For Mark's tasting notes on Greedy Angels, click here.
Read more »
---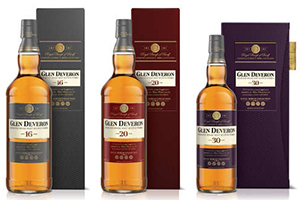 April 22, 2013 – Bacardi's Glen Deveron range of whiskies for the travel retail market is being expanded in key European markets. The owner of Dewar's blended Scotch and Aberfeldy single malt is adding three new malts to the Glen Deveron lineup starting this month, with 16, 20, and 30-year-old expressions.
Glen Deveron is the name given to official bottlings from the MacDuff distillery in Banff, which John Dewar & Sons acquired in 1992. The name comes from the River Deveron, which runs beside the distillery. The new bottlings will be available primarily at World Duty Free's travel retail outlets in the UK and Spain.
---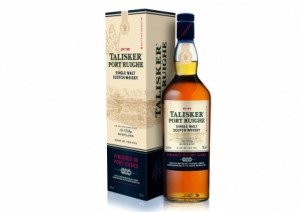 April 19, 2013 – Diageo's Classic Malts range is expanding with a new Talisker single malt. Port Ruighe is a Port wine cask-finished Talisker with no age statement, and is being bottled at 45.8% ABV.
The whisky uses the Gaelic name for the port on Talisker's home, the Isle of Skye (pronounced as "Ree"). In a news release, Classic Malts Master Blender Maureen Robinson described the whisky's provenance:
"Talisker Port Ruighe is a combination of spirit that has been matured in American Oak and European Oak refill casks in the traditional manner along with spirit that has been filled into specially conditioned deeply charred casks. The spirit is then finished in casks that have previously held Port Wine which endows it with spicy fruit notes. These bond elegantly with that clean, fresh smokiness that signals its essential Talisker character."
Port Ruighe will be a permanent addition to the Talisker range, but will only be available in Western Europe at first. It's the second new expression for Talisker in 2013, following the release of Talisker Storm earlier this year.
Links: Classic Malts
---
April 18, 2013 – Tennessee lawmakers have approved a bill that would allow the owners of Chattanooga Whiskey to build a distillery and produce their own spirit instead of importing it from Indiana. State senators approved the bill today after initially rejecting a House amendment Wednesday evening that restored distance limits between any distillery and schools or schools. The bill now goes to Tennessee Governor Bill Haslam for his signature.
The bill adds Hamilton County, where Chattanooga is located, to the counties where distilling is legal in Tennessee, as long as local ordinances allow retail package liquor (off-premise) and "liquor by the drink" (on-premise) sales. Hamilton County and Chattanooga elected officials have already given the project their blessing. However, the county had been left out of the 2009 law that allowed for new distilleries in Tennessee other than the Jack Daniel's Distillery in Lynchburg and the George Dickel Distillery in Tullahoma.
Chattanooga Whiskey owners Joe Ledbetter and Tim Piersant have pledged to invest $2 million to restore a historic factory site in the downtown area for use as a distillery, warehouse space, and events center as soon as Gov. Haslam signs the bill into law. Their whiskey is currently distilled at the MGP-I Distillery in Lawrenceburg, Indiana.
Links: Chattanooga Whiskey
---
April 18, 2013 – Distell Group's $245.4 million (USD) acquisition of Scotland's Burn Stewart Distillers this week fills a gaping hole in the South African-based company's global portfolio. The deal gives Distell Burn Stewart's Scottish Leader and Black Bottle blended Scotch whiskies, the Bunnahabhain, Tobermory, and Deanston distilleries, and a majority stake in International Beverage Company, the Atlanta-based U.S. importer and distributor for Burn Stewart's whiskies and other spirits.
The two companies have been partners in Africa since 2007, as Distell distributed Burn Stewart's whiskies in the region. "Obviously, it does help if you have a relationship with Burn Stewart, so we knew the brands and the management team very well," Distell spirits business director Caroline Snyman told WhiskyCast's Mark Gillespie today. "There was a gap in our portfolio,  particularly more on the global side, that Scotch Whisky could fill."
Snyman says Distell is still looking at Burn Stewart's operations before deciding on management changes or capital investments. However, it appears that investments in expanded production capacity are likely. "We will be looking to increase our stocks so that we have more supply available for the future."  Distell will also take advantage of Burn Stewart's existing network to expand distribution for its Three Ships and Bain's Cape Mountain South African whiskies, as well as its Amarula cream liqueur.
Snyman also expects to continue Burn Stewart's efforts to expand distribution of Scottish Leader, which is a strong seller in Taiwan and other Asian markets, as well as Scotland. Burn Stewart had started making initial inroads into the U.S. market with the brand during 2011 and 2012, with a goal of  nationwide distribution.
Listen to this weekend's episode of WhiskyCast for the entire interview with Caroline Snyman.
Read more »
---
April 17, 2013 – Moray Council has given planning approval for the proposed Chivas Brothers distillery slated to be built on the site of the old Imperial Distillery in Carron near Aberlour. Chivas executives selected the site in 2012, largely because of its existing water supply and long-standing permits for Imperial, then worked with local officials and nearby residents before filing the formal request for permits.
Allied Domecq closed Imperial in 1998, and had considered selling the site for housing development or other uses before the company was acquired by Chivas Brothers in 2005. Chivas pulled the site off the market several years ago, and there had long been rumors that Imperial might be revived until Chivas confirmed plans in 2012 to build a new distillery on the site. The old distillery's buildings have already been demolished in preparation for construction of the new facility, which is expected to increase Chivas Brothers' production capacity by around 5 million liters of spirit each year.
Moray Council member Douglas Ross, who chairs the council's planning and regulatory services committee, praised the project in an interview with The Scotsman:
"Moray and Speyside are well known around the world for their contribution to the whisky industry and I'm sure this new distillery will be another welcome addition. Its location in Carron, replacing the former distillery, is very picturesque and it is pleasing that local people will now have a new distillery complex of a more modern contemporary design in their area."
Chivas Brothers has not announced a timetable for the start of construction, but has indicated that the new distillery will not be named Imperial. While Chivas Brothers owns the rights to the name as a single malt, a blended Scotch whisky being sold in Asia by another company carries the Imperial name.
Links: Chivas Brothers
---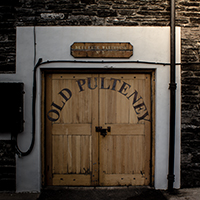 April 16, 2013 – Old Pulteney will unveil a new Lighthouse series of travel retail expressions at next month's TFWQ Asia-Pacific exposition, with plans for the three single malts in the series to go on sale later this summer. The whiskies continue Old Pulteney's maritime heritage with their branding, but will carry no age statements.
Noss Head will retail for £39.99 ($61.50 USD), and is matured in ex-Bourbon casks. Duncansby Head is matured in a combination of ex-Bourbon and ex-Sherry casks, and will sell for £44.99 ($69), while Pentland Skerries is matured in Spanish Oak ex-Sherry casks, and will sell for £54.99 ($84.50) per bottle.
All three expressions will be available worldwide through travel retail shops.
Read more »
---
April 16, 2013 – After the second consecutive year in which a lack of rainfall has forced production to be halted, Tobermory Distillery on Scotland's Isle of Mull will resume production tonight. The distillery was shut down last Thursday after a lack of rainfall left the privately-owned loch that supplies Tobermory with water well below normal levels. Last year, a similar drought forced the distillery to shut down for several weeks.
Earlier, The Telegraph reported Mull has only had about 20% of its normal rainfall over the last six weeks, with less than 2 inches of rain during the entire month of March. However, a Burn Stewart Distillers spokesman told just-drinks.com that the island has received enough rain over the past three days to replenish the loch and allow production to resume.
Tobermory is owned by Burn Stewart Distillers, and produces single malt Scotches under the Tobermory and Ledaig (peated) brand names, along with whisky for the Burn Stewart blended Scotches. The distillery's sale was announced Monday as part of the $245.4 million acquisition of Burn Stewart by South Africa's Distell Group.
---