Each week, we bring you the latest whisky news on WhiskyCast, but a lot can happen during the week. Now, you can keep up with whisky news as it happens here on WhiskyCast.com!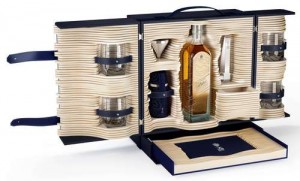 June 24, 2013 – Diageo will release a special Alfred Dunhill Johnnie Walker Blue Label collection for the travel retail market in the brand's latest partnership with other luxury goods creators. The initial release features a Dunhill travel trunk that holds a bottle of Johnnie Walker Blue Label, along with four glasses, a Dunhill flask, funnel and ice tongs. The trunk is modeled after Dunhill's classic car trunks, and will be one of two gift packs in the series.
Pricing has not been announced for the trunk gift set, which will be available in travel retail shops globally. Only 500 sets will be produced.
---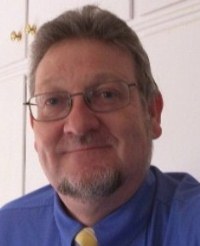 June 23, 2013 – Craig Daniels has claimed his third title in the Australian Malt Whisky Tasting Championship with a win in Friday night's competition at the Australian Museum in Sydney. Daniels, a longtime member of the Malt Maniacs and the chairman of the Malt Whisky Society of Australia, took top honors in a field of more than 60 competitors. He previously won in 1995 and 2008, and has placed second three times.
The competition was organized by the Scotch Malt Whisky Society's Australian chapter, and competitors had 30 minutes to correctly identify eight different whiskies by nosing and tasting samples and comparing them to a list of nine whiskies – with one "red herring" on the list to throw some confusion into the mix. An additional round of tasting was conducted to settle ties and determine the final winners.
As the overall winner, Daniels will receive a spot on the Society's upcoming Glenmorangie-sponsored whisky tour of Tasmanian distilleries. James Tait finished second, and will receive $1,000 worth of whiskies from the Society. Third-place finisher Ian Titman will receive a $500 gift certificate from The Oak Barrel whisky shop in Sydney and tickets to the shop's whisky fair later this year.
The competition was sponsored by Glenmorangie, William Grant & Sons, and The Oak Barrel.
Editor's note: In the story on this event in Episode 430 of WhiskyCast, Craig Daniels was named as a four-time winner. This was based on our interview following his 2008 victory in which I thought he said he had won two previous times. However, he was referring to that being his second victory, and his bio on the Malt Whisky Society of Australia web site only lists previous victories in 1995 and 2008. 
---
June 21, 2013 – Hankey Bannister, the International Beverages-owned blended Scotch brand, has a new limited-release expression that was created to remember the whisky's original heritage and flavor. In a news release, the company cited a vintage bottle of Hankey Bannister dating back to the 1920's found last year as the inspiration for the Heritage Blend.
The company's master blender, Stuart Harvey, added a dash of older and smokier whiskies to his recipe for Hankey Bannister to give the Heritage Blend a flavor more reminiscent of whiskies from that time period.  Hankey Bannister uses malt whiskies from the company's five distilleries (Balblair, Pulteney, Knockdhu, Speyburn, and Balmenach), along with malt and grain whiskies from other distilleries in Scotland.
5,000 cases (approximately 60,000 bottles) of Hankey Bannister Heritage Blend will be available at specialist retailers worldwide, with a suggested retail price of £26.99 ($41.50 USD).
Links: Hankey Bannister
---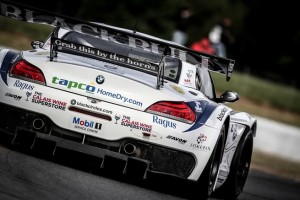 June 21, 2013 – The 24 Hours of Le Mans kicks off Saturday, but Scotland's Ecurie Ecosse racing team is already making plans for the 2014 race. The legendary sports car team has completed a major sponsorship agreement with Duncan Taylor's Black Bull blended Scotch whisky brand for this year's British GT and European Le Mans Series races and next year's Le Mans bid. Ecurie Ecosse won the overall championship at Le Mans in 1956 and 1957, and has had three F1 World Champions and two Indianapolis 500 winners (Jim Clark and Dario Franchitti) as drivers during its history.
The partnership kicked off with last weekend's British GP races at Snetterton, in which the Ecurie Ecosse/Barwell Motorsports BMW Z4 GT3 retired with a brake problem in the first race, but scored a 7th place finish in the points during the second race. The team's next outing will be in European Le Mans Series competition at Austria's Österreich on July 19 and 20.
Links: Black Bull | Ecurie Ecosse
---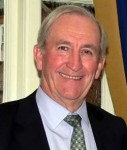 June 21, 2013 – There are few things that James Espey hasn't done in the whisky industry. He's one of the few people to hold high-ranking executive positions with both Seagram's (now part of Pernod Ricard) and United Distillers (now Diageo), helped create Johnnie Walker Blue Label, and founded the Keepers of the Quaich as a way to honor people for their service to the Scotch whisky industry.
Now, he's the one being honored for his service to the Scotch whisky industry. Espey was named an Officer of the Order of the British Empire by Queen Elizabeth this month in her annual Birthday Honours List. The Queen traditionally issues two Honours Lists annually, one at Christmas and one in June to celebrate her birthday.
Espey's latest venture, in addition to his management consulting practice, is Last Drop Distillers. Together with his partners, Tom Jago and Peter Fleck, Last Drop has been bottling rare casks of spirits as they uncover them. For more on their 1960 Blended Scotch whisky, listen to Episode 159 of WhiskyCast.
---
June 19, 2013 – Edrington Group will end its U.S. distribution agreement with Rémy Cointreau at the end of March, 2014, and will form Edrington USA as a wholly-owned subsidiary to take over importing and distribution for the company's whisky and spirits portfolio. Remy executives confirmed the end of the partnership last week, but Edrington had declined to release specifics on its plans until after a major company-wide conference in Scotland earlier this month.
The company will also set up similar units in Southeast Asia and the Middle East to distribute The Macallan and Highland Park single malt Scotch whiskies, The Famous Grouse and Cutty Sark blended Scotches, Brugal Rum, and Snow Leopard vodka. While the US market is the largest export market by volume for Scotch whisky in general, the new units will be responsible for around 26% of Edrington's global sales.
In the US, Edrington and Rémy Cointreau's US unit had worked together since 1985.  when Rémy's US unit started handling distribution for Edrington's Scotch whisky brands. Edrington had been working with Beam Global's Asian unit in Southeast Asia, and the company's new Singapore-based unit will take over in that region October 1. Middle East distribution will be handled in a Dubai-based  joint venture with FIX Wines & Spirits, which had been handling Edrington's portfolio in the Middle East and Northern Africa for the last five years.
Read more »
---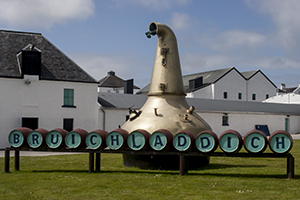 June 14, 2013 – Rémy Cointreau-owned Bruichladdich will end its UK distribution deals with Blavod Wines & Spirits and Gordon & MacPhail as of July 1 to bring its UK supply network in-house.
Blavod announced its plans Friday to stop distributing Bruichladdich's whiskies in the UK as part of a plan to grow its own portfolio following the acquisition earlier this week of the Blackwood's gin and vodka brands. However, Just-Drinks.com reports Bruichladdich initiated the move, and will create its own distribution company as of July 1, 2013, when the deal between Bruichladdich and Blavod expires. Bruichladdich UK will handle distribution for the company's Bruichladdich, Octomore, and Port Charlotte single malts, and will also take over distribution of The Botanist gin from Gordon & MacPhail. The move will bring all of Bruichladdich's brands into one UK sales network for the first time.
The move is the latest in what appears to be a growing trend among whisky producers to bring their distribution networks in-house instead of working with potential competitors. Earlier this week, Edrington Group confirmed that it will take over US distribution of its Scotch whisky and rum portfolio from Rémy Cointreau's US unit next spring, in a move that was widely expected after Rémy's $90 million acquisition of Bruichladdich last year. While Bruichladdich managing director Simon Coughlin told WhiskyCast's Mark Gillespie in a recent interview that there is no rush to move its whiskies into Rémy's global distribution network, it would be logical to expect such a move in the future.
"There are a number of contracts in place, and were many, many countries that we didn't have contracts, so we're going to work with our partners that we've had for many years and we'll come to solutions. But, you know, it would seem unreasonable if you have a distribution chain around the world why you wouldn't use it."
Distribution companies are often referred to as importers when dealing in spirits outside their home country. In the Bruichladdich UK case, the unit will be responsible for sales and marketing of Bruichladdich's portfolio on the wholesale level and working with bars and retailers. In the US, a distribution company/importer serves as the distiller's representative, arranging for shipments, customs clearance, marketing and advertising, and managing contracts with distributors in each state. Those distributors supply stock to bars and retailers under the US-specific "three-tier" system for liquor distribution. In many cases, the US-based company is a wholly-owned subsidiary of the distillery owner.
Links: Bruichladdich | Blavod Wines & Spirits
---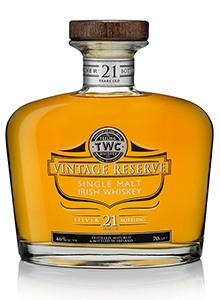 June 14, 2013 – The fledgling Teeling Whiskey Company is only a year old, but has released the first in a new Vintage Reserve series of Irish single malt whiskies. Silver Reserve is a 21-year-old single malt finished in Sauternes wine casks, and company founder Jack Teeling told WhiskyCast's Mark Gillespie today that it's the first Irish whiskey ever to use a Sauternes finish.  Silver Reserve will be followed in the coming months by 25 and 30-year-old single malts.
Teeling founded the company in April of 2012 after leaving Cooley Whiskey, which his family formed in 1987 and sold to Beam in December of 2011. The company has a long-term supply contract with Cooley for new make and aged spirit, but has also been sourcing Irish whiskey casks from other suppliers. The Silver Reserve comes from one of those suppliers, Teeling declined to identify the specific distillery during a phone interview today, but said it is an Irish distillery "known for its single malts".
Silver Reserve joins Teeling's Poitin white spirit (which he refers to as "Irish moonshine), and an Irish whiskey finished in Flor de Cana Rum casks in the company's portfolio. It will be available initially in Ireland at the Celtic Whiskey Shop in Dublin, at Dublin's airport, and selected retail outlets. Wider distribution is expected later this year in the UK, Europe, Canada, and New Zealand.
Jack Teeling is also nearing the end of negotiations for a parcel of land in Dublin to be the site of the Irish capital's first working distillery since 1976, when the Powers Distillery on Johns Lane closed. The site is in the Marrowbone Lane area near the site where Teeling's ancestors built the family's original distillery in 1782. He hopes to have the site acquired and planning permission received in time for construction to begin by the end of 2013, with a potential opening at the end of 2014.
For more on this story, listen to Mark Gillespie's interview with Jack Teeling on this weekend's episode of WhiskyCast.
---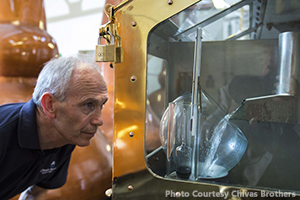 June 14, 2013 – After 14 years in mothballs, Glen Keith Distillery in Speyside is back in business. Chivas Brothers CEO Christian Porta and Scottish Rural Affairs Secretary Richard Lochhead presided over a re-commissioning ceremony at the distillery in Keith today. The ceremony follows a year-long renovation project that saw the distillery fitted with new plumbing and equipment to replace worn-out gear that had received minimal maintenance following the closure of Glen Keith by Seagram's in 1999.  In addition, a new mash-house  and tun room was constructed to give the distillery a new mash tun and a total of 15 washbacks. The upgrade is expected to give Glen Keith a 50% greater distillation capacity than the distillery had when it closed in 1999, with an estimated capacity of 4.5 million litres of spirit annually.
Chivas Brothers acquired the distillery in 2005 as part of parent company Pernod Ricard's acquisition of Allied Domecq, and had been using some of the distillery's buildings for laboratory work and office space. Glen Keith opened in 1960, and is located across the road from the Chivas-owned Strathisla Distillery.  While a limited amount of Glen Keith production was bottled in the past, the distillery's output will once again be earmarked for Chivas Regal and Royal Salute blended Scotch whiskies.
The Scotsman reports that Porta plans to move ahead with construction of a new distillery on the site of the former Imperial Distillery in Carron, despite a 5% drop in Scotch whisky sales globally during 2012. Planning permission has already been granted for the new distillery, which is expected to begin production by the end of 2014. He told The Scotsman that he remains confident in the long-term future for Scotch whisky sales.
"The slowdown has been due to the world economy and political changes in China, which have effected the consumption of luxury goods and other imports. But all of the main growth factors for Scotch whisky are still there – growth in emerging market economies, even if they have slowed, an increase in the size of the middle classes and the number high net-worth individuals in Brazil, Russia, India and China, and continued urbanisation as people move from the countryside to cities."
Porta, who will return to Paris later this year to take up a management role at Pernod Ricard Europe, is spending approximately $75 million USD annually to increase production capacity at the Chivas Brothers distilleries in Scotland. In addition to the Glen Keith revival, the company expanded capacity last year by 25% with projects at Tormore, Longmorn, Glentauchers, and Glenallachie distilleries, and opened a new stillhouse at The Glenlivet three years ago that boosted capacity by 75%.
---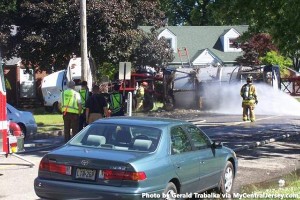 June 13, 2013 – The source and destination of the Scotch whisky being hauled in a tanker truck that flipped and caught fire in Woodbridge, New Jersey last week has been identified. The whisky in the tanker was Clan MacGregor blended Scotch being delivered to the William Grant & Sons bottling plant in nearby Edison, New Jersey, according to a company executive.
The truck overturned June 5 in a residential neighborhood, struck a parked car and a utility pole, and briefly caught fire when whisky spilled from a relief valve on top of the tank and ignited. Firefighters from the nearby Fords Fire Company in Woodbridge were on the scene within minutes, and extinguished the fire before the bulk of the whisky inside the tank could erupt. The truck's driver suffered minor injuries in the accident, and was treated at an area hospital.
Clan MacGregor is blended at the William Grant & Sons facilities in Scotland, and product destined for the U.S. market is shipped in bulk to the Grant facility in Edison for bottling. U.K. laws allow bulk exports of blended Scotch whisky for bottling outside of Scotland, but the practice is generally limited to so-called "value" brands. Most Scotch whisky producers bottle their premium brands of blended Scotch in Scotland, and U.K. laws mandate all single malt Scotch whiskies be bottled exclusively in Scotland.
Links: William Grant & Sons | Clan MacGregor
---