Each week, we bring you the latest whisky news on WhiskyCast, but a lot can happen during the week. Now, you can keep up with whisky news as it happens here on WhiskyCast.com!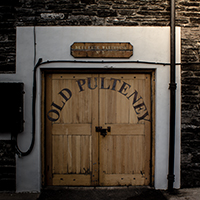 April 16, 2013 – Old Pulteney will unveil a new Lighthouse series of travel retail expressions at next month's TFWQ Asia-Pacific exposition, with plans for the three single malts in the series to go on sale later this summer. The whiskies continue Old Pulteney's maritime heritage with their branding, but will carry no age statements.
Noss Head will retail for £39.99 ($61.50 USD), and is matured in ex-Bourbon casks. Duncansby Head is matured in a combination of ex-Bourbon and ex-Sherry casks, and will sell for £44.99 ($69), while Pentland Skerries is matured in Spanish Oak ex-Sherry casks, and will sell for £54.99 ($84.50) per bottle.
All three expressions will be available worldwide through travel retail shops.
Read more »
---
April 16, 2013 – After the second consecutive year in which a lack of rainfall has forced production to be halted, Tobermory Distillery on Scotland's Isle of Mull will resume production tonight. The distillery was shut down last Thursday after a lack of rainfall left the privately-owned loch that supplies Tobermory with water well below normal levels. Last year, a similar drought forced the distillery to shut down for several weeks.
Earlier, The Telegraph reported Mull has only had about 20% of its normal rainfall over the last six weeks, with less than 2 inches of rain during the entire month of March. However, a Burn Stewart Distillers spokesman told just-drinks.com that the island has received enough rain over the past three days to replenish the loch and allow production to resume.
Tobermory is owned by Burn Stewart Distillers, and produces single malt Scotches under the Tobermory and Ledaig (peated) brand names, along with whisky for the Burn Stewart blended Scotches. The distillery's sale was announced Monday as part of the $245.4 million acquisition of Burn Stewart by South Africa's Distell Group.
---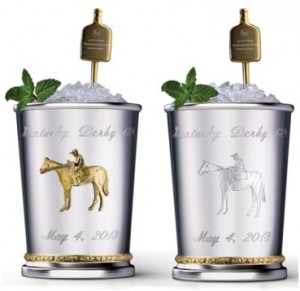 April 15, 2013 – As the official Bourbon of the Kentucky Derby, Woodford Reserve will once again produce the world's most exclusive Mint Julep during Derby Day at Churchill Downs in Louisville on May 4th. This is the eighth year that Woodford Reserve has supported thoroughbred-related charities through auctions for the silver and gold Mint Julep cups with the traditional Derby cocktail mixed by Master Distiller Chris Morris. The 2013 auction will benefit the Old Friends Thoroughbred Retirement Center, which provides a home for racehorses who have been retired from racing.
89 exclusive Mint Julep cups are available for purchase at the Woodford Reserve Mint Julep web site through May 2, 2013, and will be presented only at Churchill Downs on May 4th.
79 "Distinguished Cups" ($1,000 each) will feature the hand-engraved horse and jockey from the Kentucky Derby's gold winner's trophy, along with a garland of roses.
9 "Legendary Cups" display a gold-plated thoroughbred and rider medallion with diamonds. ($5,000 each)
The remaining "Legendary Cup" is part of a "Golden Opportunity" auction package, with an opening bid of $5,000. The winning bidder will present the trophy for the Woodford Reserve Turf Classic, which is the final race of the day at Churchill Downs before the Kentucky Derby. The package also includes a private tour and dinner at Woodford Reserve, along with a private tour of the Old Friends Thoroughbred Retirement Center with a Hall of Fame jockey.
Each Mint Julep cup owner will get to taste a gold-inspired version of the cocktail on Derby Day, as Chris Morris has selected ingredients including gold-filtered Canadian mineral water, Woodford County-grown mint leaves dusted with gold, and locally-grown Woodford Gold Sorghum, as well as the main ingredient: gold medal-winning Woodford Reserve Distiller's Select Bourbon.
Read more »
---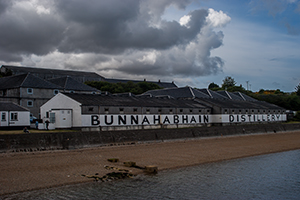 April 15, 2013 – Burn Stewart Distillers, one of the few bright spots in the troubled CL Financial portfolio, has been sold to the South African-based Distell Group for £160 million ($245.4 million USD). The deal includes Bunnahabhain, Tobermory (Ledaig), and Deanston distilleries in Scotland,  the Scottish Leader and Black Bottle blended Scotch whisky brands, blending and bottling facilities, and all of the maturing whisky stocks currently held in bond.
The two companies have been partners in a distribution deal for Burn Stewart's whiskies in Africa since 2007. Distell owns the James Sedgwick Distillery in South Africa, which produces the Three Ships and Cape Mountain whiskies. In a news release, Distell managing director Jan Scannell cited the strategic benefits of the deal, which will leverage Burn Stewart's strength in Taiwan and other Asian markets:
"This gives us an outstanding foundation from which to build, while cherishing their individual traditions.

Bunnahabhain, the Burn Stewart Distillers' flagship single malt, is made on Islay, considered one of the most prestigious whisky locations by connoisseurs. There are only eight distilleries on the Island, so we are extremely fortunate to acquire this very highly-ranked brand.

"Tobermory is the only distillery on the Isle of Mull, one of the most popular tourist spots in Scotland, while the home of Scottish Leader is the Deanston Distillery situated in the Scottish Highlands in Doune near Stirling, close to both Edinburgh and Glasgow, and another important destination for whisky enthusiasts."
Rumors of a Burn Stewart sale have been commonplace since 2009, when the Trinidad and Tobago government was forced to rescue CL Financial after the collapse of its Clico and Clico Investment Bank. CL's Angostura unit recently sold its Lascelles rum distillery and brands to Gruppo Campari, and the Burn Stewart unit was seen as one of the few profitable divisions within CL.
Read more »
---
April 13, 2013 – One of the longest-running partnerships in the whisky business appears to be coming to an end, as the Laing Brothers are splitting up. Fred and Stewart Laing took over the family's independent bottling business started by their father in 1948, and have run the Glasgow-based Douglas Laing & Co. for more than 25 years. Following reports that the two brothers have parted ways, Fred Laing posted this note on Facebook to clear up any rumors:
"Noticed a couple exchanges recently re. the 'end' of Douglas Laing. I'm pleased to confirm that Douglas Laing is performing well & will continue to do so… I'm in fact growing our already strong team & there's real enthusiasm as we continue to select & bottle some exceptional Single Casks. The only change to speak of is my brother Stewart leaves Douglas Laing to set up his own company shortly & I wish him well while I look forward to Douglas Laing continuing to offer rare & special whiskies… Plus some new & exciting additions released through 2013. Cheers, Fred."
Fred's note refers to "growing his already strong team", and that will include his daughter Cara joining the company in May. Cara Laing left Morrison Bowmore last month, where she had been serving as Marketing Manager for Bowmore since 2010. Cara's position with Douglas Laing has not been officially announced, nor has Stewart Laing announced the details of his new company yet.
Links: Douglas Laing & Co. 
---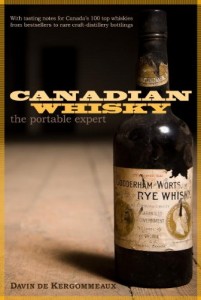 April 11, 2013 – Weeks after being honored as a finalist in the Gourmand World Cookbook Awards, Davin de Kergommeaux has taken top honors in the International Association of Culinary Professionals annual competition. His "Canadian Whisky: The Portable Expert" was named Tuesday as the winner of the 2013 IACP Cookbook Award for Best Book on Wine, Beer, or Spirits.
"Canadian Whisky" was one of three finalists for the award. The others were "Frontera: Margaritas, Guacamoles, and Snacks" by Rick Bayless and Deann Groen Bayless, and "The Vineyard at the End of the World: Maverick Winemakers and the Rebirth of Malbec" by Ian Mount.
Davin de Kergommeaux lives in Ottawa, Ontario, and is the publisher and editor of the Canadian Whisky web site, as well as being a member of the Malt Maniacs. His book is available through the WhiskyCast Bookstore powered by Amazon.com
---
April 11, 2013 – Following an early announcement from Master Distiller Jim Rutledge on the April 6 episode of WhiskyCast, the Lawrenceburg, Kentucky distillery has released more details on the 2013 edition of the Four Roses Limited Edition Single Barrel. 2013 marks the distillery's 125th anniversary, and this year's version will be bottled at barrel strength in ABV ranges between 50.3% and 57.2%, depending on each individual barrel.
"We selected the recipe (OBSK) that we're using  probably early October," Rutledge told WhiskyCast's Mark Gillespie.
"Every barrel's unique, it's on its own, and has its own unique flavor characteristics, but they're all very close to each other…it's a nice spiciness, with the K yeast in combination with the 20% rye that's used in that mashbill, nutmeg, cinnamon, there's some chocolate finishes…it's a wonderful selection."
Around 4,000 bottles of the 2013 Limited Edition Single Barrel will be available in the U.S., with none currently planned for export to other countries.
Read more »
---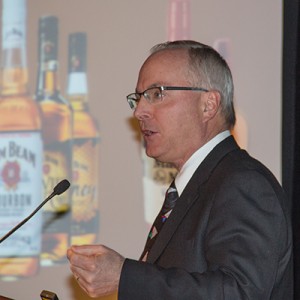 April 4, 2013 –  Beam Inc. North American President Bill Newlands described the company's decision to reverse course on the controversial Maker's Mark ABV switch in February as a "testament to how our company operates." During a question period following his keynote address at the World Whiskies Conference in New York City, WhiskyCast's Mark Gillespie asked Newlands whether there had been any noticeable impact on Maker's Mark sales in the weeks following the ABV switch and reversal, and who within the company was responsible for making those decisions. While Newlands did not address the second question, he said it will not "affect Maker's Mark one iota."
"Our initial understanding from the marketplace is that Maker's is as popular as ever, and the response we had for listening to the consumer was even greater than the response we got for making the change, so we're as bullish on Maker's Mark as we've ever been. (Pause) I wouldn't do it again, however."
On February 17, Maker's Mark Chief Operating Officer Rob Samuels and Chairman Emeritus Bill Samuels Jr. sent an email to members of the Maker's Mark Ambassadors affinity group announcing that their decision a week earlier to cut the bottling strength of the bourbon from 45% ABV to 42% would be reversed because of consumer protests.  That decision was based on a need to stretch the available supply of aged Bourbon produced at Maker's Mark to meet growing and unanticipated global demand for Bourbon. The brand's unique recipe is not produced anywhere else, putting Maker's Mark in the same position as a single malt distillery unable to acquire additional bulk supplies of whiskey to augment the distillery's production.
Newlands told the audience "Our belief was that we needed to try to find a way to offer the consumer more supply. What the consumer said loud and clear to us is 'we disagree with you', and I think that's a real testament to how our company operates, because it took us less than a week to say the consumer has spoken and we are going to listen."
Beam executives accompanying Newlands at the conference confirmed that Maker's Mark sales had not seen any significant impact in the weeks following the controversy, but did not provide specific data.
Links: Beam | Maker's Mark | World Whiskies Conference
---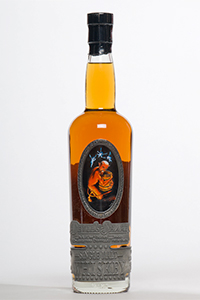 April 3, 2013 – Devil's Share Malt Whiskey from Ballast Point Spirits was named Best of Class among whiskies in the 7th annual American Distilling Institute Judging of Artisan American Spirits. The announcement came during the ADI's annual conference in Denver, and Devil's Share was one of only 23 spirits to receive a gold medal from the judging panel. The judging was done on March 4th and 5th at Huber's Starlight Orchard & Winery in Starlight, Indiana, with 127 whiskies, 36 moonshines, and assorted gins, rums, and brandies. (Editor's note: Mark Gillespie was a member of the whiskey judging panel.)
Here are the results from the whiskey categories. Note that whiskies "sourced" from a different distillery than the bottler compete in the "Merchant Bottled Whiskey" category:
CLEAR WHISKEY
Best of Category – Silver Medal
Myer Farm Distillers – White Dog Corn Whiskey
Silver Medal
Dark Horse Distillery – Long Shot White Whiskey
Bronze Medal
Middle West Spirits – OYO Rye Whiskey
High West Distillery – Silver Whiskey – Western Oat
Indian Creek Distillery – Elias Staley
Cornelius Pass Roadhouse Distillery – White Owl Whiskey
Asheville Distilling Co. – Troy & Sons Platinum Heirloom Moonshine
AGED CORN WHISKEY
Best of Category – Silver Medal
Balcones Distilling – True Blue
BOURBON (under two years)
Best of Category – Gold Medal
Yellow Rose Distilling – Yellow Rose Outlaw Bourbon
Silver Medal
Kings County Distillery – Kings County Bourbon
Bronze Medal
Rock Town Distillery – Arkansas Young Bourbon Whiskey
Cacao Prieto – Bloody Butcher Bourbon Whiskey
STRAIGHT BOURBON
Best of Category – Gold Medal
Balcones Distilling – Fifth-Anniversary Texas Straight Bourbon
Silver Medal
Dallas Distilleries – Herman Marshall
AGED RYE WHISKEY
Best of Category – Gold Medal
Grand Traverse Distillery – Ole George Rye Whiskey
Silver Medal
Mountain Laurel Spirits – Dad's Hat Pennsylvania Rye Whiskey
Bronze Medal
Distillery 291 – Colorado Rye Whiskey
Catoctin Creek Distilling – Roundstone Rye Cask Proof
MALT WHISKEY (under 2 years)
Best of Category – Gold Medal
Balcones Distilling – Texas Single Malt
Gold Medal
Deerhammer Distilling Company – Down Time Single Malt Whiskey
Bronze Medal
Long Island Spirits – Pine Barrens Single Malt Whisky
STRAIGHT MALT WHISKEY
Best of Category – Gold Medal
Ballast Point Brewing & Spirits – Devil's Share Straight Malt Whiskey
Silver Medal
New Holland Artisan Spirits – Zeppelin Bend Straight Malt
WHEAT WHISKEY
Best of Category – Gold Medal
Middle West Spirits – OYO Wheat Whiskey
Bronze Medal
American Craft Whiskey Distillery – Low Gap Whiskey Single Barrel No. 1
American Craft Whiskey Distillery – Low Gap California Whiskey
WHISKEY NON-TYPICAL
Best of Category – Silver Medal
Glacier Distilling Company – Wheatfish Whiskey
Silver Medal
Rogue Spirits – Dead Guy Whiskey
SMOKED WHISKEY
Best of Category – Silver Medal
Corsair Artisan – Wildfire
Silver Medal
Corsair Artisan – Salamander
HOPPED WHISKEY
Best of Category – Silver Medal
Corsair Artisan – Demeter
Silver Medal
Corsair Artisan – Falconer's Flight
Bronze Medal
Corsair Artisan – Centennial
Corsair Artisan – Pacifica
Corsair Artisan – Titania
Corsair Artisan – Amarillo
FLAVORED WHISKEY
Best of Category – Bronze Medal
Sons of Liberty Spirits Company – Seasonal – 2012 Winter Release
MERCHANT BOTTLED WHISKEY
STRAIGHT BOURBON
Best of Category – Silver Medal
Cacao Prieto Distillery – Widow Jane Bourbon Whiskey
Silver Medal
Tatoosh Distillery & Spirits – Tatoosh Bourbon
BOURBON (cask finished)
Best of Category – Bronze Medal
Hillrock Estate Distillery & Malthouse – Solera Aged Bourbon
Bronze Medal
Big Bottom Whiskey – Straight Bourbon Whiskey, Zinfandel Cask
STRAIGHT RYE WHISKEY
Best of Category – Silver Medal
35 Maple Street – Masterson's 10-Year-Old Straight Rye Whiskey
MALT WHISKEY
Best of Category – Bronze Medal
Virginia Distillery – Virginia Highland Malt Whisky
---
April 3, 2013 – Diageo has selected a site next to the existing Teaninich Distillery in the Highlands for its newest malt whisky distillery. The site was selected from three short-listed sites announced last year for the £50 million project, which is expected to increase Diageo's malt whisky production capacity by around 13 million liters a year.  In addition, Teaninich will receive a £12 million upgrade that will almost double the distillery's capacity. Assuming the planning process goes as scheduled, construction on the new distillery is expected to begin in 2014.
In a news release, Diageo Malt Distilling Director Brian Higgs cited the overall benefits of the Teaninich site near Alness:
"All three sites we considered for the new malt distillery were excellent potential locations but after detailed investigations Teaninich came out just ahead in terms of the many complex logistics required when planning such a development.
"It is a significant investment for the local economy around Alness and we look forward to working positively with Highland Council and the local community as we progress our plans."
Glendullan Distillery in Speyside was one of the short-listed sites for the new project, and has been tapped for construction of a new bi0-energy plant that will convert distillery waste to natural gas for powering the distillery. The company also plans a major upgrade at Mortlach Distillery in Dufftown, with a new stillhouse that will significantly expand that distillery's capacity.
Last year, Diageo announced plans to invest £1 billion in upgrades to its 28 malt whisky distilleries in Scotland.
This story will be updated…
Read more »
---