Each week, we bring you the latest whisky news on WhiskyCast, but a lot can happen during the week. Now, you can keep up with whisky news as it happens here on WhiskyCast.com!
May 21, 2013 – Tennessee Governor Bill Haslam has signed a bill approved by state lawmakers last month that clears the way for the owners of the Chattanooga Whiskey Company to build their own distillery in a historic factory building.
In a separate move, Gov. Haslam signed a bill that establishes the state's first standards for "Tennessee Whiskey". That bill will force distillers that want to call their whiskey "Tennessee Whiskey" or "Tennessee Sour Mash Whiskey" to meet the federal standards for Bourbon and use the "Lincoln County" charcoal-filtering process. Distillers will have to comply with the new law when it takes effect July 1, but will have 36 months to sell off existing stocks of bottled whiskey.  The bill is seen as a blow for the state's moonshine producers, who will not be allowed to refer to their unaged whiskies as "Tennessee Whiskey".
Chattanooga Whiskey founders Joe Ledbetter and Tim Piersant have been fighting for several years to change a 2009 state law that expanded the number of counties where whiskey distilleries can be located. That law allowed new distilleries in counties where retail liquor stores and "liquor by the drink" sales are legal, but Hamilton County remains partially dry and was not included in the 2009 law. Legislators agreed to change the law to allow distilleries in "wet" areas of a county with approval of local officials. Hamilton County officials supported the change, and are expected to grant quick approval for the Chattanooga Whiskey project once the new law takes effect July 1.  Ledbetter and Piersant currently sell whiskey produced at the MGP-I Distillery in Lawrenceburg, Indiana, but plan to make a transition to locally-produced whiskey once their stocks mature. They have scheduled a "victory party" at the distillery site to celebrate the new law on May 31.
The bill received opposition in the Legislature because a separate provision removed the ability of local governments to mandate specific distances between two distilleries and impose a cap on the number of distilleries allowed in a city. According to The Tennesseean, that change was made after the city of Gatlinburg rejected plans for a moonshine distillery that would have been built on property adjoining the Old Smoky Moonshine Distillery. The principal owner of the proposed Sugarlands Distillery is a partner with Gov. Haslam in a number of real estate investments, and another partner in the distillery project resigned as Gatlinburg's legislative lobbyist after city officials went on record as opposing the bill.
Links: Chattanooga Whiskey
---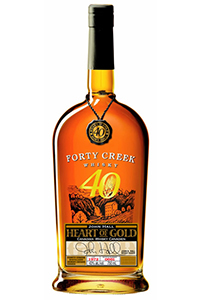 May 16, 2013 – Canada's award-winning Forty Creek Distillery traditionally announces its annual limited edition release each May, and John Hall's latest special whisky was unveiled in time for this year's Spirit of Toronto Festival. "Heart of Gold" will go on sale officially in Ontario at the distillery's release weekend September 28-29 in Grimsby, Ontario for those who pre-order one of the 9,000 numbered bottles that will be available. Online reservations will be taken starting May 27 at the Forty Creek web site through June 21.
As John Hall told us in Episode 424 of WhiskyCast, Heart of Gold's name refers to his decision to take a narrower band of the "heart" during the distillation runs for a spirit that holds the rye character while retaining more delicate notes as well. He used a yeast strain normally used for wines in the fermentation process to bring out the delicate floral and herbal notes he was seeking in the whisky.
Heart of Gold will be available at retailers in all Canadian provinces shortly after the release weekend, and a limited number of bottles will be available in several U.S. states as well.
Mark Gillespie's Tasting Notes for Heart of Gold
Read more »
---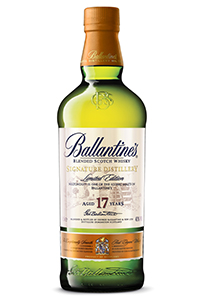 May 15, 2013 – Chivas Brothers is releasing a special edition of its Ballantine's 17-year-old blended Scotch with a recipe that highlights the contributions of the company's Miltonduff Distillery to the blend.
It's the third release in the Signature Distillery Series, and honors the distillery built in 1824 in the Speyside town of Miltonduff. In a news release, Chivas Brothers described the malt whisky from Miltonduff as forming the foundation of Ballantine's 17, with cinnamon notes that add warmth to the blend and a floral character that balances the fruity notes from the other fingerprint malts used in the blend.
Previous releases in the series honored Scapa and Glenburgie distilleries, and there have been indications in the past that a future release would honor Glentauchers Distillery.
The Miltonduff Signature Distillery Edition will be available in limited quantities, with a focus on the Asian travel retail market, and carry a suggested retail price of $75 USD.
Read more »
---
May 14, 2013 – Chivas Brothers and William Grant & Sons whiskies took top honors in the annual Spirit of Speyside Festival Whisky Awards. Both companies accounted for all six finalists that competed in the knockout round at Knockando Distillery on May 5.  The finalists were decided earlier this year in a preliminary competition at the Knockomie Hotel, and the final voting was done by festival attendees at a series of tastings around the Speyside region during the week-long festival.
In the category for single malts 12 years and younger, voters picked the Aberlour A'bunadh over the Strathisla 12-year-old in a battle between two Chivas Brothers whiskies. In the competition for whiskies between 13 and 20 years old, The Balvenie 17 defeated the 15-year-old Distillery Edition from sister distillery Glenfiddich by just 9 votes. Two Glenlivet expressions competed as finalists for the 21-and-older title, with the Glenlivet XXV beating the Glenlivet 21 by just two votes.
Read more »
---
May 13, 2013 – 35 Maple Street, the California-based spirits company with ties to the Sebastiani wine family, is developing a new Tennessee Bourbon brand that will make its debut late in 2013 or during 2014. 35 Maple Street's success has come from Masterson's Rye, a Canadian whisky produced at an Alberta distillery and bottled by 35 Maple Street, and the company is hoping to repeat that success with Bib & Tucker Bourbon.
"A bib and tucker, in the Western days, was your Sunday finest clothing," Richard Zeller of 35 Maple Street told WhiskyCast's Mark Gillespie Saturday (May 11) at the Spirit of Toronto whisky festival. "It's going to be in an amber cartouche glass, and we're sourcing the amber glass…it's not going to be a painted bottle – it's going to be a real special mold…it's be really a work of art." Issues in sourcing the bottles are the reason for the uncertain release date, and Zeller indicates that Bib & Tucker could be released by the end of this year if the bottles can be produced in time.
"The Bourbon is a work of art," Zeller said without disclosing which Tennessee distillery will be supplying the 8-year-old whiskey. "I've been sworn, unfortunately, to secrecy…I'm sure you can imagine, but I can't tell you." However, there are only three Tennessee distilleries capable of supplying 8-year-old Bourbon whiskey: Jack Daniel's in Lynchburg, George Dickel in Tullahoma, and Prichard's in Kelso. None of the three will admit to offering bulk whiskey for sale, and in fact, George Dickel has faced shortages for its whiskey in recent years and currently sources its George Dickel Rye from MGP-I in Lawrenceburg, Indiana.
Purists will note that the term "Tennessee Bourbon" may seem to be an oxymoron. However, it should be noted that Tennessee Whiskeys traditionally meet all of the U.S. requirements for Bourbon, and the use of the "Lincoln County" charcoal-filtering process does not preclude a whiskey from being labeled as a "Bourbon".  Tennessee legislators are considering a proposal that would require any whiskey labeled as "Tennessee Whiskey" or "Tennessee Sour Mash Whiskey" to meet the federal standards for Bourbon and use charcoal filtering.
35 Maple Street will also be expanding its Masterson's line later this year with the addition of a 12-year-old 100% wheat whisky and a 100% barley whisky. Both will come from the same Alberta distillery where Masterson's Rye is produced. While Zeller has not confirmed the name of that distillery, it's believed to be Highwood Distillers in Calgary. Zeller also confirmed that the company is moving forward with plans to build its own distillery, most likely in California. However, that facility would be used for different products and both Masterson's and Bib & Tucker would be sourced from their current suppliers on a long-term basis.
---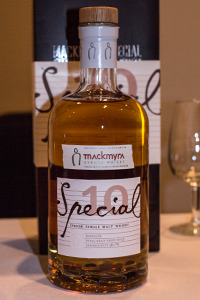 May 13, 2013 – Sweden's Mackmyra Distillery has released the 10th and final single malt in its "Specials" series of limited-edition whiskies. Special #10 is a coffee-influenced whisky created by Mackmyra's master blender, Angela Forsgren D'Orazio, that had its genesis in a whisky liqueur she created last year.
"I was playing with some freshly roasted coffee beans, espresso coffee beans. I was throwing them into whisky, and I just realized that was a very good harmony, the coffee and the whisky together," she told WhiskyCast's Mark Gillespie Saturday (May 11) in Toronto. "I did some coffee whisky with the espresso beans, and then I took that coffee whisky — that was simple, it was just macerating the coffee beans in some very good mature whisky for some hours…I took out the beans and took that coffee whisky and seasoned some casks with it for a couple of weeks."
Those casks were then used to finish the whisky for Special #10, while the coffee-infused whisky went into Mackmyra's liqueur. Special #10 will be available in Sweden and most of Mackmyra's export markets.
For more of our interview with Angela Forsgren D'Orazio, listen to Episode 424 of WhiskyCast.
Read more »
---
May 9, 2013 – University of Louisville basketball coach Rick Pitino has had a pretty good year…so far. His Cardinals won the NCAA men's basketball tournament last month, and he was named to this year's class of inductees for the Naismith Memorial Basketball Hall of Fame. Now, he'll be featured on a Maker's Mark Bourbon bottle…for the second time. Pitino first appeared on a Maker's Mark bottle in 2002 as part of an annual series of bottles sold to raise money for the Boy Scouts.
Pitino's 2013 bottle will list his achievements over the years, including his second NCAA championship (his first was at the University of Kentucky in 1996). The bottle design has not been unveiled officially, but has been approved by the Treasury Department's Tax & Trade Bureau.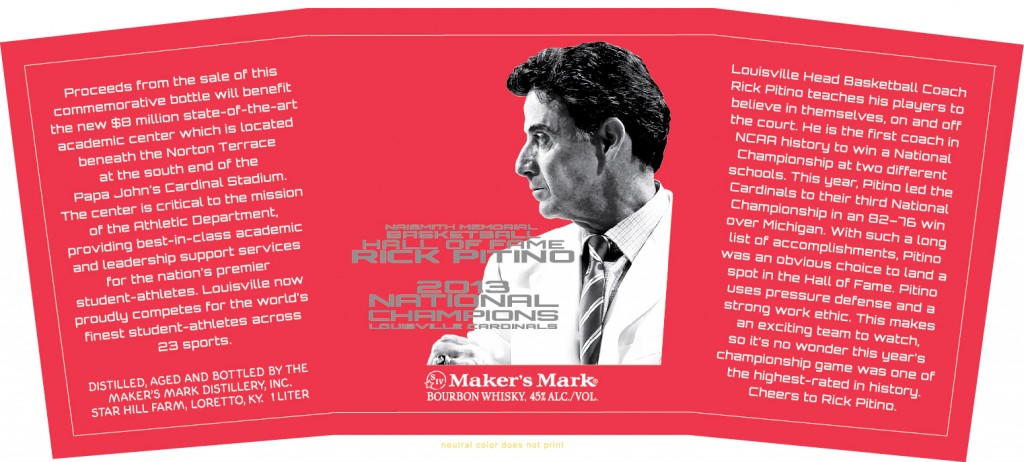 While the details have not been announced,  12,600 Pitino bottles will be available. Proceeds from the sales will go to the University of Louisville's proposed Academic Center for Excellence, which will provide support services for the University's student-athletes. Maker's Mark has pledged $500,000 toward the center,  which will be built at Papa John's Cardinal Stadium. This is the second of three bottles that will benefit the center, with Louisville football coach Charlie Strong being featured on the first bottle. No plans have been announced for the third bottle in the series.
---
May 9, 2013 – While Heaven Hill's new Evan Williams Bourbon Experience won't open in downtown Louisville until this fall, it's already become the starting point for the Kentucky Bourbon Trail. The visitor attraction has become the 8th stop on the Kentucky Bourbon Trail, and will be the first in Louisville.
"This has kind of been the missing link and something we've been waiting for for years to happen," Kentucky Distillers Association President Eric Gregory told WhiskyCast's Mark Gillespie in a phone interview.
"A lot of people use Louisville as the jumping-off point for their Kentucky Bourbon Trail adventure because they've got a lot of things to offer there. They've got great restaurants, great hotels, and a lot of other amenities and attractions like the Louisville Slugger Museum and so much more, so to have a Kentucky Bourbon Trail distillery stop right in the middle of downtown Louisville on Whiskey Row to offer an immersive experience is just fantastic – we couldn't be prouder today."  
At a news conference in Louisville today, Mayor Greg Fischer noted the historical importance of Louisville in Bourbon history. "Bourbon is important to Louisville, and Louisville is important to Bourbon", he said at the ceremony in front of the Evan Williams Bourbon Experience, which is located on the "Whiskey Row" section of West Main Street. The Heaven Hill attraction will include an artisanal distillery and Bourbon educational experience for tourists.
Until now, the nearest stop on the Bourbon Trail to Louisville was the Jim Beam Distillery in Clermont, about 30 miles south of the city. The Trail includes seven distilleries between Clermont and Lawrenceburg, home to Four Roses and Wild Turkey. More than 500,000 tourists visited the Bourbon Trail's stops during 2012.
Read more »
---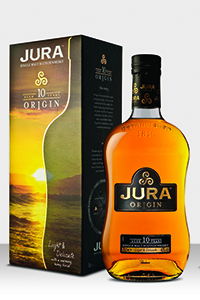 May 9, 2013 – Whyte & Mackay's Jura single malt whiskies are getting a new package design, along with names for each of the expressions in the range. The new boxes will feature images of the Isle of Jura, along with a half-outline of the Jura bottle — when lined up properly on a retail shelf, the outlines on adjacent boxes will form a complete outline of the Jura bottle design.
In addition, the three age-statement Juras in the range have also been given unique names to go alongside the existing Jura Prophecy and Jura Superstition expressions. The Jura 10-year-old will be known as the Jura Origin, the 12-year-old will be called Jura Elixir, and the 16-year-old version has been named Jura Diurachs' Own. Diurach (pronounced "Jurr-ach")  is the Gaelic word for the people of Jura.
The announcement comes as Jura celebrates the 50th anniversary of the distillery's revival in 1963, with special events planned for the Jura Whisky Festival on May 29 and 30. The Festival will include a preview tasting of the upcoming Jura 40-year-old single malt to be released in the near future.
Read more »
---
May 8, 2013 – Ardnamurchan Distillery, currently under construction on the Ardnamurchan Peninsula in northwest Scotland, has named its first manager. The Herald reports veteran distiller Graeme Bowie is leaving Balblair, where he was assistant manager under John MacDonald, to take up project management at the construction site in Glenbeg and will run the distillery when it begins operation.
Ardnamurchan is being built by Adelphi, which has been producing independent bottlings of Scotch Whisky while developing plans for its own distillery. The company's Alex Bruce told The Herald that foundation work for the distillery is complete, with the steel framework scheduled to arrive next week and construction to be complete by September. Bowie will be coordinating with the contractors and Forsyths, which is building the stills and equipment for the new distillery. The installation is expected to be complete in time for the first still runs to be produced in December.
This story will be updated.
Read more »
---