Each week, we bring you the latest whisky news on WhiskyCast, but a lot can happen during the week. Now, you can keep up with whisky news as it happens here on WhiskyCast.com!
July 12, 2013 – More than a year after his supply of whiskey for Slane Castle Whiskey was cut off, Lord Henry Mount Charles has received approval for his plans to build a distillery at the castle in County Meath. Slane Castle Whiskey was introduced in 2010 using whiskey sourced from Cooley, but the supplies were cut off in early 2012 after Beam acquired Cooley and started terminating bulk sales of whiskey to independent bottlers without long-term contracts. The family was forced to withdraw its whiskey from the market at that point, and started looking at the possibility of building its own distillery.
Now, the Mount Charles family has received approval from county officials for a €12 million ($15.7 million USD) distillery that will be built on the stable grounds at Slane Castle in partnership with the family-owned Camus Cognac of France. The two families have pledged just under 50% of the total projected cost, and according to the Irish Times, will be seeking additional investors to join the project. A visitors center is projected to draw 50,000 tourists annually, and the facility is expected to create 25 full-time jobs.
The distillery is scheduled to be completed in 2015, and the first whiskey from Slane Castle is likely to be a blended whiskey that will hit the market in 2018, according to Lord Alex Mount Charles, Lord Henry's son and the managing director for Slane Castle Whiskey. The distillery will use barley grown on the castle's grounds and get its water supply from a river that runs through the estate.
Editor's note: More information on this story is available in Episodes 365 and 366 of WhiskyCast from April, 2012.  
Links: Slane Castle Whiskey
---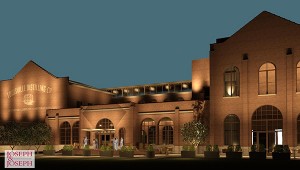 July 9 , 2013 – Lincoln Henderson will finally have another distillery of his own to work with. The longtime Brown-Forman master distiller and original master distiller at Woodford Reserve helped break ground today for the new Angel's Envy Distillery in downtown Louisville. Henderson created the Angel's Envy brand with his family and a team of investors using whisky sourced from other distilleries. In a news release, Henderson expressed relief after spending the last two years looking for a site to build the distillery.
"I feel blessed to do what I truly love to do. It is a dream come true to have my own distillery on Main Street in downtown Louisville."
The site is on the eastern end of Main Street near Louisville Slugger Field, and was formerly the site of Vermont American and Baer Fabrics. Angel's Share Brands, LLC, the Chicago-based parent company of Angel's Envy, purchased the site from the Commonwealth of Kentucky, and the project will also receive economic development incentives from the Commonwealth. The $12 million dollar renovation project will include not only the distillery, but a visitors center that will become part of the Kentucky Bourbon Trail.
Angel's Share Brands, LLC also announced a significant investment in the company from Blue Equity, LLC, a Louisville-based private equity firm. The amount of the investment was not disclosed.
Links: Angel's Envy
---
July 9, 2013 – Diageo executives spent the better part of a year negotiating and then trying to close the deal for a majority stake in India's United Spirits, only to wind up with management control and a 25% stake in the company. Now, they face another round of negotiations over the fate of Whyte & Mackay, the United Spirits-owned Scotch whisky producer.
During the United Spirits share tender process, several news organizations reported that the U.K.'s Office of Fair Trading (OFT) had privately expressed reservations over the merger. Diageo already controls about 38% of Scotch whisky production, and while outgoing CEO Paul Walsh has said that Whyte & Mackay would be surplus to the company's needs, that's believed to apply to the four Whyte & Mackay malt whisky distilleries (Dalmore, Jura, Tamnavulin, and Fettercairn). The OFT is said to be concerned about Whyte & Mackay's Invergordon grain whisky distillery near Inverness and the impact on competition. There are seven grain whisky distilleries in Scotland producing whisky to be used in Blended Scotches, and Diageo already owns 100% of Cameronbridge and 50% of the North British Distillery in a joint venture with The Edrington Group.
In May, the Times of India reported that Whyte & Mackay was considering the sale of Invergordon as a way to satisfy the regulatory concerns. While the Office of Fair Trading has not responded to requests for comment, a Diageo spokesperson issued this response in an email to WhiskyCast's Mark Gillespie:
"Now that we have closed the deal, we will be engaging appropriately with the OFT and anticipate filing in due course. It would be inappropriate to comment further at the moment."
The email did not respond to questions about whether the entire unit would be put up for sale or whether management changes are planned.
Whyte & Mackay has referred all questions about the merger to United Spirits executives in India, and a United Spirits executive has told WhiskyCast that the company does not respond to "market speculation".
This story will be updated as new information becomes available.
Links: Diageo | United Spirits | Whyte & Mackay | Office of Fair Trading
---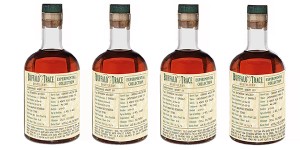 July 9, 2013 – Bourbon distillers have their own unique ways of making America's native spirit, and each one will tell you a different tale — if you can get them to tell you at all. Some distillers swear that putting spirit into a barrel at a high entry proof (the percentage of alcohol) makes the end result better, while others claim using a lower entry proof leads to a smoother whiskey.
Why not put spirit straight off the still into the barrel, undiluted? First off, it's not legal. U.S. law requires that Bourbon be matured in new oak barrels with an entry proof of no more than 125 proof (62.5% ABV), and at most distilleries, the spirit comes off at a much higher proof level. Second, there's the issue of consistency. Stills can generate spirit at slightly different strengths depending on the time of year, and when one's looking to create a whiskey with a consistent taste, it helps to start creating that consistency early in the process and use a consistent entry point. There are other reasons, but they would require a degree in chemistry to explain.
Buffalo Trace's latest Experimental Collection release tests the various hypotheses on entry proof, especially when it comes to wheated Bourbons such as the W.L. Weller and Pappy Van Winkle whiskies. Back in late 2001, the distillery took a wheated Bourbon mashbill coming off the still at 130 proof (65% ABV), and split the spirit four ways when it was filled into casks:
125 Proof (62.5% ABV), the maximum allowed under U.S. law;
115 Proof (57.5% ABV), very close to what Buffalo Trace uses for wheated Bourbons;
105 Proof (52.5% ABV),
90 Proof (45% ABV).
The casks were matured under identical conditions for 11 years and 7 months, then bottled at 90 proof (45% ABV) for the latest Experimental Collection release.
The key finding: the higher the entry point, the more lost to evaporation over time during maturation. The casks filled at 62.5% ABV lost 71% of their contents to evaporation, while the casks at 57.5% ABV lost 73%. By comparison, the casks filled at 52.5% ABV lost 62% of their contents and the 45% ABV casks lost 64%. However, Buffalo Trace's internal quality analysis panel rated the 115 Proof (57.5% ABV) casks as the best-tasting spirit. In a news release, Buffalo Trace master distiller Harlen Wheatley said the study helped confirm his team's suspicions:
"This was an interesting experiment for us to conduct, and by keeping all of the variables consistent such as the proof off the still, aging time and placement next to each other in the warehouse, we were able to focus just on the entry proof into the barrel and see how it affected taste and evaporation rate. We were pleased that what we consider the ideal entry proof for a wheated bourbon, at 114 proof, was pretty close in proof to what we evaluated to also taste the best in this experiment – which was the 115 proof experiment. It was gratifying to see that we have been on the right track this whole time with our entry proof for our wheated recipe bourbons. Another point of interest is the higher entry proofs, the higher the evaporation rates, which is something we've always suspected but now know for a fact."
All four recipes will be available in limited quantities at whisky specialist retailers in the U.S. in 375 ml bottles, with a suggested retail price of $46.35 each.
Links: Buffalo Trace 
---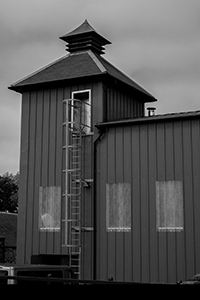 July 8, 2013 – Islay's smallest distillery has released the third edition of its 100% Islay single malt Scotch whisky. Kilchoman is unique among Islay's eight distilleries in that it's located on a farm, and that's where the barley is grown for each annual 100% Islay release. The distillery also has a small malting floor where the farm's barley is prepared for the distilling process, and each of the three 100% Islay releases so far has also been bottled on site at Rockside Farm.
The 2013 release uses whisky matured for four and five years in ex-Bourbon barrels, and is bottled at 50% ABV. 10,000 bottles will be available through Kilchoman's web site and whisky specialist retailers worldwide.
Links: Kilchoman 
---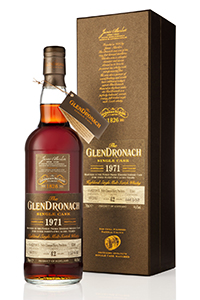 July 5, 2013 – GlenDronach has released the eighth batch of single cask bottlings from the Aberdeenshire distillery. All 8 were selected by Billy Walker, GlenDronach's managing director and master blender, and were matured in a variety of ex-sherry casks for up to 42 years.
The batch includes the following bottlings:
1971 Cask #1246 (42 years old ), a Pedro Ximenez Sherry Puncheon at 44.6% ABV (shown here);
1990 Cask #2971 (22 years old), a Pedro Ximenez Sherry Puncheon at 50.8 % ABV;
1991 Cask #5409 (21 years old), a Pedro Ximenez Sherry Puncheon at 49.8% ABV;
1992 Cask #145 (21 years old), an Oloroso Sherry Butt at  58.1% ABV;
1993 Cask #3 (20 years old), an Oloroso Sherry Butt at 52.9% ABV;
1994 Cask #101 (19 years old), an Oloroso Sherry Butt at 58.4% ABV;
1996 Cask #1490 (17 years old), a Pedro Ximenez Sherry Puncheon at 53.1% ABV;
2002 Cask #1988 (10 years old), a Pedro Ximenez Sherry Puncheon at 55.6% ABV.
All eight whiskies in the batch will be available at whisky specialist retailers in Europe, with limited availability in other global markets.
Links: GlenDronach
---
July 4, 2013 – Diageo has completed its third and final tender offer for shares of India's United Spirits, and will take operational control of the Vijay Mallya-led company. However, the tender offers resulted in Diageo holding just 25% of United Spirits' outstanding shares, instead of the 53.4% stake the world's largest alcoholic drinks company intended to acquire when the deal was first announced last year.
The final tender offer cost Diageo around 31.3 billion rupees ($521 million USD), according to Bloomberg News, and netted Diageo an additional 14.98% of the company's shares. While Diageo will be the largest shareholder in United Spirits, it will depend on agreements with Mallya's UB Group to give it day to day control of the the company. UB Group has pledged to vote its shares at Diageo's direction until 2018 or until Diageo acquires 50% of United Spirits shares.
The original plan for a majority stake collapsed when investors holding some of Mallya's United Spirits shares as collateral for loans to his troubled Kingfisher Airlines refused to release them for sale to Diageo. In addition, many shareholders declined to sell their holdings in Diageo's mandatory tender offers, since the offer price of approximately $23.96 USD per share was well below the company's current price of $42.54 per share on Indian markets. Mallya will continue as United Spirits chairman and a non-executive director, while Diageo will name a new executive team led by Ashok Capoor as CEO.
Still to be resolved is the future of Whyte & Mackay, the United Spirits-owned Scotch whisky unit based in Glasgow. As reported previously on WhiskyCast, U.K. competition authorities are looking at possible remedies to resolve concerns over the deal's impact on grain whisky production. Whyte & Mackay owns the Invergordon grain whisky distillery near Inverness, while Diageo owns the Cameronbridge grain distillery and a 50% share of the North British grain distillery. Competition authorities are reported to have expressed a concern that Diageo will wind up with an anti-competitive share of the grain whisky market as a result of the United Spirits acquisition.
Links: Diageo | United Spirits
---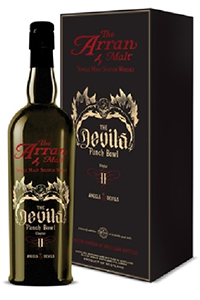 July 4, 2013 – Isle of Arran Distillers has released the second in a trilogy — or should that be a trinity — of devilish single malts.
Angels & Devils follows the 2012 release of The Devil's Punch Bowl malt, which was named after one of the geographic features of the island. The new release is a vatting of 27 different casks (primarily ex-Sherry hogsheads)  from the distillery, with a goal of finding a "true contrast of light and shade", according to master distiller James MacTaggart. The vatting also includes the oldest Arran peated malts available, which were distilled in 2004.
Fittingly, 6,660 bottles will be available worldwide at a cask-strength 53.1% ABV.
Links: Arran
---
July 3, 2013 – After years of planning and discussions, work is getting underway on Duncan Taylor's new distillery in Huntly, Aberdeenshire. Site preparation began this week with widening and paving of the entrance area and access road to allow for heavy equipment to reach the historic building where the distillery will be located, according to Duncan Taylor chairman Euan Shand.
The building itself remains the subject of discussions with local authorities, Shand told WhiskyCast's Mark Gillespie in a telephone interview today. "The building's really old – it goes back to 1899, so we can't decide whether we're going to tear it down and rebuild it or shore it up and get it into a fit state to hold the equipment," Shand said. Local planning officials would prefer to have the existing building renovated, while Shand's preference would be to demolish the building and rebuild it to the same design, while preserving the existing granite stones to be used for the exterior and resulting in a structure that will need minimal maintenance going forward. "By doing this, it'll last for hundreds of years, as opposed to it's already been up for a hundred years and needs tidied up", Shand said. However, he doesn't expect the talks to delay construction for any length of time, since planning permission has already been granted for the project.
Shand hopes to have the distillery completed in the next 12 to 18 months, depending on where he can get on the schedules for still makers and other equipment suppliers. He cited reports of six to seven other proposed distilleries to be built in Scotland, along with others planned around the world that will source much of their equipment in Scotland.
However, Shand also shot down one often-cited reason for the delay in building the distillery. While there were concerns over the impact of wildlife at the site, those concerns were not the main reason. "We pulled back after the financial crisis of 2008-2009, and decided that maybe it just wasn't the right time…and now is the right time," Shand told WhiskyCast. Duncan Taylor is also in the middle of another major construction project, in which a former supermarket is being converted into a new bottling facility and whisky shop.
For more on this story, listen to the entire interview with Euan Shand on this weekend's episode of WhiskyCast.
Links: Duncan Taylor 
---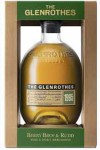 July 2, 2013 – With the all-important holiday gifting season on the horizon, several whisky makers are releasing updated packaging now in time to get their new designs into key markets in time.
The Glenrothes has made its first major change in its unique frame-like boxes in several years, reflecting the change in the brand's ownership to Berry Bros. & Rudd, and adding color to the boxes that corresponds to the colors on the vintage labels for each expression. Taiwan and the United States will be the first markets to receive the new packaging, while the new Manse Brae travel retail series carries the new design from launch.
Meanwhile, Auchentoshan's 12 Years Old and Three Wood single malts are also getting a redesign, with new cartons and labels designed by the Glasgow-based design firm Stand. The bottles will not change, but the cartons will show more of the distillery's heritage while the labels are designed to make them easier to read.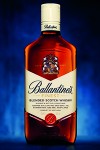 Finally, Ballantine's will be rolling out a new design worldwide with a chevron-shaped label on a brand-new bottle for Ballantine's Finest. In a news release, Ballantine's global brand director Peter Moore cited the need to update the long-standing packaging for one of the world's top-selling whiskies.
"We recognised a need for the look to be updated, given Ballantine's credentials as a famous brand that leaves an impression. We wanted to ensure that our new design stayed true to our proud heritage and identified with our loyal customers, whilst also being seen as a contemporary, vibrant brand, and we're delighted with the final result."
The new bottle is intended to be more contemporary in style while still maintaining the brand's traditional image, including the Grant of Arms and the Ballantine's seal.
Links: The Glenrothes | Auchentoshan | Ballantine's
---