Each week, we bring you the latest whisky news on WhiskyCast, but a lot can happen during the week. Now, you can keep up with whisky news as it happens here on WhiskyCast.com!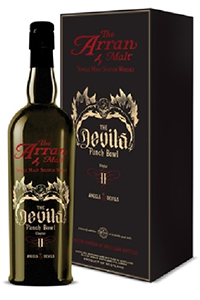 July 4, 2013 – Isle of Arran Distillers has released the second in a trilogy — or should that be a trinity — of devilish single malts.
Angels & Devils follows the 2012 release of The Devil's Punch Bowl malt, which was named after one of the geographic features of the island. The new release is a vatting of 27 different casks (primarily ex-Sherry hogsheads)  from the distillery, with a goal of finding a "true contrast of light and shade", according to master distiller James MacTaggart. The vatting also includes the oldest Arran peated malts available, which were distilled in 2004.
Fittingly, 6,660 bottles will be available worldwide at a cask-strength 53.1% ABV.
Links: Arran
---
July 3, 2013 – After years of planning and discussions, work is getting underway on Duncan Taylor's new distillery in Huntly, Aberdeenshire. Site preparation began this week with widening and paving of the entrance area and access road to allow for heavy equipment to reach the historic building where the distillery will be located, according to Duncan Taylor chairman Euan Shand.
The building itself remains the subject of discussions with local authorities, Shand told WhiskyCast's Mark Gillespie in a telephone interview today. "The building's really old – it goes back to 1899, so we can't decide whether we're going to tear it down and rebuild it or shore it up and get it into a fit state to hold the equipment," Shand said. Local planning officials would prefer to have the existing building renovated, while Shand's preference would be to demolish the building and rebuild it to the same design, while preserving the existing granite stones to be used for the exterior and resulting in a structure that will need minimal maintenance going forward. "By doing this, it'll last for hundreds of years, as opposed to it's already been up for a hundred years and needs tidied up", Shand said. However, he doesn't expect the talks to delay construction for any length of time, since planning permission has already been granted for the project.
Shand hopes to have the distillery completed in the next 12 to 18 months, depending on where he can get on the schedules for still makers and other equipment suppliers. He cited reports of six to seven other proposed distilleries to be built in Scotland, along with others planned around the world that will source much of their equipment in Scotland.
However, Shand also shot down one often-cited reason for the delay in building the distillery. While there were concerns over the impact of wildlife at the site, those concerns were not the main reason. "We pulled back after the financial crisis of 2008-2009, and decided that maybe it just wasn't the right time…and now is the right time," Shand told WhiskyCast. Duncan Taylor is also in the middle of another major construction project, in which a former supermarket is being converted into a new bottling facility and whisky shop.
For more on this story, listen to the entire interview with Euan Shand on this weekend's episode of WhiskyCast.
Links: Duncan Taylor 
---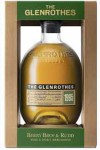 July 2, 2013 – With the all-important holiday gifting season on the horizon, several whisky makers are releasing updated packaging now in time to get their new designs into key markets in time.
The Glenrothes has made its first major change in its unique frame-like boxes in several years, reflecting the change in the brand's ownership to Berry Bros. & Rudd, and adding color to the boxes that corresponds to the colors on the vintage labels for each expression. Taiwan and the United States will be the first markets to receive the new packaging, while the new Manse Brae travel retail series carries the new design from launch.
Meanwhile, Auchentoshan's 12 Years Old and Three Wood single malts are also getting a redesign, with new cartons and labels designed by the Glasgow-based design firm Stand. The bottles will not change, but the cartons will show more of the distillery's heritage while the labels are designed to make them easier to read.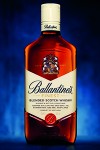 Finally, Ballantine's will be rolling out a new design worldwide with a chevron-shaped label on a brand-new bottle for Ballantine's Finest. In a news release, Ballantine's global brand director Peter Moore cited the need to update the long-standing packaging for one of the world's top-selling whiskies.
"We recognised a need for the look to be updated, given Ballantine's credentials as a famous brand that leaves an impression. We wanted to ensure that our new design stayed true to our proud heritage and identified with our loyal customers, whilst also being seen as a contemporary, vibrant brand, and we're delighted with the final result."
The new bottle is intended to be more contemporary in style while still maintaining the brand's traditional image, including the Grant of Arms and the Ballantine's seal.
Links: The Glenrothes | Auchentoshan | Ballantine's
---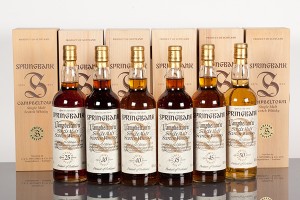 June 28, 2013 – A limited-edition collection of Springbank single malts led the bidding at McTear's during its June 26 auction of rare whiskies and wines in Glasgow. The Springbank Millennium Collection included six 70cl bottles ranging from 25 to 50 years in age, along with corresponding miniatures, and sold for £4,000 (approximately $6,100 USD). The winning bidder came away with a relative bargain, as another Millennium Collection set sold at the Bonhams April auction in New York City for $8,330 USD (about £5,475 GBP).
Runner-up honors went to a bottle of The Macallan from 1938 with a hammer price of £3,400 ($5,170 USD) , a Black Bowmore (1994 bottling) at £2,600 ($3,950 USD), and a bottle of The Macallan Royal Marriage released in 1981 (vatted from casks in 1948 and 1961), which sold for £2,200 ($3,350 USD). An Ardbeg 1976 Sherry Cask bottling sold for $2,000 ($3,042 USD).
Possibly the most unusual item up for bidding was a cask sample from a Macallan cask filled in 1951 and drawn from the cask in January of 2002. The sample was paired with a 50cl miniature bottle of The Macallan 1951, and went for a high bid of £1,000 ($1,520).
The next McTear's whisky auction will run from June 29 through July 7 in an online format through the McTear's Gallery 1842 site.
Links: McTear's Results
---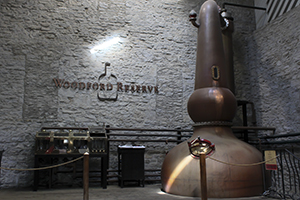 June 27, 2013 – Work is expected to start this fall on a $35 million expansion of Brown-Forman's Woodford Reserve Distillery in Versailles, Kentucky. The expansion will include three new maturation warehouses, along with additional stills and bottling capacity. The new stills will be added to the existing stillhouse as needed, joining the three pot stills already in use at Woodford Reserve.
The current distillery opened at the site of the historic Labrot & Graham Distillery in 1996 after a major restoration, and has recorded consistent double-digit sales increases each year. In a news release, Master Distiller Chris Morris cited the increasing demand for Bourbon as a reason to prepare for the brand's future.
"The world's growing taste for premium North American whiskey is driving record exports of these U.S. spirits. Woodford Reserve experienced a record volume of nearly 250,000 nine liter cases and grew net sales by 28% globally in fiscal 2013. We believe strong consumer interest in bourbon will continue and we're expanding our production capacity in an effort to meet this demand."
Brown-Forman will receive approximately $3 million in economic development grants from the Commonwealth of Kentucky for the project, including corporate income tax credits, employee income tax credits, and sales tax rebates on construction supplies and other equipment for the expansion.
Links: Woodford Reserve | Brown-Forman
---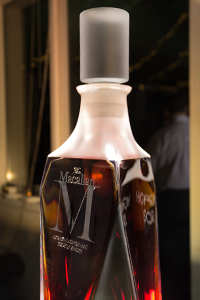 June 26, 2013 – To James Bond fans, "M" is the boss. To fans of numerology, "M" is the Roman numeral for 1,000. To fans of The Macallan, "M" is the latest collaboration between The Macallan and Lalique, with design assistance by noted creative director Fabien Baron of Baron & Baron.
Baron designed the Lalique crystal decanter for "M", which is a no-age-statement Macallan single malt matured in ex-Sherry casks ranging from 1940 to 1991 and blended by The Macallan's longtime whisky maker, Bob Dalgarno. 1,750 numbered decanters will be available globally, with a suggested price of $4,500 each. The decanter's design features six facets, corresponding to The Macallan's "Six Pillars" that make up the whisky's heritage. In addition, The Macallan plans to start making M an annual release, with a new blend to be created each year by Bob Dalgarno. The size of each year's release will depend on the number of casks that go into the blend.
Editor's note: This story was updated on December 5, 2013 with additional information.
Links: The Macallan
---
June 26, 2013 – This week's update on new whisky releases starts with the second new single malt of the year from Talisker. Talisker Dark Storm (45.8% ABV) follows the release earlier this year of Talisker Storm, and is said to be the smokiest Talisker whisky on record. It will be available at travel retail outlets in Europe, Asia, and the Middle East with a suggested price of £42 (approximately $64.50 USD).
Meanwhile, Glenfiddich is expanding its Cask of Dreams series of single malts with a new release for the Scandinavian market.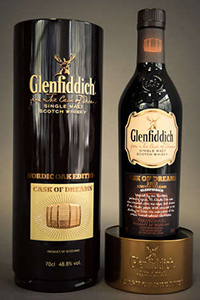 The Cask of Dreams Nordic Oak expression is said to be the first Scotch whisky ever to be finished in Nordic Oak casks. The Cask of Dreams project started in the United States in 2011, and invited whisky lovers to share their dreams with the world. It has since spread to other Glenfiddich markets around the world.
The Nordic Oak expression will be available primarily on Viking Line cruises, with some allocation for other travel retail markets and retailers in the Nordic region. No details on pricing have been announced.
Links: Talisker | Glenfiddich
---
June 25, 2013 – One of the two whisky distilleries closed as a result of massive flooding in southern Alberta has re-opened. Alberta Distillers in Calgary resumed operations late Monday afternoon (June 24), according to Beam Global spokeswoman Paula Erickson. The distillery was undamaged in last week's flooding along the Bow and Elbow Rivers, but was forced to shut down when police closed roads in the area around the distillery.
23 miles to the south, Highwood Distillers in High River remains closed as much of the town is still flooded and under mandatory evacuation orders. Highwood, which makes Centennial, Century Reserve, White Owl, Potter's, and Highwood whiskies and supplies bulk whisky to independent bottlers, was forced to close Thursday (June 20) after electricity service failed. The distillery is located about a kilometer (.6 miles) from the Highwood River, and operations manager Jarrod Grant told WhiskyCast's Mark Gillespie Monday that he's waiting for police to allow him and his team to check on the distillery. The CBC reports local officials believe the town could be closed off for several days to as long as a week.
At least three people have died in the flooding, and Alberta Premier Alison Redford has said a full recovery could take up to ten years and cost $1 billion (CDN).
This story will be updated as more details are available.
Links: Highwood Distillers | Alberta Distillers
---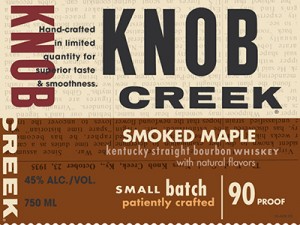 June 24, 2013 – Fresh off the success of its Jim Beam Red Stag flavored whiskies, Beam will release a maple-flavored version of Knob Creek later this year. In an email sent to Knob Creek's "Brothers of Bourbon" affinity group today, Beam announced plans for Knob Creek Smoked Maple, which will build on the original Knob Creek flavor with added "natural" maple and smoke flavoring.
While the bottle design for the new whiskey has not been unveiled, the label for Knob Creek Smoked Maple has been reviewed and approved by U.S. regulators at the Treasury Department's Tax & Trade Bureau.
Read more »
---
Updated June 25, 2013 – Massive flooding along several rivers in Alberta have claimed at least three lives, caused millions of dollars in damage, and forced the shutdown of at least two whisky distilleries. Highwood Distillers in High River, Alberta shut down after the distillery lost power Thursday afternoon, and the entire town remains under mandatory evacuation orders.
"The entire town's underwater", Highwood operations manager Jarrod Grant told WhiskyCast's Mark Gillespie in a phone interview Monday. "We're on the list to try and get into town, but we don't know what's happened at the distillery." Grant remains hopeful that damage will be minimal, since the distillery is on higher ground about a kilometer (.6 miles) from the Highwood River. RCMP officers in High River told the Calgary Sun they expect the evacuation orders to remain in place for several days. Mounties are conducting a dangerous door-to-door search of homes and businesses in High River to encourage people who have defied the evacuation orders to leave.
Highwood produces Centennial, Century Reserve, White Owl, Potter's, and Highwood Canadian whiskies, along with other spirits. It also supplies whisky to a number of independent bottlers, including Masterson's and Canadian Rockies.
Flood waters are starting to recede in Calgary, about 23 miles north of High River. The Bow and Elbow Rivers flooded most of downtown Calgary last week, forcing a temporary shutdown at Alberta Distillers after police closed roads in the area around the distillery. The Beam Global-owned distillery's main product is Alberta Premium Canadian Whisky, and Beam's Paula Erickson told WhiskyCast in an email Sunday that all of the distillery's employees are safe, and the impact on production and distilling is expected to be minimal.
In addition, both of Calgary's leading whisky and spirits shops escaped damage from the flooding. Andrew Ferguson of the Kensington Wine Market told WhiskyCast via Twitter:
"We were lucky. This place is a disaster…billions in damage to the 4th largest city in Canada and the second most important financial/business center"
Chelsey Coulson of Willow Park Wines & Spirits reports via email that the Willow Park staff is also safe and the store was not damaged.
The Oldman River is receding in Lethbridge, about 130 miles south of Calgary. Lethbridge is home to the Black Velvet Distillery, and spokesman Chris Spearman reports via Twitter that his people are all safe.
This story will be updated as more details are available.
---