Each week, we bring you the latest whisky news on WhiskyCast, but a lot can happen during the week. Now, you can keep up with whisky news as it happens here on WhiskyCast.com!
April 27, 2015 – Silver Trail Distillery's Jay Rogers and Kyle Rogers remain in critical condition at Nashville's Vanderbilt University Medical Center with burns suffered in Friday's explosion at the Hardin, Kentucky. They have shown gradual improvement since they were airlifted to the hospital's burn center, but still face a long and arduous recovery process.
"Jay and Kyle's families have been humbled by the outpouring of support," Kentucky Distillers Association president Eric Gregory said in a news release Monday. "They asked us to pass along their thanks for everyone's thoughts, prayers and generosity." The KDA has established a fund to help both families with medical and other expenses following the explosion, which destroyed the distillery and remains under investigation. Donations to the "Lifting Spirits – Jay and Kyle Rogers Support Fund" can be sent to CFSB Bank, P.O. Box 467, Benton, Ky., 42025. In addition, the KDA has added an online donation form to the association's web site.
"Jay and Kyle are doing better, but they still have a long way to go," Gregory said. "Please keep them in your prayers, and remember Silver Trail Founder and Master Distiller Spencer Balentine and his family during this difficult time." Valentine founded the distillery in 2011 to continue his family's tradition of making moonshine in Western Kentucky, and Silver Trail was one of the original members of the KDA's Kentucky Bourbon Trail Craft Tour for the state's craft distilleries. Many of those distilleries are working to coordinate tastings and other fundraisers for the support fund, and a benefit will be held at The Rickhouse in Bardstown on May 8. In addition, whiskey writer Fred Minnick is working on a book signing with other whiskey authors to raise money for the fund.
Editor's note: This story was updated to show that online donations are now being accepted at the KDA web site.
Links: Kentucky Distillers Association | Silver Trail Distillery 
---
April 27, 2015 – Vijay Mallya is fighting demands from the Diageo-controlled board of United Spirits, the Indian-based spirits company he built into one of the world's largest, that he resign over alleged financial improprieties. The demand came over the weekend at an emergency board meeting in Mumbai, according to several news organizations.
Diageo's move came after reviewing an audit report by PricewaterhouseCoopers. That report claims company funds were diverted between 2010 and 2012 to prop up the now-bankrupt Kingfisher Airlines and other Mallya-controlled companies before Diageo bought a controlling stake in United Spirits from Mallya in 2012. The demand that Mallya resign as chairman came days after the company's chief financial officer resigned in the wake of the audit report.
Mallya denied any improper actions in a statement released to the Financial Times and other media outlets, noting that all of the transactions complied with Indian law and were not only approved by the United Spirits board at the time, but were also accounted for in the company's financial statements reviewed by Diageo before its acquisition. Diageo ordered the audit after United Spirits repeatedly delayed reporting its results for the fourth quarter of 2014 several times over questions about a $225 million (USD) loan from the company to UB Holdings, Mallya's holding company for Kingfisher Airlines, United Spirits, United Breweries, and other enterprises.
Under the original 2012 deal in which Mallya sold control of a 28% stake in United Spirits to Diageo, he retained the right to serve as the company's chairman while agreeing to vote his shares at Diageo's direction. Diageo later acquired enough shares on the open market to control 55%, and has put new accounting measures in place at United Spirits. Analysts say Diageo could remove Mallya from the board under Indian law by putting the move to a shareholder vote, but Mallya is likely to contest such a move in court. The company's web site still features Mallya prominently on its home page for now.
Links: United Spirits
---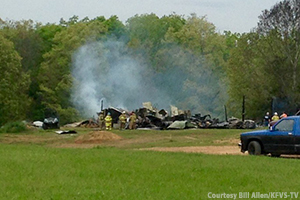 April 25, 2015 – Two distillers from Kentucky's Silver Trail Distillery are in critical condition at Vanderbilt University Medical Center in Nashville following an explosion and fire at the distillery Friday morning. Jay Rogers and his cousin, Kyle Rogers, were taken by helicopter to the hospital's burn center with what are described as serious injuries on the Silver Trail Facebook page. Silver Trail owner Spencer Balentine and his wife live in a house adjacent to the Hardin distillery, but escaped injury.
"Quite frankly, I think they're lucky to be alive," said Kentucky Distillers Association president Eric Gregory in a telephone interview. Gregory rushed to Hardin after the explosion to be with the Balentines. "The doors to the distillery were open, two big doors, and they were blown through those doors about 25-30 feet, and if those doors were closed, I think we'd had a much worse situaton…it's really just a horrible accident."
"Spencer Balentine is one of the true gentlemen in our industry…and he is distraught, and even more worried about his workers and his friends. When we asked yesterday what we can do, the first thing he said was 'I want you to pray for my guys.'"
"I just heard a big old boom and I ran outside and it was huge," neighbor Victoria Wallace told KFVS-TV. Investigators are still trying to determine the exact cause of the explosion, but Marshall County emergency management director Frank Murphy told Reuters that the two men were checking on a distilling run that had been going for about five hours when the explosion occurred as they opened the door. Firefighters from four area departments responded to the scene, but the building was completely destroyed in the fire.
Balentine opened Silver Trail in 2011, and made LBL Moonshine using his family's original recipe for the illegal moonshine his father ran in the 1950's. During Episode 388 of WhiskyCast in September 2012, he said the still he was using at the time was handed down through his family as well. Gregory said that still was not the one being used Friday at the time of the explosion, but involved a newer still Balentine had purchased since the 2012 interview. Silver Trail is a member of the Kentucky Distillers Association, and the distillery is an original member of the KDA's Kentucky Bourbon Trail Craft Tour.
40-year-old Jay Rogers had been working at Silver Trail for the last couple of years, while his 26-year-old cousin Kyle Rogers had just joined the distillery as an apprentice several years ago. An account has been established at Community Financial Services Bank in Paducah to help with their medical expenses, and a benefit is being planned at The Rickhouse in Bardstown on May 8.
This story will be updated as more information becomes available.
Editor's note: This story was updated with additional information on the explosion and the victims.
Links: Silver Trail Distillery
---
April 25, 2015 – While watching coverage of Franklin County Sheriff Pat Melton's news conference Tuesday on the indictments of nine people in connection with an ongoing series of Bourbon thefts, Louisville-based Bourbon blogger Carla Carlton was cheering…until a reporter asked what would be done with the stolen whiskey seized during the investigation. Sheriff Melton replied that while he hoped to return the estimated 25 sealed bottles of Pappy Van Winkle's Family Reserve to the Van Winkle family, the whiskey would likely be destroyed.
"It was sort of like a disturbance in the Force…across the Internet, there was this collective gasp," Carlton said in a telephone interview. "At that news conference, there was more Pappy sitting there than most people have ever seen at one time in their lives, and to think that might be destroyed along with the Eagle Rare 17 and Russell's Reserve seemed like just adding another crime on top of the crime that had already been committed."
Listen to Mark Gillespie's interview with Carla Carlton: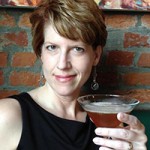 Carlton, who blogs as "The Bourbon Babe", immediately launched a campaign to ask Kentucky Governor Steve Beshear to "Pardon My Pappy" because, at 23 years old, he's "too young to die". The tongue-in-cheek campaign hopes to persuade state officials and the judge that will eventually hear the case to issue a waiver from a state law requiring that alcoholic beverages seized as evidence in a crime be destroyed. The campaign has received widespread interest from whisky lovers around the world through the #PardonMyPappy hashtag on Twitter, and Gov. Beshear's office issued a statement responding to the outcry.
"We are all glad that some of the missing Bourbon has been found. Hopefully, we can find some worthy cause for some of Kentucky's finest."
Sheriff Melton said Tuesday the whiskey in barrels stolen from Buffalo Trace and Wild Turkey distilleries will likely have to be destroyed, since there is no way to guarantee that they're not tainted. However, the court could rule that bottles labeled for retail sale with the original distillery seals need not be destroyed, and state liquor regulators would also have to weigh in with a ruling on how the whiskey could legally be disposed of. In addition, the Pappy Van Winkle bottles stolen from Buffalo Trace's warehouse in 2013 were covered by insurance, and it is possible that the insurance company could claim ownership of any recovered property covered by its policies.
The nine people indicted Tuesday in connection with a seven-year-long stretch of thefts from the distilleries include longtime Buffalo Trace employee Gilbert "Toby" Curtsinger, described as the leader of the ring. He was arrested in March after a tip led deputies to his home near Frankfort, where they found five barrels of whiskey later found to have been stolen from Wild Turkey. Investigators say Curtsinger, along with fellow Buffalo Trace employee Christopher Preston and Wild Turkey employee Mark S. Searcy, allegedly stole whiskey from their distilleries and re-sold it with the help of the other suspects on the black market through contacts made at softball tournaments for below-market prices.
While federal officials have been watching the case, which also involves weapons and steroids charges, the prosecution is being handled by Franklin County prosecutors. However, Carlton does see a potential federal role, noting that the recovered Pappy Van Winkle whiskies could serve the national purpose if and when the long-discussed "Bourbon Summit" between President Barack Obama and Senate Majority Leader Mitch McConnell of Kentucky is held.
Links: The Bourbon Babe Blog
---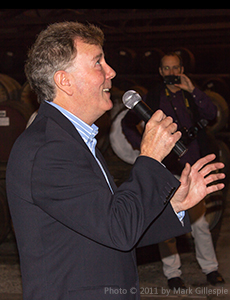 April 24, 2015 – If you're one of the 500 people with tickets for Jim McEwan's master class during Bruichladdich's open day next month during the Islay Festival of Malt & Music, (or the 380 currently on the waiting list), bring your handkerchief and prepare to shed a few tears. McEwan has announced his plans to retire in July after 15 years at Bruichladdich and 52 years in the Scotch Whisky industry.
"It's a job complete, you know…I've been doing this a long time, but I've got a feeling I've never had before, and that feeling is the journey's over, you've done it, you've survived…you're leaving behind something really worthwhile in a small community…we've got 80 jobs here now, and that's phenomenal. It's time to move on and focus on the bits you've missed."
"It's going to be emotional, that's for sure," McEwan said in a telephone interview today. He plans to bring back the "Three Musketeers" who were at Bruichladdich when he was recruited by Mark Reynier in 2000 to help bring the distillery back to life. Duncan McGillivray, Duncan "Budgie" Mcfadyen, and John Rennie had kept the distillery in mothballs after it closed in 1994. "Guess who's got the best seats in the house…these three guys, and I've got one or two surprises for them as well just to say thank you…the passion that they showed me when I walked through the gates, it was their passion and their belief that we could make it happen that turned me around."
McEwan is 67 years old, and had originally committed last year to remain at Bruichladdich through 2016. However, the lure of his grandchildren persuaded him to retire a year earlier. "I traveled so much and done so many things…I missed out on my own family, so I'm certainly not going to miss out on my grandchildren, that's for sure," he said. His four grandchildren live in Glasgow with Jim and Barbara McEwan's two daughters and their husbands, but Jim plans to have them spend summers on Islay. "We'll go walk on the beaches and we'll gather crabs and we'll sail boats down the river and that sort of stuff…it's really important to me and our family that they get that Islay DNA."
He's leaving the distillery's DNA in the hands of distillery manager Allan Logan and incoming master blender Adam Hannett, both of whom McEwan considers to be as close as sons and has mentored as they worked their way up through the ranks at Bruichladdich. "Adam is going to be a perfect running mate for Allan, and together these two, they're best buddies and that's really important…you always need a running mate…I had Duncan McGillivray as my running mate in a similar situation…total respect for each other," he said.
Listen to this week's WhiskyCast for our interview with Jim McEwan.
Links: Bruichladdich web site
---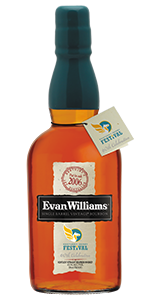 April 23, 2015 – While the Kentucky Derby marks 141 years on Derby Day May 2, the Kentucky Derby Festival is celebrating its 60th anniversary this year. The festival includes more than 70 different events organized by volunteers from around the Louisville area between April 17 and May 1. This year, Heaven Hill's Evan Williams Bourbon is marking the anniversary with a special limited-edition bottling of Evan Williams Single Barrel from two casks filled in 2006.
The bottles include a special teal-colored wax seal and label, and will go on sale Friday (April 24) only at the Evan Williams Bourbon Experience in downtown Louisville for $49.99 each on a first-come, first-served basis.
In addition, this year's "Pegasus Pins" that admit owners to Derby Festival events include a discount for admission to the Evan Williams Bourbon Experience. Evan Williams is an official sponsor of the Kentucky Derby Festival.
Links: Evan Williams Bourbon Experience | Kentucky Derby Festival
---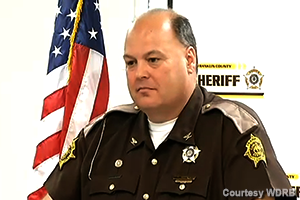 April 21, 2015 – From the beginning, Franklin County Sheriff Pat Melton considered the 2013 theft of 65 cases of Pappy Van Winkle's Family Reserve whiskey from a secured Buffalo Trace Distillery warehouse to be an inside job. Today, a Franklin County grand jury returned indictments against nine people in what's become known as "PappyGate", including two Buffalo Trace employees. The nine are accused of stealing and selling tens of thousands of dollars worth of stolen whiskey – potentially including the Pappy Van Winkle whiskey –  according to the indictments. Arraignments are expected as early as Friday, according to Sheriff Melton, assuming that all nine suspects can be served with warrants by then.
"Right now, I don't know that I can look at it and say this is what was stolen from 2013," Melton told WhiskyCast's Mark Gillespie in a telephone interview. "I think you can look at it and say we've got 25 bottles of Pappy van Winkle of different vintages, and I think it's safe to say this is an ongoing and continued pattern of behavior since – as we can track down – back to 2008…there's been a lot of Bourbon stolen." In all, at least 18 barrels of stolen Bourbon were accounted for, along with the stolen Pappy Van Winkle and other whiskies – for a total value of more than $100,000, and Melton called that "the tip of the iceberg."
"Five barrels alone is gigantic…I would have never guessed that we'd have gotten what we got, much less 18 barrels and all the bottles and the contents out of another barrel…it's just crazy."
Listen to Mark Gillespie's interview with Sheriff Pat Melton:

Gilbert "Toby" Curtsinger was arrested last month after deputies found five barrels of whiskey in his yard that were found to have been stolen from a Wild Turkey warehouse. Curtsinger has been free on bond since his arraignment in District Court, but the arrest set in motion a series of events leading to the indictments. Sheriff Melton told reporters today in Frankfort that several people called in with tips that they had purchased barrels of Bourbon that might have been stolen, and prosecutors declined to pursue charges against them for cooperating with the case. He suspects there are still bottles of stolen whiskey circulating in Kentucky, and is asking for anyone with information about the case to contact his investigators.
Curtsinger, described by the sheriff as a "senior employee" at Buffalo Trace with 27 years of experience, was named as the ringleader in the indictment, along with his wife Julie Curtsinger. The others indicted included Buffalo Trace employee Christopher Preston and Wild Turkey employee Mark S. Searcy, who was accused of helping steal barrels from his distillery's warehouses. Curtsinger's attorney, Whitney Lawson, told the Courier-Journal "We're glad that if they're going to indict that they've indicted so we can get to work." The ring is accused of selling the stolen whiskey through connections made at softball tournaments throughout Kentucky, and is also accused of importing and selling illegal anabolic steroids along with other pending charges. 
Melton credited information from the community with helping to break the case. During a news conference in Frankfort following the indictments, he said "unless you're here, it's hard to understand how much information that we get…and how much comes in. What significantly makes a difference is that we've got a team that worked its tail off for the community at the end of the day." Melton credited Franklin County prosecutors, investigators from the Kentucky Attorney General's office, and his colleagues in counties around Kentucky for their support of the investigation.
WhiskyCast asked executives at both Buffalo Trace and Wild Turkey, along with the Van Winkle family, for comment on the indictments. Wild Turkey responded with this post on the brand's official Twitter feed.

Wild Turkey also provided this statement issued jointly with Buffalo Trace and the Van Winkle family.
"Buffalo Trace and Wild Turkey have been working in full cooperation with the investigation of the Franklin County and Anderson County sheriffs' offices.  We thank the authorities for their efforts on this case and appreciate their swift, thorough detective work to get this in front of the Grand Jury as quickly and as comprehensively as possible.   We take this matter very seriously and support the prosecution of anyone found in violation of state or federal government laws related to our businesses.  As this is an ongoing investigation, we have no further comments at this time and will refer all questions to Franklin County Sheriff Pat Melton."
Buffalo Trace and the Van Winkle family declined to comment beyond the statement issued through Sheriff Melton's office.
This story will be updated as necessary.
Editor's note: This story was updated with additional information following an interview with Franklin County Sheriff Pat Melton, along with a clarification on the statement issued jointly by Wild Turkey, Buffalo Trace, and the Van Winkle family. 
Links: Franklin County Sheriff's Department | Old Rip Van Winkle | Buffalo Trace | Wild Turkey
---
April 20, 2015 – As Laphroaig prepares for its bicentennial celebrations later this year on Islay, the Beam Suntory-owned distillery has officially confirmed the limited return of Laphroaig 15 Year Old as part of the celebration. The 15-year-old single malt was dropped from Laphroaig's permanent range several years ago in favor of an 18-year-old expression, but distillery manager John Campbell made the decision to bring it back for 2015 as one of the special releases planned for the year. Campbell hinted at the return of the 15-year-old during last September's Laphroaig Live webcast in Sweden, and other releases expected this year include a 32-year-old bottling and a 21-year-old release to honor the 21st anniversary of the Friends of Laphroaig affinity group.
Laphroaig 15 Year Old will be available starting in May at whisky specialist shops in Europe with a recommended retail price of £75 ($112 USD) per 700ml bottle. Beam Suntory has confirmed the expression will be available in the US early this summer in 750ml bottles, but pricing has not been announced yet.
In addition, while the 200th anniversary celebration is expected (but not confirmed) to be part of this year's Laphroaig Live webcast in the autumn, the distillery will be expanding its "OpinionsWanted" promotion as part of the event. 200 of the most unique "opinions" submitted to the Laphroaig web site will be featured as tiles on the distillery's walls, and several winners will be selected to attend Laphroaig Live, which is being held at the Islay distillery for the first time in nine years. No date has been announced for the event, but an announcement could come during next month's Laphroaig day during the annual Islay Festival of Malt & Music. The distillery opted not to hold its anniversary celebration during the festival, which already stresses the island's tourism infrastructure to the breaking point with thousands of visitors attending Feis Ile events at the eight Islay distilleries.
Links: Laphroaig
---
April 15, 2015 – For the last 19 years, Maker's Mark has produced what's become known as the "Keeneland Bottle" – a limited-edition bottle sold only in Kentucky to raise money for programs at the University of Kentucky. The Keeneland tie comes from the annual bottle signing party held at Lexington's Keeneland Race Course that draws hundreds of people or more from around Kentucky to have their bottles signed.
While the Keeneland bottles have featured many of the University's legendary basketball players over the years, the 2015 bottle was the first to feature longtime Kentucky coach Adolph Rupp. Rupp coached the Wildcats to four NCAA championships during a career that ran from 1930 to 1972, and at the time of his death in 1977, was college basketball's all-time leader in wins. Four of his most famous players turned out to sign their coach's bottle at Keeneland on April 10, 2015, and WhiskyCast's Mark Gillespie was there.
Listen to Mark Gillespie's story:

All of the 11,000 bottles featuring Adolph Rupp have been sold, with more than a thousand signed at Keeneland on April 10 by Dan Issel, Cliff Hagan, Frank Ramsay, Adrian Smith, Rob Samuels of Maker's Mark, and Keeneland president Bill Thomason. The 2015 bottle begins a five-year project to raise money for an academic tutoring and counseling center at the University of Kentucky, following three years of raising funds for UK Health's Gill Heart Institute.
Editor's note: This story appears in Episode 529 of WhiskyCast. While Maker's Mark covered some travel expenses, WhiskyCast retained complete editorial control over the content of this story. 
Links: Maker's Mark | Keeneland
---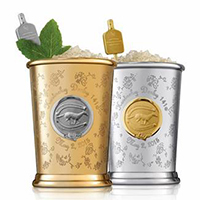 April 15, 2015 – Woodford Reserve has been the official Bourbon of the Kentucky Derby for the last ten years, and is kicking off its annual $1,000 Mint Julep charity campaign ahead of the 141st running of the Derby at Churchill Downs on May 2. The annual campaign has raised more than $410,000 for equestrian-related charities, and will benefit the Wounded Warrior Equestrian Program this year.
This year's sterling silver Mint Julep cup was designed by fashion designer Billy Reid and produced by Louisville silversmiths From The Vault. 90 "Victory Cups" are available to purchase online through April 30 for $1,000 each, with 10 gold-plated "Winner's Circle Cups"  available for $2,500 each. Each cup comes in a hand-crafted oak box designed by Christian Fecht and lined with fabric designed by Billy Reid. The campaign also includes bowties and neckties made from the same fabric available through Billy Reid stores and the fashion brand's web site.
The cups must be picked up at Churchill Downs on Derby Day, and will come with a new Mint Julep recipe created by New York-based bartender Pamela Wiznitzer of The Dead Rabbit:
2 ounces of Woodford Reserve Double Oaked Bourbon
.75 ounce Coconut Palm Sugar Syrup
6-8 chocolate mint sprigs
Candied orange and lemon slices for garnish
Powdered sugar
Combine ingredients and shake with the mint. In the Julep glass, place 3 sprigs of the mint at the bottom and top with crushed ice. Strain over crushed ice into the julep glass and insert a metal spoon straw. Top with a mint sprig, candied orange/lemon slices, and powdered sugar.
Links: Woodford Reserve Mint Julep Cups | Woodford Reserve | Wounded Warrior Equestrian Project | Billy Reid
---