Each week, we bring you the latest whisky news on WhiskyCast, but a lot can happen during the week. Now, you can keep up with whisky news as it happens here on WhiskyCast.com!
May 7, 2013 – Wine Enthusiast Magazine has named its annual "Top 40 Tastemakers Under 40″ – honoring rising young Americans in the world of wine, spirits, and beer. Two whisky makers made the list, Marko Karakasevic of California's Charbay Winery & Distillery, and Andy Lewis of Rock Town Distillery in Little Rock, Arkansas.
Karakasevic (profiled in WhiskyCast Episode 179)  is a 13th-generation distiller specializing in unusual whiskies made from fully-hopped and stout beers at his family's distillery in St. Helena, California. Lewis has won awards for his handmade small-batch vodka, and has produced Rock Town's Arkansas Young Bourbon and Arkansas Hickory Smoked Whiskey
Also named to Wine Enthusiast's list were Manhattan Cocktail Classic founder Lesley Townsend Duval, who previously ran wine and spirits education classes at New York City's Astor Center, and veteran New York City bartender Jason Littrell, former president of the U.S. Bartenders' Guild New York Chapter and co-creator of the infamous "Pickleback" cocktail (whisky and pickle juice).
The complete list of honorees is in the May 2013 issue of Wine Enthusiast.
Read more »
---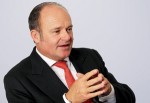 May 7, 2013 – In a move that had been anticipated for some time by drinks industry observers, Diageo CEO Paul Walsh has announced his plans to step aside on July 1, clearing the way for his top lieutenant to take the reins of the world's largest whisky maker. Ivan Menezes was named Chief Operating Officer in 2012, and was tipped then as Walsh's heir apparent.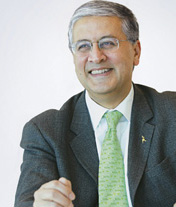 The Indian-born Menezes spent ten years running Diageo's North American operations before he was named COO, and also chaired the company's Asia-Pacific, Latin America, and Caribbean operations. While around 40% of Diageo's sales come from North America, those developing regions are forecast to become a major revenue base for the company.
Walsh spent 13 years as Diageo's CEO, and also served as chairman of the Scotch Whisky Association, where he continues to sit on the SWA's Council. He will stay on with Diageo for a year to assist with the transition, but will give up his seat on the Diageo board in September and retire completely from the company at the end of June, 2014. His future plans have not been announced, and there has been no word on when Menezes will replace him on the SWA Council.
Read more »
---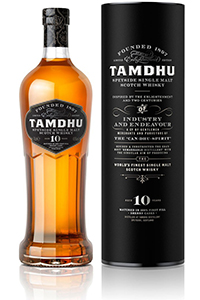 May 4, 2013 – Tamdhu Distillery made its re-appearance on the whisky stage today during the Spirit of Speyside Festival with the release of its first single malts since the distillery was purchased out of mothballs by Ian Macleod Distillers nearly two years ago. During a rare open day at Tamdhu, the new Tamdhu 10-year-old was released along with a special  limited edition version.
The 10 Year Old was matured in Sherry casks and is bottled at 40% ABV, while the 10 Year Old Limited Edition (1,000 bottles) was matured exclusively in first-fill Sherry casks. The basic version retails for £34.99 ($54.50 USD), while the Limited Edition will sell for £100 ($155.75 USD).  Both are available through the Tamdhu web site and whisky specialist retailers in the UK.
For a perspective on Tamdhu's revival, listen to Episode 323 of WhiskyCast from July 3, 2011 and Mark Gillespie's interview with Ian Macleod managing director Leonard Russell.
Read more »
---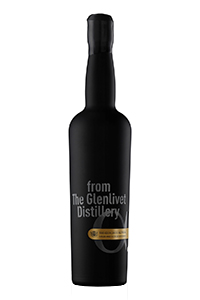 May 4, 2013 – Most new whiskies are released with fanfare, news releases, samples, and details practically down to the shoes the stillman was wearing when the whisky was made. Not so with a new release from The Glenlivet, where the goal is to let consumers explore the whisky blindly .
The Glenlivet Alpha dispenses with the brand's traditional packaging, with a plain black bottle that makes it impossible to see the whisky inside. The label simply reads "From The Glenlivet Distillery", with only enough additional language to meet legal standards. What we do know is that it was bottled at 50% ABV, and only 3,350 bottles are available. . The remaining details will be unveiled sometime in June during a webcast with Master Distiller Alan Winchester on the Glenlivet web site.
The Alpha will be available in the UK, USA, Europe, China, Hong Kong, Taiwan, Japan, India, Malaysia, and South Africa at a suggested price of $120.
---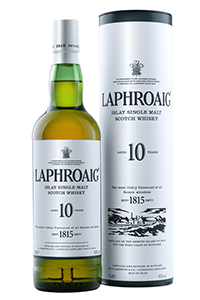 May 3, 2013 – Laphroaig has unveiled a new packaging design for its entire range of Islay single malts. The design includes new labels and tubes for the core range, with a goal of creating a consistent look across the range.
In a news release, Beam senior global marketing director Michael Cockram described the redesign as subtle, while providing a more defined personality for Laphroaig.
"Laphroaig continues to be the world's No.1 Islay malt whisky. Our decision to refresh the brand's packaging has been taken with a great deal of care, given that the brand's distinctive look has been so successful for many years. We believe the new look creates a modern evolution for the brand, reinvigorating the original design while educating consumers on the brand's unique taste experience."
The design was created in consultation with members of the Friends of Laphroaig affinity group, and will continue to use an image of the Laphroaig Distillery on Islay as the focal point on the tubes consumers see on retail shelves. The new packaging will be rolled out across the world, with the initial focus on the U.S., the U.K., Germany, Sweden, Australia, and Japan.
Read more »
---
May 3, 2013 – The Scotch Whisky Association lost what appears to be just the first round of litigation over a government plan to impose minimum pricing for alcohol in an attempt to fight binge drinking. Lord Doherty rejected the SWA's arguments that the Scottish Parliament didn't have the authority to enact minimum pricing under its devolved powers, and that the plan does not violate the Act of Union between Scotland and the United Kingdom.
The plan would set a minimum price of 50p per unit of alcohol, which would raise the base price for a bottle of Scotch whisky to £14. It is being seen as a precedent for similar action in England being considered by the David Cameron-led coalition in Parliament.
Scotch Whisky Association CEO Gavin Hewitt criticized the ruling, and immediately promised an appeal. In an interview with The Guardian, he predicted the final decision on minimum pricing will come from the European Court of Justice:
"The crux of the matter has always been the issue of European law; that will remain the issue which will have to be addressed, and which we will be addressing in our appeal."
The association's ultimate position is that minimum pricing schemes are illegal under European law because they conflict with common market rules for European Union member countries.
Health professionals praised the ruling, which they view as a natural extension of the public smoking bans enacted in recent years. Scottish Health Secretary Alex Neil told The Guardian:
"We have always believed minimum unit pricing is the right thing to do to tackle Scotland's problematic relationship with alcohol. Minimum unit pricing will target cheap alcohol relative to strength that is favoured by hazardous and harmful drinkers and which contributes to much of the alcohol-related harm we see in Scotland. We now look forward to being able to implement minimum unit pricing and making that transformational change in Scotland's relationship with alcohol."
The minimum pricing plan has been put on hold while the legal case remains in the courts, and Scottish government officials say implementation could be delayed for several years as a result.
Read more »
---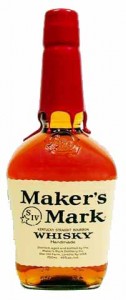 May 2, 2013 – Beam Inc. reported first quarter earnings of $0.64/ share today, well above the estimates from Wall Street analysts. The 21% gain in earnings over the same period in 2012 was based on strong sales in North America, with the controversy over the Maker's Mark ABV change in February getting some of the credit.
Maker's Mark sales jumped 44% during the quarter from 2012, and CEO Matt Shattock told analysts on a conference call following the report that consumer stockpiling of the original 45% Maker's Mark  resulted in what he called unsustainable long-term gains. Maker's Mark announced February 9 that it would lower the bottling strength of its Bourbon from 45% ABV to 42% ABV in order to increase supplies to meet unprecedented demand. However, the decision was reversed a week later following an outcry from the brand's customers.  Shattuck told analysts and reporters on the call that the Maker's Mark inventory will be able to sustain a "solid rate of growth" through pricing and market allocation.
Company-wide, sales rose 3% during the quarter, with 7% growth in North America, 1% in the EMEA (Europe, the Middle East, and Africa) region, and a 7% decline in the Asia-Pacific and South American region. The EMEA results reflect steady maintenance of the region's 12% gain during the same period last year. Beam had expected losses in Asia as it deals with the fallout of bribery allegations in India, where its Teacher's Scotch has traditionally dominated the market. Teacher's sales fell 20% during the quarter from a year ago, largely on the issues in India.
Teacher's and Maker's Mark are considered two of Beam's "Power Brands" within the company, and the segment showed a 2% drop in overall sales during the quarter. Among the other whisky brands in that group, Jim Beam sales fell 2% and Canadian Club sales gained 8%.  Beam's "Rising Stars" group showed a 20% gain in sales during the quarter, with Laphroaig up 27%, Basil Hayden's up 16%, and Knob Creek up 3%. Kilbeggan sales fell 30% from the previous year, which was the first quarterly report after Beam's acquisition of Ireland's Cooley Whiskey.  Both groups also include other spirits brands, and the "Power Brands" group was also hurt by declines for Courvoisier Brandy and Sauza Tequila. The "Rising Stars" group also benefitted from a 140% gain in sales of Skinnygirl cocktails.
Read more »
---
May 1, 2013 – Loch Fyne Whiskies, the Inverary-based retailer known as much for its wide variety of Scotch whiskies as for its irreverent nature, has been acquired by Glenkeir Whiskies, the parent company of The Whisky Shop chain.
Richard Joynson, who owned Loch Fyne Whiskies with his wife Lyndsay for the past 20 years, announced the news in an email to customers today:
"We're outta here!

Lyndsay and I have happily sold our whisky interests and feel liberated to go off and do something else – something away from whisky! (Garden, boating and gig leave in the short term). While we wish a low-key departure, we want to shout our huge appreciation for our colleagues, our suppliers and our customers – THANK YOU!

It's been 20 years of great fun. So long, and thanks for all the fish…

R
The Whisky Shop chain operates 21 off-license whisky specialist retail shops in the UK. In his email, Joynson said the new owner plans to keep the "name, policies, and character" of Loch Fyne Whiskies.
Read more »
---
May 1, 2013 – The second-generation brothers of Douglas Laing & Co. have split the company in what Fred and Stewart Laing are both calling an amicable de-merger. Reports of the split have been widespread in recent weeks, but the final papers were signed Tuesday in Glasgow.
The company was founded by their father, Fred Douglas Laing, in 1948, and as part of the de-merger, Fred Laing retains the rights to the Douglas Laing name. Stewart Laing has formed a new company with his share of the Douglas Laing assets, to be called Hunter Laing & Co. (Hunter is Stewart's middle name).
"As in all things,  and all ways of life, families have different views," Stewart Laing told WhiskyCast's Mark Gillespie today. "My brother and I had different views as to the way forward, and basically, on the basis of that, we decided that the better way forward is to de-merge and literally do our own things"
The split allows both brothers to put their succession plans in order. Stewart's sons, Andrew and Scott, will join their father and merge their existing Edition Spirits company into Hunter Laing. As reported previously on WhiskyCast, Fred's daughter Cara will join Douglas Laing as Head of Brands Marketing. She had previously been with Morrison Bowmore Distillers as Marketing Manager for Bowmore and Glen Garioch single malts, with previous experience at Whyte & Mackay. In separate interviews, both fathers expressed great pride at being able to work with their children, with plans to pass on their businesses to the third generation.
While Fred Laing retained the rights to the Douglas Laing name, Stewart took the company's bottling hall for Hunter Laing (which will continue to be used for some time by Douglas Laing). The brands and whisky stocks were split between the brothers. Douglas Laing retains the Provenance, Director's Cut and Premier Barrel single malt brands, the Clan Denny single grain brand, Big Peat and Double Barrel blended malts, and the King of Scots, McGibbons, and Epicurean blended Scotch brands. Hunter Laing takes the Old Malt Cask, Old & Rare, and Douglas of Drumlanrig single malt brands, the Sovereign single grain brand, and the Douglas Blend, John Player Special, Langside, and House of Peers blended Scotch brands.
"There were a couple of hard decisions that had to be made," Fred Laing said in a phone interview. "I wanted to hold on to Big Peat, which is for us currently a real stormer with great potential and currently is probably our second biggest-selling brand within the previous Douglas Laing portfolio, so if I wanted that best one, Stewart had to get his next choice. So, it was split thereafter almost by dint of 'what did you want next?"
The split has been in the works for almost a year, and both brothers plan to put their energies into developing new brands to replace the ones they each lost in the split. While neither would reveal details of their plans today, both hope to have new single malt ranges launched later this year.
For more on this story and the complete interviews with Fred and Stewart Laing, listen to this weekend's episode of WhiskyCast.
Read more »
---
April 30, 2013 – After six months of exclusivity in the UK market, The Macallan's new no-age statement range of single malts is being released in markets around the world.
The Macallan Gold was introduced last fall in the UK as the first malt in the range, which will use the natural colors of the whiskies to define their character. The remaining malts in the range include Amber, Sienna, and Ruby, and will be rolled out in Europe, Canada, Latin America and Africa.
In a news release, The Macallan whisky maker Bob Dalgarno outlined his goal for the range, which will use sherry cask-matured Macallan malts:
"Using colour to drive and define a whisky differs dramatically from the conventional age approach, allowing us to explore different casks and take a more flexible approach to our stock.  We have been able to work creatively with the full range of matured stock available, rather than working to a pre-determined character based on age. For me, the key thought in this range is that a great single malt doesn't need to be 30 years old to taste like a 30 year old."
The 1824 Series is different from The Macallan's 1824 Collection, which is a range of single malts exclusively available in the travel retail market. Plans are to continue making the current age-statement Sherry Oak and Fine Oak ranges available in the U.S. and key Asian markets for the foreseeable future.
Read more »
---