Each week, we bring you the latest whisky news on WhiskyCast, but a lot can happen during the week. Now, you can keep up with whisky news as it happens here on WhiskyCast.com!
October 1, 2013 – Glenfiddich is releasing a new range of three single malts for the travel retail market. The lineup uses Glenfiddich's Solera-vatting process for all three malts in a dramatic change for the distillery, which has traditionally only used the Solera vats for its 15-year-old expression. The lineup also eschews age statements, in another major change for Glenfiddich.
Glenfiddich Select Cask uses a combination of ex-Bourbon, European Oak, and red wine casks. The Glenfiddich Reserve Cask uses Spanish ex-Sherry casks exclusively, while the Glenfiddich Vintage Cask brings together a combination of European Oak and ex-Bourbon casks with a rare touch of peatiness. All three will be available at 40% ABV.
In a news release, Glenfiddich Malt Master Brian Kinsman described the reason for skipping age statements with the new range:
"Creating whisky isn't only about age, it's about personal taste and flavour, and the Glenfiddich Cask Collection has evolved to give Glenfiddich drinkers the perfect combination of quality, satisfaction and choice. Glenfiddich has a long and illustrious history of innovation within the single malt category and these latest additions to our no-age range allow us to offer single malt aficionados the best of both worlds – whiskies crafted for their flavour, alongside whiskies bottled by their age."
The Select Cask and Reserve Cask expressions are being rolled out now in travel retail outlets worldwide, while the Vintage Cask will be available in April of 2014.
Links: Glenfiddich
---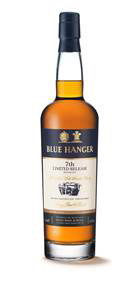 September 30, 2013 – Berry Bros. & Rudd, the London-based wine and whisky merchant, will export an edition of its Blue Hanger blended malt Scotch whisky to the US market for the first time. The 7th edition of Blue Hanger will be available only in the U.S. market , with 3,088 bottles to be available at a suggested retail price of $99.99.
The whisky is named after William "Blue" Hanger, the Third Lord Coleraine. It was created by Berry Bros. & Rudd spirits manager and whisky blender Doug McIvor initially in 2003, with five subsequent editions available only in Europe. The 7th edition contains whiskies from Bruichladdich, Bunnahabhain, and Miltonduff, and is bottled at 45.6% ABV.
Links: Berry Bros. & Rudd
---
September 29, 2013 – Diageo has reportedly been working on a plan for reopening the long-closed Stitzel-Weller Distillery in Louisville, Kentucky. Now, WhiskyCast has learned that those plans may need to be accelerated in order to provide a source of whiskey for the company's Bulleit Bourbon brand.
Bulleit Bourbon has been distilled at Four Roses Distillery in Lawrenceburg, Kentucky, on a long-term supply contract first negotiated when Tom Bulleit founded the brand in 1987 using a recipe handed down by his great-great-grandfather. Diageo inherited that supply contract when it acquired the brand from Bulleit, and has continued to source its whiskey for Bulleit from Four Roses ever since. However, reliable sources indicate that Four Roses has exercised a six-month notice clause to end the supply contract at the end of March, 2014.
Four Roses master distiller Jim Rutledge declined to comment on the report Wednesday at Whisky Magazine's Icons of Whisky luncheon in Louisville, but acknowledged that his team is working on plans for an expansion of the distillery's capacity to meet the long-term needs for Four Roses. When the original contract was negotiated, Four Roses was still under Seagram ownership and only sold in export markets. The brand's current owners reintroduced Four Roses into the U.S. market starting in 2006, and sales have grown at double-digit rates over the last three years.
Two years ago, Diageo invested in the Bulleit Experience education center at the Stitzel-Weller complex, turning the distillery's main office building into a showcase for the brand. While currently used only for trade education, Tom Bulleit has said that the facility was designed so that it could eventually be open to the public at some point. Diageo matures the whiskey it sources from Four Roses at the Stitzel-Weller warehouses, but the distillery itself has been closed because of asbestos contamination and other environmental issues. Sources have indicated that there are plans in the works to resolve those issues and reopen the distillery, but Diageo spokesmen have declined to comment on those reports.
The company has no other distilleries in Kentucky, and with all of the other major distilleries in the state running at capacity, it's not clear where Diageo would be able to source whiskey within the state and still be able to call the final product a "Kentucky Straight Bourbon." U.S. law requires that whiskey be distilled and matured entirely within a single state to be allowed to carry the name of that state on its label. In fact, Bulleit Rye  does not carry the name of a state for that reason — it is produced at the MGP-I (formerly LDI) distillery in Lawrenceburg, Indiana.
Our attempts to reach Tom Bulleit, who remains the key spokesman for Bulleit Bourbon, have been unsuccessful. This story will be updated as more information becomes available.
Links: Bulleit | Diageo | Four Roses
---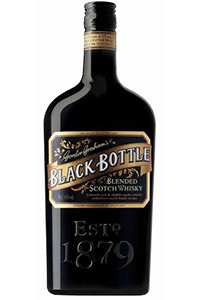 September 27, 2013 – In the first major move for Black Bottle since South Africa's Distell acquired Burn Stewart Distillers this spring, the Islay-based Blended Scotch has been re-formulated with a new recipe. While not giving specifics of the changes in the blend, Burn Stewart indicates the new recipe created by Master Blender Ian MacMillan adds "another layer of depth" to Black Bottle.
In addition, the brand returns to its traditional black glass bottle after being packaged in green bottles for nearly 100 years. The original Black Bottle came packaged in black glass, but wartime glass shortages during World War I forced the Graham family to switch to green glass. The green glass bottles became part of the brand's image, but will be phased out as inventories are depleted.
Black Bottle will continue to be bottled at 40% ABV, and no immediate changes are expected in its availability in the UK, the US, and other export markets where the brand is currently available.
Links: Black Bottle
---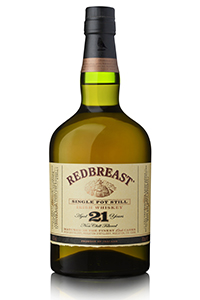 September 27, 2013 – Redbreast has long been prized by Irish whiskey lovers for its classic pot still whiskey taste, but until now, the 15-year-old expression was the oldest available. Thursday night, Master Blender Billy Leighton unveiled a new "old" Redbreast with the debut of Redbreast 21 Year Old at a tasting in London. The whiskey will be available for its first public tasting at this weekend's Whisky Live in Paris.
The release is part of Irish Distillers' goal to revive the Single Pot Still Irish Whiskey category, which started in 2011 with the release of Powers John's Lane and Redbreast 12 Year Old Cask Strength. The Pernod Ricard unit plans to release two new Single Pot Still whiskeys each year, and the Redbreast 21 follows the release earlier this year of Powers Signature.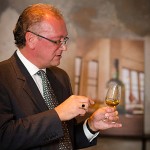 Billy Leighton created the Redbreast 21 from a triple-distilled mash of malted and unmated barley using the pot stills at Midleton Distillery, then matured in a combination of American White Oak ex-Bourbon barrels and European Oak ex-Oloroso Sherry casks. In a news release, he described the result as one of which he is immensely proud.
"Once my team and I tasted the 21 Year Old whiskey, there was never any question about whether we should release a younger expression – the older whiskey showed such stunning levels of depth, flavour and taste, we just had to bring it out for the growing army of Redbreast and Single Pot Still Irish Whiskey fans around the world. We're really excited to see how Redbreast 21 Year Old is received and we hope Irish whiskey fans will find it as delightful and rewarding to drink as it was for me to craft."
The whiskey has been bottled with no chill-filtration at 46% ABV, and will be available starting in October at select retailers in the USA, France, Germany, the UK, and of course, Ireland. It carries a recommended retail price of $180 USD.
Listen to this weekend's episode of WhiskyCast for more details on this whiskey. Tasting notes will be available soon.
Links: Redbreast
---
September 27, 2013 – Frank Sinatra was the number one fan of Jack Daniel's Tennessee Whiskey, so much so that he insisted on being buried with a bottle of Jack when he died in 1998. Last year, Brown-Forman returned the adulation with a special Sinatra Select edition of Jack Daniel's available through travel retail outlets and the distillery's White Rabbit Bottle Shop in Lynchburg, Tennessee. The limited-edition release has been a success in both travel retail and the "secondary market."
In an email to WhiskyCast's Mark Gillespie, Jack Daniel's Master Distiller Jeff Arnett explained the difference between the Sinatra Select and the standard Jack Daniel's Black Label expressions.
"The Sinatra Select has a number of handcrafted grooved barrels that effectively double the interior surface area and produce a bolder character. These grooved barrels are married together with our toasted and charred barrels to produce a whiskey that is both bold and smooth; much like the man it designed to honor. This results in a different whiskey than our normal Jack Daniels Tennessee Whiskey."
Now, Brown-Forman has decided to expand the Sinatra Select edition's availability to selected retailers in the U.K. starting in October, and will also make it available to U.S. retailers starting in December. The rollout is being timed to coincide with the 100th anniversary of Sinatra's birth on December 12, 2015.
In addition, the company has decided to make the Jack Daniel's Master Distillers Series available in the U.S. market with the initial release honoring Jack Daniel starting this fall. The second bottle in the series, which honors Jess Motlow, has already been released in the travel retail market. Plans are to release bottles honoring each of the distillery's seven master distillers, with a new release expected each year.
Note: This story was updated on October 1 with additional information.
Links: Jack Daniel's
---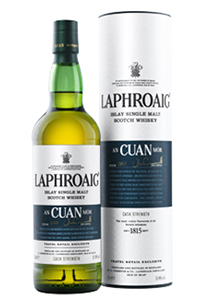 September 27, 2013 – Laphroaig's revamping of its travel retail range is complete with the release of An Cuan Mór. The 18-year-old single malt joins Laphroaig's QA Cask release last April and the 2012 PX Cask expression to round out the lineup.
The name "An Cuan Mór" means "the big ocean" in Gaelic, and reflects the distillery's location on the shore of Islay facing into the Irish Sea and the Atlantic Ocean. The whisky itself was matured for 18 years in ex-Bourbon casks, with a final maturation in European Oak casks, and is bottled at 48% ABV.
The new expression will initially be available at World Duty Free, Heinemann, and Aelia airport locations in Europe, with additional distribution expected in the coming months. It's priced at €95 ($129 USD).
Links: Laphroaig
---
September 26, 2013 – The Glenlivet is jumping on the "crowd-sourcing" bandwagon with plans for a new single malt to be created with help from members of its Guardians affinity group, made up of whisky lovers worldwide.
Members of the Guardians will be asked to pick from three different expressions created by Master Distiller Alan Winchester, and named for their flavors: Classic, Exotic, and Revival. The expressions will be available for Guardians members to taste at upcoming whisky festivals and tastings in the UK, USA, Australia, India, Japan, and South Africa, along with other countries. Guardians members will be able to cast their votes at a special section of The Glenlivet Guardians web site until December, when the votes will be counted and a winner named.
The winner will be bottled as "The Guardians' Chapter," with 2,000 cases to be bottled and sold starting in February of 2014.
Links: The Glenlivet
---
September 26, 2013 – The annual Distilled Spirits Council of the United States fundraiser at Virginia's Mount Vernon helped raise $350,000 on Tuesday evening. $75,000 from the "Spirit of Mount Vernon" dinner and auction will benefit the Wounded Warriors Family Support Program, while $275,000 will help support the new Fred W. Smith National Library for the Study of George Washington at Mount Vernon.
The auction's highlights included Bottle #22 of the original 24 bottles of George Washington's Straight Rye Whiskey, distilled in October of 2003 by a group of master distillers using George Washington's original rye whiskey recipe. An anonymous bidder paid $23,000 for the bottle of whiskey, Washington's estate distilled rye whiskey for sale in the area around Mount Vernon from 1797 until the distillery burned in 1814. It was restored with support from the Distilled Spirits Council between 2000 and 2006.
---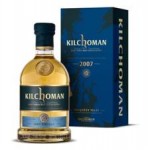 September 26, 2013 – Islay's youngest distillery is about to release its oldest single malt yet. Kilchoman Distillery will release a 6-year-old 2007 vintage on October 7, with 10,000 bottles to be available globally. The whisky was distilled just three years after Anthony Wills started work on the first new distillery to be built on Islay in 124 years. In a news release, Wills called the release an exciting development:
"Although we're a relatively young distillery our Vintage six-year-old shows a level of maturity normally associated with much older whisky.  We predict that this will sell quickly and hope Kilchoman followers share in our excitement in the development of our malt."
The distillery is one of the few in Scotland that controls its own process from grain to glass, using barley grown on the farm where the distillery is located for its 100% Islay expression and bottling all of its whiskies on site. The 2007 Vintage will be available at 46% ABV, and is bottled without chill-filtering.
Links: Kilchoman
---