Each week, we bring you the latest whisky news on WhiskyCast, but a lot can happen during the week. Now, you can keep up with whisky news as it happens here on WhiskyCast.com!
May 1, 2013 – The second-generation brothers of Douglas Laing & Co. have split the company in what Fred and Stewart Laing are both calling an amicable de-merger. Reports of the split have been widespread in recent weeks, but the final papers were signed Tuesday in Glasgow.
The company was founded by their father, Fred Douglas Laing, in 1948, and as part of the de-merger, Fred Laing retains the rights to the Douglas Laing name. Stewart Laing has formed a new company with his share of the Douglas Laing assets, to be called Hunter Laing & Co. (Hunter is Stewart's middle name).
"As in all things,  and all ways of life, families have different views," Stewart Laing told WhiskyCast's Mark Gillespie today. "My brother and I had different views as to the way forward, and basically, on the basis of that, we decided that the better way forward is to de-merge and literally do our own things"
The split allows both brothers to put their succession plans in order. Stewart's sons, Andrew and Scott, will join their father and merge their existing Edition Spirits company into Hunter Laing. As reported previously on WhiskyCast, Fred's daughter Cara will join Douglas Laing as Head of Brands Marketing. She had previously been with Morrison Bowmore Distillers as Marketing Manager for Bowmore and Glen Garioch single malts, with previous experience at Whyte & Mackay. In separate interviews, both fathers expressed great pride at being able to work with their children, with plans to pass on their businesses to the third generation.
While Fred Laing retained the rights to the Douglas Laing name, Stewart took the company's bottling hall for Hunter Laing (which will continue to be used for some time by Douglas Laing). The brands and whisky stocks were split between the brothers. Douglas Laing retains the Provenance, Director's Cut and Premier Barrel single malt brands, the Clan Denny single grain brand, Big Peat and Double Barrel blended malts, and the King of Scots, McGibbons, and Epicurean blended Scotch brands. Hunter Laing takes the Old Malt Cask, Old & Rare, and Douglas of Drumlanrig single malt brands, the Sovereign single grain brand, and the Douglas Blend, John Player Special, Langside, and House of Peers blended Scotch brands.
"There were a couple of hard decisions that had to be made," Fred Laing said in a phone interview. "I wanted to hold on to Big Peat, which is for us currently a real stormer with great potential and currently is probably our second biggest-selling brand within the previous Douglas Laing portfolio, so if I wanted that best one, Stewart had to get his next choice. So, it was split thereafter almost by dint of 'what did you want next?"
The split has been in the works for almost a year, and both brothers plan to put their energies into developing new brands to replace the ones they each lost in the split. While neither would reveal details of their plans today, both hope to have new single malt ranges launched later this year.
For more on this story and the complete interviews with Fred and Stewart Laing, listen to this weekend's episode of WhiskyCast.
Read more »
---
April 30, 2013 – After six months of exclusivity in the UK market, The Macallan's new no-age statement range of single malts is being released in markets around the world.
The Macallan Gold was introduced last fall in the UK as the first malt in the range, which will use the natural colors of the whiskies to define their character. The remaining malts in the range include Amber, Sienna, and Ruby, and will be rolled out in Europe, Canada, Latin America and Africa.
In a news release, The Macallan whisky maker Bob Dalgarno outlined his goal for the range, which will use sherry cask-matured Macallan malts:
"Using colour to drive and define a whisky differs dramatically from the conventional age approach, allowing us to explore different casks and take a more flexible approach to our stock.  We have been able to work creatively with the full range of matured stock available, rather than working to a pre-determined character based on age. For me, the key thought in this range is that a great single malt doesn't need to be 30 years old to taste like a 30 year old."
The 1824 Series is different from The Macallan's 1824 Collection, which is a range of single malts exclusively available in the travel retail market. Plans are to continue making the current age-statement Sherry Oak and Fine Oak ranges available in the U.S. and key Asian markets for the foreseeable future.
Read more »
---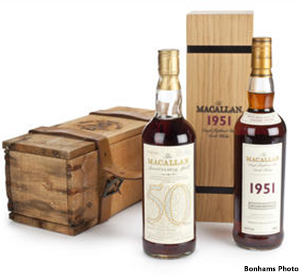 April 30, 2013 – The first Bonhams whisky auction of the year in New York City saw vintage Macallans leading the bidding, with a 50-year-old Macallan Anniversary bottling (L) bringing a winning bid of $40,460 (including premium). Another 50-year-old Macallan, the 1949 Millennium decanter, sold for $19,040, a 57-year-old Macallan Lalique decanter went for $15,470, while a 1951 Macallan Fine & Rare bottling (R) brought a winning bid of $7,140.
The Bonhams New York auctions are unusual for the large number of American whiskeys usually on the block, and a rare bottle of George Washington's Vatted American Whiskey sold for $1,190. This was one of 250 bottles produced to commemorate the restoration of George Washington's Distillery, with a vatting of whiskeys from 11 different U.S. distilleries including Jack Daniel's, Jim Beam, Wild Turkey, Maker's Mark, Woodford Reserve, Barton, and George Dickel. Other American whiskeys on the block included a 1911 Overholt Rye ($1,190), several A.H. Hirsch 16-year-old Bourbons, and a variety of Pappy Van Winkle expressions.
The next Bonhams auction in New York is scheduled for October 13, with auctions in Hong Kong on May 23 and Edinburgh on June 12 and October 2.
Read more »
---
April 30, 2013 – Wemyss Malts is releasing its largest batch of single cask bottlings yet, with six different single malts from four different decades. The company's tasting panel, led by Charles MacLean, selected the casks from the Wemyss inventory, and selected names based on each whisky's individual taste and aroma.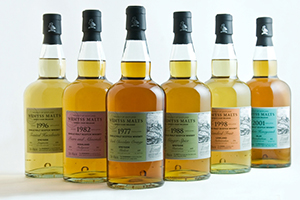 "Dark Chocolate Orange":  1977 Glenlivet
"Pears and Almonds": 1982 Inchgower
"Ginger Spice": 1988 Glenrothes
"Toasted Hazelnuts": 1996 Longmorn
"Candied Fruit": 1998 Auchentoshan
"Chocolate Honeycomb": 2001 Bunnahabhain
The whiskies will be available in limited quantities in the UK, Europe, and select Asian markets only, with prices ranging from £55 to £135 ($85-$210 USD).
Read more »
---
Updated April 26, 2013 – Police in Toronto are still looking for a man who stole a $26,000 (CDN) bottle of Glenfiddich 50-year-old Scotch from the Liquor Control Board of Ontario's Queens Quay store April 7.
Investigators say the suspect selected the rare whisky from the downtown store's Vintages section, where rare bottles are usually kept in locked display cases, then picked out a bottle of wine. He left the store after paying for the wine, but not the whisky. Glenfiddich only releases 50 bottles of the 50-year-old whisky each year, and this was one of only 15 bottles available in Canada, according to the LCBO's Heather McGregor.
"We are cooperating with the Toronto Police Service,  and we hope that we can recover the bottle," McGregor told WhiskyCast's Mark Gillespie. "We take theft very seriously at LCBO…we have surveillance in place, we use in-store security, and we have staff training to help deal with shoplifting and theft. But, when something like this does happen, it's an opportunity for us to look at the way we do things and determine whether changes need to be made."
McGregor declined to say how the thief was able to get the bottle of whisky from the display case, citing the ongoing investigation.
Police released this photo of the suspect from the store's surveillance camera. He is described as 35-45 years old, 5'10″  in height, and clean-shaven with black-framed glasses. He was wearing a plaid Burberry-style shirt, brown cap, brown trenchcoat, and black jeans. Anyone with information on the suspect is asked to contact the Toronto Police Service's 51 Division at 416-808-5100. According to McGregor, the LCBO is not offering a reward.
This is the most valuable bottle of whisky known to have been stolen since October of 2010, when a thief stole a 20cl bottle of the Gordon & MacPhail Generations Mortlach 70 single malt from the Symposion booth at the Stockholm Beer & Whisky Festival. That bottle was never recovered.
Links: LCBO | Toronto Police
---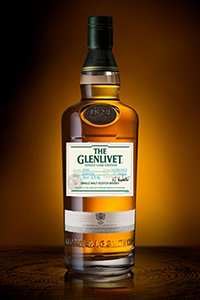 April 26, 2013 – Single cask distillery bottlings of The Glenlivet are fairly rare, and The Whisky Shop's 21 UK stores will have one starting on May 7. The Glenlivet Quercus is a 17-year-old malt matured in American white oak and bottled at 52.1% ABV.
Of course, Quercus is Latin for oak, with Quercus Alba being the specific name for American White Oak. However, that name is already in use for a single malt from The Glenrothes. 250 bottles are available exclusively through The Whisky Shop at a price of £199.99 ($309 USD).
Read more »
---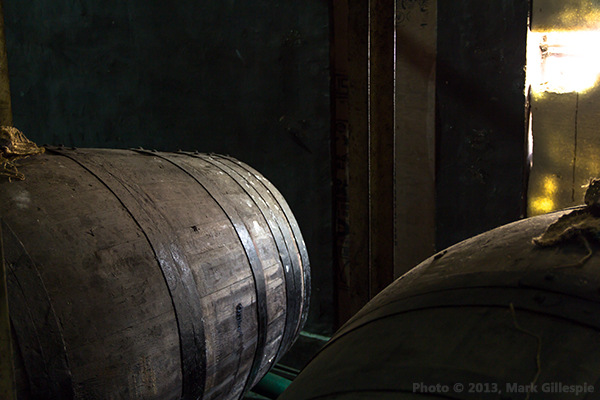 April 22, 2013 – India's Amrut Distilleries has released its oldest single malt whisky yet, an eight-year-old expression that pays tribute to the extremely high evaporation rate inside the distillery's Bangalore warehouses. "Greedy Angels" refers to the 12% annual evaporation rate for casks at the distillery, which is located in the elevated plateaus of Southern India and are affected by high temperatures, humidity, and altitude.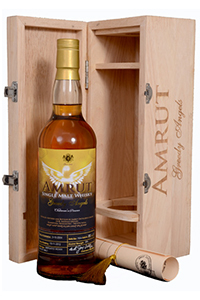 When the casks were filled in 2004, they held approximately 360 liters of spirit. During the 8 years that passed, the "Greedy Angels" claimed 274 liters to evaporation, leaving just 86 liters behind for bottling. Only 144 bottles are being released worldwide to celebrate the 60th birthday of Amrut Chairman Neelakanda Jagdale, the son of Amrut founder Sri Radakrishna N Jagdale.
For more on this story, listen to Episode 417 of WhiskyCast and Mark Gillespie's interview with Amrut managing director Rick Jagdale. For Mark's tasting notes on Greedy Angels, click here.
Read more »
---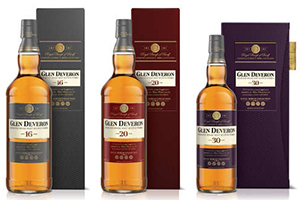 April 22, 2013 – Bacardi's Glen Deveron range of whiskies for the travel retail market is being expanded in key European markets. The owner of Dewar's blended Scotch and Aberfeldy single malt is adding three new malts to the Glen Deveron lineup starting this month, with 16, 20, and 30-year-old expressions.
Glen Deveron is the name given to official bottlings from the MacDuff distillery in Banff, which John Dewar & Sons acquired in 1992. The name comes from the River Deveron, which runs beside the distillery. The new bottlings will be available primarily at World Duty Free's travel retail outlets in the UK and Spain.
---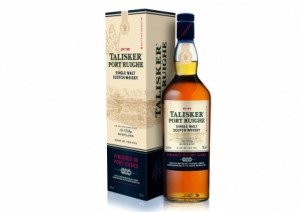 April 19, 2013 – Diageo's Classic Malts range is expanding with a new Talisker single malt. Port Ruighe is a Port wine cask-finished Talisker with no age statement, and is being bottled at 45.8% ABV.
The whisky uses the Gaelic name for the port on Talisker's home, the Isle of Skye (pronounced as "Ree"). In a news release, Classic Malts Master Blender Maureen Robinson described the whisky's provenance:
"Talisker Port Ruighe is a combination of spirit that has been matured in American Oak and European Oak refill casks in the traditional manner along with spirit that has been filled into specially conditioned deeply charred casks. The spirit is then finished in casks that have previously held Port Wine which endows it with spicy fruit notes. These bond elegantly with that clean, fresh smokiness that signals its essential Talisker character."
Port Ruighe will be a permanent addition to the Talisker range, but will only be available in Western Europe at first. It's the second new expression for Talisker in 2013, following the release of Talisker Storm earlier this year.
Links: Classic Malts
---
April 18, 2013 – Tennessee lawmakers have approved a bill that would allow the owners of Chattanooga Whiskey to build a distillery and produce their own spirit instead of importing it from Indiana. State senators approved the bill today after initially rejecting a House amendment Wednesday evening that restored distance limits between any distillery and schools or schools. The bill now goes to Tennessee Governor Bill Haslam for his signature.
The bill adds Hamilton County, where Chattanooga is located, to the counties where distilling is legal in Tennessee, as long as local ordinances allow retail package liquor (off-premise) and "liquor by the drink" (on-premise) sales. Hamilton County and Chattanooga elected officials have already given the project their blessing. However, the county had been left out of the 2009 law that allowed for new distilleries in Tennessee other than the Jack Daniel's Distillery in Lynchburg and the George Dickel Distillery in Tullahoma.
Chattanooga Whiskey owners Joe Ledbetter and Tim Piersant have pledged to invest $2 million to restore a historic factory site in the downtown area for use as a distillery, warehouse space, and events center as soon as Gov. Haslam signs the bill into law. Their whiskey is currently distilled at the MGP-I Distillery in Lawrenceburg, Indiana.
Links: Chattanooga Whiskey
---