Each week, we bring you the latest whisky news on WhiskyCast, but a lot can happen during the week. Now, you can keep up with whisky news as it happens here on WhiskyCast.com!
Jim Beam has entered the "white whiskey" category popular with bartenders by launching "Jacob's Ghost", named in honor of Jacob (Boehm) Beam, the Beam family's founding distiller.
Unlike other white whiskeys, which are primarily "new make" spirit straight off the still with minimal aging in wood, Jacob's Ghost is matured for a year in new charred oak barrels, then filtered to remove the color while leaving the taste of slightly more mature whiskey intact.
Read more »
---
Diageo's George Dickel Tennessee Whiskey has teamed up with the producers of reality shows "Deadliest Catch" and "Ice Road Truckers" for a reality series to be shown on the subscription-based online video service Hulu.com.
"Raising the Bar" will feature six teams of craftsmen from the Kansas City area trying to build unique bars, with the projects ranging from a bar crafted from thousands of metal washers to one using the front end of a vintage car. The goal is to build a bar ready to pour a shot of George Dickel in eight hours or less.
The series is produced by Original Productions, and hosted by Diageo Master of Whiskey Gerry Graham and former Cincinnati Reds pitcher turned radio talk show host Rob Dibble.
Links: Diageo | George Dickel
---
The Scottish Parliament has approved legislation banning industrial firms from using more than 10 million liters of water per day in an attempt to conserve water resources. However, the Scotch Whisky Association is claiming that plan could hurt the whisky industry's ability to expand.
In a BBC News story, the SWA's Gavin Hewitt expressed disappointment that the whisky industry was not exempted from the law, nor was it consulted on the potential impact.
Currently, no distillery uses that much water on a daily basis, but Hewitt believes it could set a precedent for future limit. Distilleries use large amounts of water in making whisky, but much of it is returned to its source almost immediately after being used for cooling.
Scottish Deputy First Minister Nicola Sturgeon pledged to work with the whisky industry and other stakeholders as regulations to implement the new law are drawn up.
---
Beam Inc. has been sued in federal court by Sidney Frank Importing Co. over a contract to supply bulk whiskey used for the Michael Collins Irish Whiskey brand. Sidney Frank is accusing Beam of breaching a contract it inherited in the December 2011 acquisition of Ireland's Cooley Whiskey Company.
According to Law360.com, the lawsuit alleges that Beam and its Cooley unit are trying to rid the market of the Michael Collins brand in favor of its own Kilbeggan brand. Cooley supplies Sidney Frank with whiskey for Michael Collins under a long-term supply contract negotiated with the former owners of Cooley, an investor group led by John Teeling.
Read more »
---
Glenmorangie is kicking off a new Cask Masters program this weekend at the Universal Whisky Experience in Las Vegas, as well as through the Glenmorangie web site.  The program will allow whisky connoisseurs to help shape the direction of a new Glenmorangie expression to be released in late 2014.
In a phone interview with WhiskyCast's Mark Gillespie from the program's kickoff event in London, Dr. Bill Lumsden of Glenmorangie explained "rather than always having me selecting the whiskies, which has pretty much always happened until now, I've got a few projects under development at the moment and they're being offered up to consumers…and it's up to them to make the final choice." Participants in the Cask Masters program will select the whisky from three different choices, along with its final name and package design.
Read more »
---
If you've heard WhiskyCast coverage of Whisky Live Paris for the last several years, you've likely heard Mark Littler of Hellyers Road Distillery in Australia. While Hellyers Road exhibited at Whisky Live Paris in 2010, 2011 and 2012, its whiskies were still not widely available in France.
Now, Paris-based La Maison du Whisky plans to distribute Hellyers Road single malts throughout France. The company serves as an importer and distributor for the French market in addition to operating two Paris retail outlets (and producing Whisky Live Paris each year). Littler told a Tasmanian newspaper that participating in Whisky Live Paris gave him a chance to test his whiskies in the very competitive French market. France is one of the two largest markets for Scotch Whisky exports, along with the United States.
For more with Mark Littler, please listen to WhiskyCast coverage from Whisky Live Paris in 2010, 2011, and 2012. You can also find Mark Gillespie's tasting notes for the Hellyers Road Pinot Noir Finish in the Tasting Notes section of the WhiskyCast web site.
---
The UK's Health & Safety Executive has fined Edrington Group £40,000 GBP ($61,600 USD) for safety violations blamed in a 2011 warehouse fire at the company's Great Western Road campus in Glasgow, Scotland. Two workers were forced to escape from the warehouse after an accidental spray of spirit hit a light fixture and caught fire.
Read more »
---
Chivas Brothers Chairman and CEO Christian Porta is returning to Paris this July in a job swap with Laurent Lacassagne, his counterpart at Pernod Ricard Europe.
Porta has led the Chivas Brothers unit since 2004, while Lacassagne has been in his current role since 2008. Porta will report to Pernod Ricard Deputy CEO Alexandre Ricard, while Lacassagne will report to Thierry Billot, managing director of brands. Lacassagne will be based in London.
Chivas Brothers manages all of Pernod Ricard's Scotch Whisky and gin production operations, along with global marketing for those brands. Pernod Ricard Europe is responsible for regional sales and regional marketing efforts in Europe.
---
Chivas Brothers is investigating an incident at its Dumbarton bottling plant in Scotland after a mixup led to thousands of liters of whisky being flushed into the sewer system.
According to a BBC report, the incident took place on February 26 on the overnight shift while equipment was being cleaned. Instead of draining waste water, workers drained whisky that was being prepared for bottling of Ballantine's — the plant's main product. A Scottish Water spokesman told the BBC that sewage workers noticed the smell and were working to identify the source when they were notified by Chivas Brothers.
A statement from Chivas says no spirit reached the nearby River Leven, and was contained at the sewage treatment plant.
---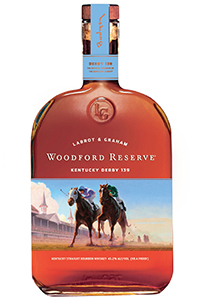 Woodford Reserve is marking its 15th year as the "Official Bourbon of the Kentucky Derby®" with its annual Derby commemorative bottle. This year's "Greatest Two Minutes in Sports" will be run at Churchill Downs in Louisville on May 4.
Each year, an artist is commissioned to create an original Derby-themed painting to be used on the label. This year, Oregon-based painter Eric Bowman was selected to create the artwork for the commemorative bottle. His painting shows two horses and their jockeys racing for the finish line at Churchill Downs, with the track's historic Twin Spires and grandstands in the background. Bowman's signature appears on the sky blue neck band.
Read more »
---