Each week, we bring you the latest whisky news on WhiskyCast, but a lot can happen during the week. Now, you can keep up with whisky news as it happens here on WhiskyCast.com!
August 21, 2013 – John Teeling hadn't planned a quiet retirement after closing the sale of Cooley Whiskey Company to Beam at the end of 2011, but he said at the time he didn't expect to return to the whiskey business. Apparently, he'd forgotten the classic line from "The Godfather: Part III"
"Just when I thought I was out, they pull me back in."
Teeling has now agreed to buy Diageo's Great Northern Brewery in Dundalk with a group of investors, including his sons Jack and Stephen, and the Irish Whiskey Company will convert the facility into a distillery over the next year. Under his leadership, Cooley profited from supplying independent bottlers with bulk whiskey as well as selling its own brands, but Beam cut off most bulk sales after the acquisition to make more whiskey available for Kilbeggan, Connemara, and the other brands it acquired in the Cooley deal. Teeling plans the same approach with what will likely be called "Great Northern Distillery", focusing on bulk sales and private label bottlings.
The Irish Times reports Teeling decided to return to the whiskey business after former Dundalk Chamber of Commerce president Paddy Malone pleaded for someone to invest in the brewery. Diageo decided to close the brewery, which made Harp Lager, and consolidate beer production at the Guinness St. James Gate brewery in Dublin starting in September. Malone told the Irish Times that he helped put Teeling in touch with Diageo and local officials to help close the deal, which is expected to create 80 jobs once production begins in the third quarter of 2014.
Jack and Stephen Teeling founded their own Teeling Whiskey Company after leaving Cooley, and that company will remain independent. The Teeling Brothers are working with Dublin officials on plans for a distillery in the Marrowbone Lane area. However, published reports indicate the brothers could source some of their whiskey from the Dundalk distillery.
Links: Teeling Whiskey Company
---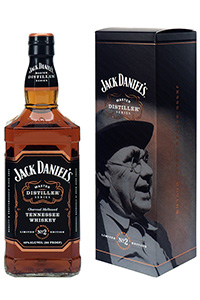 August 21, 2013 – Other than the iconic Jack Daniel, no name is more associated with Jack Daniel's Tennessee Whiskey than the Motlows. For decades, "Lem Motlow, Prop." graced the label of every bottle of Jack Daniel's until the labels were redesigned two years ago. Motlow was Jack Daniel's nephew, and followed in his uncle's footsteps when Daniel decided to hand over management of the distillery to Motlow in 1907.  However, Lem Motlow never actually made the whiskey…his younger brother Jess learned the distilling process from Jack Daniel and inherited the title of Master Distiller from Daniel in 1911. He kept the job until 1941 — including the period when the distillery was closed during Prohibition. When Lem Motlow died in 1947, he left the distillery to his four sons, while Jess had already turned over the role of Master Distiller to Lem Tolley and retired. Jess Motlow died in 1957.
Jess Motlow's name doesn't appear anywhere on the Jack Daniel's web site as of today, but that's likely to change soon. The Moodie Report reports Motlow will be featured on the second bottling in the Jack Daniel's Master Distiller's Collection range to be unveiled in Cannes at the TFWA World Exhibition at the end of October. Of course, Jack Daniel himself appeared on the first bottling, released last winter at a travel retail conference in Orlando. The range is a travel retail exclusive and will eventually feature all seven of the Jack Daniel's Master Distillers, including current Master Distiller Jeff Arnett, with plans to release a new bottle every year.
For the record, the seven Master Distillers in Jack Daniel's history:
Jack Daniel (1866-1911)
Jess Motlow (1911-1941)
Lem Tolley (1941-1964)
Jess Gamble (1964-1966)
Frank Bobo (1966-1992)
Jimmy Bedford (1992-2008)
Jeff Arnett (2008-present)
Links: Jack Daniel's
---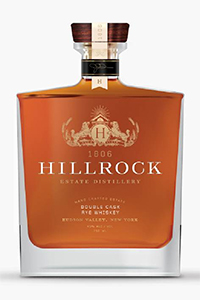 August 20, 2013 – Hillrock Estate Distillery plans to release a "grain to glass" rye whiskey on September 24, using organically grown rye cultivated at the estate. The whiskey was double-matured, with the second maturation coming in American white oak casks seasoned for two years before assembly and filling. In a news release, Master Distiller Dave Pickerell said the air seasoning helped eliminate bitter tannins often present in kiln-dried new oak barrels.
"We chose the Double Cask aging process to balance the spicy rye notes with a mellow sweetness. Our rye whiskey clearly expresses Hillrock's signature clove and cinnamon flavors, along with traditional rye spices complemented by mint, caramel and butterscotch." 
Double Cask Rye is being bottled as a single cask whiskey, and will be available at retailers and bars in New York. In addition to growing its own grain, Hillrock Estate also does its own floor malting and bottling on the estate in addition to distillation and maturation. The Ancram, New York distillery will hold an open house on September 21 with tours and samplings.
Links: Hillrock Estate Distillery 
---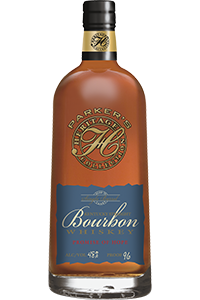 August 20, 2013 – The widely-anticipated 7th annual release of Parker's Heritage Collection whiskey from Heaven Hill is on its way to retailers, but this year's edition has a special purpose. Last winter, longtime Heaven Hill Master Distiller Parker Beam was diagnosed with Amyotrophic Lateral Sclerosis (ALS), also known as Lou Gehrig's disease. The disease affects nerve cells in the brain and spinal cord, gradually destroying a patient's ability to control their muscles and leaving them paralyzed. The disease has no cure.
At the time Heaven Hill announced Parker's diagnosis, the company pledged to use this year's release of Parker's Heritage Collection to raise money for the ALS Association's new "Parker Beam's Promise of Hope Fund," with a goal of raising at least $250,000 for research on a cure for ALS. Since then, several of Heaven Hill's regional distributors have pledged to match Heaven Hill's pledge of $20 for each bottle sold, and Parker Beam's colleagues at Kentucky's other major distilleries have collaborated on a special one-time vatting of their whiskies. Two "Master Distillers' Unity" bottles will be auctioned at Bonham's in New York on October 13, with the proceeds to go to the Promise of Hope Fund.  10 additional bottles will be used the previous day for a special toast to Parker Beam at WhiskyFest New York.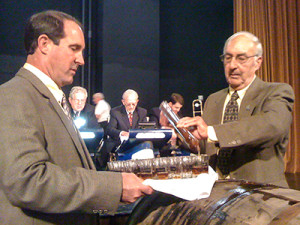 This year's Parker's Heritage Collection release is also named "Promise of Hope," and is also unique in that it's the first single barrel Bourbon to be released in the series. Parker Beam personally selected around 100 barrels from Heaven Hill's inventory at his favorite spot for "honey barrels" in the company's Deatsville maturation warehouses, the top tiers of Rickhouse EE. The whiskey is 10 years old, and bottled without chill-filtering at Parker's preferred strength of 48% ABV.  While Heaven Hill has not disclosed the number of bottles that will be available this year, a news release indicates that more bottles were produced of this year's edition than in past years in order to maximize the funds raised for the Promise of Hope Fund. The recommended retail price is $90, and Heaven Hill expects the entire bottling run to be shipped within the next 4-6 months.
Look for tasting notes on this whisky soon at WhiskyCast.com.
Links: Heaven Hill | ALS Association
---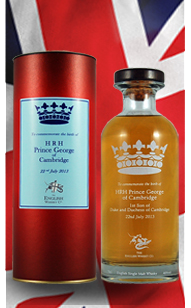 August 20, 2013 – Women give birth every day, but when one of those babies is destined to become the King of England one day, that's reason to celebrate — or at least, issue a special whisky to mark the occasion.
The English Whisky Company has released a limited edition to commemorate the birth of Prince George Alexander Louis of Cambridge on July 22. The whisky was matured in Sauternes wine casks, and only 299 bottles will be available through the distillery's web site. The release follows similar commemorative bottlings over the last 18 months to celebrate the wedding of the young prince's parents, Prince William and the Duchess of Cambridge, along with the Diamond Jubilee and Queen's Coronation expressions honoring Queen Elizabeth's 60th anniversary on the throne.
The "Royal Baby Bottling" is priced at £80.00 ($125 USD).  The bottle is not styled like a baby bottle, though.
Links: English Whisky Company 
---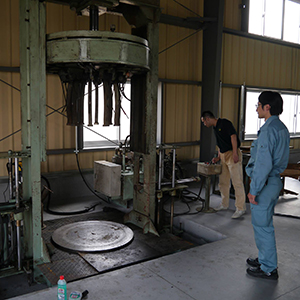 August 19, 2013 – Maverick Japanese distiller Ichiro Akuto has added a new cooperage to his Chichibu Distillery in Saitama Prefecture north of Tokyo.
He explained the decision in a Facebook post today, deciding to buy the "old but good" equipment from a cooperage whose owner had decided to retire and close the business. Akuto built a new building near the distillery and had the equipment installed. The previous owner will teach Chichibu's workers how to make new casks later this year, and the equipment will also be used for repairing older casks.
Akuto opened Chichibu in 2008, and bottled the first single malt from Chichibu in 2011, along with the final single malt from the Hanyu Distillery previously owned by his family. The family sold the distillery in 2000 to new owners who then closed and dismantled it. Ichiro Akuto was able to acquire the final remaining casks of Hanyu after the closing, and bottled them under his "Ichiro's Malt" playing card series to great acclaim from whisky connoisseurs and collectors. His whiskies are distributed through Number One Drinks Company.
For an interview with Ichiro Akuto on his family's sake and whisky distilling history and the Chichibu Distillery, listen to Episode 342 of WhiskyCast.
Links: Number One Drinks Company
---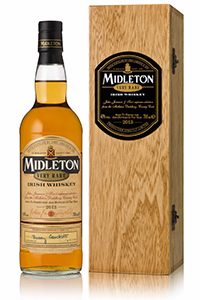 August 19, 2013 – The final edition of Midleton Very Rare Irish Whiskey to carry Master Distiller Barry Crockett's signature is being released this week. The 2013 edition contains pot still and grain whiskies ranging from 15 to 24 years old (though the bottle traditionally carries no age statement) selected by Master Blender Billy Leighton, and was matured exclusively in ex-Bourbon casks.
Barry Crockett developed the original edition of Midleton Very Rare in 1984, and his signature has appeared on each annual release since then. He retired earlier this year after 47 years at Midleton, following his father as Master Distiller. Brian Nation was named Master Distiller upon Crockett's retirement, and the 2014 edition of Midleton Very Rare will carry his signature. In a news release, Irish Distillers Global Innovation & Category Development Director praised Crockett's work with the final edition.
"Midleton Very Rare is rightfully regarded as one of the ultimate expressions of the Irish whiskey category and each vintage is cherished by collectors and whiskey connoisseurs. It is a unique whiskey that demonstrates both the outstanding quality of Irish whiskey at the high end of the category and the immense skill of our Master Distiller, so with Midleton Very Rare and the other Prestige whiskeys in our portfolio we're aiming to show the world that the finest Irish Whiskeys offer exceptional quality that rival the best whiskies from across the world."
The 2013 edition of Midleton Very Rare will be available in limited quantities worldwide at whisky specialist retailers.
---
August 19, 2013 – Catoctin Creek Distillery has completed its move from the original distillery to a renovated historic site in Purcellville, Virginia. Owners Becky and Scott Harris opened the original distillery in an industrial park in 2009, producing organic and kosher whiskies and other spirits.
Last year, they realized that they had outgrown the industrial park site, and acquired the historic Case Building in downtown Purcellville. Construction started in April on a $500,000 renovation project, and was completed earlier this month. Production has already started at the new distillery, which will host a Grand Opening weekend August 23-25 to celebrate the move.
Links: Catoctin Creek 
---
August 19, 2013 – Recently-retired Diageo CEO Paul Walsh orchestrated the acquisition of a controlling stake in Vijay Mallya's United Spirits, and has now joined the Indian drinks company's board as a non-executive director.
Under Walsh's leadership, the drinks giant bought a 25% stake in United Spirits with the option to acquire more shares of the company, as well as control over day-to-day operations. The Telegraph reports Walsh will not receive any compensation for his role at USL while continuing to work with Diageo through June of 2014 assisting new CEO Ivan Menezes with transition issues. He is also slated to become the chairman of Compass Group next February, and serves as a non-executive director of Unilever, FedEx, and Avanti Communications.
Just-Drinks.com also reports that USL named former Shell India chairman Vikram Mehta to the company's board as an independent director along with the Walsh appointment.
As a member of the United Spirits board, Walsh will have an as-yet-undefined role in the future of the company's Whyte & Mackay Scotch whisky unit. The UK's Office of Fair Trading is currently reviewing the Diageo/USL deal to determine whether the addition of Whyte & Mackay's assets to the Diageo portfolio would violate competition laws. A decision is expected within weeks on whether to accept any remedies Diageo may propose or refer the case to the UK's Competition Commission for further action. As CEO, Walsh indicated late last year that Whyte & Mackay's assets would be surplus to Diageo's needs, and published reports in India have suggested that USL might be willing to sell off all or a large stake in Whyte & Mackay to satisfy regulators.
United Spirits spokesmen have repeatedly refused to discuss the future of Whyte & Mackay, citing a policy against commenting on "market speculation."
Links: Diageo | United Spirits | Whyte & Mackay | Office of Fair Trading
---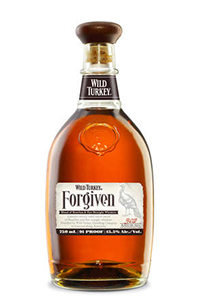 August 19, 2013 – Mistakes don't happen very often in the whisky business, but as with anything involving humans, the occasional error takes place.
That's the official story behind a new limited-edition release from Wild Turkey. Forgiven wasn't created by Jimmy and Eddie Russell in their blending lab, but by workers at the distillery who accidentally vatted together high-proof 4-year-old Rye whiskey with casks of 6-year-old Bourbon. Eddie Russell, Wild Turkey's Associate Master Distiller, said in a news release that the final blend of 78% Bourbon and 22% Rye turned out to be a good combination.
"Much to the distillery team's relief, Forgiven highlights the best of both worlds to create a one-of-a-kind taste that will appeal to both Bourbon and Rye aficionados. I was mad when I first discovered our crew's mistake, but once I tasted it, all was Forgiven."
It's not known how much whisky was involved in the mixup, but there was apparently enough to produce around 38,000 bottles at 45.5% ABV. Wild Turkey Forgiven will be available in the U.S. at a recommended retail price of $49.99.
A similar mixup has only been admitted publicly once in recent years. In 2006, a mistake at Glenmorangie's bottling plant in Scotland resulted in casks of older Ardbeg single malt being dumped into a tank that also contained Glen Moray single malt distilled in 1992. Rather than dump the entire tank, the whisky was bottled as Serendipity and labeled as a blended malt.
Links: Wild Turkey
---