Each week, we bring you the latest whisky news on WhiskyCast, but a lot can happen during the week. Now, you can keep up with whisky news as it happens here on WhiskyCast.com!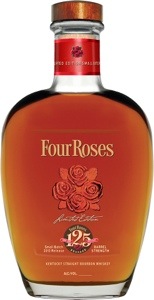 August 7, 2013– 2013 is the 125th anniversary of distilling at Four Roses Distillery in Lawrenceburg, Kentucky, and the distillery will be releasing the second of its annual limited edition Bourbons next month to mark the occasion.
The Four Roses 2013 Limited Edition Small Batch bourbon blends three of the distillery's 10 unique recipes, with Master Distiller Jim Rutledge selecting an 18-year-old OBSV) the distillery's unique code for mashbill, yeast strain, and other characteristics) batch with a mashbill of 60% corn, 35% rye, and 5% malted barley, and a yeast strain designed to impart a slightly fruity taste. The other two recipes are both 13-year-old batches of OBSK and OESK recipes, with the yeast in both imparting spiciness. The OBSK uses the same mashbill as the 18-year-old batch, while the OESK uses a mashbill of 75% corn, 20% rye, and 5% malted barley.
The final product will be bottled uncut and unfiltered at barrel strength, with around 8,000 bottles to be available. No release date has been specified, but Four Roses traditionally releases its Limited Edition Small Batch around the Kentucky Bourbon Festival in mid-September.
Links: Four Roses
---
August 6, 2013– Buffalo Trace's experimental Single Oak Project is looking for the proof with the tenth batch in the four-year-long project.
Each batch so far has tested the difference key variables make in the development of a Bourbon's aroma and flavor, by tweaking some variables while keeping others the same. The 192 expressions to be released in quarterly batches of 12 were aged for identical lengths of time in barrels made from half of a single tree — with one barrel coming from the bottom half and one from the top. The other variables include the mash bill (rye or wheat), entry proof, warehouse location, the size of the grain and the length of seasoning time for the barrel staves, and the level of charring in the barrel.
Batch #10's unique variable was entry proof, with the wheat and rye mash bills being filled into the barrels at either 125 proof (62.5% ABV, the maximum allowed under U.S. law for Bourbon) or 105 proof (52.5% ABV). All other variables remained the same, allowing consumers to see whether a noticeable difference can be found. Other Buffalo Trace experiments have found that a higher entry proof can often lead to higher evaporation rates. However, all expressions in the Single Oak Project series are bottled at 45% ABV.
The distillery has been seeking feedback from consumers on their preferences after tasting many of the 108 bottles previously released in the series. Voting and tasting notes entered at the Single Oak Project web site now show a new leader in the clubhouse, with Barrel #59 as the favorite after a long run for Barrel #106. The eventual goal will be to take the final winner after the project ends in 2015 and replicate it under the Single Oak brand name.
Links: Buffalo Trace
---
August 2, 2013 – Beam Inc. has announced plans for a new 600,000 square foot distribution center to be built next year near its main bottling facility in Frankfort, Kentucky. The center will create around 60 new jobs, and Beam will be looking for a logistics and distribution provider to own and operate the center between now and the start of construction in early 2014.
The Frankfort bottling facility handles about 55% of Beam's total production of 21 million cases annually in Kentucky, along with bottling Canadian Club and other Beam products.  The new distribution center will serve as a permanent warehousing facility for spirits before shipping to distributors around the world. In a news release, Beam global manufacturing vice president David Hunter cited the advantages of centralizing distribution around the Frankfort plant:
"In the past five years, Beam's volume at Frankfort has more than doubled, and two-thirds of Beam's annual global volume is produced out of our plants in Kentucky. By having a third-party logistics provider operate this new distribution center for us, we will be able to focus on our core competency of making the best spirits in the world and best meet the growing distribution needs of our business. We couldn't be more pleased to show once again that we're growing for the future in Kentucky."
Last month, Beam opened its Global Business Services Center in Louisville, moving more than 30 administrative positions in finance, human resources, and other areas from the company's headquarters in Deerfield, Illinois.
Links: Beam
---
August 2, 2013 – Like many towns along the Scottish coast, Oban has a team of dedicated lifeboat rescue volunteers ready to save the lives of those caught in boating or swimming accidents. Nearly 20 years ago, the Oban Distillery donated a 250-litre hogshead of whisky to the RNLI lifeboat team for use in a future fundraiser once the spirit reached 18 years. Now that the whisky has come of age, For Argyll.com reports 240 bottles of the Oban Lifeboat have raised nearly £40,000 GBP ($61,100 USD) through sales at The Green Welly Stop in Tyndrum, Oban's Birchwood Filling Station and Mulberry Bank Auctions in Glasgow.
The Oban Lifeboat Fundraising Committee held a few bottles back, and is now holding a raffle for one valued at £195, with tickets on sale for £1 each. The For Argyll.com story has contact information for the committee to order tickets by phone.
---
August 1, 2013 – Capital Brands, the Clearwater, Florida-based bottler of Jailer's Tennessee Whiskey and Breakout Rye, has gone under, according to an article posted by whiskey writer Fred Minnick today. Minnick cites the company's key brand ambassador and whiskey consultant/master distiller, Dave Scheurich, as saying the company "outran its financial backing." Scheurich, formerly the general manager at Woodford Reserve before retiring at the end of 2010,  called the situation "extremely disappointing".
Capital was formed by a group of veteran spirits industry executives with a goal of building a distillery in Pulaski, Tennessee, but was sourcing its stock for Jailer's from an undisclosed Tennessee distillery (either Jack Daniel's or George Dickel, but Scheurich and the company have said contracts prevented them from disclosing the source). It's not known whether the Jailer's, Breakout, and Forbidden Secret American Whiskey Cream liqueur brands will be sold to another company.
WhiskyCast has reached out to Capital Brands as well as Price Adams, the company's media contact at Nuffer, Smith, Tucker, Inc. in San Diego for more information. This story will be updated as more details become available.
Links: Capital Brands
---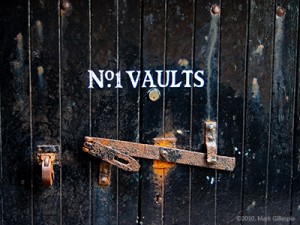 August 1, 2013 – Bowmores from the legendary year of 1964 dominated the bidding at McTear's during its July 31 whisky auction in Glasgow. In addition to the usual brace of original Black Bowmores up for bids, several bottles from the 1964 series of Fino, Oloroso, and Bourbon cask bottlings went on the block along with Black and White Bowmores from the 2007-2009 Trilogy Series.
Bottles #16, #50, and #58 (of 300) of the Fino Cask sold for £3,200 each, while Bottle #45 of the 1964 Bourbon Cask went for a hammer price of £2,800 and Bottle #133 of the Oloroso Cask brought a high bid of £2,400. Black Bowmores from the 1990's releases went for £2,400 to £3,000, while Black Bowmore bottle #586 (of 827) from 2007 and White Bowmore #12 (of 732) from 2008 sold for £2,600 each. Other older Bowmores also did well, with a 1955-vintage Bowmore 40-year-old malt selling for £3,800, and a 1957 vintage (bottled at 38 years old) selling for £2,200.
The highest bid of the day was for a 50-year-old bottle of Yamazaki. Only 150 bottles were produced in 2011 at 57% ABV, and the hammer came down at £6,500 ($9,821 USD). A 1965 Ardbeg bottled in 2005 along with a companion miniature bottle sold for £3,800, while a 55-year-old bottle of Benromach distilled in 1949 and bottled in 2004 (#20 of 83) sold for £3,000, and a Laphroaig 40 went for £2,000.
Two 1946 Macallan Select Reserve bottles (bottled at 52 years) showed the difference original packaging can make. Bottle #2002 had the lockable wooden presentation case and outer cardboard sleeve, and sold for £3,600, while Bottle #243 was missing the outer sleeve and sold for £200 less at £3,400.
The oldest bottle up for bids was a 58-year-old Glenfarclas single cask distilled in 1953 and bottled last year for the Polish investment firm Wealth Solutions as an investment vehicle for its clients. Bottle #374 (of 400) sold for £2,800, below the pre-auction McTear's estimate of £3,000-£4,000.
The next McTear's auction is scheduled for September 4, 2013.
To convert these prices to USD, multiply by 1.51. To convert to Euros, multiply by 1.15.
Links: McTear's Auction Catalog
---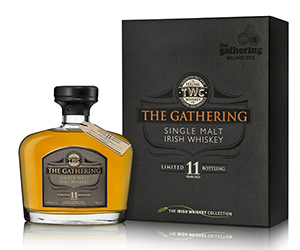 August 1, 2013 – 2013 marks the year of The Gathering, a celebration of all things Irish worldwide. Teeling Whiskey Company has released The Gathering, a special 11-year-old single malt whiskey, at The Loop's travel retail shops in Dublin and Cork airports to commemorate the event.
Just 1,000 bottles will be available. The whiskey was matured for more than 11 years in ex-Bourbon casks, then bottled at 46% ASV with no chill-filtration. It is available starting today at a price of €69.95 ($92.50 USD) in the Irish Whiskey Collection shops at both airports.
The Irish Whiskey Collection shops offer a range of whiskies from all of Ireland's whiskey producers, along with exclusive bottlings like The Gathering. Travelers flying through either airport can pre-order in advance and pick up their whiskies on landing.
To hear an interview with Jack Teeling on his family's new company and heritage in Irish Whiskey, listen to Episode 429 of WhiskyCast.
Links: Teeling Whiskey Company | The Loop 
---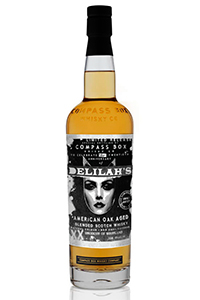 August 1, 2013 – Delilah's, the legendary Chicago punk rock and whisky bar, marks its 20th anniversary on August 29th, and Compass Box is releasing a special whisky to celebrate the anniversary. Compass Box Delilah's is a blended Scotch whisky developed jointly by John Glaser and Delilah's owner Mike Miller, and is a 50/50 blend of malt and grain whiskies.
The malt whiskies came from unnamed distilleries in Alness and Longmorn, while the grain whisky came from an unnamed distillery in Fife. They were matured in a combination of new American oak casks and rejuvenated American Oak hogsheads.
In keeping with the Delilah's tradition as a classic Chicago "shot and a beer" bar, the Compass Box Delilah's was blended to "be perfect served as a shot with a beer". The whisky will make its debut at the Delilah's 20th anniversary party on August 29th and go on sale globally the next day, with 6,324 bottles to be available.
Compass Box will also release a 10th anniversary edition of Peat Monster at the end of September in Europe and in the U.S. during October. There will also be a special limited edition run of 300 bottles at cask strength to be available exclusively at Park Avenue Liquor Shop in New York City, which commissioned the first peated Compass Box whisky in 2003. That whisky was named Monster, which later became Peat Monster.
Links: Compass Box | Delilah's | Park Avenue Liquor Shop
---
August 1, 2013 – Diageo may consider a takeover bid for Beam Inc. as a way to strengthen its position in the North American market, according to the Wall Street Journal. The world's largest whisky producer cited strong sales in North America as one of the key reasons for its 5% growth in profits during the fiscal year ending June 30, but lacks a major foothold in the Bourbon market.
In an interview with the Journal's Peter Evans, Diageo CEO Ivan Menezes restated his goal of a large-scale acquisition in North America following the company's failed bid for Jose Cuervo tequila last year:
"We have the capacity and we look at how the industry may reshape and what assets may become available," Mr. Menezes said in an interview at Diageo's London headquarters. "For the right ones, we have the balance sheet strength to move on them." When asked if Beam Inc. – the Deerfield, Il.-based owner of Jim Beam Bourbon-was on his shopping list, Mr. Menezes said "we look at everything."
Beam executives declined to comment on the statement from Menezes. CEO Matt Shattock has maintained that Beam plans to remain independent following the breakup of Fortune Brands in 2011 that left Beam as a standalone spirits company.
Diageo's one weak spot in the North American market is its presence in the Bourbon market. The company owns the Bulleit Bourbon (and Rye) brand, which has a small share of the market, but has been known to want a larger presence. As of now, Diageo's only active U.S. distillery is the George Dickel Distillery in Tullahoma, Tennessee.
Diageo recently created a brand heritage center for Bulleit at the long-closed Stitzel-Weller Distillery in Louisville, and it's believed that plans are in the works to revive the distillery as a long-term source for Bulleit. Those plans may become more active now that Diageo has settled a dispute with Louisville air quality regulators over fungus on buildings near its Millers Lane maturation warehouses. The company will move 185,000 casks from Millers Lane over the next 30 months, with whiskey to be sold under the Bulleit label to be moved to warehouses at Stitzel-Weller. As part of the resolution, the head of Louisville's Air Pollution Control District stated on the record that the Stitzel-Weller facility is in compliance with air quality regulations and was not part of its investigation.
Diageo has not officially confirmed any plans to revive Stitzel-Weller, but has been looking at ways to make the Bulleit heritage center at the site more accessible to the public and possibly add it to the Kentucky Bourbon Trail. The center is currently used as an education center for retailers and bartenders.
However, it should be noted that any Diageo bid for Beam would likely lead to potential competition inquiries in both the UK and Ireland. The UK's Office of Fair Trading has already opened an inquiry into Diageo's newly-acquired controlling stake in United Spirits and whether the addition of USL-owned Whyte & Mackay into the Diageo portfolio creates too much concentration in the Scotch Whisky industry. Beam owns Laphroaig and Ardmore distilleries in Scotland, along with the Teacher's blended Scotch brand, and regulators would likely insist that Diageo sell off assets in Scotland to reduce its market share in the event of a Beam acquisition. Likewise, the OFT and Irish officials might have similar issues based on Beam's ownership of Cooley's brands and the Kilbeggan distillery in Ireland, given that Diageo already owns Bushmills in Northern Ireland. A Diageo/Beam tieup would put the three major Irish distilleries in the hands of just two companies, Diageo and Irish Distillers (a Pernod Ricard unit).
---
July 31, 2013 – Diageo, the world's largest whisky producer, reported an 8% increase in profits for the 2012 fiscal year ending June 30. Overall sales rose 5%, pushed largely by a rise in U.S. sales and price increases globally.
CEO Ivan Menezes, in his first annual report since replacing Paul Walsh earlier this year, cited the strong North American performance along with sales in Latin America and the Caribbean. North American net sales gained 5%, while operating profits rose 9% on the price increases for Johnnie Walker and many other Diageo products. Sales in Latin America and the Caribbean were up 15% and profits rose 26%. Johnnie Walker sales worldwide surpassed the 20 million case mark for the first time, while single malt Scotch sales rose by 17% during the year. Other strong spots included Crown Royal, with a 17% increase in sales following the launch of Crown Royal Maple, Buchanan's blended Scotch with a gain of 26%, and a 12% gain for Bushmills.
Europe remains a soft spot for Diageo and other drinks companies. Sales fell by 3% and profits by 7% across the region, dragged down largely by weak economies in Spain, Portugal, Greece, and Italy. Declining beer sales in  the UK and Ireland cut into Guinness sales, and France suffered from what Diageo described as a weak trading environment.
Links: Diageo
---