Each week, we bring you the latest whisky news on WhiskyCast, but a lot can happen during the week. Now, you can keep up with whisky news as it happens here on WhiskyCast.com!
March 27, 2013 – Kilchoman, Islay's youngest distillery, is starting a new series of annual releases. Loch Gorm is named after a loch near the distillery, and the initial release was matured for five years in Oloroso Sherry butts with a final six weeks of time in Oloroso Sherry hogsheads.
10,000 bottles will be available globally in the 2013 release (46% ABV), with plans to release more mature versions of Loch Gorm in coming years.
Read more »
---
March 26, 2013 – Heaven Hill Distilleries reached a milestone Tuesday at its production facility in Bardstown, Kentucky, with the filling of barrel number 6,500,000. Master Distillers Parker and Craig Beam joined members of the Shapira family and local leaders to hammer in the bung on the milestone barrel in a ceremony in the cistern room.
In a news release, Heaven Hill President Max Shapira said:
It is indeed a proud day for our company and our extended Heaven Hill family. We have throughout our history recognized the filling of our milestone barrels with a ceremony such as this, but the fact that it is less and less time between these occasions is a testament to the remarkable growth and popularity of Bourbon.  And this has not only benefitted our company, but also Bardstown, Nelson County, and the Commonwealth in general.  This occasion is made all the more special in that it is personally overseen by two generations of my family and two generations of the family of our Master Distillers, Parker and Craig Beam.
The barrel has been placed in a special display area in Rickhouse "Y" at Heaven Hill's Bardstown campus alongside the company's other milestone barrels. The display is part of the tour for visitors to Heaven Hill's Bourbon Heritage Center.
Read more »
---
March 26, 2013 – Here's an update on new releases to watch out for over the next couple of months: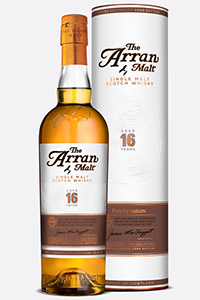 Arran will release its oldest single malt yet in April, just weeks after the death of the distillery's original manager. Gordon Mitchell produced the spirit that is now being bottled as The Arran 16 shortly after the distillery opened in 2005. In a news release, Arran managing director Euan Mitchell said:
"This malt is one of our finest whiskies yet and a strong edition to the Arran portfolio. As an independent distillery we always try to do things a bit differently and the 16 year old will not disappoint. It's satisfying to see the whisky, which we laid down when the distillery first opened, finally come of age and become available for the public to enjoy."
The Arran 16 is the first in a series of three limited-edition releases planned between now and the spring of 2015, when the Arran 18 Year Old malt will be released. 9,000 bottles will be available worldwide at a suggested retail price of £59.99 ($91 USD).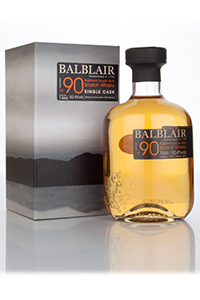 Meanwhile, Balblair is teaming up with Master of Malt for a rare single cask release of a peated Balblair expression. The Balblair 1990 Islay Cask 1466 is different from traditional peated malts, in that it was matured in a cask previously used for an Islay single malt (from an undisclosed distillery). It was bottled at 50.4% ABV.
Unlike many Scottish distilleries, Balblair uses vintage designations for its whiskies instead of age statements. Master of Malt has not disclosed how many bottles are available, but the price is £124.95 (190 USD) through the Master of Malt web site.
Alasdair Day's Tweedale Blend took top honors in the recent World Whisky Awards for Best Blended Scotch 12 Years and Under, and is preparing to release his third batch of the whisky created by his great-grandfather, Richard Day. Batch #3 will feature an 18-year-old grain whisky matured in a sherry butt, up from 15 years old in Batch #2.
Batch #3 will also be the first Tweedale Blend to be released in North America. Unlike the previous two releases, only 300 bottles will be available in the UK, with 1,200 bottles going to Canada for the LCBO provincial stores in Ontario as part of their "Distilled Treasures" range.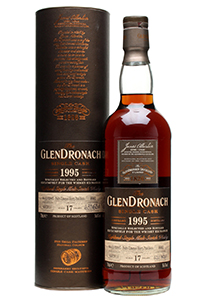 Finally, The Whisky Exchange has acquired its second single cask bottling from GlenDronach. The Pedro Ximenez sherry puncheon was filled in November of 1995 and bottled this month at 56.6% ABV. 631 bottles will be available at a retail price including VAT of £69.95 ($106 USD) at The Whisky Exchange online shop and Vinopolis retail store.  Look for tasting notes on this bottling soon here on the WhiskyCast web site. Tasting notes for this bottling. 
---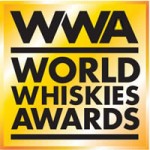 March 23, 2013 – Ardbeg's Galileo Islay Single Malt took top honors as the "World's Best Single Malt" in the 2013 World Whiskies Awards presented by Whisky Magazine. The winners were announced Thursday (March 21) at a banquet in London on the eve of Whisky Live London, along with the Icons of Whisky Awards and Hall of Fame honorees.  The World Whiskies Awards are conducted in two rounds of blind judging by a panel of whisky writers,  joined by a panel of retailers, bar managers, and industry leaders for the third round of blind judging. (Editor's note: Mark Gillespie of WhiskyCast served as a judge for all three rounds.)  The competition is open to official distillery bottlings only, with more than 300 entries from distilleries around the world.
Other "World's Best" winners included George T. Stagg Bourbon as the "World's Best American Whiskey", Hibiki 21 from Suntory as the "World's Best Blended Whisky", Mars Maltage  Plus 25 as the "World's Best Blended Malt", Bain's Cape Mountain from South Africa as the "World's Best Grain Whisky", and the Master of Malt 40 Speyside Liqueur as the "World's Best Whiskey Liqueur". Each was selected from the various winners within their categories. A complete list of winners and short-listed finalists appears in Issue 111 of Whisky Magazine.
Read more »
---
March 22, 2013 – The Billy Walker-led investment group behind BenRiach and GlenDronach distilleries has acquired a third distillery with the purchase of Glenglassaugh Distillery in Banffshire. BenRiach Distillery Company purchased the distillery from Amsterdam-based Lumiere Holdings for an undisclosed amount, with financing by the Royal Bank of Scotland.
"We had ambitions to build the business and buy another single malt oppportunity, and we looked around and we kind of figured that ones with heritage and history were pretty thin on the ground," Billy Walker told WhiskyCast just after the acquisition was announced. "We liked Glenglassaugh, locationally it's just sensational and it kind of fits quite nicely into our kind of geographical coordinates."
Glenglassaugh has been managed since its acquisition by Lumiere in 2007 and reopening in 2008 by Stuart Nickerson.  Walker told WhiskyCast Nickerson will be welcome to stay on as long as he wants. "With very limited resources and very limited intellectual support from his shareholders, he's done such a terrific job." Walker's immediate goal is to bring Glenglassaugh production up to full capacity as quickly possible.
For more on this story, listen to Episode 417 of WhiskyCast.
Read more »
---
March 22, 2013 – Whisky Magazine announced its annual Icons of Whisky Award winners and Hall of Fame honorees Thursday evening (March 21) at a banquet on the eve of Whisky Live London. The Icons awards honor the best of the best from around the world, with regional honors for Scotland, the U.S., and the Rest of the World. The Hall of Fame is an evolution of the Lifetime Achievement Award previously given each year as part of the Icons of Whisky Awards.
The 2013 Hall of Fame class includes 5 honorees: David Grant (William Grant & Sons), Jim Rutledge (Four Roses), Jimmy Russell (Wild Turkey), Richard Paterson (Whyte & Mackay), and David Urquhart (Gordon & MacPhail). Grant, Paterson, and Urquhart were honored at the London event, while Rutledge and Russell will receive their awards at the World Whiskies Conference in New York on April 4.
While the Scotland and U.S. regional Icons winners were announced previously, the evening also included the announcement of Icons winners in the Rest of the World category, which includes Ireland, Canada, Japan, India, Taiwan, and other whisky-producing countries. Irish Distillers was named Distiller of the Year, Angela Forsgren d'Orazio of Mackmyra the Ambassador of the Year, Taiwan's Kavalan (King Car) Distillery Visitor Attraction of the Year, and Master of Malt won both Brand Innovator of the Year and Best Online Retailer honors. The Celtic Whiskey Shop in Dublin won Best Single-Outlet Retailer, and La Maison du Whisky won Best Multiple-Outlet Retailer honors.
That led up to the announcement of the Global Icons, as voted on by a panel of Whisky Magazine editors and contributors:
Whisky Distiller of the Year: Irish Distillers
Distillery Manager of the Year: Eddie McAffer of Bowmore
Distillery Visitor Center Manager of the Year: Jackie Thomson, Ardbeg
Ambassador of the Year: Iain McCallum, Morrison Bowmore
Brand Innovator of the Year: Master of Malt
Visitor Attraction of the Year: Scotch Whisky Experience (Edinburgh)
Online Retailer of the Year: Master of Malt
Single-Outlet Retailer of the Year: The Celtic Whiskey Shop (Dublin)
Multiple-Outlet Retailer of the Year: Binny's (Chicago)
Read more »
---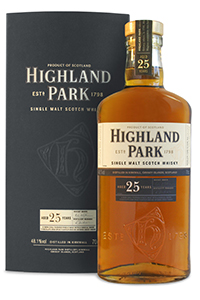 March 22, 2013 – 11 whiskies from around the world received Chairman's Trophy honors in the fourth annual Ultimate Spirits Challenge held at the Astor Center in New York City March 11-15. The winners included the competition's first 100-point score for Highland Park 25, which also took the Chairman's Trophy for Single Malt Scotches.
Ultimate Beverage Challenge founder F. Paul Pacult led the judging panel with co-chair Sean Ludford. Other judges included Jacques Bezuidenhout, Tad Carducci, James Conley, Dale DeGroff, Jim Meehan, Dan Nicolaescu, Steve Olson, Julie Reiner, Jack Robertiello, Jennifer Simonetti-Bryan, Katie Stipe and David Wondrich.
Complete results are available at the Ultimate Beverage Challenge web site, but here's a list of the Chairman's Trophy winners.
Scotch Whiskies
Single Malt: Highland Park 25 Years Old
Blended Scotch: Royal Salute 21 Years Old
Blended Malt: Haig Supreme 1627 12 Years Old
North American Whiskies
American Whiskey: Balcones 1 Texas Single Malt
Bourbon: Blanton's Single Barrel
Rye: Knob Creek Rye
Tennessee Whiskey: George Dickel No. 12
Canadian Whisky: Caribou Crossing Single Barrel
Irish Whiskies
Blended: Jameson 18 Years Old
Irish Pot Still: Redbreast 15 Years Old
Single Malt: Tullamore Dew 10 Years Old
Awards were also given for other spirits, including Rums, Brandies, Vodkas, and Gins.
---
(Editor's note: This story was posted on March 15, 2013, and has been updated.)
Flavored whiskies have largely been the province of Canadian and American-made whiskies, but Dewar's has become the first Scotch Whisky producer to dip its toe into the market. The Bacardi unit is releasing Dewar's Highlander Honey exclusively in the U.S. market, with the blessing of the Scotch Whisky Association.
The "spirit drink" combines Dewar's White Label blended Scotch with honey produced on farms near the Aberfeldy Distillery in Scotland. It is bottled at 40% ABV, and gets around the legal ban on adding flavorings to Scotch Whisky by using the term "spirit drink" on the back label.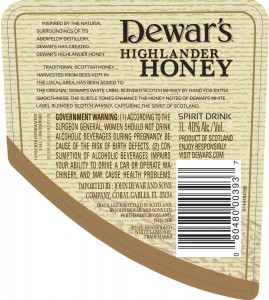 Officially, Highlander Honey carries the label of a "Whisky Specialty" under U.S. Tax & Trade Bureau regulations, which allows it to contain flavorings.  That same designation allows it to comply with Scottish law. It will be available throughout the U.S. starting in April.
Read more »
---
March 14, 2013 – Historic Scotland, the Scottish Government agency responsible for preserving historic sites, has commissioned a feasibility study to examine whether to restart whisky production at the old Dallas Dhu Distillery in Speyside. The distillery closed in 1983, and has been operated by Historic Scotland as a museum since 1998.
The Scotsman reports government officials are considering small-scale whisky production at Dallas Dhu as a way to help turn the distillery into a tourist attraction for visitors to the Speyside region. The report cites a letter from Scottish Culture Secretary Fiona Hyslop to the Moray area's representative in Parliament, Richard Lochhead, suggesting that the study would determine whether it "is possible to bring the distillery back into production while conserving the historic nature of the site." Lochhead welcomed the study, telling the paper that Dallas Dhu could provide an opportunity to showcase traditional distilling techniques.
Dallas Dhu produced whisky from 1899 until it was forced to close because of water shortages in 1983, and is located just outside Forres. No timetable for the report has been set.
A case study for the Dallas Dhu project could well be the success of George Washington's Distillery at Mount Vernon in Virginia. That distillery was restored with funding from the Distilled Spirits Council of the United States, and produces small amounts of whiskey each year using traditional distilling practices from the colonial era. The non-profit organization that operates Mount Vernon uses the proceeds from whiskey sales to help fund operations and maintenance. Historic Scotland would likely be able to do something similar with whisky distilled at Dallas Dhu to help offset the cost of maintaining the distillery as a historical site and tourist attraction.
Links: Historic Scotland | Dallas Dhu | George Washington's Distillery
---
March 13, 2013 – A 1938 Macallan single malt bottled by Gordon & MacPhail sold for £4,000 ($6,033) at McTear's on March 13, leading the list of hammer prices for more than 450 lots on the block. The McTear's pre-auction estimate for the bottle was in the £1,000-1,200 range, but the winning bidder has not been identified.
Several other rare Macallans recieved high bids, including £1,800 for a bottle of the Royal Marriage 1981 edition that fetched nearly double the pre-auction estimate and  £1,200 for a 25-year-old Macallan distilled in 1962 and bottled for British Aerospace PLC.
The most unusual bottle on the block was one salvaged from the 1895 shipwreck of the SS Wallachia in Scotland's Firth of Clyde. Divers discovered the shipwreck and were able to recover several bottles of Robert Brown's Four Crowns blended Scotch whisky. The bottle sold for a hammer price of £900, right within the pre-auction estimate of between £700-1,000.
Links: McTear's Auction Results
---