Each week, we bring you the latest whisky news on WhiskyCast, but a lot can happen during the week. Now, you can keep up with whisky news as it happens here on WhiskyCast.com!
September 26, 2013 – The annual Distilled Spirits Council of the United States fundraiser at Virginia's Mount Vernon helped raise $350,000 on Tuesday evening. $75,000 from the "Spirit of Mount Vernon" dinner and auction will benefit the Wounded Warriors Family Support Program, while $275,000 will help support the new Fred W. Smith National Library for the Study of George Washington at Mount Vernon.
The auction's highlights included Bottle #22 of the original 24 bottles of George Washington's Straight Rye Whiskey, distilled in October of 2003 by a group of master distillers using George Washington's original rye whiskey recipe. An anonymous bidder paid $23,000 for the bottle of whiskey, Washington's estate distilled rye whiskey for sale in the area around Mount Vernon from 1797 until the distillery burned in 1814. It was restored with support from the Distilled Spirits Council between 2000 and 2006.
---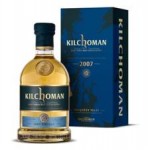 September 26, 2013 – Islay's youngest distillery is about to release its oldest single malt yet. Kilchoman Distillery will release a 6-year-old 2007 vintage on October 7, with 10,000 bottles to be available globally. The whisky was distilled just three years after Anthony Wills started work on the first new distillery to be built on Islay in 124 years. In a news release, Wills called the release an exciting development:
"Although we're a relatively young distillery our Vintage six-year-old shows a level of maturity normally associated with much older whisky.  We predict that this will sell quickly and hope Kilchoman followers share in our excitement in the development of our malt."
The distillery is one of the few in Scotland that controls its own process from grain to glass, using barley grown on the farm where the distillery is located for its 100% Islay expression and bottling all of its whiskies on site. The 2007 Vintage will be available at 46% ABV, and is bottled without chill-filtering.
Links: Kilchoman
---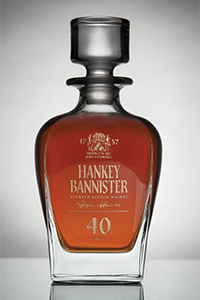 September 26, 2013 – Hankey Bannister's first 40-year-old expression was released to excellent reviews in 2007, and Master Blender Stuart Harvey has been given a second bite of the apple with an updated version that will be available in very limited amounts. Just 1,480 bottles will be released over the next three years, with the first 500 being made available now through selected retailers and travel retail outlets.
Harvey created the new 40-year-old Hankey Bannister from Highland malts dating as far back as 1967, along with rare Lowland grain whiskies from the same era. The resulting blend was bottled at barrel-strength 44.3% ABV in a bespoke crystal decanter, and will be priced at £800 ($1,285 USD) each.
Links: Hankey Bannister
---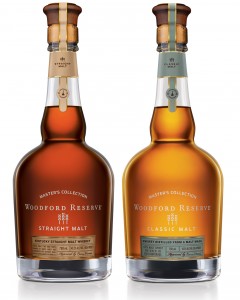 September 26, 2013 – Kentucky's Bourbons are legendary, but Woodford Reserve has been working on an experiment that may make some Kentucky whiskey purists blanch — a pair of single malt whiskeys for the 2013 Woodford Reserve Masters Collection edition.
"We're not going to claim to be the first," Woodford Reserve Master Distiller Chris Morris told WhiskyCast's Mark Gillespie in an interview at Brown-Forman's Louisville headquarters on September 20. "We started working on this project over nine years ago, so we're confident we were making malt whiskey before anyone else was." Technically, Alltech's 2010 release of Pearse Lyons Reserve single malt from the Lexington Brewing & Distilling Company holds the claim of being the first single malt whiskey produced in Kentucky since Prohibition. However, that whiskey was distilled starting in 2007, while the Woodford Reserve malts were distilled in 2004.
There are two single malts in the 2013 Masters Collection release. Woodford Reserve Straight Malt Whiskey was aged in new American White Oak barrels, while the Woodford Reserve Classic Malt was matured in used barrels. Both are bottled at 45.2% ABV, and will be sold in 700 and 750ml bottles depending on the market. Unlike the previous Masters Collection release of a two-bottle Rye set in 2011, this year's collection will be sold separately. "There was a pushback from retail about that presentation, so instead, we're going to answer the demand of the consumer…each will be available in a full-size 750 bottle, and it's up to the individual to purchase one or both," Morris told WhiskyCast.
However, the trend started in 2011 of exporting Masters Collection releases outside the U.S. will be expanded this year, with the single malts to be available in Canada, the United Kingdom, Belgium, France, Sweden, Spain, Germany, New Zealand,  and Australia, along with travel retail outlets. "There's a tremendous demand for the Masters Collection, which means as a result, there will be less available in the United States," Morris said. "We have huge demand in Australia, demand in France, demand in Europe, and we only have so much."
Both whiskies were distilled in the copper pot stills at Woodford Reserve Distillery in Versailles, Kentucky, and will be sold at a recommended retail price of $99.99 per bottle.
Links: Woodford Reserve
---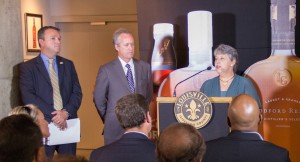 September 25, 2013 – A new study by the University of Louisville's Urban Studies Institute links the Kentucky Bourbon industry to at least 4,200 jobs in the Louisville Metro area, with an estimated annual economic impact of at least $300 million. The study cites payroll impacts of $263 million, along with annual tax revenue of $32 million. That doesn't include at least $50 million in new capital projects, including downtown visitor attractions for Heaven Hill and Michter's and the new Louisville Distilling Company distillery on the east end of Main Street.
"It means growth in jobs, it means growth in underlying sectors that are affected…transportation, warehousing," Dr. Janet Kelly of the Urban Studies Institute told WhiskyCast's Mark Gillespie following a news conference at Brown-Forman's Louisville headquarters on September 20.
"It's probably one of the purest punches for economic development that we have because it's a net export industry. We sell most of the Bourbon that's produced outside the region, and that has a powerful economic multiplier effect."
Louisville Mayor Greg Fischer praised the study as confirming his city's status as the "Bourbon Capital of the World," with no apologies to Bardstown, Kentucky — which has claimed that title for many years. "40% of the Bourbon industry's jobs – direct and indirect – come out of Louisville, so it's a big thing for us," he said in an interview. "It's also very important in terms of cultural tourism, Bourbon heritage really helps drive our restaurant industry, our hotel industry, our tourism industry as well, and the businesses in this industry are tremendous corporate citizens…a lot of philanthropy flows out of them, and they're also world-class in terms of their business techniques…a lot of the great leaders in our city come from the Bourbon industry."
The study was commissioned by the Kentucky Distillers Association, and was the KDA's first study on the industry's economic impact on a local region of the Commonwealth instead of the statewide impact. While the region has lost approximately 10% of its jobs over the past five years, the distilling industry has increased its work force by 10%, and the increase in Bourbon-related tourism has helped preserve jobs in the city's hospitality industry. While the Kentucky Derby remains Louisville's single biggest tourism attraction, the study found Bourbon-relatred tourism generates a year-round impact.
"We've seen a surge in visitors, and not just more visitors, but more visitors that are genuinely interested and more visitors that are traveling great distances to soak up the culture of Kentucky, and a big part of that is Bourbon," Maker's Mark president and KDA board member Rob Samuels told WhiskyCast. While the Maker's Mark Distillery is located south of Louisville in Loretto, the company's management and sales teams are based in Louisville.
The growth in Louisville was one of the key reasons for Louisville Distilling Company to locate its new distillery at the east end of the city's historic "Whiskey Row" along Main Street, according to company president Wes Henderson.
"It was really kind of a no-brainer for us," Henderson said of the decision to build in downtown Louisville. "When we started looking at the different locations, I was a little fascinated originally with some of the historic locations like the Old Taylor Distillery and other romantic abandoned properties, but when we looked at the dynamics that were happening in downtown Louisville and the sheer numbers of people that were coming here, it just really made sense to locate it here."
The distillery is expected to begin production for Angel's Envy Bourbon by the end of 2014 in what previously was an abandoned warehouse and industrial complex on Main Street near Louisville Slugger Field. In addition, the Evan Williams Bourbon Experience visitors center will open on Main Street in November, and restoration work continues nearby on the historic building slated to become home to a micro-distillery and visitor attraction for Michter's. An announcement is expected soon on another micro-distillery project for the downtown area as well.
The complete study is available through the Kentucky Distillers Association web site. Additional information on this story is available in Episode 443 of WhiskyCast.
Links: University of Louisville Urban Studies Institute | Kentucky Distillers Association | Maker's Mark | Angel's Envy | Evan Williams Bourbon Experience | Michter's
---
September 25, 2013 – The president of Edinburgh-based Glenmorangie PLC, Paul Skipworth, has taken a leave of absence from the LVMH-owned whisky company for personal reasons. Skipworth became president and managing director in 2011 when Paul Neep retired, and has overseen significant sales growth worldwide for both Glenmorangie and Ardbeg single malts.
Marc Hoellinger has been named acting president, and will continue to serve as marketing strategy director at Moët Hennessey while overseeing operations at Glenmorangie. He served as the unit's marketing director under Skipworth for three years before being named to his present position.
Links: Glenmorangie
---
September 24, 2013 – Several months after leaving Glenglassaugh, distillery veteran Stuart Nickerson is making public the plans for his next venture. Nickerson hopes to succeed where a previous attempt has failed — building a distillery on the old RAF base at Saxa Vord in the Shetland Islands.
Shetland News reports Nickerson has teamed up with the Strang family, which bought the Saxa Vord site from the Ministry of Defense in 2007. Their Shetland Distillery Company has filed an application for planning permission with the Shetland Islands Council, and Nickerson told the site he hopes to begin distilling by the end of 2014. His initial plans are to build a micro-distillery capable of producing 30,000 litres of spirit annually, along with a maturation warehouse, bottling facility, and a small visitors center.
Nickerson led the team that revived Glenglassaugh Distillery in 2008, but left after the distillery's owners sold Glenglassaugh to Billy Walker's investor group that also owns GlenDronach and BenRiach distilleries. His bid is the second attempt to build a whisky distillery at the Saxa Vord site. Blackwood Distillers tried to develop a distillery at the site, but the Caroline Whitfield-led effort failed to attract enough support from investors and was eventually dropped in 2008.
---
September 20, 2013 – Ta-dahhhh! That's not quite the way to pronounce it, but voters in Glenmorangie's Cask Masters Project have picked a very similar-sounding name for the single malt whisky to be released sometime in 2014. "Taghta" — pronounced "tuh-ta", according to the distillery, was picked by voters from three Gaelic names selected by Gaelic scholar Dr. Aonghas MacCoinnich of the University of Strathclyde.
Taghta, which means "chosen" in Gaelic, won over Coileanta ("mastery") and Salainn ("salt"). The selection completes the second phase of the Cask Masters Project, in which whisky lovers are being invited to help decide the next Glenmorangie single malt release. Earlier, voters selected a Manzanilla Sherry cask finish for the whisky, and the next step will be to select the packaging and label design. Voters will also be entered to win various prizes at each level, with the grand prize winner to attend the Cask Masters launch party when it is held in 2014.
Links: Glenmorangie Cask Masters
---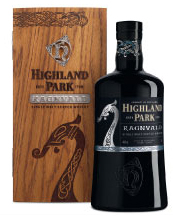 September 19, 2013 – Highland Park's Warrior series of travel retail single malts will soon be complete with the release of the final three malts in the series. Sigurd, Ragnvald, and Thorfinn will join Svein, Einar, and Harald on the shelves at duty-free shops soon.
The three feature a growing influence of sherry cask-matured Highland Park single malt with each expression. Sigurd is bottled at 43% ABV, Ragnvald at 44.6% ABV, and Thorfinn at 45.1% ABV. The names come from ancient Viking warriors, who invaded the Orkney Islands centuries ago, and the Nordic influence has become a key part of Highland Park's identity, as shown in a WhiskyCast HD episode from Orkney earlier this year.
Links: Highland Park
---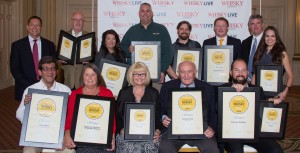 September 19, 2013 – In the first round of the 2014 Icons of Whisky Awards, Whisky Magazine has named its winners for the United States. The awards are voted on by the editorial staff of Whisky Magazine, with nominations sought from both editorial staff and the whisky industry.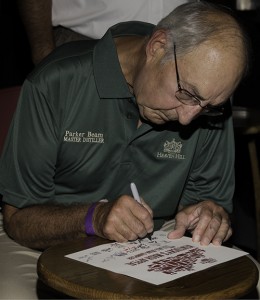 Parker Beam, the longtime Master Distiller at Heaven Hill, was named Distillery Manager of the Year. With more than 50 years of distilling experience, Parker is regarded as a legend by both whiskey lovers and his colleagues. He was diagnosed with ALS earlier this year, but continues to work at the distillery each day as his health allows. His latest release, Parker's Heritage Collection Promise of Hope, is raising funds for the ALS Association's Parker Beam's Promise of Hope Fund. Jim Rutledge of Four Roses was the "Highly Commended" runner-up in this category.
Buffalo Trace was named Distiller of the Year, with Four Roses again winning "Highly Commended" honors. Corsair Artisan Distillery, with distilleries in Nashville, Tennessee and Bowling Green, Kentucky, was named Whisky Brand Innovator of the Year, with Balcones Distillery of Waco, Texas, the "Highly Commended" runner-up. Balcones was named the Craft Whisky Distillery of the Year, with Corsair the runner-up.
Wild Turkey's Jimmy Russell was named American Whiskey Ambassador of the Year, with Glenmorangie's David Blackmore the Scotch Whisky Ambassador of the Year. The Oscar Getz Museum of Bourbon History in Bardstown, Kentucky, was named Visitor Attraction of the Year, and Kim Bennett of Jim Beam's American Stillhouse was named Visitor Center Manager of the Year.
In the categories for distributors and retailers, New York City's Park Avenue Liquor Shop was named Retailer of the Year for single-store retailers, while Binny's Beverage Depot of Chicago was named the retail chain of the year. International Spirits & Wines was named Importer of the Year, while Southern Wine & Spirits was named Distributor of the Year.
The awards were presented at a ceremony on September 24 at Louisville's iconic Brown Hotel. The winners will compete against Icons winners from Scotland and the "Rest of the World" to be named at later dates, with the global Icons winners to be announced on the eve of Whisky Live London next March.
Note: WhiskyCast's Mark Gillespie is a contributing editor for Whisky Magazine, and both nominates and votes on selections for these awards. This story was updated on September 26 with a photo from the awards luncheon.
Links: Whisky Magazine
---