Each week, we bring you the latest whisky news on WhiskyCast, but a lot can happen during the week. Now, you can keep up with whisky news as it happens here on WhiskyCast.com!
April 11, 2013 – Following an early announcement from Master Distiller Jim Rutledge on the April 6 episode of WhiskyCast, the Lawrenceburg, Kentucky distillery has released more details on the 2013 edition of the Four Roses Limited Edition Single Barrel. 2013 marks the distillery's 125th anniversary, and this year's version will be bottled at barrel strength in ABV ranges between 50.3% and 57.2%, depending on each individual barrel.
"We selected the recipe (OBSK) that we're using  probably early October," Rutledge told WhiskyCast's Mark Gillespie.
"Every barrel's unique, it's on its own, and has its own unique flavor characteristics, but they're all very close to each other…it's a nice spiciness, with the K yeast in combination with the 20% rye that's used in that mashbill, nutmeg, cinnamon, there's some chocolate finishes…it's a wonderful selection."
Around 4,000 bottles of the 2013 Limited Edition Single Barrel will be available in the U.S., with none currently planned for export to other countries.
Read more »
---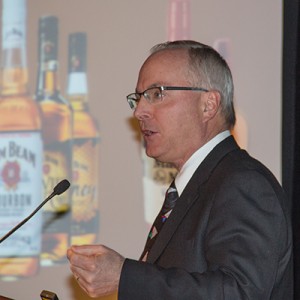 April 4, 2013 –  Beam Inc. North American President Bill Newlands described the company's decision to reverse course on the controversial Maker's Mark ABV switch in February as a "testament to how our company operates." During a question period following his keynote address at the World Whiskies Conference in New York City, WhiskyCast's Mark Gillespie asked Newlands whether there had been any noticeable impact on Maker's Mark sales in the weeks following the ABV switch and reversal, and who within the company was responsible for making those decisions. While Newlands did not address the second question, he said it will not "affect Maker's Mark one iota."
"Our initial understanding from the marketplace is that Maker's is as popular as ever, and the response we had for listening to the consumer was even greater than the response we got for making the change, so we're as bullish on Maker's Mark as we've ever been. (Pause) I wouldn't do it again, however."
On February 17, Maker's Mark Chief Operating Officer Rob Samuels and Chairman Emeritus Bill Samuels Jr. sent an email to members of the Maker's Mark Ambassadors affinity group announcing that their decision a week earlier to cut the bottling strength of the bourbon from 45% ABV to 42% would be reversed because of consumer protests.  That decision was based on a need to stretch the available supply of aged Bourbon produced at Maker's Mark to meet growing and unanticipated global demand for Bourbon. The brand's unique recipe is not produced anywhere else, putting Maker's Mark in the same position as a single malt distillery unable to acquire additional bulk supplies of whiskey to augment the distillery's production.
Newlands told the audience "Our belief was that we needed to try to find a way to offer the consumer more supply. What the consumer said loud and clear to us is 'we disagree with you', and I think that's a real testament to how our company operates, because it took us less than a week to say the consumer has spoken and we are going to listen."
Beam executives accompanying Newlands at the conference confirmed that Maker's Mark sales had not seen any significant impact in the weeks following the controversy, but did not provide specific data.
Links: Beam | Maker's Mark | World Whiskies Conference
---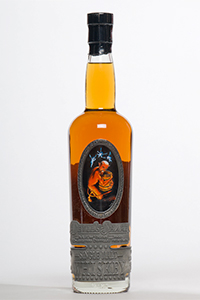 April 3, 2013 – Devil's Share Malt Whiskey from Ballast Point Spirits was named Best of Class among whiskies in the 7th annual American Distilling Institute Judging of Artisan American Spirits. The announcement came during the ADI's annual conference in Denver, and Devil's Share was one of only 23 spirits to receive a gold medal from the judging panel. The judging was done on March 4th and 5th at Huber's Starlight Orchard & Winery in Starlight, Indiana, with 127 whiskies, 36 moonshines, and assorted gins, rums, and brandies. (Editor's note: Mark Gillespie was a member of the whiskey judging panel.)
Here are the results from the whiskey categories. Note that whiskies "sourced" from a different distillery than the bottler compete in the "Merchant Bottled Whiskey" category:
CLEAR WHISKEY
Best of Category – Silver Medal
Myer Farm Distillers – White Dog Corn Whiskey
Silver Medal
Dark Horse Distillery – Long Shot White Whiskey
Bronze Medal
Middle West Spirits – OYO Rye Whiskey
High West Distillery – Silver Whiskey – Western Oat
Indian Creek Distillery – Elias Staley
Cornelius Pass Roadhouse Distillery – White Owl Whiskey
Asheville Distilling Co. – Troy & Sons Platinum Heirloom Moonshine
AGED CORN WHISKEY
Best of Category – Silver Medal
Balcones Distilling – True Blue
BOURBON (under two years)
Best of Category – Gold Medal
Yellow Rose Distilling – Yellow Rose Outlaw Bourbon
Silver Medal
Kings County Distillery – Kings County Bourbon
Bronze Medal
Rock Town Distillery – Arkansas Young Bourbon Whiskey
Cacao Prieto – Bloody Butcher Bourbon Whiskey
STRAIGHT BOURBON
Best of Category – Gold Medal
Balcones Distilling – Fifth-Anniversary Texas Straight Bourbon
Silver Medal
Dallas Distilleries – Herman Marshall
AGED RYE WHISKEY
Best of Category – Gold Medal
Grand Traverse Distillery – Ole George Rye Whiskey
Silver Medal
Mountain Laurel Spirits – Dad's Hat Pennsylvania Rye Whiskey
Bronze Medal
Distillery 291 – Colorado Rye Whiskey
Catoctin Creek Distilling – Roundstone Rye Cask Proof
MALT WHISKEY (under 2 years)
Best of Category – Gold Medal
Balcones Distilling – Texas Single Malt
Gold Medal
Deerhammer Distilling Company – Down Time Single Malt Whiskey
Bronze Medal
Long Island Spirits – Pine Barrens Single Malt Whisky
STRAIGHT MALT WHISKEY
Best of Category – Gold Medal
Ballast Point Brewing & Spirits – Devil's Share Straight Malt Whiskey
Silver Medal
New Holland Artisan Spirits – Zeppelin Bend Straight Malt
WHEAT WHISKEY
Best of Category – Gold Medal
Middle West Spirits – OYO Wheat Whiskey
Bronze Medal
American Craft Whiskey Distillery – Low Gap Whiskey Single Barrel No. 1
American Craft Whiskey Distillery – Low Gap California Whiskey
WHISKEY NON-TYPICAL
Best of Category – Silver Medal
Glacier Distilling Company – Wheatfish Whiskey
Silver Medal
Rogue Spirits – Dead Guy Whiskey
SMOKED WHISKEY
Best of Category – Silver Medal
Corsair Artisan – Wildfire
Silver Medal
Corsair Artisan – Salamander
HOPPED WHISKEY
Best of Category – Silver Medal
Corsair Artisan – Demeter
Silver Medal
Corsair Artisan – Falconer's Flight
Bronze Medal
Corsair Artisan – Centennial
Corsair Artisan – Pacifica
Corsair Artisan – Titania
Corsair Artisan – Amarillo
FLAVORED WHISKEY
Best of Category – Bronze Medal
Sons of Liberty Spirits Company – Seasonal – 2012 Winter Release
MERCHANT BOTTLED WHISKEY
STRAIGHT BOURBON
Best of Category – Silver Medal
Cacao Prieto Distillery – Widow Jane Bourbon Whiskey
Silver Medal
Tatoosh Distillery & Spirits – Tatoosh Bourbon
BOURBON (cask finished)
Best of Category – Bronze Medal
Hillrock Estate Distillery & Malthouse – Solera Aged Bourbon
Bronze Medal
Big Bottom Whiskey – Straight Bourbon Whiskey, Zinfandel Cask
STRAIGHT RYE WHISKEY
Best of Category – Silver Medal
35 Maple Street – Masterson's 10-Year-Old Straight Rye Whiskey
MALT WHISKEY
Best of Category – Bronze Medal
Virginia Distillery – Virginia Highland Malt Whisky
---
April 3, 2013 – Diageo has selected a site next to the existing Teaninich Distillery in the Highlands for its newest malt whisky distillery. The site was selected from three short-listed sites announced last year for the £50 million project, which is expected to increase Diageo's malt whisky production capacity by around 13 million liters a year.  In addition, Teaninich will receive a £12 million upgrade that will almost double the distillery's capacity. Assuming the planning process goes as scheduled, construction on the new distillery is expected to begin in 2014.
In a news release, Diageo Malt Distilling Director Brian Higgs cited the overall benefits of the Teaninich site near Alness:
"All three sites we considered for the new malt distillery were excellent potential locations but after detailed investigations Teaninich came out just ahead in terms of the many complex logistics required when planning such a development.
"It is a significant investment for the local economy around Alness and we look forward to working positively with Highland Council and the local community as we progress our plans."
Glendullan Distillery in Speyside was one of the short-listed sites for the new project, and has been tapped for construction of a new bi0-energy plant that will convert distillery waste to natural gas for powering the distillery. The company also plans a major upgrade at Mortlach Distillery in Dufftown, with a new stillhouse that will significantly expand that distillery's capacity.
Last year, Diageo announced plans to invest £1 billion in upgrades to its 28 malt whisky distilleries in Scotland.
This story will be updated…
Read more »
---
April 2, 2013 – Laphroaig is releasing the second in a three-part series of Islay malts exclusively for the travel retail market. Laphroaig QA is matured in ex-Bourbon casks from Maker's Mark, then finished in new, un-charred American white oak casks. It's bottled at 40% ABV, and will be available through World Duty Free (UK and elsewhere), Heinemann (Germany), and Aelia (Paris) travel retail stores at a suggested retail price of €55 ($70.50 USD).
Laphroaig QA follows last year's introduction of the Laphroaig PX Cask, and the third expression in the series, Laphroaig An Cuan Mor, will be released later this year.
A few miles north of Laphroaig on Islay, Bowmore is preparing to unleash the fourth edition of  its 10-year-old Tempest single malt next month. Look for it to be available in time for the Islay Festival of Malt & Music (Feis Ile) at the end of May. This edition of Tempest is bottled at 55.1% ABV, and just 12,000 bottles will be available.
There's no word from Morrison Bowmore on whether this edition will be released in the U.S. under the Dorus Mor label.  Bowmore selected that name for Tempest following a consumer vote in 2012, since it was unable to reach an agreement with a U.S. winery that holds U.S. trademark rights for "Tempest".
Read more »
---
April 2, 2013 – The world's fascination with Scotch Whisky continues to grow despite continuing economic pressure in the Eurozone, as Scotch Whisky exports reached a record £4.3 billion GBP ($6.5 billion USD) during 2012 according to new data from the Scotch Whisky Association. While the total volume of exports actually fell by 5%, the value of those exports rose by 1% as consumers "traded up" to more expensive premium Blended Scotches and Single Malts.
The United States continues to be the top export market for Scotch Whisky, with record exports of £758 million GBP. Traditionally, the U.S. and France vie for the title of most valuable export market, with the U.S. leading in volume and France leading in value. However, the French market was distorted by external factors during 2012, as an excise tax increase that took effect early in the year prompted retailers and consumers to move sales up into late 2011 to avoid the tax hike.  The Eurozone's financial issues led to falling whisky sales in several Southern European countries, but they were offset by gains in Russia and Eastern Europe, along with South America and the Asia-Pacific region.
Read more »
---
March 29, 2013 – Former Bruichladdich managing director Mark Reynier is parting with 250 bottles from the very first cask filled at Bruichladdich after the distillery re-opened in 2001. "Wee Ruari" is named in honor of Ruari Reynier, who certainly holds the record for the youngest person ever to fill a cask of Scotch Whisky (with some help).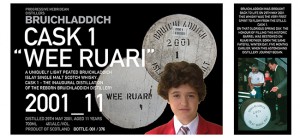 Ruari was 5 months old when he filled Cask #1 with the help of his parents and Duncan McGillivray on May 29, 2001, and Mark held back the cask for his personal collection.  Ironically, Ruari was born the same day his father's investment group completed the acquisition of Bruichladdich.
In an email, Mark Reynier described the cask:
"This is the first (and for me, the last) Bruichladdich. It is quite unique not least that it was somewhat 'accidentally' distilled from lightly peated barley (10-15 ppm), so a sort of in between Port Charlotte and Bruichladdich. It was some cock-up to do with not having ordered unpeated barley in time for the opening and so having to make do with what they had available at Port Ellen."
Reynier left Bruichladdich after the distillery's acquisition by Rémy Cointreau in 2012, and the cask was bottled in 2012 at 11 years of age (376 bottles). Mark Reynier has decided to make 250 bottles from the "Wee Ruari" cask available exclusively through Loch Fyne Whiskies at £250 ($380) each. The Reynier family will hold on to the remaining bottles.
---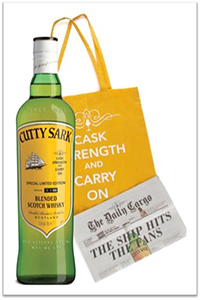 March 28, 2013 – For the first time in its 90-year history, Cutty Sark is releasing a special edition of its blended Scotch whisky in partnership with a whisky web site.
Joel Harrison and Neil Ridley of Caskstrength.com have been working on an A-Z series of Scotch whiskies, starting with single cask releases from Arran and BenRiach distilleries. They selected Cutty Sark for the "C" expression in the series, and worked with Cutty Sark Master Blender Kirsteen Campbell to create a bespoke blend released for Cutty's 90th anniversary on March 23.
500 bottles of the "Caskstrength and Carry On" Cutty Sark will be available exclusively through Master of Malt at a price of  £34.95 ($53 USD). All of the bottles have been signed by Campbell, Harrison, and Ridley, and the first 100 will include a special
Caskstrength and Carry On" bag and a copy of "The Daily Cargo" newspaper produced by Harrison and Ridley.
Tasting notes for this expression.
---
Editor's note: This story was updated on March 28, 2013 with a response from Dewar's.
March 22, 2013 – After originally signing off on Bacardi's plans to market a honey-flavored Dewar's expression in the U.S. market, the Scotch Whisky Association has now changed course and is raising objections to the labeling for Dewar's Highlander Honey.
As was first reported on March 15, the Dewar's expression will contain Dewar's White Label Blended Scotch Whisky infused with honey from farms near the Aberfeldy Distillery in the Scottish Highlands. Scottish law bans the use of flavoring agents in Scotch Whisky, however, they are allowed to be used in whisky-based liqueurs and so-called "spirit drinks". These drinks are sold in the U.S. as "whisky specialty" products under the Treasury Department's Tax & Trade Bureau regulations.
In a statement provided to WhiskyCast by the Scotch Whisky Association, the association expressed concerns over possible confusion in the labeling approved by the TTB for Highlander Honey:
"There is no law preventing the production of new products based on Scotch Whisky. The important thing is that they are labelled and marketed in a way that clearly distinguishes them from Scotch Whisky. We do have concerns that the labelling and promotion of Dewar's Highlander Honey could distinguish the product more clearly from Scotch Whisky. Under EU law it has to be sold under the sales description 'Spirit Drink' and it would assist if that description was more conspicuous on the labelling to help make it clear it is not Scotch Whisky. Promotion of the product should also not suggest it is Scotch Whisky. Any issues about labelling and promotion used by members are resolved through discussion with the Scotch Whisky Association."
These are the proposed labels for Highlander Honey from the TTB's label application filed by Dewar's: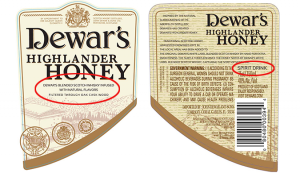 The label only refers to "Spirit Drink" in one spot on the rear label, while the front label makes no reference to it and only refers to "Dewar's Blended Scotch Whisky".
In a statement provided by the public relations agency for Dewar's to WhiskyCast on March 28, the company said:
"As a member of the SWA, we work closely with them on the launch of any new DEWAR'S product. As DEWAR'S Highlander Honey is being launched in the US market, the product adheres to all local market regulations."
However, it should be noted that the U.S. traditionally defers to Scotland on questions over Scotch Whisky. Scotland, Ireland, and Canada are the only nations allowed by US law to set their own standards for whiskies produced in those countries and sold in the U.S. market.
Read more »
---
March 27, 2013 – Kilchoman, Islay's youngest distillery, is starting a new series of annual releases. Loch Gorm is named after a loch near the distillery, and the initial release was matured for five years in Oloroso Sherry butts with a final six weeks of time in Oloroso Sherry hogsheads.
10,000 bottles will be available globally in the 2013 release (46% ABV), with plans to release more mature versions of Loch Gorm in coming years.
Read more »
---