Each week, we bring you the latest whisky news on WhiskyCast, but a lot can happen during the week. Now, you can keep up with whisky news as it happens here on WhiskyCast.com!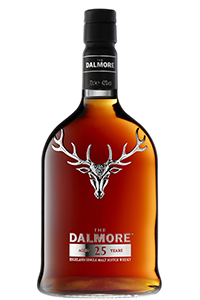 October 21, 2013 – The Dalmore has had many expressions in its permanent range over the years, but is now adding a 25-year-old expression for the first time, though in limited numbers. The Whyte & Mackay-owned distillery will release 3,000 bottles of The Dalmore 25 annually, with a recommended retail price of £600 ($970 USD).
Master Blender Richard Paterson created the new expression using a complex combination of American white oak casks, Palomino Fino Sherry casks, first-fill ex-Bourbon barrels, and Tawny Port pipes from Portugal. In a news release, Paterson explained the influence of the complex combination on the final result:
"The Dalmore 25 is matured in casks that have previously housed a very special grape which creates a sweeter style of sherry. As a result, the cask has gifted a wonderful palate of orange peel, chocolate truffles and spiced gingerbread."
The Dalmore 25 is being unveiled at this week's TFWA travel retail conference in Cannes, France. Availability has not been announced, but is likely to start with the travel retail market.
Links: The Dalmore
---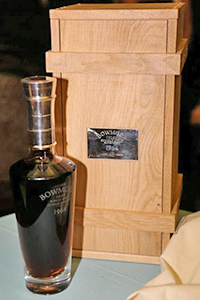 October 18, 2013 – A one-of-a-kind 1964 Bowmore brought the highest bid of 2013 for whisky auctions worldwide during the Worshipful Company of Distillers charity auction Thursday night in London. The bottling was created specifically for the auction, and went for £61,000 ($98,600 USD). In a news release, the Worshipful Company of Distillers says the Bowmore also became the second-highest priced whisky ever sold at a live auction, as well as the highest-priced Bowmore bottling ever sold at auction.
The group is one of the original livery companies that makes up the City of London, and was founded in 1638. Today, its main function is to raise money for local and industry charities. The auction raised more than £250,000 ($404,000 USD) for four charities: The Benevolent, Trelya, the Alcohol Education Trust and The Distillers' Charity.
Other lots included a rare four-bottle set of Hazelwood single malts commemorating the 90th, 100th, 105th, and 110th birthdays of the late Janet Sheed Roberts, a granddaughter of William Grant & Sons founder William Grant. The set brought a winning bid of £31,000 ($50,120 USD). Another whisky bottled specially for the auction, The Dalmore 1964 One of One, went for £28,000 ($45,270 USD).
The evening began with a special appearance by legendary Formula One driver Sir Jackie Stewart, who donated a bottle of the 1993 Jim Clark Festival pure malt whisky from his collection and auctioned it for £1,500.
---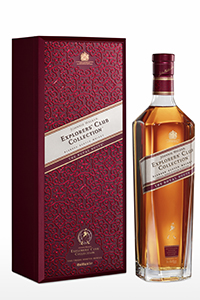 October 18, 2013 – Johnnie Walker has released the third and final edition in its Explorers Club series of travel retail expressions, with The Royal Route now becoming available in duty-free shops globally. The new expression is named after the famed trading routes of Europe and the Middle East, and completes the Trade Routes series in the Explorers' Club Collection.
In a news release, Johnnie Walker master blender Jim Beveridge described the complexity of The Royal Route:
"We sought out only the very finest, beautifully balanced blends that have deep evocative flavours and a character to match. On the nose, there is a vast array of rich fruity flavours including apple, pear, fig and peach. Reflective of the beauty, rarity and exotic nature of the luxury goods that were exchanged on the royal trade route, it has an intense and complex flavour with notes of dried fruit and toffee, handsomely balanced with a subtle woody sweetness and a lingering wispy aromatic smoke. The Royal Route delivers far more depth of character, with richer, multiple layers on the palate."
The Trade Routes series began in December of 2012 with the release of The Spice Road, and was followed in March with The Gold Route. All three expressions are available in one-liter bottles, with a recommended retail price of $159 for The Royal Route.
In addition, Diageo announced plans to release Johnnie Walker Gold Label Reserve in the US as a limited edition for the holiday season. The expression has been available in other global markets, but has not been sold in the US while stocks of the original Gold Label 18-year-old expression are being depleted. Gold Label Reserve is blended in a similar style to the original version, but carries no age statement.
Links: Johnnie Walker
---
October 18, 2013 – Sheriff's deputies in Frankfort, Kentucky are still looking for clues and suspects in the theft of approximately $26,000 worth of rare Pappy Van Winkle's Family Reserve 20-year-old Bourbon and 13-year-old Rye whiskey. The theft was reported Tuesday at Buffalo Trace Distillery, where the Van Winkle family's whiskies are distilled, matured, and bottled under a long-term contract.
Citing the ongoing criminal investigation, both Buffalo Trace executives and the Van Winkle family have declined to comment on the theft in separate emails to WhiskyCast. Franklin County Sheriff Pat Melton has told the Louisville Courier-Journal and other local media organizations that he suspects an inside job, with the thieves stealing a case or two at a time over two months. Approximately 65 cases are missing, mostly of the 20-year-old Family Reserve Bourbon, with nine cases of the 13-year-old Rye missing. The Van Winkle whiskies are packaged in three-bottle cases, meaning around 195 bottles were stolen.
Buffalo Trace started bottling Pappy Van Winkle whiskies for the annual autumn release in the late summer, and the cases of whiskey were being stored on pallets in a secured warehouse with limited access. Melton's investigation is focusing on workers who had access to the warehouse on a regular basis, and he says several tips have been reported to his office. Anyone with information about the theft is asked to contact the Franklin County Sheriff's Department at 502-875-8740.
Buffalo Trace president Mark Brown confirmed in an email to WhiskyCast that distillery tours and the visitors' center remain open, since the investigation is focusing on a remote area of the distillery that is not open to visitors.
This story will be updated with more information as it becomes available.
Links: Old Rip Van Winkle | Buffalo Trace
---
October 17, 2013 – The boom in distillery construction is growing even more with announced plans for new distilleries in Glasgow, Scotland and County Carlow, Ireland.
The Glasgow project is being spearheaded by Tim Morrison, the grandson of Morrison Bowmore co-founder Stanley Morrison, and is to be built on the Queen's Dock. Morrison is the managing director of independent bottler A. Dewar Rattray, and plans to invest £10 million ($16.1 million USD) to build a craft distillery and visitors centre on the site of the dock's former pump house. The distillery would be the first new distillery to be built in Glasgow in more than 100 years, according to multiple news reports.
Morrison has applied for planning permission from local officials to begin converting the pump house into the visitors centre as part of the first phase of construction, which would also include the distillery building and a restaurant. The second phase would see installation of the distilling equipment, with plans to begin distilling in 2015.
Meanwhile, rumors circulating around Ireland for the last several months about Bernard Walsh's plans for a new distillery in County Carlow have proven true. Walsh only smiled when WhiskyCast's Mark Gillespie asked about the rumors last month at Midleton's Housewarming event, but unveiled his plans for the Walsh Whiskey Distillery in Bagenalstown this week. Walsh currently markets The Irishman and Writer's Tears using whiskies sourced from Midleton and Bushmills, and his family-owned company is partnering with Italy's Illva Saronna Holdings on a €25 million ($34.1 million USD) project that will create an estimated 55 permanent and 40 construction jobs over the next five years. Illva Saronna also brings its distribution and marketing experience to the partnership. The company owns the legendary DiSaronno liqueur brand.
This story will be updated with more details as they become available.
Links: A. Dewar Rattray | Walsh Whiskey Company
---
October 16, 2013 – Police in Frankfort, Kentucky are investigating the theft of approximately 65 cases of Pappy Van Winkle's Family Reserve whiskies from inside a secure warehouse at the Buffalo Trace Distillery complex.
The Louisville Courier-Journal reports the theft was reported to Franklin County Sheriff's Department deputies Tuesday, and is believed to have taken place over several months. Sheriff Pat Melton told the Courier-Journal that roughly 56 cases of Pappy Van Winkle's Family Reserve 20-year-old Bourbon worth about $25,300 are missing, along with nine cases of Pappy Van Winkle's Family Reserve 13-year-old Rye Whiskey worth about $675. The whiskies were being stockpiled for the annual release of Pappy Van Winkle whiskies each fall.
Pappy Van Winkle Bourbons are among the rarest on the market, with only about 7,000 cases available each year. "Pappy" has developed a cult following, with bottles often being sold on the "secondary market" for hundreds more than their list price. The whiskey is distilled, matured, and bottled at Buffalo Trace for the Van Winkle family, which owns the Old Rip Van Winkle and Pappy Van Winkle brands. "Pappy" is named for Julian "Pappy" Van Winkle Sr., who founded the Stitzel-Weller distillery in Louisville in 1935 after merging the wholesale operations of W.L. Weller & Sons with the Stitzel family's distilling operations.
According to the Courier-Journal, Buffalo Trace and Van Winkle family members have not returned requests for comment on the theft.
This story will be updated as more details become available.
---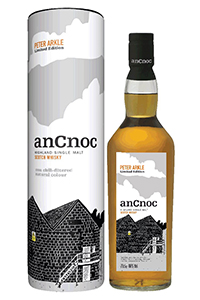 October 15, 2013 – The fourth and final release in anCnoc's limited-edition Peter Arkle series is on its way to whisky specialist shops. Dubbed "Warehouses", the packaging features Arkle's illustration of one of the dunnage warehouses at Knockdhu Distillery, where anCnoc is distilled and matured.
Arkle and the anCnoc team created the series using the various elements that go into a whisky. The first bottling "Ingredients" featured barley and water, while "Casks" showed rows of casks resting inside one of the Knockdhu warehouses and "Bricks" featured the brick exterior of the distillery. In a news release, the Scottish-born and New York-based illustrator called the series a creative challenge:
"My illustrations aim to capture how special and full of character anCnoc whisky is, and I couldn't have done my job without the inspiration of the Knockdhu Distillery and its team. I hope anCnoc drinkers have enjoyed seeing all the designs roll out over the past two years as much as I have loved creating them."
The whisky was matured in a combination of ex-Bourbon barrels and Spanish Oak ex-Sherry butts, and is bottled at 46% ABV. 1,000 cases will be available worldwide at a recommended retail price of £50 ($80 USD).
Links: anCnoc
---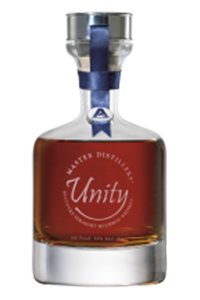 October 15, 2013 – The two-of-a-kind Master Distillers' Unity Bourbon created to help raise money for the ALS Association's "Parker Beam's Promise of Hope Fund" sold for $10,115 (including bidder's premium) at Bonhams in New York City during Sunday's auction of rare whiskies and other spirits. An anonymous bidder won the auction for the two-bottle set, which includes whiskies from seven of Kentucky's largest Bourbon distilleries and was blended by Heaven Hill Master Distiller Parker Beam.
Beam was diagnosed with ALS earlier this year, and his fellow master distillers at Jim Beam, Maker's Mark, Buffalo Trace, Four Roses, Wild Turkey, and Woodford Reserve donated whiskies for the bottling, which Parker created with the addition of his own whiskey from the Heaven Hill stockpiles. The result was 12 bottles of Master Distillers' Unity, 10 of which were poured the day before the auction during WhiskyFest New York for a special toast to Parker. The remaining two bottles are said to be among the rarest Bourbons ever produced.
Heaven Hill's Shapira family created the Promise of Hope Fund after Parker's diagnoses, and pledged to raise at least $250,000 for the ALS Association through donations from sales of this year's Parker's Heritage Collection "Promise of Hope" Bourbon.
Other rare whiskies bringing high bids during the Bonhams auction included a 1946 Macallan Select Reserve that went for $8,925, a bottle of Old Vatted Glenlivet circa 1862 that sold for $7,735, and a bottle of Aberlour-Glenlivet from President John F. Kennedy's collection that was given as a gift to a friend that sold for $6,545.
Links: Heaven Hill | Bonhams
---
October 14, 2013 – Wemyss Malts is releasing 12 single cask malts for the holidays in the company's largest release yet. The whiskies come from all five of the major Scotch whisky regions, and were selected by the Wemyss tasting panel under the guidance of veteran whisky writer and consultant Charles MacLean.
The company names its whisky releases according to the taste profile of each cask, and each whisky will be available in the U.K., Europe, and selected Asian markets.
"Toffee Glaze": 1997 Clynelish (Highlands)
"Brandy Casket": 1989 Glen Garioch (Highlands)
"A Peaty Punch!": 1997 Bunnahabhain (Islay)
"Seaweed on the Rocks": 1991 Bunnahabhain (Islay)
"Merchant's Mahogany Chest": 1991 Glen Scotia (Campbeltown)
"Tarte au Citron": 1998 Auchentoshan (Lowlands)
"Citrus Burst": 1997 Linkwood (Speyside)
"Liquorice Spiral": 1992 Glentauchers (Speyside)
"Coconut and Sandalwood": 1992 Longmorn (Speyside)
"Pastille Bouquet": 1998 Mortlach (Speyside)
"Sweet Mint Infusion": 1991 Aultmore (Speyside)
"Eastern Promise": 1995 Glen Elgin (Speyside)
Recommended pricing for each expression will be between £60 and £105 ($95-170 USD).
Links: Wemyss Malts
---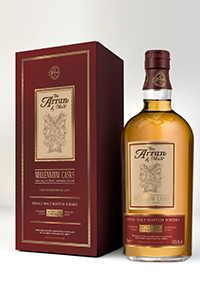 October 12, 2013 – Many of Scotland's distillers marked the end of the last Millennium with special casks filled around the start of the New Year in 2000, and Arran is the latest to bring one of those special projects to market. Arran's Millennium Casks bottling will be available on October 28, with just 7,800 bottles to be available worldwide.
"We decided to fill some casks on the very last day and then the very first day," Arran's Louisa Young said during an interview with WhiskyCast's Mark Gillespie at the Whisky Jewbilee in New York City. "This is something where it's a quite unusual collaboration with the casks and going from one millennium into the next."
Master Distiller James MacTaggart selected 35 ex-Bourbon casks and 10 ex-Sherry hogsheads filled on the two days for the bottling, which is being released with no chill filtering and at a cask-strength 53.5% ABV.
In addition, Arran will make a donation for each bottle sold to the Arran Trust, which preserves natural habitat on the Isle of Arran. "It's very much trying to put something back into the community," Young said. "We've done it with regeneration of the footpaths on the island before…hill walking is something very significant and it's something we believe from the small community that the island has and we being the only distillery, it's something that is important for us to do."
Links: Arran | Arran Trust
---