Each week, we bring you the latest whisky news on WhiskyCast, but a lot can happen during the week. Now, you can keep up with whisky news as it happens here on WhiskyCast.com!
Updated May 28, 2013 – Diageo is still acquiring shares of Indian liquor magate Vijay Mallya's United Spirits (USL) in an attempt to gain majority control of the company. The Financial Times reports Diageo has paid around £300 million ($451.5 million USD) for a 10% preferential allotment of USL shares, on t0p of the 27.4% of the company Diageo agreed to acquire last November. The drinks giant's mandatory bid required by Indian law to acquire another 26% stake of USL shares on the open market failed to generate interest, since the shares have been trading at a significant premium to Diageo's fixed offer price.
However, the delay in acquiring that majority stake appears to be buying Diageo some time to work on a solution for one side effect of the acquisition. USL's ownership of Scotland's Whyte & Mackay has been seen as a potential issue since the deal with Diageo was announced, since it poses potential competition issues in the Scotch whisky market.
The Business Standard reports that the UK's Office of Fair Trade has expressed concerns over the deal, since Diageo already controls around 35%  of Scotch whisky production and sales. Whyte & Mackay owns its namesake blended Scotch, the Dalmore, Jura, Fettercairn, and Tamnavulin malt whisky distilleries, and the Invergordon grain whisky distillery.
Even as Diageo is waiting to take charge of managing USL, it is understood to be actively working with Mallya on addressing the concerns of the Office of Fair Trade in London over majority control of Whyte & Mackay, a subsidiary of USL in Scotland. According to industry observers, Diageo might have to offload majority stake in Whyte & Mackay to clear this hurdle and steps are being taken in this regard. Advisors to the UB Group have, however, indicated there is around six months to address that issue, after the closure of the deal in India.
If the Office of Fair Trade decides to take formal action, that would lead to the case being referred to the UK's Competition Commission for a final decision. The remedies could range from Diageo being ordered to sell a majority stake or all of Whyte & Mackay to selling off other parts of its whisky portfolio. The Commission could also rule that the deal would not be anti-competitive and allow it to go forward with no divestment necessary.
A spokesman for Whyte & Mackay referred requests for comment on the report Monday to United Spirits and Diageo, noting that the deal and its ramifications are a matter for those companies.  A spokesman for United Spirits told WhiskyCast in an email Monday that the company does not respond to "market speculation".
WhiskyCast has also reached out to Diageo and the Office of Fair Trade for comment on the Business Standard report. This story will be updated with their responses.
---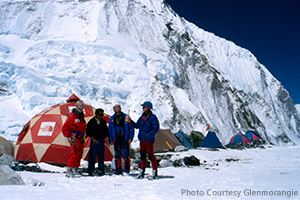 May 29, 2013 – Today marks the 60th anniversary of Sir Edmund Hillary and Tenzing Norgay's historic first summit of Mount Everest in 1963, and 20 years since Rebecca Stephens became the first British woman to reach the highest point on Earth in May, 1993. Stephens was part of an expedition team sponsored by Glenmorangie, and a newly-discovered photo shows that team with a bottle of Glenmorangie at what's believed to be the highest spot a bottle of single malt has ever reached.
In a news release, Glenmorangie President Paul Skipworth noted that the team had taken a case of Glenmorangie with them to Everest, but assumed that they had only taken it as far as their base camp. However, a photo discovered in the company's archives this month shows the team with one bottle at Camp Two, about 21,300 feet up the 29,000 foot mountain. Stephens identified the location when she viewed the archive's photos.
"The support we received on our climb was invaluable and our bottles of Glenmorangie raised spirits in every sense. It's only when Glenmorangie showed me the pictures from their archive that I realised how significant taking that bottle up to Camp Two had been: to be honest, I hadn't thought to mention it!"
Stephens now chairs The Himalayan Trust UK, which helps fund education programs for the people of Nepal, and laid down a cask at the distillery shortly after returning from the expedition that eventually raised £15,000 for the Trust. To mark the dual anniversaries, Glenmorangie will make a donation to the Trust and the Mount Everest Foundation, charities chosen by Stephens.
---
May 24, 2013 – Jim McEwan is arguably the most well-known figure in Islay whisky today. He spent 38 years at Bowmore Distillery, working his way up from an apprentice cooper to distillery manager. In 2001, he left the security of Bowmore for the uncertainty of Bruichladdich, which was being reopened after years of being mothballed.
"The first day I walked through the gates of Bruichladdich, January 6, 2001…I'd just left Suntory, a company which I loved dearly after 38 years at Bowmore….come in the gates of Bruichladdich and thought 'Wow…Jim,you've just made the biggest mistake of your life" — I was wrong."
12 years later, Bruichladdich is thriving and McEwan is marking his 50th year in the whisky business during the distillery's open day Sunday (May 26) as part of  the annual Islay Festival of Malt & Music.
In late 2010, McEwan told WhiskyCast's Mark Gillespie that he intended to retire on his 50th anniversary to spend time with his young grandchildren. However, that news was always greeted skeptically by McEwan's friends and colleagues, and in a telephone interview today, he said he's agreed to stay on with Bruichladdich for three more years at the request of new owner Rémy Cointreau.
"They understand what we're about, and the message is clear from Rémy…that just keep doing what you're doing…that's why we bought you," he said.  "They totally get it…they get the whole thing, they understand how we work here..I've been there and I've seen them do their cognac and all the stuff, and the attention to detail and quality just blows me away."
However, Jim will not continue with one of the responsibilities he's held since 2001. When Bruichladdich agreed to sell its Murray McDavid independent bottling range to Aceo Ltd. earlier this spring, it ended McEwan's role in selecting the casks of whisky to be bottled under that label.
"We just want to put all of our focus on Bruichladdich, Port Charlotte, and Octomore," he said. "We cannot expend any energy on other products, so everything, all of the money will go to double production. We did a great job with Murray McDavid, and I wish them well, but we're just focusing on Bruichladdich."
For the entire interview with Jim McEwan, including the whiskies he selected for his 50th anniversary master class to be held on Sunday at Bruichladdich, listen to this weekend's episode of WhiskyCast.
---
May 24, 2013 – A bottle of The Macallan Anniversary Malt from 1983 led the bidding at this week's McTear's auction of rare whiskies in Glasgow with a bid of £18,000 ($27,200 USD).  The whisky was distilled in 1928, and the bottle was #207 of 500 produced by The Macallan.
While the Anniversary Malt was by far the best performer, with a pre-sale estimate of between £14-16,000, other Macallans filled out the list of high bids. A 1950 Macallan sold for £1,900, while a special "Nicol's Nectar" bottling of casks selected by former master blender Peter Nicol on his retirement in 1996 went for £1,000.
The highest-performing non-Macallan whisky at the auction was a  blended Scotch — a rare bottle of J.W.& S. Ltd. Hill Street 1956 Blended Scotch Whisky that sold for £1,600 ($2,420 USD).  John Walker & Sons bottled the whisky in a Johnnie Walker Swing-style bottle to mark the opening of its new offices on Kilmarnock's Hill Street September 11, 1956.
The next McTear's whisky auction is scheduled for June 26.
---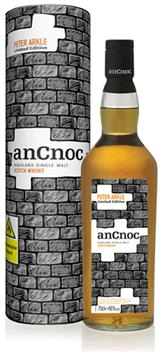 May 21, 2013 – Scottish illustrator Peter Arkle's third single malt in his collaboration with anCnoc features another aspect of the distillery's heritage.  anCnoc's Peter Arkle Limited Edition #3 "Bricks" features his drawing of a dunnage warehouse wall at Knockdhu Distillery in Aberdeenshire, where anCnoc is produced. The first two editions featured his illustrations of anCnoc's ingredients and casks, but in a news release, Arkle cited his experience in the warehouses as the inspiration for the third whisky.
"On one hand it's just a drawing of the bricks that make up the walls of the distillery and the warehouses with a yellow sign stuck on. But, on the other hand, those bricks are so old and so soaked with the essences of anCnoc – absorbed over the years – that they are not just any old bricks. They are bricks with real character and history. And the sign is there to remind people that anCnoc is not something you can take for granted. One must handle something remarkable with care."
#3 Bricks was matured in Spanish oak ex-Sherry butts and American oak ex-Bourbon barrels, and is bottled at 46% ABV with no chill-filtering and no caramel coloring. 1,000 cases will be available at retailers in the UK, US, Canada, Germany, Russia, Japan, and Taiwan, with a suggested retail price of £49.99 ($76 USD).
Arkle and anCnoc are also teaming up for a Twitter-based competition on June 17, in which contestants will be asked to tweet a photo of their "perfect anCnoc moment" that day (using the hashtag #youranCnoc). Ten winners will be chosen to have their moments hand-drawn by Arkle on the label for a unique bottle of anCnoc whisky, while one winner will receive a trip to meet Arkle at his studio in New York City.
Read more »
---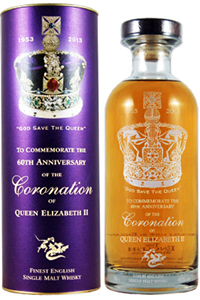 May 21, 2013 – June 2 marks the 60th anniversary of Queen Elizabeth's coronation in 1953, and while Great Britain celebrated the Diamond Jubilee of her rise to the throne last year, more celebrations are planned in the United Kingdom during the next few weeks.
The English Whisky Company, which was England's first legal whisky distillery in 100 years, is releasing a special single malt whisky to mark the occasion. The "Coronation Whisky" will go on sale May 23, and comes from 7 casks. 1, 850 bottles will be available worldwide, as well as through the distillery's web site.
For more on this whisky, listen to Mark Gillespie's interview with Andrew Nelstrop of the English Whisky Company in Episode 421 of WhiskyCast.
---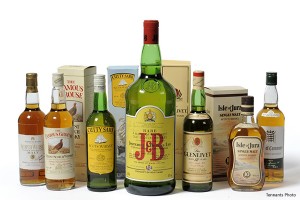 May 21, 2013 – Bottles of whisky signed by Britain's Prime Ministers often show up at auction, but a lot at the recent Tennants auction in Leyburn, England, brought together a rare collection of signed bottles from leaders on both sides of the aisle.
The lot featured 7 bottles signed by former Tory Prime Ministers Margaret Thatcher, John Major, Edward Heath, and Alec Douglas Hume,  along with Labour Prime Ministers Harold Wilson and James Callaghan. Interest in the lot was higher than expected following Thatcher's death on April 8. While pre-auction estimates were in the £200-400 range, the final hammer price came in at £500.
An additional factor in the unique nature of these bottles is that they appear to have been produced during the periods when each Prime Minister was in office, since many were bottled at 75cl well before the European standard of 70cl bottles went into effect.
Margaret Thatcher: 75cl bottle and box of The Famous Grouse
John Major: 3-litre bottle of J&B Rare and a 70cl bottle of House of Commons
Edward Heath: 75cl bottle of The Glenlivet 12
Alec Douglas Hume: 75cl bottle of Cutty Sark
Harold Wilson: Fortnum & Mason 21
James Callaghan: 75cl bottle and box of Isle of Jura
The next Tennants whisky auction is scheduled for September 7, 2013.
---
May 21, 2013 – Tennessee Governor Bill Haslam has signed a bill approved by state lawmakers last month that clears the way for the owners of the Chattanooga Whiskey Company to build their own distillery in a historic factory building.
In a separate move, Gov. Haslam signed a bill that establishes the state's first standards for "Tennessee Whiskey". That bill will force distillers that want to call their whiskey "Tennessee Whiskey" or "Tennessee Sour Mash Whiskey" to meet the federal standards for Bourbon and use the "Lincoln County" charcoal-filtering process. Distillers will have to comply with the new law when it takes effect July 1, but will have 36 months to sell off existing stocks of bottled whiskey.  The bill is seen as a blow for the state's moonshine producers, who will not be allowed to refer to their unaged whiskies as "Tennessee Whiskey".
Chattanooga Whiskey founders Joe Ledbetter and Tim Piersant have been fighting for several years to change a 2009 state law that expanded the number of counties where whiskey distilleries can be located. That law allowed new distilleries in counties where retail liquor stores and "liquor by the drink" sales are legal, but Hamilton County remains partially dry and was not included in the 2009 law. Legislators agreed to change the law to allow distilleries in "wet" areas of a county with approval of local officials. Hamilton County officials supported the change, and are expected to grant quick approval for the Chattanooga Whiskey project once the new law takes effect July 1.  Ledbetter and Piersant currently sell whiskey produced at the MGP-I Distillery in Lawrenceburg, Indiana, but plan to make a transition to locally-produced whiskey once their stocks mature. They have scheduled a "victory party" at the distillery site to celebrate the new law on May 31.
The bill received opposition in the Legislature because a separate provision removed the ability of local governments to mandate specific distances between two distilleries and impose a cap on the number of distilleries allowed in a city. According to The Tennesseean, that change was made after the city of Gatlinburg rejected plans for a moonshine distillery that would have been built on property adjoining the Old Smoky Moonshine Distillery. The principal owner of the proposed Sugarlands Distillery is a partner with Gov. Haslam in a number of real estate investments, and another partner in the distillery project resigned as Gatlinburg's legislative lobbyist after city officials went on record as opposing the bill.
Links: Chattanooga Whiskey
---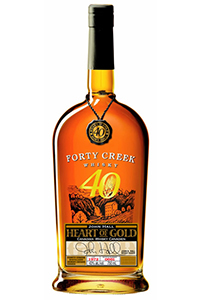 May 16, 2013 – Canada's award-winning Forty Creek Distillery traditionally announces its annual limited edition release each May, and John Hall's latest special whisky was unveiled in time for this year's Spirit of Toronto Festival. "Heart of Gold" will go on sale officially in Ontario at the distillery's release weekend September 28-29 in Grimsby, Ontario for those who pre-order one of the 9,000 numbered bottles that will be available. Online reservations will be taken starting May 27 at the Forty Creek web site through June 21.
As John Hall told us in Episode 424 of WhiskyCast, Heart of Gold's name refers to his decision to take a narrower band of the "heart" during the distillation runs for a spirit that holds the rye character while retaining more delicate notes as well. He used a yeast strain normally used for wines in the fermentation process to bring out the delicate floral and herbal notes he was seeking in the whisky.
Heart of Gold will be available at retailers in all Canadian provinces shortly after the release weekend, and a limited number of bottles will be available in several U.S. states as well.
Mark Gillespie's Tasting Notes for Heart of Gold
Read more »
---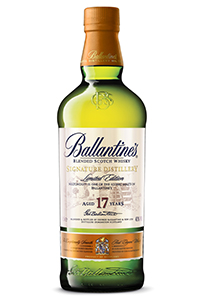 May 15, 2013 – Chivas Brothers is releasing a special edition of its Ballantine's 17-year-old blended Scotch with a recipe that highlights the contributions of the company's Miltonduff Distillery to the blend.
It's the third release in the Signature Distillery Series, and honors the distillery built in 1824 in the Speyside town of Miltonduff. In a news release, Chivas Brothers described the malt whisky from Miltonduff as forming the foundation of Ballantine's 17, with cinnamon notes that add warmth to the blend and a floral character that balances the fruity notes from the other fingerprint malts used in the blend.
Previous releases in the series honored Scapa and Glenburgie distilleries, and there have been indications in the past that a future release would honor Glentauchers Distillery.
The Miltonduff Signature Distillery Edition will be available in limited quantities, with a focus on the Asian travel retail market, and carry a suggested retail price of $75 USD.
Read more »
---