Each week, we bring you the latest whisky news on WhiskyCast, but a lot can happen during the week. Now, you can keep up with whisky news as it happens here on WhiskyCast.com!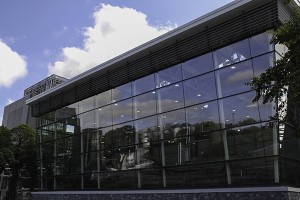 September 4, 2013 -A year and five months after breaking ground on the expansion of Midleton Distillery, Irish Distillers held a dedication ceremony to officially open the new Garden Stillhouse. Irish Taoiseach (Prime Minister) Enda Kenny spoke during the ceremony, as he did during the groundbreaking ceremony in April of 2013.
"It's a €100 million (Euro) investment in what has traditionally been a brilliant Irish product, which is now increasing in sales, volume, reputation, and competence," Kenny told WhiskyCast's Mark Gillespie in an interview following the ceremony. "This development here is a €60 million injection in the local economy, and that wouldn't have happened without belief in the competence and professionalism of the product that's produced here."
The Garden Still House will be dedicated exclusively to Pot Still Whiskey production, with three stills that will be used along with the four stills currently used in the original Midleton still house. A new column stillhouse is under construction, with completion and commissioning expected in November, and the current column stills in use at Midleton will be mothballed.
The new stills will allow Irish Distillers to dedicate more production capacity to Single Pot Still whiskies, including Redbreast, Midleton Barry Crockett Legacy, and Powers John's Lane. With the global demand for Jameson, most of Midleton's pot still production has been needed for the Jameson blends. "It means that we can continue the success story that Jameson has been," Irish Distillers CEO Anna Mahlmake said in an interview. "It also means that we can now start showing even more of the breadth of Irish Whiskey to the world through brands like Powers, Paddy, and so on. It means the world to us to be able to do this."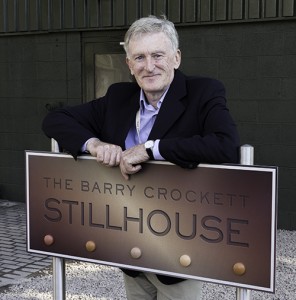 As part of what Irish Distillers called "The Housewarming", a private ceremony was held late in the afternoon to rename the original Midleton stillhouse in honor of retiring Master Distiller Barry Crockett on his final official day with Irish Distillers. The "Barry Crockett Stillhouse" honors Crockett's 47 years at Midleton, with the last 31 as Master Distiller following in his father's footsteps. With no son to continue the family tradition, Crockett spent the last ten years tutoring his successor, Brian Nation.
"I will miss the excitement of the distilling operation here," Crockett said in an interview. "Having said that, there comes a time in everyone's life when you've got to realize that it's time to hand over the mantle, hand over the reins, to another generation. I've had my day in the sun." Crockett will continue to be seen around the distillery, as he is taking on a personal project working in the Irish Distillers archives while pursuing a master's degree in industrial archaeology at University College in Cork.
For more on this story, listen to this weekend's episode of WhiskyCast.
Links: Irish Distillers | Jameson | Single Pot Still Whiskies of Midleton
---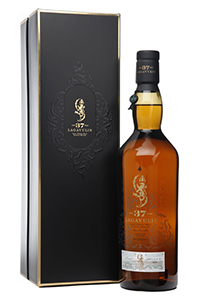 September 3, 2013 – The annual release of limited-edition single malts from Diageo's Scotch distilleries includes a 37-year-old Lagavulin, along with nine other rare bottlings. The Lagavulin expression was distilled in 1976, and is the oldest distillery bottling on record from the Islay distillery.
Only 1,868 bottles will be released, with a suggested retail price of $3,000 (USD) per bottle. In a news release, Lagavulin distillery manager Georgie Crawford called her whisky "probably the most sought-after single malt whisky in production today."
"For many years we have been unable to supply sufficient mature spirit to meet worldwide demand. So bottlings of old Lagavulin are exceptionally rare, and this year's 37 year old is the oldest that we have ever released."
In addition to the 37-year-old Lagavulin, a 12-year-old cask-strength (55.1% ABV) expression will also be part of the 2013 series. Caol Ila, the company's other distillery on Islay, will have a special release honoring retiring distillery manager Billy Stitchell and his entire family. The Caol Ila Stitchell Reserve is an unpeated malt with no age statement matured in a combination of refill and rejuvenated American Oak casks and ex-bodega Spanish Oak sherry casks. Billy Stitchell's father, both grandfathers, and a great-grandfather all worked at Caol Ila, and Billy has been a fixture there since 1974. He is scheduled to retire later this year.
The annual Port Ellen release is a 34-year-old bottling from 1978 matured in refill American and European Oak casks, with just under 3,000 bottles to be available at a recommended price of $2,350 each.
Other releases include a 36-year-old Convalmore single malt from the Dufftown distillery that closed in 1985, a 35-year-old Brora from 1977, and a 28-year-old expression of The Singleton of Dufftown. Talisker will be represented by a 27-year old expression matured in refill American Oak casks, and Oban is contributing a 21-year-old cask-strength (58.5% ABV) expression.
The only one in the series that will not be available in the U.S. is a 21-year-old Cardhu expression. 6,000 bottles will be available in other markets. All ten malts are scheduled to be available this fall in Northern Europe, selected Asian markets, and the United States.
Links: Diageo
---

September 2, 2013 – Powers Irish Whiskey, often thought of as "the Irish whiskey the Irish drink," is getting a new addition to the range with its second single pot still release. As first reported on WhiskyCast earlier this year during an interview with Powers ambassador and family member John Ryan, Powers Signature Release had a sneak preview during WhiskyFest Chicago in April. It is the second single pot still release for Powers in recent years, along with the Powers John's Lane release two years ago.
In addition, Powers Gold Label will also get a new format with a higher ABV level (43.2%), along with a new label design coordinated with Signature Release and the other whiskies in the Powers range. Signature Release and the new Gold Label will be available in the US and Ireland starting this month. The announcement follows last week's release of Paddy Centenary from Irish Distillers to celebrate that brand's 100th anniversary.
Powers was created by the Power family at the John's Lane Distillery in Dublin, but when the family merged its company with Ireland's other family-owned distilleries in 1965 to form Irish Distillers, the decision was made to focus on Jameson as the new company's main export brand. Powers remained largely a domestic brand with limited exports over the years, and became one of the leading whiskey brands in Ireland. As with all of the Irish Distillers whiskies, Powers is distilled at the Midleton Distillery in County Cork, Ireland.
Links: Powers | Irish Distillers
---
August 31, 2013 – While the annual release of the Pappy Van Winkle's Family Reserve series of Bourbons always draws overwhelming response from Bourbon lovers, the upcoming 2013 release could be one of the most sought-after yet. While all of the whiskey used for the 23-year-old Pappy Van Winkle's Family Reserve has come from the old Stitzel-Weller Distillery in Louisville until now, supplies of that whiskey are running out.
"This might be the last year…I'd have to look at the barrel model to be 100% sure," Preston Van Winkle said during a telephone interview with WhiskyCast's Mark Gillespie for this week's episode (#440). "There aren't too many bottles of anything produced at Stitzel-Weller left on this Earth."
Van Winkle, Pappy Van Winkle's great-grandson and the marketing director for Old Rip Van Winkle Distillery, and his father are selecting the final barrels for this year's releases this week at Buffalo Trace Distillery. Buffalo Trace started distilling for the Van Winkle brands in 2002, 11 years after the distillery on Louisville's west side was closed. Stitzel-Weller was the place where Pappy Van Winkle perfected his wheated Bourbons while producing Old Fitzgerald and other whiskies. Since its closing, Stitzel-Weller has achieved almost mythical status among Kentucky's Bourbon distilleries.
This year's release of the Pappy Van Winkle's Family Reserve Bourbons is expected around October 1, with limited availability for the 15, 20, and 23 year old whiskies.
Note: Preston Van Winkle contacted us on September 17 to request a correction on this story, saying that he did not specifically say that this year's Pappy Van Winkle's Family Reserve 23 would be the final one with whiskey from the Stitzel-Weller Distillery. After reviewing the audio from the interview in Episode #440, this story was edited to include his exact quotes from the interview. While we strive for 100% accuracy in all of our content, we are always glad to correct errors when necessary.  
Links: Pappy Van Winkle Bourbon
---
August 22, 2013 – The upstart New Zealand Whisky Company has been making headlines for its occasionally controversial promotions, such as the "Whisky Olympics" CEO Greg Ramsay helped organize in Michigan last year that drew the ire of the United States Olympic Committee. Now, there's a potential lawsuit brewing over the name of Ramsay's "Dunedin Doublewood" single malt whisky.
According to the New Zealand Herald, William Grant & Sons has turned an Auckland law firm loose on the New Zealand Whisky Company, claiming the "Dunedin Doublewood" name violates New Zealand's Fair Trading Act of 1986 and will confuse consumers. Grant's applied for trademark protection in New Zealand last year, but has been selling The Balvenie Doublewood expression since 1993. A "cease and desist" letter from the Simpson Grierson law firm demands that New Zealand Whisky Company stop using the word "Doublewood" on any of its products, citing the international reputation The Balvenie's expression has developed since its launch 20 years ago.
Ramsay told the Herald that the name refers to a cask-aging process, and that his company started using the name "Doublewood" in New Zealand five years ago before Grant's applied for trademark protection:
"We feel they don't have grounds for a cease and desist," said Mr Ramsay. "Their legal threat is full of bluster and heavy-handedness. "We don't contravene their existing trademark because we were using it first, and in any case, we say there is no consumer confusion."
Ramsay's whisky was produced at the now-closed Willowbank Distillery in Dunedin. His company bought the remaining stocks of Willowbank whisky in 2000, and has been maturing them at its own warehouses. For more on the company's history, listen to Mark Gillespie's interview with Greg Ramsay in Episode 391 of WhiskyCast.
This story will be updated as more details become available.
Links: New Zealand Whisky Company | William Grant & Sons | The Balvenie
---
August 22, 2013 – Jack Daniel's and Lynchburg, Tennessee have become synonymous over the years, but the latest plans to expand the Jack Daniel Distillery in Lynchburg could likely cover the cost of buying the entire town. Brown-Forman announced plans today to invest more than $100 million over the next two years to expand production at the distillery. Construction will start this fall, and will include new stills and production equipment, along with additional maturation warehouses and infrastructure to support the operation. The new stills will use the same cave spring water source as the existing still house's four stills.
In a news release, Master Distiller Jeff Arnett said the project's goal will be to make the spirit from those new stills identical to the whiskey produced in Lynchburg since Jack Daniel started making whiskey there in 1866.
"The expansion will help Jack Daniel's continue to bring our distinctive, charcoal-mellowed whiskey to the world and to follow Mr. Jack's belief when he said, 'Every day we make it, we'll make it the best we can."
The project is expected to create at least 90 new jobs over the next five years.The distillery currently employs around 430 workers in Lynchburg.
State officials praised the expansion move, and The Tennesseean reports work is underway on an economic development incentive package to help support the expansion. Brown-Forman is considering several sites in the Lynchburg area for the new maturation warehouses and stills, and General Manager John Hayes told The Tennesseean that the facilities could be spread out all over Moore County. Brown-Forman already has 78 warehouses in the area, and has been adding three a year to keep up with the demand. Jack Daniel's sales worldwide rose 9% last year, the 21st consecutive year of gains for the brand.
In June, Brown-Forman announced a similar expansion project for its Woodford Reserve Distillery in Versailles, Kentucky. The $35 million project will also see additional distilling and maturation capacity added in Versailles.
Links: Jack Daniel's 
---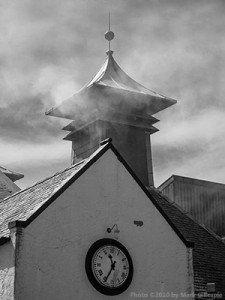 August 22, 2013 – For the last several years, Laphroaig distillery manager John Campbell has hosted a live webcast every autumn from somewhere in the world with a connection his distillery. Previous "Laphroaig Live" events have come from Maker's Mark Distillery (where Laphroaig sources its Bourbon casks from), Germany, Australia, as well as the distillery on Islay. This year, John is bringing the show to Brooklyn, New York on September 26, with the event to take place on a vintage Hudson River barge.
John's guests this year will be Beam Bourbon Ambassador Adam Harris, Michael Neff of New York City's Ward III whisky bar, and GQ web editor Kevin Sintumuang. They'll be tasting cocktails, along with the Laphroaig Quarter Cask, Laphroaig QA, Cairdeas 2013, and Maker's Mark.
The event will be available at the Laphroaig Live web site starting at 8:00pm New York time (GMT -5).
Links: Laphroaig
---
August 21, 2013 – John Teeling hadn't planned a quiet retirement after closing the sale of Cooley Whiskey Company to Beam at the end of 2011, but he said at the time he didn't expect to return to the whiskey business. Apparently, he'd forgotten the classic line from "The Godfather: Part III"
"Just when I thought I was out, they pull me back in."
Teeling has now agreed to buy Diageo's Great Northern Brewery in Dundalk with a group of investors, including his sons Jack and Stephen, and the Irish Whiskey Company will convert the facility into a distillery over the next year. Under his leadership, Cooley profited from supplying independent bottlers with bulk whiskey as well as selling its own brands, but Beam cut off most bulk sales after the acquisition to make more whiskey available for Kilbeggan, Connemara, and the other brands it acquired in the Cooley deal. Teeling plans the same approach with what will likely be called "Great Northern Distillery", focusing on bulk sales and private label bottlings.
The Irish Times reports Teeling decided to return to the whiskey business after former Dundalk Chamber of Commerce president Paddy Malone pleaded for someone to invest in the brewery. Diageo decided to close the brewery, which made Harp Lager, and consolidate beer production at the Guinness St. James Gate brewery in Dublin starting in September. Malone told the Irish Times that he helped put Teeling in touch with Diageo and local officials to help close the deal, which is expected to create 80 jobs once production begins in the third quarter of 2014.
Jack and Stephen Teeling founded their own Teeling Whiskey Company after leaving Cooley, and that company will remain independent. The Teeling Brothers are working with Dublin officials on plans for a distillery in the Marrowbone Lane area. However, published reports indicate the brothers could source some of their whiskey from the Dundalk distillery.
Links: Teeling Whiskey Company
---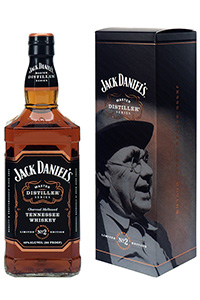 August 21, 2013 – Other than the iconic Jack Daniel, no name is more associated with Jack Daniel's Tennessee Whiskey than the Motlows. For decades, "Lem Motlow, Prop." graced the label of every bottle of Jack Daniel's until the labels were redesigned two years ago. Motlow was Jack Daniel's nephew, and followed in his uncle's footsteps when Daniel decided to hand over management of the distillery to Motlow in 1907.  However, Lem Motlow never actually made the whiskey…his younger brother Jess learned the distilling process from Jack Daniel and inherited the title of Master Distiller from Daniel in 1911. He kept the job until 1941 — including the period when the distillery was closed during Prohibition. When Lem Motlow died in 1947, he left the distillery to his four sons, while Jess had already turned over the role of Master Distiller to Lem Tolley and retired. Jess Motlow died in 1957.
Jess Motlow's name doesn't appear anywhere on the Jack Daniel's web site as of today, but that's likely to change soon. The Moodie Report reports Motlow will be featured on the second bottling in the Jack Daniel's Master Distiller's Collection range to be unveiled in Cannes at the TFWA World Exhibition at the end of October. Of course, Jack Daniel himself appeared on the first bottling, released last winter at a travel retail conference in Orlando. The range is a travel retail exclusive and will eventually feature all seven of the Jack Daniel's Master Distillers, including current Master Distiller Jeff Arnett, with plans to release a new bottle every year.
For the record, the seven Master Distillers in Jack Daniel's history:
Jack Daniel (1866-1911)
Jess Motlow (1911-1941)
Lem Tolley (1941-1964)
Jess Gamble (1964-1966)
Frank Bobo (1966-1992)
Jimmy Bedford (1992-2008)
Jeff Arnett (2008-present)
Links: Jack Daniel's
---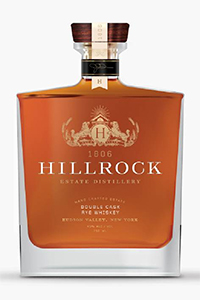 August 20, 2013 – Hillrock Estate Distillery plans to release a "grain to glass" rye whiskey on September 24, using organically grown rye cultivated at the estate. The whiskey was double-matured, with the second maturation coming in American white oak casks seasoned for two years before assembly and filling. In a news release, Master Distiller Dave Pickerell said the air seasoning helped eliminate bitter tannins often present in kiln-dried new oak barrels.
"We chose the Double Cask aging process to balance the spicy rye notes with a mellow sweetness. Our rye whiskey clearly expresses Hillrock's signature clove and cinnamon flavors, along with traditional rye spices complemented by mint, caramel and butterscotch." 
Double Cask Rye is being bottled as a single cask whiskey, and will be available at retailers and bars in New York. In addition to growing its own grain, Hillrock Estate also does its own floor malting and bottling on the estate in addition to distillation and maturation. The Ancram, New York distillery will hold an open house on September 21 with tours and samplings.
Links: Hillrock Estate Distillery 
---