Each week, we bring you the latest whisky news on WhiskyCast, but a lot can happen during the week. Now, you can keep up with whisky news as it happens here on WhiskyCast.com!
March 13, 2013 – A 1938 Macallan single malt bottled by Gordon & MacPhail sold for £4,000 ($6,033) at McTear's on March 13, leading the list of hammer prices for more than 450 lots on the block. The McTear's pre-auction estimate for the bottle was in the £1,000-1,200 range, but the winning bidder has not been identified.
Several other rare Macallans recieved high bids, including £1,800 for a bottle of the Royal Marriage 1981 edition that fetched nearly double the pre-auction estimate and  £1,200 for a 25-year-old Macallan distilled in 1962 and bottled for British Aerospace PLC.
The most unusual bottle on the block was one salvaged from the 1895 shipwreck of the SS Wallachia in Scotland's Firth of Clyde. Divers discovered the shipwreck and were able to recover several bottles of Robert Brown's Four Crowns blended Scotch whisky. The bottle sold for a hammer price of £900, right within the pre-auction estimate of between £700-1,000.
Links: McTear's Auction Results
---
March 13, 2013 – Highland Park's latest expression in the Valhalla Collection was unveiled Tuesday (March 12) during a global launch party at The Foundry in New York City. Loki is the second single malt in the Valhalla Collection following the 2012 release of Thor, and will be available at select whisky retailers and through the Highland Park web site. The Valhalla Collection takes its inspiration from the ancient Norse gods worshipped by the Vikings who landed in the Orkney Islands centuries ago.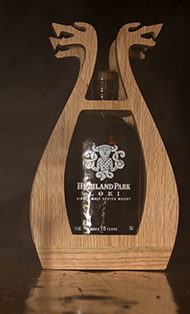 "Loki is an interesting character," says Highland Park Global Marketing Manager Gerry Tosh. "What we're trying to do is replicate the character himself into the flavor of the whisky. Thor is this big brute of a man, the god of thunder and the god of sky and the god of lightning…he's not the world's cleverest person, he hits your palate quite firmly, he wants to make sure you know he's there, but he's a good guy so there's a wonderful  gentle sweetness at the end which rounds Thor off. Loki, because he's the baddie, he's a shapeshifter, he's constantly changing and evolving."
Highland Park's longtime whisky maker, Max McFarlane, created Loki from a combination of Spanish sherry oak casks and heavily peated casks. The 15-year-old Loki is bottled at 48.7% ABV, and will come in the same wooden frame as Thor.
Plans for the final two whiskies in the Valhalla Collection series are still being determined. For more on this story, listen to Episode 416 of WhiskyCast or the entire interview with Gerry Tosh on the WhiskyCast In-Depth page.
Links: Highland Park | Valhalla Collection
---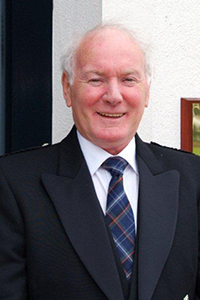 Gordon Mitchell, the first Master Distiller at Arran Distillery, passed away on March 8, 2013.
He served as Master Distiller from Arran's opening in 1995 until his retirement in 2007. In a Facebook post, the distillery noted Gordon's passing:
Gordon was always a delight to be around and his infectious enthusiasm won Arran many friends from around the world. Our thoughts are with his family at this difficult time. We would like to celebrate the life of this wonderful man who was such a huge part in the Arran story.
---
March 11, 2013 – The U.S. Interior Department has declared what's known today as Buffalo Trace Distillery as a National Historic Landmark, making it only the fourth whiskey distillery in the U.S. to be honored.
Buffalo Trace's history dates back to the Revolutionary War era, when Hancock Lee first started distilling whiskey at the site on the banks of the Kentucky River near Frankfort. The first actual distillery was built in 1812 by Harrison Blanton, and later sold to Col. E.H. Taylor. Stagg acquired what was then known as the O.F.C. Distillery in 1878, and it was eventually sold to the current owner, Sazerac, in 1992. Sazerac renamed the distillery Buffalo Trace in 1999.
The distillery was one of 13 landmarks announced Monday (March 11) by U.S. Interior Secretary Ken Salazar and National Parks Service Director Jonathan B. Jarvis. The George T. Stagg Distillery joins the Burks' Distillery in Loretto (Maker's Mark) and the Old Oscar Pepper Distillery in Versailles (Woodford Reserve) on the list of National Historic Landmarks in Kentucky.
Some of the buildings at the fourth distillery, Bomberger's Distillery in Newmanstown, Pennsylvania (Michter's) were removed from the list at the request of its owner between 1997 and 2002, but several of the buildings remain listed on the registry and are designated as "threatened" because of their condition.
Links: Buffalo Trace | U.S. Interior Department
---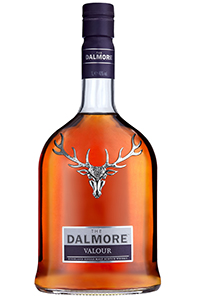 March 11, 2013 – The Dalmore is releasing a new travel retail expression, Valour, for the travel retail market. It will initially be available at Qatar Duty Free during March, with a wider release to other regions during 2013.
The Dalmore Valour is a blend of three different cask finishes. Whyte & Mackay Master Blender Richard Paterson used single malt initially matured in ex-Bourbon casks from the Jim Beam distilleries in Kentucky, followed by a period of time in 30-year-old Matusalem Oloroso Sherry butts from the Gonzales Byass bodega in Spain. The finishing touch was a brief period in Port pipes from the Duoro region of Portugal.
Valour is bottled at 40% ABV, and will have a recommended retail price of around $72 USD per bottle.
---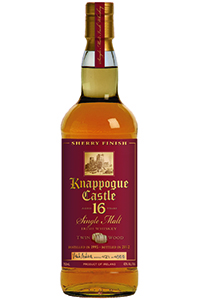 March 11, 2013 – Just weeks after releasing a 14-year-old version of its Knappogue Castle Twin Wood Irish Whiskey, Castle Brands is coming out with a 16-year-old version. Just as the earlier release was finished in sherry casks, the 16-year-old version spent 21 months in sherry casks after 14 years and three months in ex-Bourbon barrels.
4,500 signed and numbered bottles of the 16-year-old Twin Wood are available at 40% ABV. The bottles are signed by Castle Brands chairman Mark Andrews III.
---
While Buffalo Trace is not commenting on reports that a so-called "Baby Stagg" version of its George T. Stagg Bourbon is in development, public records available from the U.S. Treasury Department's Tax & Trade Bureau web site indicate that a lower-proof version of Stagg is close to being released.  These images are taken from Buffalo Trace's application for label approval filed with the TTB on December 12, 2012 and approved on January 18, 2013.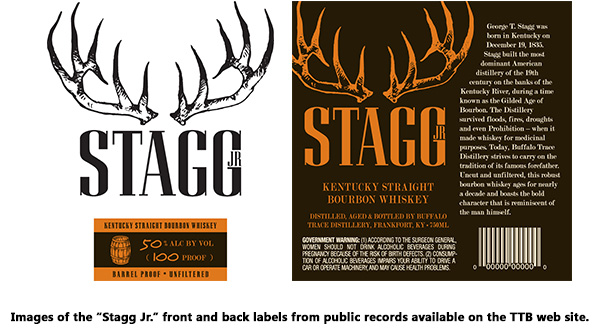 George T. Stagg is one of the whiskies in the Buffalo Trace Antique Collection series released each autumn, and is one of the highest-proof Bourbons available with ABV strengths as high as 71% in some years. It is named for the original founder of what is now known as the Buffalo Trace Distillery in Frankfort, Kentucky.
The demand for Stagg and other whiskies in the Antique Collection would indicate a demand for a Bourbon with the same intense flavor characteristics as Stagg, but in a lower proof that would allow it to be more widely available. In Episode 415 of WhiskyCast (March 10, 2013), Buffalo Trace Master Distiller Harlen Wheatley acknowledged the information available on the Internet. "We are working on new brands, and uh, that's a great idea, a Baby Stagg, and it's exciting, but that's about all I can tell you…it's stuff we're working on."
It should be noted that while label approval from the TTB is required before a whisky or other distilled spirit can be released for sale, applying for and receiving label approval does not automatically mean that that spirit will be produced.
Links: Buffalo Trace | Tax & Trade Bureau
---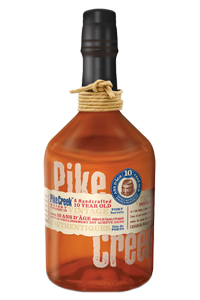 One of the new whiskies in the 2012 Canadian Whisky Awards was Pike Creek from Corby's (Pernod Ricard), distilled at the Hiram Walker Distillery in Windsor, Ontario under the supervision of Corby's Master Blender Dr. Don Livermore. As Davin de Kergommeaux says on his Canadian Whisky blog, Pike Creek resurrects one of the brands from Corby's Canadian Whisky Guild series originally introduced in the 1990′s. Now, Pernod Ricard USA plans to import Pike Creek into 10 U.S. states beginning in April.
Pike Creek is distilled in small copper column stills, then matured for 10 years in ex-Bourbon Casks before a short finishing period in Port Wine casks. The whisky won a Bronze medal in the Canadian Whisky Awards (disclosure: Mark Gillespie was one of the judges in the competition's blind tasting). It's bottled at 40% ABV, and look for Mark's tasting notes soon on the WhiskyCast web site.
Links: Pike Creek
---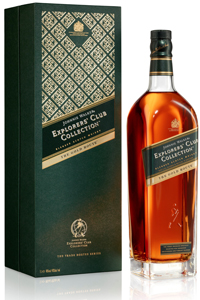 March 7, 2013 – The second edition in the Johnnie Walker Explorers' Club series of travel retail releases is now available worldwide. "The Gold Route" joins "The Spice Road", which was launched in November.
The Gold Route (not to be confused with Gold Label or Gold Label Reserve) was inspired by voyages taken by the Walker family and its agents through Central and South America, with a blend emphasizing tropical fruit flavors in balance with the traditional Johnnie Walker smokiness. It will be available in 1-liter bottles (40% ABV) at a suggested price of $95.
The third and final release in the Explorers' Club Series, "The Royal Route", will be available this summer.
Links: Johnnie Walker
---
Jefferson's Presidential Select, produced by Castle Brands, is releasing a new 21-year-old Bourbon with limited availability starting April 1, 2013. The whiskey comes from an unspecified distillery and casks ranging in age from 21 to 24 years old.
Read more »
---