Each week, we bring you the latest whisky news on WhiskyCast, but a lot can happen during the week. Now, you can keep up with whisky news as it happens here on WhiskyCast.com!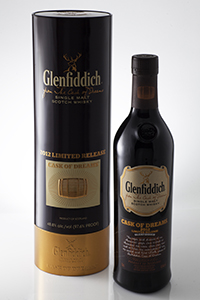 June 5, 2013 – Glenfiddich is releasing its 2013 Cask of Dreams limited edition bottling in the U.S. market, following a year-long competition during 2012 to encourage whisky lovers to share their dreams. While dreams submitted through the Glenfiddich web site have been written on the actual casks used in producing the 2013 bottling, 24 winners were selected to have their names and dreams featured on the Cask of Dreams bottle.
One lucky winner, identified only as "Trent", won $15,000 to achieve his dream of heli-skiing in Alaska's Chugach Mountain range. The Chugach range near Anchorage is home to Alyeska Resort, along with some of the most extreme skiing territory in North America, and a number of U.S. Olympic Ski Team members have come from the area, including 1994 gold and silver medalist Tommy Moe. (Editor's note: Mark skied at Alyeska once while living in Anchorage during the 90's, but his exploits were limited to the beginner's runs.) 
The original Cask of Dreams concept was created two years ago by Glenfiddich's U.S. team to honor the legacy of William Grant, who founded Glenfiddich in 1887 with a dream of creating the "best dram in the valley". The 2013 bottling was created by Malt Master Brian Kinsman from a series of American Oak casks, then finished in virgin American Oak casks. 6,600 bottles will be available at selected U.S. retailers with a suggested price of $99.
Links: Glenfiddich
---
June 5, 2013 – George S. Grant has been named a director of J&G Grant, the family business that owns Glenfarclas Distillery in Speyside. He's the sixth generation of the family to work in the business, and the son of current J&G Grant chairman John Grant.
George joined the family business in 1997, and now serves as sales director with responsibility for managing the company's sales worldwide. He also serves as the distillery's lead brand ambassador and travels around the world to promote Glenfarclas, which has seen sales grow by more than 75% over the last four years.
---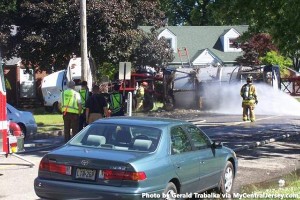 June 5, 2013 (Updated June 13)  – Police in Woodbridge, New Jersey are trying to figure out what caused a tanker truck hauling 6,000 gallons of Scotch whisky to flip and catch on fire at an intersection in a residential neighborhood today. Firefighters and a hazardous materials team responded to the accident within minutes, helped by the fact that the Fords Fire Company station was located within a block of  the accident scene. A photo of the scene on MyCentralJersey.com shows the aftermath of the crash, which set a small amount of whisky on fire when it spilled from a pressure relief valve on the top of the tank and ignited. The truck also hit a telephone pole and a parked car, which was also damaged in the fire.
The driver was working for B-Line Trucking of Newark, and suffered minor injuries in the crash. According to NJ.com, the company declined to comment on the accident.
Update: On June 18, Caspar MacRae of William Grant & Sons acknowledged in a phone interview with WhiskyCast's Mark Gillespie that the whisky in the truck was Clan MacGregor blended Scotch destined for the company's bottling facility in nearby Edison, New Jersey.
---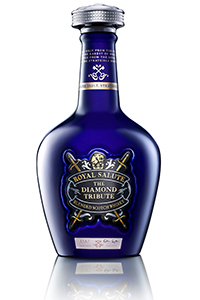 June 4, 2013 – As Britain's Queen Elizabeth celebrated the 60th anniversary of her coronation today, Chivas Brothers released a new expression in its Royal Salute range of luxury blended Scotch whiskies. The royal anniversary was marked at the Tower of London with a 62-round Royal Gun Salute, and not coincidentally, the first bottles of Royal Salute whisky were bottled in June, 1953 to mark the Queen's coronation.
Royal Salute The Diamond Tribute does not carry an age statement, but the casks that are used to make it are matured for a minimum of 21 years in a specially-designated (and locked) Royal Salute section of one of the warehouses at Strathisla Distillery in Speyside.
Royal Salute The Diamond Tribute will be available globally starting in July with a recommended retail price of $270 USD in travel retail.
---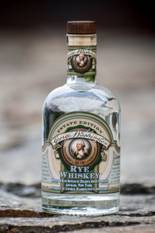 June 4, 2013 – Hillrock Esate Distillery, the Ancrim, New York-based farm distillery, is partnering with George Washington's Distillery at Mount Vernon in Virginia to produce a retail version of George Washington's Rye Whiskey. The historic distillery produces a limited amount of rye whiskey from Washington's original recipe each year for sale at Mount Vernon's gift shops, and demand for the whiskey is much greater than what the distillery can produce.
Dave Pickerell is the common bond between the two distilleries, serving as Master Distiller at both Mount Vernon and Hillrock Estate. He's using the same recipe at Hillrock Estate to create a pot-distilled rye whiskey with a small amount of Mount Vernon distillate added in to create "George Washington's Rye Whiskey – Estate Edition". The new whiskey will be available at retailers and bars in New York and Chicago, and through selected online retailers.
Hillrock Estate is also releasing its first single malt whiskey as well. Hillrock Estate Distillery Single Malt Whiskey uses the estate's organically-grown barley malted on-site. The distillery claims to be the only one malting its own grain grown on-site. The single malt whiskey is bottled at 48.2% ABV, and will be available at the distillery and through New York retailers. h a number of online retailers. A portion of the sales from the Estate Edition will go to support educational programs at Mount Vernon, and the distillery there will continue to produce whiskey to be sold at Mount Vernon as "George Washington's Rye – Limited Edition".
Hillrock Estate plans an open house on June 15 to showcase both whiskies, along with its initial release, a solera-matured Bourbon.
Links:  Hillrock Estate Distillery | George Washington's Distillery
---
June 13, 2013 – Denver's Stranahan's distillery has filled Barrel #5,000 after nine years of production, but reached the capacity of its original rickhouse long ago. The Denver Business Journal reports the Proximo Spirits-owned distillery has now opened a new warehouse in a former theater located across the alley behind the distillery.
Negotiations for the new warehouse took almost as long as a barrel of Stranahan's needs to mature, according to the report. The distillery's Kristin Forsch told the Business Journal that it took about a year and a half to close the deal for the warehouse, which is already filled to about 25% of capacity. Under the original owner, Jess Graber, it took five years to fill the first 1,000 barrels, but Stranahan's now fills that many each year.
Proximo Spirits bought the Stranahan's brand and distillery from Graber and his partners in 2010, and ratcheted back distribution of the whiskey to the Rocky Mountain region. Stranahan's had been available throughout the U.S. and in key export markets, but the distillery had trouble meeting demand. The distillery now produces about 10,000 bottles of its flagship whiskey each month, with the occasional "Snowflake" limited-edition bottling for sale only at the distillery in Denver.
---
June 3, 2013 – Final planning permission has been granted for restoration and construction work on the site of the future Kingsbarns Distillery near St. Andrews. Work will begin soon at the East Newhall Farm steading on the Cambo Estate, with construction of the distillery and visitors center expected to take around a year.
The project had languished for several years while founding director Doug Clement tried to find investors, but gained steam in January when Wemyss Malts accquired Kingsbarns and secured financing with help from a Scottish  Government economic development grant. During an interview in Episode 406 of WhiskyCast, William Wemyss noted that his family had been involved in the whisky industry for generations, but had never owned its own distillery until joining the Kingsbarns project. He expects the distillery to not only benefit from whisky sales, but from its natural location as a tourist destination near the legendary golf links in St. Andrews.
"There is no malt whisky distillery within an hour of St. Andrews, and St. Andrews has a very good area for tourism, both within the UK and from overseas, so we thought this area really deserved a malt whisky distillery."
Initial work at the site will focus on preserving the historic farm building's roof and stonework, following the grating of permits by Fife Council and Historic Scotland. Architectural work continues on the layout for the distillery, visitors center, gift shop, and cafe areas, according to a news release.
---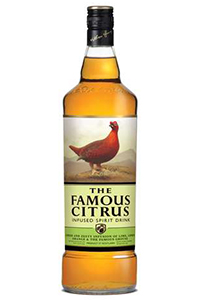 May 31, 2013 – Edrington's innovation team has experimented with several versions of The Famous Grouse in recent years, with a smokier version known as The Dark Grouse and lighter versions under The Snow Grouse and The Naked Grouse labels in some markets. Now, that team has jumped on the flavored whisky bandwagon, with a test of three flavored versions of The Famous Grouse in Sweden.
Just-Drinks.com reports the test was conducted with Sweden's state-controlled liquor system, and used three different variations with citrus, vanilla, and spice infusions. "The Famous Citrus" (shown here) was described as a "fresh and zesty infusion of lime, lemon, and orange and The Famous Grouse." The test expressions were sold in one-litre bottles at 35% ABV, according to the report.
The test comes as Dewar's and the Scotch Whisky Association remain at odds over the labeling for Dewar's Highlander Honey, a honey-infused drink based on Dewar's White Label intended for the U.S. market. That drink is labeled as "Dewar's Blended Scotch Whisky Infused with Natural Flavors", and the SWA's Gavin Hewitt told WhiskyCast in April that the label does not comply with U.K. laws banning the use of flavorings in "Scotch Whisky". Dewar's has countered that the labeling is legal under U.S. laws, and Highlander Honey will not be sold in the U.K.
As shown in the photo above, Edrington appears to be in compliance with those laws by labeling its test bottlings as "Infused Spirit Drink". As for any future availability of the Famous Grouse variations, Edrington officials told Just-Drinks.com that the project was only a test at this stage.
---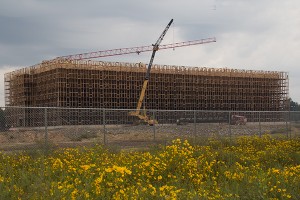 May 30, 2013 – Kentucky economic development officials have approved tax incentives for an expansion project at Maker's Mark Distillery and preliminary approval for the proposed Angel's Envy distillery project in Louisville.
The Louisville Courier-Journal reports Maker's Mark plans an $8.2 million upgrade, including another new 50,000 barrel warehouse at its maturation complex in Loretto. Maker's has already built three of the massive warehouses, and plans to build at least two more, according to Master Distiller Greg Davis in an interview with WhiskyCast's Mark Gillespie last September. The distillery also plans what is being referred to as a "state of the art rinse process" facility at the distillery designed to "extract additional gallons" from each barrel of whisky. However, the specifics on that process have not been made available.
The Kentucky Economic Development Finance Authority has approved up to $100,000 in tax rebates on construction materials and equipment for the Maker's Mark project. Meanwhile, the authority also gave preliminary approval to nearly $900,000 in assistance if the backers of Angel's Envy build their proposed distillery in downtown Louisville.
Angel's Share Brands LLC currently buys Bourbon stocks from other distillers for Angel's Envy, but has been planning to build a distillery since the brand was launched in 2011. According to Business First and the Courier-Journal, the authority gave preliminary approval today for up to $800,000 in employee tax withholdings for up to 10 years, along with $72,000 in state sales tax rebates. The plan would allow the company to keep state income taxes withheld from employee paychecks instead of passing that money along to the state, while the employees would still be credited with paying those taxes. Employee tax withholdings are a common form of economic development incentive, since they are directly linked to jobs created by a project. The Angel's Envy proposal calls for 40 new jobs with an annual payroll of $1.5 million over the first three years of operation, along with $10 million in capital investment to build the distillery.
Angel's Envy is produced by the Louisville Distilling Company, which is led by Wes Henderson, the son of former Brown-Forman master distiller and Angel's Envy creator Lincoln Henderson. The Hendersons have expressed a desire in previous WhiskyCast interviews to build a distillery in downtown Louisville, where local leaders are trying to bring back the city's historic "Whiskey Row" along Main Street. The area is already the site of the new Evan Eilliams Bourbon Experience scheduled to open this fall, and the backers of Michter's are trying to restore a historic Main Street building for use as a distillery. Wesley Henderson told the Courier-Journal today that a final decision on whether to move forward with the project has not been made.
---
May 29, 2013 – Every packaged food product sold in the United States includes information on its label about serving sizes, calories, the amount of fat, carbohydrates, protein and other nutritional content. That is…except for spirits, wine, and beer…which get their labeling standards from the Treasury Department's Alcohol and Tobacco Tax & Trade Bureau (TTB) instead of the Food & Drug Administration.
Until now, the TTB has restricted the use of nutrition information on labels for alcoholic beverages, despite numerous requests from beverage makers to do so. The agency is conducting a regulatory review process ("rulemaking" in regulator-speak) to set standards for so-called "serving facts" statements, and has now issued an interim rule allowing the use of those statements on labels and in advertising while the process is underway.
The agency has been concerned that allowing nutritional information for alcoholic beverages without context could be misleading to consumers. That context meant a label would have to include the calories, carbohydrates, protein, and fat levels based on a single serving, which was defined as 12 ounces for beer and malt beverages, 5 ounces for wine, and 1.5 fluid ounces for whisky and other distilled spirits. However, not all packaged drinks have the same level of alcohol content — such as a 12-ounce can of whisky mixed with cola at 5% ABV that would still have had to be labeled with the same 1.5 ounce serving size as a 750ml bottle of whisky.
The new standard means beverage companies will be allowed to use "serving facts" statements on their packaging with specific information on serving size (including the number of servings per container) and the percentage of alcohol in that recommended size. The change is not mandatory, and in many cases, adding the information to labels will not require a new TTB application for label approval.
For complete information on the changes, you can read the TTB's interim ruling here.
---