Each week, we bring you the latest whisky news on WhiskyCast, but a lot can happen during the week. Now, you can keep up with whisky news as it happens here on WhiskyCast.com!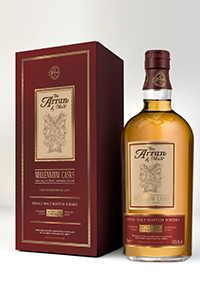 October 12, 2013 – Many of Scotland's distillers marked the end of the last Millennium with special casks filled around the start of the New Year in 2000, and Arran is the latest to bring one of those special projects to market. Arran's Millennium Casks bottling will be available on October 28, with just 7,800 bottles to be available worldwide.
"We decided to fill some casks on the very last day and then the very first day," Arran's Louisa Young said during an interview with WhiskyCast's Mark Gillespie at the Whisky Jewbilee in New York City. "This is something where it's a quite unusual collaboration with the casks and going from one millennium into the next."
Master Distiller James MacTaggart selected 35 ex-Bourbon casks and 10 ex-Sherry hogsheads filled on the two days for the bottling, which is being released with no chill filtering and at a cask-strength 53.5% ABV.
In addition, Arran will make a donation for each bottle sold to the Arran Trust, which preserves natural habitat on the Isle of Arran. "It's very much trying to put something back into the community," Young said. "We've done it with regeneration of the footpaths on the island before…hill walking is something very significant and it's something we believe from the small community that the island has and we being the only distillery, it's something that is important for us to do."
Links: Arran | Arran Trust
---
October 13, 2013 – When local regulators in the Fife town of Glenrothes gave planning permission for a new distillery to be built near the Fife airport earlier this year, little more was reported at the time about the project. Now, India's Business Standard reports the distillery is intended to be the focal point for a new global Scotch whisky brand to be launched by India's Kyndal Group.
Kyndal is controlled by the Banerji family, which built the company distributing spirits in India, Western Asia, and Africa and currently distributes most of Morrison Bowmore's Scotch whisky brands in the region. Managing director Siddharth Banerji told the Business Standard that Kyndal intends to launch the brand in that region by the end of 2013 using whisky sourced "from its partners," but will eventually sell whisky from the Fife distillery when it is available starting in 2018. Kyndal and its local partner, John Fergus & Co, Ltd. will invest most of the £6.7 million ($10.7 million USD) required for the first phase of the distillery project, and have already been approved for approximately £1.8 million in Scottish Government economic development grants.
The new distillery is expected to come on line in 2015. No name has been selected for the project, and we refer to it here as the "Fife distillery" to avoid potential confusion with the Glenrothes Distillery located in the Speyside town of Rothes.
Links: Kyndal Group
---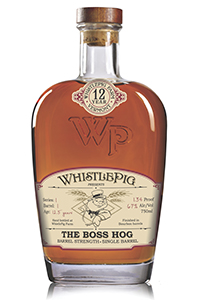 October 12, 2013 – WhistlePig Rye is extending its range of Rye whiskies with "The Boss Hog," a new single barrel uncut and unfiltered Rye whisky. The initial release comes from 24 casks selected by Master Distiller Dave Pickerell and bottled at WhistlePig Farm in Stoneham, Vermont.
"We've always gone after the best tasting Rye available, and this is the best of the best," Pickerell told WhiskyCast's Mark Gillespie during a launch party at The Flatiron Room in New York City. "Whenever we find some truly outstanding WhistlePig, it's going to go into The Boss Hog."
"It was a little gutsy putting it into the bottle at 134 proof (67% ABV), but it just gives you the opportunity to play with it like it deserves to really, really, really enjoy the fullness of the Rye."
Pickerell decided to release the whiskey at barrel strength after experimenting with it by adding a few drops of water at a time. "I put a drop in, and when I did, it peeled back a layer of the spice and it was still interesting, so I put another drop in and it peeled back a little more," Pickerell said. "I realized I'd been playing with this for half an hour, and I thought if I'm having so much fun with this, everyone else ought to have the ability to have fun with it, too."
The Boss Hog will be available in limited quantities at whisky specialist shops where WhistlePig Rye is sold at a recommended retail price of $150.
Links: WhistlePig
---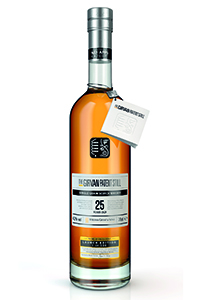 October 7, 2013 – Single grain Scotch whiskies can often be thought of as the stepchildren of the whisky industry. They're absolutely essential for the blending process, but often get hidden under the stairwell (to use a Harry Potter analogy) when company comes to visit. Very few ever make it to the market, but can be absolutely wonderful whiskies in their own right.
Bottlings of Girvan single grain whisky from William Grant & Sons' Girvan distillery on the southwest coast of Scotland are rare, and mainly available through independent bottlers. However, Grant's has now released what may well be only the second official bottling of Girvan, the Girvan Patent Still Single Grain 25 Year Old Scotch Whisky, and Just-Drinks.com reports that it's just the beginning for a new line of Girvan single grain bottlings.
The original Girvan patent still (also known as a Coffey still) was installed in 1963 by longtime Grant's icon Charles Gordon, and the release of this whisky celebrates the distillery's 50th anniversary. Girvan's output to this point has been used exclusively for blending purposes by the company, with the exception of a one-off bottling of the first production run from 1964. It is being bottled at 42% ABV, and will be available exclusively through UK whisky specialist retailers starting in November at a suggested retail price of £250 ($400 USD).
In the Just-Drinks.com story, Kevin Abrook of William Grant and Sons acknowledged plans to expand the Girvan range in 2014 with a no-age-statement bottling as well as a 30-year-old version. The company views single grain Scotch whiskies as a natural way for single malt enthusiasts to increase their repertoire, according to the story, and plans to price Girvan's bottlings at a similar level with their single malt counterparts.
Note: This story was edited on October 9, 2013 to include additional details from the Just-Drinks.com report. 
Links: William Grant & Sons
---
October 4, 2013 – Talisker Storm has hit the U.S. market, a year after it was introduced in Europe. The single malt from the Isle of Skye made its U.S. debut Wednesday night at Whisky Live Boston, in a debut that surprised even the brand's ambassadors on-site.
Talisker Storm is a smokier and peatier version of the standard Talisker expressions, and will be available as a permanent part of the Talisker lineup in the U.S. market. Storm carries no age statement, allowing Master Blender Jim Beveridge access to younger whiskies in the Talisker cask inventory.
Tasting notes will be available soon here at WhiskyCast.com.
Links: Talisker
---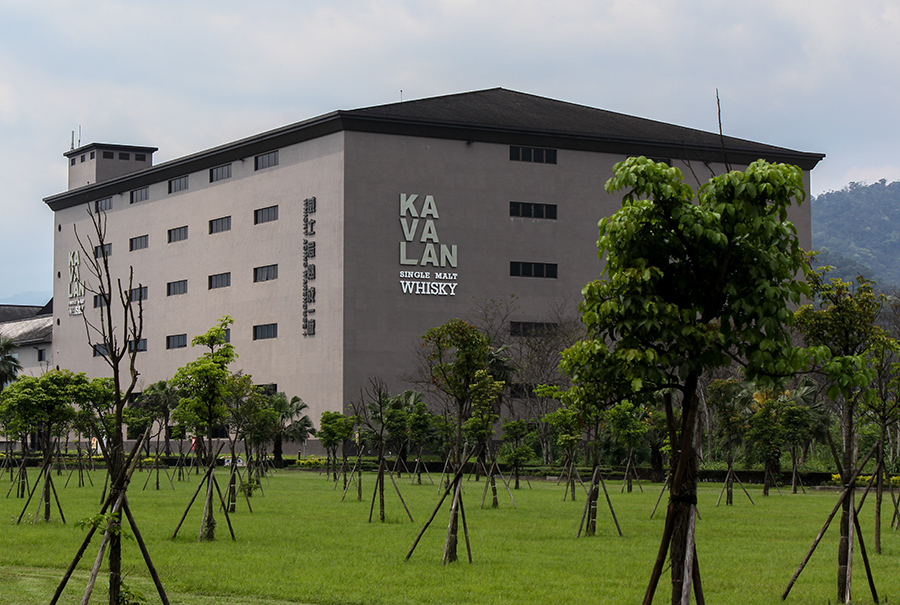 October 4, 2013 – King Car Distilleries has reached an agreement to export its award-winning Kavalan single malt Taiwanese whiskies to the United States.
The Lee family-owned company will work with San Francisco-based Anchor Distilling to distribute its whiskies in the U.S. market, with an initial launch expected in time for the holidays. King Car's master distiller and blender, Ian Chang, confirmed the deal in an email to WhiskyCast's Mark Gillespie, along with plans to pour his whiskies for the first time in the U.S. at WhiskyFest New York next weekend.
T.T. Lee and his son, Y.T. Lee expanded their family's food and drinks business to whisky production after Taiwan ended its state monopoly on liquor production when it joined the World Trade Organization in 2002, and the first casks were filled three years later. In 2010, a two-year-old bottling of Kavalan beat three-year-old Scotch whiskies in a taste test organized by the Times of London, and Kavalan's whiskies have gone on to win numerous awards in international competitions. The name "Kavalan" is derived from the indigenous people who populated the area around Yi-Lan, where the King Car Distillery is located next to the family's bottled water production plant.
For more on Kavalan's history, listen to interviews with Ian Chang in Episode 234 and Episode 310 of WhiskyCast, and you can see the distillery in the WhiskyCast HD feature on Kavalan.
Links: Kavalan | Anchor Distilling
---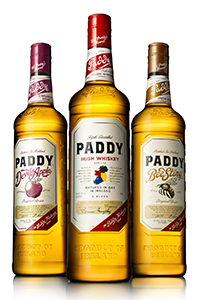 October 1, 2013 – Paddy Flaherty was a legendary Irish Whiskey salesman for the Cork Distilleries Company at the turn of the last century, traveling around Ireland to promote what was then called "Cork Distilleries Company Old Irish Whiskey." The name was just a bit unwieldy for many pub owners, who just referred to it as "Paddy's Whiskey" — and the Murphy family took the hint. They renamed it "Paddy" in 1913 in honor of Flaherty. While Paddy's distribution was limited to Ireland for many years after the Murphys, the Power family, and the Jameson family joined forces to create Irish Distillers in 1966, the brand has been slowly introduced to the U.S. and other export markets.
Now, Paddy is getting new packaging, along with two flavored variants (the first for Irish Distillers). The core expression remains a triple-distilled and triple-blended whiskey with Irish Pot Still whiskey, Irish Grain whiskey, and Irish Single Malt whiskey blended by Master Distiller Billy Leighton. However, the bottle now makes more reference to Paddy as "The Paddy Flaherty Whiskey", while still retaining the traditional map of Ireland on the front label.
Leighton has created two additional variations on Paddy with honey and apple flavorings. The U.S. and France will be the launch market for both expressions, but will have different names and labels for each market. In the U.S., the apple version will be branded as "Devil's Apple," while it will carry the "Spiced Apple" moniker in France. The honey version will be called "Bee's Sting" in the U.S. and "Irish Honey" in France. Both versions will be available in each country starting this month.
Links: Paddy
---
October 1, 2013 – Glenfiddich is releasing a new range of three single malts for the travel retail market. The lineup uses Glenfiddich's Solera-vatting process for all three malts in a dramatic change for the distillery, which has traditionally only used the Solera vats for its 15-year-old expression. The lineup also eschews age statements, in another major change for Glenfiddich.
Glenfiddich Select Cask uses a combination of ex-Bourbon, European Oak, and red wine casks. The Glenfiddich Reserve Cask uses Spanish ex-Sherry casks exclusively, while the Glenfiddich Vintage Cask brings together a combination of European Oak and ex-Bourbon casks with a rare touch of peatiness. All three will be available at 40% ABV.
In a news release, Glenfiddich Malt Master Brian Kinsman described the reason for skipping age statements with the new range:
"Creating whisky isn't only about age, it's about personal taste and flavour, and the Glenfiddich Cask Collection has evolved to give Glenfiddich drinkers the perfect combination of quality, satisfaction and choice. Glenfiddich has a long and illustrious history of innovation within the single malt category and these latest additions to our no-age range allow us to offer single malt aficionados the best of both worlds – whiskies crafted for their flavour, alongside whiskies bottled by their age."
The Select Cask and Reserve Cask expressions are being rolled out now in travel retail outlets worldwide, while the Vintage Cask will be available in April of 2014.
Links: Glenfiddich
---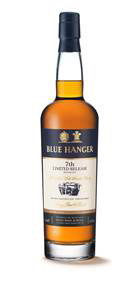 September 30, 2013 – Berry Bros. & Rudd, the London-based wine and whisky merchant, will export an edition of its Blue Hanger blended malt Scotch whisky to the US market for the first time. The 7th edition of Blue Hanger will be available only in the U.S. market , with 3,088 bottles to be available at a suggested retail price of $99.99.
The whisky is named after William "Blue" Hanger, the Third Lord Coleraine. It was created by Berry Bros. & Rudd spirits manager and whisky blender Doug McIvor initially in 2003, with five subsequent editions available only in Europe. The 7th edition contains whiskies from Bruichladdich, Bunnahabhain, and Miltonduff, and is bottled at 45.6% ABV.
Links: Berry Bros. & Rudd
---
September 29, 2013 – Diageo has reportedly been working on a plan for reopening the long-closed Stitzel-Weller Distillery in Louisville, Kentucky. Now, WhiskyCast has learned that those plans may need to be accelerated in order to provide a source of whiskey for the company's Bulleit Bourbon brand.
Bulleit Bourbon has been distilled at Four Roses Distillery in Lawrenceburg, Kentucky, on a long-term supply contract first negotiated when Tom Bulleit founded the brand in 1987 using a recipe handed down by his great-great-grandfather. Diageo inherited that supply contract when it acquired the brand from Bulleit, and has continued to source its whiskey for Bulleit from Four Roses ever since. However, reliable sources indicate that Four Roses has exercised a six-month notice clause to end the supply contract at the end of March, 2014.
Four Roses master distiller Jim Rutledge declined to comment on the report Wednesday at Whisky Magazine's Icons of Whisky luncheon in Louisville, but acknowledged that his team is working on plans for an expansion of the distillery's capacity to meet the long-term needs for Four Roses. When the original contract was negotiated, Four Roses was still under Seagram ownership and only sold in export markets. The brand's current owners reintroduced Four Roses into the U.S. market starting in 2006, and sales have grown at double-digit rates over the last three years.
Two years ago, Diageo invested in the Bulleit Experience education center at the Stitzel-Weller complex, turning the distillery's main office building into a showcase for the brand. While currently used only for trade education, Tom Bulleit has said that the facility was designed so that it could eventually be open to the public at some point. Diageo matures the whiskey it sources from Four Roses at the Stitzel-Weller warehouses, but the distillery itself has been closed because of asbestos contamination and other environmental issues. Sources have indicated that there are plans in the works to resolve those issues and reopen the distillery, but Diageo spokesmen have declined to comment on those reports.
The company has no other distilleries in Kentucky, and with all of the other major distilleries in the state running at capacity, it's not clear where Diageo would be able to source whiskey within the state and still be able to call the final product a "Kentucky Straight Bourbon." U.S. law requires that whiskey be distilled and matured entirely within a single state to be allowed to carry the name of that state on its label. In fact, Bulleit Rye  does not carry the name of a state for that reason — it is produced at the MGP-I (formerly LDI) distillery in Lawrenceburg, Indiana.
Our attempts to reach Tom Bulleit, who remains the key spokesman for Bulleit Bourbon, have been unsuccessful. This story will be updated as more information becomes available.
Links: Bulleit | Diageo | Four Roses
---