Each week, we bring you the latest whisky news on WhiskyCast, but a lot can happen during the week. Now, you can keep up with whisky news as it happens here on WhiskyCast.com!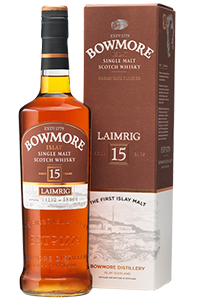 January 4, 2014 – Bowmore is continuing its recent trend of Gaelic-named whiskies with Laimrig, a 15-year-old single malt. The whisky's name comes from the Scottish Gaelic word for "pier", and honors the historic stone pier at the distillery on the shores of Loch Indall.
Laimrig was finished in Spanish Oak ex-Sherry butts, and is bottled at 53.7% ABV. 18,000 bottles are being released worldwide through whisky specialist retailers.
Links: Bowmore
---
December 23, 2013 – Charles Gordon, one of the pioneers of the Scotch whisky industry, has died at the age of 86 in New York City. Gordon was the great-grandson of William Grant, the founder of William Grant & Sons, and served as the company's life president upon his retirement as chairman in 2008. He joined the family-owned company's board as a director in 1953.
Gordon is widely credited with turning single malt Scotch into a worldwide drink when he decided to put the company's marketing muscle behind Glenfiddich 50 years ago, labeling it as a "single malt" for the first time. While some malts were exported outside Scotland previously, Glenfiddich became one of the first with a global presence and helped pave the way for the global boom in single malt sales. In a statement, his son and current company chairman Glenn Gordon praised his father's legacy:
"We are all very proud of my father's achievements in his very full and energetic lifetime, and give thanks for the legacy that he has left us with. He touched the lives of many, many people and will be sorely missed by all. In our family and our business, which my father always intertwined, he very much believed in a spirit of partnership. In his memory, we will continue to build this spirit, and with it our independent family business, for future generations".
Gordon was also responsible for overseeing construction of the company's Girvan grain whisky distillery in 1963, which became the principal source of grain whisky for the Grant's blended Scotch whiskies. He was noted for riding his bicycle around the distillery grounds to supervise the construction, and some historians note that workers responded by welding the bicycle to one of the distillery's cooling towers on the first day of production. Ironically, that day was December 25, 1963 — and Gordon passed away almost 50 years later to the day. William Grant & Sons marked the 50th anniversary of Girvan's commissioning this year with the first official distillery bottling of Girvan single grain whisky, and plans to release several more expressions in 2014.
A personal note to show the esteem his employees had for him…several years ago, I had asked a William Grant & Sons executive in New York City to help me arrange an interview with Charles Gordon. While we were discussing the idea and Mr. Gordon's likely reticence, he told me Mr. Gordon would probably want to know my questions in advance. As a longtime journalist, I told him that I never give questions in advance…even when I interviewed the President of the United States in 1992. He responded "But Charlie is far more important than the President!" Regrettably, we never got a chance to do the interview.
Our condolences go out to the Gordon family and everyone at William Grant & Sons.
Links: William Grant & Sons
---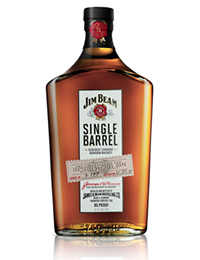 December 18, 2013 – Jim Beam has a lot of different Bourbon variations, but there's always been one thing missing from the lineup…until now. Starting in March, there will be a single barrel version of Jim Beam available for the first time. The launch follows on the success of Knob Creek's single barrel version introduced several years ago.
Jim Beam Single Barrel will be bottled at 47.5% ABV (95 Proof), and carry a recommended retail price of $34.99 (750ml). In an interview with WhiskyCast's Mark Gillespie, Beam's Fred Noe said the single barrel version will be aged longer — between 5 and 7 years, and bottled at a higher proof than the regular Jim Beam White Bourbon.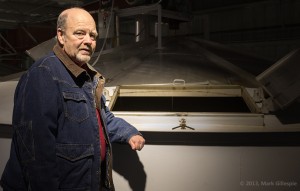 "We're picking barrels from the outer edges of the rack house," Noe said. "The regular Jim Beam, we do a vertical cross-section from high, middle, and low-storage barrels…when we do these single barrel selections, we're picking barrels from higher storage areas and lower, then bottling them from those areas. You're getting some variation, and that's the key, you know, getting a little bit of variation with Single Barrel."
In addition, visitors to the Jim Beam American Stillhouse in Clermont, Kentucky will be able to hand-fill their own bottle starting in February, with sales of full barrels expected to begin by the end of 2014. Noe said barrel customers will be able to sample and select their own barrel, which will be bottled for them at the distillery. The Stillhouse has offered hand-bottling of Knob Creek for almost a year, but this will be the first time that visitors have been able to fill a bottle of Jim Beam at the distillery.
Links: Jim Beam
---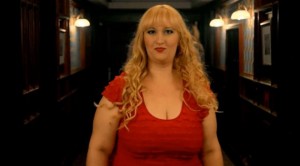 December 17, 2013 – Just a week after the Dewar's "Meet The Baron" online video captured the attention of social media users and sparked a grassroots protest that led to the ad being pulled off the Internet, the U.S. spirits industry's leading trade organization has ruled on a complaint over the ad. The Distilled Spirits Council's Code Review Board reviewed the ad on Monday and ruled that it violates the body's Code of Responsible Practices, specifically a section banning the use of sexist images or content:
Beverage alcohol advertising and marketing materials should not degrade the image, form, or status of women, men, or of any ethnic, minority, sexually-oriented, religious, or other group.
"Meet the Baron" was produced for Dewar's by the Montreal-based Sid Lee ad agency, and shows the suave, charismatic "Baron" helping an ordinary man through a series of challenging situations, including one where a large blonde woman approaches him at a bar and a second showing the duo with a group of "Swedish bikini models."
Canadian whisky blogger Johanne McInnis filed the complaint with DISCUS, even though Dewar's and its parent company Bacardi removed the ad from YouTube and other web sites on Wednesday (December 11).  McInnis provided WhiskyCast with a copy of the email she received Tuesday from DISCUS staff member Lynne Omlie:
Dear Ms. McInnis:

Once again, thank you for using the Code Review Board process.  The Board convened yesterday to deliberate upon your complaint regarding the "Meet the Baron" advertisement and found that video in violation of the Responsible Content Provision No. 24 of the DISCUS Code of Responsible Practices for Beverage Alcohol Advertising and Marketing.  As you are aware, the advertiser already had removed the video from the digital medium where it was posted.  If you have any questions concerning the Code Review Board's action and/or otherwise, please do not hesitate to call.

Best regards,
Lynne
After withdrawing the video, Bacardi and Dewar's issued a statement describing the "Baron" video as "representing a camaraderie that is important to our target consumer," and while not apologizing for the ad, acknowledged that not everyone might agree with it. After our original story on the DISCUS Board's ruling Wednesday evening, Dewar's and Bacardi issued the following statement through their PR firm:
Bacardi U.S.A., Inc. is proud to be a longstanding member of Distilled Spirits Council of the United States ("DISCUS"), the self-governing body for the liquor industry that helps brands like DEWAR'S maintain responsibility in its advertising and marketing practices.  On December 16th, the DISCUS Code Review Board reviewed our DEWAR'S 'Meet the Baron' online video and found it to be in violation of the DISCUS Code.

We value our consumers feedback, whether it's critical or complimentary and we consistently review feedback received from our consumers.  Due to our internal review, we had already removed 'Meet the Baron' from our YouTube page prior to the DISCUS Code Review Board's decision.  While we strive to be inclusive of many demographics, we have a wide array of consumers who respond to a variety of unique and focused marketing messages, in different ways. As the world's most awarded blended Scotch whisky, DEWAR'S embraces its responsibility to both its consumers, the DISCUS Code and to the industry.
The DISCUS Code Review Board is made up of spirits industry executives, and self-polices the industry with the backing of federal regulators. Its sanctioning authority is limited to asking that an ad be revised or withdrawn, which can cost a company tens or hundreds of thousands of dollars in production costs and cancelled advertising orders. DISCUS spokesman Frank Coleman told WhiskyCast in an interview last week that the Board has had 100% compliance with rulings from the group's member companies, with significant compliance from non-member companies. This is the board's second ruling of the year, and the first for a whisky ad since Wild Turkey's "Give 'Em The Bird" ads in 2011.
Links: DISCUS | Dewar's | Bacardi | Sid Lee
---
December 17, 2013 – The Macallan brags about its "Six Pillars" of quality, and has now released the fifth of six "Six Pillars" expressions in conjunction with Lalique. The latest in the series is "The Spiritual Home", a 62-year-old Macallan distilled in 1950, matured in American Oak sherry casks, and bottled at 53.1% ABV in an exclusive Lalique crystal decanter. It is named after the Easter Elchies mansion on the grounds of the Speyside distillery, which is said to be The Macallan's spiritual home.
Since 2005, The Macallan has released 50, 55, 57, and 60-year-old single malts in bespoke Lalique crystal decanters honoring one of the "Six Pillars". The bottlings have been highly sought by collectors, and the latest release carries a recommended retail price of ¢16,000 ($26,000 USD) in the UK, where 400 decanters will be available through whisky specialist retailers. There has been no word on how many decanters will be exported to other key markets around the world, including North America and Asia.
Last month, Edrington announced plans for a £150 million expansion project at The Macallan that will include a completely new distillery adjacent to the current one, which will be mothballed for future use when the project is completed in 2017.
Links: The Macallan
---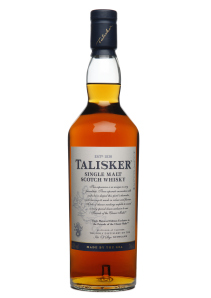 December 17, 2013 – With the 2013 special releases from Diageo's Classic Malts range still working their way to retailers, the largest Scotch whisky producer is now working on a new series of single malts. The "Friends of the Classic Malts" range is being launched with triple-matured expressions from Talisker and Royal Lochnagar distilleries, and will only be available to members of the Friends of the Classic Malts affinity group in the UK, Switzerland, and Germany through online retailers or to any member visiting one of the distilleries.
Both whiskies were initially matured in refill casks, then spent an undisclosed amount of time in charred American Oak hogsheads before being transferred to refill European Oak casks for final maturation.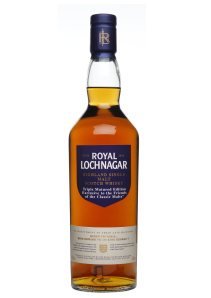 An additional three whiskies will be announced next month, and will be available during the first half of 2014. Diageo plans to release just 24,000 bottles of all five whiskies at a price of £80 ($130 each). Members will be limited to purchasing just two bottles of each release.
In addition, Diageo has named the first brand ambassador for Mortlach's new range of single malts to be released in July. Georgie Bell is leaving her role as global brand ambassador for the Scotch Malt Whisky Society to join Diageo. In a news release, Diageo Global Brand Ambassador Ewan Gunn touted Bell's work promoting the SMWS across the world.
"We are all delighted that Georgie, with her extensive knowledge of the production, marketing and communications sides of the Scotch whisky industry, has agreed to join us and support our significant new initiative for Mortlach. In her short time as roving brand ambassador at the SMWS, Georgie has made a huge impact on the whisky world, engaging influencers and consumers in many key global markets, and deploying her knowledge, energy, passion and experience  of the luxury spirits sector to promote Scotch whisky. She will have a key role to play, alongside our other Global Brand Ambassadors, in the promotion of Mortlach."
Bell was the Society's first global ambassador, and will join Diageo in January. Her successor at the Society has not been named.
Links: Classic Malts
---
December 15, 2013 – The U.S. spirits industry's trade organization will review a complaint filed by Canadian whisky blogger Johanne McInnis against Dewar's and its parent company, Bacardi, over the controversial Dewar's "Meet The Baron" online video. The complaint accuses Dewar's of violating the Distilled Spirits Council of the United States Code of Responsible Practices for spirits marketing and advertising. The ad was removed from the web within 24 hours after a social media-fueled protest, along with criticism from several advertising industry observers.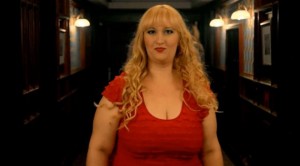 As previously reported, "Meet The Baron" features a suave, charismatic man who guides another Dewar's drinker through a series of challenging situations, including one where the "Drinking Man" is approached by a large woman at a bar and steps in to deflect her attention. The voiceover refers to the Baron as being ready to "jump on an explosive" for his friends…a reference to an entry in the Urban Dictionary for "jumping the grenade." In an interview with WhiskyCast's Mark Gillespie, McInnis blasted the ad for insulting women.
"When I found out what that meant, that's when I really got angry, because it literally means and I'm using the definition, it means to save your friend from the ugly fat chick, so that's the first time in my mind that I can think of a whisky ad that blatantly degrades women that are not what society considers (attractive)," McInnis said. "That's what the majority of us really look like…we're not all a size zero Swedish bikini model, which is what the end of the ad actually says…the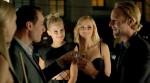 wingman shows up with three Swedish bikini models that are in tight black dresses and that are very pretty, and are all size zero. For me, the message was kind of saying that it's not OK to be a big girl and you're not worthy of Dewar's, but if you're a Swedish bikini model, well then the wingman will allow you that opportunity to drink some Dewar's with the whisky man."
Dewar's and Bacardi withdrew the video on December 11, and sent this statement to reporters and others who inquired about the video:
Regarding your inquiry about the DEWAR'S 'Meet the Baron' video, we value your feedback, whether it's critical or complimentary, and appreciate your effort in taking the time to write to us.

While we strive to be inclusive of many demographics, we have a wide array of consumers who respond to a variety of unique and focused marketing messages, in different ways.
The Baron – represents a camaraderie that is important to our target consumer, and is one character under 'The Drinking Man's Scotch' campaign, which features a strong and successful female icon as the spokesperson for the brand.
We understand our communications may not always appeal to everyone; however, it is feedback like yours that allows us to continuously evaluate our marketing efforts – upon further review we have decided to remove the video from our YouTube page.

Again, thank you for taking the time to write to us.

Best regards,
The Dewar's Team
McInnis' complaint to DISCUS is based on specific language in the Code of Responsible Practices:
Beverage alcohol advertising and marketing materials should not degrade the image, form, or status of women, men, or of any ethnic, minority, sexually-oriented, religious, or other group.
DISCUS spokesman Frank Coleman told WhiskyCast that the complaint will be reviewed by the group's Code Review Board, which is made up of executives from DISCUS member companies. While that may seem like a highly favorable jury for Dewar's, Coleman points out that the vast majority of Code complaints come from within the industry, and the board's rulings have a 100% compliance record among DISCUS member companies with substantial compliance from non-member companies.
The board's sanctioning power is limited to requesting that an offending ad be withdrawn or revised to comply with Code standards, which can cost a company tens or hundreds of thousands of dollars or more in production costs and expenses to change ad placements. In addition, all board decisions and complaints are posted on the DISCUS web site for public review, and Coleman said that also serves as an incentive for companies to comply with the code. The last whisky producer to face a Code review was Wild Turkey in 2011, after another member company filed a complaint over Wild Turkey's "Give 'Em The Bird" ads featuring people displaying a raised middle finger. The Code Review Board ruled that the ads violated the "good taste" standards of the Code, and Wild Turkey withdrew them.
Editor's note: The original version of this story listed Opperman Weiss as the ad agency responsible for the "Meet the Baron" video based on reporting from Business Insider. While Opperman Weiss created other ads in the Dewar's U.S. campaign featuring actress Claire Forlani, Business Insider's Richard Feloni reports the "Baron" ad with Forlani was created by the Montreal-based Sid Lee agency. 
Links: The Whisky Lassie | Dewar's | DISCUS | Opperman Weiss | Sid Lee
---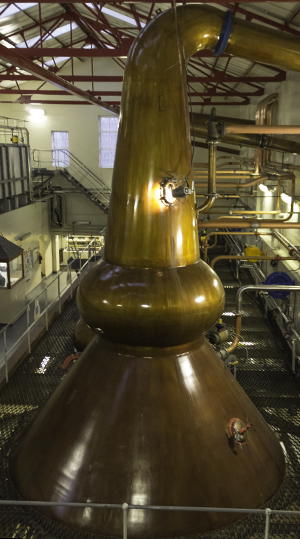 December 15, 2013 – Outgoing Scotch Whisky Association chief executive Gavin Hewitt has a message for his members on his way out the door: you're still not investing enough in your businesses. In an interview with The Scotsman's Scotland on Sunday, Hewitt praised the nearly £2 billion ($3.26 billion USD) in planned and ongoing investments by Diageo, Edrington, Pernod Ricard, and other Scotch whisky producers. However, he told the paper that demand in Asia and Africa between now and 2030 will likely outpace the current rate of growth in production capacity.
"That investment gives me a lot of confidence and it is obviously going in the right direction. But, if anything, I don't think we are being bullish enough. If I'm right in expecting a hell of a lot of extra demand for exports from Asia to Latin America in future, I don't think as it stands it is enough to keep up with the potential demand down the road."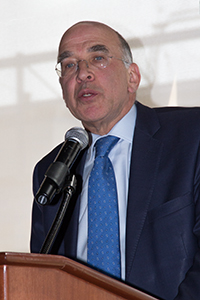 During a November 12 interview with WhiskyCast's Mark Gillespie at the SWA offices in Edinburgh, Hewitt cited the growing economic power of the middle class in whisky's developing markets for his optimistic outlook:
"Scotch is different from your usual national drinks, and I use Brazil…cachaca, Mexico…tequila, Russia…vodka, Chinese white spirits. If you're wanting to make a statement about who you are and what you are, that you're now a middle-class person, you are aspirational, you are global…then you're actually going to choose to make that statement in a drink which isn't properly your national drink, which means effectively it's very often a brown spirit. And what is the most global brown spirit? What is the most high-quality premium brown spirit? Scotch."
Scotch whisky exports set a record in 2012 at £4.27 billion ($6.96 billion USD). Hewitt predicts another record year when 2013 data is released despite economic and political setbacks in some markets such as China, where Communist Party leaders have ordered cutbacks in spending on luxury items by national and regional leaders. Hewitt predicts that number will double by 2025 to nearly £9 billion in exports annually.
Hewitt will step down on January 1, 2014, and be replaced by former UK international trade director David Frost.
Links: Scotch Whisky Association
---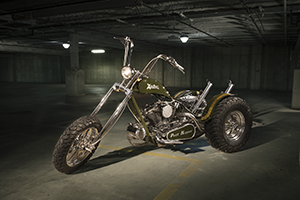 December 14, 2013 – Ardbeg's fleet of unusual vehicles has included two choppers, a tractor, and even a rocket. Now, the Islay single malt is returning to its motorcycle-based roots with the new "Peat Hopper" three-wheeler. The Peat Hopper made its debut on CMT's "Orange County Choppers" reality show December 7, with Ardbeg U.S. brand manager Gregor Mina commissioning the famed Southern California motorcycle shop to create another unique vehicle.  Orange County Choppers created the original Ardbeg Choppers that toured North America, with one given away to an Ardbeg fan in a 2011 drawing.
"What we wanted to do was create something with a lot of 'wow', big and fast and loud," Mina told WhiskyCast in an interview. "We wanted to rekindle our past relationship with Orange County Choppers and really take that to the maximum level that we could. It's not a tractor, it's not an all-wheel-drive vehicle, it's not a chopper…it's something like the love child of all three."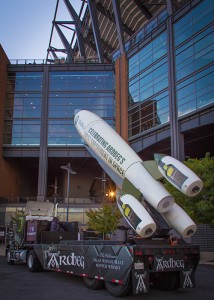 The Peat Hopper will go on tour starting in March with plans to visit bars and liquor stores in 26 states through December. It will replace the Ardbeg Rocket, which has been touring for the last two years. While Mina won't say what will be done with the Rocket, he hinted that it might be brought out of retirement when the Ardbeg spirit that has been orbiting on board the International Space Station is brought back to Earth. The spirit was sent into space in the spring of 2012 as part of an experiment with the NanoRacks research firm to study the impact of micro gravity on the interaction between molecules in the whisky known as "terpenes" and charred oak. The spirit is contained in glass vials on the Space Station, and chips of charred oak were put into the vials with the spirit. The experiment was originally scheduled to last at least two years, and no firm date has been announced for the vials to be returned to Earth for examination.
Editor's note: The "Orange County Choppers" episode featuring the Peat Hopper is available to view online. However, broadcast rights may restrict online viewing outside of the United States. 
Links: Ardbeg | Orange County Choppers
---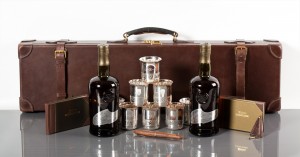 December 13, 2013 – Single malts from Islay led the bidding at the final McTear's whisky auction of the year on December 11 in Glasgow, with a rare Ardbeg package taking the highest bid. The 2007 release of Ardbeg Double Barrel included two single cask bottlings from 1974, along with a bespoke leather shotgun-style case from Purdey and Sons and 8 sterling silver cups from Hamilton & Inches. Only 250 Double Barrels were produced, and #32 in the series went for £6,000 ($9,780 USD).
Runner-up honors went to a 1964 Bowmore 35-year-old single malt bottling that easily outpaced pre-auction estimates with a high bid of £5,000 ($8,150 USD). A rare bottle of Smith's Glenlivet distilled in 1899 and bottled for shipping to Australia in 1912 fetched a bid of £3,400 ($5,540 USD), while bidding for Macallans was led by a 1950 bottling from Gordon & MacPhail at £2,800 ($4,562 USD). Other lots generating interest included bottles of Laphroaig 40-year-old and The Macallan Royal Marriage 1981, which went for £1,900 ($3,096 USD) each.
One item that did not sell was a rare Tomintoul recognized by the Guinness Book of World Records as the "World's Largest Bottle of  Single Malt Whisky." The 105.3 litre bottle was produced for The Whisky Castle and Clockhouse Restaurant in Tomintoul, and has been on display at the Scotch Whisky Experience in Edinburgh for the last year. McTear's had set a pre-auction estimate of between £100,000 and £150,000 for the one of a kind bottle, but it failed to meet the sellers' pre-established reserve price.
McTear's will hold its first whisky auction of 2014 on January 29.
Links: McTear's
---