Each week, we bring you the latest whisky news on WhiskyCast, but a lot can happen during the week. Now, you can keep up with whisky news as it happens here on WhiskyCast.com!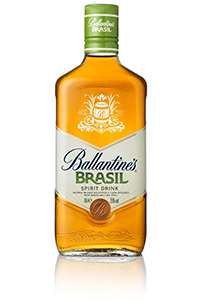 December 3, 2013 – While most entries in the flavored whisky category so far have focused on honey, spices, or maple accents, Ballantine's is taking a different tack with a Brazilian-influenced lime-flavored "spirit drink". Ballantine's Brasil is the first entry into this category for Chivas Brothers, and uses Scotch whisky infused with Brazilian lime peel. The drink will be launched starting this month in the Czech Republic, The Netherlands, and other key markets, with a global rollout planned for February.
In a news release, Ballantine's Global Brand Director Peter Moore said the new drink is intended to attract new Scotch drinkers while still appealing to the traditional Ballantine's consumer:
"There is a huge opportunity for spirit drinks that are made with whisky, as it's an exceptionally dynamic new category that is already demonstrating a strong rate of growth. Ballantine's Brasil is a venture into new territory for us, but we're excited to have a product that can take advantage of this opportunity and one that can truly inspire those who have not yet found their perfect way to enjoy a Scotch whisky drink. We hope that Ballantine's Brasil will excite a new generation of consumers with the combination of Scottish authenticity and Brazilian passion!"
This is the second Scotch whisky-based "spirit drink" to enter the market, following the introduction of Dewar's Highlander Honey earlier this year. While the Dewar's labeling caused some concerns with the Scotch Whisky Association because of its prominent tie-in with a specific brand of Dewar's and minimal use of the "Spirit Drink" designation, the Ballantine's entry clearly defines itself as a "Spirit Drink" on the front label. UK and European laws do not allow the addition of flavorings to "whisky", which is the reason for labeling these expressions as "Spirit Drinks".
Links: Ballantine's Brasil
---
December 3, 2013 – A Karuizawa single malt from Number One Drinks Company has ended GlenDronach's three-year streak of top honors in the 11th annual Malt Maniacs Awards. In blind judging, members of the Malt Maniacs selected a 1973 Karuizawa single cask bottled in 2013 by Number One Drinks Company for the Supreme Award in the Ultra Premium category (whiskies priced above €150 ($204 USD). Kavalan's Solist Sherry Cask (#S06082) took the Supreme Award in the Premium category for whiskies priced between €51-150 ($69-204 USD), while Aberlour's A'Bunadh Batch #45 won the Supreme Award in the Daily Dram category for whiskies priced at €50 ($67 USD) or below.
The Malt Maniacs competition is generally regarded as one of the toughest to win a gold medal in, with fewer than 10% of entries winning gold medals on average. This year, only four whiskies won gold medals with average scores above 90 from . In addition to the Karuizawa and Kavalan bottlings mentioned above, gold medals were awarded to the Glenfarclas 1989 Family Cask (bottled in 2012) and a Yamazaki 1993 single cask bottled for La Maison du Whisky in Paris. In addition to the Supreme Awards in each category, awards are given for the best Sherried Whisky, the best Peated Whisky, the best "natural cask" whisky, and the "Thumbs-Up" award for whiskies which show unusual merit while not fitting into one of the other award categories.
This year's judging panel was made up of ten amateur members of the Malt Maniacs, a global group of whisky connoisseurs formed in 1997.  A complete list of award winners and medalists is available at the Malt Maniacs web site, along with the scores from each judge.
Editor's note: WhiskyCast's Mark Gillespie has been a member of the Malt Maniacs since 2008, but does not participate as a judge in the annual awards.
Links: Malt Maniacs
---
December 2, 2013 – For the first time since the theft of around $26,000 worth of Pappy Van Winkle whiskey was reported from Buffalo Trace Distillery in October, a reward is being offered in the case. During a news conference today in Frankfort, Franklin County Sheriff Pat Melton told reporters that a $10,000 reward is being offered for information leading to an arrest and conviction. According to the Louisville Courier-Journal, Melton said $9,000 was posted by an anonymous donor, with the rest by Bluegrass CrimeStoppers.
No arrests have been made, and none of the stolen whiskey has turned up since the theft was reported. Melton's investigators have interviewed more than 100 potential suspects in the case.
This story will be updated as more information becomes available.
Links: Old Rip Van Winkle Distillery | Franklin County Sheriff's Department | Buffalo Trace
---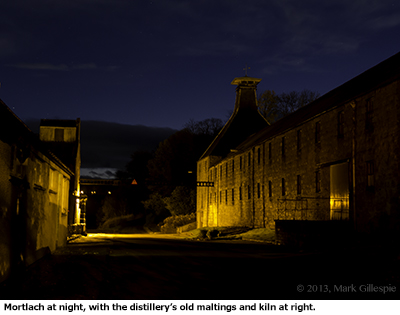 December 2, 2013 – Ask any member of Diageo's Scotch whisky team which distillery whisky lovers beg them to most to make available as a single malt, and the answer is likely to be Mortlach. The distillery is one of the legendary "Seven Stills of Dufftown", and its whisky has been prized by blenders for decades because of the muscular quality it gives their blends with its rich and beefy texture. While small amounts of Mortlach have been released as official distillery bottlings in the past, that is about to change.
Diageo's Scotch whisky team intends to make Mortlach a major competitor in the global market for single malts, and is announcing today that four Mortlach expressions will be available starting in July of 2014. The range will include Mortlach Rare Old, a no-age-statement single malt, 18 and 25-year-old expressions, and Rare Old Special Strength as an exclusive to the travel retail market. Rare Old, Mortlach 18, and Mortlach 25 will be available in North America, Northern Europe, and the Asia-Pacific region, along with the global travel retail market. Pricing has not been announced yet, but is expected to be competitive with similar malts.
"You think about how we've used Mortlach in blends, and how the Walkers and the blending houses going back hundreds of years will have used Mortlach in blends," Diageo whisky blender Dr. Matthew Crow said in an interview with WhiskyCast's Mark Gillespie. "It's used at different ages, it's used with different wood types trying to draw out different characters…and if you think about the possibility in terms of the options that opens up to you as someone who's going to try and create a single malt from there, it's just so much opportunity for working with flavor." Diageo executives describe the Mortlach launch as the company's most important Scotch whisky venture since the launch of the Singleton range 10 years ago and the original launch of the Classic Malts series 25 years ago.
Mortlach is known for its beefy, muscular character that can add texture and depth to a blend, but Crow and his colleagues used a variety of casks to bring out other elements of Mortlach while keeping the distillery's traditional strengths. The four expressions offer a varying palate of fruitiness, along with tropical touches of coconut, banana, and spices.
Crow and his colleagues are balancing their needs for Mortlach casks to be used in the various Johnnie Walker blends with the need for casks to be used in the new single malt expressions, but that will become less of a problem over time. Diageo managers are finishing plans for a multi-million dollar expansion at Mortlach that will double the distillery's annual production, with a second still house to be built starting later this year. The new still house will replicate the original set of six stills with the unique Mortlach method of distillation, which combines three different distilling streams using a complex series of still runs.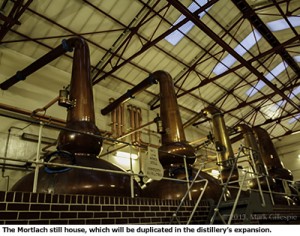 "It is really complex, and that's what the uniqueness is, as well as worm tubs…which we have going out the back as the way we cool the spirit also helps," Mortlach manager Sean Phillips said in an interview. "But the extra distillation process is one of the biggest keys." The new still house will be built next to the current one, on a site currently occupied by two maturation warehouses. Those warehouses are in the process of being demolished and recycled, with construction of the new distillery to begin in the fall of 2014 assuming that planning permission is received in time.
The original Mortlach distillery was licensed in 1823, and is the oldest licensed distillery in Dufftown. George Cowie, known for his engineering work in developing Great Britain's railway system, became the distillery's sole owner in 1867. His son Alexander later took over the distillery in 1896, and used his training in chemistry and medicine to create the "2.81 times distillation" technique that is still used today. Alexander Cowie later sold the distillery to John Walker & Sons in 1923, making Mortlach one of only two distilleries the Walker family owned (along with Cardhu) before merging their business into the Distillers Company Limited in 1925.
For more on this story, including a tour of Mortlach with Sean Phillips and Steve McGingle, listen to Episode 454 of WhiskyCast. Tasting notes for the four Mortlach expressions are available in the Tasting Notes section at WhiskyCast.com.
Editor's note: WhiskyCast's Mark Gillespie was one of a few whisky writers invited to visit Mortlach as a guest of Diageo for a preview of the plans for the Mortlach single malts in mid-November, and this story was subject to an embargo until December 2, 2013. However, WhiskyCast retained complete editorial control over all of the content in this story. For more details, please read our Statement of Principles. 
Links: Diageo
---
November 30, 2013 – $4,000 for a Kentucky whiskey — that's not even a Bourbon? Michter's will release on Monday what may well be one of the most expensive Kentucky whiskies ever produced, the Michter's Celebration Sour Mash. Just 293 bottles of the blended whiskey will be released, with prices already being quoted at nearly $4,000 per bottle.
The entire lot has already been sold out, according to the Associated Press, with high-end liquor stores and bars in major U.S. cities putting in orders for Celebration Sour Mash. Michter's master distiller Willie Pratt blended the whiskey from barrels in the Michter's inventory, with some barrels in the 30-year-old range. Michter's sourced all of the barrels from other distilleries over the years, while building its own distillery in the Louisville suburb of Shively.
Links: Michter's
---
November 29, 2013 – Former Whyte & Mackay owner Vivian Imerman is interested in buying his old company back if UK regulators force Diageo to divest the United Spirits Ltd. unit. Imerman and his partners sold the Scotch whisky company to USL's Vijay Mallya in 2007, and the Financial Times reports Imerman's Vasari private equity firm would be prepared to make a bid for Whyte & Mackay. In a statement, Vasari said Whyte & Mackay would mesh well with its portfolio of spirits and beer businesses in Africa and Asia.
Earlier this week, the UK's Office of Fair Trading essentially rejected Diageo's plans to acquire Whyte & Mackay as part of its deal for a controlling interest in USL. Diageo has offered to sell most of the Whyte & Mackay assets in order to get the agency's approval, and that offer is being reviewed by the OFT. The drinks giant wants to keep the Dalmore and Tamnavulin malt whisky distilleries in order to supply its needs in India and other global markets, but would sell off Jura, Fettercairn, the Invergordon grain whisky distillery, and the Whyte & Mackay-branded blended Scotch business. Diageo has declined to comment on Vasari's interest or other issues involving Whyte & Mackay while the OFT reviews its latest proposal.
According to the FT, Imerman and his former business partner, Robert Tchenguiz, made £420 million ($687 million USD) in profits when they sold Whyte & Mackay to Mallya for £595 million ($974 million USD) in 2007. The South African-born Imerman was married to Tchenguiz's sister, but a nasty divorce in 2008 led to allegations that Tchenguiz used his access to the partners' shared computer network to provide his sister with confidential information about Imerman's assets.
Links: Whyte & Mackay | Diageo | Vasari Global
---
November 28, 2013 – Yet another distillery expansion is coming in Scotland's Speyside region with the announcement of plans for a new £150 million ($245.5 million USD) distillery and visitors center to be built at The Macallan. Edrington plans to start construction on the new complex in the fall of 2014, with completion set for 2017.
Edrington executives told Scottish newspapers that the expansion is needed to meet growing whisky demand worldwide. The plan is to build the new complex adjacent to the current distillery, which will eventually be mothballed and could be reopened in the future if needed. The distillery's historic Easter Elchies mansion will be left intact.
The company has selected Rogers Stirk Harbour + Partners to serve as lead architect for the new complex, which must still receive planning permission from local officials.
This story will be updated with more information as additional details become available.
Links: The Macallan | Edrington
---
November 27, 2013 – After last week's disclosure by Diageo CEO Ivan Menezes that the drinks giant is preparing to launch two new Bourbon brands in 2014, there has been speculation on the source of the whiskies to be bottled under the Orphan Barrel and Bow & Blade brands. Diageo has only one working whisky distillery in the U.S. — George Dickel in Tennessee — and initial speculation based on label approval applications focused on Dickel as the source of those whiskies. However, Dickel has been running at full capacity just to produce enough whisky for bottling under its own brands, and sources the whisky for its Dickel Rye expression from the MGP-I distillery in Indiana — making that an unlikely possibility.
While Diageo has still not specified the source for the initial Orphan Barrel releases, a statement released today clarifies some of the questions about the source of those whiskies, and confirms that they will be bottled at the Dickel facility in Tennessee.
The goal of The Orphan Barrel Whiskey Project is to share old and rare whiskey from our barrel houses with discerning whiskey adorers. The first two whiskies to be released from the project will include the 20-year-old Barterhouse and the 26-year-aged Old Blowhard. Both are American Kentucky Bourbons, hand bottled in Tullahoma, Tennessee and are expected to begin appearing on select shelves throughout the U.S. in early 2014 under strict allocation due to limited supply. Additionally, DIAGEO is creating a separate new-to-world bourbon called Blade and Bow. Blade and Bow is anticipated to hit shelves in the second half of 2014 and is not a part of the Orphan Barrel Whiskey Project.
In theory, the whisky for the Barterhouse and Old Blowhard Bourbons could be from Diageo's closed Stitzel-Weller Distillery in Louisville, which closed in 1993. Diageo does not routinely comment on its whisky inventories, which makes it difficult to know whether any whiskey from Stitzel-Weller remains in the distillery's warehouses — which are still in use. It's more likely that both whiskies were sourced from another Kentucky distillery, but which one remains unclear. U.S. regulations only require that the final bottler/producer of a whisky be identified on the labeling, and do not specify that the actual distillery be identified.
Diageo has also still not disclosed how it will resolve the upcoming supply needs for Bulleit Bourbon, which has been distilled by Four Roses under a long-term contract with Diageo. Four Roses has exercised a 6-month termination clause in that contract, effective at the end of March 2014.
This story will be updated as more details become available.
Links: Diageo | George Dickel | Bulleit | Four Roses
---
November 25, 2013 – The UK's Office of Fair Trading has concluded that Diageo's acquisition of a controlling stake in India's United Spirits Ltd. (USL) would likely reduce competition in the Scotch whisky market, and Diageo has offered to sell most of USL's Whyte & Mackay unit to satisfy those concerns. The OFT's issue was primarily over bottled blends, with the tie-up of Diageo's Bell's blend and the Whyte & Mackay-labeled blend seen as having the potential to cause price increases and reduce competition.  The agency has put plans to refer the case to the UK's Competition Commission on hold while it reviews Diageo's proposal.
In the OFT's news release, Chief Economist Chris Walters said his analysis found that other blended Scotch whisky producers would not be able to overcome the competitive disadvantage that the combination of Bell's and Whyte & Mackay would create.
"These companies are two of the leading suppliers of blended bottled whisky in the UK, especially to supermarkets and other large retailers. Our investigation considered a wide range of evidence and we concluded that the likely loss of competition could give rise to higher prices for retailers, and ultimately consumers. We are now considering Diageo's offer to sell the bulk of the Whyte & Mackay business with the exception of two malt distilleries, to address our concerns."
Diageo proposes to keep the Dalmore and Tamnavulin malt whisky distilleries and brands (including the maturing whisky inventory of both distilleries), while selling off the rest of Whyte & Mackay. That would include the Whyte & Mackay blended Scotch brand, the Invergordon grain whisky distillery, the Jura and Fettercairn malt whisky distilleries, and all of Whyte & Mackay's private-label business.
In an email to WhiskyCast's Mark Gillespie, Diageo director of whisky outreach Dr. Nick Morgan explained that Dalmore and Tamnavulin are needed to supply whisky for USL's operations in India and other markets. The decision must still be approved by the Office of Fair Trading and the UK's Competition Commission.
Editor's note: This story was updated with additional comment from Diageo. 
Links: Office of Fair Trading | Diageo | Whyte & Mackay
---
November 23, 2013 – Franklin County (Kentucky) sheriff's deputies have cleared Bardstown High School principal Chris Pickett as a suspect in the theft of approximately $26,000 worth of Pappy Van Winkle whiskey from a warehouse at Buffalo Trace Distillery. The Lexington-Herald Leader reported today that Sheriff Pat Melton no longer considers Pickett a suspect in the the case.
Pickett was spotted on surveillance cameras at a liquor store in Elizabethtown, Kentucky several days after the theft was reported. A clerk told investigators that Pickett inquired about selling a "large amount of Pappy", but Pickett and his lawyer said the principal was actually trying to buy some Pappy Van Winkle whiskey, not sell it. 65 cases of Pappy Van Winkle's Family Reserve 20-year-old Bourbon and 9 cases of Pappy 13-year-old Rye were stolen from Buffalo Trace in what deputies believe was an inside job that was carried out over several weeks. Melton told the Herald-Leader that more than 100 people have been questioned so far, but no arrests have been made in the case and none of the stolen whiskey has turned up so far.
Melton plans to make what he described as a "significant announcement" on December 2 in a news conference at his office in Frankfort. So far, the Van Winkle family and Buffalo Trace (which produces Pappy Van Winkle whiskies under contract for the Van Winkles) have not commented on the thefts, and no rewards have been offered yet for information in the case.
This story will be updated as more details become available.
Links: Old Rip Van Winkle Distillery | Buffalo Trace Distillery | Franklin County Sheriff's Department
---