Each week, we bring you the latest whisky news on WhiskyCast, but a lot can happen during the week. Now, you can keep up with whisky news as it happens here on WhiskyCast.com!
November 20, 2013 – Analysts have been predicting ever since Beam Inc. became a standalone spirits company that Diageo would launch a takeover bid at some point, since the company's Bourbon portfolio would mesh with Diageo's one weak spot in the U.S. market. Diageo CEO Ivan Menezes threw cold water on those predictions Tuesday in London following his first investor meeting as CEO, saying that the company will not only put the brakes on its recent acquisition spree, but that it doesn't need Beam at all.
Reuters reports Menezes unveiled plans for at least two new Bourbon brands to debut during 2014. Orphan Barrel will retail for between $75-125 USD per bottle when it hits the market early next year, while Blade & Bow will be launched later in the year. Menezes also cited the success of Bulleit Bourbon, which he estimated will sell around 600,000 cases this year, and could expand to a million cases. Menezes also plans to expand Bulleit distribution internationally. He described Diageo's North American whiskey portfolio as strong, with around 23% of the market counting sales for Bulleit, Crown Royal, George Dickel, and 7 Crown whiskies.
However, Diageo has yet to address the upcoming supply problem for Bulleit. As WhiskyCast reported exclusively in September, Diageo will need to find a new source for Bulleit at the end of next March. Four Roses has supplied the new make spirit for Bulleit since Tom Bulleit launched the brand in 1987, but has exercised a six-month termination clause in its contract with Diageo. The company does not have a working distillery of its own in Kentucky, but sources within the company indicate that plans have been in the works to reopen the Stitzel-Weller distillery for the first time since 1993.
It should be noted that Menezes did not address where the two new Bourbons would come from. The company does not routinely comment on inventory levels, so it's not clear whether any remaining Stitzel-Weller whiskey remains in the distillery's warehouses. Diageo sources some of its whiskies from the MGP-I distillery in Lawrenceburg, Indiana — but those whiskies would not be able to carry the "Kentucky Straight Bourbon" designation. If Diageo chose to replace the Four Roses supply for Bulleit with whiskey from MGP-I, Bulleit's labeling would eventually have to be changed for the same reason.
Menezes declined to comment on the delay in a ruling from the UK's Office of Fair Trading on its United Spirits acquisition and the future of Whyte & Mackay. That ruling was originally expected in August, but has been delayed several times without explanation.
Editor's note: WhiskyCast has asked Diageo spokesmen for comment on the source of the new Bourbons and the Bulleit supply situation. This story will be updated when we receive a response. 
Links: Diageo | Bulleit Bourbon
---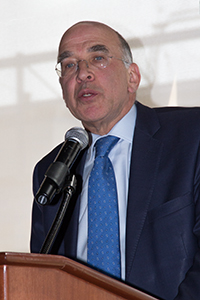 November 19, 2013 – As the Scotch Whisky Association fights the Scottish National Party's attempts to impose minimum pricing standards for alcohol, the trade body's outgoing chief executive believes foresight back in 2007 could have helped prevent the costly fight. In an interview to air on this weekend's episode of WhiskyCast, Gavin Hewitt said a stronger push was needed as the SNP was developing its platform while in the minority at Holyrood.
The SWA is urging Scotland's Court of Session to pass the ongoing lawsuit over minimum pricing on to the European Court of Justice, saying that it will appeal any adverse ruling to the Luxembourg-based court, and forwarding the case now will shave years off of a final ruling. The SNP-led Scottish Government opposes the move, and the next hearing is scheduled for November 28.
While restating the association's firm stance against minimum pricing, Hewitt told WhiskyCast's Mark Gillespie that more lobbying should have been done before the SNP took control of the Scottish Parliament. "Had we actually got a hold of them before they actually formulated policy, I think we would have saved ourselves both a lot of time and a lot of money," Hewitt said.
"They only talked in their manifest of 2007 about, you know, worried about the price of alcohol. We told them that, you know, effectively anything which interfered other than through tax on the pricing of alcohol was likely to run into problems. I think if maybe we could have just seen a little more clearly, by the time we actually told them that minimum pricing was totally unacceptable to us and would remain so…they didn't believe us."  
Hewitt maintains the Scottish plan to set a minimum price of 50p per unit of alcohol is "illegal, ineffective, and targets the entire population rather than the problem audience." While the Court of Session agreed with government officials in a preliminary ruling earlier this year, the SWA has charged that minimum pricing violates European Union laws and could lead to other countries imposing retaliatory tariffs on Scotch Whisky.
The Scottish Parliament agreed on minimum pricing in 2012 as a way to target the nation's binge drinking problem. Ireland's government is considering a similar proposal, while Britain's coalition government has shelved its own minimum pricing plan for now.
Hewitt will leave the SWA at the end of the year, and UK diplomat David Frost has been named as his successor. Frost has been the UK's senior official on trade policy in his role as director for Europe, Trade, and International Affairs at the Department of Business, Innovation, and Skills.
Links: Scotch Whisky Association | Scottish Government Alcohol Policy
---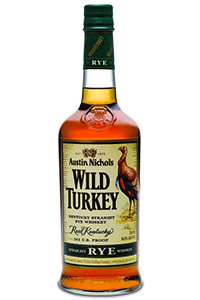 November 18, 2013 – Wild Turkey is bringing back its highly-regarded 101-proof Rye whiskey after a year off the market because of lack of inventory, albeit in limited amounts. The move comes after bartenders led a Facebook movement demanding the return of Wild Turkey 101 Rye, which has become a popular base for many whiskey-based cocktails.
The return will be limited to 21 US markets at first, with one-liter bottles allocated primarily for on-premise sales at bars and restaurants. Wild Turkey pulled the 101-proof Rye off the market in late 2012 because the distillery didn't have enough aged rye whiskey stocks to meet demand, and pointed customers to its 81-proof version released in the spring of 2012 instead. That version uses four and five-year-old rye whiskey, and was originally geared for an audience looking for lower-proof whiskies.
During a September interview with WhiskyCast's Mark Gillespie, Russell said the distillery has been allocating rye whiskey supplies for some time to meet demand. "We didn't know 6 or 7 years ago that Rye was going to make this big jump, and you know, we can't make it overnight, so we're still on allocation…we know right now through 2014," Russell said.
In a news release announcing the return, Russell said the demand from bartenders forced them to change the strategy slightly to make more Wild Turkey 101 Rye available.
"To be completely frank, we didn't realize bartenders had such a passion for it.  Given the bartending community can be directly attributed for the current resurgence in Rye and classic cocktails, we had to listen and take the necessary steps with our available aged stock to bring 101 Rye back."
Earlier this year, Wild Turkey released Forgiven, a limited-edition blending of the distillery's Bourbon and Rye whiskeys created accidentally when workers at the distillery pumped straight rye whiskey intended for Wild Turkey 101 and 81 Rye whiskies  into a tank filled with straight Bourbon. While the accident created a whiskey with a very interesting taste, it set Wild Turkey's rye production plans even farther behind.
Links: Wild Turkey
---
November 17, 2013 – Another stop on the Kentucky Bourbon Trail has opened in downtown Louisville with the debut this weekend of the Evan Williams Bourbon Experience. Heaven Hill's $10.5 million (USD) visitor attraction is the latest development on Louisville's historic "Whiskey Row" along Main Street, and is expected to draw more than 100,000 visitors a year.
The Evan Williams Bourbon Experience includes a micro-distillery capable of producing a barrel of whiskey each day, along with two separate tasting rooms. It makes Heaven Hill the only distiller with two stops on the Kentucky Bourbon Trail, along with the Heaven Hill Bourbon Heritage Center at the company's main campus in Bardstown.
The micro-distillery is just the first of what is expected to be at least four distilleries to be built along Whiskey Row. Michter's is planning a similar demonstration distillery at its new center just down the street, which has been delayed by problems with the historic building being renovated to house the Michter's facility. Louisville Distilling Co. is building the Angel's Envy distillery at the eastern end of Main Street, and plans are in the works for at least one craft distillery in the neighborhood.
Links: Evan Williams
---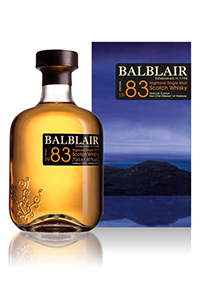 November 15, 2013 – Inver House is adding three new vintages of Balblair Single Malt Scotch Whisky to its lineup globally. The 1983 (shown at right), 1990, and 2003 vintages are all bottled at 46% ABV, and will be available starting in December in select European and Asian markets.
The distillery releases all of its official bottlings as vintages instead of with age statements, and will be expanding availability of its 1969 vintage. After releasing it originally in the United States in late 2012, it will receive global distribution starting in December.
Links: Balblair
---
November 14, 2013 – Four wounded British soldiers leave this weekend for Antarctica, where they will compete against teams from the US, Australia, and Canada in a 335-kilometer (208 miles) race to the South Pole to raise money for Walking With The Wounded. The charity supports wounded warriors with their recovery and career development post-active duty.
Glenfiddich is releasing a special £1,000 ($1,611 USD) bottling of a 29-year-old single malt to support the South Pole Allied Challenge, with only 250 bottles to be sold worldwide. 200 will be available in the UK, and all of the proceeds from the "Spirit of a Nation" bottling will be donated to Walking With The Wounded. The UK's team will be carrying two bottles with them on their expedition, with one to be opened when they reach the South Pole. The second bottle will be signed by the team members and auctioned for Walking With The Wounded upon their return from Antarctica.  The race is scheduled to begin around December 1, and the teams are expected to take about 16 days to reach the South Pole.
The members of the three teams:
Team Glenfiddich (representing the UK): Duncan Slater, Ibrar Ali, Kate Philp, and Guy Disney. The team's guides and mentors are Conrad Dickinson, Richard Eyre, and Prince Harry.
Team Noom Coach (representing the US): Therese Frentz, Mark Wise, Margaux Mange, and Ivan Castro. Their guides and mentors are Inge Solheim, Ed Parker, and Alexander Skarsgard.
Team Soldier On (representing Australia and Canada): Heath Jamieson, Seamus Donaghue, Alexandre Beaudin Danjou, and Chris Downey. Their guides and mentors are Eric Phillips, Simon Daglish, and Dominic West.
Please join the WhiskyCast community in wishing all three teams well on what will be a truly challenging expedition.
Links: Glenfiddich | Walking With The Wounded South Pole Allied Challenge
---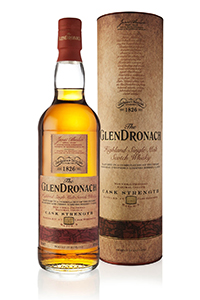 November 12, 2013 – GlenDronach is following up on the success of two cask-strength releases over the past 12 months with a third release. As with the previous two editions, this one used a combination of Oloroso and Pedro Ximenez sherry casks in its maturation.
The whisky was bottled at 54.9% ABV with no chill-filtering and no caramel coloring added. The combination of fruit and toffee notes from the Oloroso casks with spicy influences from the Pedro Ximenez casks produced what GlenDronach's Alistair Walker described in a news release as a dram bursting with beauty:
"This is another GlenDronach gem where spices mingle with the richness of the fruit to give a hugely satisfying malt to be savoured slowly during special, quiet moments. We'll continue to release our cask strength batches as long as this wonderful expression remains popular with consumers."
No details on market availability or pricing were announced.
Links: GlenDronach
---
November 12, 2013 – Buffalo Trace Distillery's latest batch of Single Oak Project Bourbons tests a complex set of variables with just 12 different bottles. The 11th batch in the series looks at three of the seven different variables tested in the Single Oak Project, focusing on warehouse type, recipe, and the size of the grain in the casks. For this release, charring level, stave seasoning, barrel entry proof, and the tree cut were all consistent — along with the maturation time.
The 12 whiskies in Batch #11 came from two different warehouses — a well-ventilated brick warehouse with wooden floors and a brick warehouse with concrete floors and limited air flow. They used three different sizes of wood grain in the staves — coarse, medium, and fine. Finally, the barrels were a mix of rye-based and wheat-based Bourbon mashbills.
So far, 132 different Bourbons have been released in the Single Oak Project since the initial batch in the spring of 2011. 60 more bottles will be released during 2014 and 2015, when the feedback from consumers will be used to select the most popular bottling from the entire series. At that point, Buffalo Trace will start producing the winning recipe under the Single Oak Project brand.
Links: Buffalo Trace | Single Oak Project
---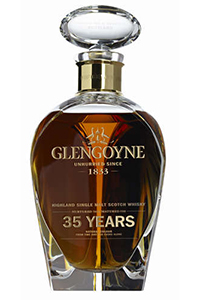 November 11, 2013 – Glengoyne Distillery is following up on the 2009 release of a 40-year-old single malt with a new 35-year-old expression. Only 500 decanters will be available worldwide, with initial availability in Europe, the Middle East, and Asia.
The distillery, which is located in Dumgoyne near Glasgow and Loch Lomond, blended several ex-Sherry casks together to create the expression. It has been bottled in bespoke crystal and gold decanters at 46.8% ABV, and will carry a recommended retail price of £2,850 ($4,260 USD).
Links: Glengoyne
---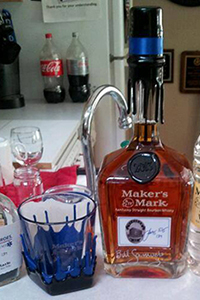 November 7, 2013 – There are no new leads in the murder of Bardstown police officer Jason Ellis, nearly 6 months after he was shot to death along Kentucky's Bluegrass Parkway on May 25 as he was picking up fallen tree limbs. Rewards for information in the case have grown to more than $100,000, and fund-raising campaigns have taken place to help Ellis's family.
Maker's Mark has joined the cause with a special bottling to raise money for Supporting Heroes, an organization that helps the families of police officers and firefighters killed in the line of duty. The bottle features black wax with a blue ribbon, along with the Bardstown Police Department's badge and Ellis's badge number. 300 bottles were produced, and sold out immediately.
Links: Maker's Mark | Supporting Heroes
---