Each week, we bring you the latest whisky news on WhiskyCast, but a lot can happen during the week. Now, you can keep up with whisky news as it happens here on WhiskyCast.com!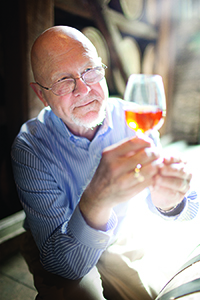 September 11, 2013 – Lincoln Henderson, the longtime Master Distiller at Brown-Forman and creator of Angel's Envy Bourbon, passed away Tuesday night in Lexington, Kentucky at the age of 75. He spent 40 years at Brown-Forman, and led the team that created Woodford Reserve Bourbon, Gentleman Jack, and Jack Daniel's Single Barrel whiskies before retiring from the company in 2004. He was a member of the inaugural class of the Kentucky Bourbon Hall of Fame, and received Malt Advocate's Lifetime Achievement Award.
In a statement on the Angel's Envy Facebook page, Lincoln's colleagues paid tribute to him:
We often refer to Lincoln as a malcontent. Professionally, that's true. He was a restless creator. Personally however, you would be hard pressed to find a happier, more gracious man. We will remember his warmth, his humor, and above all, his kindness. We treasure having had the opportunity to work with him on his last great endeavor. And we will carry on with the lessons he's taught us. Today, we have truly lost a legend.
After retiring from Brown-Forman, Lincoln worked as a consultant and brand ambassador for Suntory. During Episode 68 of WhiskyCast, Lincoln led listeners on a tasting of the Suntory whiskies.
In 2006, Lincoln teamed up with his son Wes, grandson Kyle, and a group of investors to start the process of creating Angel's Envy, a port wine-finished Bourbon that rapidly won wide acclaim. While the original whiskey was sourced from another distiller, Henderson's touch was clearly felt in the port cask finish that earned Angel's Envy numerous awards when it was released in 2010. The trio later released a rye version of Angel's Envy, and broke ground earlier this year on the site of a new distillery in downtown Louisville to become the home of Angel's Envy. In June, Angel's Envy Cask Strength was named the "Best Spirit in the World" by F. Paul Pacult of The Spirit Journal.
While Wes Henderson serves as the Chief Operating Officer of Angel's Envy (and the Louisville Distilling Co.), Kyle has been following in Lincoln's footsteps and learning the art and science of whiskey production from his grandfather.
Our condolences go to the entire Henderson family.
Links: Angel's Envy
---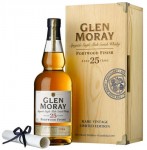 September 10, 2013 – Glen Moray has kept a low profile since its acquisition by France's La Martiniquaise in 2008, sticking to a regular range of single malt expressions. Now, the Speyside distillery has released a 25-year-old single malt finished in Port casks and bottled at 43% ABV.
The whisky will be available globally through whisky specialist retailers in the UK, US, Australia, Japan, Taiwan, and other key markets. Around 3,800 bottles will be available at a recommended retail price of £150 ($236 USD).
Links: Glen Moray
---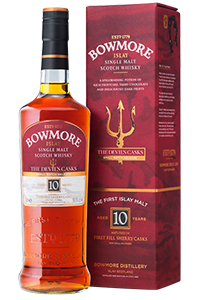 September 10, 2013 – Bowmore's round church is one of the Islay town's landmarks, and the story goes that it was built that way so the Devil wouldn't be able to hide in a corner. The story goes that the people of Bowmore chased the Devil down to the distillery…where he escaped in a cask of whisky bound for the mainland.
Marketing aside, the new Bowmore Devil's Casks release is a small-batch single malt with a heavy influence from first-fill ex-Sherry casks. While the expression carries no age statement, it is bottled at 56.3% with no chill filtration.
Approximately 6,000 bottles of The Devil's Casks will be available starting in October at whisky specialist retailers in the UK and Europe at a suggested price of £50.99 ($80 USD). There is no word yet on whether the expression will be available in the U.S. market.
Links: Bowmore
---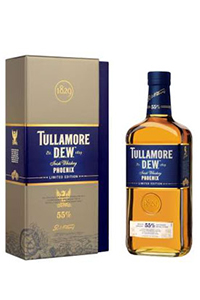 September 10, 2013 – With construction progressing on the new Tullamore Dew distillery in County Offaly, an element in Tullamore's coat of arms has unique significance today. The people of Tullamore added a Phoenix to their crest following a hot air balloon accident in 1785 that caused a massive fire which destroyed much of the town. Of course, the Phoenix is the legendary symbol of revival, and especially appropriate given that the town's long history of whiskey production is scheduled to resume in 2014.
Now, the William Grant & Sons-owned brand has released a new Phoenix expression through The Loop's Irish Whiskey Collection shops in Dublin and Cork airports, along with their co-owned stores at airports in Bahrain and Cyprus. Phoenix is bottled at 55% ABV, and will be sold for €49.95 ($66.25 USD). The whiskey will initially be available exclusively through The Loop through September, with wider release expected in other global markets after that.
Construction continues on the new Tullamore Dew distillery, with traffic in the area affected by the construction of a new roundabout connecting the distillery site to the N52 highway.
Mark Gillespie's tasting notes on Tullamore Dew Phoenix.
Links: Tullamore Dew
---
September 10, 2013 – Just as the leaves start to turn colors, hunters gear up for deer season, and football fans scream at the referees…mid-September also means the annual release of Buffalo Trace's Antique Collection range of whiskies. As in past years, the 2013 releases are  similar to — but still very unique from their predecessors.
The flagship whiskey in the Antique Collection is the George T. Stagg Bourbon, which will try to defend the 2012 edition's World Whiskies Awards trophy as Best North American Whiskey. While still un-cut and un-filtered, the 2013 edition is slightly less strong than many of the previous Staggs, with an ABV of 64.1% (128.2 Proof), and was distilled in the spring of 1997. In  a news release, Buffalo Trace Master Distiller Harlen Wheatley attributed the lower strength of this year's version to the spot in the warehouses where many of the barrels were matured.
"It just so happens this year, most of the barrels had been stored on lower floors.  The temperature remains cooler down low where it balances the mature flavors from the wood and in turn the proof climbs slowly from the entry proof."  
While Stagg is expected to remain fairly scarce, it may be easier to find this year than in previous years. Buffalo Trace started laying down additional barrels in 1997 intended for future Stagg releases, and this year's edition is the first under that program.
For the first time in recent years, the Stagg is only the third-strongest whiskey in the Antique Collection. The William Larue Weller wheated Bourbon is bottled at 68.2% ABV (136.2 Proof), and like the Stagg, is un-cut and un-filtered. It was distilled in the spring of 2001. The Thomas H. Handy Sazerac Rye is the youngster of the series, distilled in 2007 and bottled un-cut and un-filtered at 64.2% ABV (128.4 Proof).
The Antique Collection also includes the Sazerac Rye 18 Year Old straight Rye whiskey, which has won numerous awards in recent years. This year's Eagle Rare 17 Year Old Bourbon was distilled in the spring of 1993, and is actually 19 years old.
The entire range is expected to be available at whisky specialist retailers by the end of September. Watch for Mark Gillespie's tasting notes on all five whiskies in the coming weeks.
Links: Buffalo Trace
---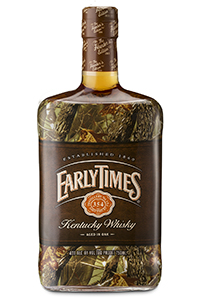 September 10, 2013 – With hunting season coming soon, sportsmen (and women) are getting a different choice of camouflage gear for their drams. Early Times Kentucky Whisky is releasing a special Hunter's Edition bottle covered in camouflage, giving hunters an option other than stainless steel flasks that can reflect sunlight and scare off one's prey.
Early Times came up with the idea as a way to celebrate the American tradition of hunting, according to Therese McGuire, brand manager for the Brown-Forman brand. The 750 ml bottles will be available starting this month throughout the U.S., with a suggested retail price of $11.99.
Links: Early Times
---
September 6, 2013 – When Fred and Stewart Laing agreed to split up the assets of their family's Douglas Laing & Co. at the end of April, both brothers pledged to have new lines of whiskies ready for the market as soon as possible — to make up for the brands each one agreed to give up to the other in the split. Now, Fred Laing and his daughter Cara have released the first batch of bottlings in the new Douglas Laing's Old Particular range of single cask bottlings.
Cara started working on the range in January after leaving her position as a brand manager at Morrison Bowmore. "When we took up the baton, the pair of us here together, we were fairly far along the road," Fred Laing told WhiskyCast's Mark Gillespie in an interview. "But, there's quite a long gestation period putting a pack together and getting the right samples that we could either accept or reject for what, for us, is a particularly important launch."
The name comes from one of the old Douglas Laing brands, and Laing said a discussion among staff members led to the decision to revive the name.
"Old Particular, we felt, was particularly nice because we're trying to make a particular claim and a particular indication that the stock we've got, the packaging we've brought, is particularly appropriate, not to bore you too much with such particulars." 
The range will launch with about 20 new bottlings each month, starting in September with a 16-year-old Laphroaig, a 31-year-old Port Ellen, a 20-year-old Tomatin, a 15-year-old Braeval, a 16-year-old Clynelish, and a 25-year-old Bowmore, along with bottlings from Arran, Bladnoch, Blair Athol, and other distilleries.
The Laings plan to announce a new small batch series coming on October 1, and a new Speyside version of their Big Peat Islay whisky on November 1.
Links: Douglas Laing & Co.
---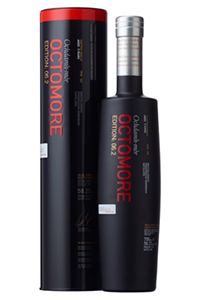 September 6, 2013 – Bruichladdich stayed out of travel retail sales for most of the time following the distillery's revival in 2001, only making a few limited forays into the market in the last couple of years. Now, Rémy Cointreau's sole whisky distillery will be making a major move into the travel retail arena, according to Just-Drinks.com. The site reports Bruichladdich will offer four new expressions as travel retail exclusives over the next six months, including Octomore 6.2, Port Charlotte 11, Bere Barley 2006, and a one-litre size Bruichladdich Organic bottling.
The distillery will rely on Rémy's extensive travel retail experience to build its presence in the sector. Decisions on which regions will get the initial bottlings are still being made.
Links: Bruichladdich
---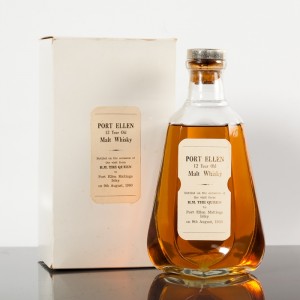 September 6, 2013 – Port Ellen bottlings are becoming scarcer, 30 years after the Islay distillery was closed and its stills removed. Now, a rare bottling from 1980 has taken top honors at the September McTear's whisky auction in Glasgow.
The 12-year-old bottling was produced to commemorate Queen Elizabeth's visit to the distillery on August 4, 1980, and brought a winning bid of £4,800 ($7,500 USD). The winning bidder's name was not released.
Runner-up honors went to a 1946 Macallan Select Reserve and a 1955 Bowmore, with both bottles receiving high bids of £4,000 each. A Dalmore 50-year-old distilled in 1926 brought a high bid of £3,200. Two 1964 Black Bowmores sold for £2,600 and £2,200, while a trio of 1964 Bowmores brought bids ranging from £3,200 for the Fino cask edition to £2,300 for the Oloroso cask and £2,200 for the Bourbon cask edition.
Complete results are available at the McTear's web site. The next McTear's auction is scheduled for October 9, 2013.
Links: McTear's
---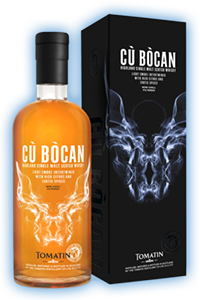 September 5, 2013 – Tomatin's mainstream single malt releases have never been known for their peatiness in recent years, so when the distillery decided to introduce a lightly peated single malt, it needed to stand apart from the rest of the range.
Enter Cù Bòcan (pronounced "koo bok-uhn"), a malt matured in a combination of Virgin Oak, ex-Bourbon, and ex-Sherry casks. The name is said to come from a mythical beast that reportedly prowled the Highlands near the village of Tomatin, and distillery manager Graham Eunson describes it in a news release as "light smoke intertwined with rich citrus and exotic spices.
The malt is bottled at 46% ABV, and will be available worldwide in limited amounts. Tomatin intends to produce 60,000 liters of Cù Bòcan each year, with a suggested retail price of £43.99 ($69 USD) per bottle.
---