Each week, we bring you the latest whisky news on WhiskyCast, but a lot can happen during the week. Now, you can keep up with whisky news as it happens here on WhiskyCast.com!
May 24, 2013 – A bottle of The Macallan Anniversary Malt from 1983 led the bidding at this week's McTear's auction of rare whiskies in Glasgow with a bid of £18,000 ($27,200 USD).  The whisky was distilled in 1928, and the bottle was #207 of 500 produced by The Macallan.
While the Anniversary Malt was by far the best performer, with a pre-sale estimate of between £14-16,000, other Macallans filled out the list of high bids. A 1950 Macallan sold for £1,900, while a special "Nicol's Nectar" bottling of casks selected by former master blender Peter Nicol on his retirement in 1996 went for £1,000.
The highest-performing non-Macallan whisky at the auction was a  blended Scotch — a rare bottle of J.W.& S. Ltd. Hill Street 1956 Blended Scotch Whisky that sold for £1,600 ($2,420 USD).  John Walker & Sons bottled the whisky in a Johnnie Walker Swing-style bottle to mark the opening of its new offices on Kilmarnock's Hill Street September 11, 1956.
The next McTear's whisky auction is scheduled for June 26.
---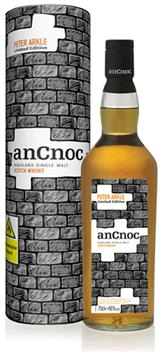 May 21, 2013 – Scottish illustrator Peter Arkle's third single malt in his collaboration with anCnoc features another aspect of the distillery's heritage.  anCnoc's Peter Arkle Limited Edition #3 "Bricks" features his drawing of a dunnage warehouse wall at Knockdhu Distillery in Aberdeenshire, where anCnoc is produced. The first two editions featured his illustrations of anCnoc's ingredients and casks, but in a news release, Arkle cited his experience in the warehouses as the inspiration for the third whisky.
"On one hand it's just a drawing of the bricks that make up the walls of the distillery and the warehouses with a yellow sign stuck on. But, on the other hand, those bricks are so old and so soaked with the essences of anCnoc – absorbed over the years – that they are not just any old bricks. They are bricks with real character and history. And the sign is there to remind people that anCnoc is not something you can take for granted. One must handle something remarkable with care."
#3 Bricks was matured in Spanish oak ex-Sherry butts and American oak ex-Bourbon barrels, and is bottled at 46% ABV with no chill-filtering and no caramel coloring. 1,000 cases will be available at retailers in the UK, US, Canada, Germany, Russia, Japan, and Taiwan, with a suggested retail price of £49.99 ($76 USD).
Arkle and anCnoc are also teaming up for a Twitter-based competition on June 17, in which contestants will be asked to tweet a photo of their "perfect anCnoc moment" that day (using the hashtag #youranCnoc). Ten winners will be chosen to have their moments hand-drawn by Arkle on the label for a unique bottle of anCnoc whisky, while one winner will receive a trip to meet Arkle at his studio in New York City.
Read more »
---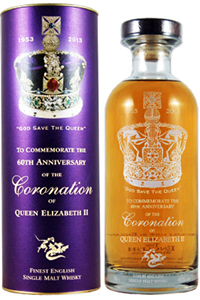 May 21, 2013 – June 2 marks the 60th anniversary of Queen Elizabeth's coronation in 1953, and while Great Britain celebrated the Diamond Jubilee of her rise to the throne last year, more celebrations are planned in the United Kingdom during the next few weeks.
The English Whisky Company, which was England's first legal whisky distillery in 100 years, is releasing a special single malt whisky to mark the occasion. The "Coronation Whisky" will go on sale May 23, and comes from 7 casks. 1, 850 bottles will be available worldwide, as well as through the distillery's web site.
For more on this whisky, listen to Mark Gillespie's interview with Andrew Nelstrop of the English Whisky Company in Episode 421 of WhiskyCast.
---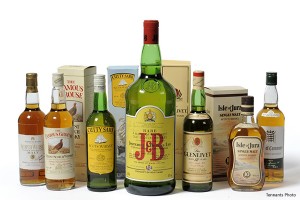 May 21, 2013 – Bottles of whisky signed by Britain's Prime Ministers often show up at auction, but a lot at the recent Tennants auction in Leyburn, England, brought together a rare collection of signed bottles from leaders on both sides of the aisle.
The lot featured 7 bottles signed by former Tory Prime Ministers Margaret Thatcher, John Major, Edward Heath, and Alec Douglas Hume,  along with Labour Prime Ministers Harold Wilson and James Callaghan. Interest in the lot was higher than expected following Thatcher's death on April 8. While pre-auction estimates were in the £200-400 range, the final hammer price came in at £500.
An additional factor in the unique nature of these bottles is that they appear to have been produced during the periods when each Prime Minister was in office, since many were bottled at 75cl well before the European standard of 70cl bottles went into effect.
Margaret Thatcher: 75cl bottle and box of The Famous Grouse
John Major: 3-litre bottle of J&B Rare and a 70cl bottle of House of Commons
Edward Heath: 75cl bottle of The Glenlivet 12
Alec Douglas Hume: 75cl bottle of Cutty Sark
Harold Wilson: Fortnum & Mason 21
James Callaghan: 75cl bottle and box of Isle of Jura
The next Tennants whisky auction is scheduled for September 7, 2013.
---
May 21, 2013 – Tennessee Governor Bill Haslam has signed a bill approved by state lawmakers last month that clears the way for the owners of the Chattanooga Whiskey Company to build their own distillery in a historic factory building.
In a separate move, Gov. Haslam signed a bill that establishes the state's first standards for "Tennessee Whiskey". That bill will force distillers that want to call their whiskey "Tennessee Whiskey" or "Tennessee Sour Mash Whiskey" to meet the federal standards for Bourbon and use the "Lincoln County" charcoal-filtering process. Distillers will have to comply with the new law when it takes effect July 1, but will have 36 months to sell off existing stocks of bottled whiskey.  The bill is seen as a blow for the state's moonshine producers, who will not be allowed to refer to their unaged whiskies as "Tennessee Whiskey".
Chattanooga Whiskey founders Joe Ledbetter and Tim Piersant have been fighting for several years to change a 2009 state law that expanded the number of counties where whiskey distilleries can be located. That law allowed new distilleries in counties where retail liquor stores and "liquor by the drink" sales are legal, but Hamilton County remains partially dry and was not included in the 2009 law. Legislators agreed to change the law to allow distilleries in "wet" areas of a county with approval of local officials. Hamilton County officials supported the change, and are expected to grant quick approval for the Chattanooga Whiskey project once the new law takes effect July 1.  Ledbetter and Piersant currently sell whiskey produced at the MGP-I Distillery in Lawrenceburg, Indiana, but plan to make a transition to locally-produced whiskey once their stocks mature. They have scheduled a "victory party" at the distillery site to celebrate the new law on May 31.
The bill received opposition in the Legislature because a separate provision removed the ability of local governments to mandate specific distances between two distilleries and impose a cap on the number of distilleries allowed in a city. According to The Tennesseean, that change was made after the city of Gatlinburg rejected plans for a moonshine distillery that would have been built on property adjoining the Old Smoky Moonshine Distillery. The principal owner of the proposed Sugarlands Distillery is a partner with Gov. Haslam in a number of real estate investments, and another partner in the distillery project resigned as Gatlinburg's legislative lobbyist after city officials went on record as opposing the bill.
Links: Chattanooga Whiskey
---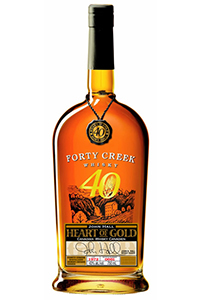 May 16, 2013 – Canada's award-winning Forty Creek Distillery traditionally announces its annual limited edition release each May, and John Hall's latest special whisky was unveiled in time for this year's Spirit of Toronto Festival. "Heart of Gold" will go on sale officially in Ontario at the distillery's release weekend September 28-29 in Grimsby, Ontario for those who pre-order one of the 9,000 numbered bottles that will be available. Online reservations will be taken starting May 27 at the Forty Creek web site through June 21.
As John Hall told us in Episode 424 of WhiskyCast, Heart of Gold's name refers to his decision to take a narrower band of the "heart" during the distillation runs for a spirit that holds the rye character while retaining more delicate notes as well. He used a yeast strain normally used for wines in the fermentation process to bring out the delicate floral and herbal notes he was seeking in the whisky.
Heart of Gold will be available at retailers in all Canadian provinces shortly after the release weekend, and a limited number of bottles will be available in several U.S. states as well.
Mark Gillespie's Tasting Notes for Heart of Gold
Read more »
---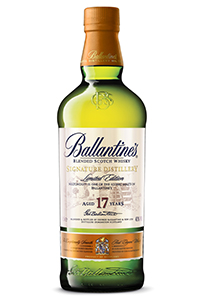 May 15, 2013 – Chivas Brothers is releasing a special edition of its Ballantine's 17-year-old blended Scotch with a recipe that highlights the contributions of the company's Miltonduff Distillery to the blend.
It's the third release in the Signature Distillery Series, and honors the distillery built in 1824 in the Speyside town of Miltonduff. In a news release, Chivas Brothers described the malt whisky from Miltonduff as forming the foundation of Ballantine's 17, with cinnamon notes that add warmth to the blend and a floral character that balances the fruity notes from the other fingerprint malts used in the blend.
Previous releases in the series honored Scapa and Glenburgie distilleries, and there have been indications in the past that a future release would honor Glentauchers Distillery.
The Miltonduff Signature Distillery Edition will be available in limited quantities, with a focus on the Asian travel retail market, and carry a suggested retail price of $75 USD.
Read more »
---
May 14, 2013 – Chivas Brothers and William Grant & Sons whiskies took top honors in the annual Spirit of Speyside Festival Whisky Awards. Both companies accounted for all six finalists that competed in the knockout round at Knockando Distillery on May 5.  The finalists were decided earlier this year in a preliminary competition at the Knockomie Hotel, and the final voting was done by festival attendees at a series of tastings around the Speyside region during the week-long festival.
In the category for single malts 12 years and younger, voters picked the Aberlour A'bunadh over the Strathisla 12-year-old in a battle between two Chivas Brothers whiskies. In the competition for whiskies between 13 and 20 years old, The Balvenie 17 defeated the 15-year-old Distillery Edition from sister distillery Glenfiddich by just 9 votes. Two Glenlivet expressions competed as finalists for the 21-and-older title, with the Glenlivet XXV beating the Glenlivet 21 by just two votes.
Read more »
---
May 13, 2013 – 35 Maple Street, the California-based spirits company with ties to the Sebastiani wine family, is developing a new Tennessee Bourbon brand that will make its debut late in 2013 or during 2014. 35 Maple Street's success has come from Masterson's Rye, a Canadian whisky produced at an Alberta distillery and bottled by 35 Maple Street, and the company is hoping to repeat that success with Bib & Tucker Bourbon.
"A bib and tucker, in the Western days, was your Sunday finest clothing," Richard Zeller of 35 Maple Street told WhiskyCast's Mark Gillespie Saturday (May 11) at the Spirit of Toronto whisky festival. "It's going to be in an amber cartouche glass, and we're sourcing the amber glass…it's not going to be a painted bottle – it's going to be a real special mold…it's be really a work of art." Issues in sourcing the bottles are the reason for the uncertain release date, and Zeller indicates that Bib & Tucker could be released by the end of this year if the bottles can be produced in time.
"The Bourbon is a work of art," Zeller said without disclosing which Tennessee distillery will be supplying the 8-year-old whiskey. "I've been sworn, unfortunately, to secrecy…I'm sure you can imagine, but I can't tell you." However, there are only three Tennessee distilleries capable of supplying 8-year-old Bourbon whiskey: Jack Daniel's in Lynchburg, George Dickel in Tullahoma, and Prichard's in Kelso. None of the three will admit to offering bulk whiskey for sale, and in fact, George Dickel has faced shortages for its whiskey in recent years and currently sources its George Dickel Rye from MGP-I in Lawrenceburg, Indiana.
Purists will note that the term "Tennessee Bourbon" may seem to be an oxymoron. However, it should be noted that Tennessee Whiskeys traditionally meet all of the U.S. requirements for Bourbon, and the use of the "Lincoln County" charcoal-filtering process does not preclude a whiskey from being labeled as a "Bourbon".  Tennessee legislators are considering a proposal that would require any whiskey labeled as "Tennessee Whiskey" or "Tennessee Sour Mash Whiskey" to meet the federal standards for Bourbon and use charcoal filtering.
35 Maple Street will also be expanding its Masterson's line later this year with the addition of a 12-year-old 100% wheat whisky and a 100% barley whisky. Both will come from the same Alberta distillery where Masterson's Rye is produced. While Zeller has not confirmed the name of that distillery, it's believed to be Highwood Distillers in Calgary. Zeller also confirmed that the company is moving forward with plans to build its own distillery, most likely in California. However, that facility would be used for different products and both Masterson's and Bib & Tucker would be sourced from their current suppliers on a long-term basis.
---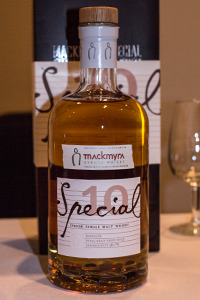 May 13, 2013 – Sweden's Mackmyra Distillery has released the 10th and final single malt in its "Specials" series of limited-edition whiskies. Special #10 is a coffee-influenced whisky created by Mackmyra's master blender, Angela Forsgren D'Orazio, that had its genesis in a whisky liqueur she created last year.
"I was playing with some freshly roasted coffee beans, espresso coffee beans. I was throwing them into whisky, and I just realized that was a very good harmony, the coffee and the whisky together," she told WhiskyCast's Mark Gillespie Saturday (May 11) in Toronto. "I did some coffee whisky with the espresso beans, and then I took that coffee whisky — that was simple, it was just macerating the coffee beans in some very good mature whisky for some hours…I took out the beans and took that coffee whisky and seasoned some casks with it for a couple of weeks."
Those casks were then used to finish the whisky for Special #10, while the coffee-infused whisky went into Mackmyra's liqueur. Special #10 will be available in Sweden and most of Mackmyra's export markets.
For more of our interview with Angela Forsgren D'Orazio, listen to Episode 424 of WhiskyCast.
Read more »
---