Each week, we bring you the latest whisky news on WhiskyCast, but a lot can happen during the week. Now, you can keep up with whisky news as it happens here on WhiskyCast.com!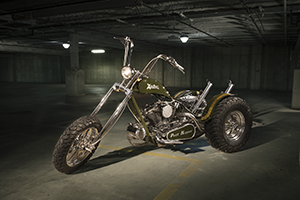 December 14, 2013 – Ardbeg's fleet of unusual vehicles has included two choppers, a tractor, and even a rocket. Now, the Islay single malt is returning to its motorcycle-based roots with the new "Peat Hopper" three-wheeler. The Peat Hopper made its debut on CMT's "Orange County Choppers" reality show December 7, with Ardbeg U.S. brand manager Gregor Mina commissioning the famed Southern California motorcycle shop to create another unique vehicle.  Orange County Choppers created the original Ardbeg Choppers that toured North America, with one given away to an Ardbeg fan in a 2011 drawing.
"What we wanted to do was create something with a lot of 'wow', big and fast and loud," Mina told WhiskyCast in an interview. "We wanted to rekindle our past relationship with Orange County Choppers and really take that to the maximum level that we could. It's not a tractor, it's not an all-wheel-drive vehicle, it's not a chopper…it's something like the love child of all three."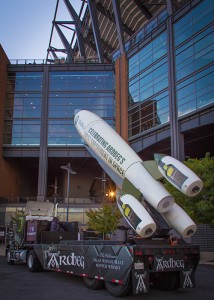 The Peat Hopper will go on tour starting in March with plans to visit bars and liquor stores in 26 states through December. It will replace the Ardbeg Rocket, which has been touring for the last two years. While Mina won't say what will be done with the Rocket, he hinted that it might be brought out of retirement when the Ardbeg spirit that has been orbiting on board the International Space Station is brought back to Earth. The spirit was sent into space in the spring of 2012 as part of an experiment with the NanoRacks research firm to study the impact of micro gravity on the interaction between molecules in the whisky known as "terpenes" and charred oak. The spirit is contained in glass vials on the Space Station, and chips of charred oak were put into the vials with the spirit. The experiment was originally scheduled to last at least two years, and no firm date has been announced for the vials to be returned to Earth for examination.
Editor's note: The "Orange County Choppers" episode featuring the Peat Hopper is available to view online. However, broadcast rights may restrict online viewing outside of the United States. 
Links: Ardbeg | Orange County Choppers
---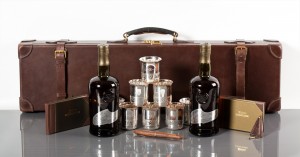 December 13, 2013 – Single malts from Islay led the bidding at the final McTear's whisky auction of the year on December 11 in Glasgow, with a rare Ardbeg package taking the highest bid. The 2007 release of Ardbeg Double Barrel included two single cask bottlings from 1974, along with a bespoke leather shotgun-style case from Purdey and Sons and 8 sterling silver cups from Hamilton & Inches. Only 250 Double Barrels were produced, and #32 in the series went for £6,000 ($9,780 USD).
Runner-up honors went to a 1964 Bowmore 35-year-old single malt bottling that easily outpaced pre-auction estimates with a high bid of £5,000 ($8,150 USD). A rare bottle of Smith's Glenlivet distilled in 1899 and bottled for shipping to Australia in 1912 fetched a bid of £3,400 ($5,540 USD), while bidding for Macallans was led by a 1950 bottling from Gordon & MacPhail at £2,800 ($4,562 USD). Other lots generating interest included bottles of Laphroaig 40-year-old and The Macallan Royal Marriage 1981, which went for £1,900 ($3,096 USD) each.
One item that did not sell was a rare Tomintoul recognized by the Guinness Book of World Records as the "World's Largest Bottle of  Single Malt Whisky." The 105.3 litre bottle was produced for The Whisky Castle and Clockhouse Restaurant in Tomintoul, and has been on display at the Scotch Whisky Experience in Edinburgh for the last year. McTear's had set a pre-auction estimate of between £100,000 and £150,000 for the one of a kind bottle, but it failed to meet the sellers' pre-established reserve price.
McTear's will hold its first whisky auction of 2014 on January 29.
Links: McTear's
---
December 13, 2013 – With David Frost just weeks away from taking over as chief executive of the Scotch Whisky Association, the trade group is shuffling senior executives ahead of the change.
Campbell Evans moves from heading the group's government affairs and communications department to replace Peter Wilkinson as director of international affairs. Wilkinson is retiring after 23 years with the SWA. Deputy international affairs director David Williamson will take over Evans' role heading government affairs and communications. He previously worked under Evans as the Association's communications manager and principal spokesman. The changes take effect January 2, 2014 when Frost becomes the SWA's chief executive.
Earlier this week, the SWA announced plans for a £500,000 ($817,500) program over the next five years to provide grants for local programs targeting alcohol abuse in Scotland.
Links: Scotch Whisky Association
---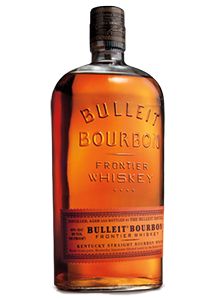 December 12, 2013 – Diageo's Bulleit Bourbon is getting a re-launch in the UK market, complete with an increase in bottling proof. While the US has always had Bulleit at 45% ABV (90 Proof), the UK version has traditionally been sold at 40% ABV. That will change, as Diageo plans to start exporting 45% ABV Bulleit with a focus on bars and restaurants.
The move comes weeks after Diageo CEO Ivan Menezes touted Bulleit's sales growth in the US market, with an estimated 600,000 cases to be sold in 2013. Menezes also touted the potential for Bulleit to become a million-case brand over time. However, the company must still address supply issues for Bulleit that will begin in April of 2014 when Diageo's supply contract with Four Roses Distillery for new make spirit expires. As previously reported, Four Roses has given Diageo notice of its plans to terminate the contract because it needs the spirit for its own Bourbons in the future.
In addition to the stronger Bulleit Bourbon, Diageo will also start exporting Bulleit Rye to the UK. The rye version was introduced two years ago, and is distilled for Diageo at the MGP-I Distillery in Lawrenceburg, Indiana under contract.
Links: Bulleit Bourbon | Diageo
---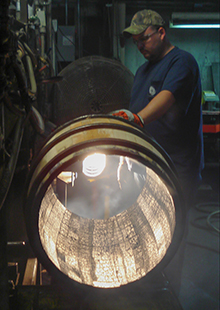 December 11, 2013 – Wet weather this fall is forcing distilleries in Kentucky and other states to juggle production schedules because of a temporary shortage of barrels. According to Jim Rutledge of Four Roses Distillery, heavy rains in Arkansas and Missouri during October and November kept logging crews from getting into the forests to harvest oak trees to be made into barrels.
"Most of the lands from where the trees are planted are leased," Rutledge told WhiskyCast's Mark Gillespie in an interview. "Of course, the owners of this property didn't want the heavy equipment going in there in wet conditions and tear all the property up. Of course, it takes time to dry the wood, and it put us in a temporary shortage." Rutledge describes the problem as industry-wide, but it primarily affects distilleries which source their barrels from Independent Stave Company, one of the world's largest cooperages with Bourbon-related operations in Missouri and Kentucky. Independent Stave president Brad Boswell declined our request for an interview, saying in an email that "Right now we're going to stay focused on buying more high quality white oak logs."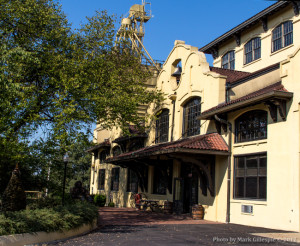 Four Roses is juggling the shortage by cutting back on daily production through the end of December, after originally considering a temporary halt in distilling that would have led to short-term layoffs of at least some of the distillery's 56 employees. Instead, the lost production will be made up at the end of the distilling season in June and July before the annual summer shutdown for maintenance. "It's just a little bump in the road," Rutledge explained. "It's not a heck of a lot different than if we had a maintenance issue that caused us to shut down, or maybe there's a water issue with low water levels in the Salt River…any number of things can do this and have caused temporary shutdowns or slowed production in previous years."
Virtually all of the major Kentucky distillers source their barrels from Independent Stave, with the exception of Brown-Forman, which owns its own cooperage in Louisville to supply the Brown-Forman, Woodford Reserve, and Jack Daniel's distilleries in Kentucky and Tennessee. The company is currently building a second cooperage in Alabama that will eventually supply barrels for use at Jack Daniel's.
Links: Four Roses | Independent Stave Company | Brown-Forman
---
December 11, 2013 – A Canadian whisky blogger has filed a complaint with DISCUS, the Distilled Spirits Council of the United States, over an online video ad for Dewar's Scotch Whisky. The "Meet the Baron" video was pulled from YouTube and other web sites Tuesday evening after Johanne McInnis, Fred Minnick, and other whisky bloggers led a Twitter-based campaign accusing Dewar's of sexism and prejudice against overweight women.
The video showed "The Baron," a suave, charismatic man saving his friend from several predicaments, including stepping in as an overweight blonde woman approached the man at a bar — as the voiceover referred to "jumping on an explosive" to protect his friends. The video also features actress Claire Forlani as the Dewar's spokesperson watching from the sidelines as "The Baron" and his friend meet with a group of women referred to as the "Swedish Bikini Team." While the video has been removed from the web, along with the initial tweet from Dewar's responding to McInnis and other critics, the comment was retweeted by McInnis on her feed with her response.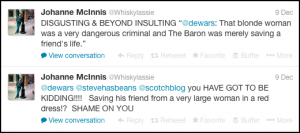 McInnis's online petition (which has also been removed from ipetitions.com) demanding that Dewar's withdraw the video received international attention on social media sites.  When WhiskyCast asked for a Dewar's executive to respond to the critics' charges, the PR agency for Dewar's parent company Bacardi provided this response by email.
Dear Mark,
In regards to your inquiry on DEWAR'S 'Meet the Baron' video, below please find a statement from the DEWAR'S Team. Thank you.

Regarding your inquiry about the DEWAR'S 'Meet the Baron' video, we value your feedback, whether it's critical or complimentary, and appreciate your effort in taking the time to write to us.
While we strive to be inclusive of many demographics, we have a wide array of consumers who respond to a variety of unique and focused marketing messages, in different ways.
The Baron – represents a camaraderie that is important to our target consumer, and is one character under 'The Drinking Man's Scotch' campaign, which features a strong and successful female icon as the spokesperson for the brand.
We understand our communications may not always appeal to everyone; however, it is feedback like yours that allows us to continuously evaluate our marketing efforts – upon further review we have decided to remove the video from our YouTube page.

Again, thank you for taking the time to write to us.

Best regards,
The Dewar's Team
However, Dewar's stopped short of apologizing for the ad, which prompted additional responses from McInnis, Minnick, and other critics.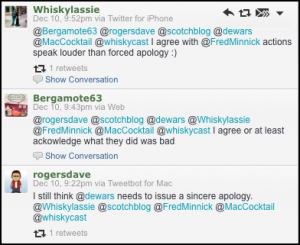 McInnis' complaint to DISCUS focuses on the trade body's Code of Responsible Practices, which outlines the industry's self-imposed standards for alcoholic beverage ads and media placement, with specific language regarding sexism:
Beverage alcohol advertising and marketing materials should not degrade the image, form, or status of women, men, or of any ethnic, minority, sexually-oriented, religious, or other group.
Bacardi is a member of the Distilled Spirits Council, and the complaint will be subject to review by the Council's Code Review Board. The only penalty the Code provides for is that a violating company would be asked to revise or withdraw the ad. However, that often results in significant costs to a company, according to DISCUS spokesman Frank Coleman. "In many cases, it can cost thousands, hundreds of thousands, even millions of dollars to change placements that are found to be in violation, and that's a very serious threat," Coleman told WhiskyCast's Mark Gillespie in an interview. In addition, DISCUS posts all Code complaints and the results of Code Review Board rulings on its web site for public review, and Coleman indicated that that threat serves as a deterrent to most potential violations. The trade body has a 100% compliance record among its members, with substantial compliance in complaints filed against non-members. The last whisky ad campaign to be reviewed by the Code Review Board was Wild Turkey's "Give 'Em The Bird" campaign in 2011, which featured people raising their middle fingers to the camera. The board decided that violated the Code's standards on good taste, and Wild Turkey complied with a request to withdraw the ads.
As previously mentioned, Dewar's has already removed the ad from its social media accounts on YouTube and other web sites.
Editor's note: This story was updated with additional comments and information.
Links: Dewar's' | Distilled Spirits Council
---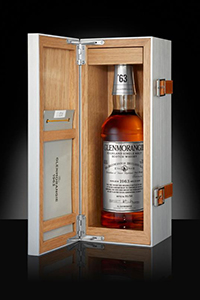 December 5, 2013 – Online bidding has reached $3,250 USD for one of the 50 rare bottles of Glenmorangie 1963 uncovered recently in one of the company's warehouses, with the proceeds to go to American Forests. The group focuses on preserving and expanding forest lands in the U.S., and has planted more than 40 million trees since 1990.
The whisky was first released in 1987, but 50 bottles were put away in a corner of the warehouse and forgotten about, according to Glenmorangie's David Blackmore. "I think they probably came to our attention when we moved facilities from our old Broxburn site to our new bottling site," he told WhiskyCast's Mark Gillespie in an interview. "People might not believe that we find this stuff, but believe me, over the years we maybe haven't been quite as organized as you might think." The whisky is believed to be one of the first "finished" whiskies, having been finished in an Oloroso Sherry cask for almost two years after its original maturation in ex-Bourbon casks. The 50 bottles were re-filled into new bottles with solid silver stoppers, collars, and labels,  along with a bespoke box designed to look like a time capsule. While most of the 50 bottles have already been sold, a few remain available at an estimated price of $2,750 USD.
American Forests was chosen as the charity to benefit from the online auction through Charitybuzz. The organization has also worked on conservation projects in more than 30 other countries, and encourages sustainable forestry management as well as expanding forest lands. "It's apt considering that we rely so much on American Oak for our products," Blackmore said.
Update: The auction ended on December 13, 2013 with a high bid of $4,050. 
Links: Glenmorangie 1963 Auction | Glenmorangie | American Forests
---
December 5, 2013 – Whisky Magazine has completed the second of three rounds in the 2014 Icons of Whisky Awards with the announcement of the winners from the Scotland round. Diageo was named Whisky Distiller of the Year for its massive expansion  plan involving most of the company's Scotch whisky distilleries, while Chivas Brothers was named the "Highly Commended" runner-up. William Grant & Sons was named Whisky Brand Innovator of the Year, while Ardbeg's Mickey Heads was named Distillery Manager of the Year.
While Laphroaig Distillery won top honors as Whisky Visitor Attraction of the Year, Highland Park's Patricia Retson was named Visitor Centre Manager of the Year and The Balvenie's David Mair won Whisky Ambassador of the Year honors.
Among retailers, Gordon & MacPhail's Elgin store was named Retailer of the Year (single outlet), along with Drinkmonger for multiple-outlet retailers and the Royal Mile Whiskies online site was named online retailer of the year.
The winners will compete with the U.S. Icons winners announced in September and the World Whisky winners to be announced later for the 2014 Global Icons of Whisky Awards. The awards will be presented on the eve of Whisky Live London next March.
Note: WhiskyCast's Mark Gillespie is a contributing editor for Whisky Magazine, and both nominates and votes on selections for these awards.
Links: Whisky Magazine
---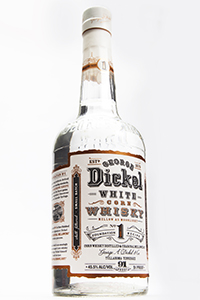 December 3, 2013 – Diageo's George Dickel distillery in Tennessee is entering the un-aged "white whiskey" sector with a new release scheduled for launch in January. Dickel's No. 1 Foundation Recipe is the "white dog" spirit that comes off the stills at the Tullahoma, Tennessee distillery, but unlike most other un-aged whiskies, goes through the same charcoal filtering process that the aged Dickel whiskies use before being diluted to bottling strength.
It is not being labeled as a Tennessee Whiskey, but as a Corn Whisky. Earlier this year, Tennessee lawmakers passed legislation limiting the use of the "Tennessee Whiskey" designation to whiskies that meet the federal government's standards for Bourbons — including the requirement that those whiskies be matured in new charred oak barrels.
George Dickel No. 1 Foundation Recipe will be bottled at 45.5% ABV, and will be available throughout the U.S. at a recommended retail price of $21.99 (750ml bottle).
Links: George Dickel
---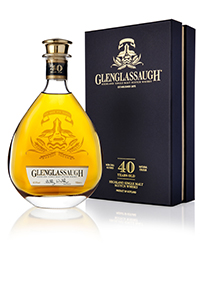 December 3, 2013 – Billy Walker's mini-empire of Highland distilleries is releasing a new 40-year-old Glenglassaugh single malt, along with nine new single cask bottlings from GlenDronach.
Walker and his partners acquired Glenglassaugh earlier this year, and are following up on the August release of a 30-year-old expression with the 40-year-old. While just 800 bottles will be available in the first release, a news release from the distillery quotes Walker as saying the Glenglassaugh 40 will be a permanent fixture in the lineup. The whisky is non-chill filtered and bottled at 42.5% ABV.
Meanwhile, Walker's team has selected nine single casks from GlenDronach for release this month. Six were matured in Pedro Ximenez Sherry puncheons, and the other three in Oloroso Sherry butts. They range in age from 18 to 41 years old, with the oldest being a 1972 Olororo butt bottled at 51.7% ABV.
Pricing and market availability for the Glenglassaugh and GlenDronach whiskies was not announced.
Links: Glenglassaugh | GlenDronach 
---