Each week, we bring you the latest whisky news on WhiskyCast, but a lot can happen during the week. Now, you can keep up with whisky news as it happens here on WhiskyCast.com!
July 31, 2013 – Diageo, the world's largest whisky producer, reported an 8% increase in profits for the 2012 fiscal year ending June 30. Overall sales rose 5%, pushed largely by a rise in U.S. sales and price increases globally.
CEO Ivan Menezes, in his first annual report since replacing Paul Walsh earlier this year, cited the strong North American performance along with sales in Latin America and the Caribbean. North American net sales gained 5%, while operating profits rose 9% on the price increases for Johnnie Walker and many other Diageo products. Sales in Latin America and the Caribbean were up 15% and profits rose 26%. Johnnie Walker sales worldwide surpassed the 20 million case mark for the first time, while single malt Scotch sales rose by 17% during the year. Other strong spots included Crown Royal, with a 17% increase in sales following the launch of Crown Royal Maple, Buchanan's blended Scotch with a gain of 26%, and a 12% gain for Bushmills.
Europe remains a soft spot for Diageo and other drinks companies. Sales fell by 3% and profits by 7% across the region, dragged down largely by weak economies in Spain, Portugal, Greece, and Italy. Declining beer sales in  the UK and Ireland cut into Guinness sales, and France suffered from what Diageo described as a weak trading environment.
Links: Diageo
---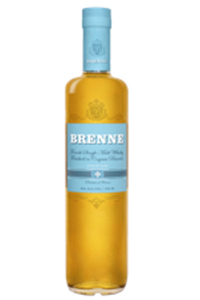 July 30, 2013 – Less than a year after Allison Patel entered the U.S. market with Brenne Estate Cask single malt whisky from France, she has signed a national distribution deal with Martignetti-owned Classic Imports, the same company that handles distribution for Gordon & MacPhail and other major spirits producers. Patel launched Brenne in October of 2012 through her own importing company, Local Infusions, but saw demand for the Cognac-finished single malt exceed her ability to supply the market.
In a news release, Patel cited Classic Imports' ability to help Brenne enter more markets in the U.S. as one of the reasons for the new partnership.
"This partnership between Brenne and Classic Imports will strengthen our ability to reach more Brenne-thirsty fans while continuing to build the momentum in our existing markets. We truly believe that Classic Imports is the perfect partner to take Brenne to the next level and are looking forward to a very long and successful partnership."
As she explained in Episode 431 of WhiskyCast last month, Brenne is produced by a Cognac distiller in France, and matured in new French Limousin Oak casks before finishing in ex-Cognac casks used previously for maturing the estate's Cognac. Mark Gillespie's tasting notes for Brenne Estate Cask are available here at WhiskyCast.com, and Brenne was also part of the April 2013 episode of WhiskyCast Virtual Tastings.
In addition to serving as an importer nationally, Classic Imports also serves as a distributor in the Northeast U.S. for many of its brands, including Gordon & MacPhail.
Links: Brenne Estate Cask | Classic Imports
---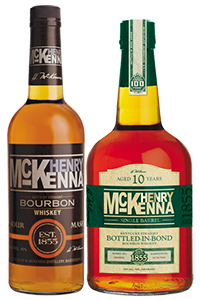 July 30, 2013 – Heaven Hill plans to expand distribution of its Henry McKenna range of Bourbons, and is giving the namesake whiskey and the Bottled-in-Bond Single Barrel version new packaging.
The whiskeys are named after Henry McKenna, who left Ireland for the U.S. in 1837 and used his family's whiskey recipe when he opened his distillery in Fairfield, Kentucky in 1855. The standard 40% ABV version of Henry McKenna gets a new brown label with modern graphics describing McKenna's history, while the Single Barrel version gets an update of its traditional green labels. The 10-year-old Single Barrel is the only double-digit vintage Bottled-in-Bond Single Barrel Bourbon available, and carries a recommended retail price of $29.99 USD. The standard version retails for around $15.99 USD per 750ml bottle, and is also available in 375ml, 1 liter, and 1.75 liter bottles as well.
The new packaging comes as Heaven Hill prepares to expand availability of the Henry McKenna whiskies outside of the Mid-Atlantic region of the U.S., which has been the traditional stronghold for the brand.
Links: Heaven Hill
---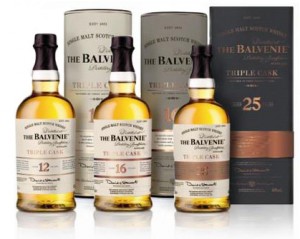 July 30, 2013 – The Balvenie has unveiled its second travel retail release of the year, a three-expression series of 12, 16, and 25-year-old single malts. The three whiskies will be available globally in travel retail shops exclusively, along with the Tun 1401 Batch #7 release from earlier this year.
The recommended retail prices for the range are £49.99 ($76 USD) for the 12-year-old, £64.99 ($99 USD) for the 16-year-old, and £299 ($456) for the 25-year-old expression.
Links: The Balvenie
---
July 27, 2013 - Diageo and Louisville's Air Pollution Control District have reached an agreement to resolve air quality complaints filed against the drinks company in September of 2012 stemming from fungus on homes and buildings near one of the company's whiskey maturation facilities. According to the Louisville Courier-Journal, Diageo will move around 185,000 casks of whiskey from its Millers Lane maturation warehouses on the city's west side and vacate the facility over the next 30 months.
The original complaint against Diageo, which also included other local whiskey producers, linked alcohol vapors evaporating from the barrels stored at Millers Lane to fungus growing on homes, cars, and buildings near the site. Under the complaint, the District had threatened fines of up to $10,000 per day against Diageo, but the settlement negates those fines. A separate class-action lawsuit against Diageo and the city's other whiskey producers is pending in U.S. District Court.
The agreement calls for Diageo to move barrels that will eventually be sold as Bulleit Kentucky Straight Bourbon to its warehouses at the Stitzel-Weller Distillery site about half a mile away, while the remaining barrels will be moved to warehouses near Diageo's George Dickel Distillery in Tennessee. Since U.S. regulations require that a whiskey be entirely distilled and matured within a state in order to carry that state's name, the whiskey to be moved to Tennessee is likely destined for the company's lower-grade whiskey brands (and also means that those casks were not originally filled with spirit at Dickel).
The Courier-Journal reports that the local Metro Council member for the neighborhood is not pleased with the agreement. Mary Woolridge told the paper that the resolution doesn't solve the problem, just moves it half a mile down the road. According to the Courier-Journal, the Air Pollution Control District's executive director says the Stitzel-Weller site complies with air quality standards and is not under investigation in connection with the fungus problems.
---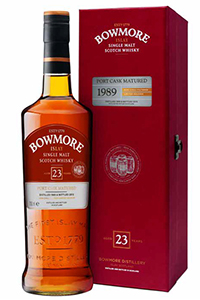 July 26, 2013 – Bowmore has released a 23-year-old Port cask-matured single malt. The limited-edition whisky was distilled in 1989, and has been bottled at 50.8% ABV.
The whisky comes in a mahogany presentation box with a certificate signed by distillery manager Eddie McAffer. Around 12,000 bottles will be available worldwide through whisky specialist retailers, with a suggested retail price of £380 ($540 USD).
Links: Bowmore
---
July 25, 2013 – William Grant & Sons, the family-owned company responsible for Glenfiddich, The Balvenie, and Grant's whiskies, led trophy winners in the whisky categories at the 2013 International Wine & Spirit Competition. Trophy and medal winners were announced this week, while awards for Producer of the Year in global and regional categories will be announced at the IWSC's annual banquet November 14th in London.
Grant's 18 won the Independence Blended Scotch Whisky Trophy, while The Balvenie 40 won the trophy for Best Single Malt Scotch Whisky Over 15 Years and Glenfiddich 40 won for Best Cask Strength Scotch Whisky. Glenmorangie Signet won the trophy for Best Single Malt Scotch Whisky – no age statement, and Ben Nevis 15 Single Cask won the Trophy for Best Single Malt Scotch Whisky 15 Years and Under.
Taiwan's King Car won the Worldwide Whiskey Trophy for its Kavalan Solist ex-Bourbon Cask Strength single malt, and Eagle Rare 10 Single Barrel from Buffalo Trace won the inaugural Bourbon Trophy.
All four of the Scotch whiskies honored with trophies also won Gold Outstanding ratings from the judging panel, along with these whiskies:
Laphroaig 18
The Glenlivet 21 Archive
Johnnie Walker Black Label
Oban 14
Talisker 10
Master of Malt 30 Year Old Speyside
James King 15
Glenmorangie 18
Kingdom 12
Jura 1977
Jura 1973
The Balvenie 12 Single Barrel
The Balvenie 30
In addition to its trophy for the Kavalan Solist ex-Bourbon Single Cask, which also won a Gold Outstanding rating, King Car received a Gold Outstanding rating for its Vinho Barrique Cask Strength Single Malt. Other Gold Outstanding ratings in Worldwide whiskies went to Three Ships Premium 5 from South Africa and Mackmyra's Moment Glöd from Sweden.  The IWSC did not award a separate trophy for Irish whiskies, but those receiving Gold Outstanding ratings included Yellow Spot 12, Midleton Barry Crockett Legacy, Kilbeggan 18, Greenore 8 Single Grain, and Tullamore Dew 12 Special Reserve.
Bourbons receiving Gold Outstanding ratings, in addition to the Eagle Rare 10, included Jim Beam Black, Hudson Baby Bourbon, and Western Gold Bourbon. This 6-year-old Bourbon is sourced in Kentucky for the Lidl supermarket chain's UK stores.
A complete list of award winners can be found at the IWSC's web site.
---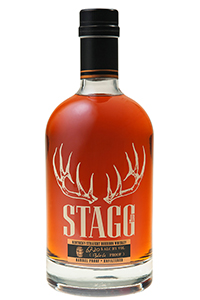 July 25, 2013 – As WhiskyCast first reported in March, Buffalo Trace plans to release a younger and more widely available version of its award-winning George T. Stagg Bourbon. The distillery unveiled Stagg Jr. today, and like the original, will be an uncut and unfiltered Bourbon. However, Buffalo Trace plans to release several batches of Stagg Jr. each year, compared to the extremely limited annual release of George T. Stagg Bourbon as part of the Buffalo Trace Antique Collection.
The first batch of Stagg Jr. was bottled from 8 and 9-year-old casks at 67.2% ABV, but future batches will vary slightly. The distillery has been setting aside casks for several years with plans to release them as Stagg Jr., and the new whiskey will not affect casks already earmarked for future George T. Stagg releases.
The whiskey is named after George T. Stagg, who was one of the early masterminds of Bourbon whiskey sales during his partnership with Col. E.H. Taylor Junior. The distillery was named after Stagg in 1904, and carried his name until it was renamed Buffalo Trace by Sazerac in 1999. Stagg Jr. will be available starting in August with a suggested retail price of $49.99.
Links: Buffalo Trace
---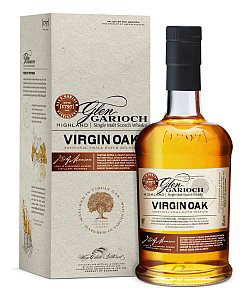 July 18, 2013 – Morrison Bowmore's Glen Garioch Distillery has released a new single malt Scotch matured in virgin American white oak casks. Glen Garioch Virgin Oak was inspired several years ago when the distillery laid down spirit in new oak casks to see what would happen when their spirit's character interacted with virgin wood.
In a news release, master blender Rachel Barrie described the results of the experiment:
"Glen Garioch's intense flavour means it holds up well in a new fill cask, allowing the liquid to be fully matured in virgin oak and not just finished in the barrel. We used the inner heartwood of 100-year-old oak trees grown in the North American mountains.  Each oak barrel was heavily charred to activate the wood's vanilla and oak spices in readiness for the maturing spirit, bringing its own unique woody tones to the malt. The final result is a fusion of vanilla, caramelised wood sugars and oak spices." 
The new expression will be available initially at whisky specialist retailers in the UK, with 120 cases destined for the market. A North American release is scheduled for October, according to Morrison Bowmore's Jamie MacKenzie.
Links: Glen Garioch
---
July 18, 2013 – Chip Tate and his team built the original stills and equipment for his Balcones Distillery in Waco, Texas by hand, and opened the distillery in an old welding shop under a freeway overpass in 2008. Five years later, Tate's whiskies are winning worldwide acclaim, and Balcones has outgrown the capacity of those hand-made stills. Tate and his investors broke ground Thursday for a new distillery to be built in a historic Waco building five blocks from the original distillery.
The new Balcones distillery will be housed in a 65,000 square foot building originally constructed in 1923 as a fireproof storage building. It survived the 1953 tornado that leveled much of downtown Waco, and will be renovated to serve as a distillery between now and its scheduled opening in 2015. Tate has added a new team of investors to help fund the project, along with a temporary expansion of the current distillery to increase production capacity while the new distillery is being built.
This time, Tate and his team will only build some of the equipment for the current distillery. Forsyths of Scotland will build the stills and tanks for the new distillery.
For more on this story, listen to this weekend's episode of WhiskyCast.
For an interview with Chip Tate on the development of the original Balcones Distillery, listen to Episode 319 of WhiskyCast.
Links: Balcones Distilling
---