Each week, we bring you the latest whisky news on WhiskyCast, but a lot can happen during the week. Now, you can keep up with whisky news as it happens here on WhiskyCast.com!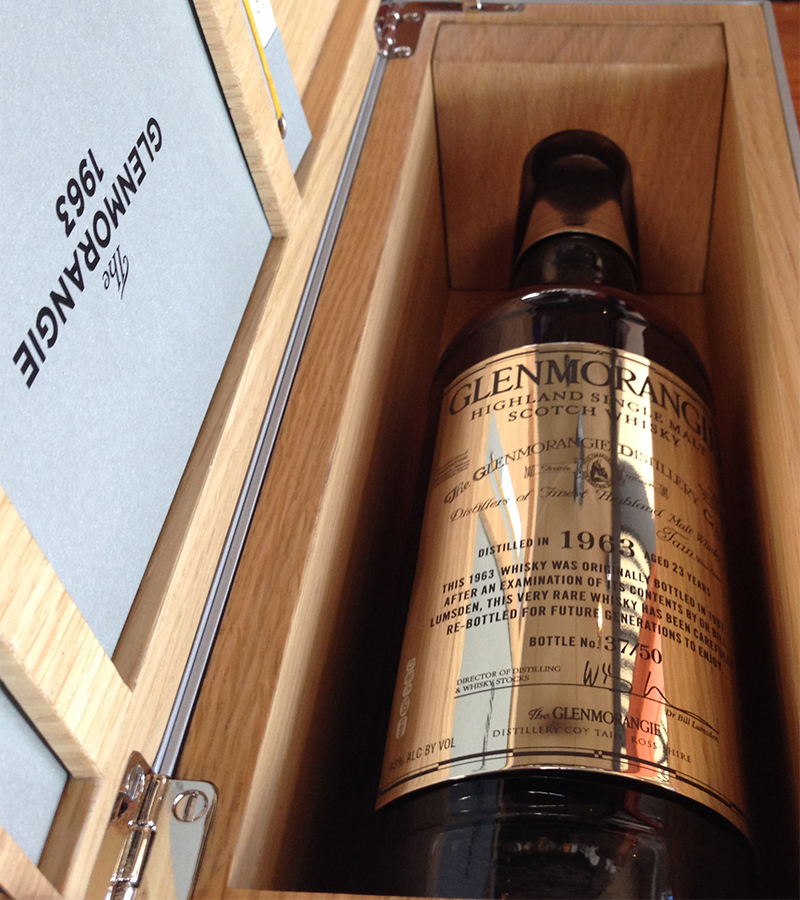 February 15, 2014 – With only 50 bottles worldwide in the re-release of Glenmorangie 1963, it's likely that most have (or will be) snapped up by private collectors. However, at least one will be available to the average whisky lover — the average whisky lover willing to spend $550 for a dram. Reserve 101, a whisky bar in downtown Houston, has acquired one of the 50 bottles, and owner Mike Raymond added it to the whisky list today following a news conference with Glenmorangie's Dr. Bill Lumsden.
"As of now, we have not heard of any other bar or restaurant in the world that has a bottle," Raymond told WhiskyCast's Mark Gillespie in a telephone interview. "It's going to be $550 for a dram, and we do ounce and a half pours, so we do a little bit heavier than the normal pour…honestly, I think that at $550 it's a steal."
Reserve 101 has Bottle #37 of the 50 that were released at the end of 2013. As previously reported here at WhiskyCast.com, the 1963 vintage was first released in 1987, but the 50 bottles were put into a corner of Glenmorangie's Broxburn warehouse in Scotland and forgotten. They were discovered when the company moved out of Broxburn a couple of years ago and refilled into new bottles with a price of $2,750 each. The 1963 vintage is believed to be one of the earliest "finished" whiskies, having been filled into Oloroso Sherry casks after their original maturation in ex-Bourbon barrels.
Raymond originally had hoped to acquire a bottle of the Glenmorangie Pride 1981 release for Reserve 101 last year, but there were no bottles available in the United States. "About that time, I started hearing rumors about the 1963," he said. His initial inquiries were met with silence, but a couple of months later, he received a phone call with details on the 1963, and a price in the same range as what he had been planning to pay for a bottle of the Pride. That didn't guarantee that Moet Hennessy USA would be able to get a bottle into Texas so that Raymond could order it. Several weeks ago, he received word that one bottle would be available in Houston and that he would get first crack at it.
"It would not surprise me that we sell it out pretty quick," Raymond said. "At an ounce and a half pour, you're only talking about 18 shots in a bottle."
Links: Reserve 101 | Glenmorangie
---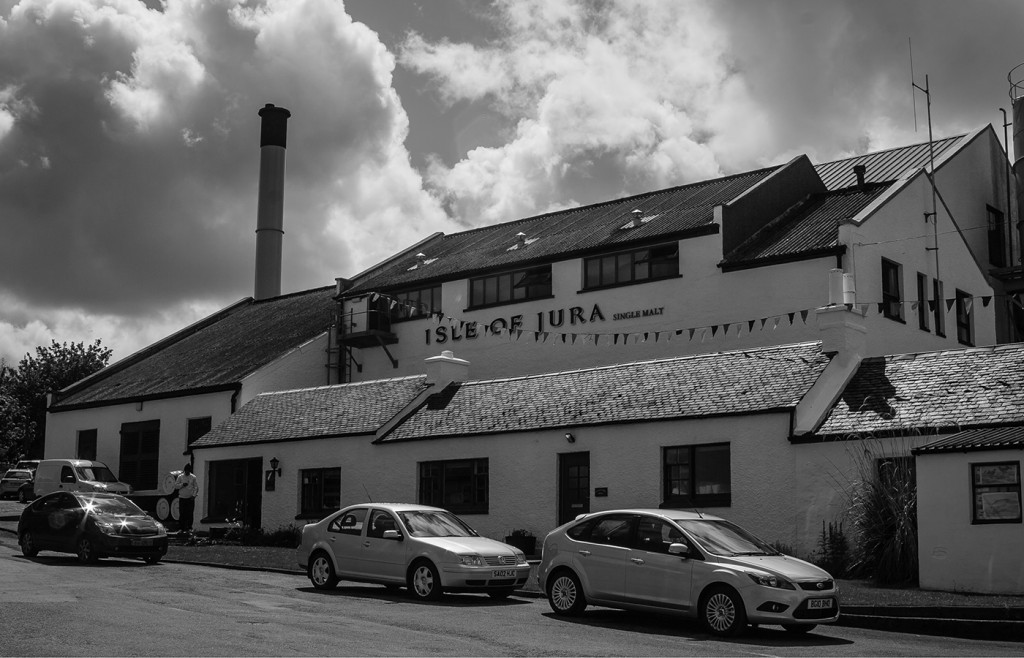 February 12, 2014 – Diageo and United Spirits have officially kicked off the sale process for USL's Whyte & Mackay division with the appointment of investment bankers. The Telegraph, Financial Times, and other news organizations report that Diageo has named Rothschild, Rabobank, and Standard Chartered to manage the sale, with documents to be provided to interested bidders next week. The sale could bring bids in excess of £450 million ($747.4 million USD), according to multiple reports.
The sale of Whyte & Mackay has been in the works since November, when the UK's Office of Fair Trading recommended that Diageo's acquisition of a controlling stake in United Spirits be blocked because of its potential impact on the Scotch whisky market. Regulators are concerned that Diageo's Bell's blended Scotch and Whyte & Mackay's namesake blend would overlap in the market and limit competition, along with the potential disruption of Whyte & Mackay's private label bulk whisky sales. The OFT agreed to delay action on its ruling after Diageo offered to resolve the concerns by selling approximately 70% of Whyte & Mackay, while retaining the Dalmore and Tamnavulin malt whisky distilleries.
While the sale proposal includes the Jura (shown above) and Fettercairn malt whisky distilleries, the Invergordon grain whisky distillery, and all of Whyte & Mackay's blended Scotch whisky business, the Telegraph reports bidders will also be allowed to include an offer for the Dalmore distillery and its whisky stocks. The Dalmore has been the bright spot in Whyte & Mackay's single malt business, largely on the basis of a series of high-priced rare expressions that have been widely sought by collectors. That could push the price well above the estimated £450 million.
So far, only one potential bidder has openly acknowledged an interest in Whyte & Mackay. Vivian Imerman's Vasari Group issued a statement in December that Whyte & Mackay would fit well into plans to expand its drinks business in Africa and Asia. Imerman owned Whyte & Mackay from 2005 until 2007, when he sold it to Vijay Mallya's United Spirits for £595 million ($988 million USD).  Reuters reports other drinks companies and private equity firms were contacted last week to gauge their interest in bidding for Whyte & Mackay. Those companies expressing interest will be provided with confidential information on Whyte & Mackay's finances in order to prepare their bids.
As WhiskyCast reported earlier this week, the Office of Fair Trading has delayed any action on Diageo's proposal to resolve the competition concerns until a buyer for Whyte & Mackay has been selected. The regulatory agency intends to require the new owner to maintain Whyte & Mackay's private label Scotch whisky business, on the grounds that other bulk whisky suppliers would not be able to meet the retail sector's needs for several years if those sales were eliminated.
Links: Diageo | United Spirits | Whyte & Mackay
---
February 12, 2014 – Here are some of the stories making news in the whisky world this week…
Beam is expanding distribution of its 2 Gingers Irish Whiskey brand throughout the US, and will send 2Gingers founder Kieran Folliard on a nationwide road trip to promote the brand. Folliard founded 2 Gingers in Minnesota in 2011, and sold the brand to Beam at the end of 2012.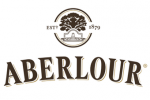 Just-Drinks.com reports Chivas Brothers is launching a global ad campaign for Aberlour, along with a redesigned logo for the Speyside single malt. The new logo highlights the Birkenbush spring that runs next to the distillery and supplies its water for whisky production.
Buffalo Trace has released the latest edition in its Experimental Collection series of whiskies. The four rye-based Bourbons were identical when they came off the still, but were then reduced to four different entry proofs as they were filled into casks for maturation. The entry proofs ranged from 45% ABV (90 proof) to 62.5% ABV (125 proof), which is Buffalo Trace's standard entry proof for its whiskies. The goal was to evaluate the difference on the final whiskies after 11 years and 9 months, when they were all cut to 45% ABV for bottling. The four whiskies will be available at US whisky specialty retailers in 375ml bottles for a recommended price of $46.35 each.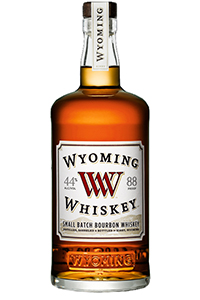 Wyoming Whiskey is available outside of the Cowboy State for the first time since it was launched in December of 2012. The wheat-based Bourbon is now available in Colorado and Texas. In Colorado, Wyoming Whiskey will be available statewide, with a series of promotional events planned for the week of February 17. Austin will be the initial market in Texas, with a tasting planned for the Soundcheck event in downtown Austin on March 1.
A memorial service is planned for February 18 in  New York City for Charles Gordon, the former Chairman of William Grant & Sons. Grant died in New York City on December 23 at the age of 86. Attendance is by invitation only.
Finally, look for two very old Scotch whiskies to be announced in the coming days. Glen Grant is preparing to announce the return of its 50-year-old expression, and The Last Drop's James Espey says he'll be releasing a new 50-year-old Scotch as well. We'll have details on WhiskyCast this weekend.
Links: 2 Gingers | Aberlour | Buffalo Trace | Wyoming Whiskey | William Grant & Sons | Glen Grant | The Last Drop
---
February 11, 2014 – Diageo's new Orphan Barrel line of whiskies is based on so-called "found" barrels of whisky that have been maturing in warehouses for many years, but the company has now acknowledged the birthplace of the first two releases in the series. Until now, the only publicly disclosed information on the heritage of Old Blowhard and Barterhouse Bourbons was that they had been "discovered" in maturation warehouses, with Old Blowhard found at Diageo's long-closed Stitzel-Weller Distillery in Louisville.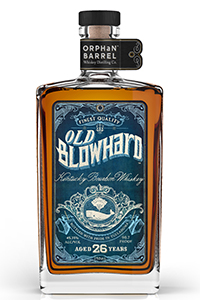 Now, the source of both whiskies has been disclosed. Both were distilled in Louisville, though not at Stitzel-Weller, which closed in 1992. At that time, Diageo's predecessor, United Distillers, shifted its Bourbon production to the newly-built Bernheim Distillery on West Breckenridge Street in Louisville. That distillery replaced the original Bernheim Distillery, which was located in downtown Louisville and opened in 1897.
The original Bernheim Distillery is the source of Old Blowhard, while the new distillery is the source of Barterhouse. It's not known when the Old Blowhard casks were moved to Stitzel-Weller, where United Distillers and later Diageo have continued to use the on-site maturation warehouses.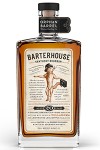 The Bernheim Distillery is now owned by Heaven Hill, which acquired it following the 1996 fire that destroyed Heaven Hill's distillery in Bardstown.
For more details on this time period, including the closing of Stitzel-Weller and the shift in production to Bernheim, listen to Mark Gillespie's 2012 interview with Stitzel-Weller's final master distiller, Bourbon Hall of Fame member Edwin Foote, in Episode 398 of WhiskyCast.
Mark Gillespie's tasting notes for Old Blowhard and Barterhouse are available in the Tasting Notes section of WhiskyCast.com.
Tip of the hat to Geoff Kleinman at DrinkSpirits.com, who first reported the source of both whiskies.
Links: Diageo
---
February 11, 2014 – India's Supreme Court has delayed hearings until April on an appeal from Diageo and United Spirits of a Karnataka state court ruling reversing the sale of a tranche of USL shares to Diageo. According to Reuters and the Business Standard, the court ordered that the "status quo" be maintained until that hearing, meaning Diageo continues to own the approximately 7% of USL shares in question and continues to manage United Spirits.
The Karnataka court ruled in December that Vijay Mallya's United Breweries Holdings improperly sold those shares to Diageo in a series of complex transactions. The holding company owes creditors millions of dollars in failed loans. A group of creditors led by the State Bank of India argued that the negotiated sale price was far lower than the shares would have brought on the open market, and was done without their consent, since the shares had been pledged as collateral for loans to UB Group and Mallya's grounded Kingfisher Airlines. A lower court had approved the sale last year, allowing Diageo to take operational control of USL in July.
At the time, Diageo had only been able to acquire about 25% of USL's outstanding shares, but agreements with UB Group and other shareholders to vote their proxies at Diageo's direction gave the drinks giant management control over USL. Diageo has since acquired another 3% of USL's shares this month, bringing its total stake in the company to around 28%.
No date for the hearing was announced.
Links: Diageo | United Spirits 
---
February 10, 2014 – This month marks 10 years since the passing of Booker Noe, the legendary 6th-generation Master Distiller at Jim Beam and the creator of Booker's Small Batch Bourbon in 1989. The Lexington Herald-Leader reports Beam will release a 25th Anniversary edition of Booker's using some of the final barrels from Noe's historic career.
"There are some 10-year-old barrels laid down from the last bourbon Dad made before he passed away," Fred Noe told the Herald-Leader's Janet Patton. Those barrels will be used for the 25th anniversary edition, with only about 12,000 bottles to be available at a  recommended price of around $100.
According to Beam, Fred Noe and his son, Freddie, selected those barrels specifically for the 25th Anniversary edition to be left in Booker Noe's favorite warehouse for extra aging. Booker's normally does not carry an age statement, but the casks used in this batch range from 9 to 11 years old. The batch has been bottled just as Booker Noe demanded it — uncut and unfiltered, with a final strength of  65.4% ABV (130.8 proof).
The anniversary edition also comes in a specially designed bottle and wooden presentation box.
Editor's note: This story was edited to include additional information and a photo of the Booker's bottle.
Links: Jim Beam
---
February 10, 2014 – The UK's Office of Fair Trading will not issue its opinion on Diageo's proposal to sell approximately 70% of Whyte & Mackay until the company has found a potential buyer. The regulatory agency released a redacted version of its opinion on Diageo's acquisition of W&M parent United Spirits late last week, including its expectation that any buyer would have to commit to keeping Whyte & Mackay's private label whisky business in place. OFT policy is that so-called "undertakings in lieu" proposals will not be considered for approval until after a sale proposal can be reviewed.
In November, the OFT rejected Diageo's plan to acquire a controlling stake in India-based United Spirits on the grounds that it would reduce competition in the UK's Blended Scotch whisky market, along with the private label market. Regulatory review found Diageo's Bell's brand overlaps with Whyte & Mackay's namesake blend, and allowing the two brands to be owned by the same company could distort the market. In addition, the OFT found that other bulk whisky providers would not be able to supply the private label market should Diageo decide to end Whyte & Mackay's role in that sector. The ruling has been placed on hold after Diageo proposed to resolve the agency's concerns by sell off all of Whyte & Mackay except for the Dalmore and Tamnavulin malt whisky distilleries.
While United Spirits has hired an investment banker to review sale proposals, no offers have been publicly announced. Suntory denied reports in January that it would make a bid for the entire Whyte & Mackay unit. Former W&M owner Vivian Imerman's Vasari private equity group expressed interest in December, but has not commented since then. Diageo and United Spirits have also declined to comment on the proposal.
The OFT's entire report — redacted to remove trade secrets and confidential information — is available here.
Links: Office of Fair Trading | Diageo | United Spirits | Whyte & Mackay
---
February 7, 2014 – 12 down, just four to go…as Buffalo Trace releases the latest batch in the Single Oak Project series of experimental Bourbons. The project started back in 1999 when the late Ronnie Eddins picked 96 oak trees from a Missouri forest, and will be completed in 2015 with the release of the final batch and the verdict from whiskey lovers on the best of the 192 different variations.
Batch #12 focuses primarily on the differences between wood from the top of a tree and the bottom. Each of the 96 trees produced a barrel from the top and bottom halves, and while the size of the wood grain and the choice of wheat or rye-dominant recipes also varied, all other variables in  the 12-bottle batch remained the same. In a news release, Buffalo Trace Master Distiller Harlen Wheatley noted the ongoing debate over whether staves cut from the top or bottom of a tree really make a difference in the final whiskey.
"From top to bottom, the tree chemistry is quite different.  The chemicals most affected by the tree structure are oak lignins and tannins.  Oak lignins are composed of two building blocks, vanillin and syringaldehyde.  Generally there is a higher composition of oak lignins in the bottom part of the tree which in turn delivers more vanilla.  Tannins are generally higher in concentration in the top section of the tree versus the bottom; however, they also vary from inside out.  The outer heartwood is generally higher in tannin concentration. As far as taste, most people know how the vanilla contributes to the flavor, but tannins are important for the development of esters, which sometimes deliver fruitiness or complexity to the overall composition."
This is one of the few times where tree location has been tested, since most barrels are made out of staves from several trees to ensure consistent flavor development during maturation — and because producing mass quantities of barrels using wood from a single tree would be economically unfeasible.
So far, the leading barrel in online voting is #82, with more than 4,000 online reviews of the 132 bottles released so far in the first 11 batches. Buffalo Trace plans to replicate the variables of the winning barrel to produce a permanent expression under the Single Oak Project label once the final batch is released next year.
Selected US retailers will receive cases later this month with one 375ml bottle of each of the 12 different barrels in the batch. The suggested retail price is $46.35 per bottle.
Links: Buffalo Trace | Single Oak Project
---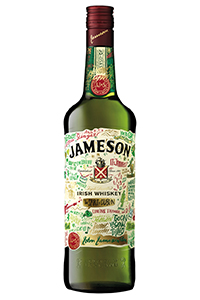 February 7, 2014 – With St. Patrick's Day just six weeks away, Jameson has unveiled the fourth in its series of limited edition St. Patrick's Day bottles. Irish illustrator Dermot Flynn used the culture of Dublin to create the label design, which will be featured on Jameson bottles to be available in travel retail and key global markets for a limited time.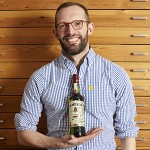 Flynn's illustration features the legendary Dublin pub, The Stag's Head, along with some of the city's historical figures and notable slang. In a news release, Jameson Global Brand Director Daniel Lundberg said the whiskey's historical ties to Dublin are part of its "intrinsic Irish character."
"Jameson embodies the down-to-earth character of Dubliners so with this new limited edition, we wanted to bring that to life and celebrate the great city which inspired John Jameson to make his now iconic whiskey for the first time over 230 years ago. The new bottle design has been very well-received by our customers around the world resulting in more markets than ever selling this year's edition, so we're hopeful that Irish whiskey fans around the world will love it too and make it a part of their special St Patrick's Day celebrations, wherever they may be."
The St. Patrick's Day bottle will be available at the Old Jameson Distillery in Dublin, which will again be the home this year for the Jameson Global Broadcast on March 17 featuring broadcasters from radio stations around the world doing their shows from the distillery.
The announcement comes as Irish Whiskey continues to grow in global sales. Irish Whiskeys were the fastest-growing sector of the US whisky market during 2013, according to data released this week by the Distilled Spirits Council of the United States. In addition, the Irish Spirits Association projected this week that exports will double between now and 2020, from 6.2 million cases in 2013 to more than 12 million cases by 2020.
Links: Jameson
---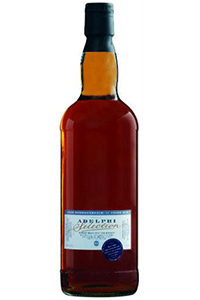 January 5, 2014 – Scotland's Adelphi Distillery Ltd. has reached a deal with Chicago-based Terlato Wines to import and market its single-cask bottlings in the US market. The two companies plan four quarterly releases each year, starting with an initial batch of four Adelphi Selection expressions: a 14-year-old Highland Park, a 21-year-old Bunnahabhain, a 23-year-old Glen Grant, and a 32-year-old BenRiach. Recommended retail prices will range from $170 to $475. No details were announced on which markets the Adelphi Selection whiskies will be available in initially.
Terlato imports and distributes wines and spirits from at least 13 countries around the world, including wines from golf legend Jack Nicklaus, Champagne from France's Bollinger, and the Terlato family's own California wines. In a news release, Adelphi's Alex Bruce described Terlato as the partner Adelphi had been searching for in the US market:
"We both have a 'no-compromises' philosophy when it comes to quality. Their success in luxury marketing is proven, and coupled with their excellent industry relationships, we are in a great position to bring Adelphi Scotch Whiskies to America's most discerning Scotch Whisky enthusiasts."
The deal does not yet include whisky from Adelphi's new Ardnamurchan Distillery on Scotland's Ardnamurchan peninsula. The distillery is expected to open later this year, but will not have any whisky ready to release for a minimum of three years, and likely much longer.
For more information on Adelphi's history, listen to Mark Gillespie's interview with Antonia Bruce of Adelphi in Episode 339 of WhiskyCast from October, 2011.
Links: Adelphi | Terlato Wines
---