Each week, we bring you the latest whisky news on WhiskyCast, but a lot can happen during the week. Now, you can keep up with whisky news as it happens here on WhiskyCast.com!
July 1, 2015 – David Beam, the last distiller at Jim Beam to carry the family name, passed away at his farm near Bardstown, Kentucky on Monday (June 29) at the age of 74. Born Daniel David Beam on January 23, 1941 at his family's home on the distillery grounds in Clermont, he spent 38 years working at the Jim Beam Distillery before retiring in 1996. He and his wife Belle also owned the Old Kentucky Home Motel in Bardstown for 21 years, according to his obituary in the Nelson County Gazette.
As longtime Bourbon historian and writer Chuck Cowdery noted in his blog, David Beam and his brother Baker succeeded their father Carl as the head distillers at Beam, with Baker working the 12-hour day shift and David working the night shift to keep the distillery running 24 hours a day.
David Beam is survived by his brother, along with a daughter, three sons, and seven grandchildren. Our condolences go out to the entire Beam family.
Links: Jim Beam
---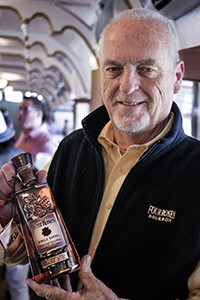 July 1, 2015 – "I'll be 72 in December, and when you get to be 71, you'll understand…right now, I don't know if I can make you understand. 50 doesn't mean that big a deal to me…"
That's how longtime Four Roses Distillery Master Distiller Jim Rutledge describes his decision to retire after 49 years in the whiskey business. He will step down on September 1 after more than 20 years as Master Distiller and be succeeded by current Operations Director Brent Elliott. Rutledge has agreed to remain as the distillery's "Master Distiller Emeritus" and do promotional work for Four Roses, but is also keeping his future options open. "Like Elmer T. (Lee of Buffalo Trace)…and I'm not comparing myself to him, he was a legend, but they had things for him, put his name on bottles after he retired…look at Booker (Noe), he was around 20-25 years after he retired as the face of Jim Beam," Rutledge said in a telephone interview. "I'm retiring, but I wouldn't know how to put a fishing pole in my hand and go fishing every day."
Rutledge said there were years when he took just four days of vacation time because of commitments to the distillery, and he wants to be able to spend time with his family while he's healthy enough to enjoy it. "I've felt like I cheated my family over the years because I was too committed to what I was doing at the distillery, so this gives me the opportunities to do both…I may be able to work as much as I want, more than I want, but it certainly won't be every day."
In a news release, Four Roses CEO Satoko Yoshida praised Jim's contributions to the distillery and the industry. " "He will be missed as the 'face of Four Roses Bourbon,' but we now wish him much happiness and success in his retirement years. I am also excited to have the opportunity to work with Brent in his new capacity as Master Distiller," she said. The move comes as Four Roses is preparing to launch a $55 million expansion that will double the distillery's capacity and add new warehouses at its Coxs Creek maturation complex near Bardstown. 
Overseeing that work will rest with Elliott, who gets nothing but praise from Jim Rutledge. "He'll make up the Limited Edition Small Batch samples…I do the easy part, yes or no, approve or not approve." Elliott has been responsible for selecting the barrels used in the regular Four Roses Bourbons, and Rutledge said "he has been very involved…whether it's the distillate that goes into the barrel, the Bourbon that comes out of the barrel…all along, he's been involved."
Rutledge started his career at Seagram's, which owned the Lawrenceburg, Kentucky distillery until the company's breakup and its sale to Japan's Kirin Brewing in 2003. He was instrumental in reviving the brand's stature in the US market when it was reintroduced as a premium Bourbon under Kirin's ownership. For decades, only export markets received the Four Roses Bourbons, while the Bronfman family insisted on marketing Four Roses in the US as a cheaply blended American Whiskey. Rutledge's leadership in the industry resulted in his being named to the inaugural 2001 class of the Kentucky Bourbon Hall of Fame, and he also served as chairman of the Kentucky Distillers Association board.
The entire interview with Jim Rutledge will be part of this week's WhiskyCast.
Editor's note: This story was updated following an interview with Jim Rutledge.
Links: Four Roses
---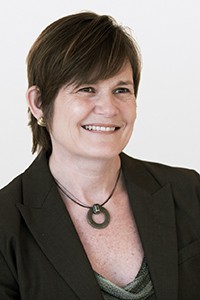 July 1, 2015 – Diageo Chief Financial Officer Deirdre Mahlan has been named as the drinks giant's new North American president following the announcement last month that current president Larry Schwartz will retire later this year. Mahlan will relocate from the company's London headquarters to New York once her successor is in place. She previously served as the North American unit's CFO during a stint in New York lasting from 2002 through 2007, and moved through senior roles as the company's head of tax and treasury issues and Deputy CFO before being promoted to her current role in 2010.
In a news release, Diageo CEO Ivan Menezes made the announcement as one in a series of organizational changes for the North American unit. "Deirdre has been an exceptional CFO and has the skills, together with experience of the market, to lead the next stage of growth in North America," he said.
Links: Diageo
---
June 29, 2015 – A legal battle lasting more than two years over supplies of bulk whiskey for the former Michael Collins Irish Whiskey brand has ended with both sides declaring a draw. In a motion filed Friday in US District Court in New York, Sidney Frank Importing Company and Beam Suntory jointly dismissed the suit filed by Sidney Frank on March 1, 2013 seeking $100 million in damages. The move came three days after Sidney Frank agreed to be acquired by Mast-Jägermeister, the German-based producer of Jägermeister liqueur, for an undisclosed amount. The two companies had been closely aligned for 40 years, as the late Sidney Frank was responsible for introducing Jägermeister to the United States as its importer and distributor in 1974. 
That lawsuit was filed after Beam started limiting bulk whiskey sales from Ireland's Cooley Distillery following its deal with Cooley's owners to acquire the company in late 2012. Under John Teeling's leadership, Cooley generated income by selling whiskey in bulk to independent bottlers like Sidney Frank, which built the Michael Collins brand based on having a long-term supply of whiskey from Cooley. Beam executives decided after acquiring Cooley to stop the practice and use Cooley's production to build up its Kilbeggan, Tyrconnell, and Connemara brands instead. In the original lawsuit, lawyers for Sidney Frank claimed Beam tried to undermine its relationships with distributors by telling them that "Michael Collins is going away." The brand was named for the Irish revolutionary leader, and Sidney Frank was forced to withdraw it from the market after being unable to replace the whiskey supply from Cooley.
The case never reached the trial stage, with Beam fighting vigorously against the Sidney Frank claims to the point of seeking legal authority in Ireland to compel former Michael Collins brand manager Abaigeal Hendron to testify in the case as recently as last month. No reason was given in the filing for the joint motion to dismiss the case, and each party will be responsible for its own legal fees and costs. A Beam Suntory spokesman declined to give more specifics beyond a news release announcing the withdrawal of the lawsuit, and executives at Sidney Frank have not returned our requests for more information.
This story will be updated as necessary.
Links: Beam Suntory | Sidney Frank Importing Company
---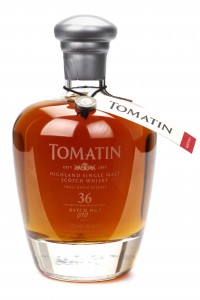 June 29, 2015 – Tomatin is releasing a new 36-year-old single malt from the distillery near Inverness, with just 800 bottles in the initial batch. The new expression will be available worldwide with a recommended retail price of £499.99 ($789 USD) when it hits retailers later this month.
The Tomatin 36 Year Old will replace the distillery's 30-year-old expression, which was discontinued earlier this year. While the initial batch will have just 800 numbered bottles, the distillery has enough stock of older whisky available to make it available on an ongoing basis, according to sales director Stephen Bremner. The whisky is tatted from a combination of Oloroso Sherry and ex-Bourbon casks, and is bottled at 46% ABV with no chill-filtering or caramel coloring.
Tasting notes will be available at a later date.
Links: Tomatin
---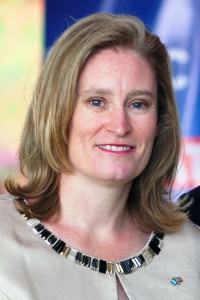 June 29, 2015 – Scotch Whisky Association CEO David Frost and his predecessor, Sir Gavin Hewitt, both came to the association following service in the UK Diplomatic Service, so it comes as little surprise that Frost and the SWA's directors would select another diplomat to head up the association's new London office. Ambassador Sarah Dickson will join the association once she wraps up her service as the Queen's Ambassador to Guatemala and Honduras.
As Director of Global Affairs, Dickson will be responsible for the association's lobbying efforts on trade and taxation worldwide. Her speciality is European and Latin American affairs, and she served at the UK's embassies in Spain, Argentina, and Serbia before being appointed to her current post.
In addition, Graeme Littlejohn has been named to head up the London office's external affairs unit with responsibility for relationships with the UK Government and Parliament. Littlejohn was chief of staff for former MP and Chief Secretary to the Treasury Danny Alexander. Trade policy manager Helena Mumdzjana will move from the SWA's Edinburgh headquarters to London, and the association is hiring additional trade and regulation analysts to staff the London office when it opens next month.
In a news release, Frost and his colleagues repeated their intention to keep the Association's headquarters in Edinburgh. Plans are in the works to move from the longtime office in Atholl Crescent to new offices in Edinburgh's Quartermile development later this summer.
Links: Scotch Whisky Association
---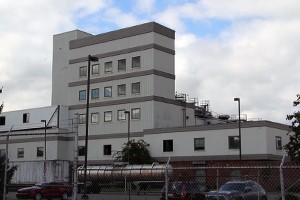 June 28, 2015 – While the exact timetable hasn't been set, Heaven Hill is planning the third phase in its expansion of the Bernheim Distillery in Louisville in the past seven years. The second phase completed in 2014 added four new fermenters and brought the distillery's capacity to 300,000 barrels a year, which is equal to 19.8 million gallons based on 66 proof gallons per standard barrel. The next phase is expected to double that capacity, according to Denny Potter, who doubles as Bernheim's manager as well as Heaven Hill's co-master distiller. That phase is expected to include new mash tuns, an additional column still and "doubler" style pot still, and will require expanding the current distillery building into the facility's parking lot.
Heaven Hill acquired the distillery in 1999 from Diageo following the 1996 fire that destroyed Heaven Hill's original distillery in Bardstown. Spirit distilled at Bernheim is taken by tanker truck to the company's Bardstown campus for filling into barrels and maturation in the warehouses Heaven Hill owns around the region, as well as blending, bottling and distribution once the whiskey is ready.  The Bernheim expansion will require additional work at the Bardstown campus, according to Heaven Hill CEO Max Shapira. "Of course, that means you'd have to build additional warehouses for stock," he said, noting that the family-owned company already has nearly 1.2 million barrels of whiskey aging in its warehouses and that may not be enough to meet future demand.
"It's almost – not quite 25 percent of the world's supply, and frankly, we don't know if we've got enough. It's a difficult thing…the category is exploding both domestically and around the world…and as I say, despite the growth we've had, if you go anywhere around the world…you could be in Buenos Aires, Sydney, Australia, London, England, or wherever…if you go to your hotel bar or restaurant or whatever and ask for a whiskey and water or whatever, 99 times out of 100 you're likely to get Scotch. Great product, Scotch is…no question about it, but all we have to do to turn that 99 times out of 100 into 96 times out of 100…Scotch people will continue to do great, but we won't have enough whiskey to satisfy that demand for a long time to come."

Heaven Hill CEO Max Shapira
In fact, there are already signs that the industry may not be satisfying the global demand. US Customs Service data for March (the most recent month available) shows a decline of 5.5% in Bourbon and Tennessee Whiskey exports from March of 2014, while exports of other American whiskies (mostly flavored and non-Bourbon craft whiskies) nearly doubled from 241,555 proof gallons to 428,479 (a 92.6% increase). The report released by the Distilled Spirits Council of the United States shows Bourbon and Tennessee Whiskey exports in March of this year totaled 3,225,230 proof gallons, compared to 3,271,432 in the same month during 2014. Exports of Bourbon and Tennessee Whiskey to the UK, France, Germany, Japan, The Netherlands, South Africa, South Korea, and Singapore all declined during the first quarter of 2015 compared to the previous year. Exports to Australia, New Zealand, and Spain showed gains during the quarter.
Last month, Heaven Hill was forced to change the usual distribution pattern for its Evan Williams Single Barrel Bourbon, which is distilled at Bernheim along with all of Heaven Hill's other whiskies. Traditionally, each annual release came from whiskey distilled around 10 years earlier, including the release of the 2005 Vintage earlier this year. However, a combination of high demand and short supplies of the 2005 whiskey forced the company to release the 2006 Vintage in May – about seven months earlier than usual, and company officials admit that the move will have an impact on the long-term plans for the brand while not providing any specifics on future releases.
While the next Bernheim expansion will take up a significant portion of the facility's parking lot, the distillery is landlocked to a certain extent. It's located in a mixed neighborhood of residential and industrial use, and is bordered to the west by Brown-Forman's Dixie Highway distillery and corporate headquarters, homes to the south, other industrial use on the north and maturation warehouses on the east side. That would appear to make future significant expansion of the distillery difficult, but Shapira said there are no plans at the time to build a new distillery on the Bardstown campus while admitting that "anything's possible."
Links: Heaven Hill | Distilled Spirits Council of the US
---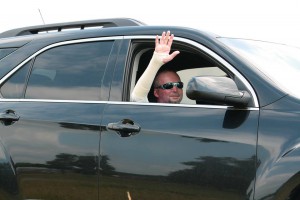 June 25, 2015 – Two months after the Silver Trail Distillery explosion that left him with severe burns and claimed the life of his cousin, Jay Rogers is back at home to continue his recovery. Rogers was released from Vanderbilt University Medical Center in Nashville, Tennessee, where he and Kyle Rogers were flown for treatment after the April 24 explosion that leveled the distillery. In a Silver Trail Facebook post, Jay was shown waving from the car as he and his fiancee Tiffany headed back to Hardin, Kentucky. The two became engaged while Rogers was hospitalized, prompting a colleague to post this on the distillery's Facebook page: "Jay's the only guy I know that goes to the hospital and comes out with a fiance. Congratulations you two!"
Rogers underwent more than a dozen surgeries to treat his injuries from the explosion, which splashed the two men with mash heated to around 204ºF. Kyle Rogers died at Vanderbilt 17 days later from a bacterial infection that doctors were unable to fight.
The Kentucky Fire Marshal's office has still not released its final report on the explosion, but the investigation is focusing on what Silver Trail founder Spencer Balentine has described as a failure of a key component in the still, which was built by Revenoor Stills in Yamhill, Oregon. Investigators have declined to comment on their probe until the final report is released. Balentine and Rogers have already filed a lawsuit against Revenoor and owner Terry Wilhelm.
Rogers' homecoming comes as Silver Trail resumed distilling for the first time since the explosion. While the distillery in Hardin has not been rebuilt, Balentine has worked out an agreement with Paul and Mary Beth Tomaszewski of the M.B. Roland Distillery in Pembroke to use their distillery until Silver Trail can be rebuilt. Balentine has already promoted Jay Rogers to Master Distiller for Silver Trail – as soon as he's able to return to work.
Editor's note: This story was updated to correct the names of Paul and Mary Beth Tomaszewski of M.B. Roland Distillery. We regret the error. 
---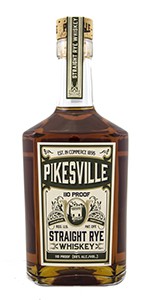 June 25, 2015 – Pikesville Rye's heritage dates back to 1895, when it was originally distilled in Maryland, and even though the whiskey has been distilled in Kentucky since Heaven Hill acquired the brand in 1982, it remains a staple in Maryland and neighboring states. In fact, when rumors started spreading about Heaven Hill's plans to create a new version of Pikesville Rye and distribute it nationally, the brand's local fans pleaded with Heaven Hill to keep their original version available. While that 3-year-old, 40% ABV (80º proof) version will still be available in the Mid-Atlantic region, the new Pikesville Rye made its debut at a tasting in New York City last night.
"Obviously, we wanted it to be a little bit older, but not too old…and then on the proof side, we experimented a little bit, but we already have a bottled in bond Rye with Rittenhouse," Heaven Hill Co-Master Distiller Denny Potter said in an interview. "We already have a lot of products that are cask-strength or barrel proof, but nobody's really done anything in between and figure out how versatile that liquid could be." Potter was tasked with coming up with the recipe using Heaven Hill's inventory of nearly 1.2 million barrels of whiskey, and settled on a 55% ABV (110º proof), six-year-old vatting of barrels selected from the top two floors of Heaven Hill's warehouses.
The Pikesville Rye project is Potter's first release since being named Co-Master Distiller alongside Craig Beam in December, and he worked extensively with Craig and Master Distiller Emeritus Parker Beam on the whiskey. He joined Heaven Hill two years ago to manage the Bernheim Distillery in Louisville after a long career at Beam Suntory, and is the first person outside the Beam family tree to serve as one of Heaven Hill's master distillers. "Obviously, what went into the barrel is a credit to them and their ideas, but at the same time, a lot happens during maturation and then you come in and get the opportunity to select what they put into the barrel years ago."
While Potter is getting much of the credit for the final whiskey, the plans were set in motion several years ago by Heaven Hill CEO Max Shapira. "We had this iconic brand that dates back from 1895 in our portfolio…it was really for many, many years just a stepchild, frankly," Shapira said in an interview. "We thought, gosh…this is a real gem going all the way back to 1895, so it has all the authenticity, the history, the heritage that you'd ever want or hope to have." Shapiro points out that Heaven Hill never stopped producing the original version of Pikesville Rye, even when Rye whiskey was completely out of favor with consumers, and notes that publicly-traded spirits companies with shareholders and Wall Street to answer to would have quietly killed off the brand years ago.  "There just wasn't much volume, but it was iconic and we just weren't going to do that to a brand with this kind of interesting history to it, so we hung around and stayed around with it, and fooled with it for all this time, and now the time has come for a real, live relaunch." While Heaven Hill's flagship Evan Williams Bourbon traces its name to 1783 and the real Evan Williams in Louisville, Shapira acknowledges Pikesville Rye may actually be the oldest brand in the company's entire portfolio, and was one of the few whiskies produced during Prohibition (for "medicinal purposes").
Pikesville Rye will initially be available in New York City, Chicago, San Francisco, and Los Angeles this summer and later this year throughout the US in limited quantities with a recommended retail price of $49.99 (750ml).
Links: Pikesville Rye | Heaven Hill
---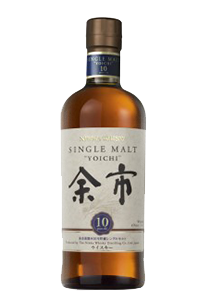 June 18, 2015 – Japan's Nikka Whisky has now confirmed plans to replace its entire range of single malts from the Yoichi and Miyagikyo distilleries worldwide over the next year with new versions that will not carry age statements. The plans have been reported in recent days by several news organizations and the Nonjatta Japanese whisky blog, and will affect whiskies now being sold around the world.
In an email, Nikka Whisky International Sales and Marketing head Emiko Kaji explained that the company's importers in various countries are being told of the plan now. She noted the current range will continue to be available while stocks exist, but new Yoichi and Miyagikyo expressions will debut in Japan starting in September with a global rollout planned during 2016. Kaji provided WhiskyCast with a copy of the letter being sent to importers, which cites the growing global interest in Japanese whisky and a shortage of aged malt whisky stocks available to bottle.
"With the current depletion, Yoichi and Miyagikyo malt whiskies, which are the base of most of our products, will be exhausted in the future and we will be unable to continue the business. Although we are now distilling spirits at full capacity, a long maturation period will be required until the spirits can be sold."
The decision affects the current Yoichi 10, 12, 15, and 20 year old single malts along with the current no-age-statement expression. The Miyagikyo 10, 12, 15, and the current no-age statement version are also being discontinued, along with the Nikka Pure White, Tsuru 17-year-old, Nikka Black 8-year-old, G&G White, and Malt Club bottlings sold mostly in Japan. Other Nikka expressions, including its Coffey Grain whiskies, Super Nikka, and Nikka From the Barrel will continue to be available, though price increases are expected throughout the lineup.
Nikka began exporting its malts to the US in 2012 through a partnership with San Francisco-based Anchor Distilling, and recently added a no-age-statement version of its Taketsuru Pure Malt to the US lineup.
Nikka is not the only Japanese distiller experiencing shortages of aged malt whisky. Beam Suntory executives have also acknowledged shortages of whisky from the Yamazaki and Hakushu distilleries. In an interview earlier this year, Suntory Holdings CEO Takeshi Niinami admitted that he has banned his executives from drinking Hakushu 15 and other Suntory single malts in order to make more bottles available for consumers. The company's Chris Bauder said in February that a no-age-statement version of the Hibiki blend would reach the market in July. Bauder has since left the company, according to a Beam Suntory spokesman. However, the plans remain in place for the Hibiki Japanese Harmony to make its debut at an event in New York City later this month.
Editor's note: This story was updated with details on Chris Bauder's departure from Beam Suntory and to add a link to the PDF file of Nikka's letter to importers. 
Links: Nikka Whisky | Suntory
---