Each week, we bring you the latest whisky news on WhiskyCast, but a lot can happen during the week. Now, you can keep up with whisky news as it happens here on WhiskyCast.com!
July 28, 2015 – Investigators with the Kentucky State Fire Marshal's office have ruled the April 24 explosion at the Silver Trail Distillery an accident, but blame a pressure relief valve as a likely cause of the blast that killed one distiller and critically injured a second. The still was built in 2011 by Revenoor Stills of Yamhill, Oregon, and during an exclusive WhiskyCast interview May 22, Revenoor owner Terry Wilhelm said his stills were not designed to be pressurized. However, Wilhelm told investigators he installs pressure relief valves "to keep the lawyers away" and to serve as a backup in case a clog backs up the still output. According to the investigative report, Wilhelm said welds on his stills would start to crack at 4-5psi (pounds per square inch of pressure) before the pressure valve activated. By way of comparison, a properly-inflated NFL football is filled with approximately 13psi of air.

However, the valve installed on Silver Trail's still was never designed to be used with a still. The Watts LLL100XL pressure relief valve is designed for use on home water heaters, according to the company's documentation. That model is set for 210º Fahrenheit, and has a pressure relief range of 75-150psi. The valve is commonly available from plumbing suppliers, and sells for around $22 online, though WhiskyCast was able to find it at a major home improvement store for $12.50. Quoting from the report:
"Being that the still was not designed or intended to be a pressure vessel, a pressure relief valve rated at 150psi appears very excessive."
Jay Rogers, who survived the explosion but suffered critical burns, told investigators the pot still had been operating at around 202º at the time of the explosion. While the investigation found no signs of a blast wave or propane explosion, the still was blown clear of the building. The copper pot was found about 50 feet away, while the 4″ diameter column landed about 72 feet from the building and the stainless steel access lid for the pot still landed 95 feet away. Jay and Kyle Rogers, who died 17 days later from his burns, had already produced at least three gallons of moonshine that morning with no signs of clogs in the still's output.
"All indications are that the event directly involved the over pressurization of the still with subsequent failure which resulted in it being propelled out the north end of the structure."
What caused the pressure buildup inside that still? While the investigation does not list an exact cause, the design of the still uses glass marbles in the column to increase the surface area for condensing water. The report notes that those marbles can also reduce the flow of spirit through the column and increase pressure, especially if the mash inside the still has suspended solids that can clog up flow through the marbles. Silver Trail founder Spencer Balentine has previously told WhiskyCast that was unlikely, since the distillery's practice is to filter its mash three times to remove any solids before filling it into the still. However, Balentine and Jay Rogers told Deputy Fire Marshal Bill Compton that they had recently found a marble stuck inside a hole in the plate that keeps the marbles from falling out of the still while allowing vapor to rise through the column. They freed the marble by pushing water through the column while tapping the side with a rubber mallet.
In a statement, Balentine said "Basically it verifies that the tower failed due to an internal plate being only tack welded when it should have been welded fully around. This allowed a distilling bean or beans (glass marbles) to clog the product (shine) output hole. This caused an immediate over pressurization which ruptured the still bottom and sent it hurtling through the door." It should be noted that the Fire Marshal's report does not mention the welding issues raised in Balentine's statement.
While there were no links between the distillery's propane service and the explosion, the report did point out several safety-related issues. The Revenoor still was designed originally to be used with electric heat, though Wilhelm told investigators there were no issues with using propane. However, the burners used on the still were rated for outdoor use only and did not have the safety shutoffs required by building codes for indoor use. In addition, the contractor who installed the burners and propane equipment did not have the proper state license as required by law. That same contractor also repaired a split welding seam in the copper pot still shortly after it was installed at Silver Trail, but the repair work was not considered to be related to the April 24 explosion.
While the Fire Marshal's report ruled the incident an accident, Silver Trail and Jay Rogers have already filed a lawsuit against Terry Wilhelm and Revenoor Stills for civil damages, and Spencer Balentine is asking state prosecutors to present the case to a grand jury for possible criminal charges.
In an August 9 email, Terry Wilhelm declined to comment on the Fire Marshal's findings.
Editor's note: This story was updated on August 9 to include a response from Terry Wilhelm of Revenuer Stills, along with our finding the Watts pressure relief valve selling at a lower retail price than originally cited in this story. The May 22 telephone interview we conducted with Terry Wilhelm of Revenoor Stills was cited in the Fire Marshal's report and is included in the exhibits that are included in the case file. We have also provided a link to download the report from our web site, and the report is also available at the State Fire Marshal's web site. 
Links: Silver Trail Distillery | Revenoor Stills | Kentucky State Fire Marshal
---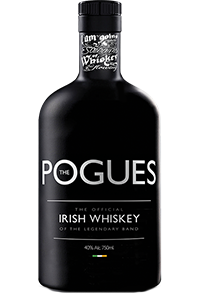 July 27, 2015 – There aren't any Pogues in The Pogues, the Celtic punk rock band that got its start in London more than 30 years ago. In fact, the band's name is derived from the Gaelic curse "póg mo thóin" which, loosely translated, means "kiss my ass". The band now has its own Irish Whiskey, which will be released next month by West Cork Distillers with plans to take the brand worldwide.
That includes the US, where the Pogue family started making whiskey in Maysville, Kentucky in 1876. While the family's Old Pogue Bourbon is sourced from another Kentucky distillery, they have started distilling again on the same site where the original H.E. Pogue Distillery stood.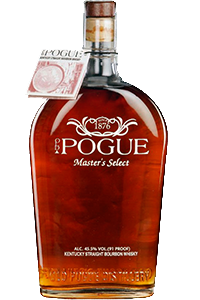 Given that the family was the first to use the Pogue name in the US on whiskey, one might understand if family members had said something along the lines of "póg mo thóin" when they heard about plans for The Pogues Irish Whiskey. After all, costly lawsuits have been filed over similar-sounding names for spirits before — as well as other consumer goods. In fact, some fans of The Pogues raised the question in a message board on the band's web site.
However, while the Maysville Pogues and the London Pogues aren't related by blood, they are related by a shared passion for whiskey. Old Pogue President Peter Pogue told WhiskyCast in an email that he has no problem sharing the name.
"We worked closely and cooperatively with the distiller of The Pogues Irish Whiskey (West Cork Distillers) to avoid any trademark issues that may arise.  As our family makes only Kentucky Bourbon and Rye Whiskey we were amenable to permitting an Irish Whiskey under the band's name.  The package, product, and brand are very dissimilar to ours.  We did not want to try and prohibit a worthy product from availability in the U.S."
No date has been set for the launch of The Pogues Irish Whiskey in the US market, though West Cork Distillers has already lined up an import and distribution agreement with M.S. Walker. The Massachusetts-based company already handles importing and distribution for West Cork's own whiskeys, along with Grand Macnish Blended Scotch and other spirits. West Cork spokesman Ger McCarthy told WhiskyCast in an email that similar agreements are already being lined up for The Pogues Irish Whiskey in other export markets as well.
Links: The Pogues Irish Whiskey | Old Pogue | M.S. Walker
---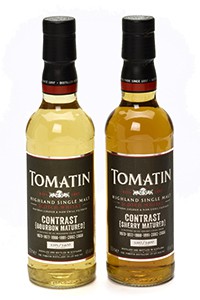 July 27, 2015 – It's that time of year when whisky producers start unveiling their new releases for the fall heading into the holiday gifting season. Here's a quick roundup of the latest announcements…
Tomatin has been experimenting with expressions that give whisky lovers the chance to taste the same single malt matured in different types of casks, and distillery manager Graham Eunson is at it again. Tomatin Contrasts is a two-bottle set featuring a vatting of the distillery's whiskies from 1973, 1977, 1988, 1991, 2002, and 2006. One bottle features the whisky matured in ex-Bourbon casks, while the other has whisky matured in ex-Sherry casks. Both are bottled at 46% ABV in 375ml bottles, and the Contrasts package will be available through whisky specialist retailers worldwide with a recommended retail price of £99 ($154 USD). 5,400 sets will be available.
Cù Bòcan is the peated whisky from Tomatin, and has also been the subject of experimental releases to showcase the effect of different casks on the overall whisky. The latest release in that series is the Cù Bòcan Limited Edition Bourbon Cask. While the regular Cù Bòcan uses whiskies matured in ex-Bourbon, ex-Sherry, and Virgin Oak casks, this release uses first-fill ex-Bourbon casks exclusively and is bottled at 46% ABV with no chill-filtering or coloring. Only 6,000 bottles will be available with a recommended retail price of £49.99 ($76 USD) at specialist retailers worldwide, with the exception of the US.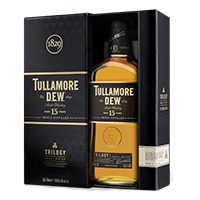 William Grant & Sons' Tullamore D.E.W Irish Whiskey is releasing Trilogy, a 15-year-old whiskey that focuses on the number three in a couple of ways. The whiskey itself is triple-distilled (at Irish Distillers in Midleton), and originally matured in ex-Bourbon, ex-Oloroso Sherry, and traditional refill casks, then blended and finished in Rum casks.
Trilogy is bottled at 40% ABV, and will make its debut at Dublin Airport's Irish Whiskey Collection shop along with other whisky specialists worldwide. Pricing was not announced.
The Irish Whiskey Collection shop is also the only outlet with a special edition of Powers Irish Whiskey. The Powers Aviation Edition celebrates Dublin International Airport's 75th anniversary in 2015.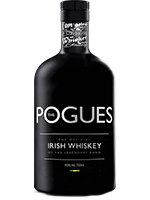 The Pogues have been making music for more than 30 years, and the band has teamed up with West Cork Distillers to release an Irish Whiskey bearing the band's name. The Pogues Irish Whiskey is described as being matured for "three years and a day", and is being bottled at 40% ABV for a release in August. The whiskey will be available in the UK at first, but West Cork Distillers spokesman Ger McCarthy told WhiskyCast in an email that distributors have been appointed in the US and other key markets worldwide. Pricing has not been announced.
While there might be some confusion among consumers between The Pogues Irish Whiskey and Kentucky's Old Pogue Bourbon, Old Pogue's Peter Pogue welcomed the new whiskey. In an email to WhiskyCast, he explained that West Cork Distillers worked closely with Old Pogue ahead of the launch, and since his family only produces Kentucky Bourbon and Rye whiskies, it would have no objection to an Irish Whiskey with the Pogue name.
Editor's note: This story has been updated with reaction from Peter Pogue of Old Pogue Distillery.
Links: Tomatin | Cù Bòcan | Tullamore D.E.W. | Powers | The Pogues Irish Whiskey | Old Pogue
---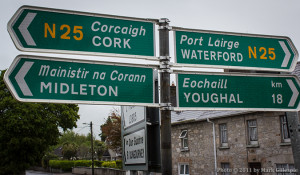 July 27, 2015 – Irish Whiskey will soon have the same protected status as Scotch Whisky, Champagne, and other unique products under new regulations announced today in Dublin. Agriculture Minister Simon Coveney introduced the new protected geographical indicator status, which will also cover Poitin (Ireland's unaged form of whiskey) and Irish Cream Liqueurs. The regulations, as with all standards for Irish Whiskey, were worked out in consultation with UK officials and will cover both the Irish Republic and Northern Ireland.
The regulations mean any product labeled as Irish Whiskey, Poitin, or Irish Cream Liqueur will have to be produced entirely in Ireland in accordance with technical specifications registered with the European Union. The new rules take effect October 30, and all spirits producers will need to certify that their products meet the specifications by that date. A ministry news release quotes Coveney as saying the move will protect the growing number of whiskey-related jobs in Ireland.
"These regulations mean that inferior products or those that do not share the uniquely Irish heritage of these protected Geographical Indications cannot be sold as Irish Whiskey, Irish Poitin or Irish Cream. They can help to protect the reputation and integrity of these products, but also to protect Irish jobs. From a consumer perspective, they will also give assurance to customers, at home and abroad, of the quality of the unique spirit products they are consuming."
Irish Whiskey has been one of the fastest-growing segments of the global whiskey market in recent years, with exports rising worldwide. The Irish Whiskey Association recently announced a goal of growing exports from last year's 6.5 million cases (9 liters per case) to 24 million cases annually by 2030, with 26 new or proposed distilleries to come on line over the next ten years.
Links: Irish Department of Agriculture, Food, & the Marine | Irish Whiskey Association
---
July 27, 2015 – More than a year after entering administration, Bladnoch Distillery's future has been preserved with the sale of the Lowlands distillery to an Australian entrepreneur. David Prior has purchased the distillery, which entered the UK's equivalent of bankruptcy court after members of the Armstrong family could not agree on whether to sell the distillery or continue it as an ongoing business. Prior has pledged to keep all of the distillery's current eight employees and create additional jobs as the distillery returns to production.
No purchase price was disclosed, and Prior will have to invest a substantial amount of capital to bring the distillery up to current standards. Prior has engaged former Scotch Whisky Association CEO Gavin Hewitt to serve as a non-executive director of Bladnoch and oversee the early stages of the renovation process. "His early idea was to establish a brand-new distillery elsewhere in Scotland," Hewitt said in a telephone interview. "The offer of Bladnoch came up in February and he jumped at it." Hewitt expects the renovation process to take between 12 and 18 months, and says candidates have been identified to serve as the distillery's manager and master blender. He declined to identify the candidates, noting that both currently hold other jobs within the industry .
Listen to Mark Gillespie's interview with Gavin Hewitt:

In a news release, Prior said "I am delighted to have been able to purchase a Scotch Whisky distillery of such renown as Bladnoch. Scotch Whisky is the world's foremost spirit drink and I am proud to be part of the Scotch Whisky industry." Prior made his fortune in the food business, and sold his organic yoghurt and granola business five:am last year for £52 million ($80.7 million USD). The purchase also includes Bladnoch's existing stocks of aging whisky, but Hewitt says no plans have been determined for how or when that whisky will be bottled. However, Prior said in a separate telephone interview for this week's WhiskyCast that he hopes to have a Bladnoch bottling ready for release in Australia by the end of the year.
The Armstrong family acquired Bladnoch in 1994, a year after it had been mothballed by Diageo predecessor UDV. The original sale agreement banned the resumption of whisky production at Bladnoch, but that agreement was changed to allow limited production of 100,000 liters of spirit annually starting in 2000. The distillery last produced spirit in 2009 under the Armstrong family's ownership. According to Hewitt, the cap has been removed and Prior will be able to run the distillery at its full capacity of between 1.25 and 1.5 million liters of alcohol per year after the renovation process is completed.
Editor's note: This week's episode of WhiskyCast features our interview with David Prior. 
Links: Bladnoch
---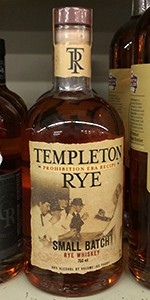 July 23, 2015 – Templeton Rye Spirits LLC will be on the hook for up to $2.5 million dollars in damages and legal fees following last week's settlement of three class-action lawsuits over labeling for Templeton Rye Whiskey. While the settlement has still not officially been filed with the U.S. District Court in Chicago, the Des Moines Register reports the cap on Templeton Rye's liability at $2.5 million, with the fund to be split proportionately among claimants if claims exceed that amount. Templeton Rye co-founder Keith Kerkhoff confirmed the existence of a cap, but declined to specify the amount in a WhiskyCast interview last week. A spokesperson for Templeton Rye confirmed the amount of the fund in an email, but projects the total cost of settling the case to come in "below that amount."
As previously reported, the settlement calls for consumers who purchased Templeton Rye since 2006 to be eligible for a maximum of $36 in refunds. Consumers with receipts will receive $6 per bottle for up to six bottles, while those without receipts will be eligible for $3 per bottle up to six bottles. In addition, onsumers who bought Templeton Rye at a bar will be able to claim a dollar per drink with a maximum of $5 in refunds. While claimants may be eligible under all three categories, the total amount of refunds per individual will be capped at $36.
The settlement must still be approved by U.S. District Court Judge Joan Gotschall, and no date has been set for a hearing. The Register reports claims will be handled through a web site to be established within 10 days after the settlement is approved. Templeton Rye Spirits LLC will be responsible for the entire amount of the settlement after agreeing in April to a stipulation in a separate lawsuit with its insurance company over liability coverage for the lawsuits.
In addition to the refunds, the settlement requires changes to the labels on Templeton Rye, some of which were made last autumn after the suits were filed in Illinois and Iowa. "Distilled in Indiana" was added to the label to reflect the whiskey's origin at MGP's Lawrenceburg, Indiana distillery. The terms "small batch" and "Prohibition Era Recipe" will be removed from the label, but the company will be allowed to use the term "based on the Prohibition Era Kerkhoff recipe." Templeton Rye is produced using a standard MGP Rye whiskey mashbill, but a proprietary compound of flavorings and water is added in Templeton, Iowa to recreate the Kerkhoff family's original recipe. The Templeton Rye web site and other marketing materials will also be edited to reflect the labeling changes.
Lawyers for the plaintiffs have not responded to WhiskyCast's requests for an interview. While asking Templeton Rye executives to confirm the settlement details reported in the Des Moines Register, we received an automatic response from co-founder and Templeton Rye president Scott Bush that he has stepped aside from day-to-day responsibilities at Templeton Rye, but continues to serve as a director of the company. Bush has not responded to emails at his personal address, and the Templeton Rye spokesperson says his departure was not connected to the litigation.
Update: As of August 7, 2015, the online web site for filing claims has been created.
Editor's note: This story was updated to include confirmation of Scott Bush's departure and additional information. 
Links: Templeton Rye
---

July 23, 2015 – Ever looked at a "house brand" whisky and wondered whether it was worth buying, even at a lower price than official distillery bottlings? Sainsbury's sells a "Taste the Difference Highland Single Malt" with no age statement for £20 ($31 USD) that comes from Whyte & Mackay, and it won the trophy for "Best Single Malt Scotch Whisky (no age statement)" at this year's International Wine & Spirit Competition. It was the only "house brand" whisky among the trophy winners, but while Whyte & Mackay bottles it for Sainsbury's, that does not necessarily mean it comes from one of the company's three Highland distilleries (Dalmore, Fettercairn, and Tamnavulin). Since Whyte & Mackay also has an extensive blending operation, the whisky could have come from any one of the dozens of distilleries in the Highlands.
In addition to the Sainsbury's trophy, seven other whisky-related trophies were awarded by the judges:
Cask Strength Scotch Whisky: Ardbeg Uigeadail
Single Malt Scotch 15 Years & Under: Bowmore Tempest 10 Year Old
Single Malt Scotch Over 15 Years: Glenfiddich 21
Blended Scotch Whisky: Ballantine's 30
Bourbon: Blanton's Gold
Worldwide Whiskey: Three Ships 10 Year Old Single Malt
Best Packaging – Brown Spirits: Timorous Beastie from Douglas Laing & Co.
While no overall trophy was awarded for Irish Whiskies, Kilbeggan 21, Jameson 18, and Midleton Barry Crockett Legacy each won "Gold Outstanding" medals.  Kavalan Single Malt from Taiwan's King Car Distillery was the only other "Gold Outstanding" winner among worldwide whiskies. In addition to Blanton's Gold, Blanton's Original, Knob Creek Single Barrel, Jim Beam Signature Craft Soft Red Wheat, Eagle Rare 10, and Kentucky Tavern all won "Gold Outstanding" medals for Bourbons. All four Scotch Whisky trophy winners won "Gold Outstanding" medals, and 19 other Scotch Whiskies also earned the same medals.
"Gold Outstanding" medal winners:
Bowmore 25
Chivas Regal 18
Chivas Regal 25
John Walker & Sons Odyssey
Scottish Leader
Nomad Speyside Blended Scotch
anCnoc 18
Poit Dhubh 21 Blended Malt
Clan Gold 18
Monarch of the Glen 8
Monarch of the Glen 15
Glenmorangie Signet
Whyte & Mackay 13
Jura 30
The Balvenie 30
Glenfiddich Age of Discovery 19 Years Old Bourbon Cask
The Balvenie Caribbean Cask 14 Years Old
The highest-ranking Canadian whisky was Firstwatch Selected Extra Fine Imported Whisky, which is produced by South Africa-based Edward Snell & Co., Ltd. and received a Gold medal. 
A complete list of medal winners is available at the IWSC web site.
Links: International Wine & Spirit Competition | Sainsbury's
---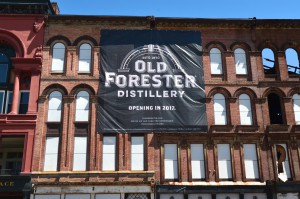 July 22, 2015 – Brown-Forman executives held a ceremonial groundbreaking ceremony today in Louisville for the $45 million Old Forester Distillery project to be built on the city's historic "Whiskey Row" along Main Street. The ceremony comes just two weeks after a four-alarm fire did significant damage to the Civil War-era whiskey warehouses next door that were being renovated into office, retail, and apartment space with investment from Brown-Forman and the Brown family.
While a firewall constructed earlier this year between the two properties minimized damage to the Old Forester site, Brown-Forman executives acknowledged that the fire will delay the distillery's opening until 2017, several months later than expected. Old Forester spokeswoman Wendy Treinen said in a telephone interview that "we're excited to move forward, but sometimes to move forward, you have to take a couple of steps back, and that's what we've had to do.
As with the 111 Whiskey Row project, the distillery and visitors center will occupy buildings built in 1857 to serve as whiskey warehouses during the peak of Main Street's Bourbon boom. While there were no distilleries located on Main Street during that period, "Whiskey Row" was home to warehouses and offices for distillers and bottlers. While most of the structures have deteriorated over the years, the cast iron facades of both sets of buildings along Main Street remain intact and will be preserved as part of the restoration projects.
During the ceremony, Old Forester president Campbell Brown praised the efforts of the city's firefighters two weeks ago. "We want to thank the Louisville Fire Department for keeping the fire from spreading to our buildings and saving the facades of the three historic buildings next to ours," Brown said in a news release. "They did a magnificent job." Structural assessments of the 111 Whiskey Row buildings are underway, and the Brown family-led Main Street Revitalization LLC investor group will wait for the findings before determining how to proceed with that project.
The projected cost of the distillery has already risen from the original $30 million estimate to $45 million, and Treinen said that estimate remains firm at this point. When it opens, the distillery will be able to produce the equivalent of 100,00 cases of whiskey annually, and will become the main production site for Old Forester with additional production as needed at Brown-Forman's main distillery on Dixie Highway. The site will also house a visitors center, bottling line, and warehouse space.
Editor's note: This story was updated with additional information following an interview with Old Forester's Wendy Treinen.
Links: Old Forester | Brown-Forman
---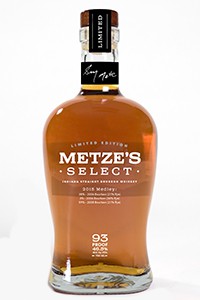 July 21, 2015 – The 170-year-old distillery in Lawrenceburg, Indiana has gone through many name changes in recent years after being known as the Seagram's Distillery for many years. Today, it's known as MGP or MGP Ingredients, and until now, all of the distillery's recent production has been sold to other whiskey companies for bottling under their own labels. While the very name "MGP" causes some whiskey lovers to have a hissy fit over the lack of transparency practiced by some of the distillery's customers, there's generally been little argument over the quality of the whiskey distilled and matured in Lawrenceburg.
Greg Metze is MGP's master distiller, and the distillery's first retail release under MGP ownership will be known as Metze's Select Bourbon when it is released in September. In a nod to transparency, the distillery is releasing Metze's blending formula, with 59% of the blend coming from a 2008 batch of whiskey with a 21% rye mashbill. The rest of the blend was distilled in 2006, with 38% using that same mashbill and 3% using a 36% rye mashbill. Metze's Select is being bottled at 46.5% ABV, and 6,000 hand-numbered bottles will be available through the distillery's distribution deal with Anchor Distilling Co.
The whiskey is technically the second released under MGP ownership, following last year's charity bottling of Mezte's Medley Indiana straight whiskey as part of Lawrenceburg's Whiskey City Festival to raise money for the local United Way chapter. That whiskey was not sold on the retail market.
Links: MGP
---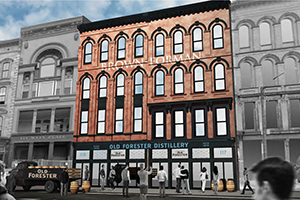 July 20, 2015 – Two weeks after a four-alarm fire ripped through the historic whiskey warehouses on Louisville's Main Street, Brown-Forman plans a groundbreaking ceremony next door for the $45 million dollar Old Forester Distillery and visitors center project. The ceremony is scheduled for Wednesday at the "Whiskey Row" site, which received only minor damage in the fire that caused extensive damage to the 111 Whiskey Row development that Brown-Forman and members of the Brown family are investing in.
The Old Forester Distillery project is separate from the 111 Whiskey Row development, and was announced last September. Brown-Forman plans to build the distillery on the site at 117 and 119 Main Street using two historic buildings that were used as whiskey warehouses between 1857 and the Prohibition Era. The building will also house a visitors center for Old Forester, which will continue to be produced at Brown-Forman's main distillery on Dixie Highway on Louisville's west side. The new distillery will eventually replace much of the Old Forester production at the Dixie Highway facility, and will include a cooperage, bottling line, and maturation warehouse space when it opens in early 2017.
The project is just one of several distilleries planned as part of the revival of Louisville's Whiskey Row. Heaven Hill's Evan Williams Bourbon Experience opened in 2013 at the western end of Main Street, and the Peerless Distilling Co. began production earlier this year nearby at the corner of 10th and Main. That end of Main Street is also home to the historic building being renovated as a small-scale distillery and visitors center for Michter's, while construction has started at the eastern end of Main Street for the new Louisville Distilling Co./Angel's Envy distillery. At its peak in the late 1800's, Main Street was home to dozens of whiskey warehouses and offices for whisky distillers and bottlers, though historians note that no distilleries were ever located on "Whiskey Row" at the time.
Editor's note: This story was updated with new details on the timetable for opening the distillery and production plans announced as part of the July 22 groundbreaking. 
Links: Old Forester
---